Henry Schwartz and Andrew Gierczak, the owners of MobCraft, didn't make a big announcement on social media that they were opening their brewery and tasting room, instead they just threw open the garage doors and started tapping beers.
MobCraft, 505 S. 5th St., is the third brewery to open on the street within a couple of years, joining Brenner Brewery and Urban Harvest Brewing Co.
MobCraft features 25 beers on tap – 12 of which are their own – and are available in 10-ounce glasses, pints, flights, pitchers or to-go growlers. Some are available in cans, too.
Currently, four of the beers on tap were crowd-source winners from a contest MobCraft conducts every month online. (Hence, the brewery's name.) Anyone in the United States is welcome to submit a concept for a beer through the website and then site visitors vote for their favorite. The winner gets a party thrown in his or her honor and free taps of their beer for life – or for as long as they brew it, which depends on popularity. (I got carried away in the research and submitted an idea myself which, of course, you are more than welcome to support.)
Schwartz says the most coveted customer-invented beers are Hop Goes The Grapefruit, a grapefruit wheat brew, and Wheat Men Can't Jump, a wheat IPA made with juniper berries.
"The weirdest beer we brewed was one made with durian, the stinkiest fruit in the world," says Schwartz. "It smells like rotting flesh but tastes like mango custard. Andrew figured out how to get the stink out and keep the flavor."
Schwartz, who is originally from Denver, moved to Wisconsin in 2003 and Gierczak grew up in West Allis. The business partners started MobCraft in Madison in 2013, but this is their first tasting room. They will soon start brewing on Fifth Street as well as offering tours, live music in the "vintage furniture lounge" and food.
"We're going to start out with wood-fired pizzas at some point," says Schwartz.
The hours are not yet set in stone, but for now they are Monday through Thursday from 3:30 to 10 p.m.; Friday and Saturday from noon to midnight and Sunday from noon to 10 p.m.
Here are five more shots of MobCraft Brewery:
1. They serve beer
2. People come to drink the beer
3. Bricks, mortar and cans
4. Coming soon: a stage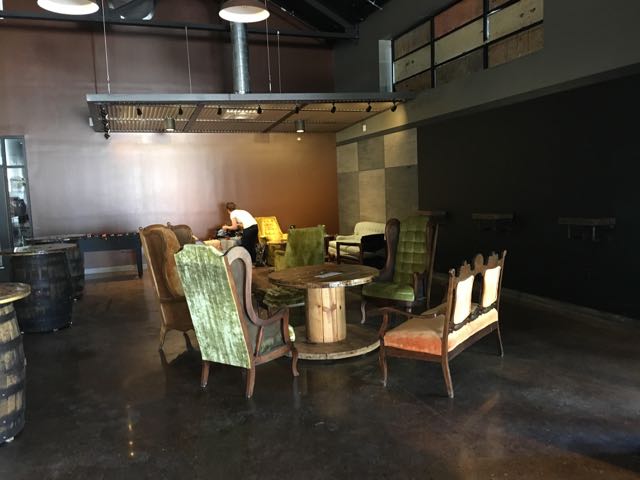 5. Taps for all
Molly Snyder grew up on Milwaukee's East Side and today, she lives in the Walker's Point neighborhood with her partner and two sons.
As a full time senior writer, editorial manager and self-described experience junkie, Molly has written thousands of articles about Milwaukee (and a few about New Orleans, Detroit, Indianapolis, Boston and various vacation spots in Wisconsin) that range in subject from where to get the best cup of coffee to an in-depth profile on the survivors of the iconic Norman apartment building that burned down in the '90s.
She also once got a colonic just to report on it, but that's enough on that.
Always told she had a "radio voice," Molly found herself as a regular contributor on FM102, 97WMYX and 1130WISN with her childhood radio favorite, Gene Mueller.
Molly's poetry, essays and articles appeared in many publications including USA Today, The Writer, The Sun Magazine and more. She has a collection of poetry, "Topless," and is slowly writing a memoir.
In 2009, Molly won a Milwaukee Press Club Award. She served as the Narrator / writer-in-residence at the Pfister Hotel from 2013-2014. She is also a story slam-winning storyteller who has performed with The Moth, Ex Fabula and Risk!
When she's not writing, interviewing or mom-ing, Molly teaches tarot card classes, gardens, sits in bars drinking Miller products and dreams of being in a punk band again.