We're less than halfway through the first month of a new year, which means millions of people are in the midst of holding onto their New Year's resolutions (or at least trying to). And for many people, a popular resolution is axing alcohol from your life – even if just for the first month of the year. But even though "Dry January" is just 31 days, by the time you reach day 14 – or even just day four – you'll likely be tired of drinking cranberry juice and seltzer, or La Croix.
No fear – there's plenty of ways to hit the bars without having to hit up booze, to enjoy a creative concoction without ordering a cocktail. In fact, it's easy, thanks to OnMilwaukee contributor Erik Kennedy's continuing quest for mocktails across Milwaukee. Here are some examples you can discover throughout the city – and where you can find them.
(Note: Some restaurants change out their mocktails seasonally, so be sure to ask the bartender or check the website's cocktail menu. Also please be sure to verify each venues hours before you visit!)
500 W. Florida St.
(414) 374-4766
theironhorsehotel.com
"'You can go anywhere to get a juice, but coming to Ash is a unique experience with a comforting environment,' said Adam Loeffel, director of food and beverage at The Iron Horse Hotel. 'Our mocktails were inspired and created just like our robust cocktails: with thought and intentionality.'"
Buck Lite: Pressed ginger, lime, Demerara and club soda
Cocono: Coconut, orange and mint
Raspberry 75: Sparkling apple cider, lemon and raspberry shrub
Rosemary Blueberry Bash: Blueberries, honey, lemon and rosemary
818 S. Water St.
(414) 212-8115
boonemilwaukee.com
"The Cardinal Punch, Arnold Booner, Backseat Bingo and Bout-it Bout it are four featured mocktails, and each one exceeds expectations without exceeding your bank account, selling for just $5. These mocktails, perfect all year round for any occasion that takes you to the Harbor District, will take you on a journey of culinary exploration and help you discover your own drink palate."
Arnold Booner: Lemonade, sport tea, and Nuf Said with a garnish of lime slice
Backseat Bingo: Lime juice, grapefruit juice, simple syrup, seltzer with a garnish of rosemary and a pinch of salt
Bout-it Bout it: Pineapple and orange juice, topped with Top Note Ginger Beer with a garnish of an amarena cherry and orange slice
Cardinal Punch: Mixed blackberries, handful of mint leaves, muddled, raw sugar syrup, lemon juice, and cranberry juice, with a garnish of a blackberry and mint.
4044 N. Oakland Ave., Shorewood, (414) 962-5182
6600 W. North Ave., Wauwatosa, (414) 763-3793
525 E. Menomonee St., (414) 930-9282
campbarmke.com
"The Moscow Mocktail and Old Fashioned Mocktail are not necessarily on the drink menu. However, each Camp Bar location and its bartenders are more than happy to make them – and each one has their own variation on how they make them, which is pretty cool because there is no refined way to make one. No matter what the season is in Milwaukee, these two mocktails are perfect for any occasion – and they sell for just $3 each."
Moscow Mule Mocktail: Lime juice, ginger beer, club soda (you can ask for tonic water), simple syrup (1 part water, 1 part sugar), and a lime (for garnishing)
Old Fashioned Mocktail: Muddled sugar cube, cherry and orange wedge, club soda or tonic water, cherry or cranberry or orange juice, lemon juice, and maraschino cherries & orange peel (for garnishing).
718 N. Milwaukee St.
(414) 223-2200
carnevor.com
"The SURG Restaurant Group staple continues to be one of Milwaukee's premier steakhouses and has been regarded as one of Wisconsin's most acclaimed dining destinations. But did you know that besides its impressive wine, beer and cocktail list, Carnevor makes personalized mocktails for its patrons that further the feeling that each customer is special?"
The Clean Living: Composed of grapefruit, pineapple, orange, cranberry and a kiss of bubbles (aka Sprite) along with biodegradable straws and garnish picks.
Honey Basil Lemonade: Composed of fresh squeezed lemon juice, honey, basil and soda water along with biodegradable straws and garnish picks.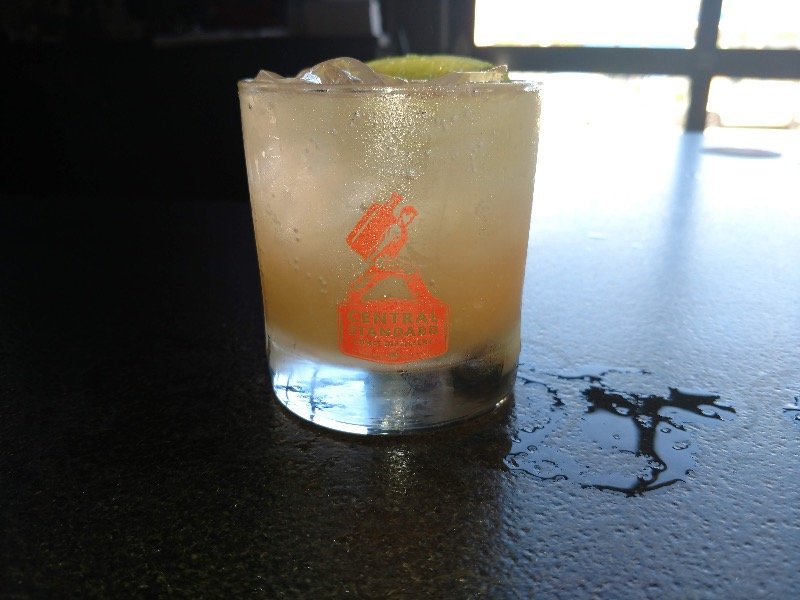 613 S. 2nd St., #609
(414) 455-8870
thecentralstandard.com
"Those who, like me, choose not to drink might feel uncomfortable or quickly decline an invitation to grab a drink and hang out at Central Standard, thinking the distillery only serves spirits, cocktails and some selected drafts while the non-alcoholic options would be limited to water, seltzer and maybe a soft drink. But I'm happy to announce that Central Standard literally raises the standard by making sure everyone feels included."
Summertime Spritzer: Lemon, Blueberry Central Standard Simple Syrup, splash of house sour mix and Two Brothers tonic water along lemon rind garnish in a seasonal glass.
Rosemary Smash: Lime, grapefruit juice, rosemary Central Standard simple syrup and Two Brothers tonic water served in a rox glass.
Where's the Whiskey: Basil Central Standard simple syrup, house sour mix, and ginger beer float along with a lime and orange rind garnish served in a rox glass.
600 S. 6th St.
(414) 488-9146
hotelmadridmke.com
"The story of how StandEatDrink came together began – fittingly – at a bar in Spain, when friends reunited over cañas and tapas. Now, they look forward to providing the same type of culture in Milwaukee through Hotel Madrid and Movida. Through the ambiance, soulful music and attentive service, you too will become inspired to learn more about the culture of Spain – especially when you cool down with a refreshing mocktail."
Sin and Tonic: Lime juice, grapefruit juice and Top Note Indian Tonic along with a basil leave, slice of lime and a star anise.
Strawberry Lemonade: Strawberry juice, kiwi juice, lemon, water and a dash of love along with a strawberry and orange peel garnish.
2423 N. Murray Ave.
(414) 964-9923
jazzestate.com
"The Jazz Estate mocktails are staples not only on the East Side but throughout the community. How does The Jazz Estate differ from other refreshing mocktails throughout Greater Milwaukee, one might ask? Answer: Rishi tea and homebrew coffee, which were game changers for me, adding an impressive depth to the drinks. Each of these crafted mocktails sell for just $7."
Easy Walker: Rishi raspberry green tea, lime and ginger beer garnished with a hydrated lime
Paradise Montana: Rishi peach blossom tea, orange, lime and ginger beer garnished with a hydrated lime
Talk to the Shadows: Hawthorne cold brew coffee, housemade horchata and nutmeg
2151 S. Kinnickinnic Ave.
(414) 249-3188
lostwhalemke.com
"Lost Whale has quickly become a part of the Bay View neighborhood, in large part because of its commitment to being a green bar, highlighting the importance of sustainability, along with a commitment to being collaborative with the community – like Stone Creek Coffee – as it repurposes everything, namely with its drinks."
House-made wood tea whiskey: Stone Creek Jet Black cold brew coffee, orange, demerara syrup, Bittercube Chipotle Cacao bitters, cedar smoke
Rosemary highball: rosemary, pear, lemon, ceylon cinnamon, seltzer from Lost Whale's Japanese highball machine
Strawberry mint sour: house-made strawberry water, lemon, mint, Rishi white ginseng detox tea syrup, egg white
240 E. Pittsburgh Ave.
(414) 645-0240
merrimentsocial.com
"Did you know that Merriment Social has three refreshing signature mocktails on its menu? And that they were one of the first Greater Milwaukee establishments that created a dedicated mocktail list?
"The Amazebasil, How the West Was Won and You Deserve It are three mocktails that may look the same at first glance, but trust me, each one – selling for just $5 – has a dignified taste that pairs great with your meal or just a social outing."
Amazebasil: Housemade Blackberry syrup, muddled basil and lemon juice
How the West Was Won: Housemade pomegranate grenadine, fresh lime juice, chipotle chile and Tajín (Mexican chile lime salt)
You Deserve It: Housemade strawberry and blueberry syrup, lemon juice, and mint
5835 W. National Ave.
(414) 488-2948
public-table.com
"Are you looking for a Milwaukee restaurant and bar that provides comforting hospitality and affordable innovative food and drinks while being committed to giving back to the community? If so, Public Table in West Allis is the next destination you need to check out. The passion of the owners, management team and staff, committed to creating a culture at Public Table that will transform the culture of the community, make it into a destination – not to mention their mocktails."
Big Chaibowski: Dark chocolate Nutella, instant coffee, Rishi chai and almond milk
Black Berry Smash: BlackBerry's seltzer, organic simple syrup (housemade), lemon juice edlerberry and flower tonic
Moch Chocolate Iced Coffee: Pilcrow nitro cold brew, burnt orange organic simple syrup (housemade), almond milk and almond cream
Pina Mocklatta: Organic coconut cream, almond milk and Zwitchel
Public Palmer: Fresh squeezed orange juice, Rishi raspberry tea, blueberry and hibiscus
Raspberry Cosmo: Rishi hibiscus tea, fresh mint, fresh orange, fresh lemon, fresh ginger and seltzer
1122 N. Vel R. Phillips Ave.
(414) 204-7544
punchbowlsocial.com/location/milwaukee
"Punch Bowl Social has been nicknamed an "adult playground" – and after heading over, I totally understand where that comes from. From the interactive activities, quirky details throughout the bar, delicious "scratch-kitchen" food options and refreshing drinks, Punch Bowl Social is a place for everyone. What drew me to Punch Bowl Social were the refreshing mocktails because they offer 11 non-alcoholic refreshing options, ranging from $3.50 to $7 – and that does not even include the normal options such as soda, water, seltzer, juices, etc."
Almond Joy Milkshake: Chocolate milkshake, coconut, cream, almonds, shaved coconut and whipped cream
Chef's Cup: Muddled cucumber and lemon, house-made cardamom syrup, currants and sparkling water
Cilantro Fizz: Fresh cilantro, house-made jalapeño and cucumber syrup, fresh lime juice and Aquafaba (chickpea juice)
Jalapeño Cucumber Limeade: House-made jalapeño cucumber syrup, fresh lime juice and sparkling water with a rim of cayenne pepper
Matcha Tea Lemonade: House-made matcha tea syrup, fresh lemon juice and water
5623 6th Ave., Kenosha
(262) 925-8499
sazzybhive.com
"Grease & Honey Restaurants has become a staple in the Kenosha community thanks to the belief that the "best things in life are just a bit better after a hard days work and as they strive to not only provide the reward, but also to earn it." They are committed to creating an unique culinary and cocktail/mocktail experience for everyone, which is why Sazzy B is such a Kenosha destination."
Due Date: Lavender simple syrup, lemonade, mint leaves
Migration Pattern: Mango puree, cranberry juice, pineapple juice, house sour
Powder Day: Almond milk, vanilla bean tea, honey simple syrup, lemon juice
Weatherman's Promise: Cinnamon plum simple syrup, chai tea simple syrup, rosemary
550 N. Van Buren St.
(414) 847-5622
stellavanburen.com
"One of my favorite hotel restaurants in Milwaukee is Stella Van Buren. Their commitment to provide a vibrant experience each time you patron their establishment is inspiring – plus, did you know that, besides their flavorful Italian-American steakhouse food and known bourbon selections and craft cocktails, they also have an established mocktail selection?"
Blackberry Basil: Lemon, simple syrup, sparkling soda, muddled lemon wedges, blackberries and basil
Cranberry Breeze: Grapefruit, cranberry juice, splash with lemon juice and sparkling soda
Sparkling Mint Lemonade: Muddled lemon wedges and mint, simple syrup and sparkling soda with a garnish of lemon
Strawberry Lime Mock-A-Rita: Agave simple syrup, lime juice and sparkling strawberry juice
124 N. Water St.
tiedhousemke.com
"Tied House's seasonal mocktails are influenced by Mexican culture. For the Webers, Mexico is almost like a second home, and the epitome of hospitality as it creates memories of comfort, relaxation and much more, which comes through in the refreshing and comforting mocktails – each selling for just $6."
Feisty Pepino: Fresh cucumber puree, lime juice, simple syrup, Indian tonic water and Mexican spice citrus salt, garnished with a cucumber ribbon
Shrub-It-Off: apple beet shrub, orange juice, soda water and egg white foam, garnished with a lemon peel
231 S. 2nd St.
(414) 539-4179
toastmilwaukee.com
"I was recently informed that Toast in Walker's Point created a handful of "far out" mocktails. Far out, indeed. If you have not been to Toast, you are in for a groovy treat because it truly embraces a '60s vibe, creating a peaceful, loving and happy experience – especially when it comes to mocktail creations."
Good Vibrations: Orange juice, pineapple juice, coconut syrup, grenadine and garnished with a lime wheel
Kesey's Test: Lemonade, black raspberry syrup, muddled lime, seltzer and garnished with a lime wheel
Lucy in the Sky: Strawberry mango & peach puree, kiwi & banana syrup, lime juice, cream, muddled raspberries and blackberries, unicorn sprinkle dust and garnished with a lemon wheel
Purple Haze: Cranberry juice, almond milk, almond syrup, lemon juice, muddled blackberries, gold sugar and garnished with blackberries
200 N. Broadway
(414) 291-3971
trerivalirestaurant.com
"The duo, found at the Kimpton Journeyman Hotel in the Third Ward, embraces the beauty and elegance of Milwaukee, especially when you can socialize with friends on The Outsider rooftop and get inspired by the breathtaking views of the city skyline. Plus, The Outsider has a special place in my heart because Christopher Heinrich was one of the first bartenders to educate me on the need for refreshing craft mocktails in Milwaukee when I decided to become sober almost four years ago."
Garden State (The Outsider): Cucumber juice, lemon juice, rosewater syrup, Seedlip Spice 94, non-alcoholic Fee Brothers celery bitters, club soda, cucumbers and rose petals
Temperance & Tonic (Tre Rivali): Seedlip Spice 94, mint, lime and Fever Tree tonic
1818 N. Hubbard St.
(414) 763-0003
viewmke.com
"What restaurant has your favorite view of Milwaukee? For me, View MKE in Brewers Hill has one of the most breathtaking views of our city. But besides the views, the ambiance and the welcoming neighborhood environment instantly helps create a memorable experience at View MKE, which prides itself on creating a welcoming environment that will bring people together to enjoy the neighborhood."
A Peachy Mule: Peach puree, lime juice and ginger beer, garnished with citrus slices
Pineapple Mojito: Muddles mint leaves, pineapple juice, lime juice, press, and garnished with fresh mint and lime
Sparkling Lavender Lemonade: Lavender-infused in-house simple syrup, lemon juice and seltzer, garnished with lemon wheel