A new food truck will make its debut at Zócalo Food Park, 636 S. 6th St., on Thursday, Oct. 1. And it promises to contribute not only new offerings for guests, but a modern, fun concept for food-interested guests.
Modern Maki is the name of the new truck, from which guests can expect a menu showcasing inventive, high quality sushi including sushi burritos, hand rolls, maki, nigiri, sashimi and warming bowls of ramen.
The truck is operated by sushi chef Marco Garcia in collaboration with his partner Marilupe Moreno and their good friends Jose Estrada and Ana Gonzalez.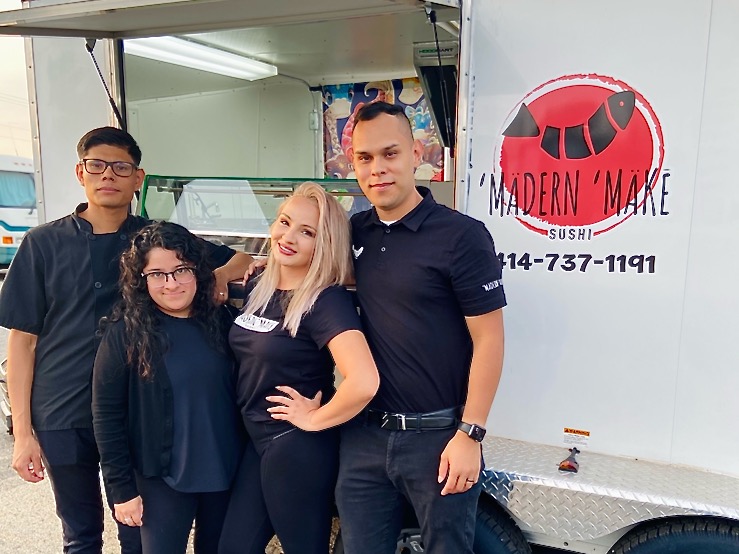 Quality sushi in a casual environs
Garcia worked his way up from dish washer to sushi chef at Wasabi in Brookfield, gaining additional experience at Ikigai Sushi in Waukegan, Illinois, where he has served as head chef.
"Marco was the one who introduced Jose and I to sushi," notes Gonzalez. "And it opened up a whole new world for us. When we'd go out together for sushi together, we'd always get dressed up to go out. It was an occasion for us, so we'd always make the effort to get pretty in preparation."
As time went by, Gonzalez says, inspiration struck. The notion of creating a casual food truck concept that served the same high quality sushi as a more formal restaurant really resonated.
"We're all so busy," she says, "And as millennials, we're looking for those experiences that fit our lifestyles. Everything is go, go, go and work, work work. So when we get together, it's nice to find great, casual, affordable things to do with friends."
The more she thought about it, she says, the more she liked the idea.
"A few months ago, I realized there were currently no sushi trucks in Milwaukee," she says, and she mentioned her idea to Moreno and Garcia. "About a week later, I found a food trailer for sale on Facebook and I tagged everyone in the post."
Moreno says the idea took flight from there and further developed as Gonzalez contributed her insights about running a food based business and Estrada taking the helm on costing and other business matters. In the end, finding a place to operate the truck was the final piece of the puzzle.
"We knew we'd gotten into the food truck business late, since the summer was mostly over," she says. "But we went to Zócalo to check it out. We had a casual meeting with Jesus [Gonzalez], and things progressed from there... We are really excited to be a part of Zócalo. We can't imagine a better place to open."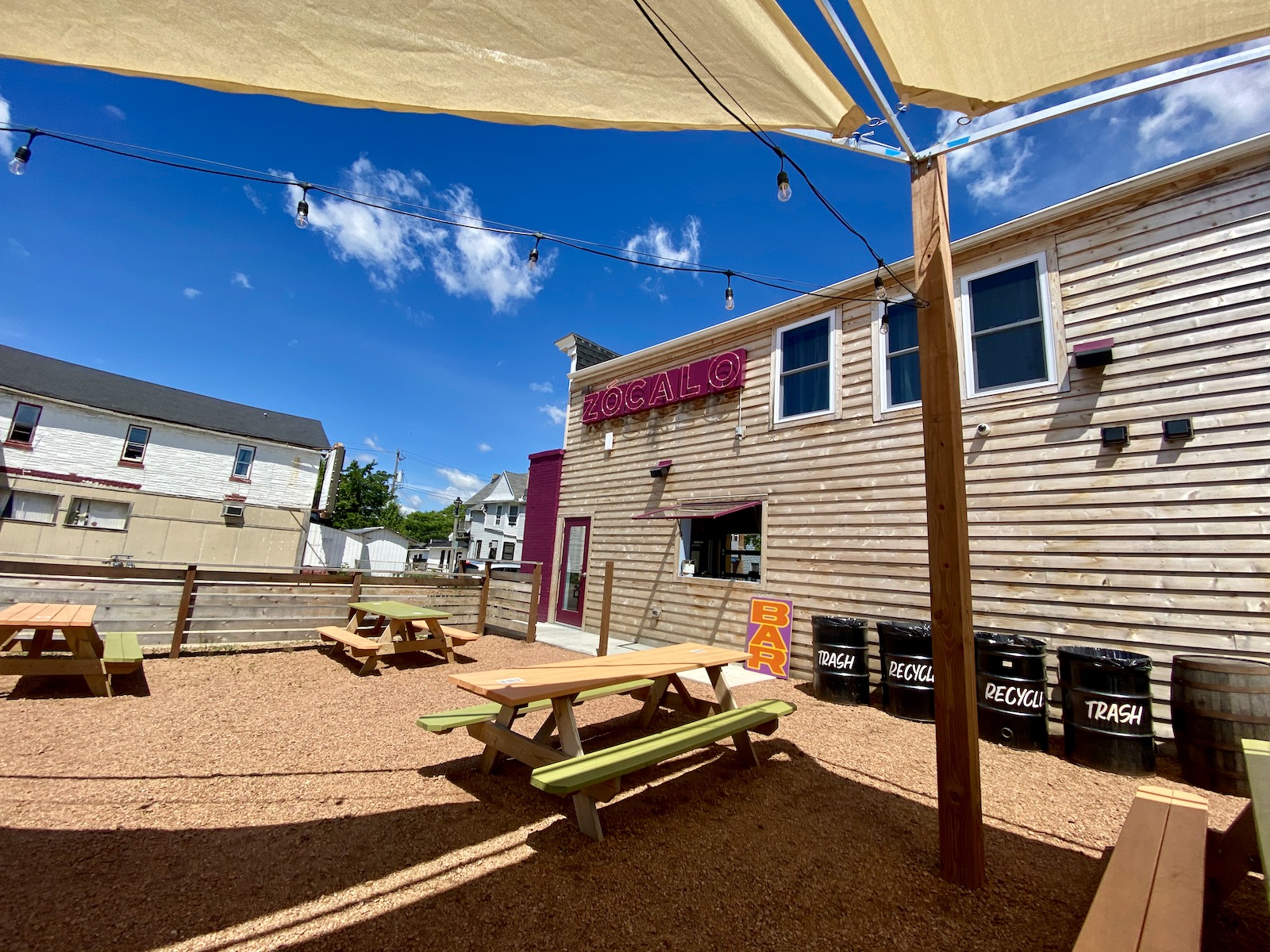 On the menu
On the opening menu, guests will find a combination of classic maki – including California rolls, spicy tuna and eel avocado ($5 each) along with $4 veggie rolls including avocado, cucumber, sweet potato tempura with eel sauce and a mixed veggie with asparagus, avocado, ashiinko and cucumber.
There will also be signature creations like the the Crunchy Munch with spicy crab, avocado and cucumber, topped with shrimp, eel sauce, spicy mayo and tempura flakes ($10) and Mexican roll with yellowtail, cilantro and jalapeno, topped with white tuna, ahi tuna and avocado ($10).
Sushi burritos will include options like the MKE Burrito with crab, avocado, cucumber, cream cheese, sweet potato tempura, asparagus tempura and eel sauce; a Packers Burrito with spicy salmon, spicy tuna, avocado, cucumber, asparagus, sweet potato tempura and eel sauce; and the Hot Flamin' Burrito with spicy salmon, spicy crab, eel, avocado, cucumber and spicy hot flamin' crunch. All are $11 each.
Guests can also choose from a variety of nigiri and sashimi ($2 per piece) and sushi and sashimi combinations ($13-$14).
Ramen includes classic tonkotsu, shoyu or vegetarian with traditional toppings including corn, bean sprouts, bamboo shoots, nurutomaki (fish cake) and scallions ($13).
Moving forward
Moreno says their opening menu features things that they really love; but they will be listening to customers to see what they like and take inspiration from those ideas moving forward.
The ultimate goal, she says, is to introduce people to great sushi in a fun, casual way.
"Zócalo's environment supports exactly what we're trying to do," says Gonzalez. "It naturally provides people with a casual, fun environment. I think there are some people who wouldn't walk into a sushi restaurant, but they might take the opportunity to try something from a food truck. It's a smaller investment. And if you can give them the same high quality experience they'd get in a restaurant, that's the goal."
"Marco has worked so hard and is really good at what he does," says Moreno. "Our dream has always been to be our own bosses, but without Ana and Jose pushing us, I don't know if we would have branched out. As cheesy as it sounds, we're finding that you can do what you want to do as long as you have the support system you need, and we've really gotten that from them."
Gonzalez nods.
"So many people want to start their own businesses, but they don't know where to start or have the support they need," she says. We want to be an inspiration for others who are looking to pursue their dreams."
You can find Modern Maki at Zócalo Food Park starting Oct. 1. Hours will be Tuesday through Thursday from 11 a.m. to 2 p.m. and 5 to 9 p.m.; Friday and Saturday from 11 a.m. to 9 p.m.; and Sunday from 11 a.m. to 7 p.m.
Modern Maki will also offer catering. You can follow the truck on Facebook and Instagram.
Lori Fredrich (Lo) is an eater, writer, wonderer, bon vivante, traveler, cook, gardener and girlwonder. Born and raised in the Milwaukee area, she has tried to leave many times, but seems to be drawn to this quirky city that smells of beer and alewives.
Some might say that she is a little obsessed with food. Lo would say she is A LOT obsessed with food. After all, she has been cooking, eating and enjoying food for decades and has no plans to retire anytime soon.
Lo's recipes and writing have been featured in a variety of publications including GO: Airtran Inflight Magazine, Cheese Connoisseur, Cooking Light, Edible Milwaukee, Milwaukee Magazine and the Milwaukee Journal Sentinel, as well as on the blog Go Bold with Butter, the web site Wisconsin Cheese Talk, and in the quarterly online magazine Grate. Pair. Share.