For years, the area around Marquette University was devoid of fresh food options. But thanks to the work of the Near West Side Partners, there are now numerous new options for students, residents and employees in and around Avenues West.
Mo's Food Market, 2404 W. Clybourn St., observed its grand opening today, complete with a ribbon cutting ceremony led by Alderman Robert Bauman. The new Asian grocer follows the opening of Sendik's Fresh2Go, which opened on the Marquette Campus last August, as well as the Near West Side Farmer's Market, which operates June through September at 20th and Kilbourn.
The market is filled with an impressive array of grocery options from basics like eggs and soy milk to specialty produce, snacks and housewares.
There's nothing quite like strolling the aisles of a new grocer, where every turn offers something new to tempt your tastebuds and your wallet. At Mo's here's just a sampling of the goodies we found.
1. Live seafood
You really can't get much fresher than live fish swimming in tanks. Today's selection included bass, catfish, lobster and crab.
2. Jack fruit
Declared as one of the hottest food trends of 2017, Jack fruit has become a hot commodity in America. Prized for its texture, which is uncannily similar to shredded beef or pork, the fruit is remarkably versatile. It's also loaded with protein, potassium, calcium and iron.
3. Dragon fruit
Dragon fruit (also called pitaya) is gorgeous; its exterior is fuschia and its flesh is similar to that of kiwi: a bright white color dappled with tiny black seeds. It's mildly flavored, slightly sweet and sometimes tangy. It's also high in fiber, vitamin C and B vitamins.
4. Greens and more greens
Mo's has a lovely selection of greens, including standards like spinach and bok choy. But there are also less widely known options including things like Chinese broccoli (gai lan) and chrysanthemum greens (also called ssukgat, tan ho, tung hao or shungiku).
5. Tea
There's also a lovely selection of teas, including this line, which is beautifully packaged in varieties like rose, lotus leaf, barley and honeysuckle.
6. Japanese fish cakes
Get your ramen bowl ready. Mo's also has Japanese fish cakes, a fun addition to any number of noodle bowls. It's also delicious fried in tempurah batter or even on its own, eaten as a snack with a bit of wasabi and soy sauce.
7. ALL the noodles (and dumplings)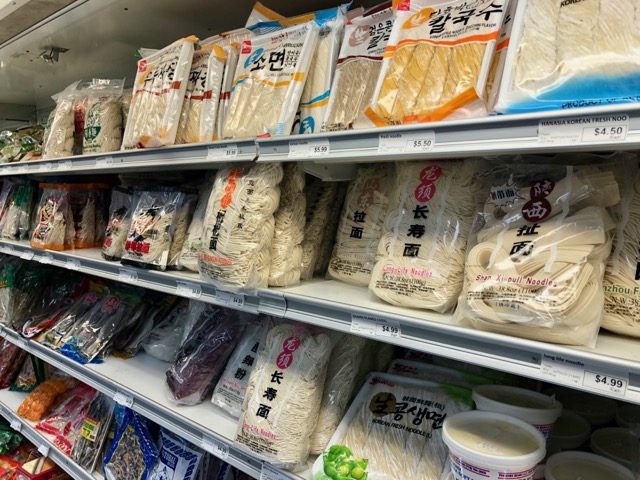 There are dried noodles galore, but also an impressive selection of fresh options in the refrigerator section. There's are also frozen dumplings in just about any flavor you can think of.
8. Beautiful housewares
The housewares section at Mo's is impressive (and tempting). Gorgeous bowls can be found priced $2-5 each.
There are tea and sake sets, ramen spoons, chopsticks, rice cookers, bamboo steamers, tamale steamers and a nice selection of cutlery.
9. Plants
There was also a small selection of plants, including a number of herbs and hot peppers -- all perfect for growing in a sunny window or balcony.
10. Too many fun things to count
You'll also find fun things like Hello Kitty bobbleheads.
Tiny shopping carts
And adorable little cat bowls.
And there's more where that came from.
Mo's Food Market is open daily from 9 a.m. to 8 p.m.