In the fifth and final Future Museum initial gallery reveal, Milwaukee Public Museum and exhibit designers Thinc Design unveiled sketches Tuesday of the Future Museum's We Energies Foundation Gallery: Rainforest, the Puelicher Butterfly Vivarium and Bucyrus Rooftop Terrace.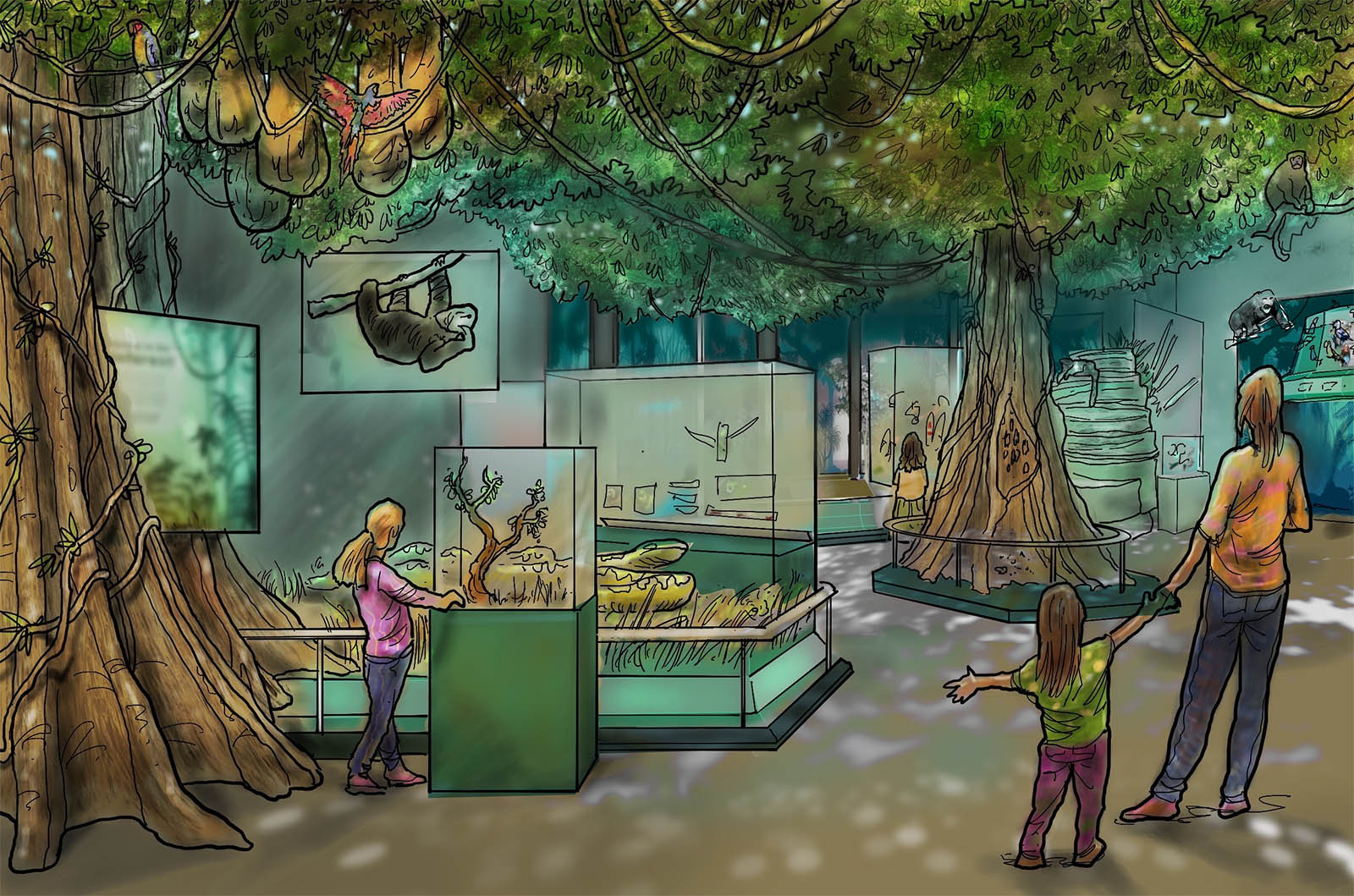 The Rainforest exhibit will surely feel familiar to longtime museum-goers as it will be immersive, like the current iteration. (One of the most enduring of the home-grown galleries in the museum, the rainforest area was based on an MPM staff trip to Costa Rica in 1986.)
It will also include some familiar features, like the hollowed-out tree and the taxidermied howler monkey, plus a sloth, anaconda and oropendola nests.
The new rainforest hall will include living collections, too.
The gallery will also include the new version of the Puelicher Butterfly Vivarium, and adjacent will be the Bucyrus Rooftop Terrace, with plantings, an outdoor classroom and more. This upper level will also offer great skyline views.
The current butterfly wing, the only year-round tropical butterfly garden in the state, was created in 1997 after the temporary "Butterflies Alive" exhibit was a big success.
"Our museum has long been renowned for its immersive rainforest displays, including our world-class live butterfly garden," said Dr. Ellen Censky, MPM President & CEO in the announcement.
"Thanks to the generosity of We Energies, the We Energies Foundation Gallery: Rainforest will again bring visitors to some of the most biodiverse and special places on the planet, spotlighting the rich resources and abundant life that thrives in the tropics."
Over the past few months, MPM has revealed its other main gallery spaces – Living in a Dynamic World, Milwaukee Revealed, Wisconsin Journey and Time Travel – in broad-stroke images and descriptions.
You can find details on all of those, plus more on the new museum building, construction progress at the Future Museum site and much more by clicking here.
As work continues on the permanent exhibition spaces, more in-depth information will be released. Expect to hear more about amenities, the lobby, the museum store, a cafe and museum programming in the near future.
The new museum is expected to open in late 2026.
Here is more information on the rainforest, rooftop and butterfly exhibit, as provided by Milwaukee Public Museum:
We Energies Foundation Gallery: Rainforest
"From canopy to forest floor, rainforests are home to an incredible array of unique flora and fauna, all powered by the sun, that present unlimited opportunities to expand our understanding of the world around us," said Beth Straka, President of We Energies Foundation. "It is our honor to present the We Energies Foundation Gallery: Rainforest and help continue a legacy of curiosity, learning and exploration for our community."
In Rainforest, visitors will be transported to one of the most biodiverse places on the planet: the tropics. Tropical rainforests along the equator are defined by their mazes of massive trees and vines, elements the gallery will leverage to conceal and reveal exhibits featuring a wealth of natural and cultural collections items.
Tropical Rainforest
The Rainforest gallery will be highly immersive. Visitors will experience a dimly lit space dressed with large tree trunks and thick vegetation, and a vibrant audioscape of gentle rainfall alongside the buzz of insects, birds and other rainforest residents will help set the tropical scene.
Rainforests across the world are prime examples of nature's beauty and utility. In this exhibit, visitors will learn about traditions and practices common in rainforests, including how tropical rainforests support human health and healing through medicinal plants and provide raw materials for the creation of tools. Stories about venomous specimens, medical ceremonies as well as healing and adornment practices will also be explored.
Throughout the gallery, exhibits will include specimens like beetles and birds of paradise alongside intricate beadwork and featherwork created in or inspired by rainforests.
Living Collections
In addition to preserved specimens and cultural items, some exhibits will even include living collections, potentially featuring poison dart frogs, tarantulas or other creatures that can be found in rainforests.
Birds
A display of dozens of bird specimens and models mounted above visitors' heads will connect the adjacent Wisconsin Journey gallery to the Rainforest gallery, evoking the annual mass migration toward the tropics that millions of species make each year to escape cooling northern climates.
Butterflies
Found in many tropical rainforests, butterflies have long sparked curiosity and inspired imaginations. In Rainforest, an exhibit will be dedicated to butterflies' global and local diversity, widespread migration patterns and the differences between butterflies and their cousins, moths. It will also explore the ways in which butterflies have inspired myths and art around the world.
Puelicher Butterfly Vivarium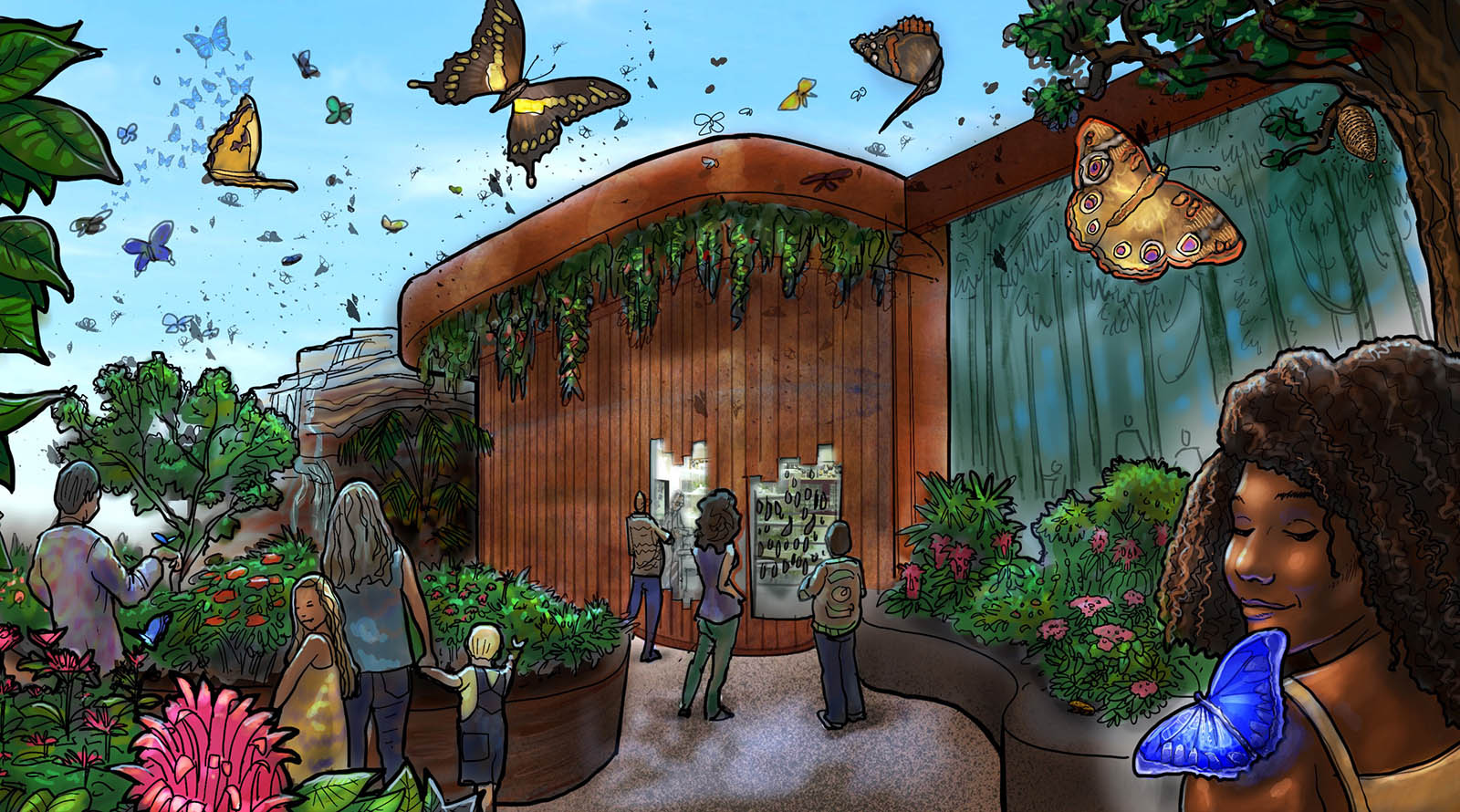 Familiar to any fan of the Museum, a glass-walled live butterfly exhibit will be located in the Rainforest gallery and will once again immerse visitors in the tropics, thanks to a leadership gift from the Puelicher Foundation, which has added onto their original $3 million donation to maintain the Vivarium's naming in perpetuity.
A delightful, multi-sensory experience, the Puelicher Butterfly Vivarium will be home to a diverse array of living butterflies, moths and plant life.
"Jack Puelicher was an enthusiastic supporter of the Milwaukee community, and particularly of educational initiatives and efforts that could benefit all," said Judith C. Murphy, President, Puelicher Foundation.
"Though he did not live to see the Jack Puelicher Butterfly Wing or Vivarium, we know he would have loved to see how it has impacted children, families and future scientists for the last several decades. We also know that he would want his gift to the people of Wisconsin to be a lasting one, which is why we are proud to provide additional funding to ensure his legacy will be accessible to future generations in the Future Museum."
In addition to observing the beautiful specimens fluttering freely around the space, visitors will be able to peer into an insect lab and pupae room, observing the lifecycle of the creatures fluttering around the Vivarium and learning more about the science behind the flora and fauna they are experiencing first hand.
Bucyrus Rooftop Terrace
Made possible by a $2.5 million gift from the Bucyrus Foundation, the Bucyrus Rooftop Terrace will reconnect visitors to the outdoors and the natural world after time spent losing themselves among the galleries and exhibits.
"The future of education is the future of our community," said Tim Sullivan, Bucyrus Foundation Chairman and former Bucyrus CEO.
"The Bucyrus Foundation is excited to support one of the largest cultural and educational institutions in Wisconsin and help provide generations of future visitors with opportunities to explore, learn and grow at the Bucyrus Rooftop Terrace for years to come."
Designed by landscape architects at GGN, gardens on the Terrace will include native Wisconsin plantings and be designed to shift with the seasons. In addition to space to walk around and sit among the gardens, the Terrace will function as an outdoor classroom and observation area, allowing visitors to smell, touch and see the natural world nestled right into the City of Milwaukee skyline.
The Terrace will also be an attractive place for Wisconsinites to gather for special events.
Born in Brooklyn, N.Y., where he lived until he was 17, Bobby received his BA-Mass Communications from UWM in 1989 and has lived in Walker's Point, Bay View, Enderis Park, South Milwaukee and on the East Side.
He has published three non-fiction books in Italy – including one about an event in Milwaukee history, which was published in the U.S. in autumn 2010. Four more books, all about Milwaukee, have been published by The History Press.
With his most recent band, The Yell Leaders, Bobby released four LPs and had a songs featured in episodes of TV's "Party of Five" and "Dawson's Creek," and films in Japan, South America and the U.S. The Yell Leaders were named the best unsigned band in their region by VH-1 as part of its Rock Across America 1998 Tour. Most recently, the band contributed tracks to a UK vinyl/CD tribute to the Redskins and collaborated on a track with Italian novelist Enrico Remmert.
He's produced three installments of the "OMCD" series of local music compilations for OnMilwaukee.com and in 2007 produced a CD of Italian music and poetry.
In 2005, he was awarded the City of Asti's (Italy) Journalism Prize for his work focusing on that area. He has also won awards from the Milwaukee Press Club.
He can be heard weekly on 88Nine Radio Milwaukee talking about his "Urban Spelunking" series of stories.