Though the details have not been completely unveiled, Milwaukee Public Museum has announced some of what we can expect from its "Milwaukee Revealed" permanent exhibit at the Future Museum, slated to open in 2026.
While "Milwaukee Revealed" could be classed as the replacement for "The Streets of Old Milwaukee" – in fact, MPM calls it the "spiritual successor" to "Streets" – it clearly has loftier goals than simply recreating that iconic built-in-place 1890s Brew City block.
How successful it is we'll know as time goes on and more details emerge, but at this early stage it would appear that "Milwaukee Revealed" will offer a fuller portrait of the city than does "Streets of Old Milwaukee," which has always aimed to capture Milwaukee only during a very specific era, and almost exclusively from a commercial viewpoint.
Along with its exhibit design partner Thinc Design, MPM shared broad-stroke information and some sketches of the immersive Milwaukee gallery, which is the third of five permanent galleries that are being unveiled across a couple months this spring.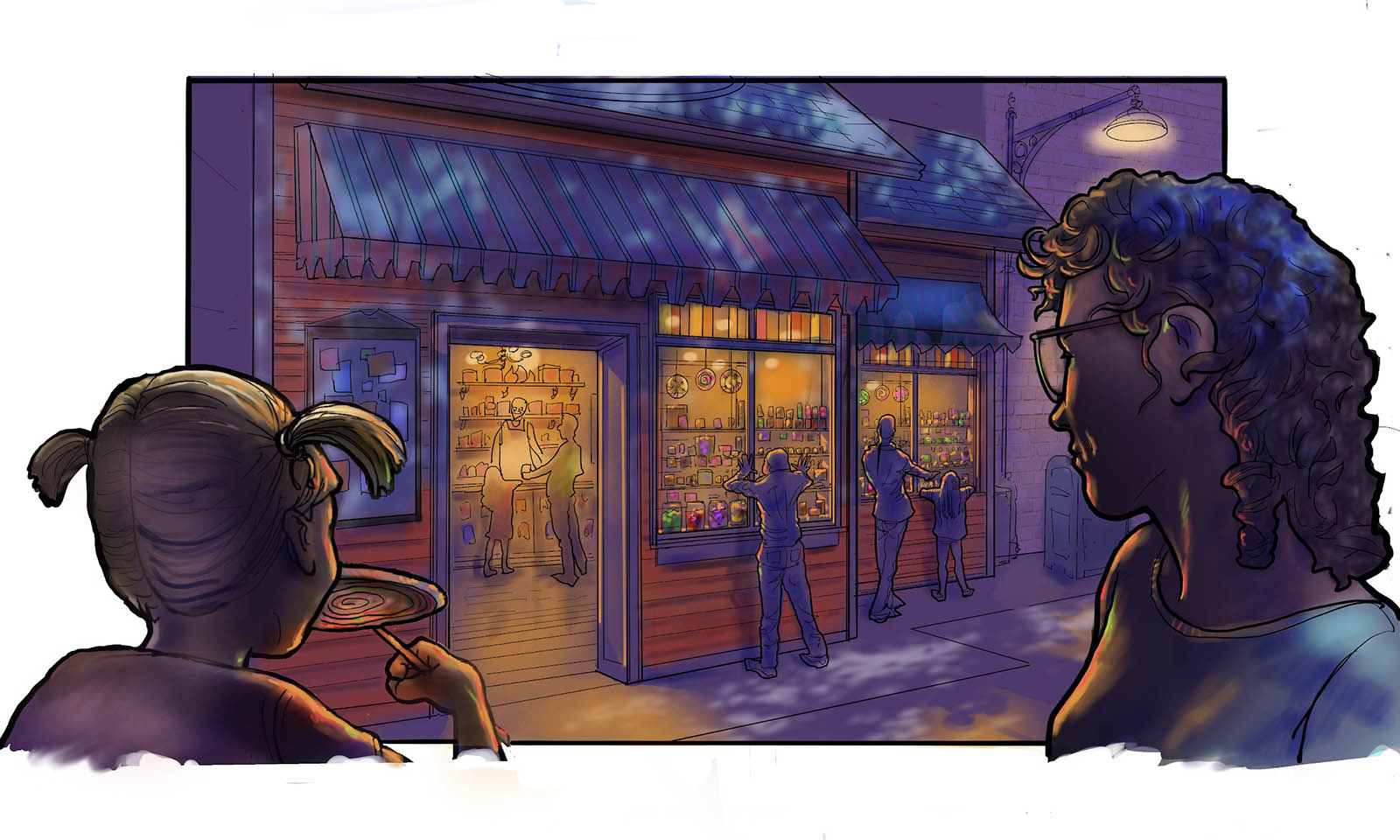 The first to be introduced was "Time Travel" in early March, and "Wisconsin Journey" was outlined on March 23.
As was the case with those exhibits, the information about "Milwaukee Revealed" suggests a mix of new and familiar objects, as well as a blend of artifacts and multimedia.
Those fearing a complete erasure of the current museum and/or a massive tech takeover should be heartened by these reveals.
In a media call on Friday, MPM President and CEO Dr. Ellen Censky said no objects will be sold, destroyed or thrown out. Everything will be moved either to the new museum or into museum storage.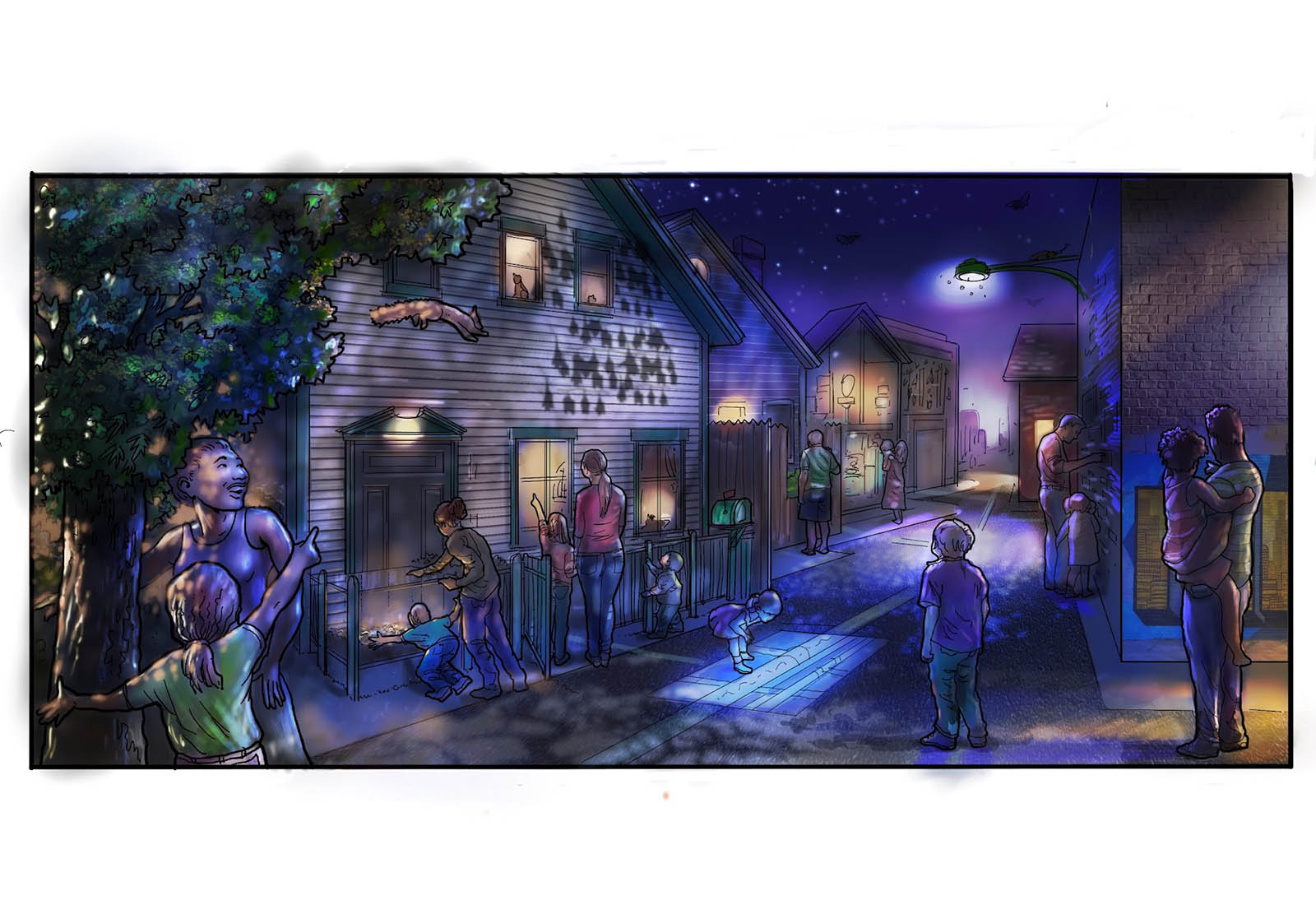 While "Milwaukee Revealed" has some great new features, as well as some "Streets of Old Milwaukee" treasures, it's hard to know if die-hard skeptics will be soothed by anything other than a faithful and complete reconstruction of "Streets" as we know it today.
However, the new Milwaukee exhibit is clearly well thought out and attempts to offer different and in some cases deeper perspectives on the city's history.
There will be a street, and in addition to a dress shop that will aim to showcase the museum's vast textiles collection via oft-changing displays, there will be an apothecary and a shop that will be changed out to focus on different types of businesses.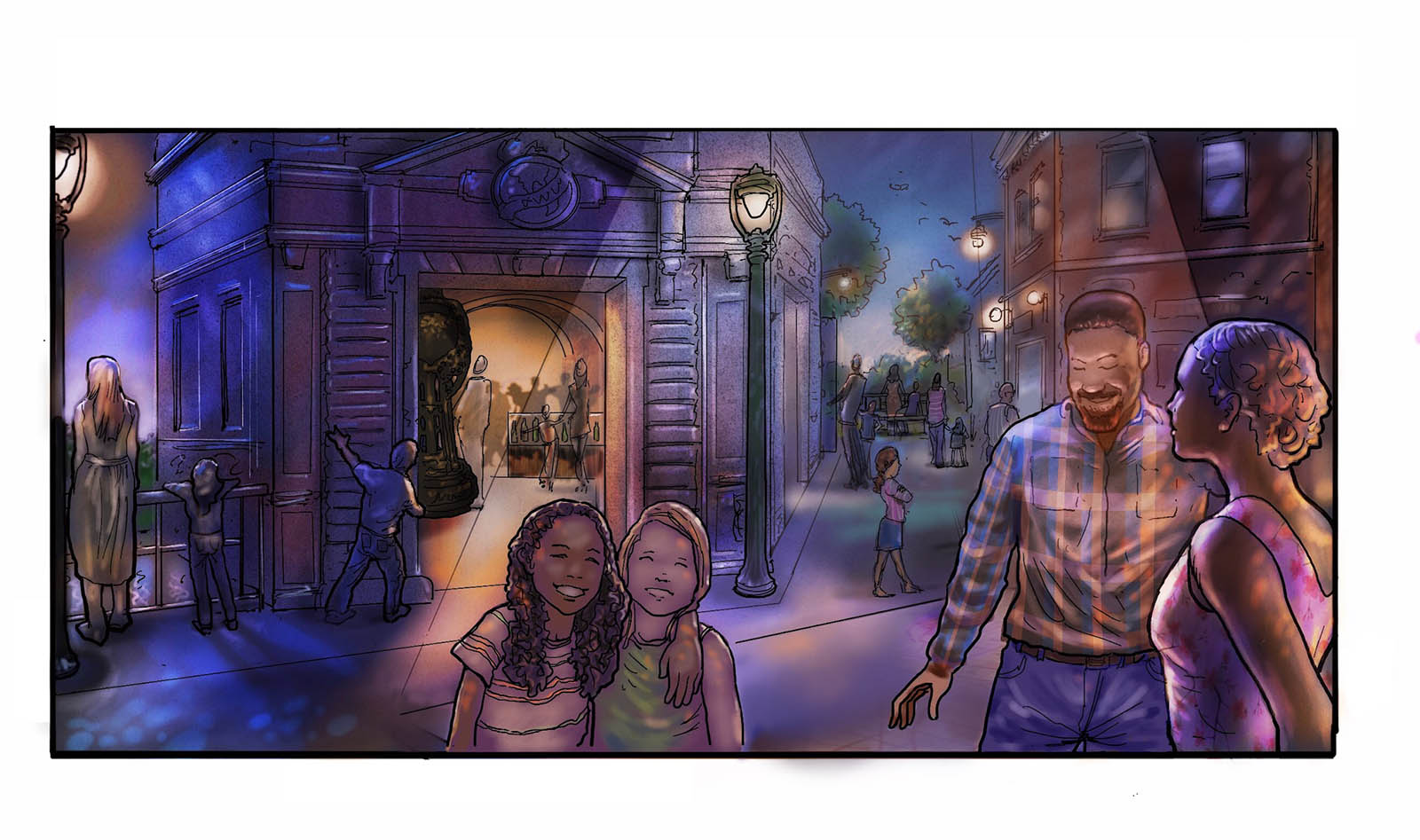 There will also be a frozen custard stand on the street, introducing the history of this iconic Milwaukee treat at the museum for the first time. (Sorry, it will not sell actual custard.)
And, the Haymarket Candy Shop – a beloved "Streets" institution – will be there, too. The museum hinted in a media call on Friday that Granny is also making the move.
There's also a recreated Schlitz Palm Garden that will offer an opportunity to discuss the city's brewing history, a reimagination of Increase Lapham's house and study, and a Mitchell Building that will integrate the Juneau cabin that previously stood on that site on Water and Michigan Streets.
The latter feature feels like a compelling visual example of what I hope my Urban Spelunking series captures about city sites: the layers of history, both seen and unseen.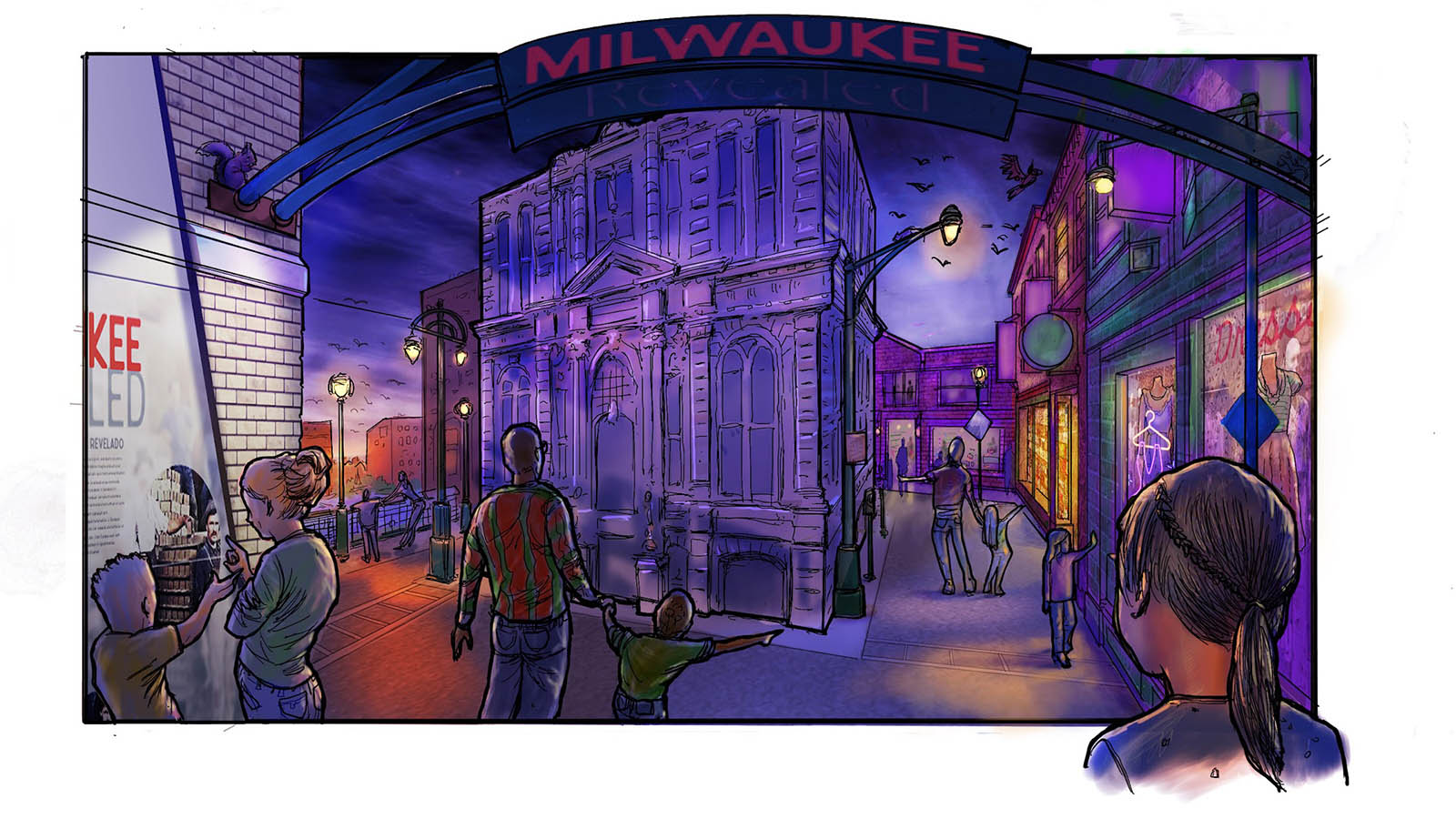 There will also be a spotlight on the Cream City Medical Society, which was led by Dr. Richard Herron, whose father was Milwaukee's first African-American physician.
A neighborhood street will look at residential architecture and offer a chance to explore how the city provides services like water, sewer and electric, and there will be a community garden, too.
A waterfront feature will consider the city's relationship with the river.
Exhibits will be built using cream city brick, which will open up an exploration into the city's geology and how it led to Milwaukee's beloved building material. Other similar connections will help further explain the links between nature and culture in the Cream City.
There will be the use of audio and olfactory elements, as well technology that allows visitors young and old to dig deeper and seek out "Easter eggs" and hidden details and interactives.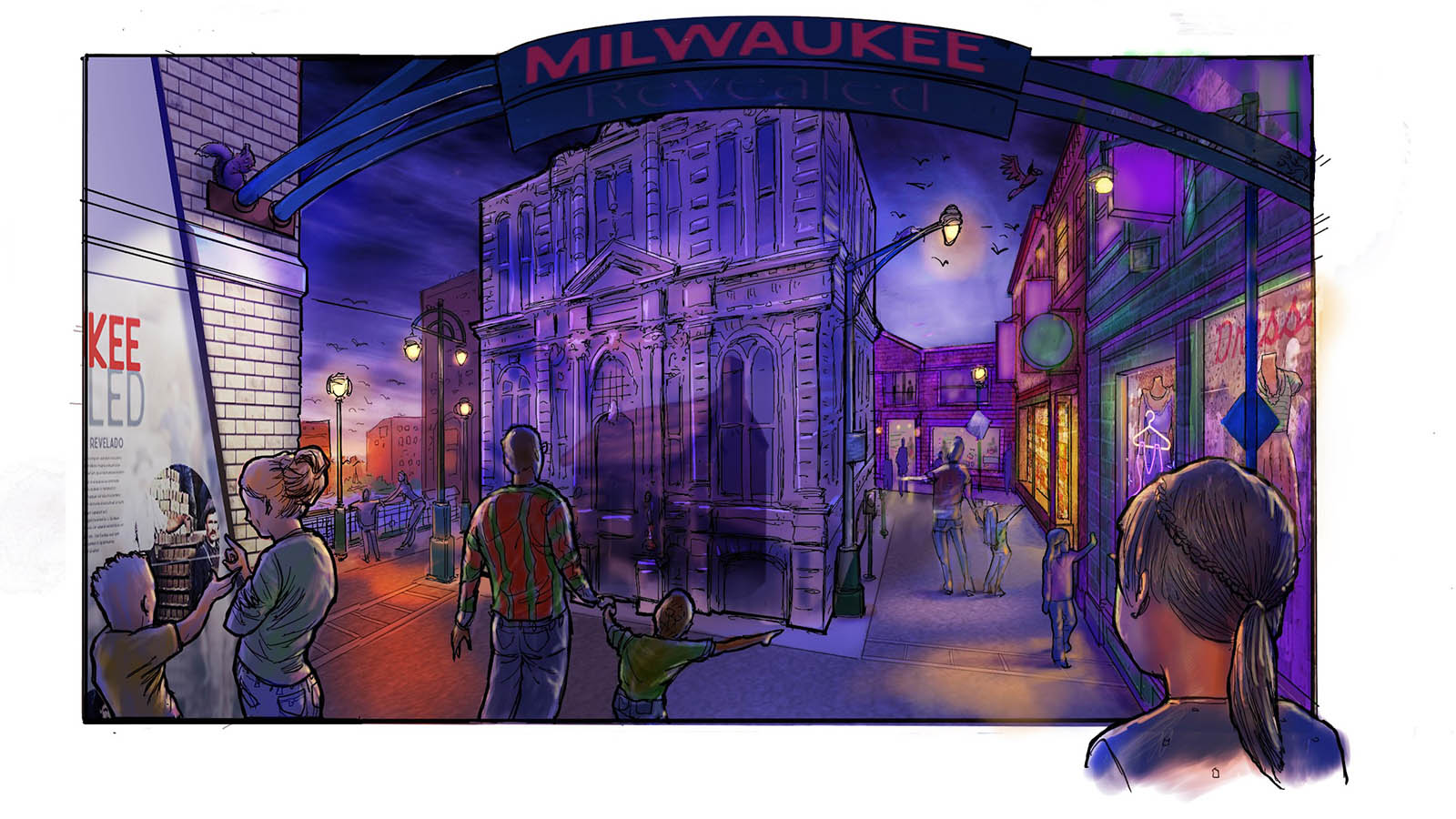 But there will indeed be objects and, the announcement notes, "The gallery details and exhibit examples shared ... and in the ... sketches represent only a fraction of what visitors can expect in the Future Museum's 'Milwaukee Revealed' gallery. The final gallery will include many more exhibits, collections items and opportunities to learn."
Below you will find the complete descriptions provided by Milwaukee Public Museum and Thinc Design.
Although specific details weren't announced, MPM says that the gallery, "will also include immersive exhibits about Milwaukee's relationship with its rivers and Lake Michigan."
"As any Milwaukeean or MPM visitor knows, there's more to Milwaukee than meets the eye," said MPM Censky.
"Just as Milwaukee is an urban environment built on a rich natural landscape, Milwaukee Revealed will simultaneously explore the bustling business corridors and neighborhoods of the city, the unique ecology of the lakefront and waterways and the ways in which nature and culture come together in confluence to create the place we call home."
Censky added that "Streets of Old Milwaukee" and "European Village" have been entirely 3-D scanned and will be available to everyone to view online.
Gallery sketches and exhibit previews
Commercial
Upon entering the Commercial district of the gallery, visitors will be transported to a bustling, immersive urban environment. With a mix of historic and modern city landmarks, Milwaukee Revealed will evoke a contemporary view of Milwaukee. Take a closer look, though, and the past will be revealed to visitors.
Mitchell Building
Immediately upon entering the gallery, visitors will encounter the Mitchell Building, a recognizable, historic building that ties the present to the past. Look long enough and the Mitchell Building's façade will fade away to reveal the home of city founders Josette and Solomon Juneau, which once occupied the same site.
"Through choreographed lighting effects, the façade of the Mitchell Building will at times look solid, like any other wall, but once lit from the inside, visitors will see through the surface to find the silhouette of the Juneaus' cabin – a hint at the stories they will encounter once entering the building," said Chris Muller, Senior Exhibit Designer at Thinc and a lead designer for the Milwaukee Revealed gallery.
"In exploring Milwaukee's past and present, the Future Museum will reveal the history embedded in the buildings and streets Milwaukeeans encounter every day."
The Mitchell Building is one of many explorable spaces in Milwaukee Revealed, and visitors will be able to walk into the building and immerse themselves in the environment. Inside, visitors will encounter historic artifacts – including a portrait of Josette Juneau currently on display in MPM – and learn the story of the Juneaus' relationship, the fur trade and their role in the founding of the City of Milwaukee as we know it.
Storefronts
Storefronts lining the gallery's streets will give a glimpse into the industries and endeavors that have shaped Milwaukee. Among the shops featured will be a dress shop, where a window display will show a rotating collection of both contemporary and historic textiles from the museum's vast collection. Inside the shop, visitors will be able to explore the changing traditions and compositions of clothing from around the world.
Another storefront will feature a modern-day frozen custard shop, revealing stories about the local dairy industry, where the ingredients for Milwaukee's favorite frozen treat come from and how Milwaukee connects to the rest of the world in perhaps surprising ways. Further down the street, a market storefront will give visitors a glimpse into other types of business and industry that contribute to Milwaukee's identity. In this space, museum staff will rotate the collections items on display, revealing something new on a regular basis.
Adding to the experience will be urban soundscapes, including the rumble of vehicles down roadways and birdsong. Visually, silhouette projections of people and animals moving inside the gallery's shops and houses, especially behind the windows on the upper stories of exhibits, will create a dynamic and immersive experience.
Schlitz Palm Garden
Behind the doors of a common, everyday shop, discover the golden years of Milwaukee's beer-brewing kings. Another immersive space that visitors can enter and explore, the Schlitz Palm Garden will reveal the story of how German and Polish migration and labor, and access to natural resources like water, wheat and hops, led to Milwaukee's famed beer production. Visitors will encounter German and Polish artifacts and some familiar collections items, too, such as a giant Japanese incense burner – or censer – which once stood in the real Schlitz Palm Garden and is currently on display in MPM.
Cream City Medical Society
Milwaukee Revealed will explore how the many ways of understanding care and practicing medicine have supported Milwaukeeans' health and wellbeing through stories about holistic medicine, disease prevention and public health.
Central to these stories will be that of the Cream City Medical Society, Milwaukee's first organization of African-American physicians that was established in 1927 under the leadership of Dr. Richard Herron – son of Milwaukee's first African-American physician Dr. Allen L. Herron. Visitors will be able to walk into a contemporary pharmacy with an old-timey feel and learn about the different healing and medicine traditions held by Milwaukee's diverse communities and the ways in which plants, such as chamomile and peppermint, have been utilized for medicinal purposes across cultures. The pharmacy will be constructed from Cream City brick, and exhibits will explore geological and industrial origins of Milwaukee's iconic building material.
Lapham House
Wisconsin's first scientist, Increase Lapham, is a key figure in the development of museums as we know them today. Visitors will be invited to enter a study, much like the one Lapham might have had in his own home, and see a precursor to our modern Museum – with collections of plants and geologic specimens displayed on shelves. A reproduction of his desk will contain examples of his scientific writings, journals, maps and botanical drawings that have been integral to shaping how museums study and share scientific knowledge today.
A projection element will enlarge those writings and drawings on the wall so visitors can see in greater detail the breadth of what Lapham created and established. On low shelves, tactile fossils and geological specimen reproductions will be accessible for visitors to touch and interact with like scientists themselves.
Waterfront
In the Commercial District, a scenic lookout will give visitors the chance to look out over an exhibit demonstrating the Milwaukee River and catch a glimpse of what lies beneath its surface. The city's dropping water table will be made visible below the river, and the city's architectural skyline will change along the riverfront, revealing how the ecology and industry of Milwaukee has evolved over time. Lighting will create a dynamic effect similar to the movement of currents and fish, and a soundscape of rippling water will further immerse visitors into the scene.
Neighborhoods
Milwaukee is a network of neighborhoods and of neighbors: Plants, animals and humans intertwine in support of one another, often in unexpected ways.
Community Streetscape
The Neighborhoods area will recreate a quintessential Milwaukee neighborhood street, mimicking domestic architecture commonly found in the city. Here, visitors will be charmed by the surprising details that lie beneath the surface of ordinary homes and the kind of Easter eggs museum fans love to discover.
"Like the Mitchell Building, houses lining the street will explore more than meets the eye," said Muller. "The streetscape will reveal stories about the hidden systems that make modern living possible, such as the water and sewage systems that underlie all of Milwaukee. In other houses, visitors might glimpse animals like bats and squirrels that coexist with humans in the city and play an important role in our urban ecosystem."
In a community garden, visitors will encounter live specimens of familiar garden creatures like spiders, ladybugs and other urban neighbors who live in and contribute to nature within the city.
Haymarket Candy Shop
Among the surprises, visitors will find a taste of the familiar. Tucked into the Milwaukee Revealed streetscape will be the Haymarket Candy Shop, a functioning store where visitors can purchase the sweet treats they know and love, to continue a beloved Museum tradition and honor the Future Museum's home in the Haymarket neighborhood.
"We heard loud and clear the public desire for an immersive space dedicated to Milwaukee. Milwaukee Revealed will be a gallery visitors can lose themselves in – and learn a lot about Milwaukee, past and present, along the way," said Dr. Censky.
"Current fans of MPM's Streets of Old Milwaukee will find many familiar, nostalgic elements in Milwaukee Revealed, including collections items like the penny-farthing bicycle and the one-of-a-kind Schloemer automobile.
"We also plan to include a virtual-reality experience of the current Museum's Streets of Old Milwaukee and European Village, preserving the beloved exhibit experience for the next generation to explore in the Future Museum."
Next reveals
The final two gallery reveals are slated for May.
"Living in a Dynamic World" and the Mixing Zones, which are two spaces that will offer behind-the scenes views into the collections' storage areas, will be announced in more detail on May 9.
The "Rainforest," Puelicher Butterfly Vivarium and Bucyrus Rooftop Terrace will be revealed on May 23.
Born in Brooklyn, N.Y., where he lived until he was 17, Bobby received his BA-Mass Communications from UWM in 1989 and has lived in Walker's Point, Bay View, Enderis Park, South Milwaukee and on the East Side.
He has published three non-fiction books in Italy – including one about an event in Milwaukee history, which was published in the U.S. in autumn 2010. Four more books, all about Milwaukee, have been published by The History Press.
With his most recent band, The Yell Leaders, Bobby released four LPs and had a songs featured in episodes of TV's "Party of Five" and "Dawson's Creek," and films in Japan, South America and the U.S. The Yell Leaders were named the best unsigned band in their region by VH-1 as part of its Rock Across America 1998 Tour. Most recently, the band contributed tracks to a UK vinyl/CD tribute to the Redskins and collaborated on a track with Italian novelist Enrico Remmert.
He's produced three installments of the "OMCD" series of local music compilations for OnMilwaukee.com and in 2007 produced a CD of Italian music and poetry.
In 2005, he was awarded the City of Asti's (Italy) Journalism Prize for his work focusing on that area. He has also won awards from the Milwaukee Press Club.
He can be heard weekly on 88Nine Radio Milwaukee talking about his "Urban Spelunking" series of stories.