The Milwaukee Public Museum released much-anticipated renderings of its new building on a 2.4-acre site in the Haymarket neighborhood on Monday morning, and the five-story, 200,000-square-foot building is a stunner.
The project, says museum CEO Dr. Ellen Censky, is the largest cultural project in the history of the state and estimates expect 5.5 million visitors in the first decade, including 1.5 million schoolchildren.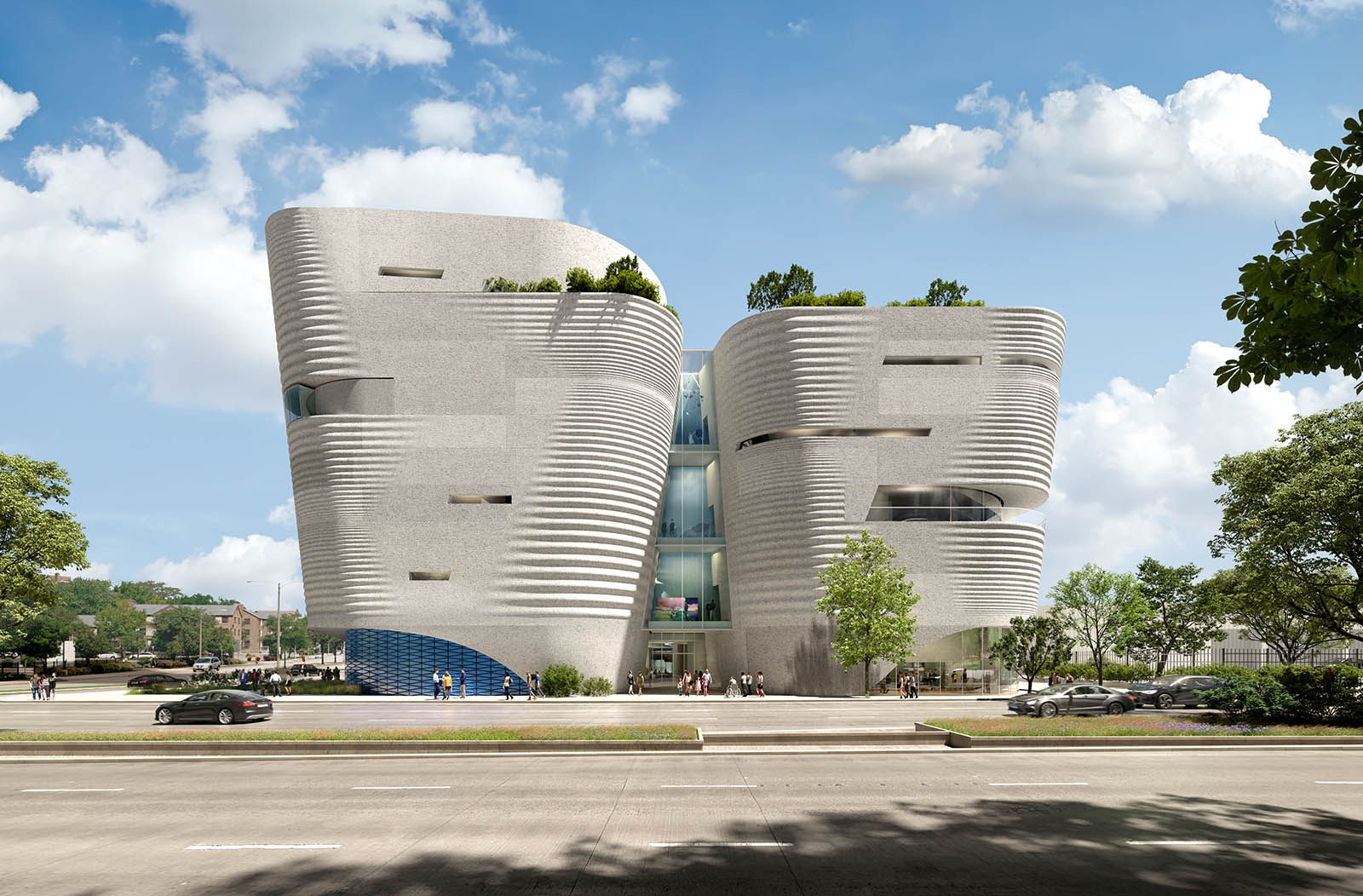 Designed by Ennead Architects and Milwaukee's Kahler Slater, the structure is in three parts connected by a tri-partite walkway that mimics the footprint of the meeting of Milwaukee's three rivers: the Milwaukee, Menomonee and Kinnickinnic.
The building – which is expected to open in 2026, with groundbreaking slated for 2023 – is bright white, nodding to the Milwaukee Art Museum's Quadracci Pavilion, Discovery World, the nearby Moderne apartment tower and the currently under construction Couture.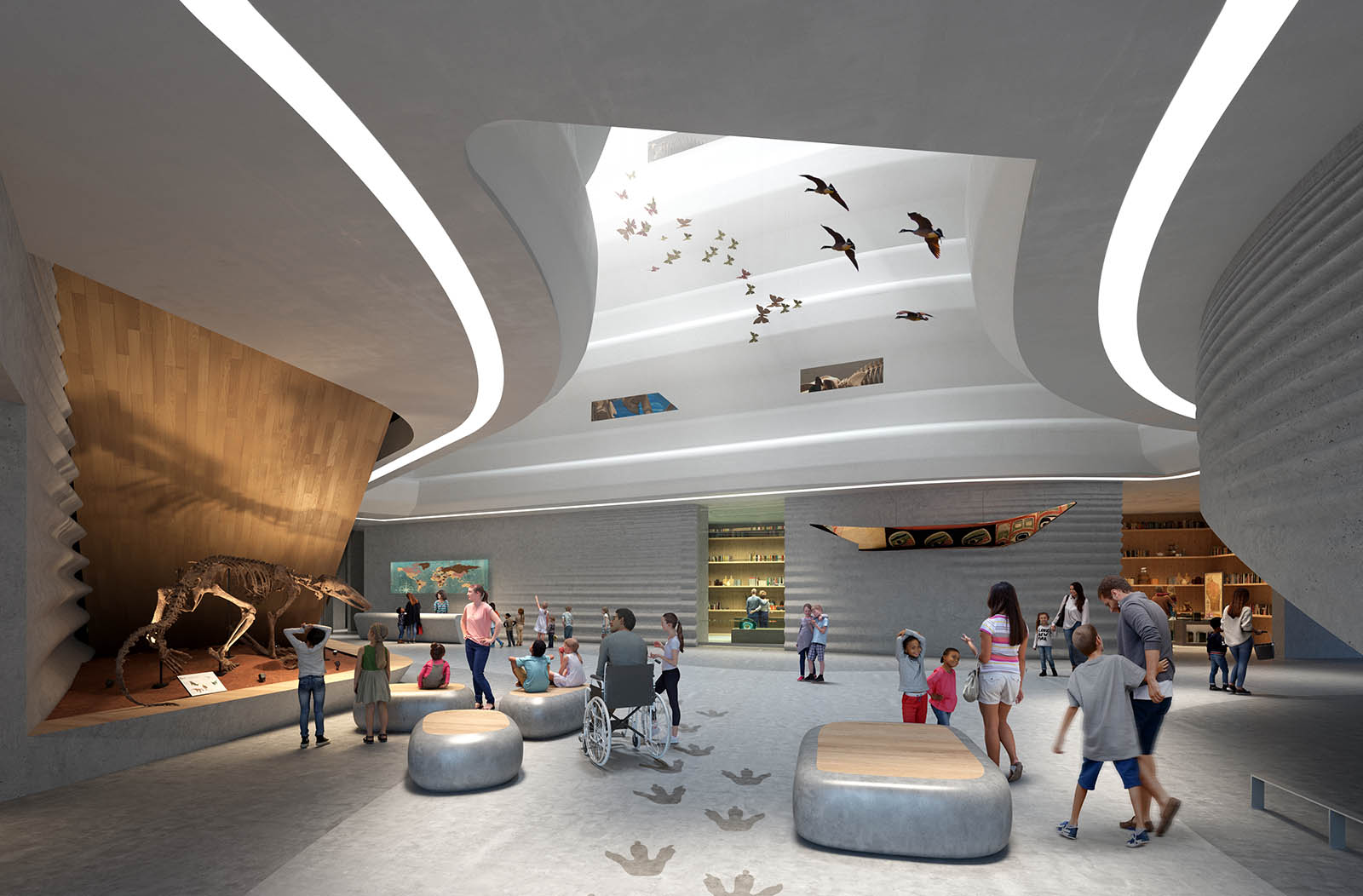 Three curvaceous, organic towers with rounded corners widen as they rise and horizontal striations suggest the sorts of layered rock formations that can be seen all across the state in places like the Wisconsin Dells and exposed portions of the Niagara escarpment, as well as in the Driftless.
Those striations and vertical changes in width suggest the kind of weathering and erosion that has created the state's iconic rock formations.
This is no coincidence, according to Ennead's Jarrett Pelletier, who says that the design emerged from a seven-day trip taken by museum officials and members of the design team from Ennead, Kahler Slater, Thinc Design and GGN landscape architects.
"(Ennead's) Todd (Schliemann) talked about why it's important that this building is grounded in place," says Pelletier. "We couldn't claim to do that without first seeing the landscape and secondly, talking to the people. I think many of us learned so many valuable lessons on that trip."
Mill Bluff State Park in Camp Douglas, near Tomah, was especially impactful on the designers and, in the end, the design.
Those striations in the building are an homage to the stacked mesas and other rock formations at Mill Bluff.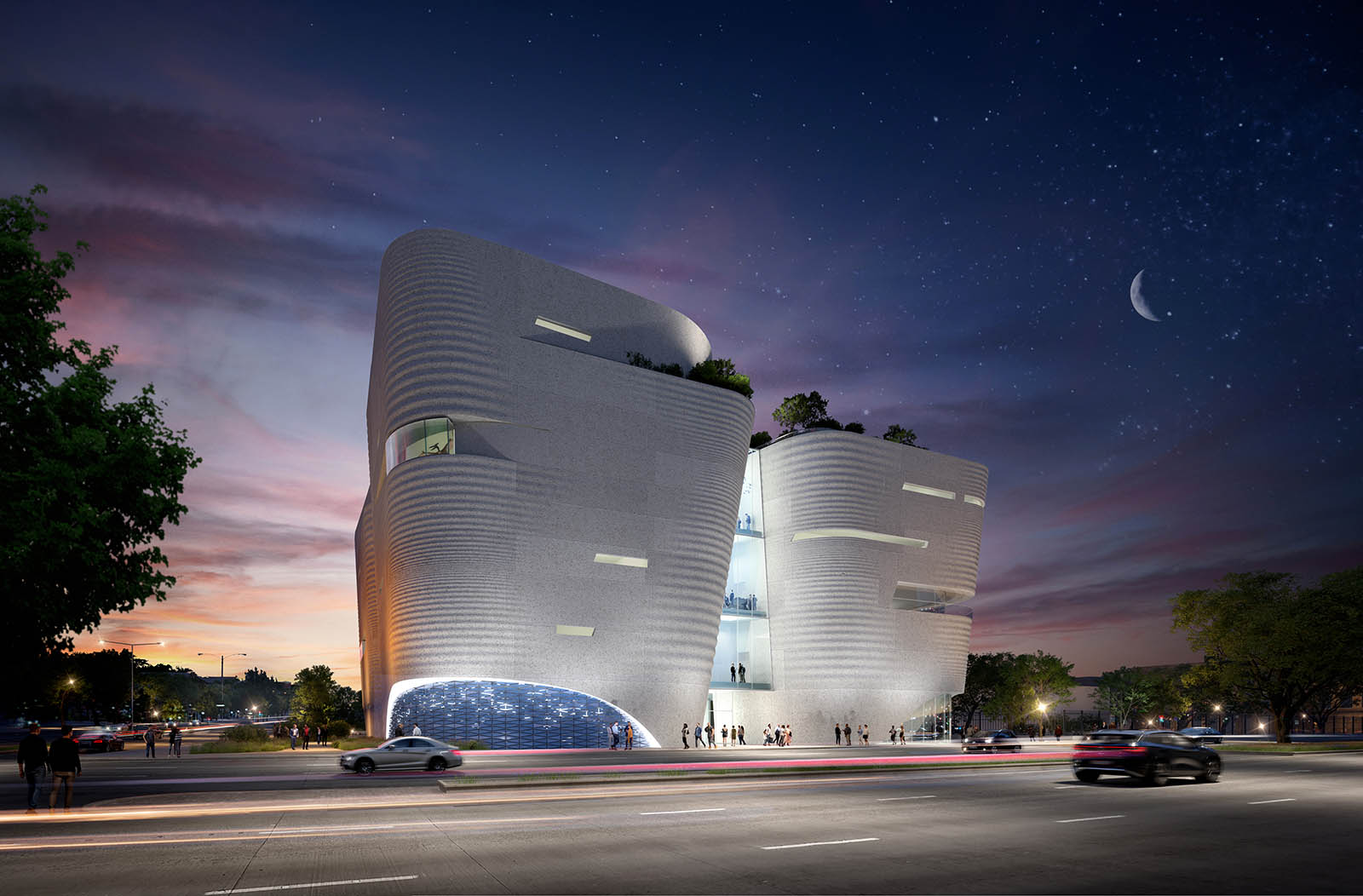 "Mill Bluff is just one example" says Pelletier, "but it exemplified a feeling that we had throughout the trip, which we wanted to embody in the design of the future museum, and that it's really about experiencing nature and culture in a way that is multi-layered, that slowly evolves as you begin to peel back the layers.
"It's not just what you see at a distance, but it's also what you see up close. It's also what you learn by exploring it. It's what you learn from standing on the top and seeing its friends and neighbors, it's really about these interconnected networks. We wanted to imbue that in the design."
Pelletier points to three levels of understanding and knowledge that you get when you visit something like the rocks at Mill Bluff. The team wanted their structure not only to visually hint at those formations, but also to philosophically reflect them.
"These three layers – the base, which is about awe and wonder, and that's about what we felt when we were at the base of Mill Bluff," he noted. "We looked up at those bluffs. We were just curious, we wanted to investigate it. We got to go up close to it. We got to learn by touching it, by feeling it, understanding where it came from, what it was made out of. How did what it was made out of inform the local economy? What did people do here? Why did certain people come to call this place home?
"And then the journey. Once you're inspired, you get into the belly of the museum and it's all about that journey of walking up those stairs. But it's not just the ascent, but it's everything that you see and learn along the way. It's all the conversations that we stopped to have along that path, where we saw something on the side of the path or through the trees that we could point to and talk about.
"And then suddenly when you're at the top; a completely different perspective. You could see how the other bluffs ridges in the distance were formed. You suddenly understood that this place was part of Glacial Lake Wisconsin and what that meant to the people who came to call that place home. You were given a new perspective, another one. So the next time you come, you would have that reinvigorated perspective. It's really that journey and that exploration, that slow unfolding that we wanted to embody in the design of the future museum."
The five stories of the new Milwaukee Public Museum – lit in the center by an atrium-like lightwell – are expected to unfold similarly and to create a similar path from curiosity and awe to exploration and study and end up at new understanding and perspective.
The exhibition levels, floors 2-5, are currently being planned and designed. But, in a telling section of a press release today, the museum subtly suggested some of its dioramas will likely make the move.
The plan is also for the museum to be "turned inside out," to allow visitors to experience previously behind the scenes research and collections areas.
There will also be two GGN-designed gardens, one near the entrance and another on the roof that will have native plants. The rooftop will also have a butterfly vivarium, which can be seen at left in the photo below.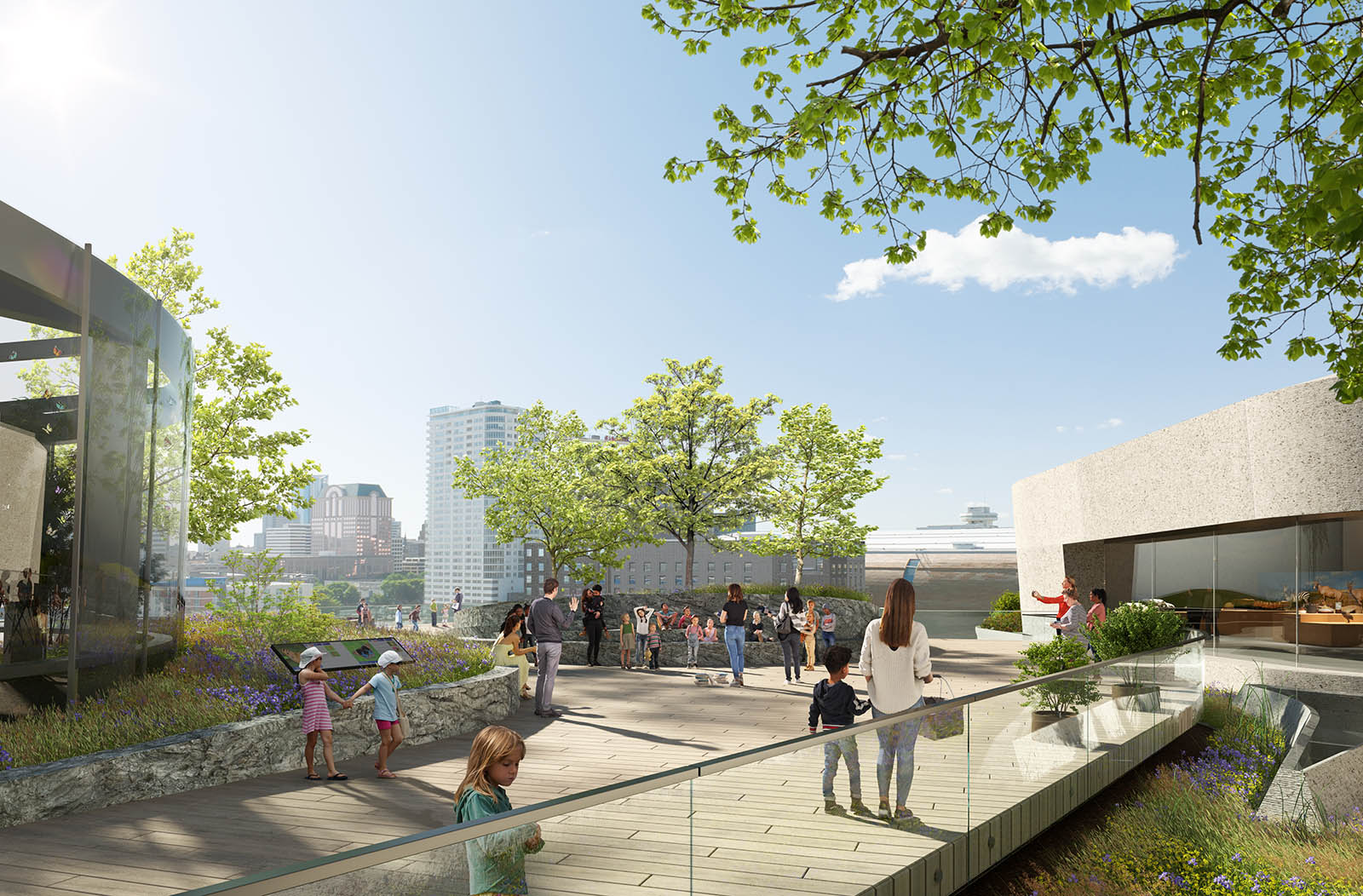 A 50,000-square-foot offsite storage site will house some collections.
Demolition of the existing structures on the site began a few months ago at the site on 6th Street, between Vliet Street and McKinley Avenue, across the street from the Deer District.
"The museum chose this site cause it has a long legacy of being in this community for 140 years," says Kahler Slater's Chris Ludwig. "There were aspects about the site and site selection that were really important for the museum and thinking about the long-term collections and keeping them safe: things like keeping the museum away from water or rail vibration.
"The Haymarket neighborhood," he adds, "I think many of us remember the freeway that used to be here about 20 years ago. Things have evolved in the last few years at a very rapid pace. It's very exciting to see how this intersection is going to be enlivened and viewing this new museum as the team has started to describe. It's very exciting to see the activities that's going to happen on this intersection.
"The building is sited specifically to bring it down to McKinley, knowing that faces the entertainment district that's enlivened by the Bucks' Deer District, and then going north, we have this beautiful neighborhood, Hillside, and the landscaping will lend a hand to connect these areas from north to south."
Fundraising is ongoing, says Censky, who, in kicking off another phase of the $240 million effort noted that, "we're nearly halfway there and that's before we even had (renderings)."
So far, $110 million has been dedicated to the new museum, including $40 million from the State of Wisconsin, $45 million from Milwaukee County, and $25 million in private donations from 72 donors.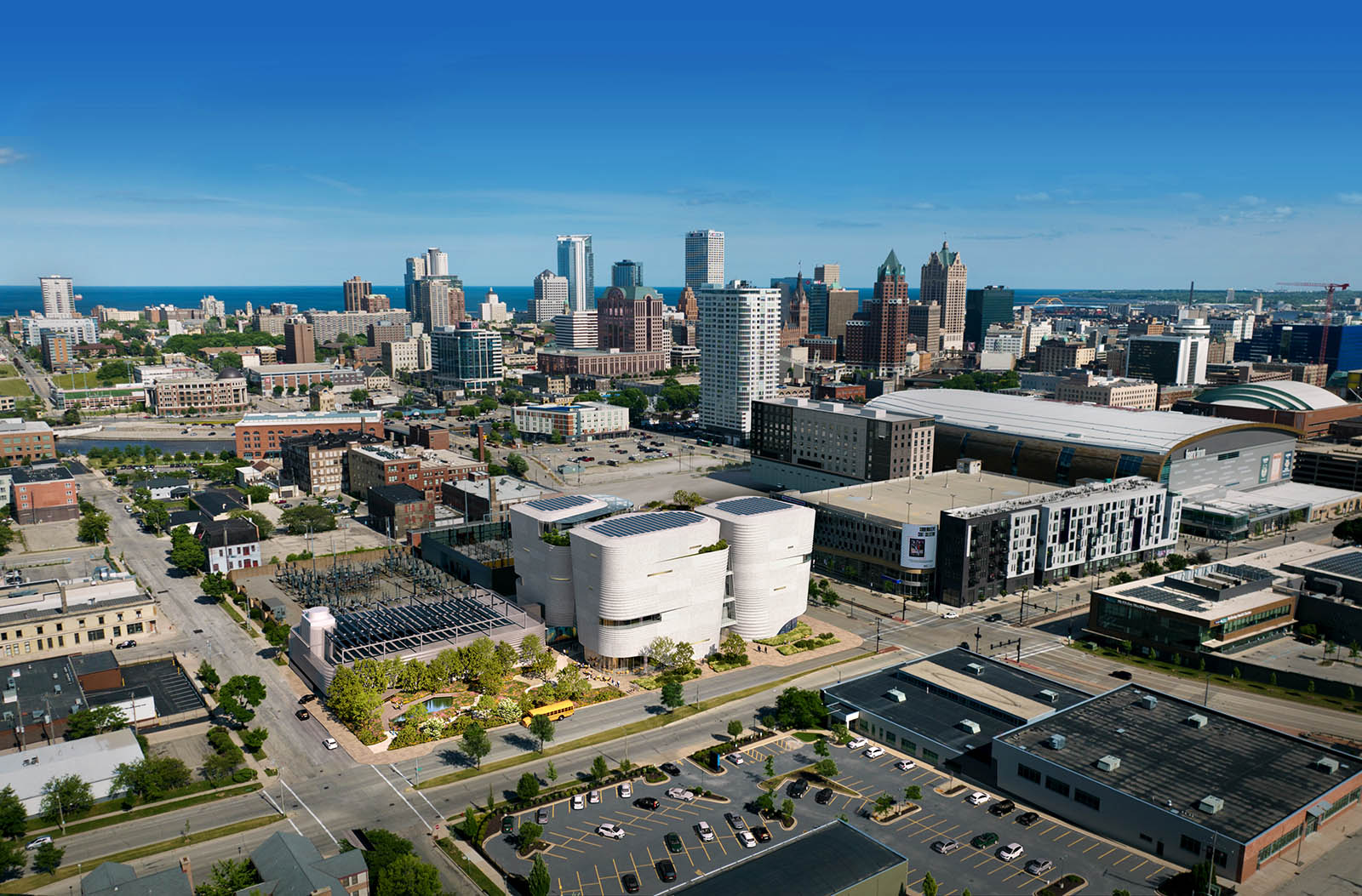 "This is a bold project that will have a transformative effect across the state and around the world," says Jay Williams, former museum president and campaign co-chair with his wife, Madonna.
"With enthusiastic commitment of corporations, foundations and private citizens, and with the significant public investments made by the State of Wisconsin and Milwaukee County, we can create a multi-generational impact."
And now they have renderings. And those renderings are for a striking, gorgeous building that will become iconic as they welcome visitors with their beautiful design that draws inspiration from some of the oldest features of Wisconsin.
With a community at times fretting about the move, about a new building, about which beloved objects and dioramas will make the move, the Milwaukee Public Museum might have played it safe and conservative, urging architects to design something more traditional.
Instead, they took the bison by its horns and created something Milwaukee and Wisconsin can be truly proud of.
Born in Brooklyn, N.Y., where he lived until he was 17, Bobby received his BA-Mass Communications from UWM in 1989 and has lived in Walker's Point, Bay View, Enderis Park, South Milwaukee and on the East Side.
He has published three non-fiction books in Italy – including one about an event in Milwaukee history, which was published in the U.S. in autumn 2010. Four more books, all about Milwaukee, have been published by The History Press.
With his most recent band, The Yell Leaders, Bobby released four LPs and had a songs featured in episodes of TV's "Party of Five" and "Dawson's Creek," and films in Japan, South America and the U.S. The Yell Leaders were named the best unsigned band in their region by VH-1 as part of its Rock Across America 1998 Tour. Most recently, the band contributed tracks to a UK vinyl/CD tribute to the Redskins and collaborated on a track with Italian novelist Enrico Remmert.
He's produced three installments of the "OMCD" series of local music compilations for OnMilwaukee.com and in 2007 produced a CD of Italian music and poetry.
In 2005, he was awarded the City of Asti's (Italy) Journalism Prize for his work focusing on that area. He has also won awards from the Milwaukee Press Club.
He can be heard weekly on 88Nine Radio Milwaukee talking about his "Urban Spelunking" series of stories.