In the penultimate of its reveal announcements of gallery spaces in the Future Museum, Milwaukee Public Museum Tuesday morning unveiled broad-stroke sketches and descriptions its "Living in a Dynamic World" exhibit and details of two flexible gallery spaces called "Mixing Zones."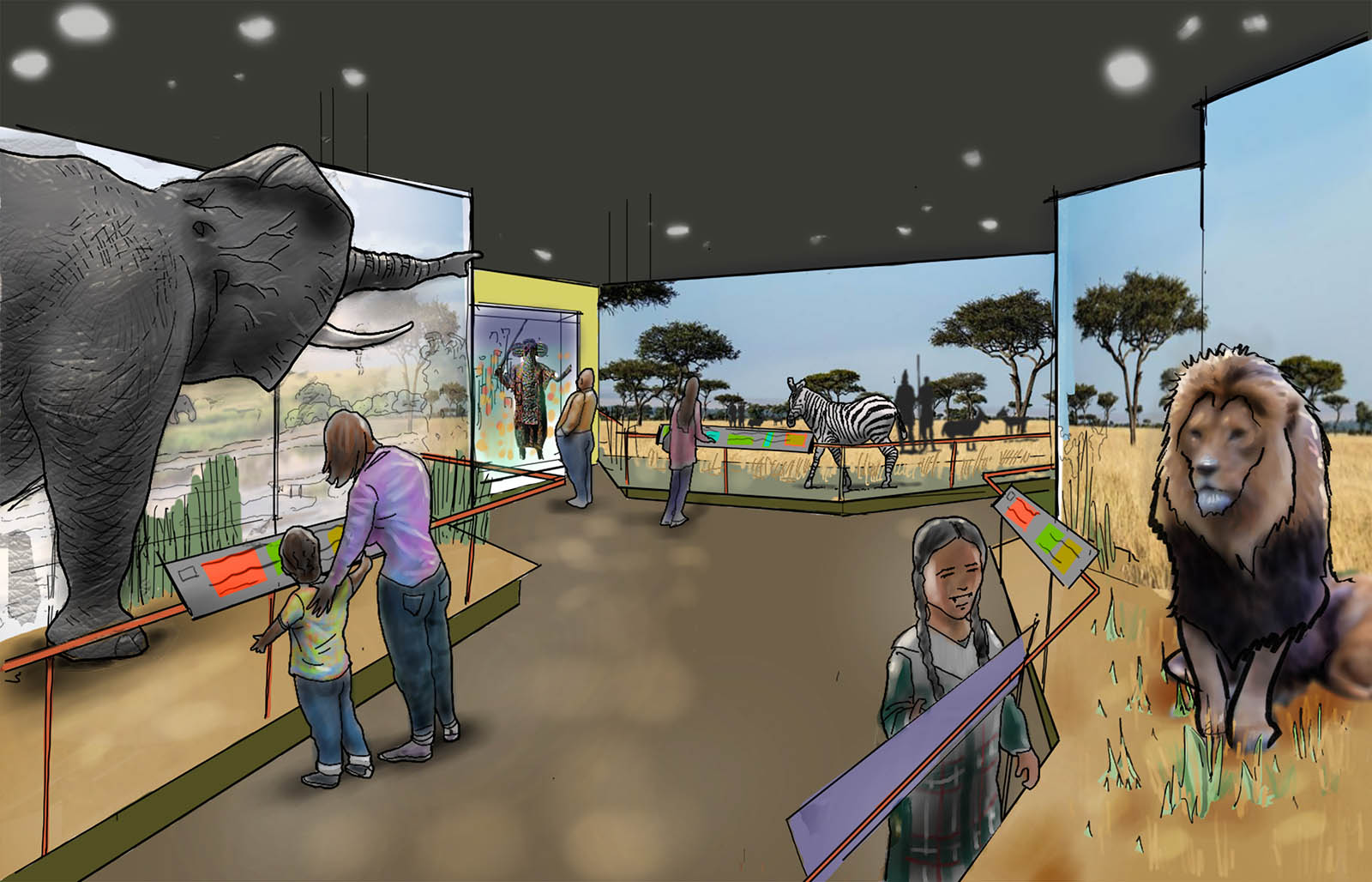 Spoiler alert: this is where you'll find the snake button in the new museum.
The museum and its design partner, New York-based Thinc Design, previously announced its exhibits focusing on prehistory, Wisconsin and Milwaukee. One more reveal is slated for later this month.
You can find articles on those, as well as other Future Museum news, here.
More detailed information and renderings will be developed and shared as Future Museum planning progresses.
"Living in a Dynamic World" will lead visitors though a quintet of distinct immersive landscapes: deserts, the Arctic, islands, grasslands and mountains.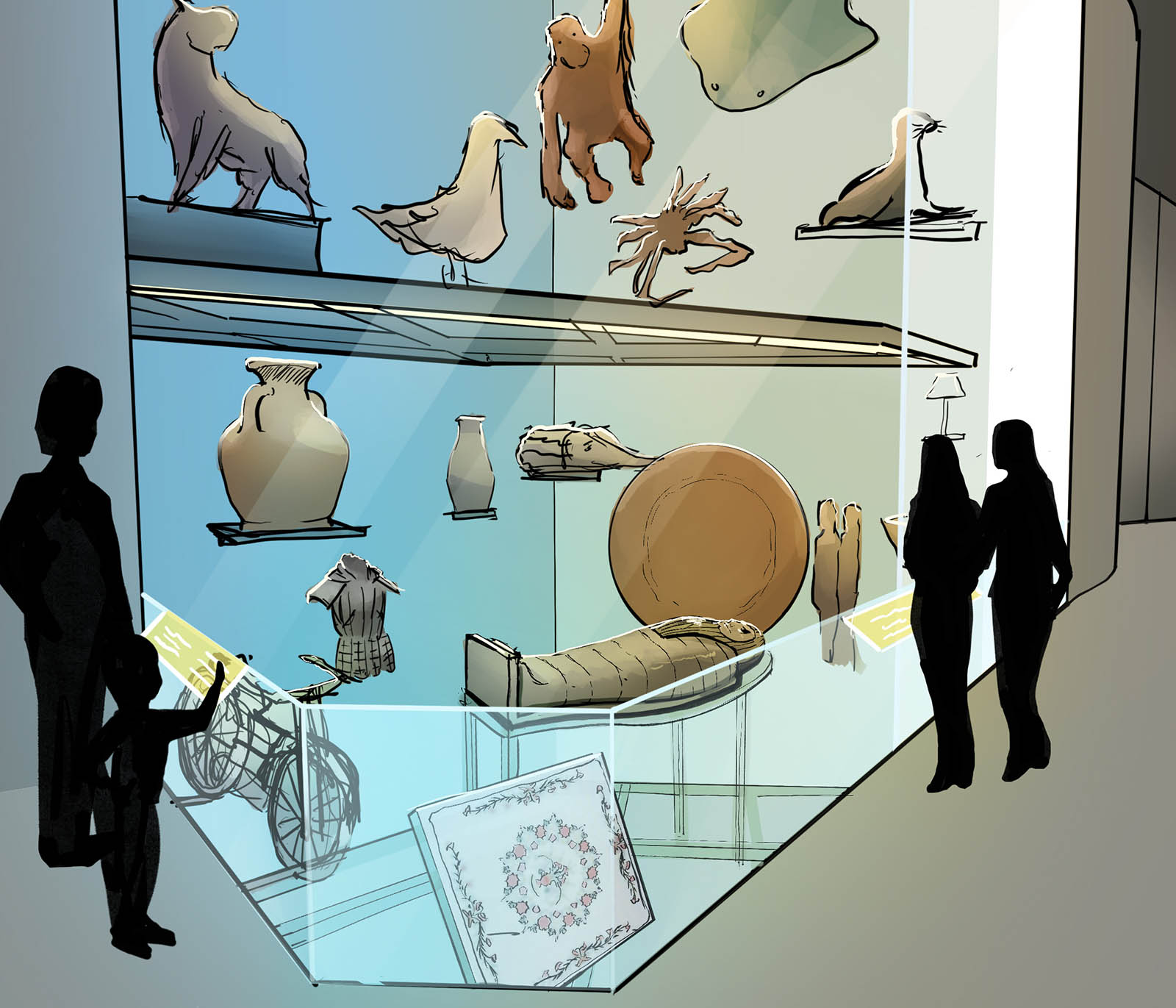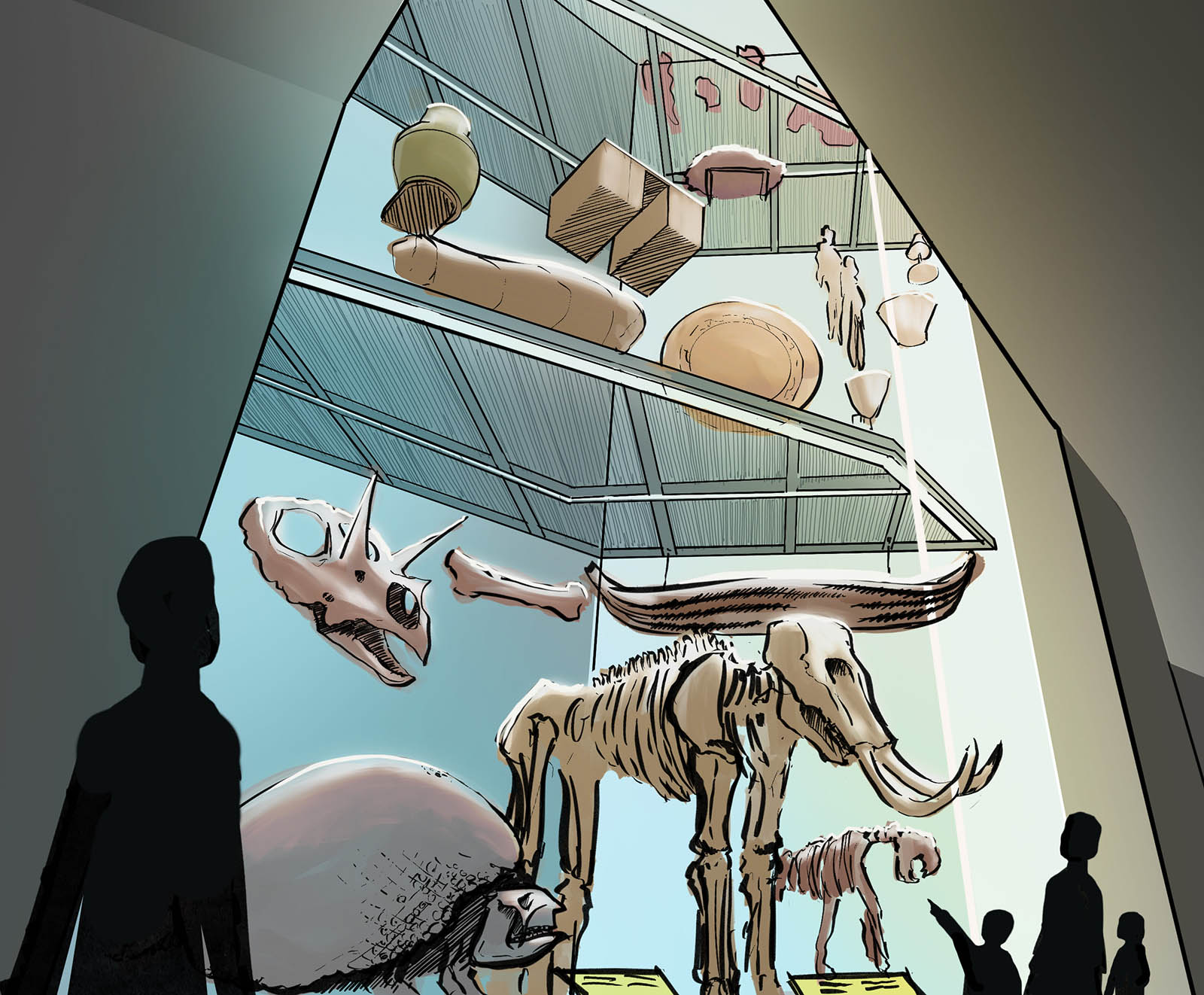 Each area will look at culture and the ways in which generations of people have adapted to the landscape over time.
The gallery will also boast a three-story display case.
"'Living in a Dynamic World' will take a deep, thoughtful look at the ways humans and other species have interacted with, adapted to and shaped each featured landscape, examining both the present and past," said MPM President & CEO Dr. Ellen Censky.
"The exhibits and cultures highlighted in 'Living in a Dynamic World' were chosen with our vast collections in mind, and we'll be showcasing both familiar and never-before-seen items in the context of cultural stories, which are being developed in consultation with origin communities."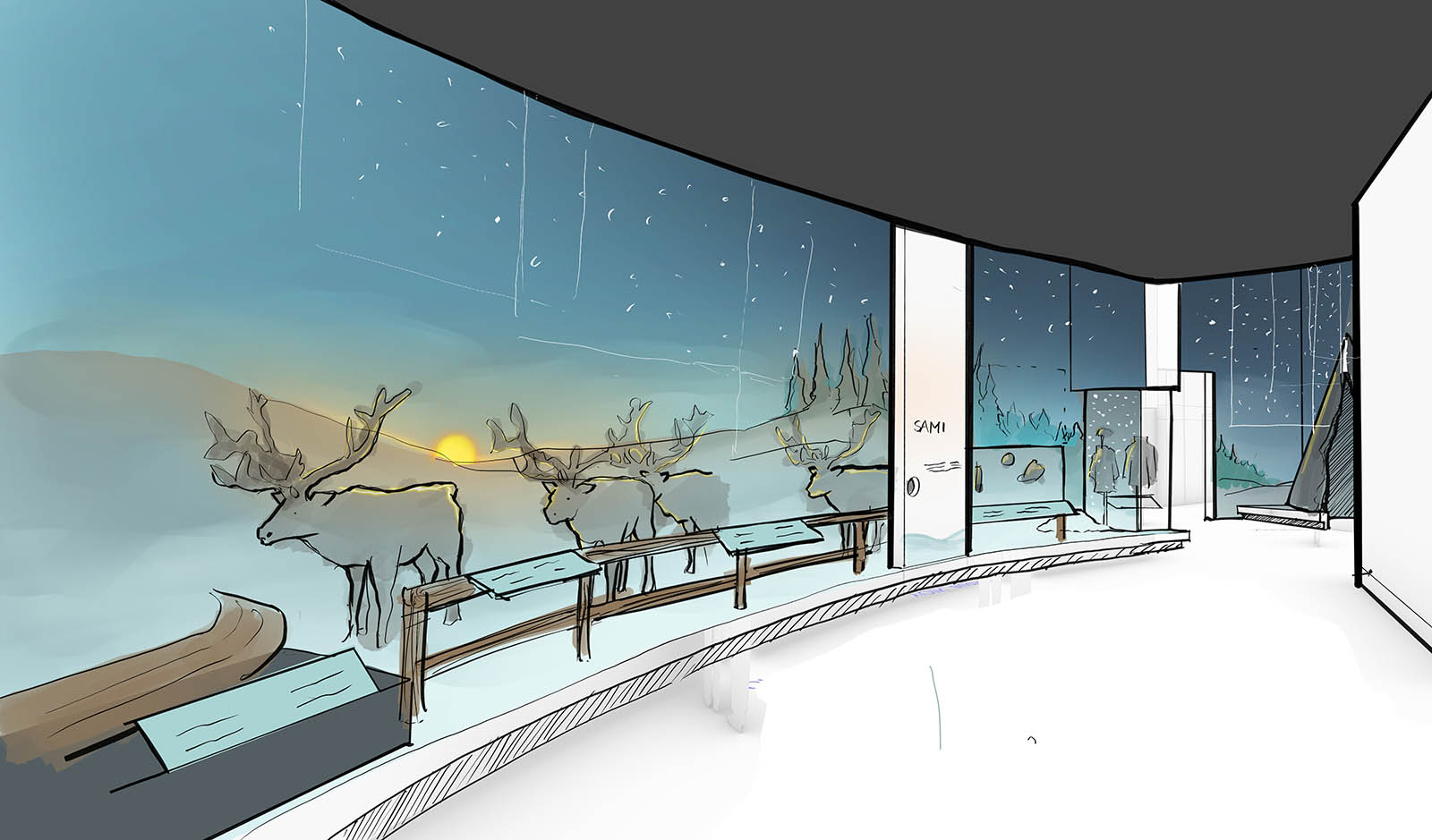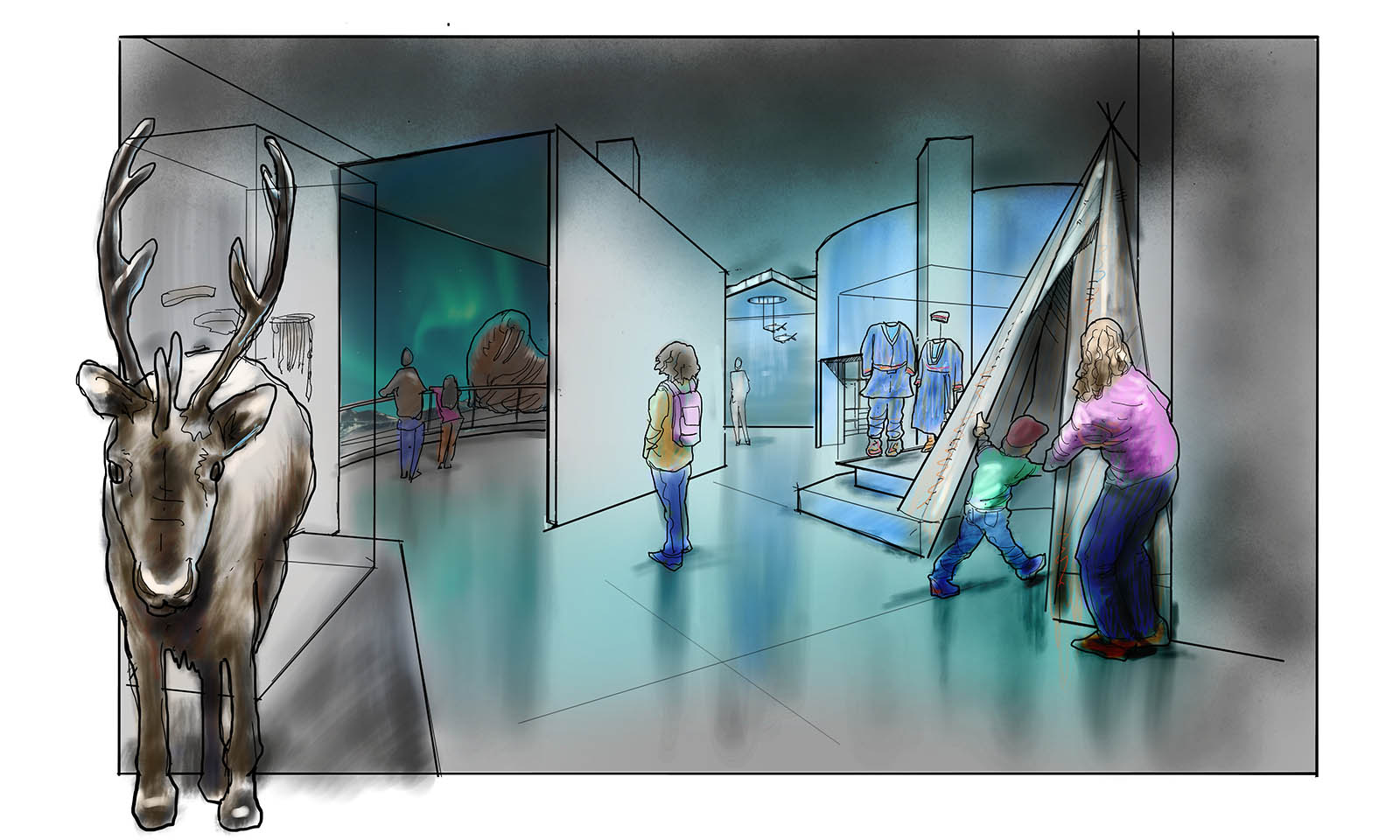 As with previous reveals, the sketches show large dioramas that will feel familiar to museum-goers, along with a mix of objects previously on display as well as from the museum's vast collection in storage.
Here are some more detailed explanations of facets of "Living in a Dynamic World," as provided by MPM: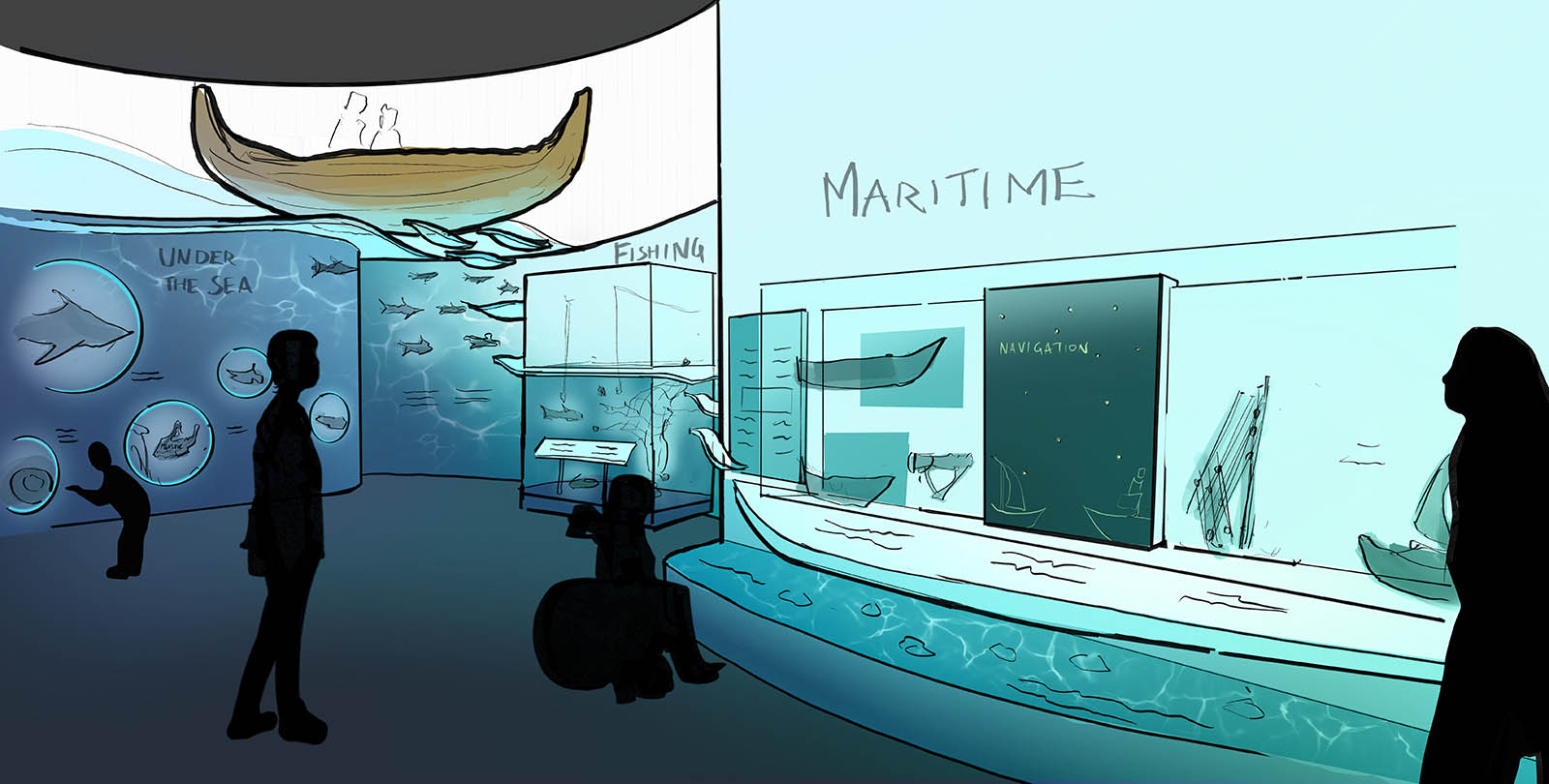 Living in a Dynamic World
Dynamic Planet
Visitors will be welcomed into Living in a Dynamic World via the Dynamic Planet exhibit, a central feature of the gallery that will demonstrate how, despite geographic, biological and cultural differences, all living things are part of a single world community that shares a spectacular and ever-changing home planet.
Living Globe
At the center of Dynamic Planet will be a massive globe, animated with various global systems, such as ocean currents, seasonal migrations, trade routes and seismic activity zones, which visitors can select one or two at a time to compare the ways the world connects and how both natural and cultural systems intersect.
Spice of Life
An interactive exhibit engaging visitors' sense of smell, Spice of Life will feature a scent box with three different spices. When the different spices are activated, LED lights will backlight a graphic and teach visitors how the spices have spread across the world, where they grow today and in what foods and products they are commonly consumed.
Mosaics
The entrance of each distinct landscape hall will be decorated with cubbies full of curiosities to discover and drawers to open, featuring items that define the landscape. Tactile models, clothing cases and mechanical interactives will pique interest and act as a portal to prepare visitors for the immersive experiences that lay ahead.
Deserts
In the Deserts hall of the gallery, visitors will learn about the characteristics of the world's deserts, the diversity of life and ways of living in desert environments and how desert residents adapt to and shape their environment.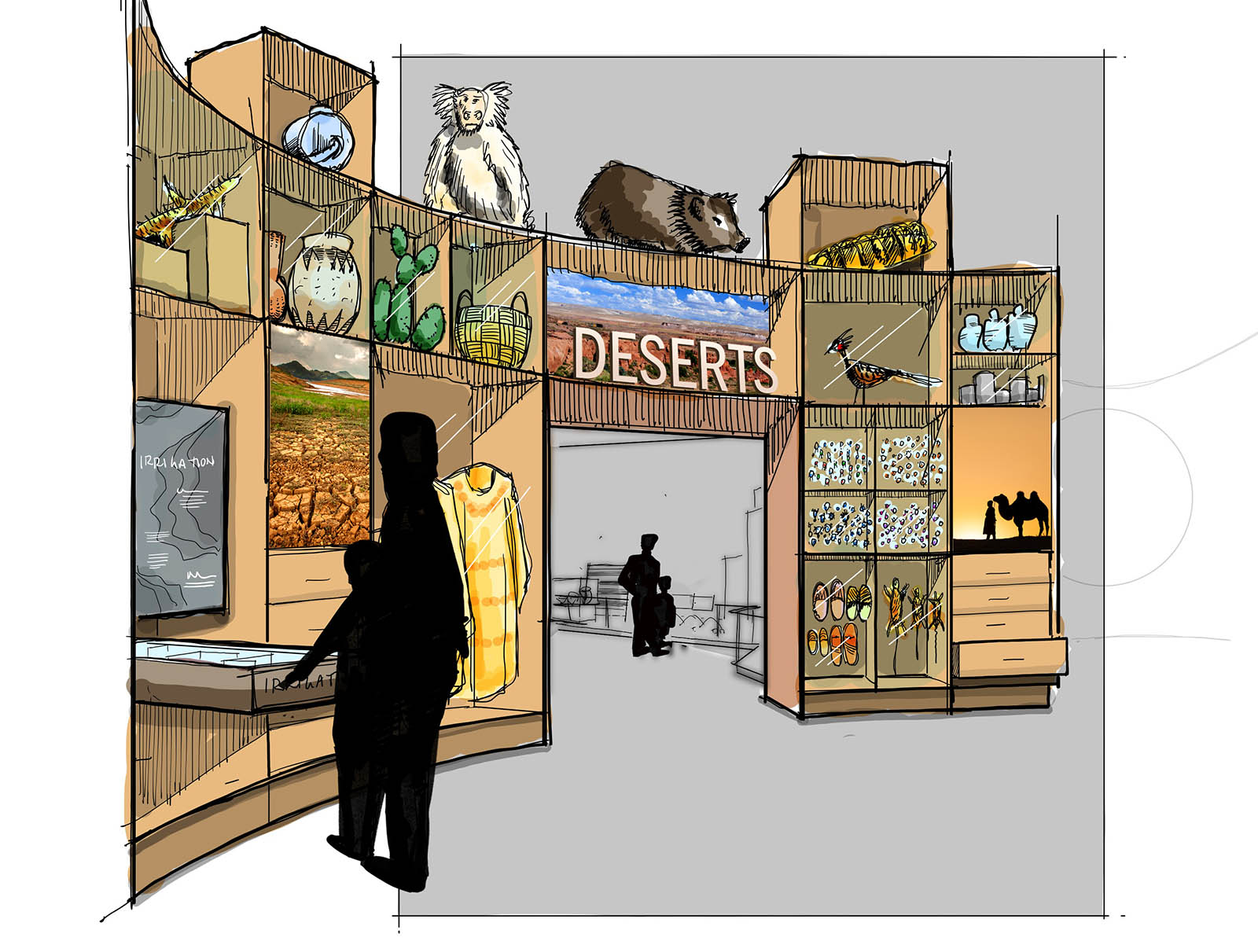 Supported by the wide range of ceramics, textiles and agricultural items in the Museum's collections, the Deserts hall will spotlight the distinct environment of Southeastern Arizona, exploring how the landscape's dynamics – like water access, extreme temperatures and unique flora and fauna – have shaped life past and present for its residents.
Cultural Case Study: Hopi Nation
At the center of cultural exploration in the Deserts will be the Hopi Nation. Visitors will learn about the cultures and traditions the Hopi people have developed in response to their environment, as well as how they have adapted their day-to-day habits to meet the land.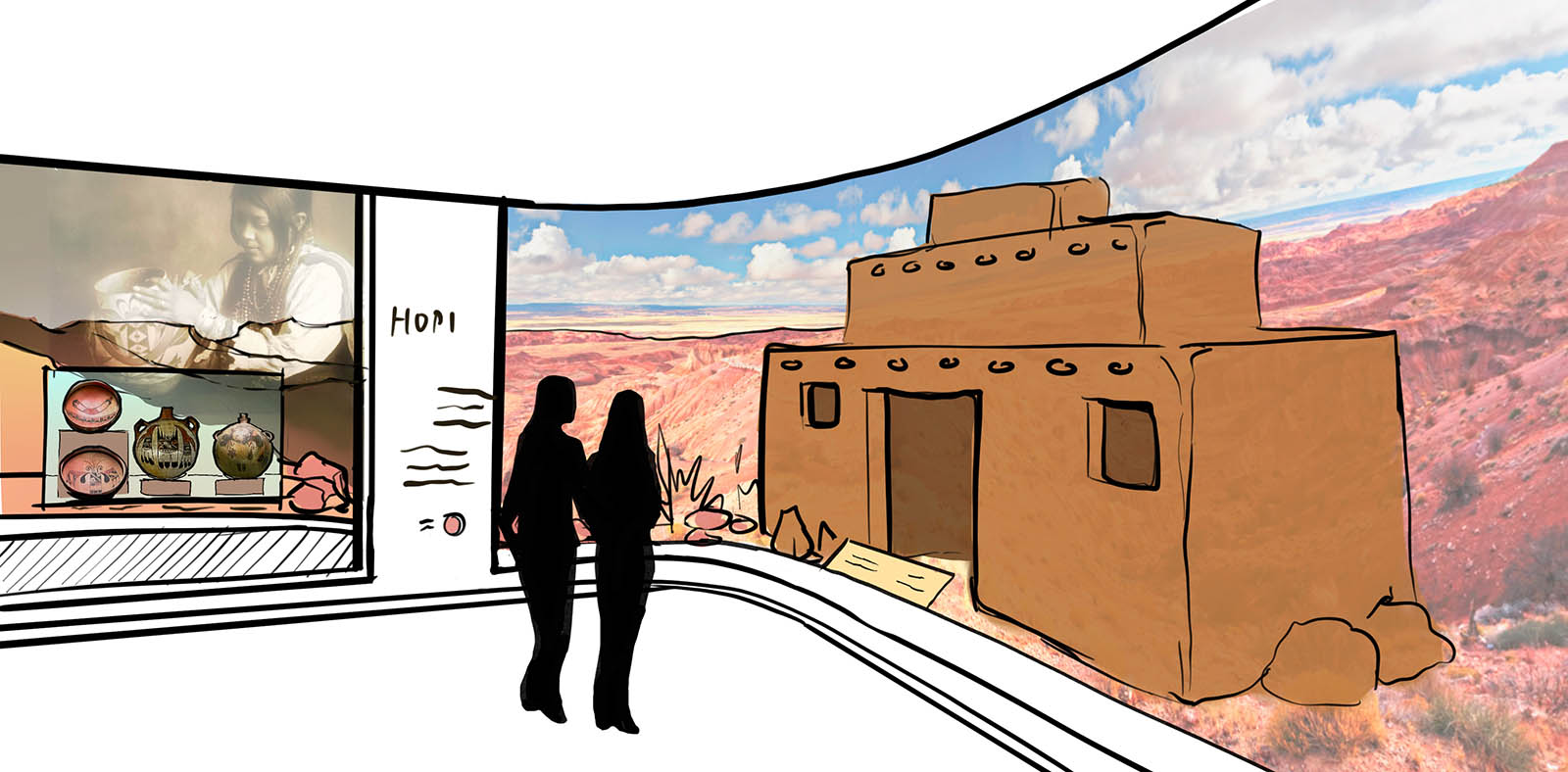 Among the exhibits in this hall, visitors will see a replica of a traditional Hopi dwelling and learn about how the land is used to build shelter. The exhibits will also highlight Hopi pottery from the Museum's vast collections and tell stories about how the landscape's resources have influenced artisan traditions.
"We are excited to tell the story of Nampeyo, an incredibly skilled ceramicist who maintained Hopi pottery traditions by passing down her craft to her daughters and granddaughters," said Thinc's Helen Divjak. "MPM has many of Nampeyo's beautiful pottery pieces in its collection that will be showcased in conjunction with her story."
The Hopi Nation are a living, thriving community who practice traditions that are hundreds of years old. In the Future Museum, visitors will be able to learn about this contemporary culture while also looking back in time to see what has changed and what has remained the same.
Cultural Counterpoint: Ancient Egypt
The Deserts will also take visitors thousands of miles across the globe and thousands of years into the past with a cultural counterpoint, Ancient Egypt.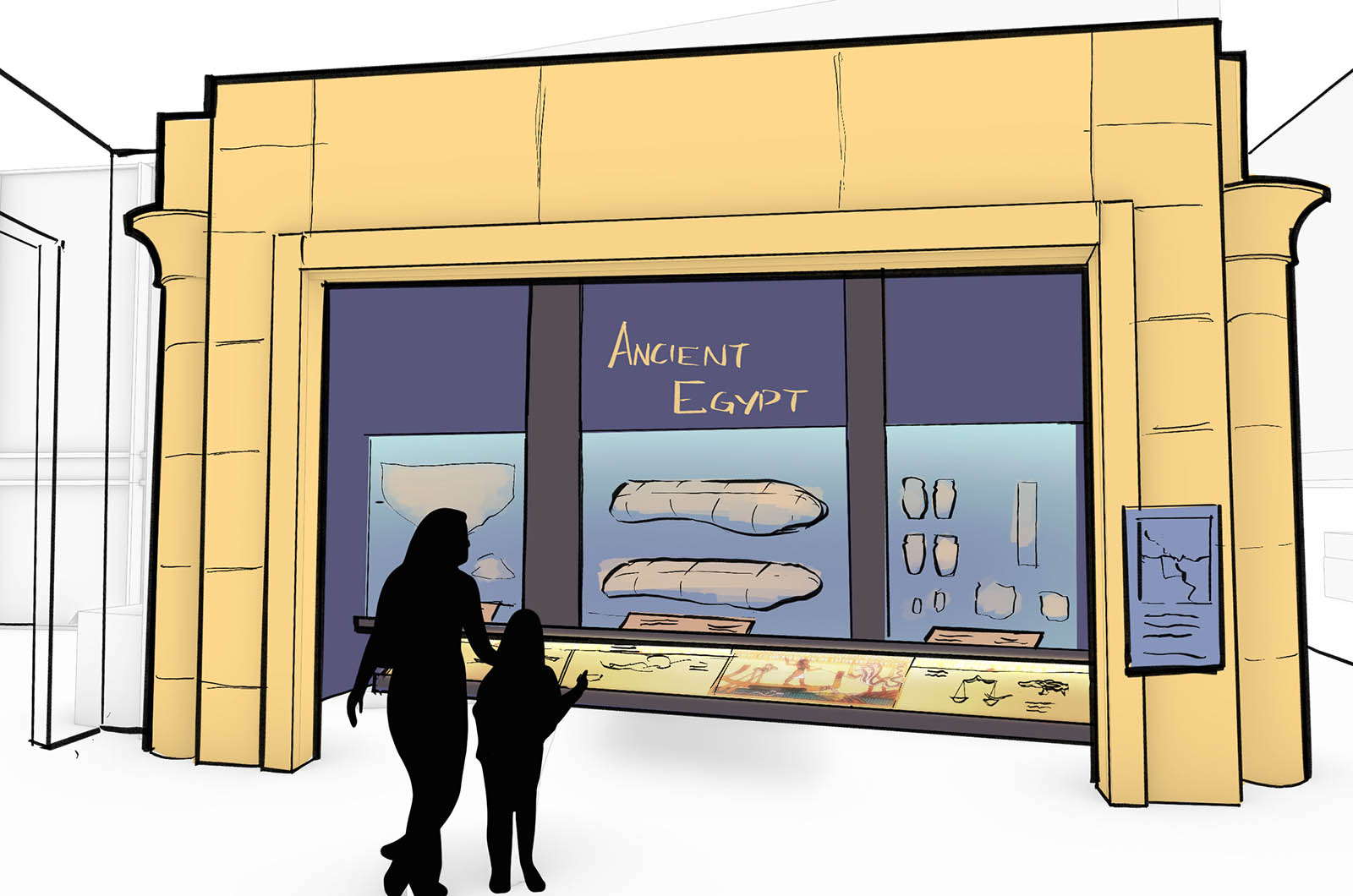 These exhibits will explore how the desert impacted ancient Egyptians' beliefs and practices around death, answer questions about why mummies were made in the first place and dive into the symbols, icons and myths connected to death traditions.
On display in these exhibits will be collections items including funerary objects and a tomb.
Rattlesnake Button
Hidden within the desert scenery, visitors will have to find the rattlesnake button – continuing a cherished tradition from the current Museum and sharing that spirit of discovery with others.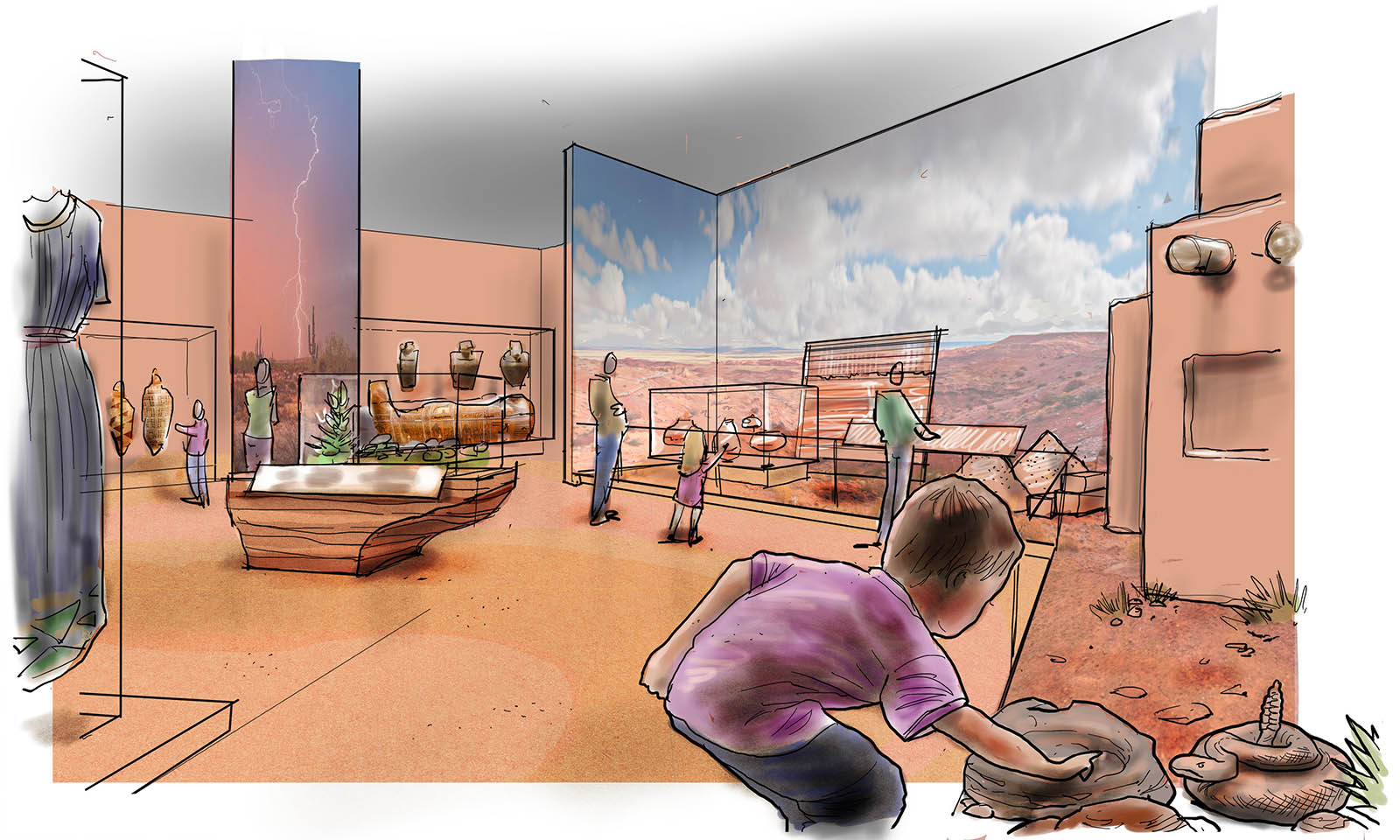 Exhibits will also explore the ways humans have had to adapt their footwear to protect themselves from snake bites.
Mixing Zones
The Mixing Zones are two special, flexible spaces that will allow Museum staff to rotate displays of collections items. With one Mixing Zone dedicated to research and science and the other focused on culture, each space will present visitors with new ways to look at and experience the 4 million collections items in the Museum's care.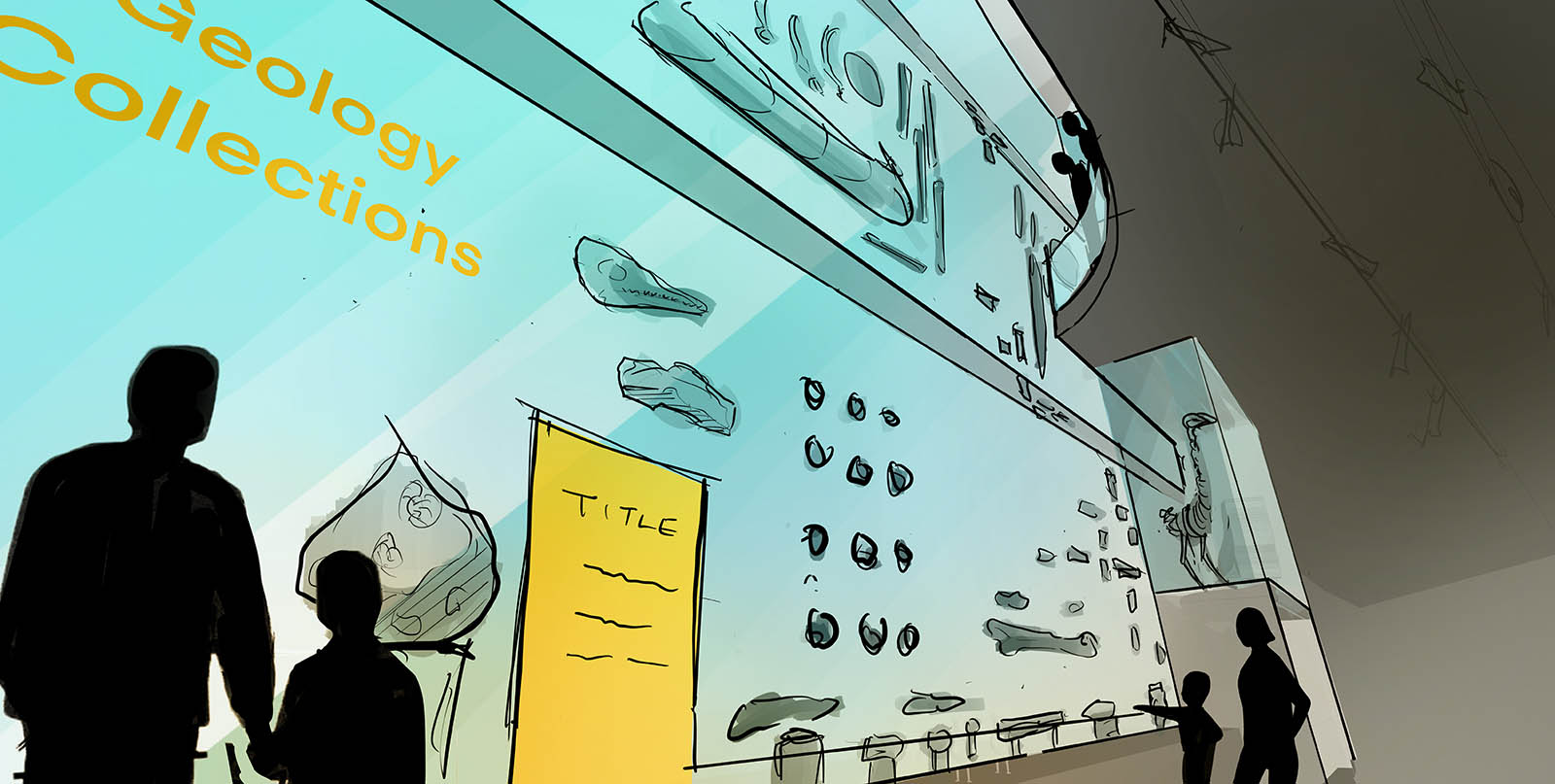 "One of the goals of the Future Museum is to ensure visitors can experience unique, never-before-seen looks into the collections – including the millions of items that have historically been off-view as they are kept for scientific research," said Katie Sanders, Chief Planning Officer at MPM.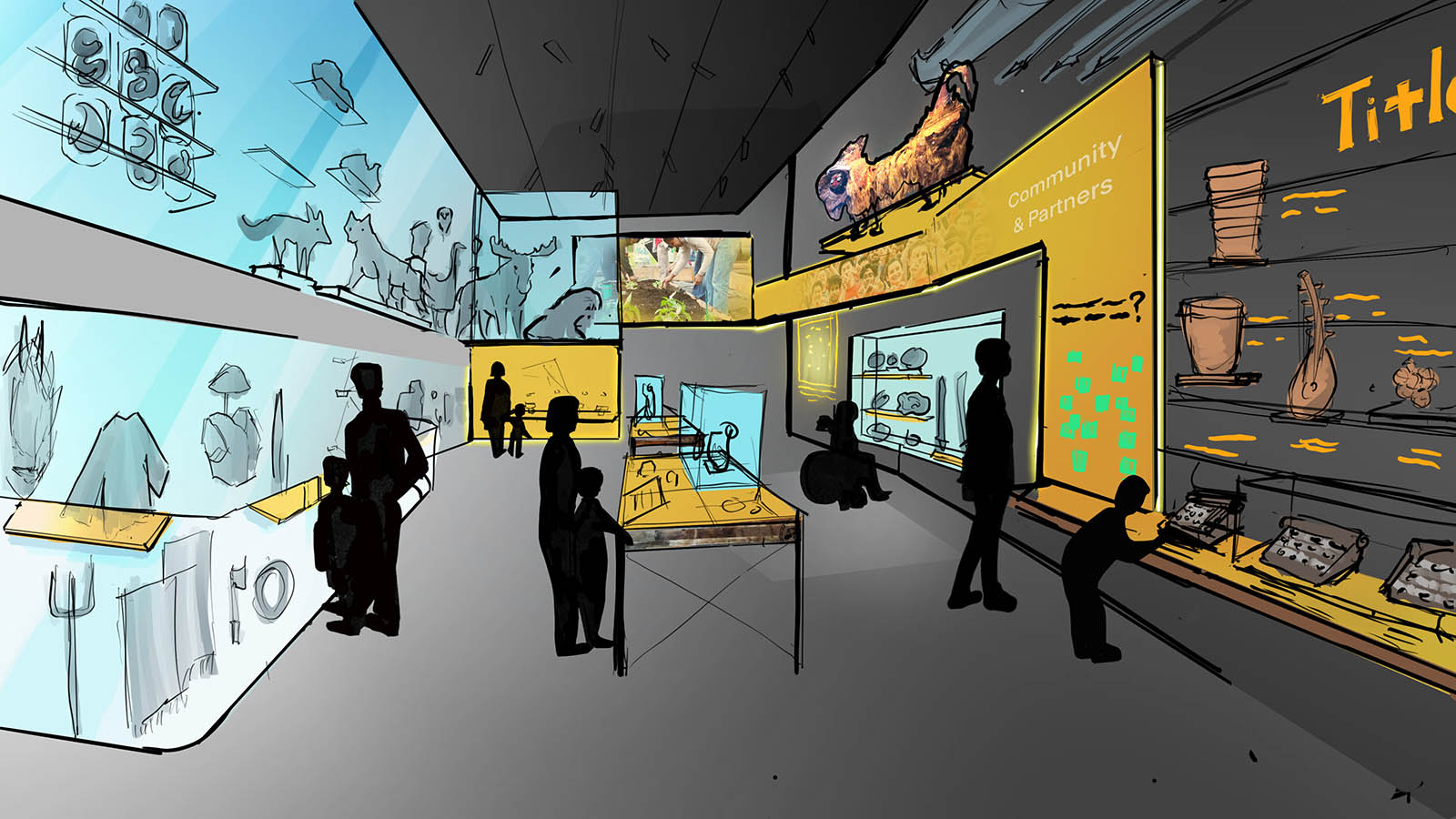 "The Mixing Zones will provide an opportunity for visitors to not only see the science and research that goes on behind the scenes, but to actively engage with it through hands-on and interactive experiences."
Stay tuned to OnMilwaukee for the final reveal on May 23. That one will talk about the the "Rainforest," the Puelicher Butterfly Vivarium and the Bucyrus Rooftop Terrace.
Born in Brooklyn, N.Y., where he lived until he was 17, Bobby received his BA-Mass Communications from UWM in 1989 and has lived in Walker's Point, Bay View, Enderis Park, South Milwaukee and on the East Side.
He has published three non-fiction books in Italy – including one about an event in Milwaukee history, which was published in the U.S. in autumn 2010. Four more books, all about Milwaukee, have been published by The History Press.
With his most recent band, The Yell Leaders, Bobby released four LPs and had a songs featured in episodes of TV's "Party of Five" and "Dawson's Creek," and films in Japan, South America and the U.S. The Yell Leaders were named the best unsigned band in their region by VH-1 as part of its Rock Across America 1998 Tour. Most recently, the band contributed tracks to a UK vinyl/CD tribute to the Redskins and collaborated on a track with Italian novelist Enrico Remmert.
He's produced three installments of the "OMCD" series of local music compilations for OnMilwaukee.com and in 2007 produced a CD of Italian music and poetry.
In 2005, he was awarded the City of Asti's (Italy) Journalism Prize for his work focusing on that area. He has also won awards from the Milwaukee Press Club.
He can be heard weekly on 88Nine Radio Milwaukee talking about his "Urban Spelunking" series of stories.