It's been eactly one year since Breonna Taylor was murdered by an officer. Today, we honor her life and rerun this article for Breonna Taylor Day. We encourage you to visit her mural this weekend and say her name.
Everything's different these days, including how we entertain ourselves beyond our homes. Making up new ways to safely have fun is the new going to the pool, the new going to the museum and the new going to the movie theater.
Thus, we suggest an afternoon of "mural touring," either by bike or by car. Last week, we offered up the South Side mural route and now, we present this brand new Riverwest mural route.
Riverwest has always been a community that values art and action, so it's no surprise the neighborhood has many new murals reflecting on the need for justice during this time of unrest.
Get in, let's go muraling, Milwaukee.
Start on the corner of Holton Street and North Avenue – you can pull into the parking lot in front of the building – to check out murals of Dontre Hamilton, George Floyd and more. Artists include

Justin Stone, Cristy C. Corso, Jaqui Tavares, John Fleissner, Dominque White, Chacho Lopez, Zach Black, John Tierney, Mike Davenport, Josh Ebert, Jon Bartels, Chloe Higgins, Adam McKee and Aaron Rodgers.
Head north on Holton Street.
Take a right at Center Street. The Solow Bouldering Club building on the corner is covered in murals both on the front (Holton) and the side (Center Street).

Go half a block (or less!) east on Center Street and hang a quick left into the alley. Let the "bomb pops" lead the way. Art by

Nick Hetzel, Brian Hibbard, Jordan Guth and more.
Drive through the alley and turn left on Hadley Street.
Turn right on Holton Street.
On the left, note the mural of Breonna Taylor by Chris Burke and Ruben Alcantar at Locust and Holton.
Once you pass Locust, take a quick turn off Holton into the alley on the side of the grocery store for more murals of Nipsey Hussle, Vel Phillips and more.

Take a right on Buffum Street and then a right on Chambers.
Take a left on Holton.
While heading north on Holton – at Townsend Street – there will be a mural on your left on the west side of the street. Keep driving or riding to Keefe Avenue, go right.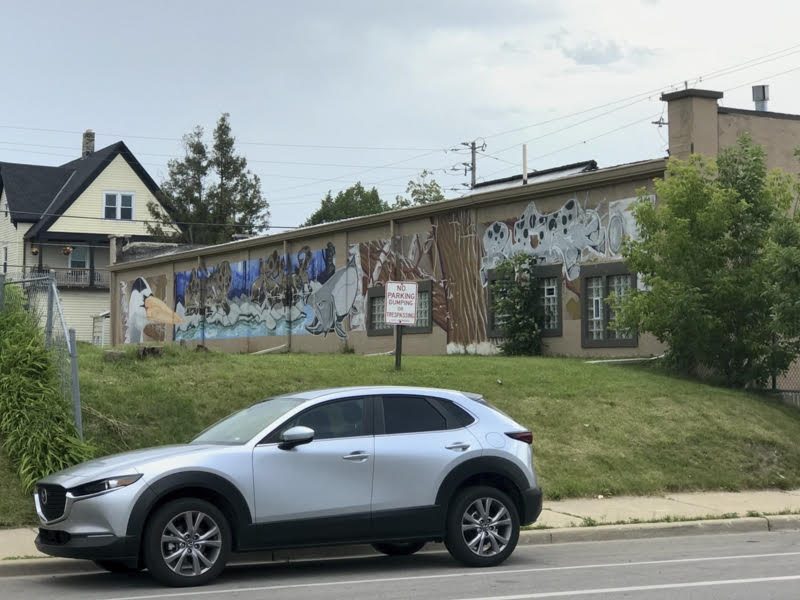 Take another right on Pierce Street for more murals of justice on the side of the Riverwest Filling Station. The artists who created these murals are Marlena Eanes, Anna Rose Menako and Symphony Swan.
The Riverwest mural tour ends here, but if you are looking for a nearby spot to hang outside, we recommend:
Riverwest Filling Station, 701 E. Keefe Ave. (take-out or patio seating; open

Wednesday, Thursday, Friday and Saturday from 5 to 9 p.m.)

Black Husky Brewing, 909 E. Locust St. (patio seating; open Wednesday-Friday from 5 to 8 p.m.)
Gordon Park
,

2828 N. Humboldt Blvd. (corner of Humboldt and North Avenue)

Art Bar, 722 E. Burleigh St. (open 3 p.m. to midnight; patio seating; masks required indoors)
Colectivo Coffee (grab and go or patio seating; open 7 a.m. to 6 p.m.), 2999 N. Humboldt Blvd.

Molly Snyder started writing and publishing her work at the age 10, when her community newspaper printed her poem, "The Unicorn." Since then, she's expanded beyond the subject of mythical creatures and written in many different mediums but, nearest and dearest to her heart, thousands of articles for OnMilwaukee.

Molly is a regular contributor to FOX6 News and numerous radio stations as well as the co-host of "Dandelions: A Podcast For Women." She's received five Milwaukee Press Club Awards, served as the Pfister Narrator and is the Wisconsin State Fair's Celebrity Cream Puff Eating Champion of 2019.