Typically, Milwaukee's oldest buildings reveal themselves readily. But sometimes, hiding behind facades of modern glass and steel, you can find a portal into Brew City history.
One such place is the Milwaukee Youth Arts Center, 325 W. Walnut St., on the border between Bronzeville and Haymarket. This well-appointed arts facility glows like a relatively new building. And indeed, MYAC – which in 2014-15 served 4,500 young people, welcomed a total audience of 22,500 and provided nearly 20,000 of program and event space to partner and outside groups – is celebrating its 10th anniversary this year.
But the building sits not only in the shadow of the former Schlitz Brewery across King Drive, it's connected to that landmark brewery's history in the neighborhood.
The home – which includes state-of-the-art studios for dance, music, theater and other performances, plus rehearsal rooms, offices, common areas and more – is actually a melding of three structures.

The loading docks where the MYAC entrance is now located. (PHOTO: Courtesy Milwaukee Youth Arts Center)
The newest faces Walnut Street and is built where the Journal Company used to have a row of loading docks to transport advertising supplements – which were stored in the building just behind it. It is the facade and entry created by architects Uihlein Wilson when MYAC acquired the building from the Journal around 2004.
Behind it is a garage addition built in the 1940s, which connects to the oldest building in the complex, which faces Galena Street, where it used to have its entrance as a Schlitz Brewery building.
According to Peter Uihlein, a scion of the Schlitz Brewery family and former employee, that section – which was built in the 1920s or even earlier – was erected by Schlitz.
"The garage was originally used for the city sales delivery of beer," he said. "In the mid 1960s the company built a warehouse distribution building on Teutonia and the trucks were based there. The garage then housed and maintained the executive's cars. It served as a parking garage until 1982 for the executives. The garage served as a venue for the company Christmas parties when all employees received a frozen turkey and a case of beer."
This earliest portion of the complex has some interesting details, though the rotating platform used to turn around beer wagons is now long gone.
But right inside the Galena Street entrance is a space that was finished with white brick and terra cotta elements, suggesting it had a public-facing use of some kind. Or else Schlitz was very proud of its garage. While initially, neither Uihlein nor anyone at MYAC could really explain why the company would've gone to the trouble and expense of such decorative work, later, I heard back from Bingheim:
"We recently found out what the area in the lower level was," he told me in an email. "It was the city-wide sales office for Schlitz. This was the home to all the sales reps."
Beyond this area, MYAC basically inherited an empty shell of a place, says General Manager Brad Bingheim, who was building sets for First Stage when it acquired the building in tandem with Milwaukee Youth Symphony Orchestra, and, after the move, became GM.
"The only thing that was up in the front as you come around a corner you'll see the actual cream city brick wall. Just outside of that was some loading docks," he says, as we sit in the large common area of the MYAC. "We took those down and then regraded and put that whole front of the building, all the glass, the elevator shaft and all of that was the only thing we added to the building.

The empty shell. (PHOTO: Courtesy Milwaukee Youth Arts Center)
"Otherwise you just had the shell of the building. There was one wall in the building which delineated the north to south building. There was a power plant walls, concrete brick walls. We demolished that and a few other things that we took out of the building. Otherwise it was just a big hollow shell. We built everything within that shell."
Everything includes a broad array of rehearsal rooms – from tiny to quite large – a trio of large performance spaces, and much more, which keep this building buzzing all day and evening long, seven days a week.
As we walk through, Bingheim shows me the original address number, still affixed to what used to be an exterior – but is now an interior – wall. We see an area that's now dumpster storage that has the kind of glazed brick you see in school cafeterias.
I especially enjoyed peeking into some spaces few get to see: a storage room full of upright acoustic basses and, on the lower level, a ladder-equipped shaft leading into the steam tunnels that run like an ant farm beneath the entire former Schlitz Brewery complex.
He points up to the steel roof structure, which is exposed, offering a clue to the building's more industrial past and explains that when MYAC was created, there was a series of catwalks criss-crossing the joists, some of which contained the building's HVAC systems.
One gets the sense that creating this amazing place that welcomes kids from not only all neighborhoods of the city, but also the suburbs, bringing them together to create music, theater and dance, was no small feat.
The MYAC was born out of the vision and leadership of MYSO's Fran Richman and First Stage's Rob Goodman, says Bingheim. Both companies were occupying challenging spaces in the Marcus Center for the Performing Arts at the time. MYSO was in what was essentially a board room and First Stage was in an area below the Todd Wehr Theater, according to Bingheim.
"The story that I've heard they were both in the elevator at the Marcus Center and they were both on their way to go out for showings they were looking for more space and they just started talking to each other and they were like 'I'm going to look at this building' and they realized they were both in the process of looking for more space. So they were like, 'let's just do this together.' Then they looked together, eventually found this space.
"Neither group's leadership that they had enough money to go out into the community and raise the money they needed for their group. Together however they create a force that was without a doubt, overpowering, and could go to the community and ask for that money. Together they formed MYAC, which is it's own non-profit entity. It's really collaborative, they're technically co-owners of the building."
The biggest challenge, as any non-profit knows, was raising the money and getting the most out of the donations and grants.
"We learned the term value engineering," says Bingheim. "There were quite a few things that we originally took out and we were able to add some of them back in and some of the things we a luxury that we didn't have. What we did was focus on making sure that the programming needs were met. This facility was built for the youth of southeastern Wisconsin. We didn't feel that we wanted to put our money into the staff amenities when we could be doing it in the amenities for the students.
"As we started to fundraise for this there was not only money that started showing up for the capital on the construction but for our program needs. We had a very gracious donor who had no interest in the arts who really came on a whim to see what was going on and was courted and eventually gave not only a very substantial capital amount but also gave a large contribution to the programming of this building. We were able to not only build this wonderful facility but offer scholarships and opportunities, programming for inner city youth who didn't have those experiences and couldn't get it. It was a win-win for the entire community."
These days, MYAC – which is now home to a number of organizations beyond its founders – finds itself in a burgeoning area. Haymarket is quietly booming and nearby a new arena is about to go up. Schlitz Park is energetic and there's development in Harambee and adjacent Brewers Hill.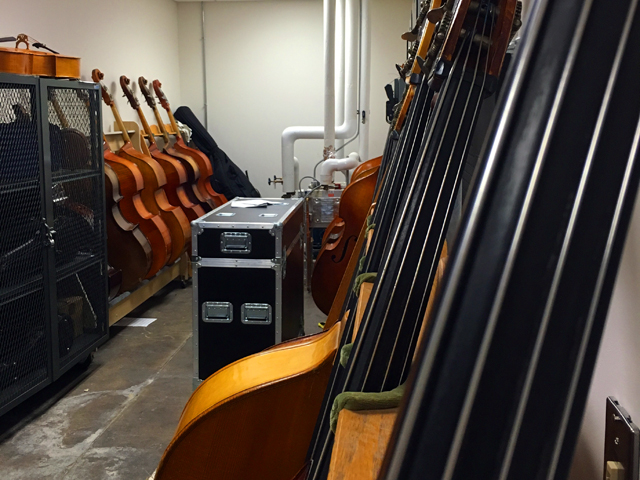 Best of all, MYAC is not only about 30 yards from Golda Meir School, there are numerous schools that are pretty close by.
"One of the big draws for this area was we were centrally located with about 14 schools in the area," says Bingheim. "One of the other keys was was we were on the outskirts of Downtown.
We're in an area that is revitalizing. In 10 years we've seen the growth of this area explode from Manpower and Time Warner to what's going on in the Schlitz Park complexes to over the high rise condos on Commerce over there. The whole Brewers Hill neighborhood, the Martin Luther King redevelopment.
"It's been 10 years, almost 11," muses Bingheim. "To watch what happens here on a nightly basis, a daily basis, to see the kids go through here and know that we built them for this. People walk in this building and they're like, 'Oh my god it's like brand new.' That's because we give the kids the respect and say this is built for you, you want it to look messy with graffiti everywhere, go ahead, but we've rather have I nice and that's up to you to make that happen.
"One really unique aspect of this building is it's such a unique crossover place since there are different things going on. On any given night there are people interacting and meeting in the commons. You would not have met that person anywhere else in the city."
Born in Brooklyn, N.Y., where he lived until he was 17, Bobby received his BA-Mass Communications from UWM in 1989 and has lived in Walker's Point, Bay View, Enderis Park, South Milwaukee and on the East Side.
He has published three non-fiction books in Italy – including one about an event in Milwaukee history, which was published in the U.S. in autumn 2010. Four more books, all about Milwaukee, have been published by The History Press.
With his most recent band, The Yell Leaders, Bobby released four LPs and had a songs featured in episodes of TV's "Party of Five" and "Dawson's Creek," and films in Japan, South America and the U.S. The Yell Leaders were named the best unsigned band in their region by VH-1 as part of its Rock Across America 1998 Tour. Most recently, the band contributed tracks to a UK vinyl/CD tribute to the Redskins and collaborated on a track with Italian novelist Enrico Remmert.
He's produced three installments of the "OMCD" series of local music compilations for OnMilwaukee.com and in 2007 produced a CD of Italian music and poetry.
In 2005, he was awarded the City of Asti's (Italy) Journalism Prize for his work focusing on that area. He has also won awards from the Milwaukee Press Club.
He can be heard weekly on 88Nine Radio Milwaukee talking about his "Urban Spelunking" series of stories.