The second show to open as part of the Milwaukee Art Museum's season of artistic technique and innovation – the first was the Goya show that debuted last month, and the next is a William Kentridge installation that will replace the Homer exhibition – aims its lens at three pioneers of nature photography.
"Photographing Nature's Cathedrals: Carleton E. Watkins, Eadweard Muybridge and H. H. Bennett," which runs through Aug. 26, shows and contrasts mammoth plate images of Yosemite Valley by Watkins and Muybridge, as well as iconic Wisconsin Dells photographs by Bennett, a Vermonter who arrived in the Dells as a teen and never left.


Bennett made this stunning panoramic print by fusing together three negatives.
"The show starts with Carleton Watkins, who's the first photographer to go to the Yosemite Valley with a mammoth plate camera," says Ariel Pate, MAM's assistant curator of photography, who curated the exhibition." He was there in 1861 just 10 years after it was discovered by the U.S. militia. Of course indigenous people had been living there for thousands of years.
"Watkins really made his fame on Yosemite Valley and Yosemite Valley became really well known because of his photographs. By 1863 he was really world famous for these views and so was the valley. They were in this incredible place that people just couldn't believe that it was real. You know it was ten miles long and a mile deep, waterfalls everywhere, just an incredible place and his photographs proved that it was real."
The striking images show the kind of natural beauty most Americans living in places like New York City or Boston or even in the flatlands of Indiana couldn't really even imagine. There are rocky peaks, dramatic valleys, cascading waterfalls, big open skies.
"His photographs were actually sent in 1864 along with a letter to congress to advocate for the preservation of the Valley. So this was all done in the Yosemite Land Grant, which is why the National Park exists today. It was the first time that the federal government had set aside a piece of land for preservation and public use."
One of the most interesting juxtapositions in the show is a Watkins photograph paired with a Thomas Hill painting from the MAM collection showing the same scene.
"They were friends," Pate says of the photographer and painter. "Watkins brought Hill to the valley for his first time in 1865, so Hill had Watkins to thank. Hill was known for his paintings of the valley and I like to look at this one tree, which is very distinctive. What's really funny is that when Watkins took this photo in 1865, the tree is not doing so well. Hill painted this in 1884, and the tree seems to be still alive and kicking.
"Hill was definitely using this photograph as source material for compositional source material. And Hill owned a bunch of photographs by Watkins so I like showing the exchange between the two."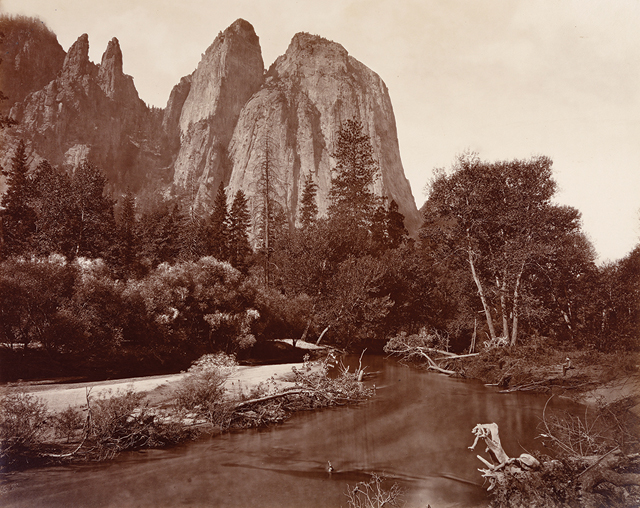 A decade later, Muybridge (who shot the image above) went to Yosemite and photographed many of the same scenes as Watkins. But his approach was different, says Pate, and you can see it in a series of images on a wall in the exhibition that shows two of the same views as captured by each photographer.
"Really similar views, but Muybridge is typically adding, in this one, a figure, and he's also typically adding clouds. So Muybridge is sort of making the same scenes a little more scenic. So you notice in Watkins the skies are really washed out. This is because the emulsion layer they're using at the time is actually overly sensitive to blue light so anything blue gets overexposed," says Pate.
"So Muybridge takes some technique and when he's printing these later, back in San Francisco, he's masking off this area and then he's printing in a second negative of clouds. And you can see this cloud shows up in three other photographs in this show. He's got the same cloud negative that he's using again and again for different photographs."
Muybridge was also not shy about altering the physical landscape, including cutting down trees, to capture the image he wanted.
Bennett, in the meantime, had a studio in the Wisconsin Dells, where he was working in a very entrepreneurial way, shooting studio portraits and selling stunning images to the railroads to help lure tourists to the Dells, but also taking photos of tourist groups.
He'd take a photo on a departing boat, run back to the studio to develop and print it, and then run back to meet the returning boat and sell the print to the tourists.
A big part of Bennett's business was making photographs for stereographic image cards (think View-Master), which offered viewers a three-dimensional look at the Dells. In the exhibition, a series of the cards is mounted to the wall with viewing glasses so that visitors can experience them first-hand.
"We're hoping that people re-discover the stereograph," says Pate. "I say that because stereographs were really the television of their time. Every living room had a basket of them, there would be a viewer, you would hang out with your family and you'd sort of explore the world in 3-D via stereographs, and that's how Bennett helped promote the Dells as a place and a destination. His stereos were in catalogs nationwide and people could order them and discover the Dells via them."
The show draws heavily on materials, including photographs, maps and books, drawn from the collection of exhibition partner the American Geographical Society (AGS) Library at the University of Wisconsin-Milwaukee, a longstanding MAM collaborator.
Another long-time MAM partner, the Chipstone Foundation, is also involved.
"The stories of indigenous people who lived in the Dells area and the Yosemite Valley are largely missing from the works on view in this exhibit," says Pate. "What we did to remedy that is collaborate with the Chipstone Foundation and the Little Eagle Arts Foundation of the Wisconsin Dells to show a selection on Ho-Chunk objects in the American Wing of the Museum. H. H. Bennett helped promote the Dells as a destination. Not only that, but his studio served as an unofficial tourist bureau for the region, and he sold souvenirs alongside his photographs of the Dells.
"Some of these were traditional arts made by indigenous people, both the local Ho-Chunk people and groups from across the country. What we were able to do, in collaboration with Chipstone was install a selection of Ho-Chunk objects in "Mrs. M's Cabinet," which brings up the cross-cultural exchange that was happening in the Dells at this time. These are all from the late 19th century, and are the type of objects that Bennett might have sold as souvenirs of the Dells region. We are really excited about this collaboration, and Kendra Greendeer, the collection manager from the Little Eagle Arts Foundation, will be doing some programs with us around this exhibit."
To see a complete list of events and other programming around the exhibition and for information about visiting MAM, visit mam.org.
Born in Brooklyn, N.Y., where he lived until he was 17, Bobby received his BA-Mass Communications from UWM in 1989 and has lived in Walker's Point, Bay View, Enderis Park, South Milwaukee and on the East Side.
He has published three non-fiction books in Italy – including one about an event in Milwaukee history, which was published in the U.S. in autumn 2010. Four more books, all about Milwaukee, have been published by The History Press.
With his most recent band, The Yell Leaders, Bobby released four LPs and had a songs featured in episodes of TV's "Party of Five" and "Dawson's Creek," and films in Japan, South America and the U.S. The Yell Leaders were named the best unsigned band in their region by VH-1 as part of its Rock Across America 1998 Tour. Most recently, the band contributed tracks to a UK vinyl/CD tribute to the Redskins and collaborated on a track with Italian novelist Enrico Remmert.
He's produced three installments of the "OMCD" series of local music compilations for OnMilwaukee.com and in 2007 produced a CD of Italian music and poetry.
In 2005, he was awarded the City of Asti's (Italy) Journalism Prize for his work focusing on that area. He has also won awards from the Milwaukee Press Club.
He can be heard weekly on 88Nine Radio Milwaukee talking about his "Urban Spelunking" series of stories.