In last week's NBA Draft, the Bucks picked two players who are, seemingly, very different and whose selections generated, similarly, very different reactions around the league – at least in terms of media grades and fan discussion.
With the 10th overall choice, Milwaukee took 7-foot-1 big man Thon Maker, a highly athletic, highly intelligent prep project who has traveled the world on an incredible journey and whose 19 years of age have been questioned as illegitimate. With the 36th pick, the team drafted 6-5 guard Malcolm Brogdon, a venerated, defensive-minded college product who, at 23, figures to help the young Bucks immediately in the backcourt.
One's a raw and not-yet-ready international player whose uncertain background and ability had many people condemning his selection at No. 10 as too high. The other's a polished and productive All-American whose proven performance over four seasons at Virginia had most of those same people calling him a safe, good-value choice. Some experts gave the Bucks a high draft grade, praising potential; others downgraded them for reaching on Maker. Some fans expressed excitement about another first-round move to #OwnTheFuture; others were concerned about Maker's age and Brogdon's upside.
The one trait both Maker and Brogdon apparently share is their unimpeachable character. General manager John Hammond spoke glowingly and at length after the draft about both players' strong work ethic, impressive smarts and endearing personalities. Off the court, it would seem, the Bucks got a couple guys Milwaukee can and will be proud of.
But what about on the court? What does the NBA cognoscenti think of Maker and Brogdon?
After the draft, OnMilwaukee spoke to a current league executive with more than 20 years of experience in personnel evaluation and college scouting for his informed take. In a candid conversation, the executive – who was closely involved with his team's 2016 draft and requested to remain anonymous – discussed Milwaukee's picks, Maker's age, why local stars Henry Ellenson and Diamond Stone both fell, Bucks free agency rumors, Greg Monroe and more. Here is what he had to say:
OnMilwaukee: How old is Thon Maker?
Executive: The thing is, it's always very difficult when you bring in the players from Africa to literally get an idea of how old they are. In the NBA (front offices), we don't get so consumed by it; that's more media driven. To say that he's 19 years old – you have to believe what the documentation says, what the agent has. You can do all the due diligence in the world … the birth certificate is the birth certificate; you've got to go with that.
In certain circumstances – I'm not saying with Thon Maker – but I'd say in most instances, if they say they're 19, you may want to add two years. So they're 21; it doesn't really matter. At the end of the day, no team is not drafting a Thon Maker because it turns out he's 21 years old and he's not 19. It just – it doesn't factor in. It's not like he's 37 years old or 45 years old.
So if he's 21, that means your take on it would say, well, he should be better than all these younger kids because he's older and bigger and better. OK, fine, I grant you that. But you're looking at the skillset. Do the skills translate to the NBA? And the answer is yes. He's 7 feet tall, he's a good athlete, he can shoot the ball, he's got good shooting form, he's learning how to play … I have no problem with the pick at all, at all.
Does Maker's age matter and did the controversy affect his draft stock?
Who cares? It's irrelevant to me. Irrelevant. I guarantee you Milwaukee did not factor that in at all. Guaranteed. Because when you look at him, when you watch him, you don't say, "God, he looks 40 years old."
I started hearing a little bit of chatter a day before the draft that he was 25, that he was a lot older, and I just laugh. But, OK, how much older? A year or two? I just think there's much ado about nothing there. I don't know Milwaukee people; I wasn't in their draft room. I didn't talk to them about Thon Maker and say, Hey are you worried by his age? But I doubt that that was a conversation for a long period of time about how old he is.
(Our team) had conversations about him, for sure. And we liked what we saw – from the film we saw, when we saw him at the hoops Summit and when we saw him in the events leading up to the draft. And all I can tell you is we never talked about his age. Never.
(PHOTO: NBA.com)
Was drafting Maker at No. 10 a reach?
Here's my philosophy on that: The number is only relevant to the media. If you like him at 15, and you take him at 10, that's okay. You like him at 24, and you took him at 14, fine. The disparity of where people may take him and where he was taken – I'm not sure you could legitimately get 30 NBA teams to turn in their mock drafts with their rankings of the top 30 picks and be honest about where Maker would go.
It's a lot easier to say we had him much later or we didn't have him going that early or this or that, but to me, it's did you have him in the first round? Was he on your board, did you do background checks on him, did you watch film and were you considering him? If the answers to all those questions are yes, then where you take him is only relevant to your team. That's all. It's just a number.
Because if all the mock drafts – whether it's Chad Ford or DraftExpress or NBADraft.net or whatever you want to look at – had him at 22, well, they've never drafted anyone for an NBA team. They're very nice guys, but if you're going to say, "Well the media had him here," where did the NBA teams have him? I don't know if you would get an honest answer from anyone about where they absolutely, actually had him, because then you get exposed. You get exposed. If you had him at 30, and he goes 10 and he ends up being the sixth-best player in that draft, it doesn't bode well for your credibility. If you had him at 10 and he fails, well, there you go again, "You guys don't know what you're doing." But I thought it was a low-risk pick.
What are Maker's strengths and weaknesses, and how soon can he contribute in the NBA?
I'll answer the second question first. He's going into a position where they've got some young players. Now, whether they're going to play Giannis (Antetokounmpo) at point guard or whatever, they've got (Jabari) Parker, they've got (Khris) Middleton. Those are their three guys. So he's going to play behind those guys regardless.
To me, (Maker) does have upside. I think his best skills are, this kid is 7-1, he has a tremendous work ethic, he is a good person, all the background stuff we did was all good, as far as character, work ethic, likability, coachability, all that was good.
He's a guy that's 7 feet tall, very mobile, athletic, has the ability to score. Obviously, he's got to get stronger, got to learn the NBA game, the quickness, the speed of it. But I think his length, his size and his athleticism – again, he has the ability; he's skilled enough. He can pass, he can dribble and he can make a shot. So to me, it's not much of a risk, I don't think.
John Hammond talked a lot about Maker being a hardworking, high-character guy. How important are those intangible, non-basketball qualities to teams in the draft?
Very important. Very important. I think more than anything else, the character, the work ethic, the discipline, the coachability elevate your draft status. If all those boxes are checked – work ethic, IQ, competitive spirit, coachability, likability, works hard – you have a tendency to get drafted higher than if you're missing a few of those along the way.
The talent needs to be there first, there's no question about it. But we did it with our guys. We talked about their talent first, then we talked about the character and commitment and the type of people that they are and the work ethic and so on. That has been something that we have taken account of in every person we've drafted.
If I was John Hammond, I would have been saying the same things (about Maker's character). At the end of the day, if you're looking at YouTube videos of Thon Maker, there just isn't a lot of data there as far as the visual things you can see. He doesn't have a visual test, but you can do the personality test, and that's where I would've put a lot of the emphasis on his work ethic, what he did when we saw him come in, all those things. I would've put that out on the forefront, as well.
So does Maker, who's raw, have a better chance of reaching his big potential because he'll be in the gym all the time, working hard and staying focused?
Any time you have great work ethic, you're high character, you're coachable and you have a good basketball IQ, you tend to be able to at least get to the level that (teams) think you can get to and hopefully exceed that.
What position will Maker play in the NBA?
I think he has to be a four. He's not a center. And there are some thoughts out there that he may even think that he's a small forward. I don't know if that's the case. I hate to use the term "stretch four." To me, he's a power forward, a forward. He'll be able to do some things out on the floor, and if they put smaller defenders on him, I think he can go down and shoot a jump hook from the block.
I would say he's a forward. But he's not a small forward; he's more of a power forward. I think he'll play the four and then depending on matchups, maybe he could slide to three or five, but his primary position will be at power forward.
What do you think of Malcolm Brogdon? Was that a good pick by the Bucks at No. 36?
You're not going to find a better person. That guy is unbelievable. Tremendous, tremendous person. Bright, knows the NBA game, knows who he is, what he's going to do, doesn't have any preconceived notions of what he can or can't do, he's tough, he's physical, he'll play both sides of the basketball. Whatever he's able to achieve, he's going to do it because the guy is so focused
What are Brogdon's strengths and how can he contribute immediately for the Bucks?
He'll be able to play both sides. He's a combination guard. He wants to be a point guard, that's what he wants to become in the NBA, and it'll take some time. But he can handle and pass and shoot. And the thing is, his brain works. You can put him in a game right now, and he can play in the NBA because he's physically gifted, he's mentally sharp enough, he'll figure out the concepts and the speed of the game and the strength of the game, and he'll find his niche.
What are Brogdon's weaknesses that caused him to go in the second round?
I think, more than anything else, it was just that some people felt the age was a deterrent because what you see is kind of what you get with him and is there another level that he can take his game to? I believe he can. But that was some of the rhetoric that was out there.
I would say shooting, just being able to be a more consistent shooter, especially from the three-point line, extend his range. And then also he needs to work on his game off the dribble. He's got to develop a real consistent midrange game, whether it's a one- or two-dribble pull up when (defenders) run him off the three-point line.
(PHOTO: NBA.com/Pistons)
Henry Ellenson and Diamond Stone both fell significantly in the draft from their projected spots. Why? What happened?
Ellenson's problem was when he went into the workouts, he shot the ball really well, but they found out that his lateral quickness, his foot speed, was way below average. So they didn't know who he could guard, (doubted) his physical toughness and they just liked other people better. But at 18, 19, 20 (Ellenson went 18th to the Pistons), you just take who you think is the best player on the board.
Why he didn't go in the lottery is because when they worked him out, they just said he couldn't move; he had no lateral quickness, no athleticism. They were like, "We don't know where we're going to hide him (on defense), so he's just going to make shots. And if that's all he's going to be, he's going to be a detriment at the other end." So that's why he dropped.
I always thought he was a very highly skilled player that would be able to play some five and stretch the floor and his body would improve over time, but I guess a number of teams just thought his lack of lateral quickness and toughness, they didn't want to take him in the lottery.
And then Stone, to be honest with you, his character killed him. People just didn't want to deal with an immature kid. He's not really a true center, his shot's just OK, he rebounds just OK, everything about him was just all right, and they just didn't want to deal with off-the-court stuff. There were more intangibles about him; we talked about work ethic and coachability and being on time and doing things the right way.
Now, some people would say that's just immaturity and just being a freshman, and that's fine, but no one was willing to gamble on that in the first round. They weren't. They were not going to deal with so many uncertainties as a person – his work ethic and character – that it was such a concern, and his play didn't override it.
Would staying in school have benefited both players?
Absolutely with Stone. You hear different stories that he didn't want to come out, that he was forced to come out; I don't know how it ended up being, but absolutely. I mean, if you look at the situation and say, "You know what, we went in the second round, we just wanted to get drafted," then fine, he should've come out. But if his desire was to be a first rounder, another year in college of getting better – why wouldn't he have done that? But I don't know his family, I don't know what happened. Maybe he just wanted to get drafted (Stone went 40th and was traded to the Clippers). Him in L.A., though, that's scary.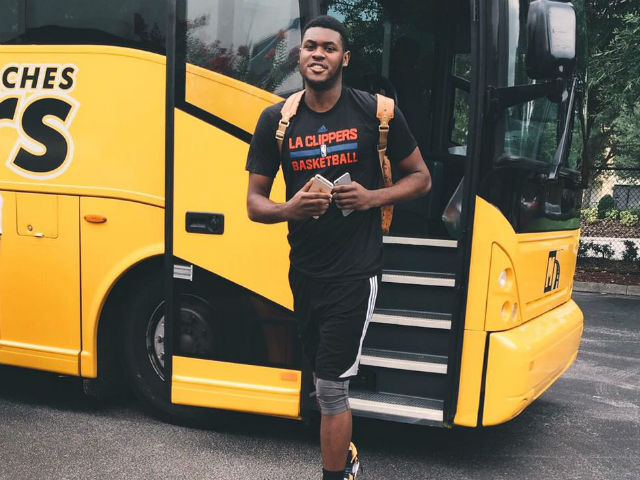 (PHOTO: L.A. Clippers Facebook)
(For Ellenson), I'm sure it would've helped. But he's in the first round, so at the end of the day, it probably is going to be OK; he's going to get paid at least two to four years and find out what he is. He's going to be on a good team so he is not expected to do a lot in Detroit right away. I think it'll work out for him because he knows how to play, he knows what to do; I think he's wired to be a basketball player.
Are the Bucks actually interested in free agent center Dwight Howard?
Yeah, I hear it. Personally, I wouldn't touch him with a 10-foot pole, but if that's what they want to do … I've heard that. I still think Atlanta is probably the front runner, but I'm sure Milwaukee will do their due diligence.
If you were the Bucks GM, what would you do with Greg Monroe?
Well if it's me, certainly he doesn't fit with what they're doing and he doesn't want to be there and it's not a long-term solution. I mean, you try to see what's out there and see if it's something you think is adequate to trade him. You still have him, you can still use him, he's still serviceable. But he's obviously not the long-term answer.
So you're looking this summer, when some of these teams strike out, whether it's teams that don't get (free agents Al) Horford, don't get (Hassan) Whiteside, don't get Dwight Howard, then maybe they look and say, "Hey we'll take Greg Monroe at his number, it's pretty good, we'll take it and we'll give you player A, B and C." That's what I would do.
When John Hammond became general manager in 2008, his platform was getting the Bucks under the salary cap and freeing up some space to go after big free agents. Now, with the new TV deal, most teams have nearly unlimited cap space; hindsight's 20-20, but has that approach hurt Milwaukee?
Well, he took over eight years ago, so certainly the dynamics have changed – the TV deal, he had no knowledge of that coming up. But the thing is, when he took over, like a lot of (teams), you were kind of in three areas. You were either going for it; you were in the middle, where you weren't in the lottery but you really weren't a contender so you're just making your fan base happy by making the playoffs; and then the third one was you weren't there, but you talked about how much cap room you were going to have and you were going to be able to be aggressive in free agency and so on and so forth.
It's a great cliché to say, "Oh we have cap space," but there's two things that come into play with that. First, you can have all the cap space you want, but you're not the only team that has it, so you're going up against other teams. And second, the reason you have so much cap space, generally, is you're not very good. And if you're not very good, what top free agent is going to want to come there? Even though you have all the money in the world, who are you going to be able to recruit to Milwaukee? It's always been a very difficult market.
Now, they've got some players that people now want to kind of play with, but what has happened is you've got all this cap space and so do 20 other teams. So what you need to do in Milwaukee is try and develop a place where you can say we're missing one free agent that's going to put us in the top four of the Eastern Conference. That's what your selling point is. That's probably where John is at now: We've got three core guys that are going to be with us for a long time, and now we drafted this Maker kid – hey, you, free agent Joe Blow, boy, it'd be great to have you; you'd be the missing piece here. That's what you're selling.
Born in Milwaukee but a product of Shorewood High School (go 'Hounds!) and Northwestern University (go 'Cats!), Jimmy never knew the schoolboy bliss of cheering for a winning football, basketball or baseball team. So he ditched being a fan in order to cover sports professionally - occasionally objectively, always passionately. He's lived in Chicago, New York and Dallas, but now resides again in his beloved Brew City and is an ardent attacker of the notorious Milwaukee Inferiority Complex.
After interning at print publications like Birds and Blooms (official motto: "America's #1 backyard birding and gardening magazine!"), Sports Illustrated (unofficial motto: "Subscribe and save up to 90% off the cover price!") and The Dallas Morning News (a newspaper!), Jimmy worked for web outlets like CBSSports.com, where he was a Packers beat reporter, and FOX Sports Wisconsin, where he managed digital content. He's a proponent and frequent user of em dashes, parenthetical asides, descriptive appositives and, really, anything that makes his sentences longer and more needlessly complex.
Jimmy appreciates references to late '90s Brewers and Bucks players and is the curator of the unofficial John Jaha Hall of Fame. He also enjoys running, biking and soccer, but isn't too annoying about them. He writes about sports - both mainstream and unconventional - and non-sports, including history, music, food, art and even golf (just kidding!), and welcomes reader suggestions for off-the-beaten-path story ideas.