Festival City is hopping this summer! OnMilwaukee's Festival Guide is brought to you by Potawatomi Hotel & Casino. Escape the heat and step inside!
Brett Newski is a Milwaukee musician on the rise.
Everyone I told I was reviewing the NEWSKI show on the final Friday night at Summerfest had a story about him, and now I see why.
From the friend who pointed out Newski's sketch in his office, to the one who told me about his book about battling anxiety, to the one who relayed stories of working with his dad in Milwaukee radio and knew him as a kid … they all described Newski a a super, funny and talented guy who makes great music.
And the industry friend who described his musical style as "nerd rock" wasn't insulting him. Mostly, he was describing a sound reminiscent of quality '90s alt, lo-fi music that sounded oddly familiar, but also fresh and new.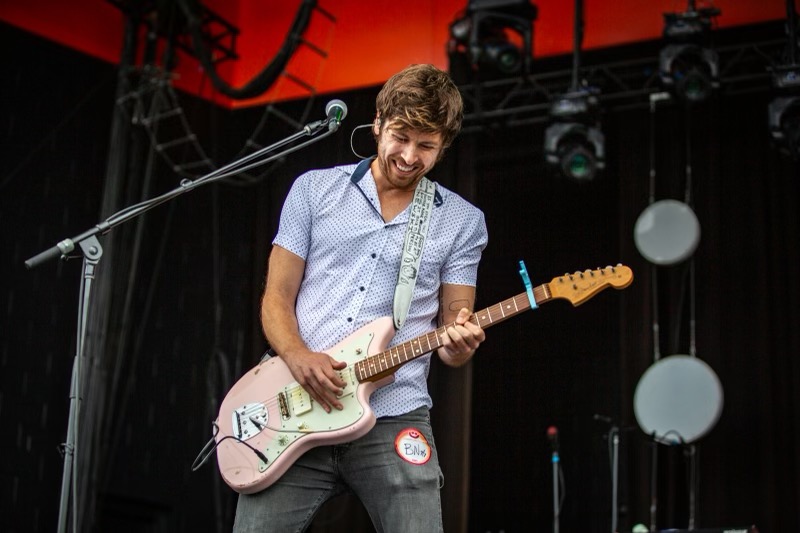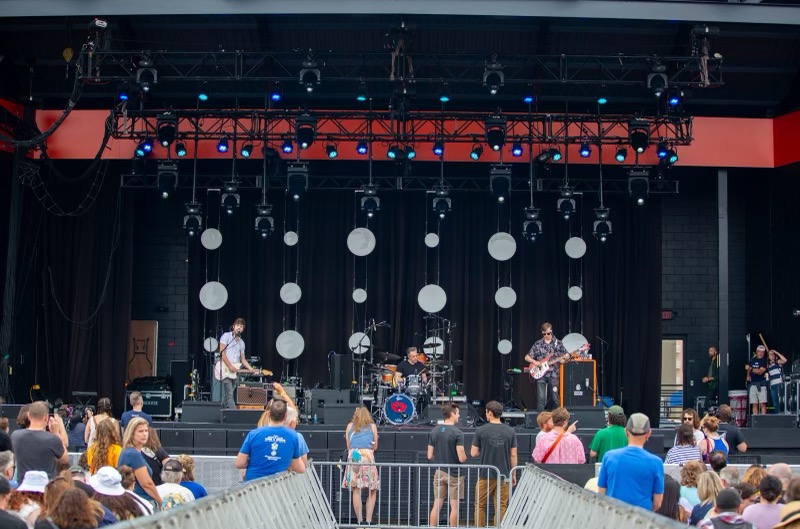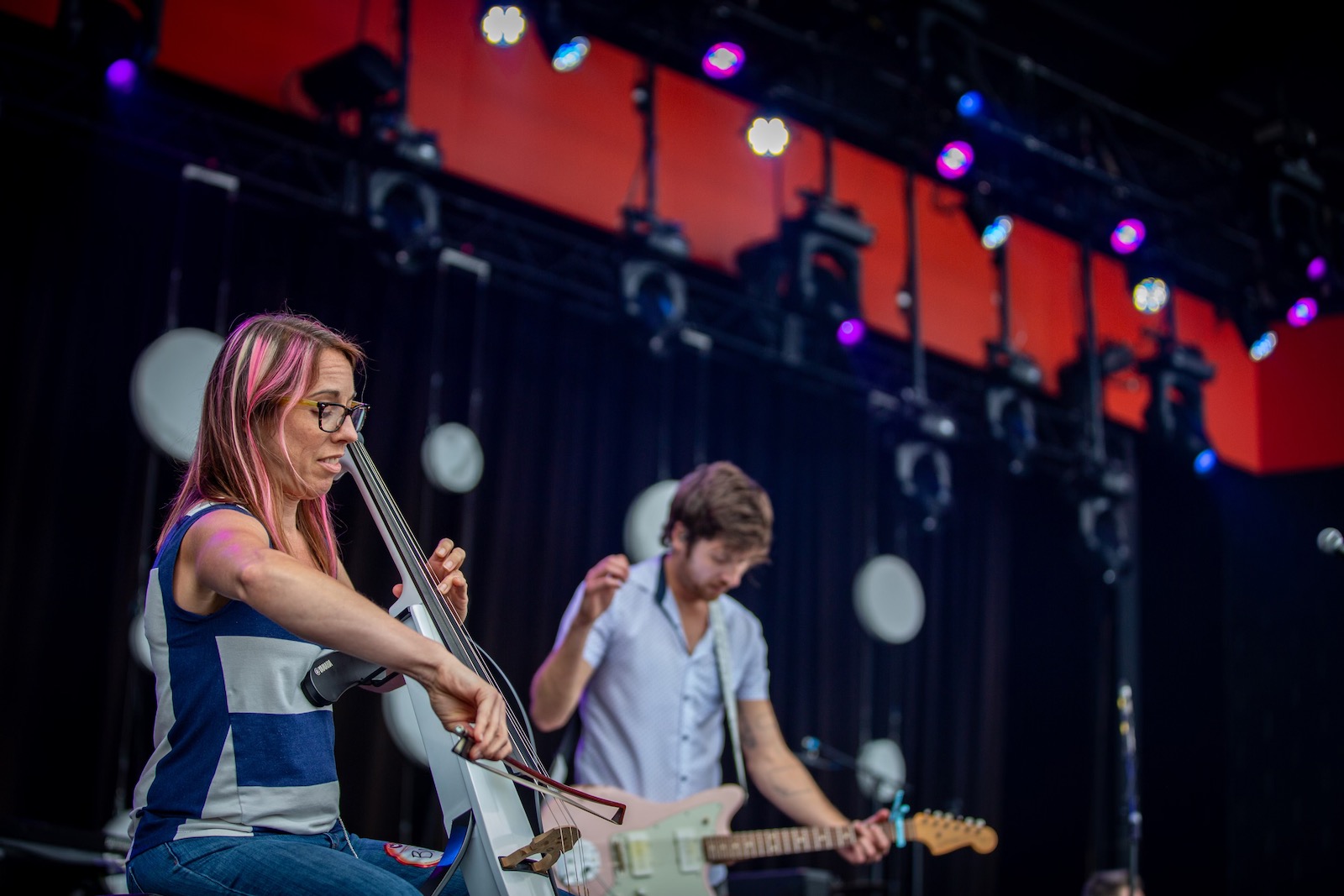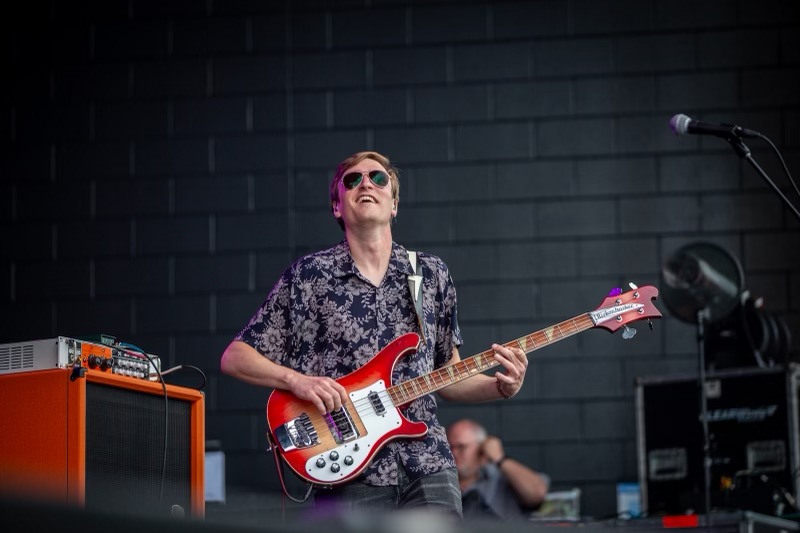 At a 5:30 p.m. performance at the Generac stage, Newski and his two band mates lived out a local rock star's dream: playing an evening show in front of the home team at the world's largest music festival.
On a blessedly cool but sunny night at Summerfest, you could tell Newski was having as much fun as his crowd. Stopping mid song to joke with a fan in the pit eating Taco Bell, I felt like I was watching a normal Bay View guy just soaking in a good time on stage. And sure enough, I was right:
"We got a call to play this show like 72 hours ago," said Newski, who does in fact live in Bay View. "It's pretty cool."
He opened with "Stars," off 2018's "Life Upside Down." Mellow but hardly boring, it's timeless, feel-good music.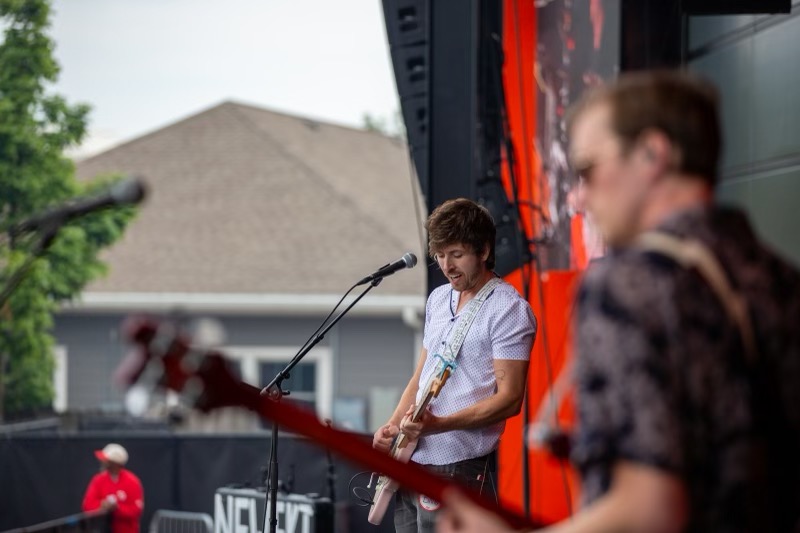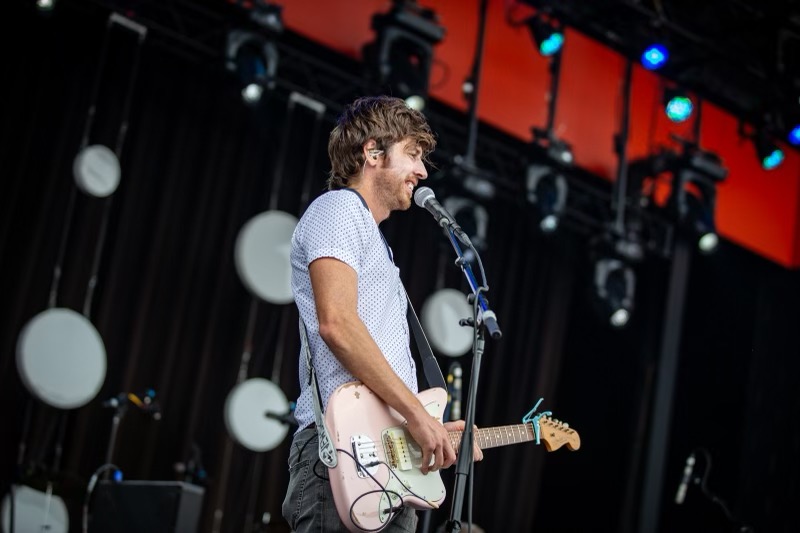 The list of artists NEWSKI has collaborated is far too long to list, but notably, the 37-year-old guitarist and lead singer of his eponymously named band has opened for Milwaukee's legendary Violent Femmes. Now he's touring in support of his new album, "Friend Rock." After today, he'll do another show in Milwaukee on July 14, then hit a few other midwestern cities.
Summerfest, though, is a big deal. Newski has played here lots before, but not at a spot as late as 5:30 p.m.
Author, podcaster, critically-acclaimed musician … I get why people told me to be here.
Songs like "What'd You Got to Lose" and "If We're Gonna Break Up, Let's Make It Take Forever" are very catchy. Sweetly romantic and yes, dorky, they evoke lyrics of old Weezer to me, even though it sounded more like a band I really dug in the '90s called The Refreshments.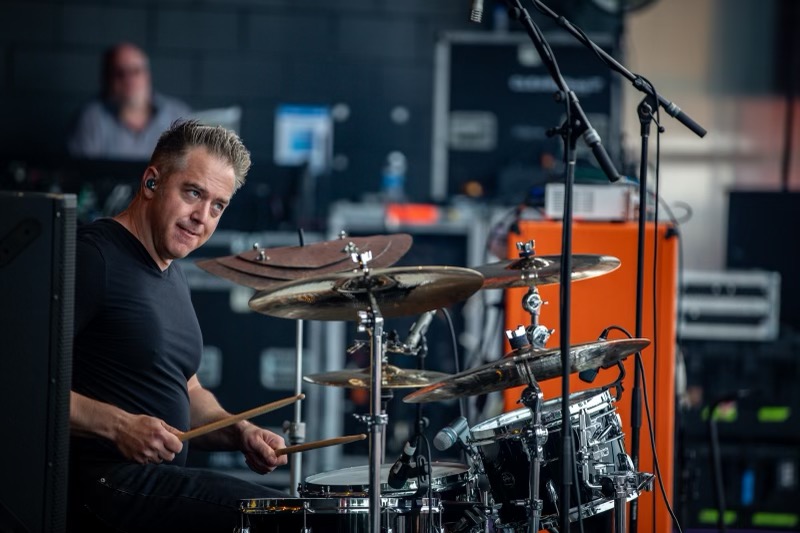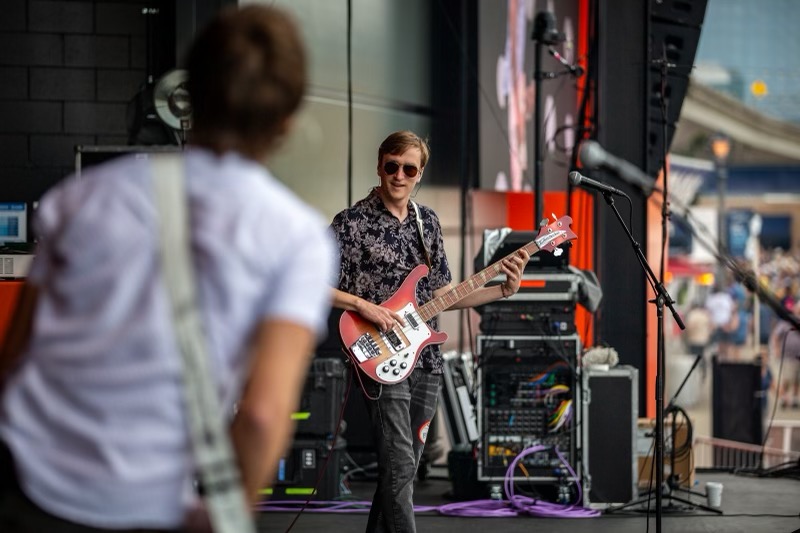 "Wet Pavement" sounded liked the Femmes, which makes sense. Newski, himself, has a voice like Billy Jo Armstrong from Green Day, but the music is more akin to Cracker or Better Than Ezra. And sometimes Tom Petty. It's hard to pigeon hole this band into just one sound.
Flanked by Steve Vorass (drums) and Sean "Tubs" Anderson (bass), as well as an electric celloist named Thea Vorass for a few songs, Newski has come a long way from writing Vietnamese advertising jingles. I've gotta say, it was cool watching the actual band doing its own sound check and messing with levels just minutes before starting. I smiled when he asked the booth if he was "boosty" enough.
Newski kept doing it throughout the show, and I loved it.
"This city kicks ass," said Newski, switching songs midstream because he said he was "sick of it," which seems like a good enough reason to try a different one. "Let's play something else," he said and immediately jumped into "Loan Me All Your Love." Ha.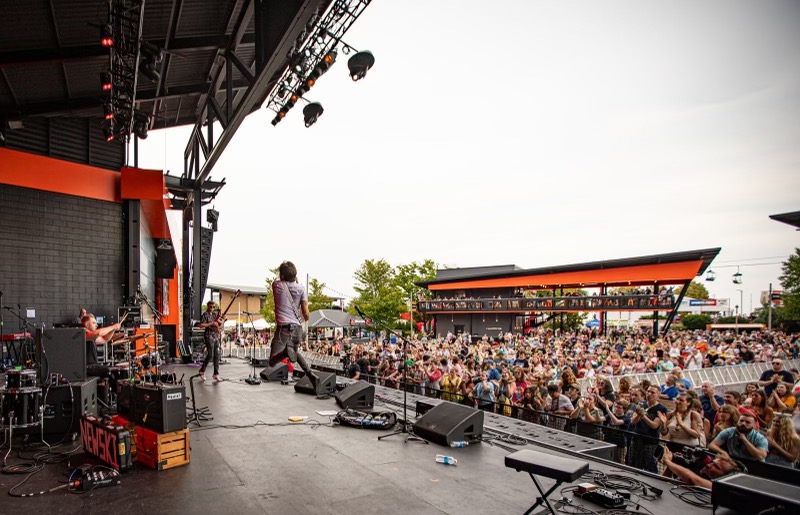 "Does anyone have any questions?" asked Newski, urging his friends (and Don Smiley, apparently) to get more fans into the mosh pit. "Where's Don Smiley" seemed like a made-up, improved song – but it was successful. People moved in and kept the party going. "That might be the greatest ass kiss in Summerfest history," he joked. "That song worked."
Ah, that jingle writing pedigree has paid off.
Sure, the crowd was light at first but filled up as people wandered over and heard something good. Hey, for NEWSKI, at least it was better than the show in St. Louis that Newski played to four people (which inspired "DIY").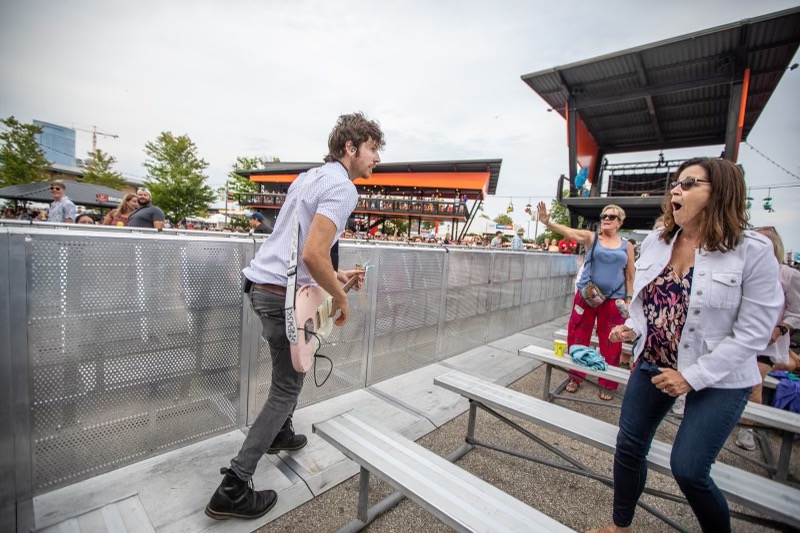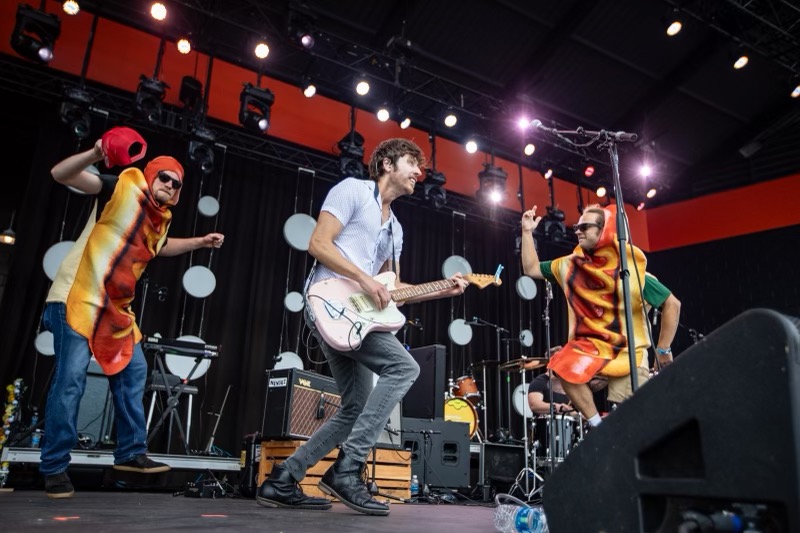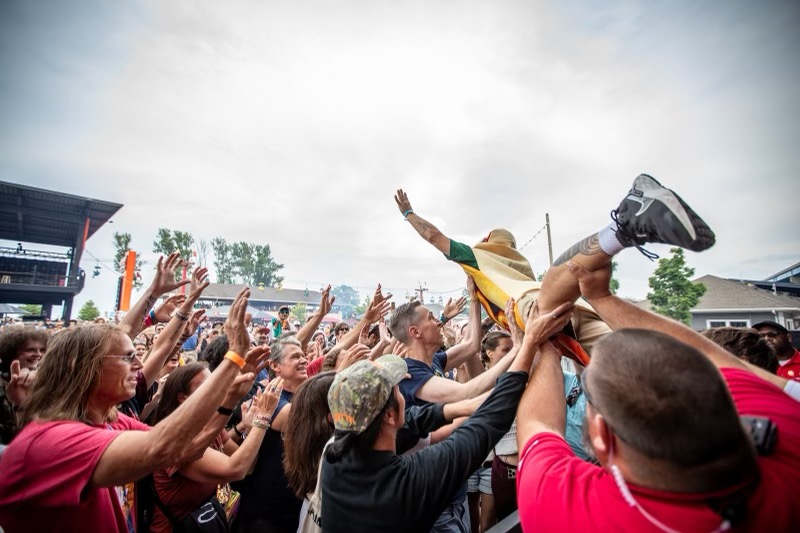 That audience fired right up when Newski ran through the bleachers high fiving fans during his guitar solo in "Ride," and somehow tossed a football while playing said guitar - about 30 yards in a good spiral. And I'm not sure who the two dancing hot dog guys were who joined the band on stage, but I enjoyed their work. Especially when Newski implored our OnMilwaukee photographer Ty Helbach to help get them crowd surfing. Again, it worked.
If it's not obvious by now, I really enjoyed this 70-minute set, and NEWSKI can count me in as a new fan.
Hey, if the acclaimed community of musicians singing his praise is right - after all, he convinced Barenaked Ladies' front man Steven Page to sing on "I Should've Listened to Ferris Bueller" - this audience will be able to say they saw NEWSKI before the band truly hit it big.
Set list:
Stars
Freak Flag Fly
If We're Gonna Break Up, Let's Make It Take Forever
Wet Pavement
Loan Me All Your Love
I'll Go Under The Weather To Get Me Over The Moon
Chemicals
NY Apartment
I Should've Listened to Ferris Bueller
Ride
What'd You Got to Lose
Too Much Reality
Airplane
DIY
Seek Asylum From Myself

Andy is the president, publisher and founder of OnMilwaukee. He returned to Milwaukee in 1996 after living on the East Coast for nine years, where he wrote for The Dallas Morning News Washington Bureau and worked in the White House Office of Communications. He was also Associate Editor of The GW Hatchet, his college newspaper at The George Washington University.
Before launching OnMilwaukee.com in 1998 at age 23, he worked in public relations for two Milwaukee firms, most of the time daydreaming about starting his own publication.
Hobbies include running when he finds the time, fixing the rust on his '75 MGB, mowing the lawn at his cottage in the Northwoods, and making an annual pilgrimage to Phoenix for Brewers Spring Training.