Nine Below Mini Golf Tavern, 1905 E. North Ave., opened to the public at 2 p.m. today and OnMilwaukee was there – ready to chat, drink and putt. Owners David and Marla Poytinger call it "The world's first Maker's Golf Tavern."
The space, which is beneath Beans & Barley and formerly housed a zillion nightclubs from Shooters to Esoteria to The Library Club, underwent a massive renovation and appears nothing like the original space. The Library Club's bar was retained, but was moved into a different spot.
The goal was to create an environment that feels like an outdoor mini golf course at dusk. Strands of patio lights, a pergola over the bar and a dark ceiling help achieve that. The galvanized pipe railings and decorative metal-meets-astroturf flourishes give the space an outdoorsy-yet-industrial feel.
"Everything you see in this space was custom built," says Dave, who – along with Marla – also owns Splash Studio in the Third Ward.
To participate, groups of two or more sign up online for a two-hour window and then spend the first 45 minutes "designing" their green. They are invited to pick props from an "obstacle garden" that range from an Oscar Meyer wiener to a replica of Miller Park to a poop emoji. They can arrange the obstacles on the green however they'd like. Many of the props were hand-printed by the Splash Studio team.
The second half of the time frame allows guests to play a nine-hole golf game. They play on the green they set up, as well as eight other greens set up by different groups of golfers. If there are not eight groups, Dave or Marla set up the greens instead.
Many details contribute to the golf-ness, such as cocktails with clever names like "The Fore Play" and the "The Sand Trap" and "golf carts" that guests can push around to carry their drinks.
Although Nine Below is not a spot for kids – older kids, sure, but it is a bar – the space is ideal for groups of adults of all ages, corporate team-building events and more.
"I'm really happy with how it turned out," says Marla.
Here are eight more photos of Nine Below Mini Golf Tavern:
1. Golf turf also makes nice decorative flourishes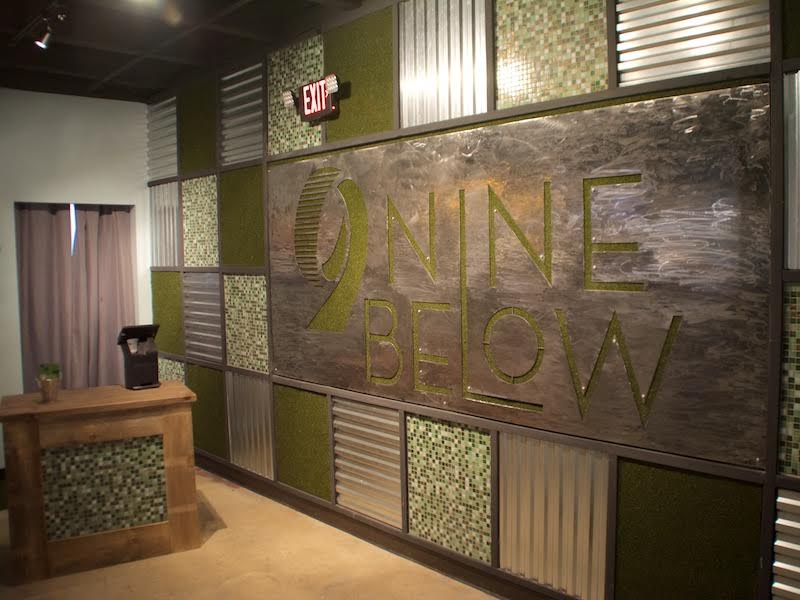 2. Golfing is thirsty work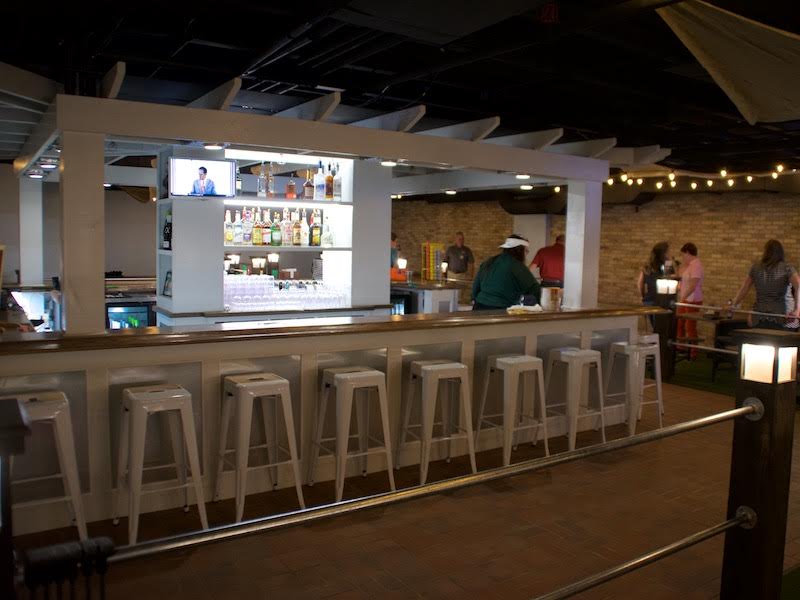 3. "The Fore Play" and "The John Daly"

4. Choose your hole (ahem)
5. Bank it off the Eiffel Tower
6. A Star Wars-themed green is a go
7. "The Gopher"
8. A new concept for a classic space
Take a tour with Molly, Carolynn & David:

Molly Snyder started writing and publishing her work at the age 10, when her community newspaper printed her poem, "The Unicorn." Since then, she's expanded beyond the subject of mythical creatures and written in many different mediums but, nearest and dearest to her heart, thousands of articles for OnMilwaukee.

Molly is a regular contributor to FOX6 News and numerous radio stations as well as the co-host of "Dandelions: A Podcast For Women." She's received five Milwaukee Press Club Awards, served as the Pfister Narrator and is the Wisconsin State Fair's Celebrity Cream Puff Eating Champion of 2019.