The late-arriving sunshine and warm weather of the past few days is a wonderfully welcome reminder that summer is indeed just around the corner. And with summer in Milwaukee, of course, comes the joy of eating and drinking on patios, actually going out and socializing with friends instead of cuddling up and cursing our northerly climate and, this year, the 2018 FIFA World Cup.
And tomorrow, a brand-new pop-up soccer bar in Walker's Point opens to the public, bringing a familiar brand and fresh look to a vibrant neighborhood, and aiming to be a summertime hub for all the above.
Nomad Nacional officially opens on Friday, but we got a chance to take an early look at the space, 625 S. 5th St., which was formerly La Fuente Restaurant. The new concept, announced earlier this year by Caravan Hospitality Group CEO Mike Eitel, who owns Nomad World Pub on Brady Street, is a Latin-inspired bar and event space that takes Caravan's global street food menu south to the Fifth Ward.
"It's an iconic building in a great location," Eitel said in a statement Thursday. "It's an ideal part of the city to have a soccer bar and to celebrate the World Cup. We're thrilled to be offering a place for soccer fans and the community to come together, celebrate and have a great time."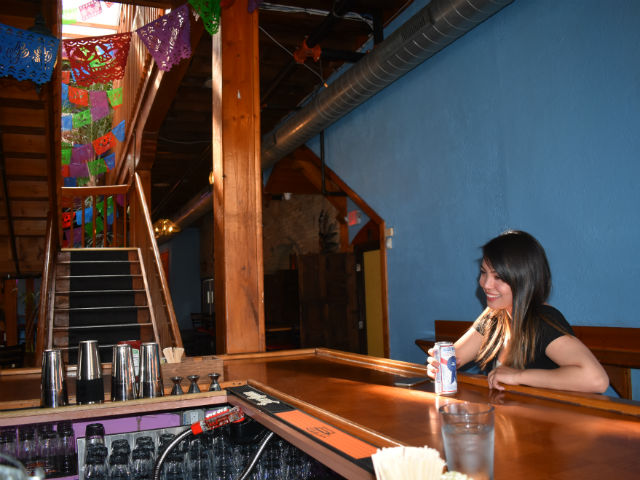 Caravan's first pop-up venture, Nomad Nacional will be open from May through November, though there's potential for it to turn into a permanent location.
"This has been a nontraditional rollout," says Matt Sievers, the hospitality group's VP of marketing. "It's been really different, but exciting too. Nacional is going to be an experience."
The World Cup, the globally watched quadrennial soccer tournament, will be a highlight for Nacional this summer, but the space will actively host other events in the community throughout its duration. Besides Cinco de Mayo and the World Cup (June 15-July 15), Sievers said Nacional will gear up for the late-summer Harley-Davidson 115th Anniversary, as well as a Halloween/Day of the Dead celebration in the fall.
Sievers said the old La Fuente site needed a bit more work than Caravan originally expected, particularly with the kitchen, refrigeration and general cleaning. Other changes included giving the building a colorful paint job and adding Nomad branding, some select décor and an updated point-of-sale system.
While the interior is bright, airy, inviting and large – though perhaps it will feel less so crammed with hundreds of cheering soccer fans – the location's two gigantic patios, flanking the bar on the north and south sides, are perhaps its most appealing asset for alfresco-obsessed Milwaukeeans.
"When I was thinking about just how many umbrellas we're going to need, I was like, Man, this is so much space," Sievers said of the sprawling patios. The southern one is already open, while the northern one – with the fountain, outdoor bar and cut-stone floor you remember from La Fuente – still needs some refurbishing.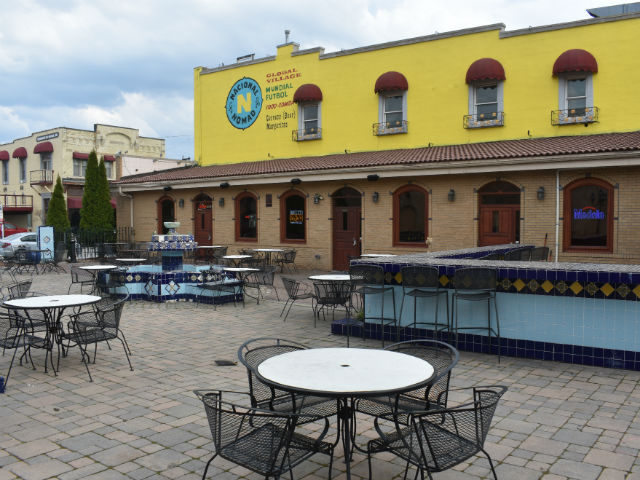 The patios will allow Nacional to easily accommodate lots of people and activities outside – something Nomad World Pub has tried to do with its attached beer garden and Brady Street block parties, but without the permitting and logistical issues.
"The neighborhood is the ideal place in this city to have a soccer bar and to celebrate the World Cup, especially because of the community here and the fact that there are so many teams from Latin America in this year's Cup," Eitel said in January. "We're honoring the game and the cultures that support it, and La Fuente is a historic icon in this neighborhood. It all came together perfectly."
While open, Nomad Nacional will host a variety of events and activities related to the World Cup. Eitel – who also owns the property at 636 S. 6th St., a prospective bar site at which construction is currently on hold – said the pop-up will include an outdoor FanZone featuring large-screen TV, live entertainment, a marketplace and a designated food truck area. The interior balcony features a VIP area with a separate bar available to rent for large parties.
Sievers says Nomad Nacional's arrival in Walker's Point – where other establishments like Hamburger Mary's and Fuel Café have also recently moved into the diverse, heavily Hispanic and rapidly developing neighborhood – has been received positively and with excitement.
He says Caravan participated in neighborhood association meetings, has a "great relationship" with District 12 Ald. Jose Perez and has built "camaraderie" and "buzz" with other businesses in the community.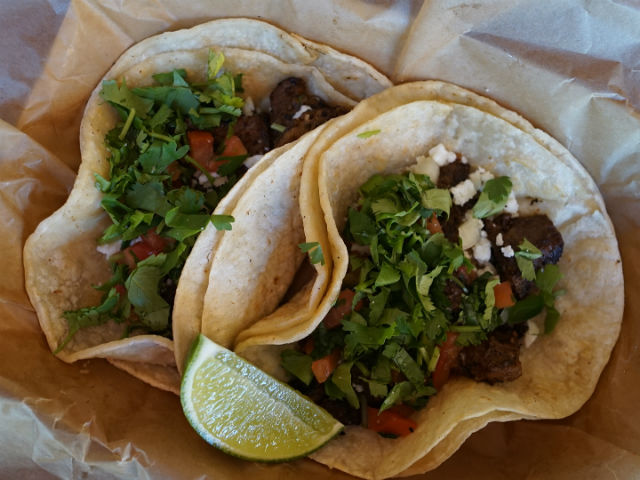 As for its menu, Nacional features Caravan's signature street food, including some popular items from Eitel's SportClub bar and restaurant Downtown.
Nacional has also partnered with Good City Brewing on the ¡Nomad! Summer Ale, a dry-hopped wheat beer with tropical notes that is 4.5 percent ABV and comes in specially made 16-ounce cans that will be easy to drink on a warm day. Friday, May 4 is the Good City ¡Nomad! Summer Ale can release party from 5-9 p.m., featuring the full menu and DJ Mikey Fast Life.
There aren't any draft beers at Nacional, only cans and bottles. For Happy Hour (Monday through Friday, 4-6 p.m.), Nacional will offer its House Margarita, the Nomad Summer Ale and all-you-can-eat taquitos, all $5 each. Click here to see the full menu.
Nomad Nacional is open Sunday through Thursday from 11 a.m. to 12 a.m., and Friday and Saturday from 11 a.m. to 2:30 a.m., so come on in and, as its sign out front says, "Taste La Fun."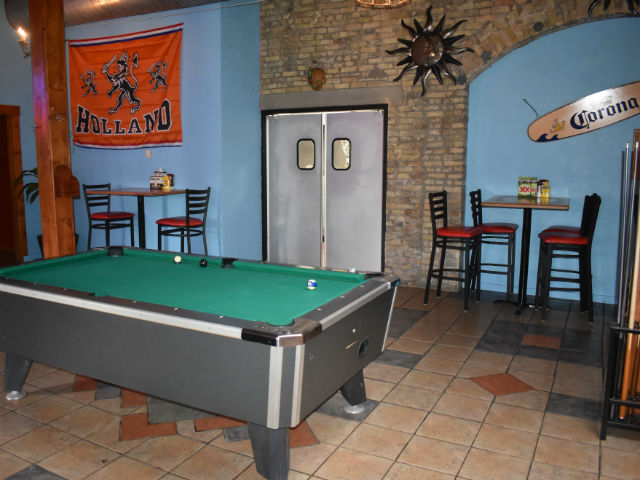 Born in Milwaukee but a product of Shorewood High School (go 'Hounds!) and Northwestern University (go 'Cats!), Jimmy never knew the schoolboy bliss of cheering for a winning football, basketball or baseball team. So he ditched being a fan in order to cover sports professionally - occasionally objectively, always passionately. He's lived in Chicago, New York and Dallas, but now resides again in his beloved Brew City and is an ardent attacker of the notorious Milwaukee Inferiority Complex.
After interning at print publications like Birds and Blooms (official motto: "America's #1 backyard birding and gardening magazine!"), Sports Illustrated (unofficial motto: "Subscribe and save up to 90% off the cover price!") and The Dallas Morning News (a newspaper!), Jimmy worked for web outlets like CBSSports.com, where he was a Packers beat reporter, and FOX Sports Wisconsin, where he managed digital content. He's a proponent and frequent user of em dashes, parenthetical asides, descriptive appositives and, really, anything that makes his sentences longer and more needlessly complex.
Jimmy appreciates references to late '90s Brewers and Bucks players and is the curator of the unofficial John Jaha Hall of Fame. He also enjoys running, biking and soccer, but isn't too annoying about them. He writes about sports - both mainstream and unconventional - and non-sports, including history, music, food, art and even golf (just kidding!), and welcomes reader suggestions for off-the-beaten-path story ideas.