The North American Hardcourt Bike Polo Championship (NAHBPC2018) will be held Friday, September 28th through Sunday, Sept. 30 at Washington Park. The competition will feature athletes from across the United States, Canada and Mexico as they battle it out to see who is the best on the continent.
"Milwaukee is hosting NAHBPC2018 because we wanted to challenge ourselves as a club," reported Christian Walding, as a representative of the Milwaukee Bike Polo club. "Although our city has been on the forefront of this sport since its origin, our club has redeveloped itself since Milwaukee has last hosted such a large endeavor.
"It is a chance to reintroduce what Milwaukee means to our sport, keeping the bar high and continuing to develop. It's also a great opportunity to increase local awareness about hardcourt bike polo and to improve our courts."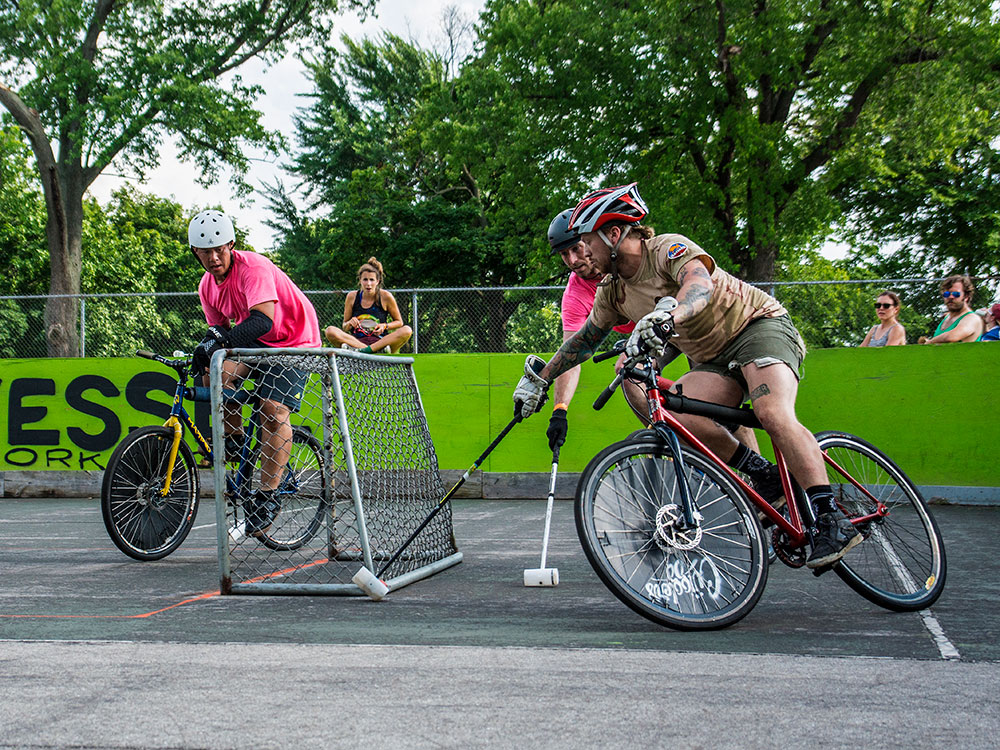 Hardcourt bike polo is a stick-and-ball game, like regular polo or hockey. It is played astride a bicycle and pits two co-ed teams of three players against each other. Each teammate commands a mallet and tries to hit the ball into the opponents goal. Whichever team hits the maximum number of points first – or the team with the highest score after time runs out – wins.
Since matches are usually short and sweet, it's a fairly accessible sport and the club welcomes drop-ins and new players.
"You don't have to train the way you would for other cycling events such as road or cross," said Walding. "But being smart and having good bike handling abilities and ball control will go a long way."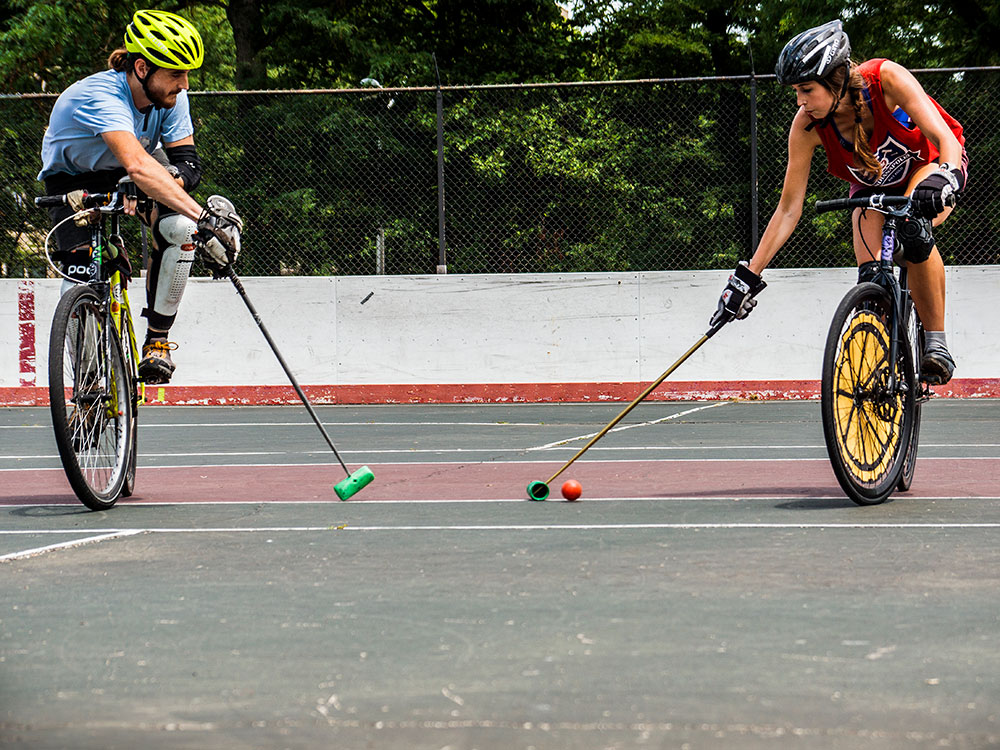 While bike polo can be played on any type of bicycle, top players have specifically curated their rigs for their particular style of riding, with steel frames for strength and durability, low single speed gear ratios for quick starts, high-spoke count wheels with customized covers to block stray balls, and brake levers swapped to different sides (depending on their mallet-arm).
It's quite impressive the level of nimbleness and control seasoned players can achieve while swooping in to block a shot, tangling mallets together, whipping back to catch a pass, and smacking the ball between the two wheels of an opponent, all without putting a foot on the ground.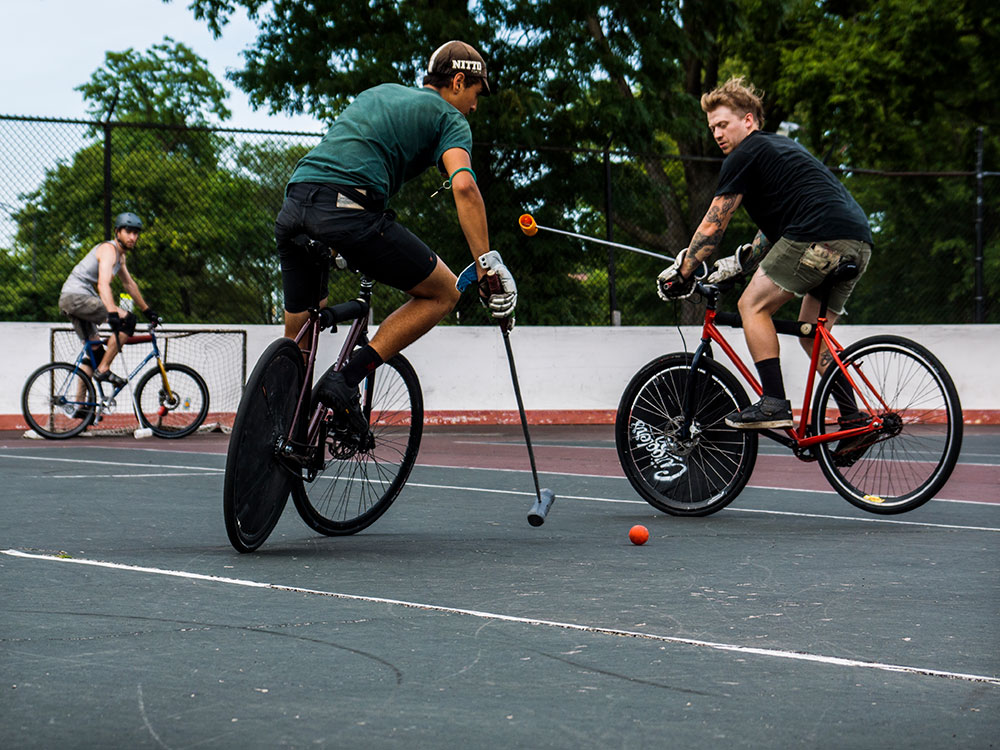 During NAHBPC2018 refreshments will be offered throughout the day, including beer from Company Brewing, sausages from Vanguard and coffee courtesy of Velobahn Coffee. Mechanical support will be available through Truly Spoken Cycles and The Bike Fixers on the first two days.
"Between all the old and new friends from as far away as Mexico, we're not concerned for a lack of entertainment. Polo players have a tendency of making even parking lots a fun time."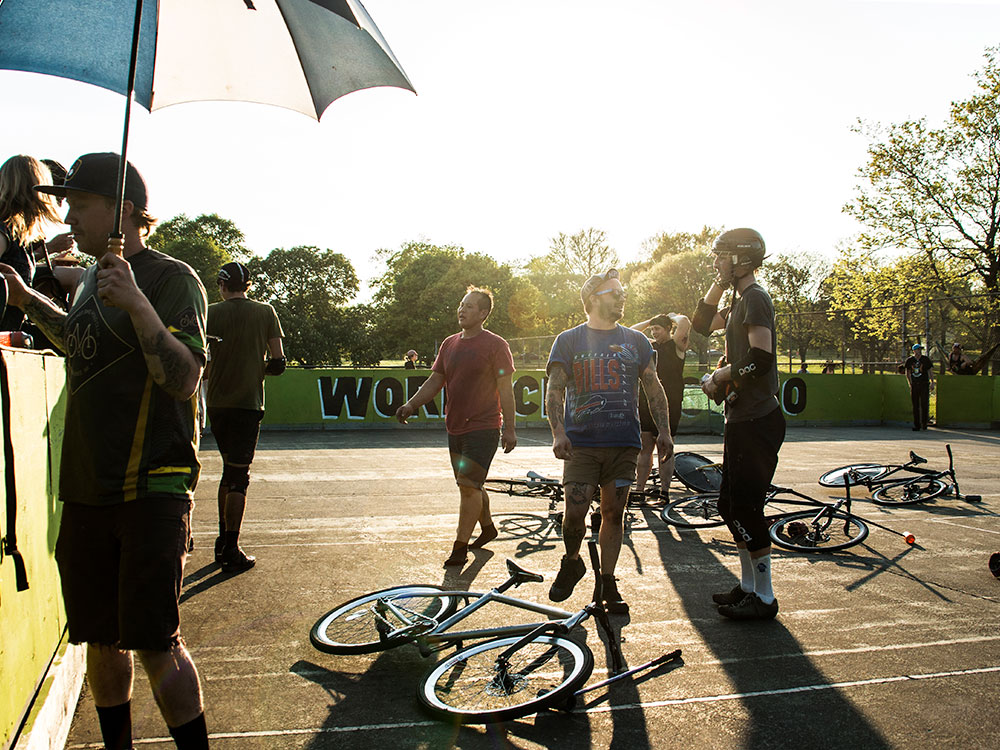 There will also be after-parties after the competition each night.
"There will be a shuttle from Washington Park to Jack's on Brady after the last game," said Walding. "Saturday there will be a shuttle from the courts to Walker's Pint after the final game of the day. Finals are on Sunday and the after-party and awards ceremony will be at Company Brewing starting at 9pm with no cover and Standbyboy Corey Wolf as DJ."
The Milwaukee Bike Polo Club meets regularly at the Washington Park courts between noon and 3 p.m. and play until dark.
Jason McDowell grew up in central Iowa and moved to Milwaukee in 2000 to attend the Milwaukee Institute of Art and Design.
In 2006 he began working with OnMilwaukee as an advertising designer, but has since taken on a variety of rolls as the Creative Director, tackling all kinds of design problems, from digital to print, advertising to branding, icons to programming.
In 2016 he picked up the 414 Digital Star of the Year award.
Most other times he can be found racing bicycles, playing board games, or petting dogs.