Floral and flannel. Wooden boards and shuffleboards. The heat of a campfire and the heat of a sunny day. Mai Tais and umbrella drinks, old fashioneds and beer. In the words of the great poet Hannah Montana, mix it all together, and you know you've got the best of both worlds. Or you've got NorthSouth Club, the latest "bar-tisanal" interactive gaming destination from Marla and David Poytinger, the creators of painting bar Splash Studio, mini-golf tavern Nine Below and the self-explanatory AXE MKE.
Their latest venture takes them to 230 E. Pittsburgh Ave. in Walker's Point, right in between Merriment Social and 88Nine Radio Milwaukee's headquarters, where you'll find a little bit of the north with ax-throwing, a little bit of the south with shuffleboard – a new game in the Poytingers' stable – and a whole lot of fun energy in a whole lot of space.
It's easily the duo's biggest and most ambitious project to date, uniting two different aesthetics, not to mention introducing a new if at least familiar bar game, under one very large roof – and we got a first look Thursday night.
Take a peek for yourself, along with the nine things you need to know before you take your first trip up north, down south or both at NorthSouth Club.
1. It's a big deal
The first thing you notice when you walk into NorthSouth Club: This place is huge. No wonder they decided to put two atmospheres under one roof – they definitely had the room for it and then some. The warehouse space covers 12,000 square feet, filled with seven full-size shuffleboard lanes, 16 ax-tossing stalls (four more than AXE MKE), plentiful seating whether you're going for southern chic or northern coziness, and a long bar stocked with a full menu of drinks of all kinds.
And if the space didn't feel big enough, NorthSouth Club comes complete with a lovely skylight embedded in its high ceilings, as well as garage doors that open onto Pittsburgh Avenue, making the southern portion of the bar feel even sunnier.
2. Southern hospitality
NorthSouth Club leads with the latter part of its name, as the waiting area and seating space for signing up and signing your waivers is all bright colors, flowery patterns and sandy wood tones. (Palm trees are en route as well to complete the scenery.) If you choose to stick with shuffleboard for your visit, all the seating areas follow the same colorful theme, with plentiful seating – including the above bungalows by the first four lanes.
3. Every day I'm shuffling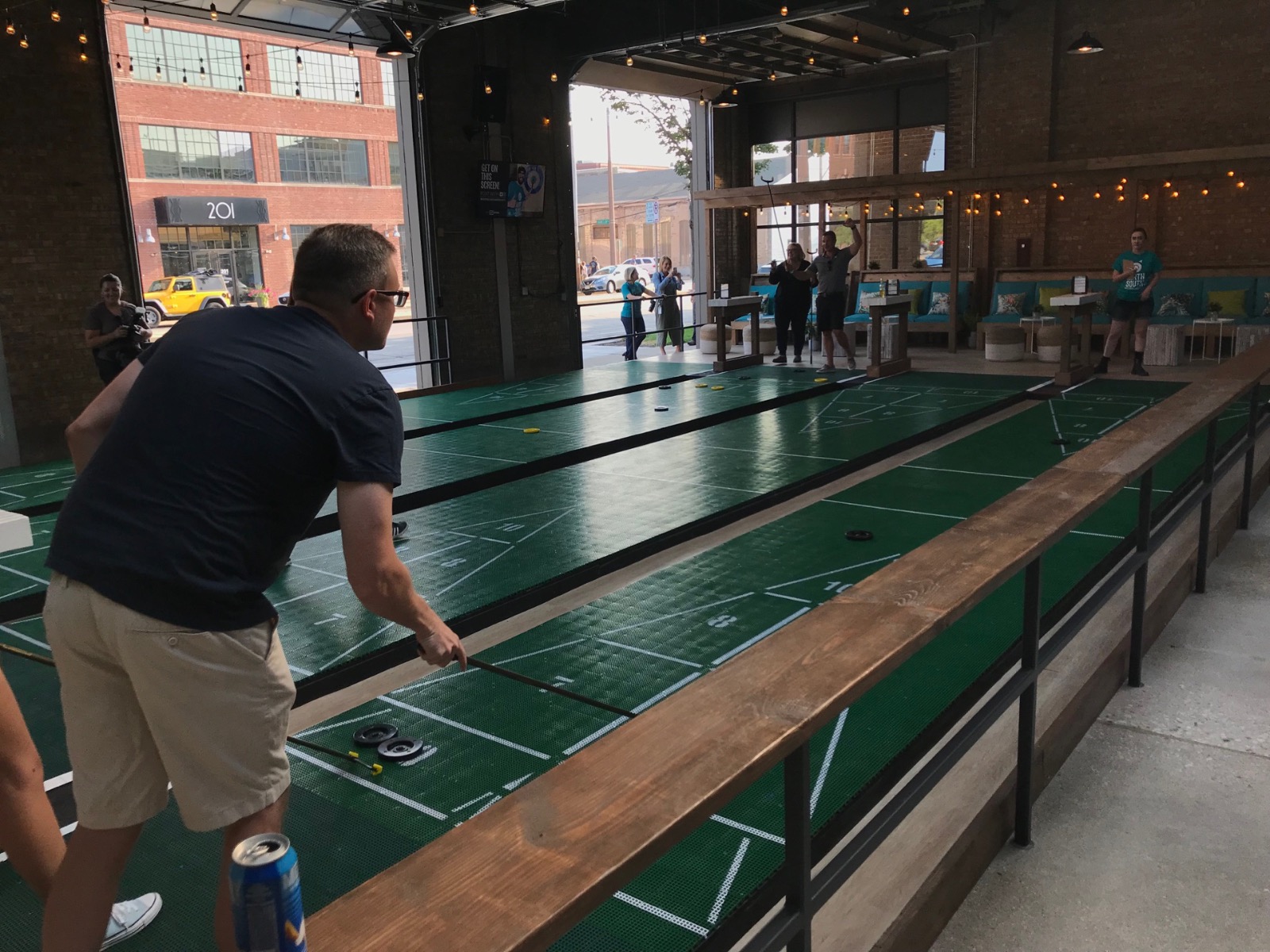 Obviously, however, the main event in the southern section is the deck shuffleboard, with seven lanes available for up to eight patrons to grab their tangs (or long sticks) and sling some biscuits (or discs) in 90-minute sessions. The lanes are full-size and lie completely flat so there's no foul play, plus each playing space comes with a scoreboard to mark down who's the shuffle king or queen.
Not sure how to play? No worries, as NorthSouth has several instructors, or ShufflePros, on hand to help teach the basics and then send you on your shuffling way. Much like ax-throwing, it's an addictive combination of easy to learn yet hard to master.
4. Heading up north
The front southern portion of the venue eventually melds into the northern-inspired part, which will look familiar to fans of the East Side ax-throwing hot spot. Woodsy tree branches, be-flanneled antlers and rustic accents decorate cozy and warm seating areas decked out in leather couches, raw wooden tables and stone seating areas by each throwing lane.
The north portion of the space also features a semi-private gathering space for parties and events, featuring extra seating, a big kayak for atmosphere and, of course, ax-throwing lanes for bonus fun during your festivities.
5. Take a hack at ax-throwing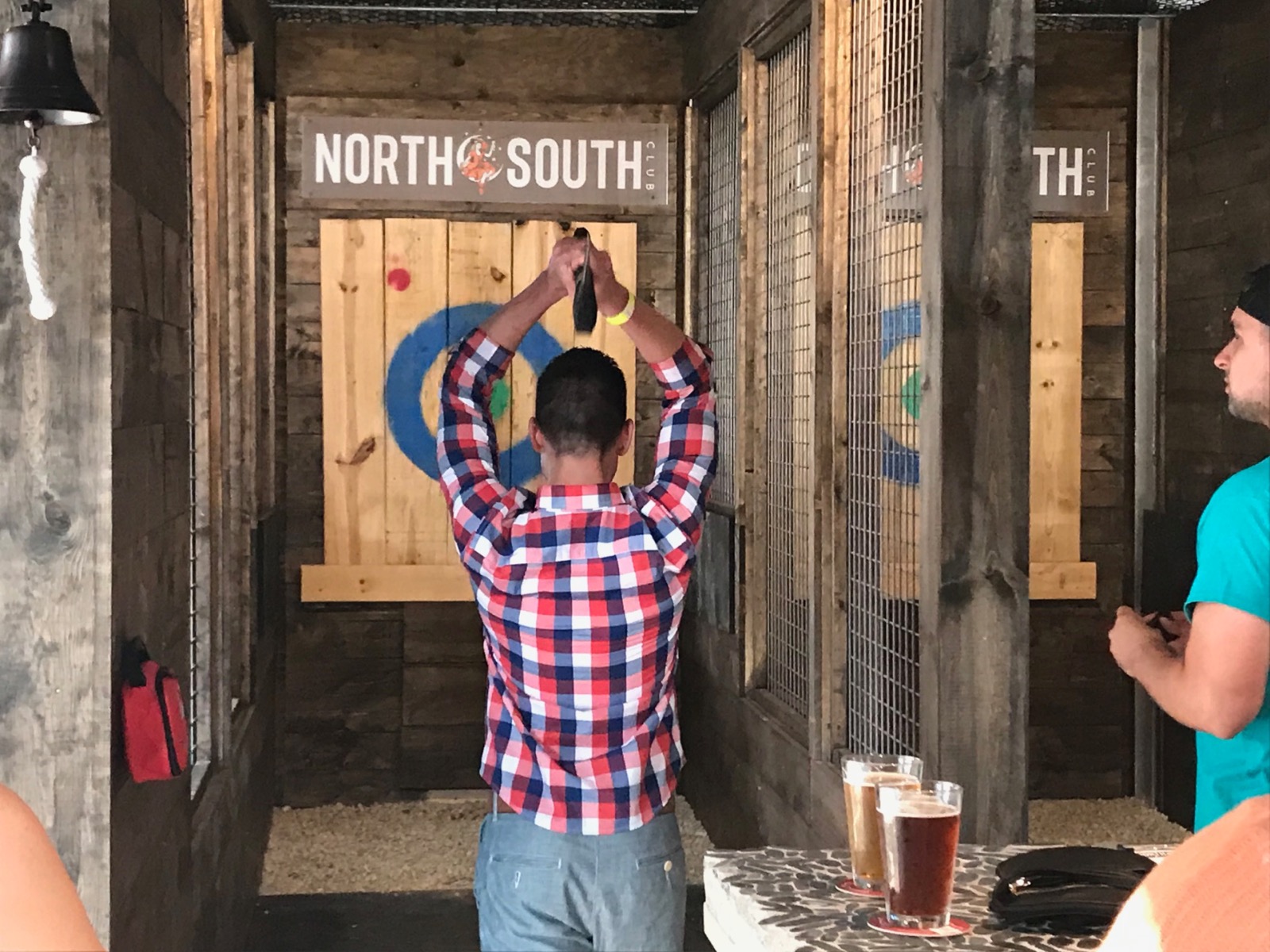 Summon your inner Paul Bunyan and chuck some axes! The game is both as easy and as hard as it looks. Learning how to appropriately two-hand fling an axe over your head is pretty simple and intuitive – don't worry; there are axe masters on hand to help teach each group so you don't have to come in with a lumberjack-level of knowledge – but figuring out when best to let go of the ax so it lands blade-first into the wooden target is the tricky part.
Again, it's a great combination of easy to learn yet tricky to master, calibrating your height and launch angle to best hit that bullseye and ring one of the venue's celebratory bells.
But most importantly, whether you're nailing the target like you're in the series finale of "Dexter" or bouncing axes handle-first off all four sides of the cage (guilty as charged), it's a lot of fun – and it's safe. Much like AXE MKE, waivers must be signed before playing, guests must be 16 or older to play and open-toed shoes are a no-no.
Each lane has clear demarcation lines guests must stay behind during a throw, and to make sure you're following protocol, the axe masters are constantly meandering about to give helpful tips as well as to make sure you're not doing your worst action movie impression.
6. The full NorthSouth experience
Guests looking to either shuffle some boards or fling a few axes can reserve 90-minute blocks at NorthSouth Club's website. (Walk-ins are invited as well.) However, for the ultimate evening at the new Walker's Point hot spot, there's the NorthSouth Experience, which offers both ax-tossing and shuffleboarding combined into a two and a half hour session. Because it's not just called North or South – it's NorthSouth. Parties for the combined NorthSouth Experience must be eight people at minimum.
7. Yards and yards of bar
Buck Bradley's has famously claimed the title of the longest bar in the state of Wisconsin, but it might just have some competition from NorthSouth's new drink dock. Stretching around from the venue's entrance and check-in station, through the shuffleboard area and into the ax-tossing domain, the bar offers plenty of space to pull up and grab a refreshment in between frames. And speaking of those refreshments ...
8. Shuffle fuel and ax snacks
What good is a big bar without beverages? The NorthSouth bar menu offers a wide variety of drinks, fit perfectly with the "best of both worlds" theme. The current cocktail menu carries nine offerings – three northern-inspired options, such as the Log Roller featuring Jim Beam and ginger ale or a boozy root beer float; three southern-inspired options like a Milwaukee rendition of a Mai Tai or a margarita with a hot surprise; and three combining the two together, including the bourbon and lemonade Bonfire Punch as well as a barrel-aged tequila old fashioned.
And because this is still Wisconsin, NorthSouth also carries a full lineup of brews ranging from craft selections to classic domestics and several picks on draft, as well as a menu of wines and other alcoholic beverages. (Yes, that means multiple flavors of White Claw.)
As for something to snack on in between slings and slides, NorthSouth – just like AXE MKE – offers a menu of tasty on-theme treats, including a soft pretzel, locally made popcorn from classic theater-style to unique flavors, jerky, and campfire classics like GORP and s'mores. As for a full meal, well, Merriment Social is right next door for a tasty night of burgers, blades and boards.
9. When can you get in?
Now that you know what's all inside NorthSouth Club, here's how you get inside.
The Walker's Point entertainment venue will soft open to the public starting Saturday, July 27, with reservations now available at NorthSouth's website. Shuffleboard and ax-throwing alone are 90-minute sessions, while the combination of the two is 150 minutes and requires eight people at minimum. The bar also accepts walk-ins, but keep the venue's reservation slots in mind – starting at the top of about every hour – so you can get the most out of your session. NorthSouth Club will then host its official grand opening celebration on Saturday, Aug. 3.
Otherwise, get ready for an experience too big for just one direction to handle.
As much as it is a gigantic cliché to say that one has always had a passion for film, Matt Mueller has always had a passion for film. Whether it was bringing in the latest movie reviews for his first grade show-and-tell or writing film reviews for the St. Norbert College Times as a high school student, Matt is way too obsessed with movies for his own good.
When he's not writing about the latest blockbuster or talking much too glowingly about "Piranha 3D," Matt can probably be found watching literally any sport (minus cricket) or working at - get this - a local movie theater. Or watching a movie. Yeah, he's probably watching a movie.