Recently, a beer-loving colleague of mine asked about the phenomenon of bourbon companies sourcing whiskey from other producers and it occurred to me that brewing has a similar setup, called contract brewing, that often flies under the radar.
For example, I'd guess most readers have no idea that there's a brewery in the state that not only makes its own beer – which is well-respected and quite good – but also brews beer for other craft brewers, including some you've heard of, including MobCraft and Eagle Park.
But Octopi Brewing in Waunakee, just north of Madison, does more than that. It also brews beer for three supermarket chains – I found three Waunakee-made brews on the shelf at Aldi – and many other clients that can't be named due to confidentiality agreements.
But Octopi – named in honor of the shape-shifting ocean dweller – does even more than THAT.
Two in-house brands: Untitled Art and Dachs.
"We're doing wine, cider, soda, seltzers, we're doing CBD products, we're doing any beer, we're doing sugar-base hard seltzers, we're doing adaptogens, we're doing teas, we're doing coffees, honestly anything that I can put in a can, I'll do it," says founder and owner Isaac Showaki as we sit in his office.
This is moments after I told Showaki that a 2018 source I consulted said Octopi makes 20,000 barrels of beer a year.
I get the sense, before even seeing the brewhouse, that the number might be outdated.
A trio of contract brands.
"Oh my God yeah," he says. "We are on a run. By December we should be around 200,000 barrels. With the new expansion, the goal for 2021 will be 250,000."
Showaki says that two new additions, including a three-acre one, should be done within the next 12 months and by 2022, he expects to be producing 350,000 barrels in a facility with a capacity to make 500,000 annually.
That puts it among the largest breweries in the state, behind the likes of Miller, City Brewing, Leinenkugel, Minhas and New Glarus, and rapidly closing in on some of them.
By now, when he tells me Octopi is about to close on the purchase of 14 acres directly across the road in its suburban office park, I'm completely unsurprised.
Octopi, I should add, is barely five years old.
Born in Mexico, Showaki became interested in the brewing industry when he worked as a management consultant on a project with Heineken at its Panama brewery.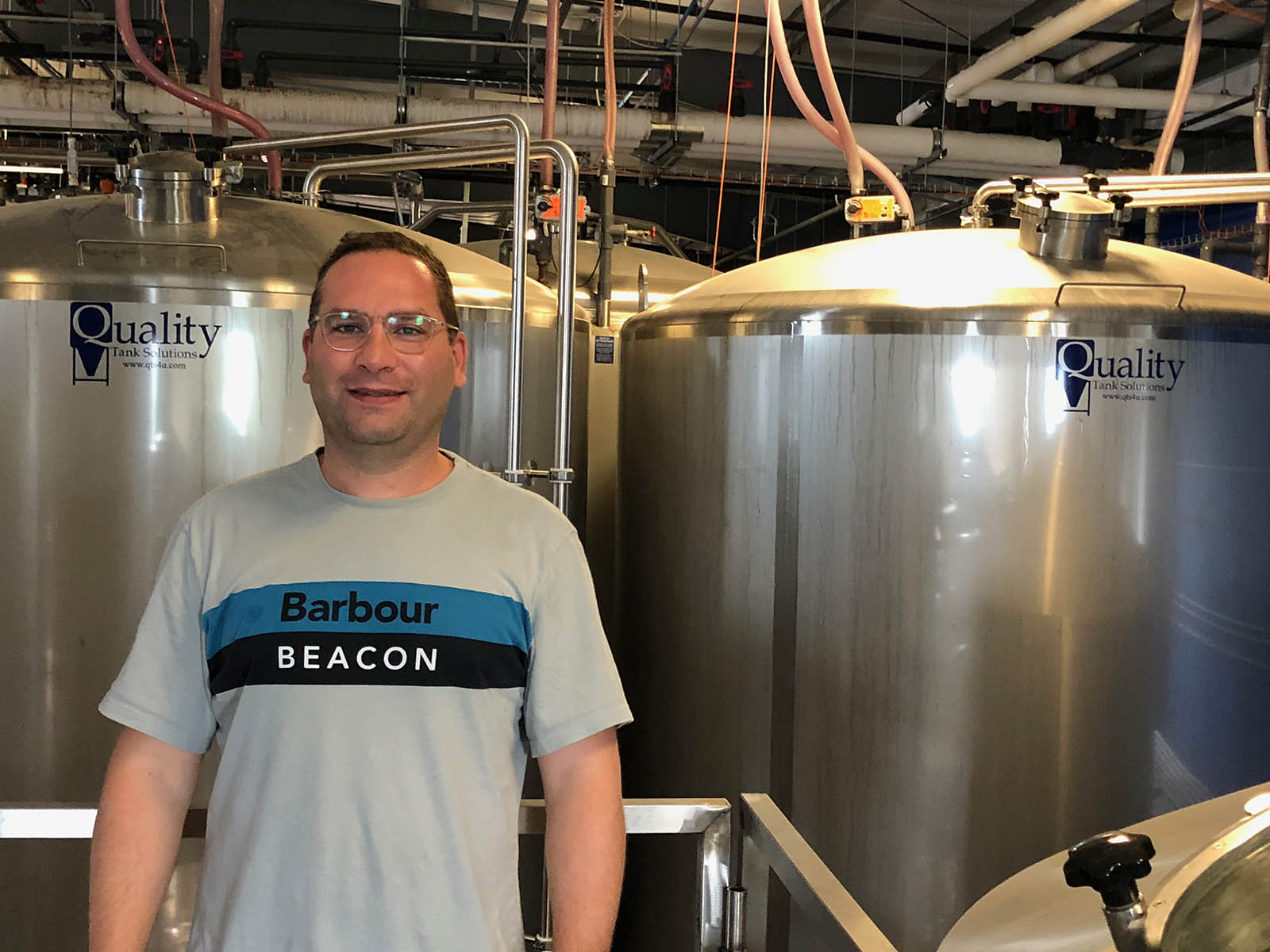 Isaac Showaki in the brewhouse.
"I wasn't brewing," he says. "I was on the business side, but we had to come in and learn everything because we ... had to tell them, what to do in the next 5 to 10 years with the brewery. It was a really interesting, really incredible project. We were almost like living in the Heineken world ... 90 to 100 hours a week. And I just was like, 'wow, this is amazing. I love everything about the beer world'."
When he then moved to New York, Showaki's passion for beer grew as he explored the world of craft brewing, around 2008-9. That led to a desire to open a brewery.
"So I went back to Mexico, and I worked on a business plan," Showaki recalls. "I said, at that time being different meant something. So I opened the first Latin microbrewery in the U.S., in Chicago."
It was during his time with 5 Rabbit Cerveceria that he came face to face with the world of contract brewing. And he did not like what he found.
"I didn't know anything about beer," says Showaki. "We thought contracting is the way to go. We'll leave it to the experts; people that know it. Before we decided to open, we met with a lot of breweries, all the usual suspects. Long story short, contract brewing was a nightmare. We could never get the quality, the quantity, packaging.
"I wanted to brew a golden ale, right. And they're like, 'yeah, but we only have pale yeast and a lager yeast.' Yeah, but I want to use a golden yeast. He's like, we have pale yeast. They were craft brewers, but they were too lazy. They didn't care about contracting, because the industry was just growing so much. They were like, 'you know what, I'm going to do contract brewing just as a favor to you. I care about my brand'."
This experience with 5 Rabbit led Showaki down a new path.
"Usually, in my experience, when you see something like that that's just like, 'man I wish there were something better,' that's when there's a decent opportunity out there," he says.
Where he saw frustration and failure, Showaki decided to create opportunity.
After the hard road of convincing banks to fund a craft-focused contract brewery – "craft beer?! What is contract brewing?!" – he started scouting locations. When a site in Madison fell through, he landed in Waunakee, which was eager to make the brewery happen.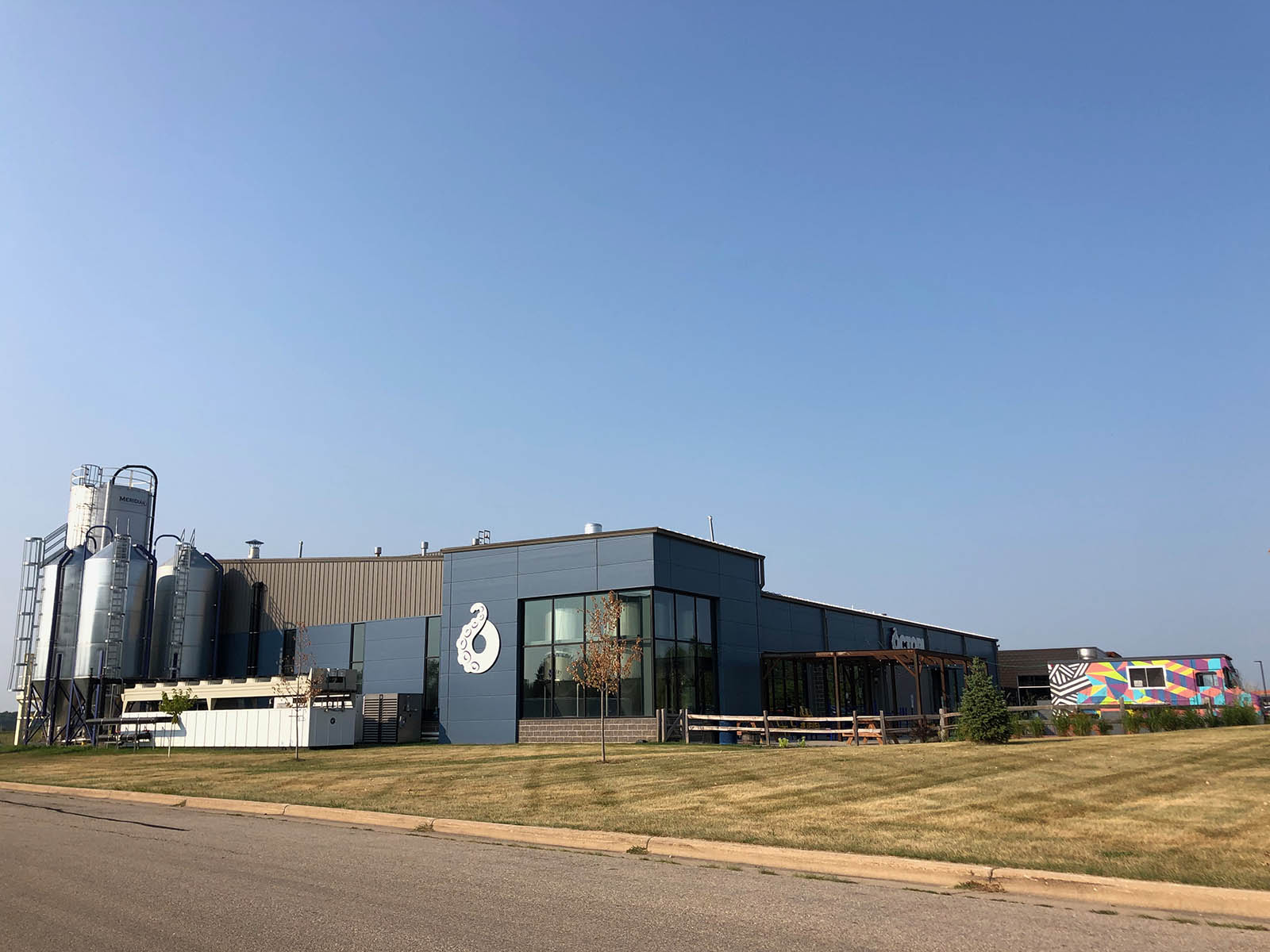 "I'm very lucky that I didn't do it in Madison," says Showaki, "because Waunakee has been amazing. Waunakee was like, 'let us know what we can do to make it happen.' I never knew where Waunakee, Wisconsin was on a map. So we moved, we started, we did everything. They got us here and ... the equipment was ordered and ... I started looking for clients."
Dear Badgers, though Showaki is from Mexico, via New York City and Chicago, his business is as Wisconsin as they come. Octopi – which now employs 102 full-timers in Wisconsin – sources as much as it possibly can from its home state.
"This is why we're in Wisconsin," Showaki says. "Briess (malt) is here, Quad Graphics is here, we buy our bottles from Wisconsin, Quality Tank Solutions is in Oconomowoc, Krones (which makes packaging lines) is a German company but is in Franklin, KHS (also packaging machinery) is in Waukesha. That's why we're here."
In 2015, Octopi opened with one client: Madison's One Barrel Brewing.
"The first year it was like, I'll go for anyone, for anything, any size, I just want to get going," Showaki says. "I want to prove myself, I want to prove to the team that we can do it. I was very lucky, I hired some good people back then. We started with six people, including me; that was the whole staff. And we started making beer and slowly people started seeing that we have good quality product. I think the first year we closed with like 11,200 barrels of production."
That team has grown rapidly and more than lucky Showaki is wise to understand what he knows and what he doesn't know. Unlike many craft beer entrepreneurs, he was never a home brewer, perfecting recipes in his basement.
"I came from the business side," he says. "I'm not a brewer, I'm not a brewmaster. I know enough to be dangerous. We hire really, really talented people to take care of all that."
Showaki says he used to lie awake at night and think, "If I could just get to 50,000 barrels."
He was convinced that magic number would help guarantee his future. When he surpassed 20,000 barrels he realized he needed a canning line to make the next leap. So he installed one. When he needed more money to get to yet another level, he went to the bank and they supported him.
But in the meantime, the craft beer industry changed and so did Showaki's approach, even though he still makes three brands of his own beer and still brews beer for many clients of all sizes.
"Of the top 50 breweries, I would say like 90 percent, their numbers were down consistently. So I was like, 'yeah that's not the way to bet on the future.' I said, 'I can't invest in craft beer any more'," he recalls. "I need to redo my strategy, my business.
"And I said, 'you know that the beverage market is where it's going to be. I need to make sure that I can do everything that I could put in a can or a bottle.' So we decided to make a lot of investments in equipment specifically to make almost any beverage. So we bought a pasteurizer, a carbonator, a special machine that makes any sugar base."
These days, Octopi's business is about 50 percent beer, down from 100 percent a few years ago.
Although he sees that number falling even further and he's buffering his business with other products, Showaki is not abandoning beer. In fact, despite what he said about not investing in craft beer, he's actually doing just that.
"We're investing heavily in beer, we're just getting a new brew house," he says. "It'll be installed next year. We're tripling our size for brewing, because at heart we are brewers; the majority of us are brewers. So we definitely want to keep brewing because that's what made us, and that's what sets us apart.
"But we can do the stuff that for beer, no other co-packer wants to touch. What the team is really good at is grabbing hyped niche beers that are being done in like two-, five-, seven-barrel systems and scale them up."
At the same time, Octopi has its own dedicated team for making Octopi, Untitled Art and Dachs (which means "badger" in German). Those brands are treated just like any other clients in the facility. The have dedicated staff that place orders, are scheduled for production and billed just like any other customer, Showaki says.
Speaking of scheduling, that's become the biggest challenge with so many clients. The day before I visited Octopi, Showaki sat down with a couple University of Wisconsin professors to seek advice on best practices and creating a scheduling system for the brewery.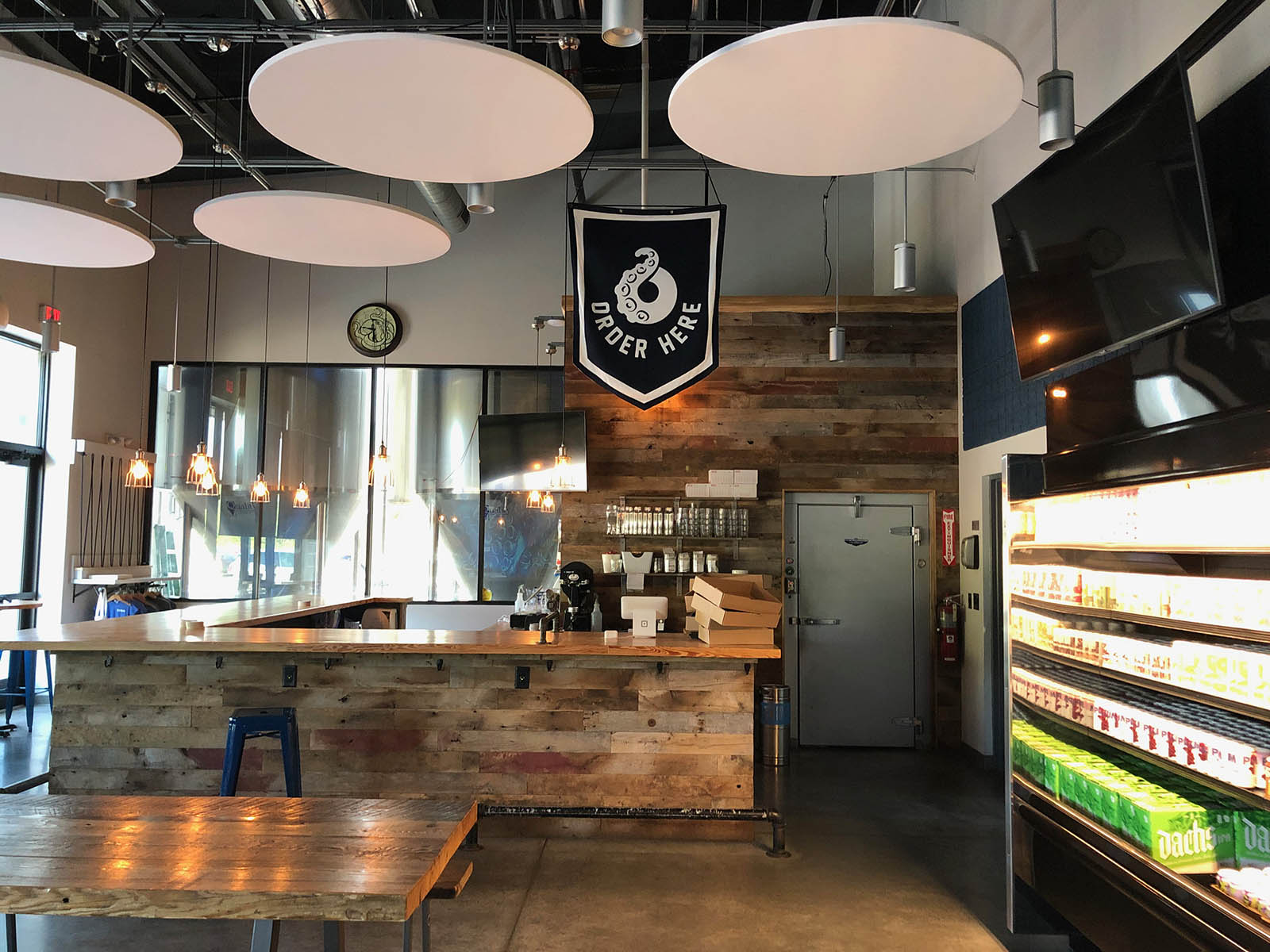 Showaki walks me first through the taproom (pictured above), which is lovely and features reclaimed wood from Chicago's Navy Pier, and then past the bustling lab (below) into the brewery and my jaw drops.
The place is huge. Other than Miller, it's like no brewery I've seen. It's enormous. And despite a lot of automation, there is brewing staff everywhere.
There are rows and rows and rows of mash tuns and fermenters and brite tanks and a centrifuge, and the air smells as hoppy as any IPA.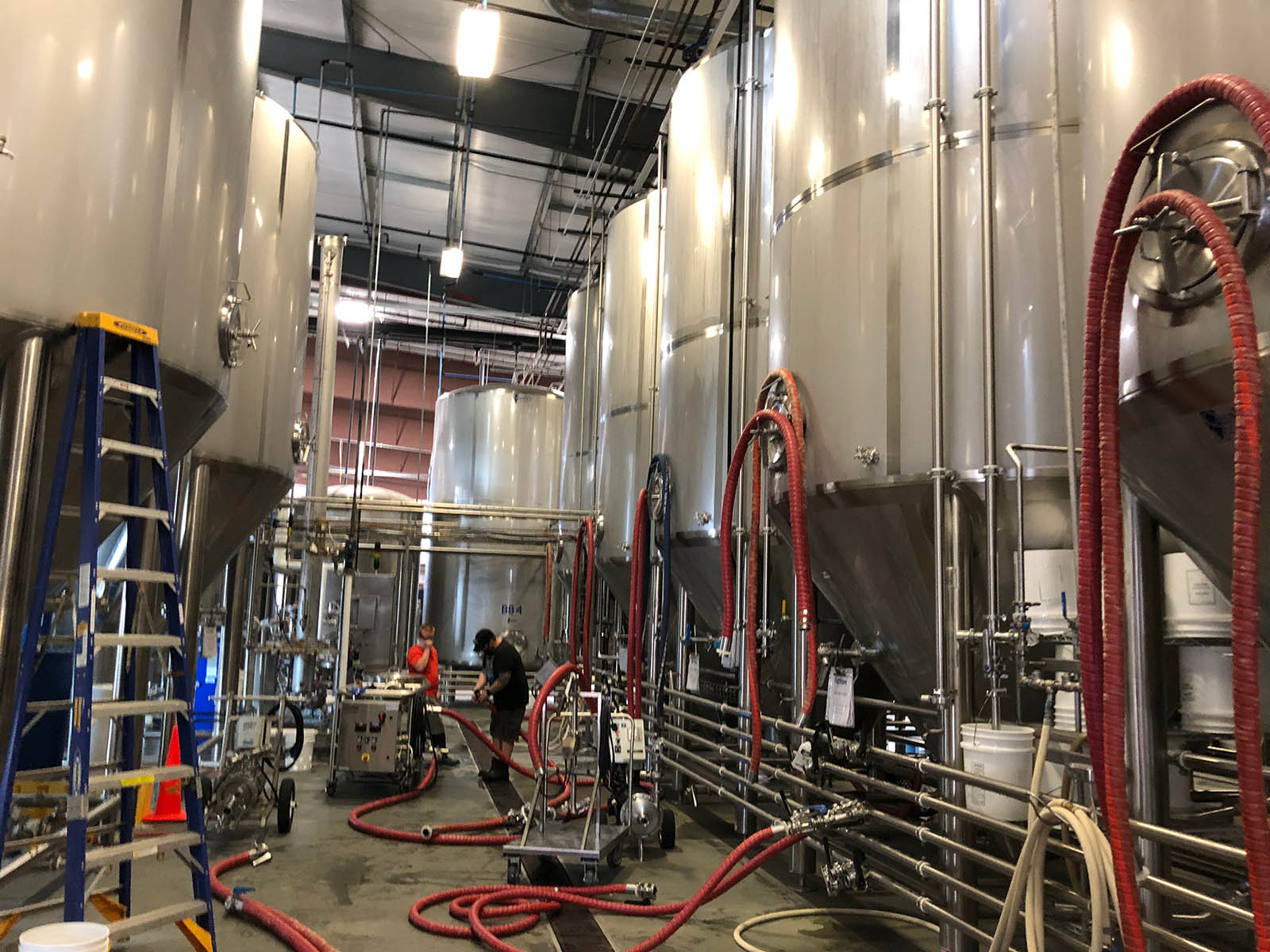 Showaki shows me where more tanks are being installed in a new addition and where, adjacent, there's another addition that will be brewing by next May. Then we move into the packaging area where there are huge stacks of pallets of cans.
Over here there's a keg washer and filler that's in use but seeing less action during the COVID era as bar and restaurants closed.
Over there is a canning line, the source of that hoppy scent in the air as IPA is being packaged.
A bit beyond there's an even bigger canning line that snakes in and around in a seemingly endless parade of beer cans.
To the west of this space is the three-acre plot that by the end of next summer will be occupied by another giant expansion, the plans for which Showaki showed me on his desk back in the office.
I expected Octopi to be big, but I had no idea just how big. And when I go back in a year, as we agreed when I was leaving, it will be exponentially bigger.
This despite the pandemic.
"Outside, it's very sad what's happening but then inside the business we're doing pretty well," Showaki says, pointing to the pandemic but also the shooting of Jacob Blake just days before our meeting. "We're going to do whatever we can to be aware and help the outside while also trying to focus on what's happening here."
March was a scary time for the business, he adds, noting that 60 percent of orders were canceled in a single day.
But then packaged sales went through the roof and the conundrum was how to proceed amid the uncertainty.
"I started telling my guys around end of March, beginning of April, 'we really have to run through scenarios. Scenario one is like, it's not going to change and it's going to be awful, and the other one's we're going to get massive orders soon. So we really have to have plans for both.'
"It's more in terms of people, planning, do we need to buy more fermenters? Do we need to not buy more fermenters? Do we need to invest in equipment or not? We need to plan all that stuff. It was really hard because we really had to make two plans for really bad scenario and really amazing scenario. And then we were very lucky that all of a sudden, April hit and the orders started coming in like crazy."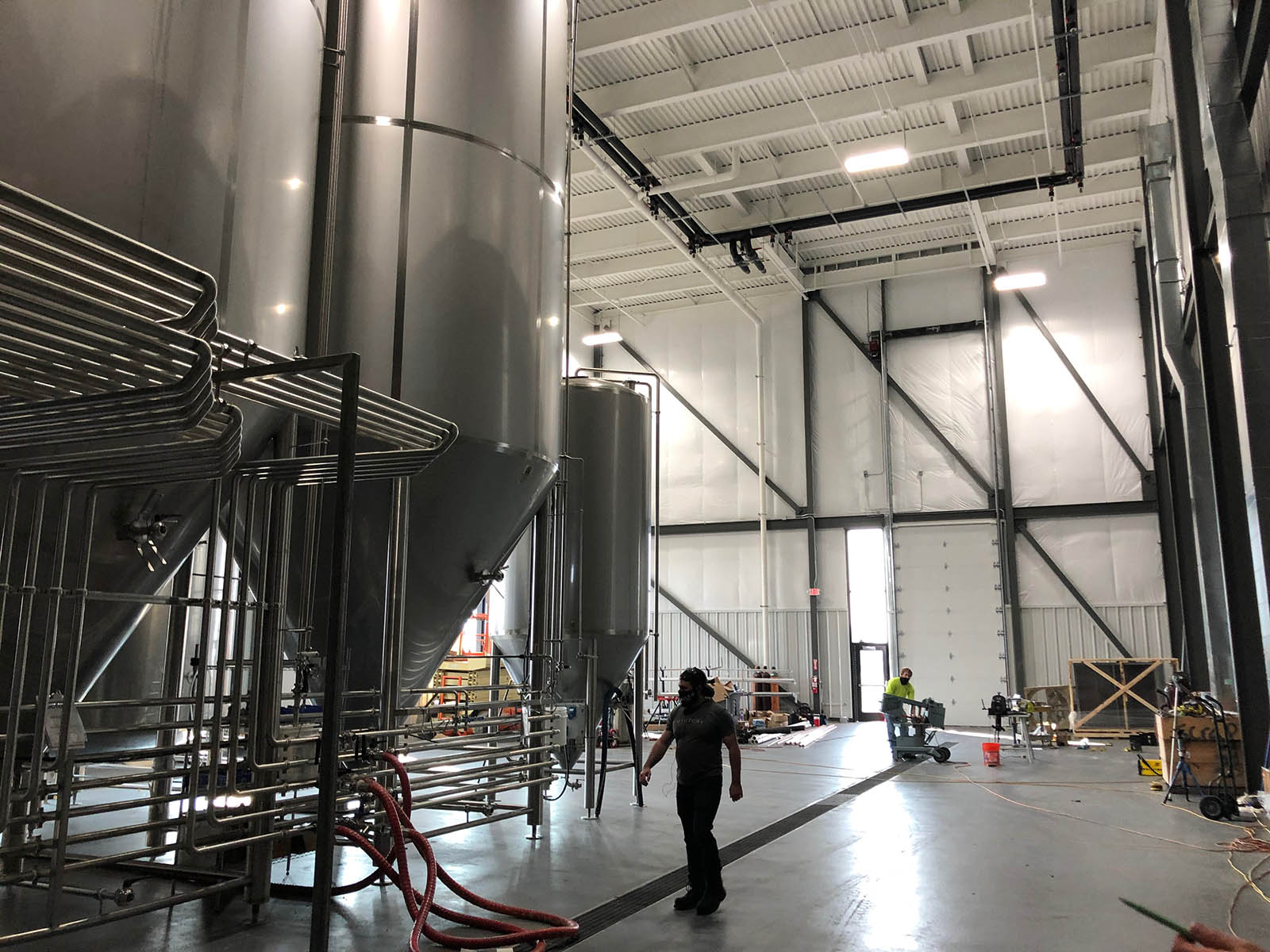 Still, he says, even when business is good, there are issues.
"With COVID, every day is a challenge. Sometimes we don't get CO2 ... so then we've got to scramble. It's caused some issues in production of cans. Some hops. The biggest one is if something broke down, in March and April not a single equipment supplier was sending people to fix stuff.
"So I would say there have been a lot of challenges and we deal with them every day, but, you know, I think it's the same for everybody. It's been a really tough year planning, but it's been a pretty good business year for us."
Born in Brooklyn, N.Y., where he lived until he was 17, Bobby received his BA-Mass Communications from UWM in 1989 and has lived in Walker's Point, Bay View, Enderis Park, South Milwaukee and on the East Side.
He has published three non-fiction books in Italy – including one about an event in Milwaukee history, which was published in the U.S. in autumn 2010. Four more books, all about Milwaukee, have been published by The History Press.
With his most recent band, The Yell Leaders, Bobby released four LPs and had a songs featured in episodes of TV's "Party of Five" and "Dawson's Creek," and films in Japan, South America and the U.S. The Yell Leaders were named the best unsigned band in their region by VH-1 as part of its Rock Across America 1998 Tour. Most recently, the band contributed tracks to a UK vinyl/CD tribute to the Redskins and collaborated on a track with Italian novelist Enrico Remmert.
He's produced three installments of the "OMCD" series of local music compilations for OnMilwaukee.com and in 2007 produced a CD of Italian music and poetry.
In 2005, he was awarded the City of Asti's (Italy) Journalism Prize for his work focusing on that area. He has also won awards from the Milwaukee Press Club.
He can be heard weekly on 88Nine Radio Milwaukee talking about his "Urban Spelunking" series of stories.