My family recently adopted a new dog. His name is Beauregard, and he is a rescue from HAWS in Waukesha.
We weren't looking to adopt another dog but sometimes fate just intervenes. We lost our Shadow a couple of years ago and after a period of adjustment Sydney was comfortable at home with her feline companions.
Sydney just turned five on Thanksgiving and there was always the understanding that if another dog did come along we wanted one a little older that she could play and walk with. A puppy is fun but just a lot more time and work than we had. Anyone who has had a puppy knows that a bored puppy can get in an awful lot of trouble an older dog with the proper companionship is usually going to be fine.
A few weeks ago I attended an community event. HAWS was there and so was Beau. He was the canine representative, and he shined. The children at the event were drawn to him and his calm cool demeanor. He just leaned into their eager hugs and kisses. It was unbelievable to me that this dog had not been adopted.
In speaking to the HAWS volunteers I was told that Beau was around 4 years old and had been brought up from a shelter in Alabama. HAWS was working diligently to find all of the animals a forever home. Beau had been in Waukesha for a while.
I casually mentioned to the volunteers to keep me in mind in case no one stepped up to give this lovely young man a home. The call came a few days later and it was clear to me that his forever home had to be mine.
We traveled to Waukesha to have our meet and greet with Sydney. It went perfectly and Beau was in the car in less than an hour.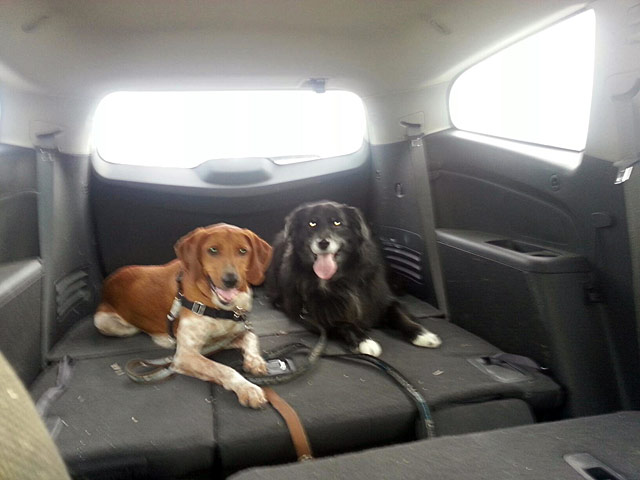 The first night at home was filled with food and fun but clearly exhausting.
The following day was a day of discovery as Beau found out he wasn't along with Sydney. We had CATS! What a wonderful treat to have something to chase around the house. Initially the cats decided to take safe harbor under the bed but they have since started making their physical presence known and things have calmed down tremendously.
I have never adopted a grown dog and was not quite sure how the transition would play out but it's been a wonderful adventure.
I understand that most people when looking for a new pet gravitate toward the kittens and puppies of the world. But, there are so many grown animals that are looking a forever home. Just big lovable mutts wanting nothing more than a family to love.
So, if you have the inclination don't be afraid to rescue an adult cat or dog. They are usually trained and more calm than their smaller versions. Beau immediately was able to tell me he needed to go out or it was time for bed.
We adore our furry family.
Carole Caine comes from Beloit, but is a 30-year media veteran in Milwaukee. Prior to joining OnMilwaukee as a features contributor, she served as half of the popular "Dave and Carole" morning show.
Now, Carole serves a number of roles in Milwaukee media. She's a host at WVTV-18 and fills in on "The Morning Blend." She is also doing voice work for several regional clients.
Carole, her husband and her dog live in Mequon.