Belly up to these bar stories, brought to you by Miller Brewing Co., that explore well-loved but lesser-known taps and taverns from all corners of the city and beyond.
It's a Friday night at Ollie's, 100 W. Maple St., but owner Louise Burdue gets to be a customer. So she sits on a stool, chats with drinkers, many of whom are friends and, occasionally, does a shot of tequila.
The small corner tavern was previously named Fresh Bar and The Pitt, but it became Ollie's, aptly, when Louise and her husband, Ollie, bought the bar in 1993. Ollie died in 1999 and Louise has owned the bar alone ever since.
Ollie was diagnosed with heart disease and needed a heart transplant. He knew he wasn't going to receive a heart, Louise says, because he was a drinker and smoker. So he bought the bar, knowing he had only a few years to live and as a final hurrah.
"This way, he had easy access," says Louise, nodding at the bottles. "But he loved every minute of it. It was a dream come true. He enjoyed it."
According to Louise, in the final months of his life, Ollie came downstairs to the bar from the couples' apartment upstairs and drank in his pajamas.
Louise grew up in Oak Creek and graduated from Oak Creek High School. She and Ollie had two daughters, now in their 30s, and Louise worked for a while at Boston Store.
"I gave it all up for this," she says, smirking and extending one of her arms, waving it through the air.
Louise and Ollie met in a bar called Frank's Place on 16th and Lincoln in 1979 and they were married in 1984. "He took me to the (Arlington Park) races. He was really funny. Everybody liked him," she says.
For many years, the Ollie's space was always a third shift bar that opened at 6 a.m. It was particularly popular with commercial fishermen who worked on the docks near what is now the Horny Goat Marina, 1933 S. 1st St. Third shift workers from Klement's and Country Maid were regulars, too. Some of them still hang out at Ollie's today.
"We used to have people standing in the door early in the morning waiting to get in," she says.
Ollie's now opens weekdays at 10 a.m. and Saturdays at 6 a.m. It's not as crowded as it once was, but there are enough people to occupy all of the seats at the bar and a few others playing pool and hanging out.
Drinks at Ollie's are very affordable – tap beers and rails are $2. Pitchers of Blatz are $2.50 every night.
Frozen pizza and sandwiches are available, but microwaved pork rinds are the most popular food item at Ollie's. They come in a bag that looks like a microwave popcorn bag, and after two minutes or so in the microwave, they become hot, salty and strangely addicting bar snacks.
"They cost $1.25. A customer asked me why I don't just charge $1. Because they're good!" Louise says.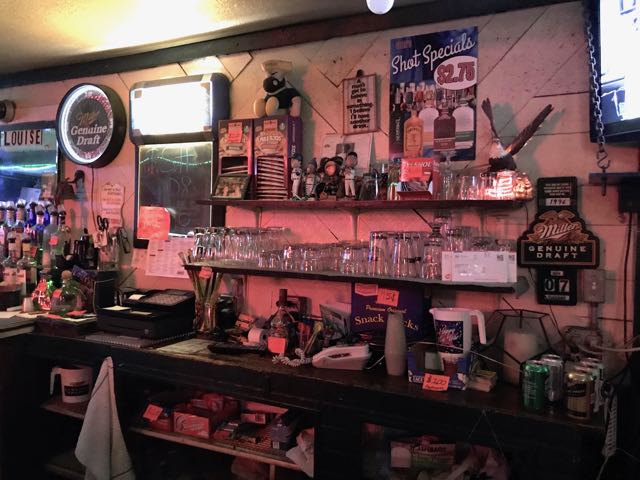 Despite loss, Louise says she is happy with the way her life turned out and particularly likes living in Milwaukee.
"I have no desire to move from Milwaukee. Retire in Florida? No, thank you. I really don't care to be hot all the time," says Louise.
Today, Louise has a new partner, a customer from the bar who showed up at Ollie's funeral. "It touched me," she says. "It really did."
Molly Snyder grew up on Milwaukee's East Side and today, she lives in the Walker's Point neighborhood with her partner and two sons.
As a full time senior writer, editorial manager and self-described experience junkie, Molly has written thousands of articles about Milwaukee (and a few about New Orleans, Detroit, Indianapolis, Boston and various vacation spots in Wisconsin) that range in subject from where to get the best cup of coffee to an in-depth profile on the survivors of the iconic Norman apartment building that burned down in the '90s.
She also once got a colonic just to report on it, but that's enough on that.
Always told she had a "radio voice," Molly found herself as a regular contributor on FM102, 97WMYX and 1130WISN with her childhood radio favorite, Gene Mueller.
Molly's poetry, essays and articles appeared in many publications including USA Today, The Writer, The Sun Magazine and more. She has a collection of poetry, "Topless," and is slowly writing a memoir.
In 2009, Molly won a Milwaukee Press Club Award. She served as the Narrator / writer-in-residence at the Pfister Hotel from 2013-2014. She is also a story slam-winning storyteller who has performed with The Moth, Ex Fabula and Risk!
When she's not writing, interviewing or mom-ing, Molly teaches tarot card classes, gardens, sits in bars drinking Miller products and dreams of being in a punk band again.