"Bar Month" at OnMilwaukee is brought to you by Miller Brewing Company, calling Milwaukee home since 1855. For the entire month of March, we're serving up fun articles on bars, clubs and beverages – including guides, the latest trends, bar reviews, the results of our Best of Bars poll and more. Grab a designated driver and dive in!
Michele Klotz loves Bloody Marys and, before starting her own Bloody Mary cocktail company, she enjoyed going around to as many establishments as possible to do – ahem – "the research."
"I joke about that, but really by trying so many different Bloody Marys my husband and I got a really clear idea of what we wanted to create ourselves," she says.
Two years ago, with the help of her husband and daughter, Klotz started OMG Bloody Mary Cocktails. They originally introduced the product as a mix – which means without alcohol – but later decided to bottle the Bloody already infused with the booze.
"Shake, pour and enjoy!" Says Klotz.
Klotz says they decided to do this for two reasons. One: there were already many other Bloody mixes on the market, but almost no ready-to-pour cocktails. Also, their bottler – Midwest Custom Bottling in Pewaukee (where SoulBoxer Cocktail Co. also bottles) – only offers alcoholic beverages.
In December, OMG cocktails introduced its not-just-for-brunch-anymore Bloody Mary to the retail market and today bottles are available in more than 80 locations. It sells for about $15.99 and serves about four cocktails.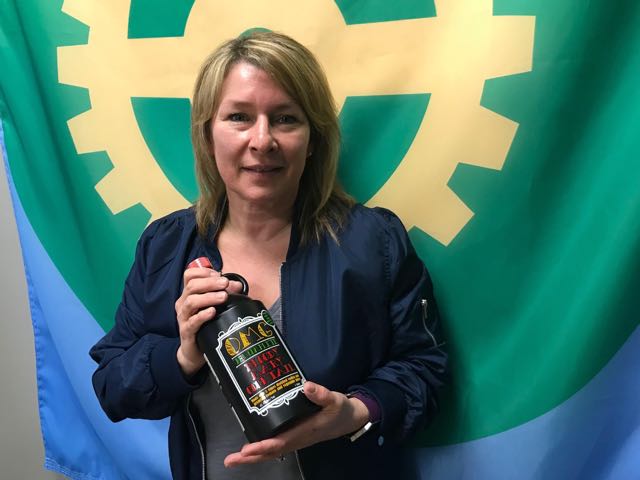 OMG is made with 20 different locally-sourced spices, 5x distilled vodka and fresh tomato paste and juice from California. Consumers add their own ice, garnishes and extra heat if desired. The recipe has kick to it, but is middle-of-the-road in terms of spiciness.
"You can always add more, but you can't always take it away," says Klotz.
Klotz says the process of operating and marketing OMG has been a lot of work, but a lot of fun.
"I couldn't have done this without my family," she says. "We're some little people trying to make it big in the spirits' world. And I think it's possible: there's nothing out there like us."

Molly Snyder started writing and publishing her work at the age 10, when her community newspaper printed her poem, "The Unicorn." Since then, she's expanded beyond the subject of mythical creatures and written in many different mediums but, nearest and dearest to her heart, thousands of articles for OnMilwaukee.

Molly is a regular contributor to FOX6 News and numerous radio stations as well as the co-host of "Dandelions: A Podcast For Women." She's received five Milwaukee Press Club Awards, served as the Pfister Narrator and is the Wisconsin State Fair's Celebrity Cream Puff Eating Champion of 2019.