Beginning this weekend, there's a brand new spot to enjoy a leisurely (and delicious) brunch. Onesto, 221. N. Broadway, will launch brunch service on both Saturdays and Sundays beginning Nov. 17.
The new brunch menu features a host of new dishes, including snackable jars and boards, starters and a selection of both sweet and savory brunch entrees created by Executive Chef Alex Sazama that reflect both the restaurant's playful attitude and scratch-Italian fare.
No brunch is complete without a selection of tasty cocktails, which Onesto will offer in spades. Highlights include an Italian-inspired bloody mary featuring basil and garlic infused vodka, housemade mix and Italian garnishes; the Lavender Blue featuring a blueberry lavender shrub, seltzer, housemade limoncello and peach brizard (pictured on right); and The Socialite with Buffalo Trace bourbon, Contratto, simple syrup and ruby red grapefruit juice (pictured on left). Cocktails are $10 each.
Numerous options, including the Lavender Blue, bloody mary, mimosa, basil smash and Broadway bellini) will also be offered in shareable carafes ($45), allowing groups to indulge, share and sample.
Among the starters, guests will find options like cornetti (Italian croissants, plain or chocolate filled, $2.50/$3) with or without cranberry chutney ($1 extra); whipped burrata with fig jam, prosciutto and basil ($12); and beet carpaccio featuring thinly sliced beets enhanced with a lemon shallot vinaigrette, arugula, basil, goat cheese, pickled onions and peppadew peppers ($10).
Savory entrees include choices like the Honest featuring grilled ciabatta, poached eggs, varzi salami, pistachio pesto and rosemary potatoes ($12); a truffled frittata with mushrooms, asparagus, pecorino, mixed greens and rosemary potatoes ($14); breakfast carbonara with pancetta, pecorino and poached egg on pappardelle ($13); wild mushroom ragu served with eggs, arugula and garlic rubbed toasted ciabatta for scooping ($14).
There's also a short rib benedict featuring ciabatta topped with poached eggs, short ribs and smoked gouda mornay with a side of rosemary potatoes ($16); and a scallop benedict with buttered, toasted brioche, prosciutto, poached eggs, browned butter and chives and a side of rosemary potatoes ($18).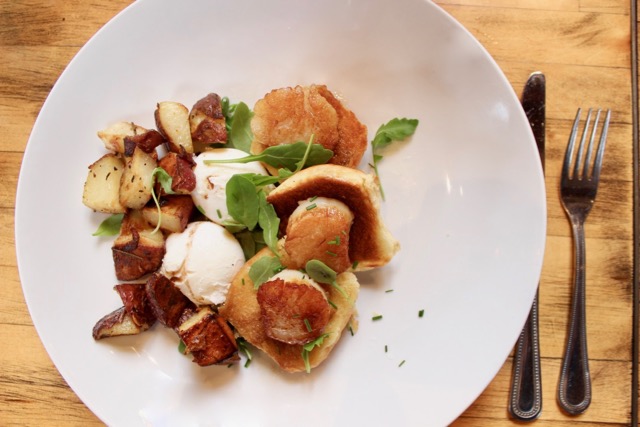 Sweeter options include waffles and gelato, a playful take on the classic featuring tender, almost cakey, oblong waffles dappled with clear caramel, roasted almonds and gelato ($13).
There's also bruleed bread pudding (featuring a crisp exterior and creamy custard-like interior) served with basil mascarpone and cranberry chutney ($14).
A classic Italian affogato is also available (espresso served with vanilla gelato, $9), creating a perfect way to end what aims to be a perfect brunch experience.
Beginning Saturday, Nov. 17, Onesto will serve brunch on both Saturdays and Sundays from 10 a.m. to 3 p.m.
Lori Fredrich (Lo) is an eater, writer, wonderer, bon vivante, traveler, cook, gardener and girlwonder. Born and raised in the Milwaukee area, she has tried to leave many times, but seems to be drawn to this quirky city that smells of beer and alewives.
Some might say that she is a little obsessed with food. Lo would say she is A LOT obsessed with food. After all, she has been cooking, eating and enjoying food for decades and has no plans to retire anytime soon.
Lo's recipes and writing have been featured in a variety of publications including GO: Airtran Inflight Magazine, Cheese Connoisseur, Cooking Light, Edible Milwaukee, Milwaukee Magazine and the Milwaukee Journal Sentinel, as well as on the blog Go Bold with Butter, the web site Wisconsin Cheese Talk, and in the quarterly online magazine Grate. Pair. Share.