Ryan Welch literally bit off more than he could chew on Tuesday night when he attempted the Safe House's new Mission Impossible OOMG Challenge. The challenge required him to consume 15 cheeseburgers, one pound of cheese curds and 60 ounces of amber lager beer in one hour.
Welch polished off almost 14 of the patties, about half of the curds and a third of the beer before he vomited and withdrew from the contest after 45 minutes of continuous consuming.
"I'm OK!" Welch said immediately after the challenge. "I just need to breathe and eat some lettuce."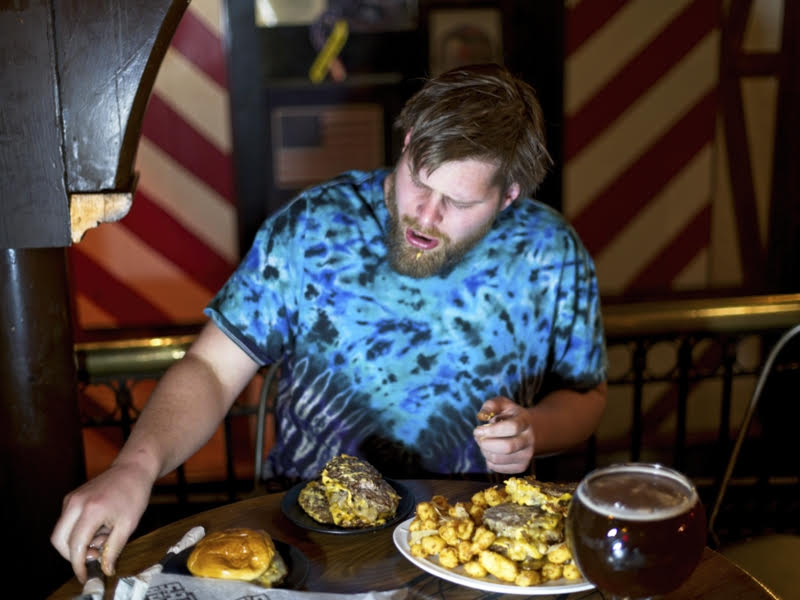 The Mission Impossible OOMG Challenge is offered every Tuesday at the Safe House. The cost is $50, but the meal is free if devoured within 60 minutes. According to the Safe House staff, the "mission" has been accomplished at the Chicago-based Safe House, but is yet to happen in Milwaukee after three attempts.
Watch the meaty gluttony here, compete with a very unhappy ending:
Molly Snyder grew up on Milwaukee's East Side and today, she lives in the Walker's Point neighborhood with her partner and two sons.
As a full time senior writer, editorial manager and self-described experience junkie, Molly has written thousands of articles about Milwaukee (and a few about New Orleans, Detroit, Indianapolis, Boston and various vacation spots in Wisconsin) that range in subject from where to get the best cup of coffee to an in-depth profile on the survivors of the iconic Norman apartment building that burned down in the '90s.
She also once got a colonic just to report on it, but that's enough on that.
Always told she had a "radio voice," Molly found herself as a regular contributor on FM102, 97WMYX and 1130WISN with her childhood radio favorite, Gene Mueller.
Molly's poetry, essays and articles appeared in many publications including USA Today, The Writer, The Sun Magazine and more. She has a collection of poetry, "Topless," and is slowly writing a memoir.
In 2009, Molly won a Milwaukee Press Club Award. She served as the Narrator / writer-in-residence at the Pfister Hotel from 2013-2014. She is also a story slam-winning storyteller who has performed with The Moth, Ex Fabula and Risk!
When she's not writing, interviewing or mom-ing, Molly teaches tarot card classes, gardens, sits in bars drinking Miller products and dreams of being in a punk band again.