For many Milwaukeeans there are a few givens: the lake is beautiful, winter will come, spring brings the return of Uecker and we will all eat pizza to "Take Me Out to the Ballgame" at Organ Piper Pizza, 4353 S. 108th St., in Greenfield.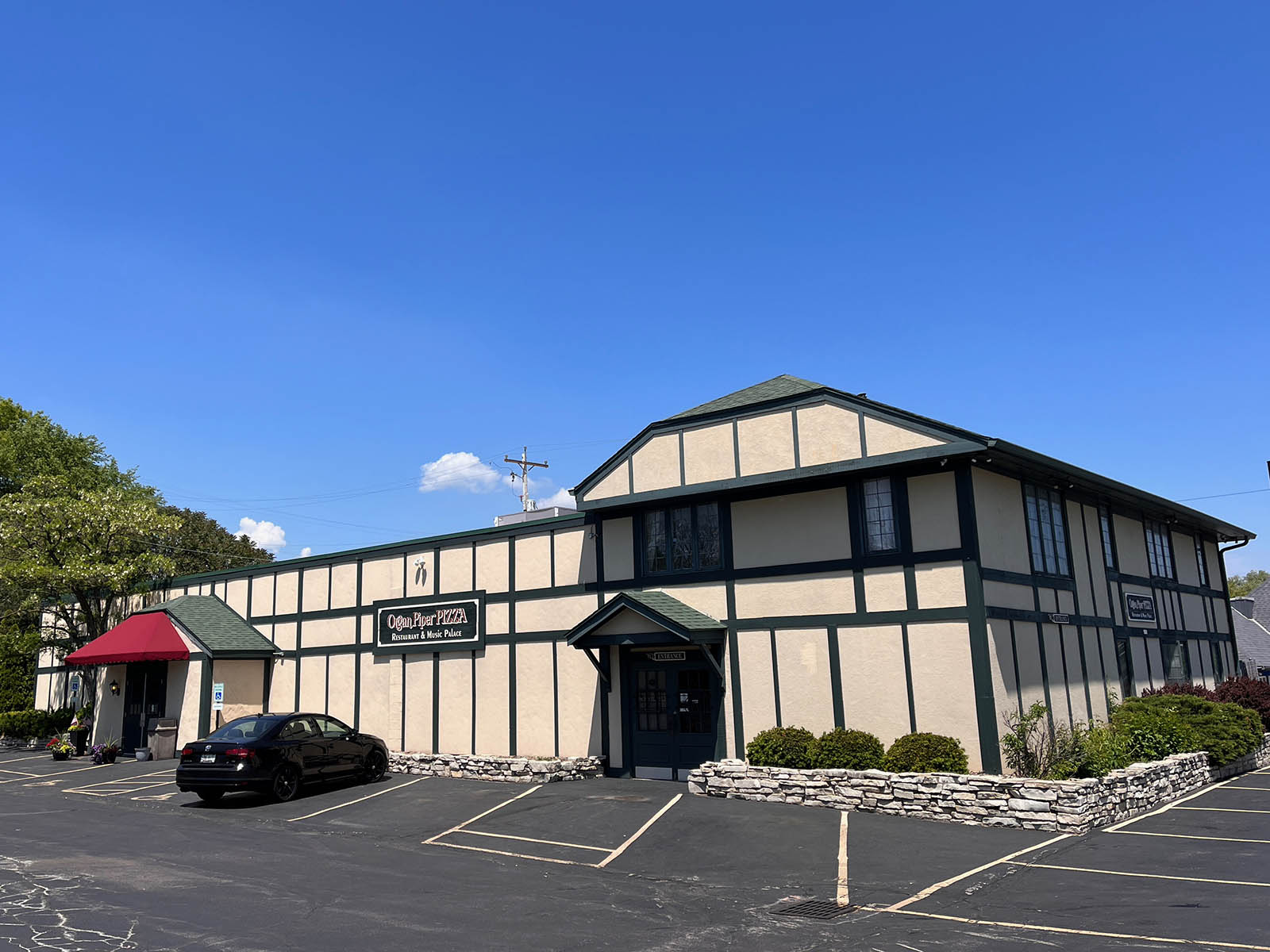 But, if you can believe it, there was a time when the venerable restaurant and music palace – where the decor is sort of suburban basement meets circus meets pizzeria – didn't yet exist.
I know, best not to think about it.
Fortunately, despite the fact that nearly every single one of the dozens of such organ-blown pizzerias in the country has now closed – including others in Milwaukee, like Pipe Organ Pizza (with locations on 6th and Oklahoma and on 72nd and Capitol) – Organ Piper Pizza shows no sign of slowing down, according to owner Derek Paikowski.
When the restaurant industry took a hit during the pandemic, Paikowski pivoted and began making frozen pizzas and working with Door Dash on delivering food to customers. And business is good, he says.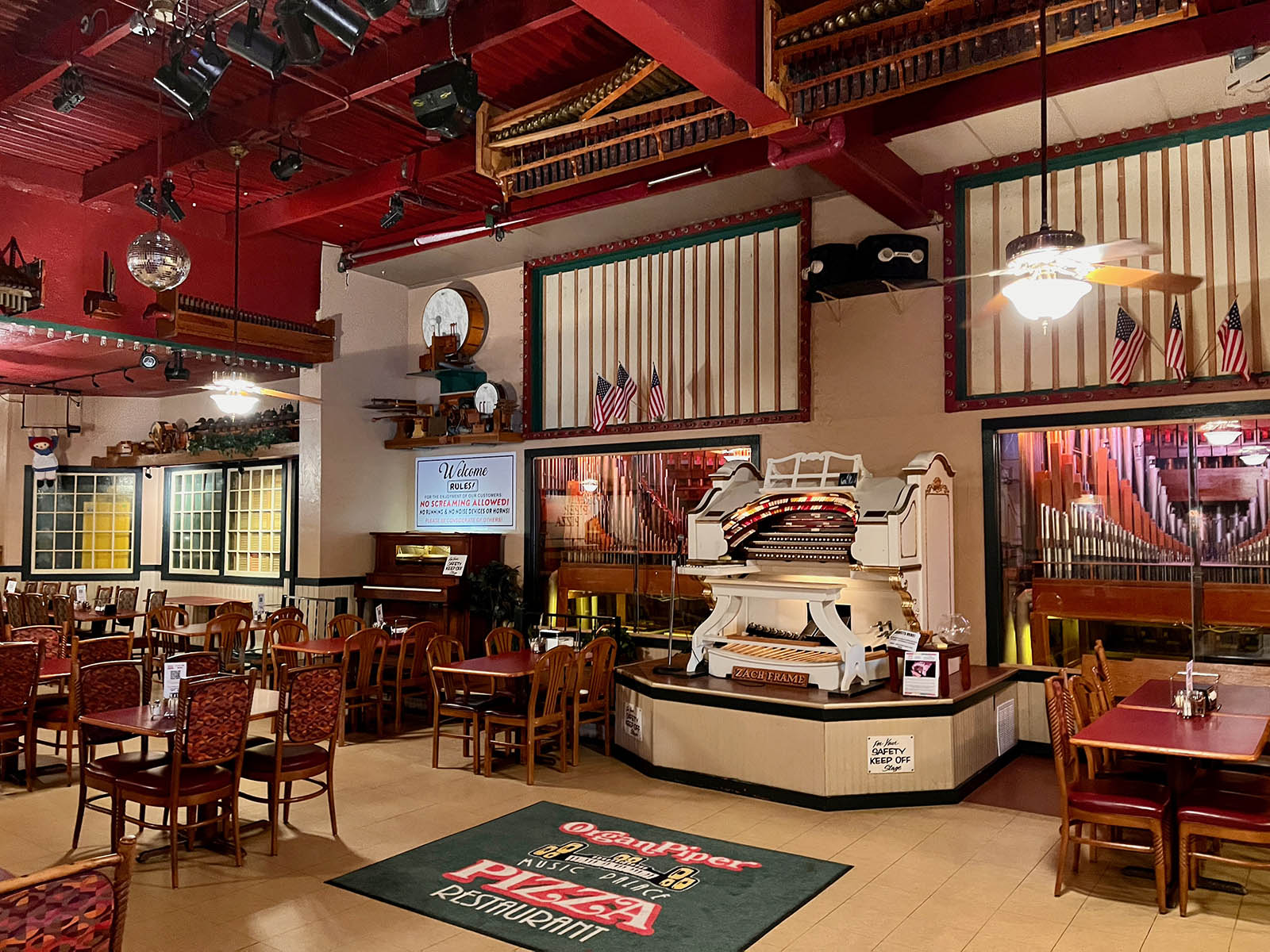 "I was talking before COVID about possibly opening up a delivery system, but working with them has really paid off," he says. "Because they handle insurance, they have cars, all that. I like it."
Although Paikowski has only been the sole owner for a few years now, he has long been associated with the business, starting work bussing tables out of high school. He became part owner in 1989 and he bought the building, which had been leased, in 2017.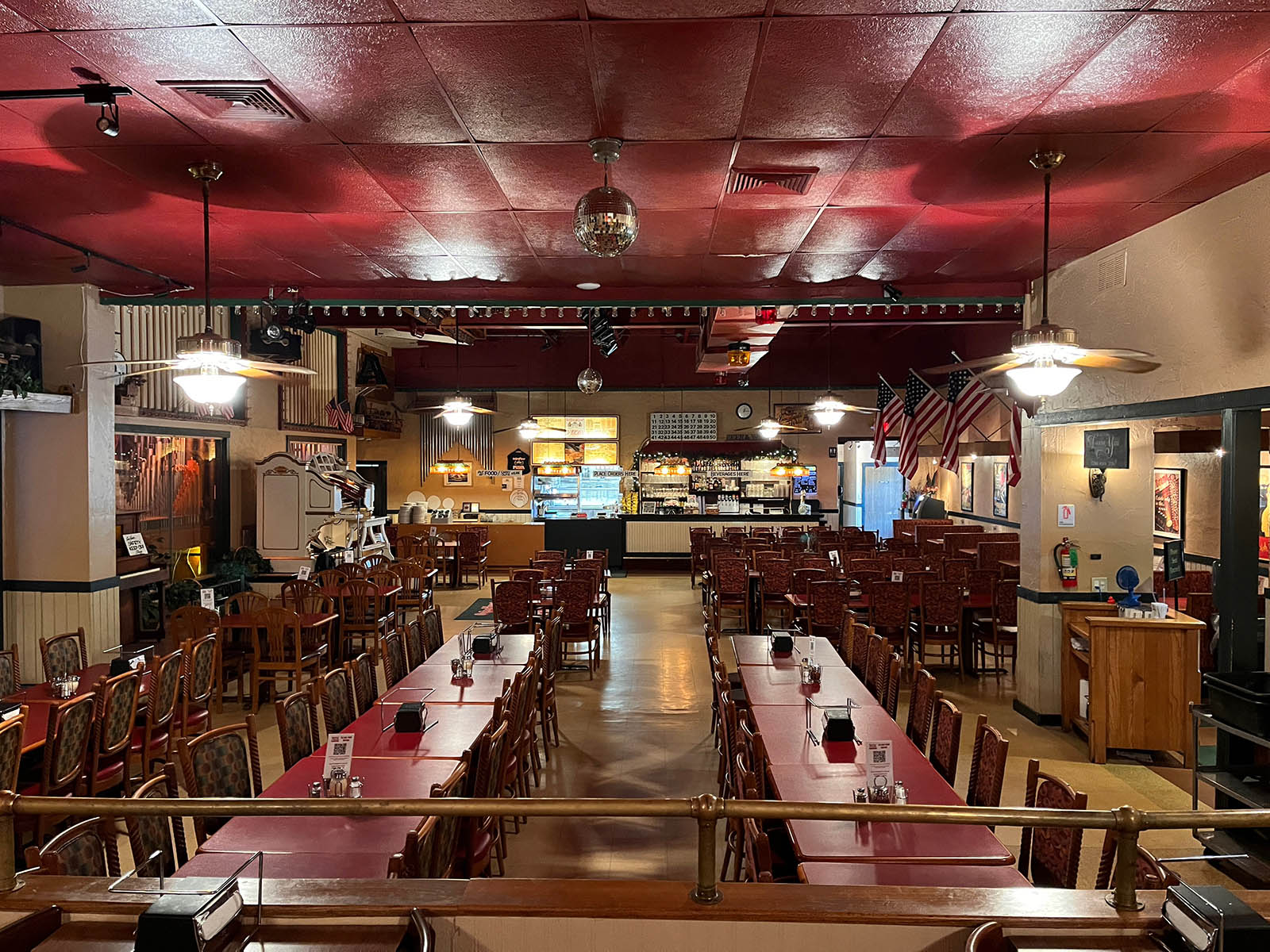 So his tenure goes back almost to the beginning ... which is where we'll start.
In autumn 1975, Jim Bringe and G. Curro pulled permits to open an organ-themed restaurant, the likes of which were becoming popular around the country as family-friendly restaurants that offered a fun night out and a great place to host a kid's birthday party.
Similar businesses has names like Pizza Boat, Showbiz Pizza and Chuck E. Cheese's Pizza Time Theater.
Their chosen spot was a big site on the west side of South 108th Street in Greenfield that had been home to General Truck Sales and Service.
There were three lots that were truck garages," says Paikowski. "The Arndts, they had a house up on the hill (behind the restaurant) owned it. This used to be a truck garage, one used to be for maintenance."
As part of the renovations for the restaurant, the corner of the building was filled in.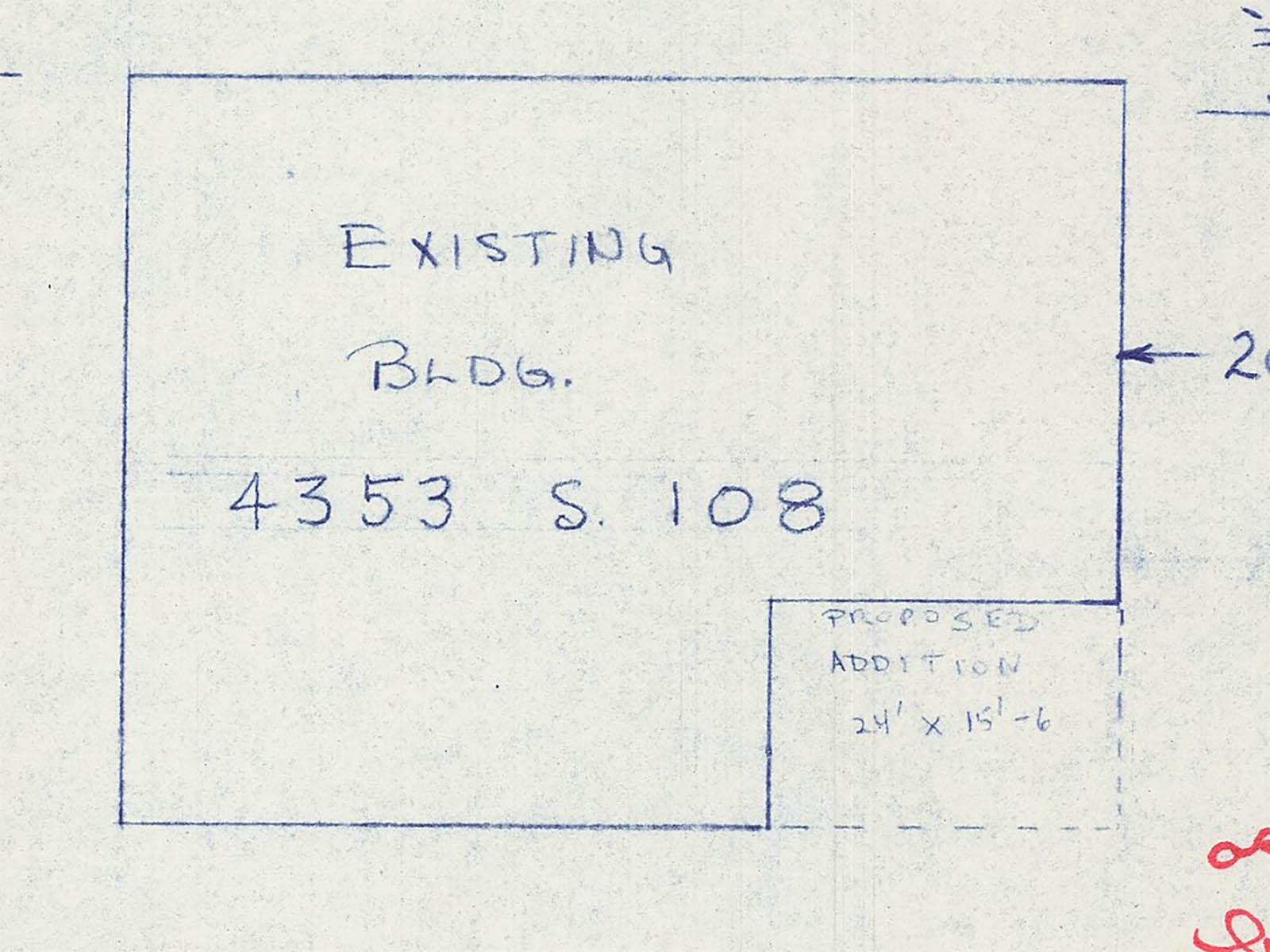 Bringe, who owned a plumbing business, had initially planned to call the place Pizza and Pipes Restaurant, though perhaps the fact that other restaurants – in Michigan and California – were already using that name, led him to consider Organ Grinder Pizza, which appears to have stuck, at least early on.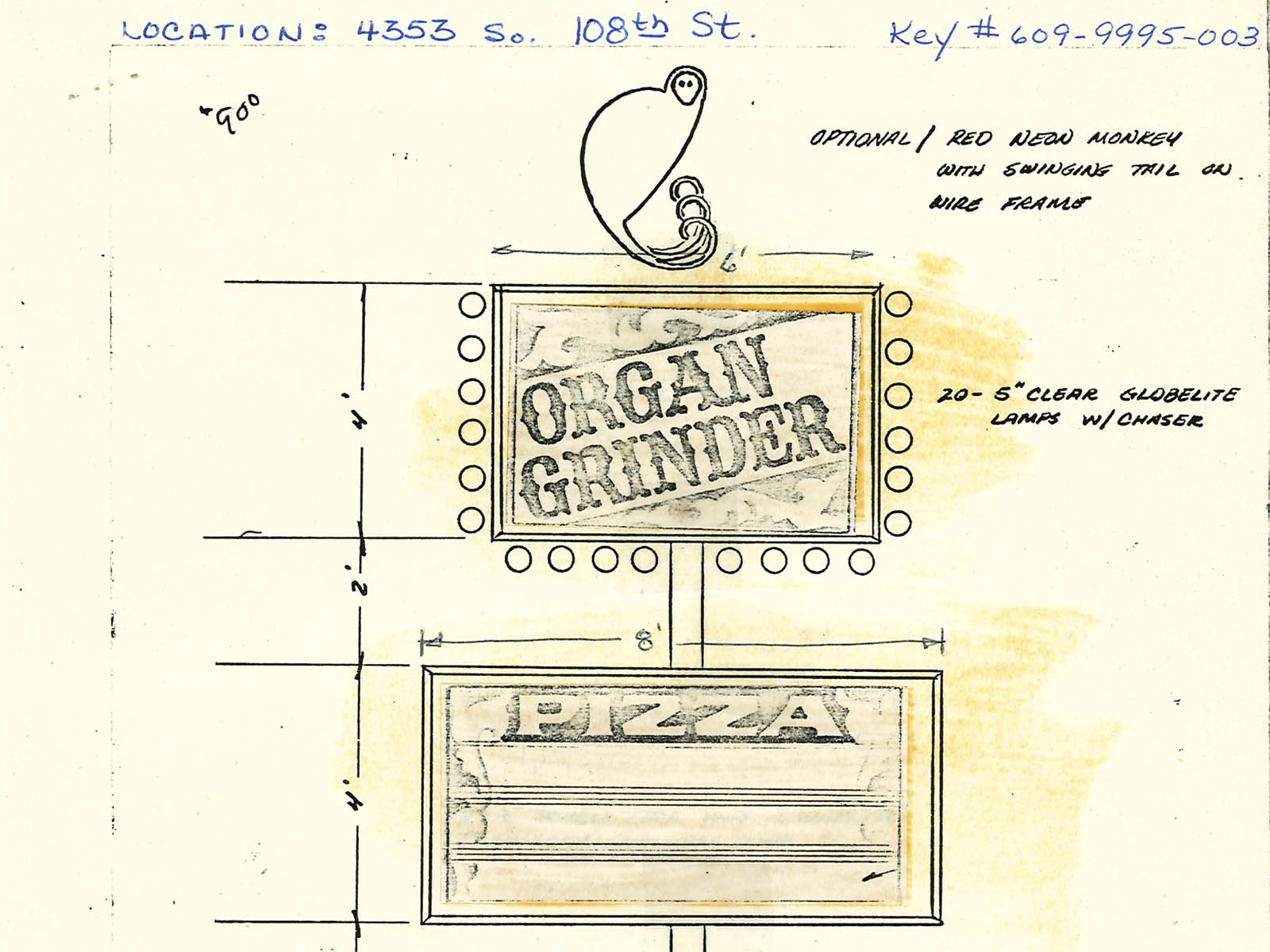 A permit for a large sign out front – pulled six months before the restaurant opened – had a drawing of the proposed sign, which read, "Organ Grinder Pizza" and had a proposed, but option, red monkey with a swinging tail perched on top.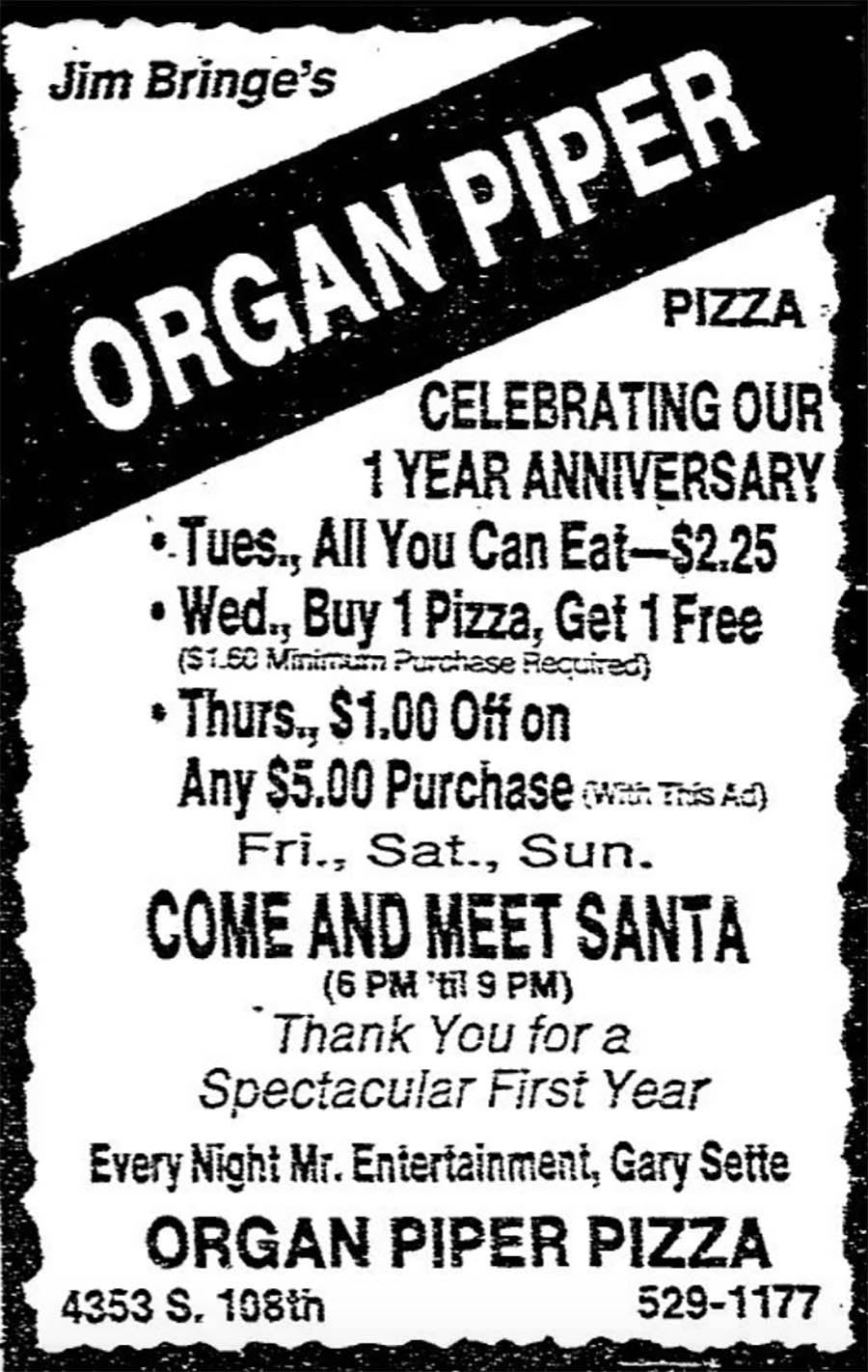 And, in fact, classified ads seeking staff carried the Organ Grinder name for about seven months after the restaurant opened.
However, by December 1977, when Bringe ran a newspaper ad in honor of the pizzeria's first anniversary in business, it read "Bringe's Organ Piper Pizza."
The centerpiece of the business was the 1928 Wurlitzer organ, the 1929 console of which had been originally installed in the Seneca Theater in Buffalo, New York and also spent some time in the Avalon Theater in Bay View.
The pipes and numerous effects – which had been popular in cinema organs during the silent era to provide sound effects accompaniment to movies – were cobbled together from a variety of sources, Paikowski says.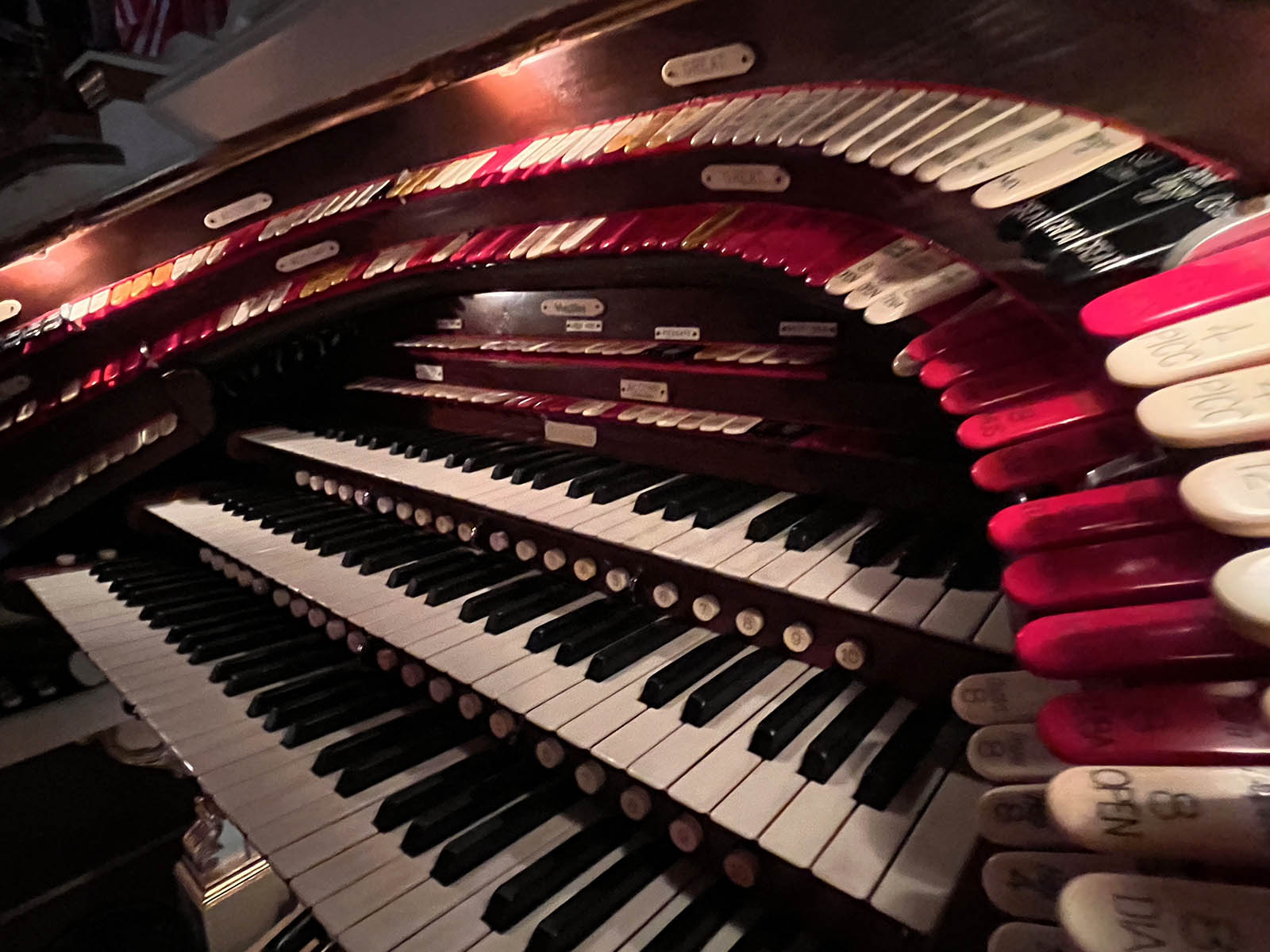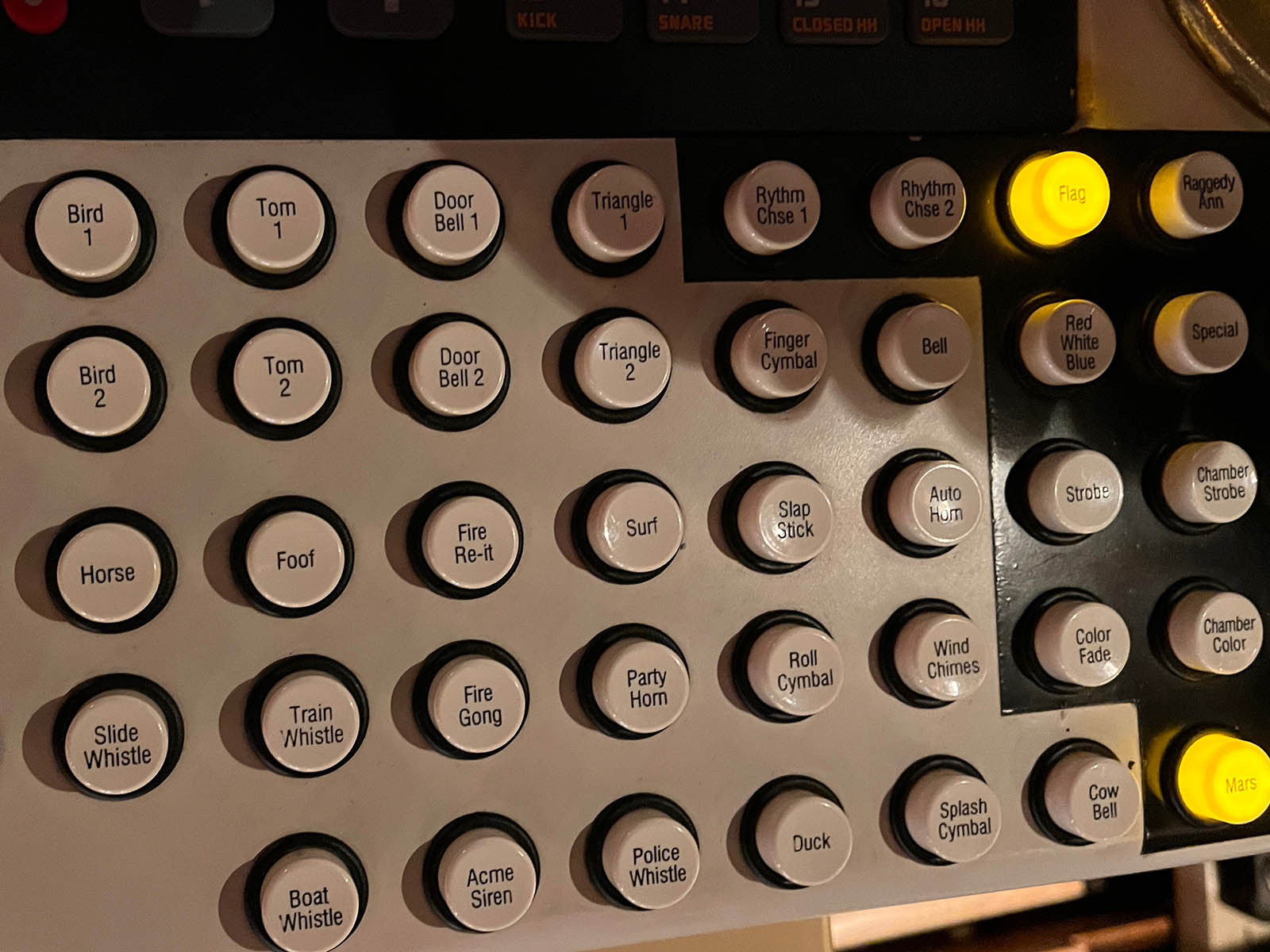 The console has three 61-note keyboards, a 32-note foot pedal board for bass notes, 234 tabs to operate the stops and 158 other controls for sound effects, lights and more.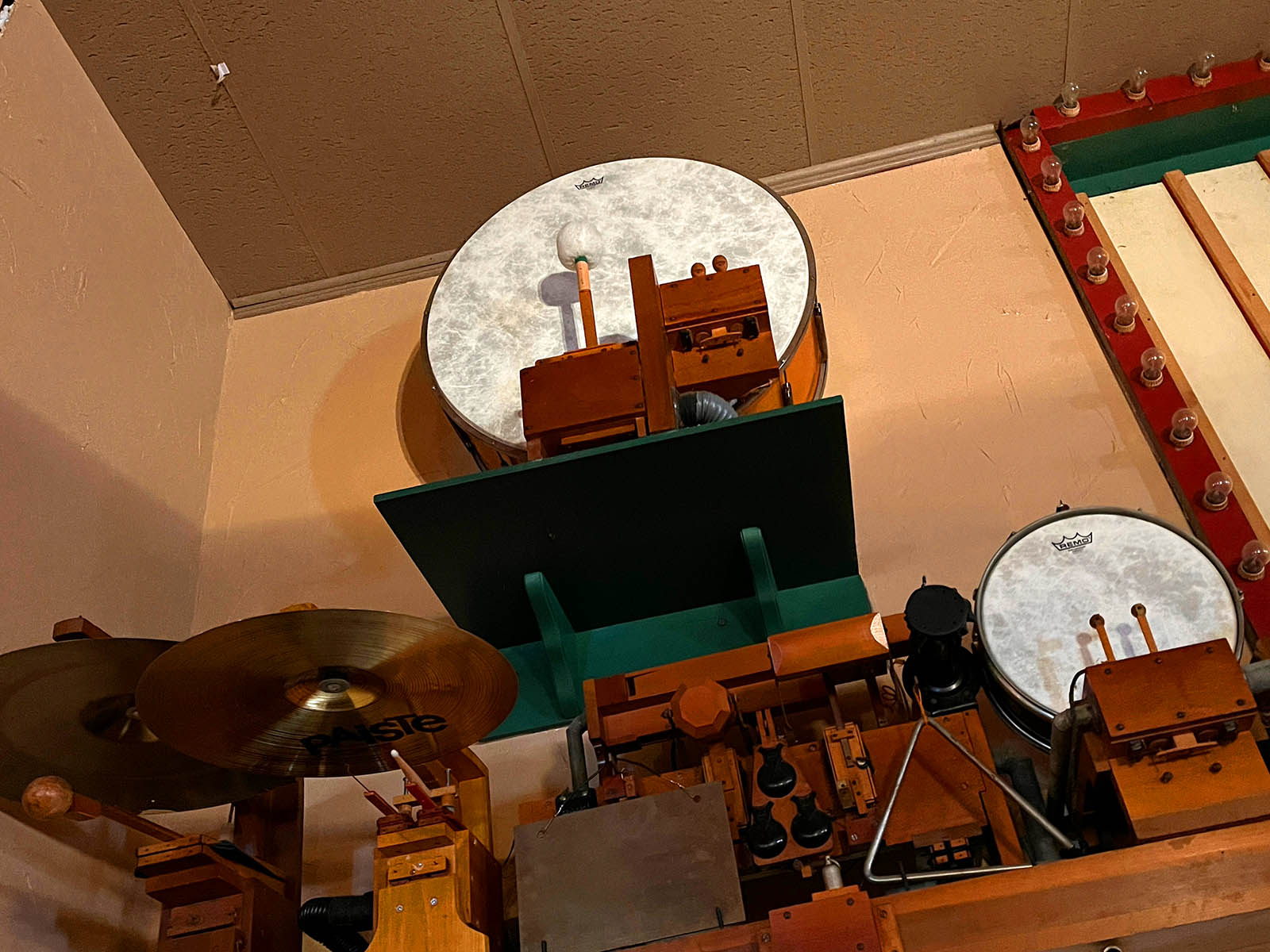 There are percussion instruments, whistles, a row of tuned quacking ducks...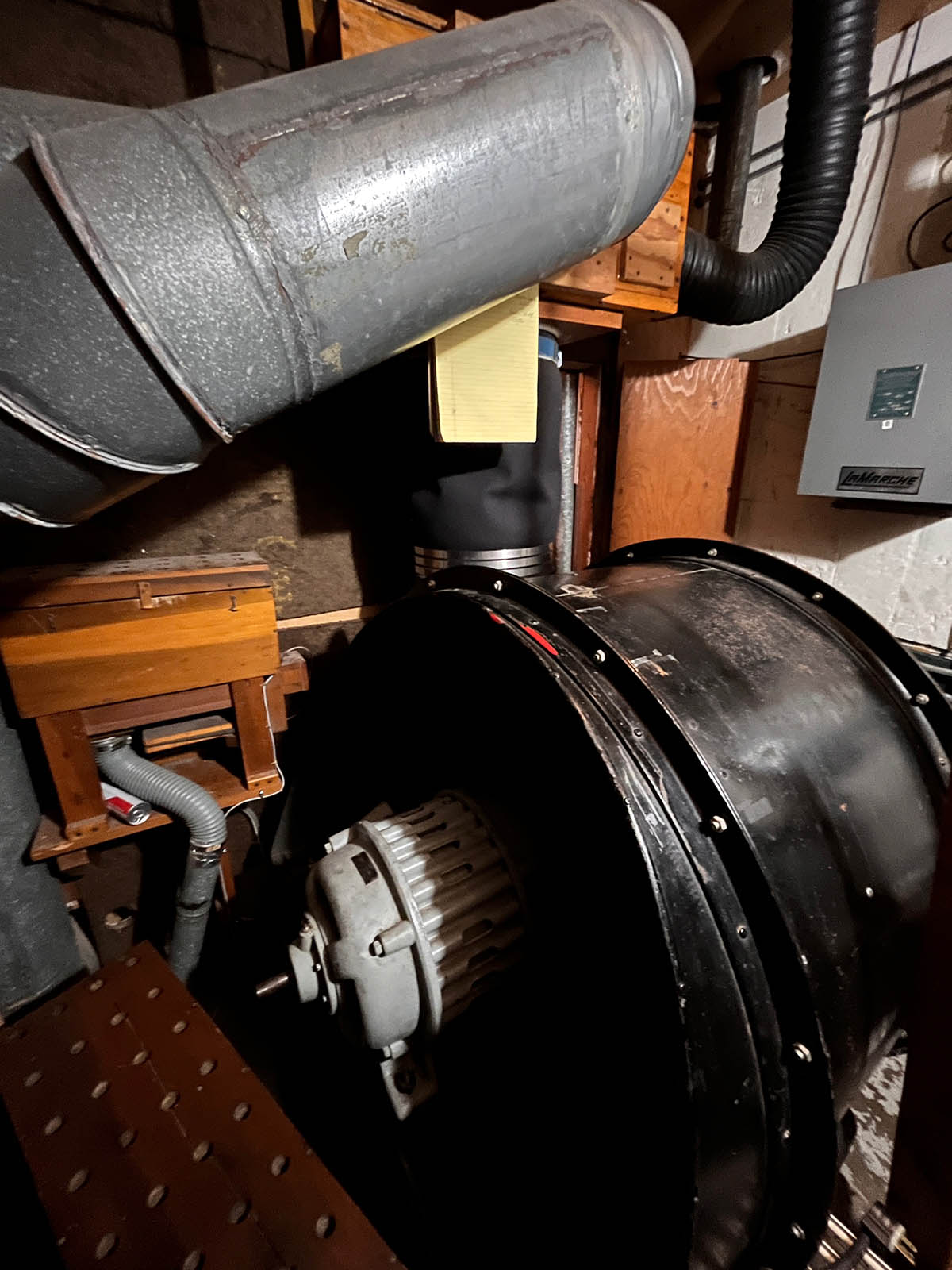 The organ has 30 ranks of pipes in a pair of spaces behind the organ, which customers can view through glass windows.
They are fed by air from a 10-horsepower blower in a room off to the right, near one of the entrances to the kitchen.
Over the years, a number of organists have played the instrument including former co-owners like Gary Sette and Gary Hanson, plus Don LaRusso, Perry Petta and others.
For a brief time beginning in 1989, the name was changed to Piper Music Palace but by the dawn of the new millennium, it was back to the beloved Organ Piper Pizza.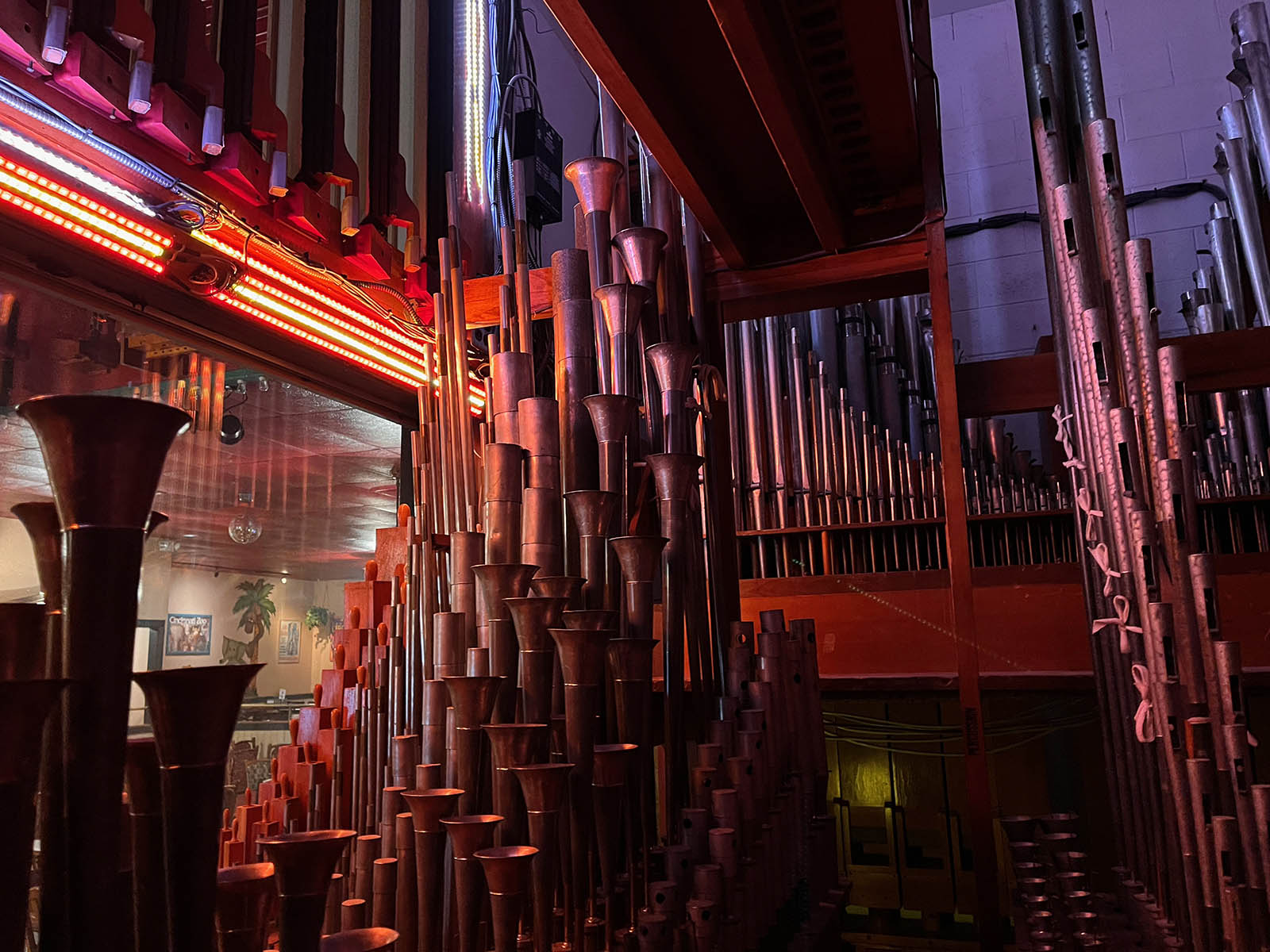 In the years after that, the Tanzilo kids each celebrated birthdays there and visited other times to eat pizza, request "Take Me Out to the Ballgame," ride the tiny carousel and plug quarters into the machines in the game room.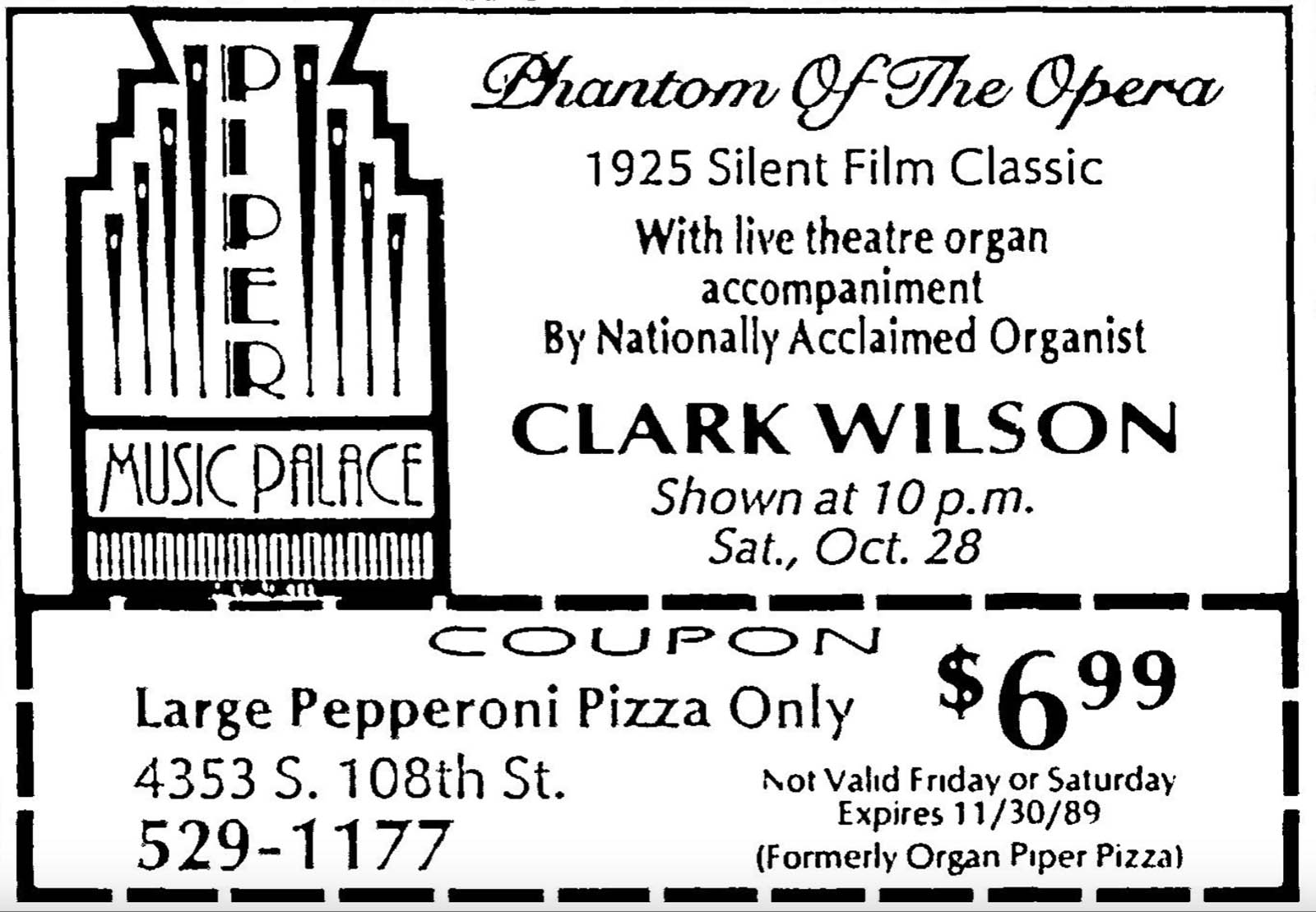 Those machines, incidentally, were a later addition to the restaurant.
In 1982, in an article about the addition of video games to numerous local pizzerias, Sette told the Journal, "I would like to be the only pizza parlor in town without a (video) game. A lot of families are getting quartered to death.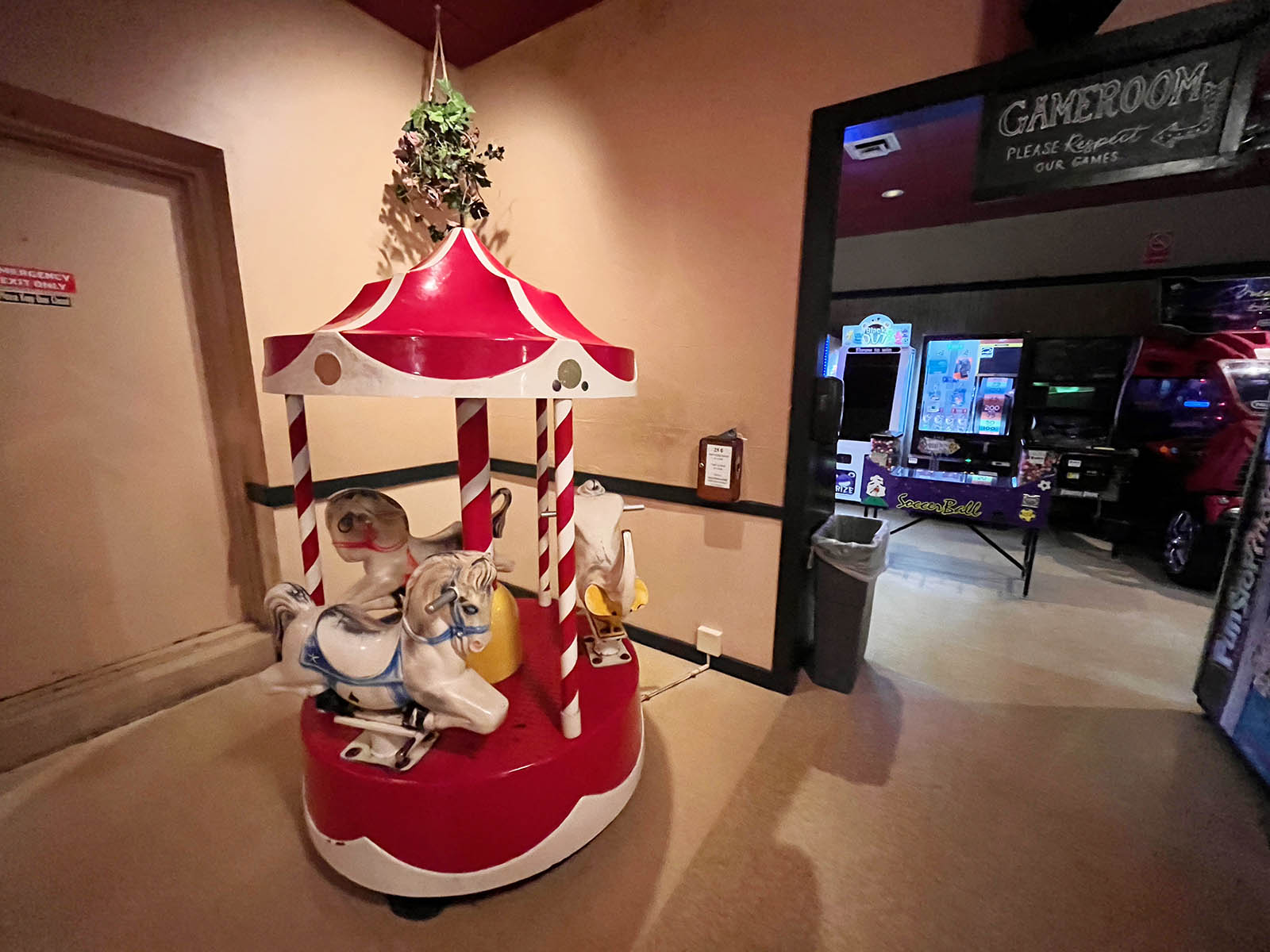 "Don't get me wrong, it's a good idea. We're giving serious consideration to building a separate game room. But I doubt we will. We don't appeal to the teenage group. We cater to families and older people. We try for palatable music and palatable food, too. We'll get cut into a bit by these new places but in the long run we'll survive."
In the end, the trend got the best of Organ Piper, though when I mention the "quartered to death" quote to Paikowski, he said, "I agree with that."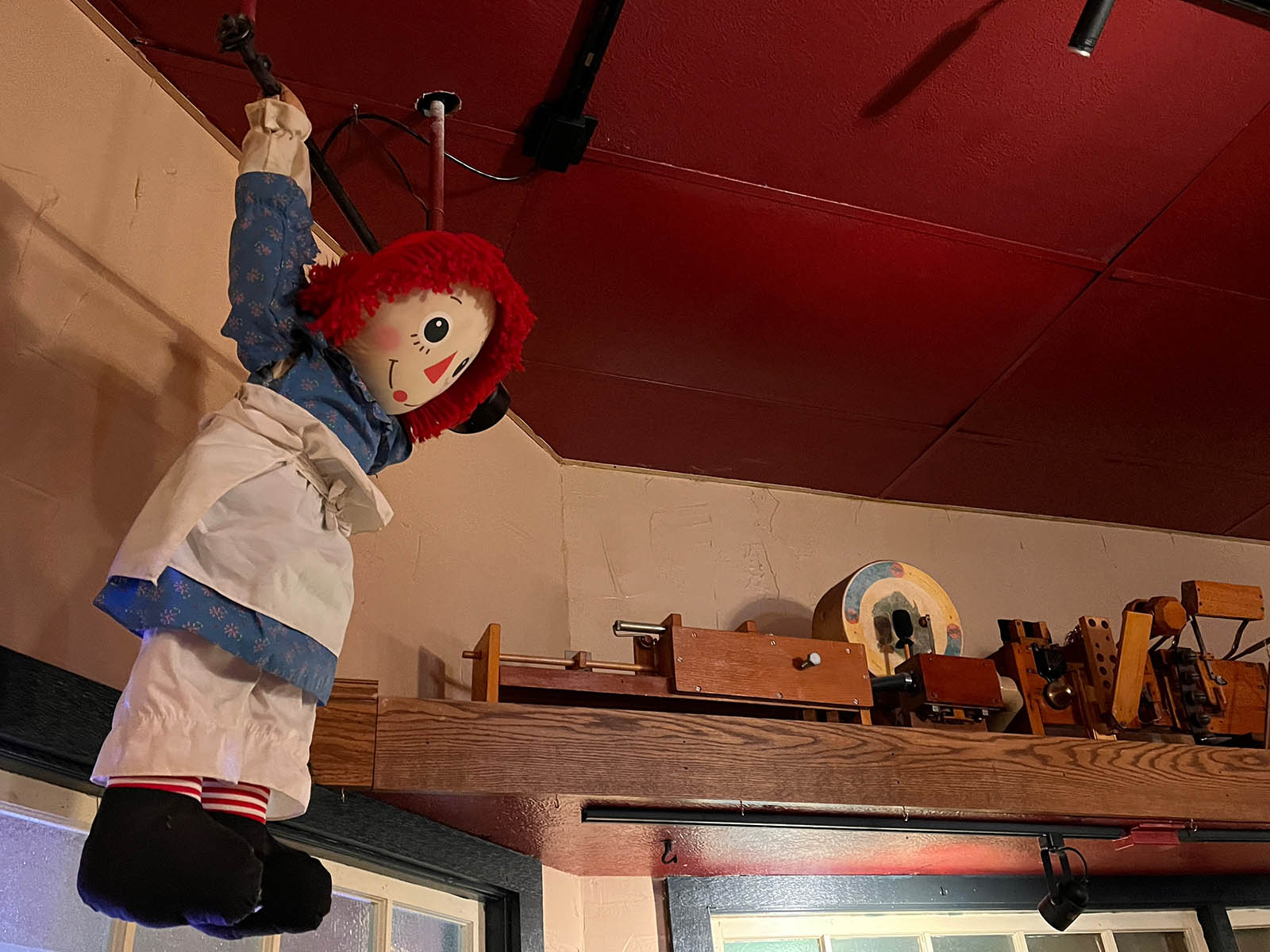 Still, the games are there and, to be honest, they've become such a part of the experience – like Raggedy Ann on her trapeze – that I'd be sad to see them go.
Paikowski and Organ Piper Pizza were in the news in 2021, when he won a bet proposed by Jack Barz, owner Organ Stop Pizza in Mesa, Arizona, when the Phoenix Suns were up in the NBA Finals.
However, the Bucks took the title and Barz was forced to shave his head in a bet that backfired on him.
But still, says Paikowski, a lot of people still seem surprised that Organ Piper is still around.
"They say, 'oh, I thought you were owned by Shakey's,' or 'wow, this place is still open'," he says. "We've been here the whole time."
For the most part, what you see is what you get at Organ Piper, there aren't many behind the scenes opportunities, but Paikowski does let me clamber past the blower so I can squeeze into the two pipe chambers to see the ranks of pipes, from the slimmest of little metal pipes to the biggest wooden bass pipes, which are stuck all the way up near the ceiling in these two tiny spaces.
Then we head into the kitchen, where he shows us the dough he had just made that morning, which has been growing and which he punches down.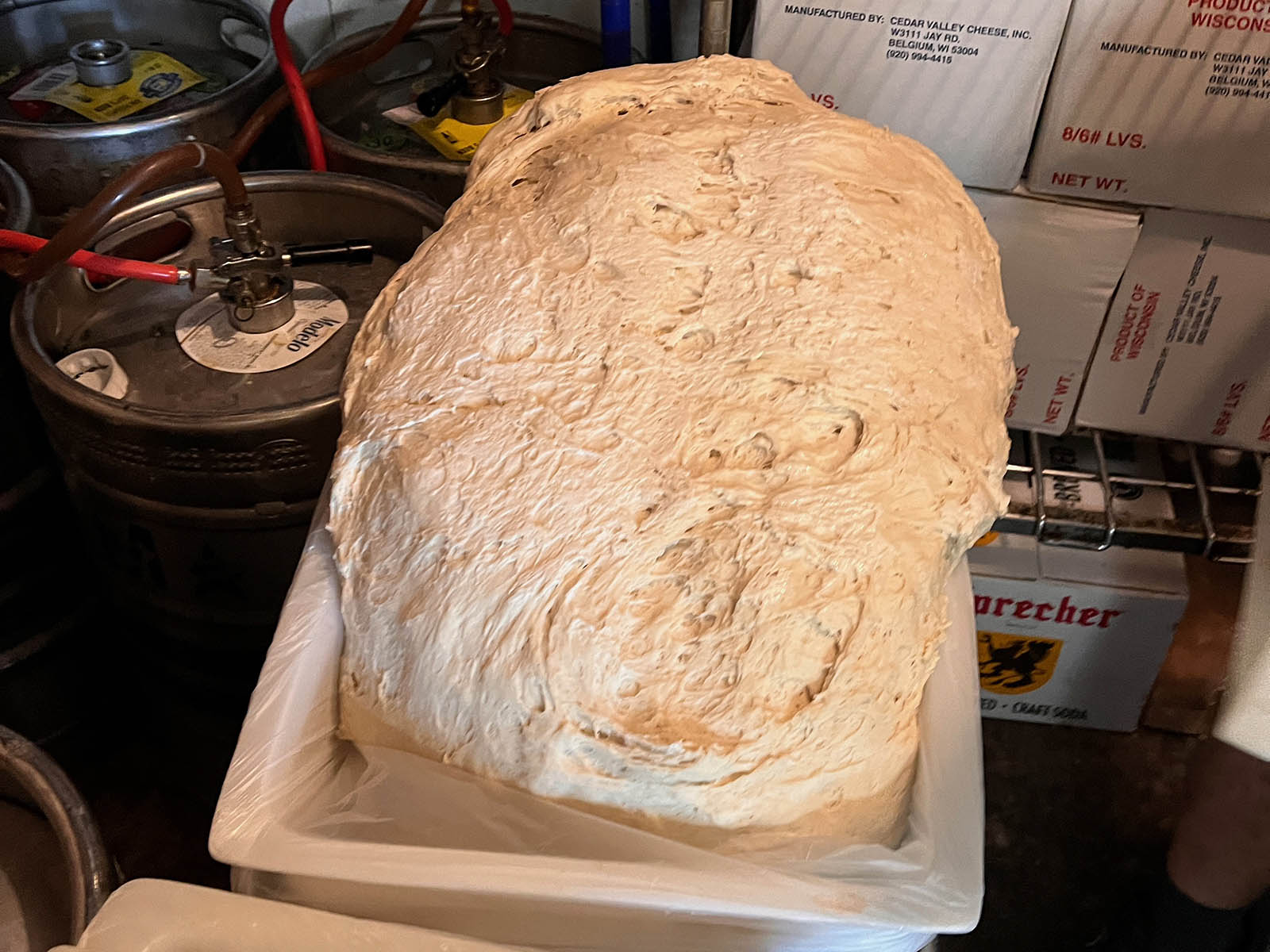 Taking some of the dough that's been resting since he made it the day before, we go over to the "sheeter," which is like a pasta machine, with a pair of adjustable rollers, and just like making pasta, Paikowski runs the dough through the widest roller setting before folding it over on itself, notching the rollers a little closer together and running it through again.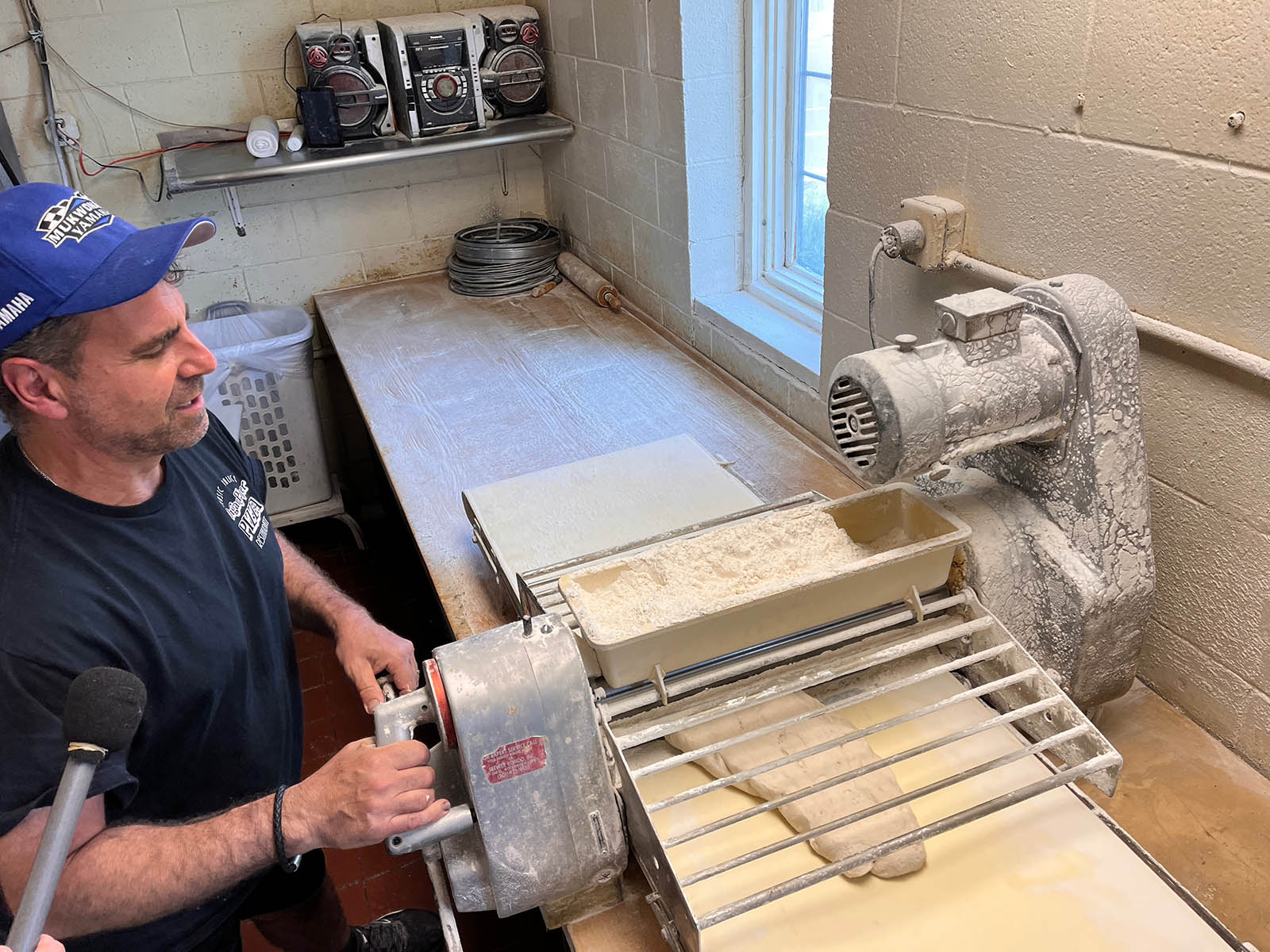 He does this a number of times, narrowing the distance between the rollers until he has the desired thickness.
After letting it relax on the worktop so it won't contract, he uses some metal forms to cut out circles in the three sizes of pizzas and voila, he's got dough ready for the restaurant's house-made pizza.
"We get too busy to hand-toss each crust," he says. "There's no way we'd be able to keep up if we were tossing them up in the air like you see at some places."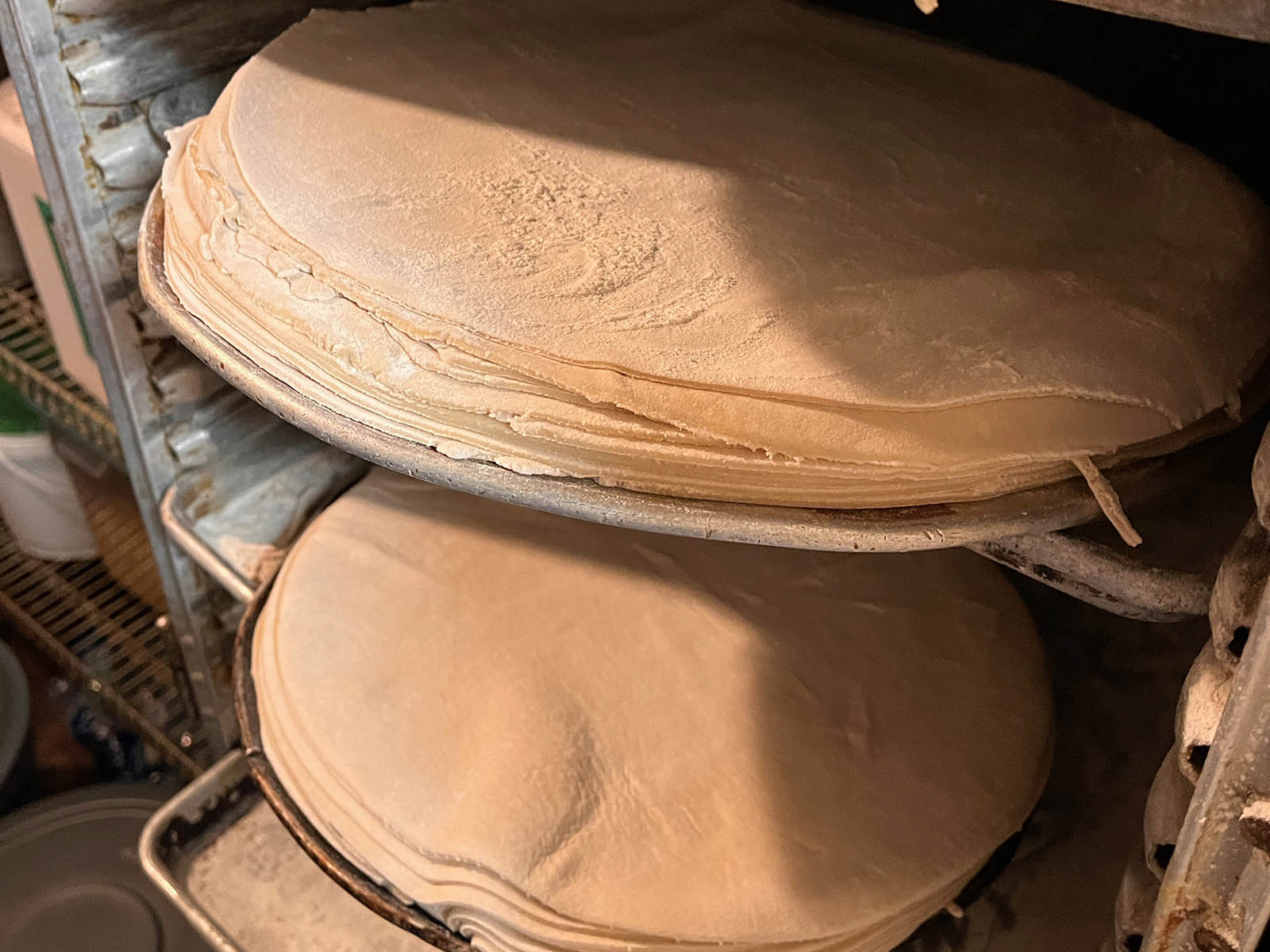 Paikowski makes his sauce on-site, too, and only he and his manager have the recipe of spices used.
"One thing about our pizza, is our pizza is actually pretty decent for you," he says. "We use no MSG. It's flour, salt, sugar, extra virgin olive oil and water (and yeast). There's nothing garbage about it."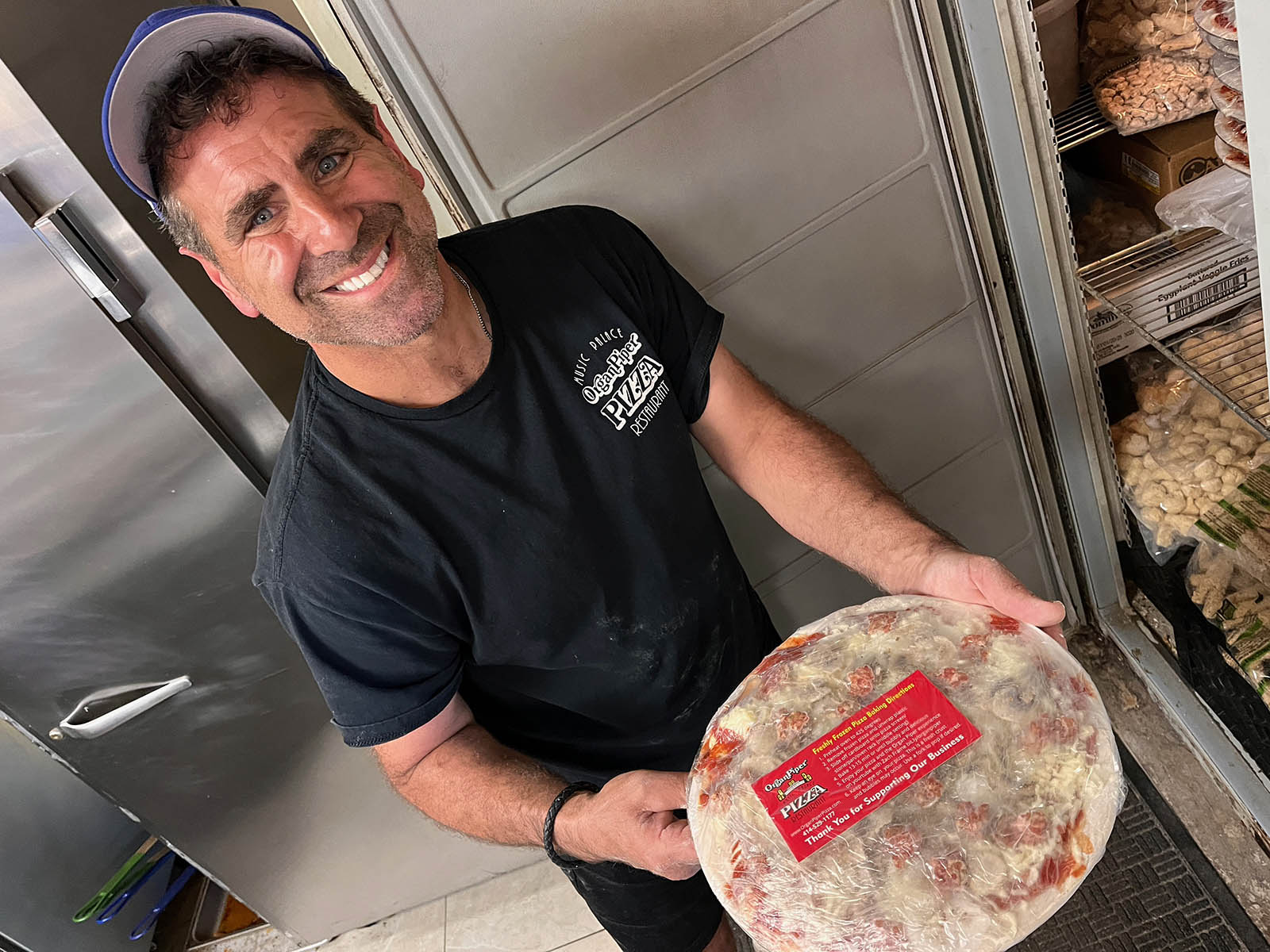 Each day, he makes some of his frozen pizzas, which he sells to customers and is beginning to sell to local bars, too.
Paikowski runs the kitchen and one of his organists, Zach Frame, maintains the organ and cleans the pipes.
Frame is the featured organist Wednesday-Sunday evenings. Petta, who also plays piano at The Pfister, still performs, too, taking Tuesday evenings and Saturday and Sunday afternoons. Dean Rosko, who is best known for his work at Brewers home games, sits in as a substitute, as does Jelani Eddington.
Paikowski's wife Kelly handles the accounting.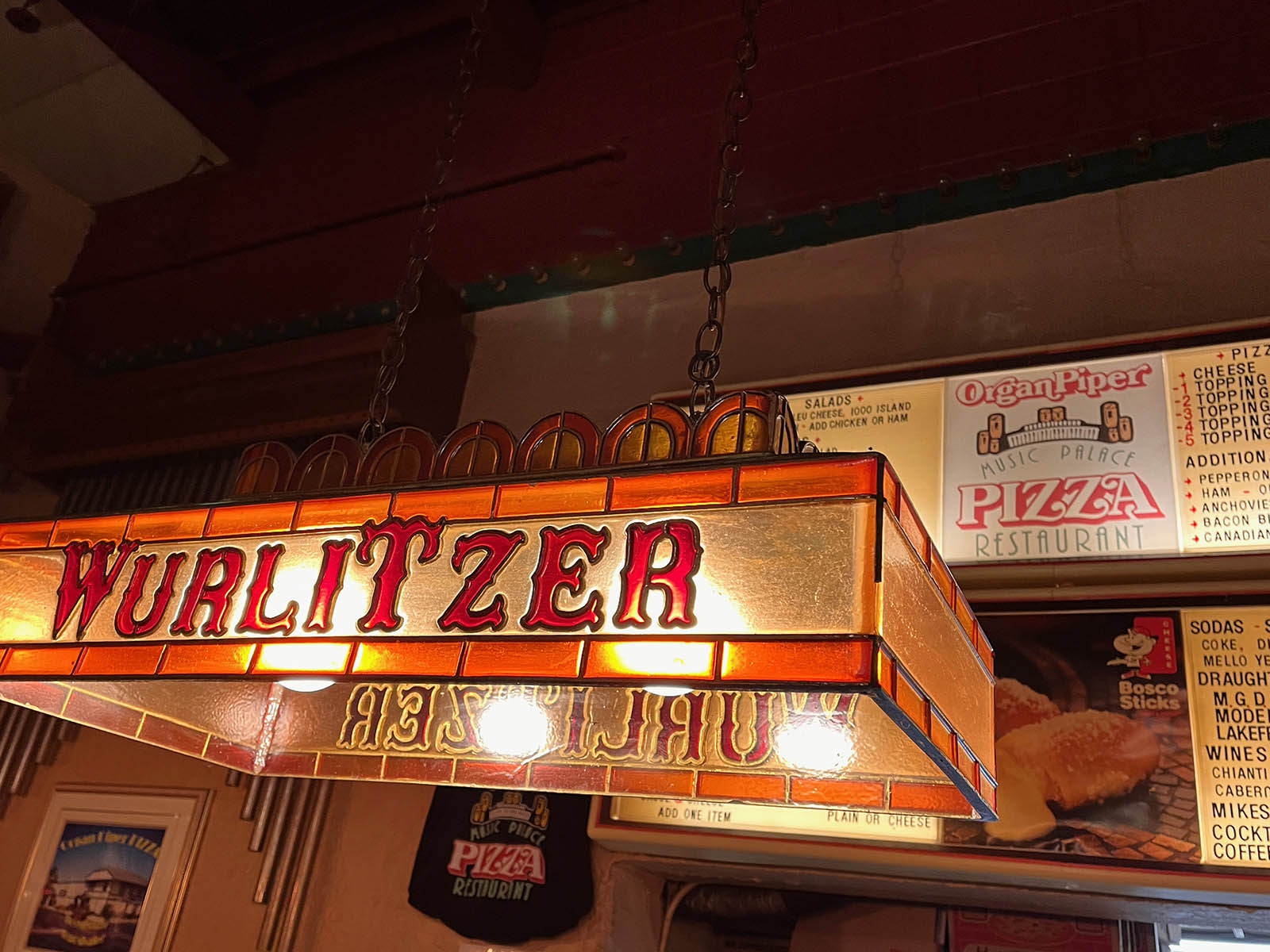 It's a small, mostly family-run business and when you step inside, if it's been a while, you'll likely be pleased to see that Organ Piper Pizza is just how you remember it.
You'll hear "The Lion King" music and all the old favorites, but Paikowski has made sure that the tunes appeal to all ages.
"Zach plays Lady Gaga, Van Halen, and it's amazing that how awesome it sounds," says Paikowski who is a drummer and briefly performed with the organists many years ago. "I'm a big music guy. I'm more of a Motley Crew or Metallica type guy.
"He does a lot of Queen, a lot of Journey. He's doing really good at it. You've got to have more for the parents. You can only listen to 'Lion King' and some of this stuff so much."
As for the interior, it's clean, but the carousel is still there, Raggedy Ann is still there, counter-ordering is still the rule, the light-up board that tells you when your order is ready is still there, the request jar and adjacent tip jar are still there.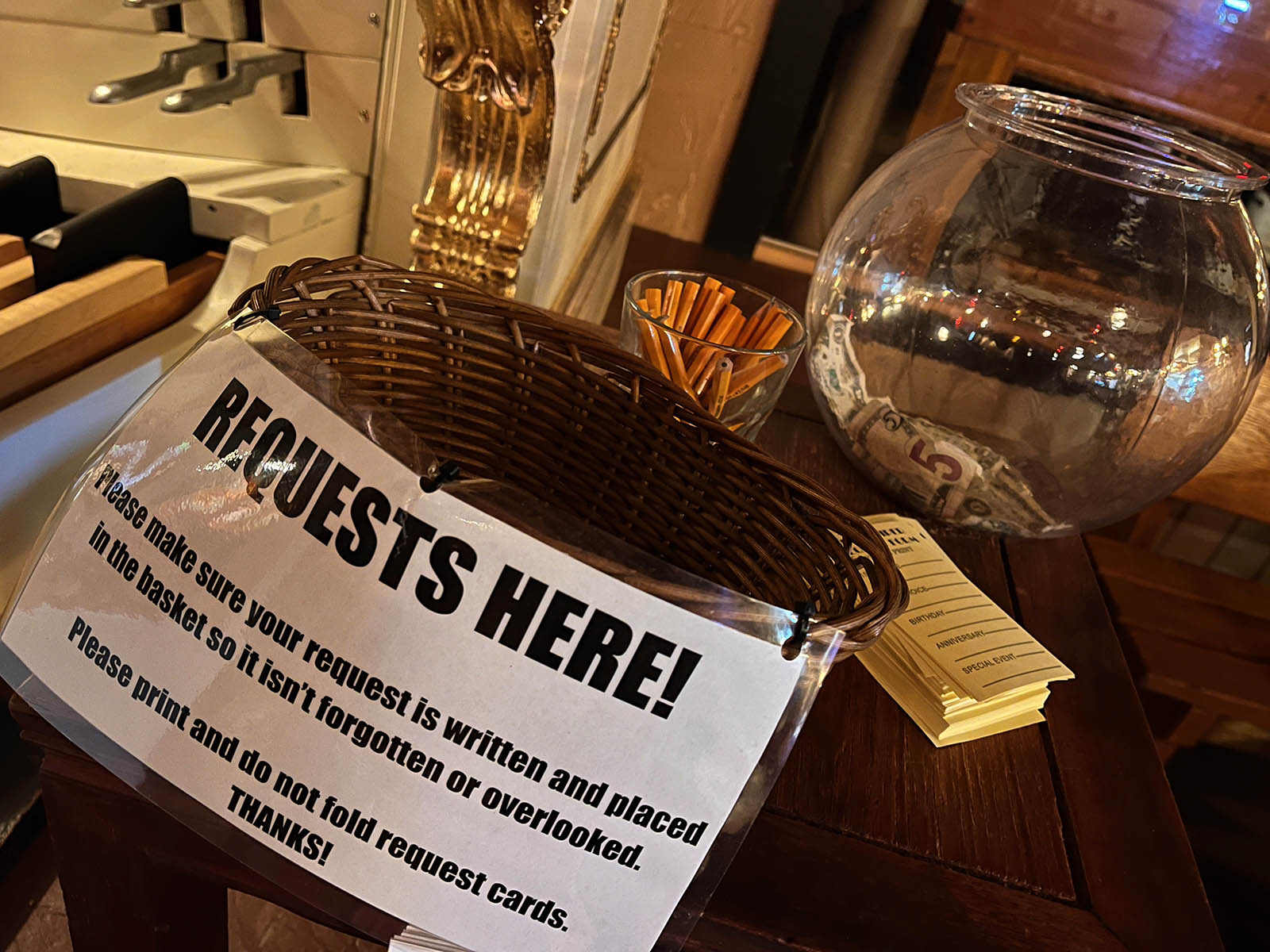 It's just like you remember it, and that's the way it will (mostly) stay, Paikowski vows.
"I put out there that we're going to want to put a new floor in and freshen up, some fresh paint, and on social media people were like, 'Don't change it, keep it nostalgic. Don't modernize it. Keep it the old way.'
"So, I'm like, 'wow, OK'."
Born in Brooklyn, N.Y., where he lived until he was 17, Bobby received his BA-Mass Communications from UWM in 1989 and has lived in Walker's Point, Bay View, Enderis Park, South Milwaukee and on the East Side.
He has published three non-fiction books in Italy – including one about an event in Milwaukee history, which was published in the U.S. in autumn 2010. Four more books, all about Milwaukee, have been published by The History Press.
With his most recent band, The Yell Leaders, Bobby released four LPs and had a songs featured in episodes of TV's "Party of Five" and "Dawson's Creek," and films in Japan, South America and the U.S. The Yell Leaders were named the best unsigned band in their region by VH-1 as part of its Rock Across America 1998 Tour. Most recently, the band contributed tracks to a UK vinyl/CD tribute to the Redskins and collaborated on a track with Italian novelist Enrico Remmert.
He's produced three installments of the "OMCD" series of local music compilations for OnMilwaukee.com and in 2007 produced a CD of Italian music and poetry.
In 2005, he was awarded the City of Asti's (Italy) Journalism Prize for his work focusing on that area. He has also won awards from the Milwaukee Press Club.
He can be heard weekly on 88Nine Radio Milwaukee talking about his "Urban Spelunking" series of stories.