The Oscars officially closed out the past year on Sunday night, rewarding some of the best and biggest movies of 2022. There were no shocking viral events that required an entire 365 days of news updates, interviews, hot takes and a whole streaming stand-up comedy set to litigate – but there WAS an overall very entertaining live show, complete with ALL the categories this time and a bunch of very worthy winners to celebrate.
You'd need two hands of hot dog fingers to count up all of the awards "Everything Everywhere All At Once" scored, the night's big winner both for Best Picture and for the most trophies tallied with seven in total. But who REALLY won at last night's Oscars? And who REALLY lost? And who REALLY would've hated sitting behind this outfit for the entire show?
Imagine waiting your whole life to be at the Oscars and you end up sitting behind a stratus cloud. pic.twitter.com/HQ8lSYQBUV — Jarrett Bellini (@JarrettBellini) March 13, 2023
Here are the real winners and losers of last night's thankfully slap-less Academy Awards.
Winner: "Everything Everywhere All At Once"
"Everything Everywhere All At Once" indeed won everything everywhere all on Sunday night. The Academy typically trends toward spreading the love and giving several films a chance to take a bow at the Oscars – but not this year. No, apparently their love langauge is hot dog fingers because the multiverse-jumping, genre-colliding, true "you'll laugh/you'll cry" emotional epic scored seven total Oscars – the most awards for a single movie since "Gravity" and the most awards for a Best Picture winner since "Slumdog Millionaire."
And craziest of all, everyone seemed OK with it!
Obviously those who love the movie were happy, but even those who weren't on the movie's admittedly overwhelming wavelength – it's not called "A Normal Amount Of Things In A Single Place Doled Out In A Rational Timeframe!" – seemed pleased to see its winners triumph. Michelle Yeoh and her terrific career of work, including in "EEAAO," deserved an Oscar or at the very least a nomination – she now has both. Jamie Lee Curtis is a longtime Hollywood icon, screen sensation and beloved industry figure who now has the offical trophy to prove it. Ke Huy Quan is the delightful Hollywood comeback narrative that also fueled Brendan Fraser to a win ... but for a movie people don't viscerally hate. And the co-directing Daniels Kwan and Scheinert charmed throughout Oscar season not only with their movie's quirky and unrestrained creative vision, but with their charmingly modest acceptance speeches. I mean, who's going to be mad that 94-year-old cinematic treasure James Hong got to stand victorious on the Oscars stage!?
It's a critical favorite. (It was my personal second best film of 2022.) It's an audience favorite as well as an idiosyncratic creative favorite. ("EEAAO" is an indie, but a breakout indie that made more than $100 million. And you can call "EEAAO" a lot, but "reigned in and focus-grouped" you certainly can't.) And it's a representational favorite, with a culturally specific yet universal story told by a diverse crew and cast, including the first Asian woman to win Best Actress. How often do the Oscars get everything you would want in a big winner like that – and, even more rare, how often do they go all the way and actually give them the win? Indeed, "Everything Everywhere All At Once" is everything.
Loser: The Best Picture-winning speech
People normally switch off the Oscars or start noisily cleaning up their viewing parties as soon as the Best Picture winner is announced (and confirmed, after the "La La Land" kerfuffle). At least, that's what "EEAAO" producer Jonathan Wang has to hope after this unintentionally hilarious and crowd-confounding gaffe during his otherwise pleasant victory speech late in the night.
"No person is more important than profits." Beautiful message ❤️ pic.twitter.com/EYPGGP508w — Michael Grier (@OleGriersy) March 13, 2023
At least we certainly HOPE that was a gaffe – either that, or his dad was Gordon Gekko.
Winner: Overdue appreciation
Angela Bassett and her supporters would probably disagree – but the Academy was clearly in the mood to give out some unofficial career achievement awards on Sunday night.
Yes, when given a choice in the acting categories, the voters pretty much entirely went the way of showing veterans overdue appreciation – starting with Hollywood stalwart yet first-time nominee Jamie Lee Curtis winning Best Supporting Actress, despite not even being the best supporting actress nominee from that movie. (Pour one out for Stephanie Hsu.) The trend continued with fellow first-time nominee Michelle Yeoh winning Best Actress for "EEAAO," an award not only for the particular far-ranging performance but for her decades underappreciated in genre and international movies. And for the requisite three examples for an official trend, instead of crowning a new star with Austin Butler in "Elvis," the Academy gave Best Actor to Brendan Fraser in "The Whale." Sure, many may hate that movie, but not as much as they love an hard-fought industry comeback storyline – just ask Renee Zellweger in "Judy."
So while the actual lifetime achievement awards may no longer take place during the live broadcast, thanks to the performance winners on Sunday night, they basically did.
Loser: "Elvis"
The dominance of "Everything Everywhere All At Once" on Sunday meant several multi-nominated movies went home with goose eggs, including "The Fabelmans" (nil for seven) and "The Banshees of Inisherin" (zero for nine, two away from tying the record). But the Academy was truly the devil in disguise toward "Elvis." While "The Fabelmans" and "Banshees" were mostly predicted to get blanked, the hit Presley biopic was expected to get SOMETHING – whether something as big as Best Actor for breakout star Austin Butler or at least a technical award or two for its vibrant Baz-fueled bombast. Instead, "Elvis" got fully shut out. Looks like the Academy didn't take "Don't Be Cruel" to heart.
Winner: "All Quiet on the Western Front"
Netflix still hasn't finished its Best Picture quest – but it did score several more Oscars to put in its trophy case, mostly thanks to "All Quiet on the Western Front." Coming out of nowhere to serve as Netflix's big awards player after "Glass Onion" and "Bardo" mostly fell through, the unrelenting war literary adaptation did its best impression of an artillery tank on Sunday night, steamrolling through to four wins in the middle of the night: Best International Film and Best Cinematography, as well as less-expected wins in Best Score and Best Production Design. Its reign became so overwhelming that "Fury Road Technical Awards Syndrome" broke out on the internet – aka when a movie wins a lot of below-the-line awards, so much so people irrationally assume it will keep winning all the way to Best Picture. And about that ...
Loser: "All Quiet on the Western Front"
"Fury Road Technical Awards Syndrome" was fun back in 2015 because people were excited that the bizonkers action movie could actually win Best Picture. In the case of "All Quiet on the Western Front" ... less so.
Every Oscar season needs a villain – and after a long but mostly genial awards run-up, it finally showed up Sunday night with Netflix's WWI movie. With so many beloved films nominated for the top prize, it seemed so ... Oscars-y for the Academy to deem a minimally-watched, blunt force and significantly more conventional movie (essentially "1917 2") as its best picture for the year. It's not a bad film; it would just be a deeply standard, "most over best," unremarkable choice, the echo of more iconic war films getting a win that even its predecessors and clear inspirations couldn't.
To make matters worse, thanks to Netflix's late-breaking full-press campaign, the vibe around the growing "All Quiet" odds was less a Best Picture earned as much bought. I'm not so naive as to pretend the Oscars are some innocent beacon of competitive integrity, much less artistic. But between Apple's successful deep-pocketed push last year for "CODA," a crowdpleaser that never particularly drew a crowd, and now Netflix's attempt with the little-seen "All Quiet," Oscars season was threatening to turn into Miramax 2.0, now with streamers and tech companies cynically purchasing prestige with ballooning awards campaigns. How dare they: That's for REAL studios!
One of these years, it'll finally happen for Netflix – and maybe, just maybe, it'll actually earn it too.
Winner: Competence
The Incident We No Longer Need To Speak Of overshadowed the fact that last year's Oscars broadcast was, to use technical parlance, full stinky butt. Between the Twitter polls, the long comedy bits often at the expense of the actual movies and the shunting of several categories to pre-recorded ad break lead-ins, the Oscars seemed embarrassed to be the Oscars. All of that made for a terrible night well before the literal violence broke out.
This year didn't need to reinvent the wheel – it just needed to not stab the wheel multiple times with a serrated knife. And that's what Sunday night did!
Call it low expectations, but the Oscars broadcast ... really worked, even right from the top with the intro montage, doing a clever and captivating job of showcasing not only the nominated movies and the past year of film but also mixing in the behind-the-scenes tech stuff that brought them to life. Host Jimmy Kimmel can be hit-or-miss for many audiences, but I thought save for a few poor punchlines (the "Babylon" dig was 2022-esque and crowdwork is never a great idea) he was funny and loose while also not sounding annoyed to be there or dragging the movies that dared to get nominated.
I always liked the Oscars year (I believe it was the Hugh Jackman-hosted edition maybe a decade and a half ago) where, before each award, the presenters helped explain and demonstrate what each category was about, truly honoring the work – and they brought that back this year. Michael B. Jordan and Jonathan Majors explained cinematography innovations for that category, film editors past and present sat behind the award's presenters and more brought less showy categories to life and made them accessible and interesting to all audiences.
Best of all: PRAISE THE HEAVENS, THERE WERE CLIPS! OK, more like truncated montages – but we're getting closer to the ideal, which is SHOW THE DANG PRODUCT!
Most remarkable, they pulled all of that off while still coming in at under four hours – a task last year couldn't even do with all of its self-defeating edits and sacrifices – and coming in with a real sense of zip and energy.
Sure, it wasn't a perfect production. While the staging, especially the giant screen showing the nominees and changing for the specific categories, was mostly terrific, it did result in some unfortunately distracting backdrops – most notably for "The Whale" make-up winners.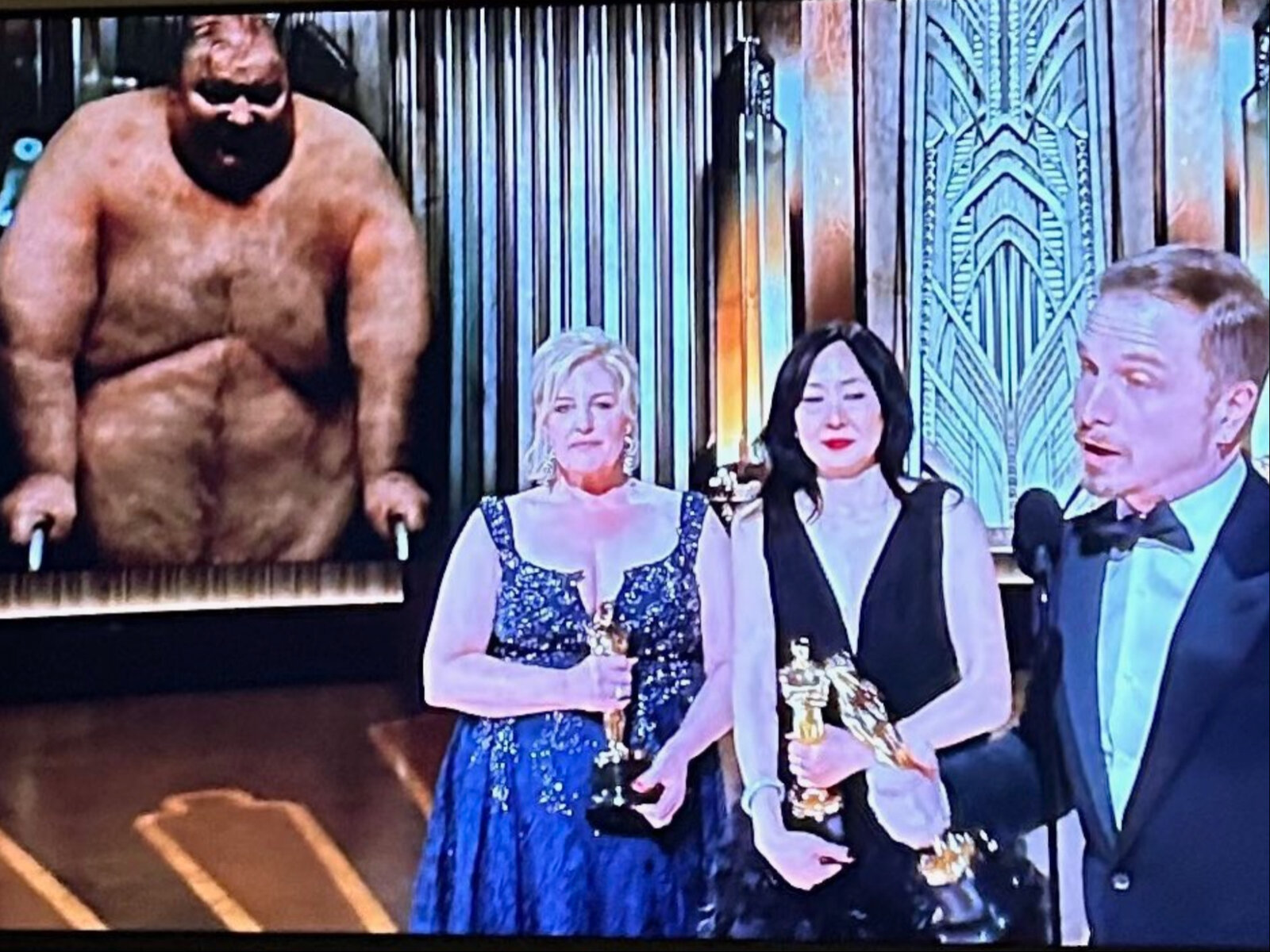 But unlike last year, the 2023 show did what it's actually supposed to baseline accomplish: honor and love movies. (And not let people get hit.)
Loser: The "Little Mermaid" trailer
The vibes were so good for the first third of the Academy Awards. The acceptance speeches by deserving winners were glowingly joyful. Kimmel's comedy bits were playing to laughs in the room (and beyond, in my Oscar party's case). They even sang "Happy Birthday" to the co-star of the Best Live-Action Short Film winner. (THIS is why you air all the awards!) The show had zip and felt great ...
... and then Disney had to show up and RUIN EVERYTHING.
Sure, the Oscars are basically an advertisement for movies, four hours of Hollywood telling the world "these are the things we think you should see." However, they don't often go as shameless as having two people come out on stage to present not an award, not a nominated performer, not even one of the show's signature "magic of the movies" montages ... but to present an ad for a new movie from the host network's parent company. But that's what Melissa McCarthy and Halle Bailey were tasked with on Sunday night, introducing the new trailer for Disney's live-action "Little Mermaid" remake. I know we've been saying the Oscars should act like the Super Bowl and use exciting new trailers to draw eyeballs back to the show ... but we meant during the commercial breaks, NOT DURING THE PROPER SHOW!
Doesn't help that "The Little Mermaid" looks like most of Disney's live-action updates – which is to say like dishwater.
Don't think I forgot you, Warner Bros., for also taking up time with a two-minute IP showcase reel. Not that I want MORE presenters coming out on the Oscar stage to intro a trailer ... but don't you have a big expensive superhero movie that's coming out in five days and that's tracking well under box office expectations to sell? And don't think I'm sparing you, the Academy's own advertisement for its new museum and HQ – though it is your party, so fair enough. But the show sacrificed a lot of its earlier zip and goodwill in order to unapologetically become QVC.
Winner: "Naatu Naatu"
Even at practically half the speed of the original dance number from "RRR," the Oscar night performance of "Naatu Naatu" was a thrill. On a night with performances from Rihanna and Lady Gaga, this dance-break banger stole the spotlight – and deservedly the Academy Award for Best Original Song, the rare case of a quality winner in this typically disappointing category. (Case in point: Should've had "Nobody Like U" from "Turning Red" as competition!) To top it all off, we got the composer MM Keeravani singing his acceptance speech in the style of the Carpenters' "Top of the World."
Many congratulations India…👏💐❤️

ProudMoment for all Indians…✌️💯

Academy Award winner M. M. Keeravani's acceptance speech at the #Oscars for 'Naatu Naatu'….pic.twitter.com/YXs1inDgEt — Archana Pawar 🇮🇳 (@SilentEyes0106) March 13, 2023
Loser: Diane Warren
"Applause" songwriter Diane Warren has been nominated 13 times without a win at the Academy Awards – and you can make that 14 with her most recent Best Original Song nod for "Applause" from a non-existent movie allegedly called "Tell It Like a Woman." The bland song didn't make a great argument for itself during Sunday's show, either.
Welp, I guess we know what an Oscar-nominated song written by ChatGPT would sound like – though, thanks to singer Sofia Carson's spoken asides, I'm actually most reminded of the old Lonely Island SNL "Boogerman" digital short.
Don't feel too bad, though: Warren received one of this year's honorary Academy Awards. So now that she technically has an Oscar, can we stop nominating her first-drafts from movies that don't even exist enough to be memory-holed?
Winner: Ke Huy Quan
It's Monday, so have a shot of pure ecstatic joy and inspiration by watching Ke Huy Quan's Best Supporting Actor acceptance speech:
Some people (not incorrectly) wonder why the Oscars need to exist, why art needs to turn into a competition, and why we watch this self-congratulatory night. Ke Huy Quan is why – from his actual very-worthy "EEAAO" performance to his offscreen Hollywood comeback story (complete with the surprise that his "Goonies" co-star Jeff Cohen, aka Chunk, is not only still his friend but his entertainment lawyer) and his effervescent presence this entire campaign season. I mean, come on, look at these photos of him hugging his "Indiana Jones" co-star upon winning Best Picture:
The shot I was hoping for, the show's director missed, but Getty's Kevin Winter got pic.twitter.com/0AHd3mRJgA — Timothy Burke (@bubbaprog) March 13, 2023
Those alone buy the Oscars a decade of goodwill.
Loser: Whoever was in charge of cutting off the mics
Early in the night, Kimmel joked about using the "Naatu Naatu" dancers instead of play-off music for the acceptance speeches ... which may have actually been more respectful than what actually occurred throughout most of the night. Basically, if there were two Oscar winners on stage, advance apologies to the second one because you're not getting a speaking part tonight.
The worst part was when the music sharply cut off the "Avatar" Best Special Effects winners ... just so Jimmy Kimmel could make his worst joke of the night. Sorry about ripping the microphone away from you during your greatest career achievement – but we SIMPLY HAVE to get to this "CGI Friday's" pun. Pardon me, the WORST part was when the female co-director of the Oscar-winning short doc "The Elephant Whisperers" got shut down on stage ... only for both of the male co-directors of the animated short winner to get their full time immediately after. At least that one didn't have a "TGI Friday's" joke afterwards.
Winner: Hugh Grant
HUGH GRANT Y ANDY MC DOWELL.
Los actores top de los 90.
Como pasa el tiempo. pic.twitter.com/TVtHwRLpwE — vamos 🇦🇷 💪 (@grislu) March 13, 2023
I wasn't expecting to ever write the sentence "Hugh Grant called himself a scrotum at the Oscars" – but not only am I writing it, I'm delighted by it! Also delightful: the actor's complete disinterest in red champagne carpet small talk.
hugh grant wants no part of this dumb shit pic.twitter.com/uBQ70QcZGf — Timothy Burke (@bubbaprog) March 12, 2023
I guess when your career infamously involves soliciting a sex worker, you've got no more effs to give!
Loser: Elizabeth Banks
Poor Elizabeth Banks. It's hard enough to be tasked with doing a presenter comedy bit, the most polarizing of all awards show elements, at the Oscars. And it's hard enough that the bit came with a guy in a cocaine bear suit. But then the actress and "Cocaine Bear" director clearly had a brutally raspy sore throat situation whose scraping vocal chords upgraded the overlong segment from "painful" to "no really, literally painful." Well at least the segment started off on the right foot ... when Banks stumbled over her dress walking onto the stage.
Elizabeth Banks stumbles while taking the stage at the #Oscars.

"He tripped me," she jokes of the Cocaine Bear who accompanied her. https://t.co/ndiKiHfmID pic.twitter.com/ldDmOovz7A — Variety (@Variety) March 13, 2023
Hey, at least "Cocaine Bear" the movie is a hit. Less so the case for Cocaine Bear: the presenter. (I appreciate the producers' restraint in not cutting to a crying cocaine bear during Ray Liotta's In Memoriam slide.)
Winner: A24
The cult of A24 is only about to grow. Not only did the trendy indie studio score the top prize and biggest winner of the night with "Everything Everywhere All At Once," but thanks to Brendan Fraser, it actually won pretty much every major award on the night. There have been rumors for years that A24 is on the market for a larger film player (*cough* Apple *cough*) to swoop in and purchase as an indie shingle. If that's still the case, I imagine the price has only gotten higher.
Loser: In Memoriam QR codes
The Oscars In Memoriam seemed like a hit most of the time. Lenny Kravitz's accompaniment turned out to be perfect, setting the right reverent tone without being obvious or cloying. And not only did presenter John Travolta not Adele Dazeem it up, he brought extra gravitas and emotion to the task, getting teary eyes while paying his own tribute to his late co-star Olivia Newton-John.
But then the segment ended ... with a QR code?
Listen, no In Memoriam is going to be able to pay homage to everyone – and this year was no different, missing Tom Sizemore, Anne Heche and perhaps most egregious of all Charlbi Dean, the star of one of the night's Best Picture nominees "Triangle of Sadness." But trying to fix that by giving those missing the same treatment as a website coupon deal is ... well, it's a lot of things, respectful and thoughtful being none of them.
Winner: Andrew Garfield
Every Oscars ceremony needs its instantly meme-able reaction shot – arguably an achievement more important and culturally significant than winning a shiny golden guy. So congratulations to Andrew Garfield for becoming the accidental face of this year's Oscars, and of all my future cringe reaction tweets: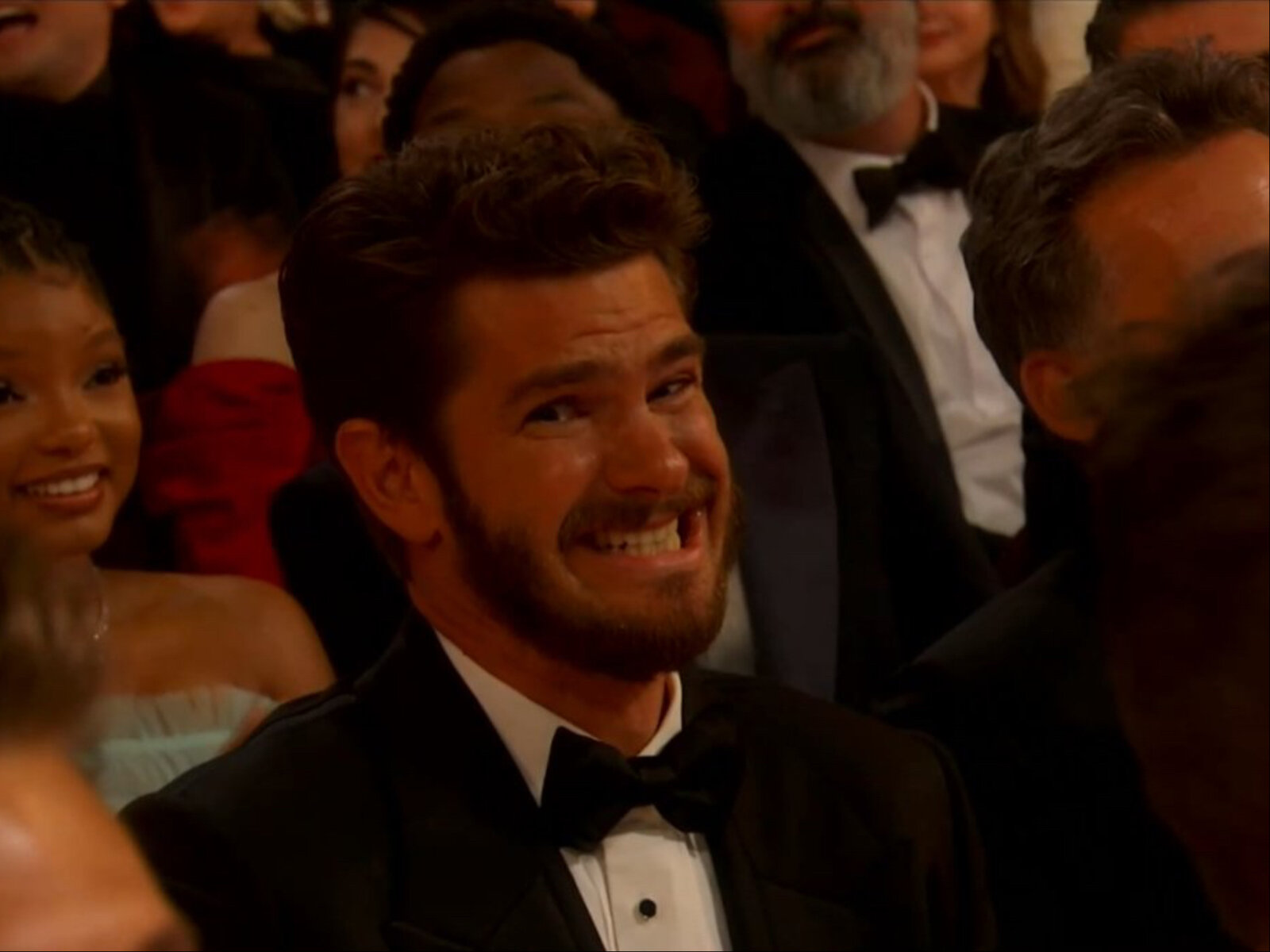 Loser: Malala
Huh, well that sub-head above looks pretty terrible! Let me explain myself. Malala in real life? An obvious champion. Malala at the Oscars, however? Could've had a better night!
In case it wasn't enough that "Stranger at the Gate," produced by the global icon, lost in Best Documentary Short, she then had to play a clearly uncomfortable prop in one of Jimmy Kimmel's lesser bits, going into the audience to ask about Harry Styles and Chris Pine. And then she got randomly accosted by the cocaine bear! Because nothing says "distinguished and dignified event" like siccing a drug-fueled mammal on a global peace spokesperson.
Cocaine Bear accosting Noble Peace Prize Winner Malala Yousafzai at the #Oscars is sending me. pic.twitter.com/pUd2IcKccq — Junkee (@junkee) March 13, 2023
Maybe Zelenskyy should be happy his invite got lost in the mail.
Winner: Donkeys
A lot of big names skipped out on the Oscars this year – including notable nominees James Cameron and Tom Cruise. But that's OK because they all would've been overshadowed by the delightful guest appearance from Jenny the donkey from "The Banshees of Inisherin."
The PURE JOY on Colin Farrell's face when they brought out Jenny the donkey.#Oscars #Oscars2023 #TheBansheesOfInisherin #ColinFarrell pic.twitter.com/4oyljYw3gW — Olivia-Anne Cleary (@OliviaACleary) March 13, 2023
According to some internet sleuths, that wasn't the actual Jenny – and according to me, (*cups hands over ears*) la la la la I can't hear you it's definitely Jenny the donkey.
The cameo capped off a marvelous year for movie mules, playing significant roles in not one, not two but three critically acclaimed and Oscar-nominated films ("Banshees," "Triangle of Sadness" and International Film nominee "EO"). And that's all not even including 2022's greatest big-screen jackass of all: "Jackass Forever," which should've gotten at least 17 nominations on Sunday. (Only kind of joking.)
Loser: Justin Hurwitz
Damien Chazelle's big, bombastic, throwback showbiz orgy "Babylon" may have been divisive – but I thought everyone agreed that Justin Hurwitz's addictively brassy score was terrific. Thought wrong as it turns out! Instead, on Sunday night, the Academy rewarded the ominous (and far more forgettable) Sturm und Drang of "All Quiet on the Western Front." So what gives?
We can blame the loss in part on voters just not watching the barely nominated "Babylon" as opposed to the Best Picture competitor that clearly had the Academy's love on the technical side of things. But maybe also ... the Academy's done with Hurwitz? After all, this isn't the first time they've shunned the Nicolet High School student; after rewarding his "La La Land" work, the voters then completely ignored his "First Man" score in 2019, taking it from a dominant frontrunner to a full-on nomination morning snub. I don't think it's anything personal; it's just classic Academy to reward someone and then pull an Andy in "Toy Story 2":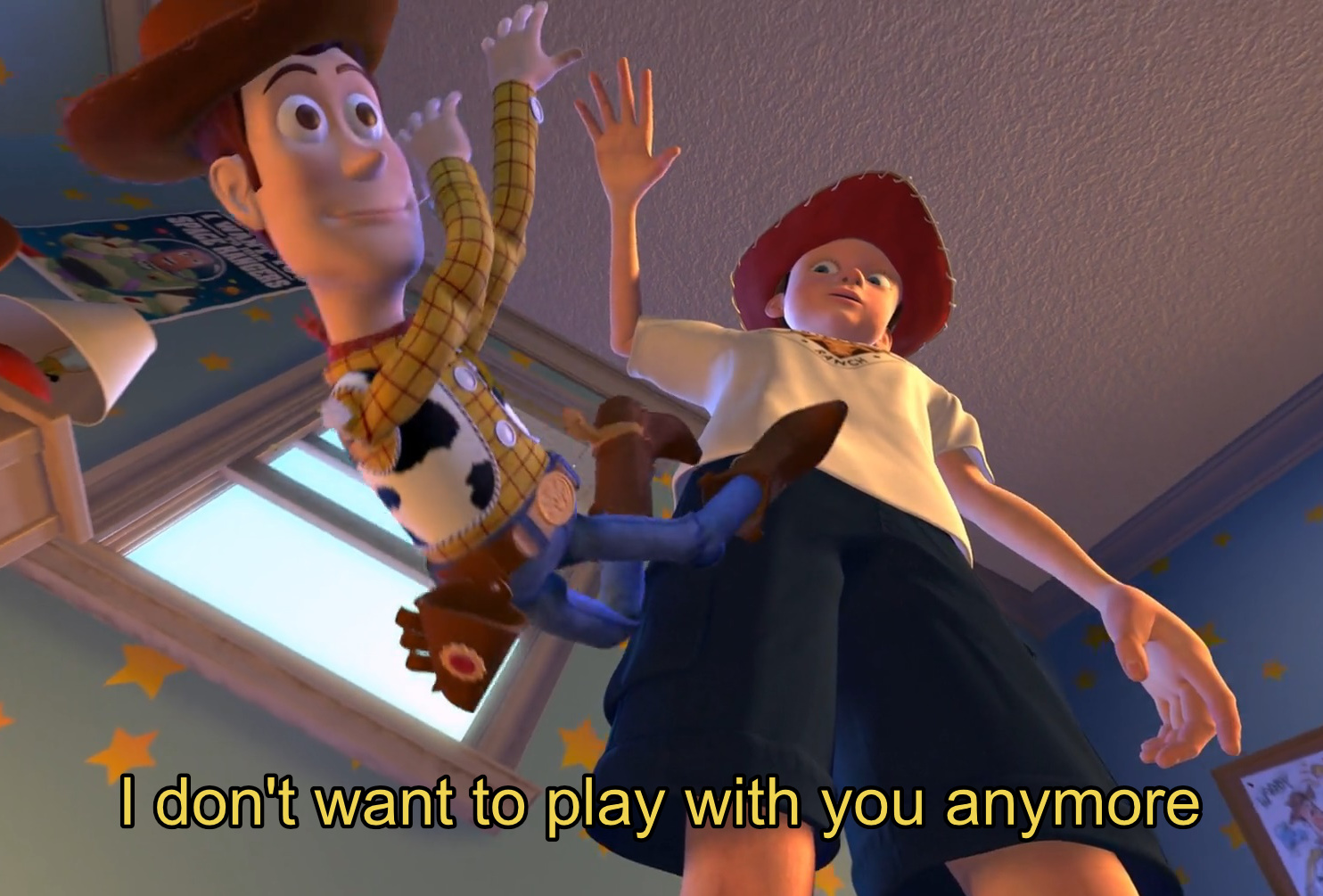 Like with the MVP award in sports, voters can get bored and look for newer narratives for their wins. Not everyone gets the Meryl Streep treatment – and even for her, she went almost 40 years between her two early career wins and her third Oscar victory. Despite being considered obivous awards season favorites, Steven Spielberg hasn't won a trophy since 1999, and Tom Hanks wasn't even nominated at all between 2001 and 2020 – no, not even a nod for "Captain Phillips." So if that's the kind of company you're in, you're probably doing just fine.
Winner: Lady Gaga
Usually all the Best Original Song nominees take the stage at the Oscars in some fashion – but less than 24 hours before showtime, all the buzz said Lady Gaga and "Hold My Hand" from "Top Gun: Maverick" would be the rare no-show on Sunday night. Which is strange because ... have you met Lady Gaga? This is not a person who turns down the spotlight or opportunities to perform. She's basically Chaotic Good Jenna Maroney. And indeed, at the last second, the Oscars locked in Gaga, who turned in a fully stripped-down version of the song in tribute to the late original "Top Gun" director Tony Scott. It was oddly subdued (and CERTAINLY oddly shot) but also oddly captivating and unexpected. Dammit, Gaga: You've done it again!
Loser: Conventional Oscar logic
As we saw with "The Shape of Water," the "Well Actually 'EEAAO' is a pretty traditional Best Picture winner" backlash take has emerged. But the reality is "Everything Everywhere All At Once" immediately becomes one of the strangest and most unpredictable big prize winners in Hollywood history.
The guys who directed the twerkpocalyptic music video for "Turn Down for What," and whose last movie starred Daniel Radcliffe as a talking corpse whose farts turn him into a human jetski and whose erection serves as a compass, aren't supposed to win Best Director. A film featuring a butt-plug fight sequence isn't supposed to be anywhere near the Academy Awards stage, much be one of its most historically dominant winners. And even pushing aside the actual content of "EEAAO," movies released in spring, outside of prime end-of-year awards season, aren't supposed to claim Best Picture.
Yes, a lot of conventional awards season logic got hot-dog-fingered slapped in the face on Sunday night – and good. With last night, combined with the recent awards successes of "Get Out" and "Parasite," there is no longer an easily defined "Oscar movie" or "Oscar season." A horror movie can win Academy Awards. An international film can win Best Picture. A fully strange movie can clean house at the ceremony. All of that makes the Oscars significantly more inclusive – and significantly more exciting. I don't know what the ratings say about Sunday night's show, but all of this – bringing more faces, genres, experiences, unpredictability and beyond – can only help.
Which is a long way of saying: THE "M3GAN" BEST PICTURE CAMPAIGN BEGINS NOW!
As much as it is a gigantic cliché to say that one has always had a passion for film, Matt Mueller has always had a passion for film. Whether it was bringing in the latest movie reviews for his first grade show-and-tell or writing film reviews for the St. Norbert College Times as a high school student, Matt is way too obsessed with movies for his own good.
When he's not writing about the latest blockbuster or talking much too glowingly about "Piranha 3D," Matt can probably be found watching literally any sport (minus cricket) or working at - get this - a local movie theater. Or watching a movie. Yeah, he's probably watching a movie.