This content is presented in partnership with Potawatomi Hotel and Casino.
If you want to legally bet on horse and greyhound racing in southeastern Wisconsin, there's only one place to go. Since 2008, Potawatomi Hotel and Casino has operated the area's only off-track betting room, which has grown to 50,000 square feet with 150 TVs.
And, as people get ready for the year's biggest event, the 145th running of The Kentucky Derby, the casino will add more rooms for you to place your wager. It's a big deal, whether you play the ponies regularly – or just like a mint julep and a little wager on this special day.
But "the Running of the Roses" is far from the only racing action at Potawatomi's off-track betting facility. If you're new to the sport – like I am – you might be surprised to know that horse and greyhound races happen every day, all day (except Christmas), and you can bet a lot or a little on just about every outcome you can imagine.
It's tricky for a beginner, but the Potawatomi staff is there to make the adventure more approachable. And that's where Paul Lurenz comes in. As the man in charge of the casino's OTB operation, he not only picks the races the OTB room will show, but is also available to show newbies like myself how to place a bet. And Lurenz really knows horses. He jokes that he could read a racing form by age 9.
"I'm the one who has to make the decisions on who we're going to take," says Lurenz. "It's not always the same criteria because there's reasons for certain tracks. Whether it be a time zone, quality of racing or being able to do all the breeds, I got to find a good mix."
In other words, Lurenz explains that by the time you get to the Kentucky Derby, all the horses are pretty great. "But if you go to any day-to-day race," he says, "it may be easier to handicap a lesser quality race and be able to make money."
So, for the sake of journalism, Lurenz walked me through betting on two races, first with horses, then with greyhounds. You can either place your wagers through a teller in person, or you can use a kiosk.
I tried both, and in the end, lost $2.40 on my $6 investment. I found the process pretty interesting.
While Lurenz and his staff won't specifically tell you where to put your money, they will help you through the process, which can be mildly confusing if you've never done it before. For example, you could do a simple "Win, Place, Show," or a more sophisticated "Quinella." Obviously, you can win more as you get more specific, with a "Pick 3," "Pick 6," "Daily Double" or "Exacta." You can win a lot of money if you win a straight "Superfecta," played by picking the first four horses to finish in exact order. I won't even pretend to explain how to pick the ponies for all these permutations, but if you play the odds, you certainly can win something.
For my first race, just by looking at the horses with the best odds (plenty of people just bet their birthdays or their lucky numbers), I won a few bucks with a $6 wager in the "Win, Place, Show." Then, I reinvested my winnings with a bet on a "Quinella" on a a greyhound race. My dog petered out at the end, and I lost a couple bucks. It was pretty thrilling, though.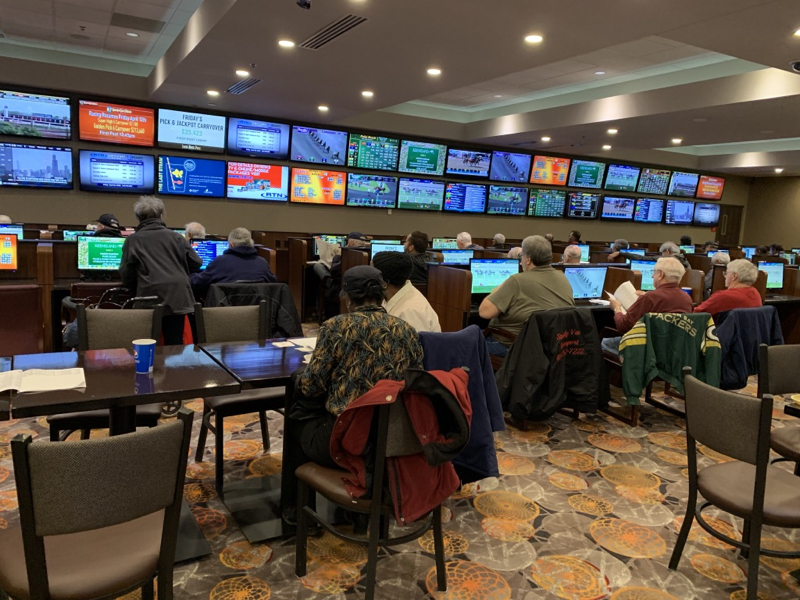 I was happy, however, that I had a guy like Lurenz to show me the ropes.
Says Lurenz, "It's a very important part of what we do here. There are people who just don't know anything about it so they're afraid to ask. Anybody can come in here that doesn't know and we're glad to help them."
It's actually really exciting, and you get the sense that there's more skill than just luck in winning a bet. Plus, the odds are shifting right up to the start of the race. People get fired up for the big races, like the Preakness, Belmont Stakes, Breeder's Cup – but every race seems exciting when it's your money on the line. Off-track betting feels fast-paced and fluid, and if you learn how to read the race sheet, you stand a chance to win – maybe big.
"The fastest two minutes in sports" takes place on Saturday, May 4, but the celebration will go on all day at the casino in the OTB room, the Northern Lights Theater and the Tribal Room, which will also be broadcasting all of the day's racing action on big screens live via satellite. Post time is 5:50 p.m., but Derby Day races start at 9:30 a.m. The OTB room opens at 8:30 a.m., and you can pre-wager on the Derby the day before (and watch The Kentucky Oaks race, too).
Andy is the founder and co-owner of OnMilwaukee.com. He returned to Milwaukee in 1996 after living on the East Coast for nine years, where he wrote for The Dallas Morning News Washington Bureau and worked in the White House Office of Communications. He was also Associate Editor of The GW Hatchet, his college newspaper at The George Washington University.
Before launching OnMilwaukee.com in 1998 at age 23, he worked in public relations for two Milwaukee firms, most of the time daydreaming about starting his own publication.
Hobbies include running when he finds the time, fixing the rust on his '75 MGB, mowing the lawn at his cottage in the Northwoods, and making an annual pilgrimage to Phoenix for Brewers Spring Training.