Going into Summerfest 50, it seemed like the Big Gig might've painted itself into a corner. This year, after all, was supposed to be a great, monumental year for the music festival, a celebration of a half-century of performances and partying. But how could it match the excitement of Paul McCartney and the Rolling Stones from the past two years? A hologram Tupac? Proof Elvis was alive?
Eventually, the Big Gig's answer was revealed: the Outlaw Music Festival, an inaugural country/folk/rock gathering that would serve as a festival within the world's largest music festival, headlined by legends like Willie Nelson and Bob Dylan (a rare inclusion on Outlaw's national tour) and filled out by both radio mainstays and up-and-comers like Sheryl Crow, Nathaniel Rateliff and more.
On their own, Nelson and Dylan might not be as rare as McCartney or the Stones (Nelson played the Big Gig just last year, while Dylan hit the Riverside in 2015), but by combining the two together with all of these terrific performers surrounding them, Summerfest still managed to get as close as possible to creating a once-in-a-lifetime musical experience at the Amp for its special birthday – one that mostly delivered on its musical promises as well.
So how'd it work? On paper, Sunday's musical extravaganza was its own big festival, but in practice, it felt more like the Amp was briefly turned into a grounds stage – just one you couldn't particularly leave in between artists. Summerfest allowed visitors to venture out into the rest of the festival grounds as long as you had your ticket, but with so many acts crammed into the day – more than even your typical free stage – there was rarely enough time in between performers (normally about 25 minutes) to scurry out. Even if there was time, too, since it didn't take long for the schedule to get off pace, it was hard to tell if you could risk a food run without missing another quality act.
Future full-day festivals at the Amp will likely fare better when the arena is remodeled, and hopefully some more food options are plugged inside the space – but you could still make a quick outside run work. And it was still a day with technically eight performers for one price, so come on; how much could you really complain?
Considering the music emanating out of the Amp all day, you definitely had to keep grumblings to a minimum.
Margo Price (PHOTO: Matt Mueller)
Lukas Nelson & Promise of the Real and Margo Price started off the day (well, technically, Particle Kid – one of Willie Nelson's sons, along with Lukas – opened things up, but he began playing before the 2 p.m. start time on the ticket), performing ably for a lightly scattered but very supportive early afternoon Amp gathering.
Price especially made an impact in the early, maybe 35-minute sets, belting out her authentically Dolly-esque old-school country voice – one that'd sound right at home in a true Nashville honky-tonk – on hits like the opener "Tennessee Song," "Four Years of Chances" and a cover of Neil Young's "Human Highway," in which she brought out Nelson for some of those rich country harmonies. When she ended on "Hurtin' (On the Bottle)," the smattering of fans gave her a deservedly louder-than-expected ovation.
However, the day's next act, Nathaniel Rateliff & The Night Sweats, was the first able to turn that supportive crowd into a standing and stomping one. A Milwaukee favorite (they last played at Club Garibaldi), Rateliff and company played perfectly to the festival environment, getting the audience up on its feet with their wildly energetic country-fried soul – complete with sweet saxophone solos and pinpoint harmonies.
By the time they reached their hit, the stomping and clapping Mardi Gras riot "S.O.B.," at the end of their 45-minute set, Rateliff had gotten the crowd up and inside the building, filling up a solid two-thirds of the Amp with his guitar-chucking, tambourine-spiking and Southern Blues Brothers performance. It was a mighty fine act – one that lived up to the rowdy fun promised by the word "outlaw" in the festival's name.
And we were just barely halfway through the day.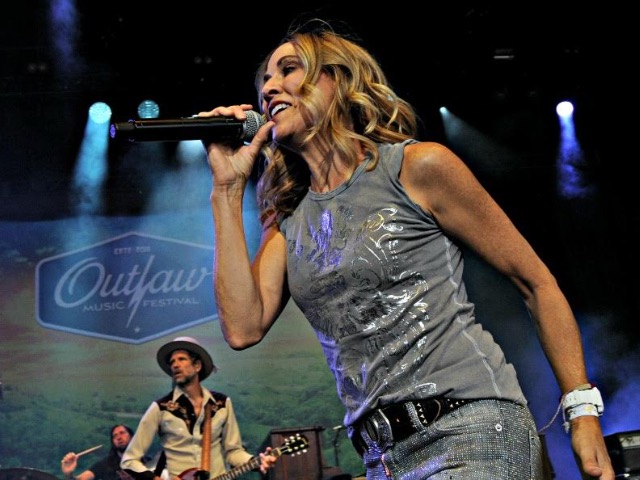 Sheryl Crow was on deck next, arriving on stage in some impressively sparkly teal jeans and top (the former apparently an eBay purchase, she would later tell a very interested crowd member in between tunes). Infinitely more impressive, though, was the radio mainstay's easy yet energetic set, which was personable and provided the kind of sunny but still raw, real and rustic conversational Americana music that's made her a hitmaker for decades now.
It was going to be hard to match the volume and electricity of Rateliff's brassy soul-band act, but Crow did her best by mixing in pretty much all of the hits, opening with "Everyday Is A Winding Road" and "My Favorite Mistake," before eventually getting to "Strong Enough," "If It Makes You Happy" and "Soak Up The Sun" (a song, I'll admit, I found overplayed and insufferable until last night's suitably sunny and relaxed performance). In between, she played some of her more country tunes ("Best of Times") and preached the importance of vinyl and weed ("because it gives you something to do with your hands other than take pictures") for the future of the music industry. Hey, better than Tidal!
She eventually wrapped up her set by also bringing out the younger Nelson, as well as Promise of the Real, for a cover of the Allman Brothers' "Midnight Rider," before ceding the stage to Jason Isbell and the 400 Unit.
Jason Isbell (PHOTO: Matt Mueller)
Based on his first song – "Anxiety," a moody and mildly repetitive tribute to stress – Isbell seemed like an odd fit as the true opening act for the two legends about to hit the stage. The song was well-played, but not quite the thing that gets you going – especially after now 4.5 hours in the Amp. Wendy's chocolate frosties only provide so much sugary energy to keep going.
However, it didn't take long for the two-time Grammy winner to prove his place in the Outlaw Music Festival was earned. "Hope the High Road" blasted off from the opener, more like a straight-up rock song with a toe dipped into country, and after that woke you up and seized your attention, Isbell's lyrics grabbed ahold. It's rare to think of lyrics as the star of a show in an outdoor music festival setting, but Isbell's vocals were the triumph of his set – so honest, raw and engrossing, starting with his Grammy-winning hit "24 Frames."
During "Last of My Kind" and "Cover Me Up," dedicated to his wife, violinist Amanda Shires, who performed alongside Isbell, the crowd was sitting still and silent – not because they were bored, but because they were enrapt by his musical storytelling ability. Thankfully, the audio mix was top-notch, as well, letting all the lyrics clearly ring into the darkening Amp night sky.
By the time he wrapped up the set with an epic, rollicking cover of the Allman Brothers' 'Whipping Post," any doubts about Isbell opening for legends like Dylan and Nelson were long gone, his musical poetry following perfectly in their immense footsteps.
And speaking of, it was time for the showcase duo – starting with Bob Dylan. Coming out with his band in a white jacket onto a floodlit stage, the folk icon performed for around 80 minutes – and I explicitly mean perform. As is his reputation, Dylan is a performer, not an entertainer.
He is not there for conversation and idle chat with the crowd, and at 76 years old, he's certainly not there to win over any converts or sell anything (and don't even ask about getting folks over to his Spotify, a word I doubt Dylan's ever cared about, much less spoken aloud). There was nary a "Thank you" or a "Hello, Milwaukee" or even just a wave as he stayed mostly behind the piano, save a few songs at the lead mic; the closest he got to an interaction was a brief hand over his heart salute during a final bow after his closer, "Ballad of a Thin Man."
So, yeah, basically it was a Bob Dylan show.
You go in expecting cantankerousness, that the classic hits will almost entirely not be invited, and that his singing range will stay firmly in the key of spoken-word gravel. It's the brand – and he's one out of a million artists who's able to make it so and maintain respect. After all, as he preached from the mic early on using the gospel of Cy Coleman, "Why try to change me now?"
Even so, I wouldn't call the set chilly. The concert – opening up with "Things Have Changed" – was a tour through the past, almost to the point that if reality turned black and white, it wouldn't feel all that strange. Songs would move from a jaunty 1950s-inspired tune to folksy '60s rock straight from a bluegrass honky-tonk to nocturnal blues numbers that turned the gigantic Amp into Dylan's own intimate jazz club (the crowd politely sat, with phones almost entirely tucked away, for the show, roaring in applause after each song). And while Dylan's signature rasped growl could often have used an interpreter or maybe some subtitles, there's still affecting poetry there in the playful lilts and thoughtful grumbles, such as in the '50s prom slow dance of his cover of Tony Bennett's "Once Upon A Time."
He's the only musician who could and would pull off a set like Sunday night's (without causing a riot). You may not love it – it's by no means a warm or cuddly performance; you don't get close to it – but you can't help but respect and admire it. It's utterly singular, and that's why you still have to see Dylan.
Bob Dylan (PHOTO: Matt Mueller)
Thankfully, he wasn't the closer, though. That title belonged to Willie Nelson, who ambled out onto the Amp stage around 9:45 for about an hour of non-stop country strumming and singing with a giant Lone Star State flag draped behind him. Like Dylan, his singing abilities are more spoken word these days – I mean, he's 84, and he seems all of those years. Movements were limited to a lot of fragile pointing to the sky and a hand to his ear, and his tether to the beat and rhythm of some songs was very loose.
But quite unlike Dylan, there's something so sweetly earnest and endearing about his ability to come out and – with great obvious intent – put on a show, paying homage to the country and soul legends he's seen come and go, from Waylon ("Good Hearted Woman") to Ray Charles ("Georgia on My Mind"), Hank Williams ("Jambalaya (On the Bayou)") to Merle (the hilarious 2015 collaboration "It's All Going to Pot"). He handed over the stage a lot – either to the audience singing along or to his band, mostly made up of his family and children, including Lukas Nelson on guitar and Willie's sister Bobbie on the keys – but while some of the reasoning may have something to do with age and energy, it also made his chunk of the evening feel like a community, like a true jamboree.
And that was before Sheryl Crow, Margo Price and Amanda Shires came back out at the end to finally send off the crowd, singing hits new and old in that sincere and often self-depreciatingly humorous way. After all, this is a set that ended with a combination of "Still Not Dead" and "Roll Me Up And Smoke Me When I Die" before moving along to "I'll Fly Away" and "I Saw The Light."
Willie Nelson and company (PHOTO: Matt Mueller)
Eventually, he hurled his bandana into the audience and ambled right back off the stage without much hullabaloo (the whole day was amusingly relaxed with the artists coming and going on and off stage). And lo, the musical marathon came to a close.
Walking out, the image glued into my mind – even more so than any of the performers – was the poster hanging from the back of the stage for most of the festivities. It was an Outlaw Music Festival poster, with the logo emblazoned on the top – but the memorable part was the drawing, a rustic old van driving through a beautiful winding country road on a sunny, bright day. Pay no attention to the outlaw in the title; that image was the true spirit of the day: a journey through music and time, with each performer feeling like a new era, a new genre, a new place and a new story to tell.
For nine hours, I – and the eventually filled audience surrounding me – traveled the entire country without barely leaving the Amp. And that's definitely an experience on par with McCartney and the Stones.
Setlists
Willie Nelson
"Whiskey River"
"Still Is Still Moving To Me"
"Beer For My Horses"
"Good Hearted Woman" (Waylon Jennings cover)
"Texas Flood" (Stevie Ray Vaughan cover)
"Mamas Don't Let Your Babies Grow Up to Be Cowboys" (Ed Bruce cover)
"Shoeshine Man" (Tom T. Hall cover)
"Georgia On A Fast Train" (Johnny Cash cover)
"Jambalaya (On The Bayou)" (Hank Williams cover)
"Hey Good Lookin'" (Hank Williams cover)
"Move It On Over"
"It's All Going To Pot"
"Bloody Mary Morning"
"Still Not Dead"
"Roll Me Up And Smoke Me When I Die"
"I'll Fly Away"
"I Saw the Light" (Hank Williams cover)

Bob Dylan
"Things Have Changed"
"Don't Think Twice, It's All Right"
"Highway 61 Revisited"
"Why Try To Change Me Now?" (Cy Coleman cover)
"Summer Days"
"Make You Feel My Love"
"Duquesne Whistle"
"Melancholy Mood" (Frank Sinatra cover)
"Stormy Weather" (Harold Arlen cover)
"Pay in Blood"
"Once Upon A Time" (Tony Bennett cover)
"Tangled Up in Blue"
"Early Roman Kings
"Desolation Row"
"Ballad of a Thin Man"

Jason Isbell and the 400 Unit
"Anxiety"
"Hope The High Road"
"24 Frames"
"Codeine"
"Molotov"
"Cumberland Gap"
"Last Of My Kind"
"Cover Me Up"
"Super 8"
"If We Were Vampires"
"Whipping Post" (Allman Brothers cover)

Sheryl Crow
"Everyday Is a Winding Road"
"My Favorite Mistake"
"Can't Cry Anymore"
"Be Myself"
"There Goes The Neighborhood"
"Long Way Back"
"Strong Enough"
"Best of Times"
"If It Makes You Happy"
"Soak Up the Sun"
"Midnight Rider" (Allman Brothers cover)

Nathaniel Rateliff and the Night Sweats
"I Need Never Get Old"
"Look It Here"
"I Did It"
"Coolin' Out"
"Wasting Time"
"Shake"
"Out On The Weekend"
"Trying So Hard Not To Know"
"S.O.B."

Margo Price
"Tennessee Song"
"Weakness"
"Four Years of Chances"
"Human Highway" (Neil Young cover)
"Paper Cowboy"
"Don't Say It"
"Hurtin' (On the Bottle)"

Lukas Nelson and Promise of the Real
"Ain't Gonna Die Alone"
"Four Letter Word"
"(Forget About) Georgia"
"Find Yourself"
"Set Me Down on a Cloud"
As much as it is a gigantic cliché to say that one has always had a passion for film, Matt Mueller has always had a passion for film. Whether it was bringing in the latest movie reviews for his first grade show-and-tell or writing film reviews for the St. Norbert College Times as a high school student, Matt is way too obsessed with movies for his own good.
When he's not writing about the latest blockbuster or talking much too glowingly about "Piranha 3D," Matt can probably be found watching literally any sport (minus cricket) or working at - get this - a local movie theater. Or watching a movie. Yeah, he's probably watching a movie.