In anticipation of Earth Day, which takes place on Monday, April 22, Outpost Natural Foods has announced a bold commitment: to eliminate petroleum-based plastic co-op packaging and consumables by 2022.
In recent years, consumers have looked to grocers to lead the way in solving the issues related to single-use plastics. And their requests have been fueled by ever-increasing images of petroleum-based plastic waste run amok in both urban and natural environments. These items litter oceans and beaches, fowl waterways and cause injuries to wildlife.
As these issues increase, the local cooperative has tasked itself with meeting the challenge head on, organizing a comprehensive internal committee to tackle the multi-faceted issue. At the helm is Outpost Sustainability Manager Kurt Baehmann.
"As spring arrives it is more clear than ever how plastic litters our public spaces," Baehmann notes. "With a low percentage of plastic actually being recycled into new materials it is crucial that we use our platform in the business community to raise awareness about alternatives and come up with solutions.
"Tracking our usage is integral to taking steps forward, and by releasing our seventh annual Sustainability Report in honor of Earth Day we take seriously our commitment to continuous improvement."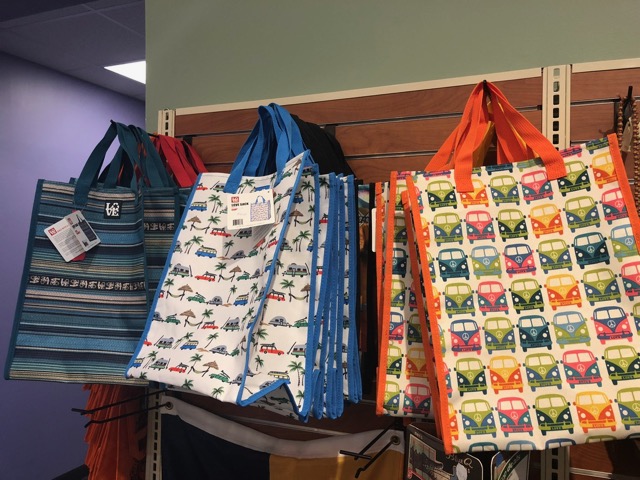 It's more than asking "Paper or Plastic?"
Outpost's efforts to eliminate single-use plastic reach far beyond the argument against plastic grocery bags. In fact, the cooperative is currently the only multi-store grocer in Milwaukee to have already eliminated single-use plastic shopping bags in favor of Forest Stewardship Council certified paper bags.
Outpost shoppers have been supportive of the effort, with the majority regularly using their own cloth shopping bags. Last year those shoppers reused 263,802 bags, a 12 percent increase over the prior year.
Instead, the co-op has placed their focus on the countless re-useable and recyclable options currently provided to consumers. Currently, compostable bio-plastics and paperware – including compostable meat trays – are used at food service counters in all Outpost stores.
Soon shoppers will have also the option of using compostable plastic produce bags, as well as expanded access to paper bags and reusable produce bags.
The irony? Plastic remains one of the most sturdy, safe and sanitary means to offer convenient grab and go food options.
While alternative packaging exists, it often doesn't stand up to the rigors of the marketplace; it also often requires municipal commercial composting, which is not available to the general consumer.
Baehmann believes that, even though there are constraints, it is an important challenge to tackle.
"As we investigate options in increasing our usage of plant-based plastics and continue to support municipal composting we decided to move quickly in the areas that would be good for the planet," he says, noting that the goal is to improve customer experiences, as well as keep an eye on the cooperative's bottom line.
It takes a village
Outpost's efforts to remove plastic cannot be implemented without shopper participation and education. After all, the reduction of plastics (and their resulting waste) cannot be fully achieved unless consumers understand the need to give up some of the conveniences they enable.
That's why the cooperative is urging customers to consider their practices and adopt as many conscious efforts as possible. Suggested efforts include:
Prepare more meals at home; store leftovers in reusable containers
When shopping, equip yourself with more re-useable bags and containers; keep them in your car, briefcase or backpack for convenience
Carry a reusable water bottle to refill at drinking fountains
Pack reusable lunchbox options like washable zipper snack and sandwich bags, stainless steel straws and eco-friendly utensils
Consider biodegradable and compostable bags for home waste management
Shop the Outpost bulk department; use even less packaging by bringing in pre-weighed and inspected clean, transparent containers
Clean and recycle only those items that are truly recyclable according to your municipality
It's important to note that, in order to maintain sanitary conditions, local health department regulations do not allow shoppers to bring their own container to deli, meat or seafood counters. As a result, Outpost cannot offer that option for consumers.
Looking ahead
Outpost leadership notes that, in order for businesses to continue to cut the cord on plastic, manufacturers must also take an increasing amount of responsibility for the one-and-done waste their products generate and propose planet-friendly solutions.
More businesses need to be aware of, and take advantage of, programs designed to assist and bolster their environmental efforts; this includes working with Milwaukee's Environmental Collaboration Office.
In addition, the local government must also continue to play a role in offering more options for waste management.
"It's not a one-sided problem," says Baehmann. "We all have to take a long hard look at what we are doing to reduce the persistence of convenience packaging in the waste stream."
Lori Fredrich (Lo) is an eater, writer, wonderer, bon vivante, traveler, cook, gardener and girlwonder. Born and raised in the Milwaukee area, she has tried to leave many times, but seems to be drawn to this quirky city that smells of beer and alewives.
Some might say that she is a little obsessed with food. Lo would say she is A LOT obsessed with food. After all, she has been cooking, eating and enjoying food for decades and has no plans to retire anytime soon.
Lo's recipes and writing have been featured in a variety of publications including GO: Airtran Inflight Magazine, Cheese Connoisseur, Cooking Light, Edible Milwaukee, Milwaukee Magazine and the Milwaukee Journal Sentinel, as well as on the blog Go Bold with Butter, the web site Wisconsin Cheese Talk, and in the quarterly online magazine Grate. Pair. Share.