Aaron Rodgers looked like he was in midseason MVP form Saturday night, but just as encouragingly – this is still preseason, after all, the time to evaluate second- and third-string players – his backups performed like capable NFL quarterbacks in Green Bay's 21-17 win at Washington.
Making a surprise start – last year, he sat out the second exhibition game – Rodgers was sharp and efficient in his sole series, completing 6 of 8 passes for 37 yards and a touchdown to new tight end Martellus Bennett. He also caught the Redskins with 12 men on the field on one of his trademark quick snaps and added a crucial 13-yard scramble on a third down. His 3-yard scoring throw on a short fade showcased how Bennett can be a dangerous weapon in the end zone for the Packers.
Running back Jamaal Williams started in place of injured Ty Montgomery and carried five times on the opening drive, providing some ground balance as it marched 75 yards on 15 plays in the first quarter. It was an impressive performance from the first-team offense against Washington's starters; Green Bay's No. 1 defense held the Redskins to 10 rushing yards on 11 attempts and didn't allow a first down until the final play of the first quarter.
"I was looking for the offense to get off to a good start, get that first drive together," Packers head coach Mike McCarthy said afterward. "I thought our run-pass mix was excellent. Aaron played extremely well. We hit the target. That's why you wait the course of the week. There's different factors that go into how much you want each guy to play, and for the most part, I thought we came close to the play-time opportunities for all of our players."
After the starters departed, backup quarterback Brett Hundley took over and was completely in command, despite inconsistent protection. He played the rest of the first half and the opening series of the second half, completing 9 of 10 passes for 107 yards, including a 5-yard touchdown to rookie running back Aaron Jones and a beautiful sideline throw to Jeff Janis for 38 yards.
Hundley looked much more like the player he led all quarterbacks in preseason passing yardage last year than the one who appeared a little rusty last week after an ankle injury limited him for much of the summer.
"I thought Brett probably had one of his best nights as a Packer," coach Mike McCarthy said.
Callahan entered for Hundley and, enduring shaky play from the backup offensive line, struggled, completing 1 of 3 passes and taking two sacks. But then Hill came on, and, as he's done throughout training camp and in last week's preseason opener, turned heads with big plays.
Hill was 6-of-11 passing for 49 yards, but he also added six rushes for 38 yards, including a highlight-reel 23-yard touchdown run. After the game, Rodgers commented on Hill's athleticism and hard work, and McCarthy said he continues to stack successful outings.
"Taysom played very well," McCarthy said. "I feel like I've said that seven times already. But he played very well."
Here are three somethings I took away from the Packers' 21-17 win over the Redskins in their second preseason game on Saturday:
1. Something I liked
Given how badly the secondary played last season – allowing the second-most opposing passing yards – the Packers will gladly take cornerbacks who can make positive contributions wherever they can find them. In 2016, undrafted rookie Josh Hawkins barely played after a bad early mistake against the Lions; it turned out to be a major learning experience and growth opportunity.
Hawkins has steadily moved up the Packers' depth chart at cornerback – helped by injuries to Davon House and Damarious Randall – and, getting the start Saturday night, he looked like he belonged. He broke up three passes, including two would-be touchdowns, with the third resulting from a hard hit that knocked the ball out of the Washington receiver's hands. Hawkins made a team-high seven tackles, as he played 37 snaps, tied for the fourth-most among Green Bay defenders.
While House is expected to add veteran steadiness to the cornerback group and rookie Kevin King has a lot of upside, the Packers – with Randall, Quinten Rollins and LaDarius Gunter being inconsistent – would welcome Hawkins' continued improvement. "That was exciting to see because it was an opportunity that he earned," McCarthy said.
2. Something I learned
Without rehashing the decisions to part ways with Pro Bowl guards Josh Sitton (cut in 2016) and T.J. Lang (left in free agency this past offseason), there is still – as always – concern about the depth of Green Bay's offensive line.
Somewhat surprisingly, it wasn't the interior of the line that was as worrying on Saturday; even with utility man Don Barclay out injured, the center and guard play mostly held up against Washington. But, after starting tackles David Bakhtiari and Bryan Bulaga left the game following 16-play stints, second-year backup Jason Spriggs was overrun by the Redskins pass rushers – he gave up at least two sacks and was partially responsible for a third – and Kyle Murphy, Ryan Leff and Kofi Amichia weren't much better.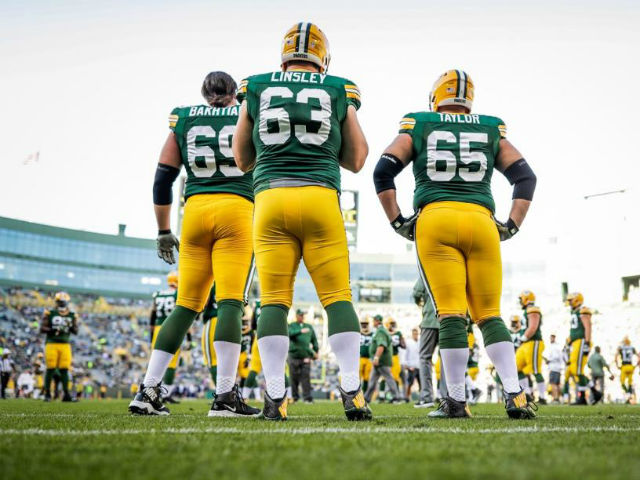 Protecting Rodgers is still unquestionably the most crucial job on the Packers offense, and were Bakhtiari or Bulaga to go down, there would be major doubts about the ability of the replacement player to keep No. 12 upright.
3. Something I'm looking forward to
After a sparkling preseason debut against Philadelphia, the special teams units weren't nearly as good on Saturday. Rookie punter Justin Vogel took a step backward, short with low hang times, only placing two inside Washington's 20-yard line. Overall, his seven punts averaged 47 yards, with a 60-yard long.
Kicker Mason Crosby, the veteran of the entire operation, didn't get a chance to attempt a field goal, but converted all three of his extra points. Jeff Janis only had one opportunity for a kick return, taking it back 16 yards. Green Bay's coverage units were solid.
But punt returner Trevor Davis did not build on an excellent performance last week, when he appeared to have won the job with a 68-yard return for a touchdown and another punt brought back 26 yards against the Eagles. At Washington, though, he fumbled his punt and wasn't able to return his second. Receiver Max McCaffrey took the next four punts, and the Packers still have reliable receiver Randall Cobb available for the role.
How will the Packers' long-maligned (but in-recent-years improved) special teams respond Saturday against the Broncos in Denver? Davis worked hard all offseason to show coach Ron Zook he was the man for the return gig; unless he proves it in games, though, Green Bay won't be able to trust him.
Born in Milwaukee but a product of Shorewood High School (go 'Hounds!) and Northwestern University (go 'Cats!), Jimmy never knew the schoolboy bliss of cheering for a winning football, basketball or baseball team. So he ditched being a fan in order to cover sports professionally - occasionally objectively, always passionately. He's lived in Chicago, New York and Dallas, but now resides again in his beloved Brew City and is an ardent attacker of the notorious Milwaukee Inferiority Complex.
After interning at print publications like Birds and Blooms (official motto: "America's #1 backyard birding and gardening magazine!"), Sports Illustrated (unofficial motto: "Subscribe and save up to 90% off the cover price!") and The Dallas Morning News (a newspaper!), Jimmy worked for web outlets like CBSSports.com, where he was a Packers beat reporter, and FOX Sports Wisconsin, where he managed digital content. He's a proponent and frequent user of em dashes, parenthetical asides, descriptive appositives and, really, anything that makes his sentences longer and more needlessly complex.
Jimmy appreciates references to late '90s Brewers and Bucks players and is the curator of the unofficial John Jaha Hall of Fame. He also enjoys running, biking and soccer, but isn't too annoying about them. He writes about sports - both mainstream and unconventional - and non-sports, including history, music, food, art and even golf (just kidding!), and welcomes reader suggestions for off-the-beaten-path story ideas.