Opinions on Aaron Rodgers may have polarized a little bit after the chaos of this past offseason, but everyone can still agree on this: You don't leave him time on the clock. The San Francisco 49ers forgot that – and as a result, they're waking up Monday morning with their first loss of the season as the defending MVP and the Packers roared back to nab a 30-28 victory on the road.
If you couldn't take much from last week's win over the Lions because LOL Lions, Sunday night was a different story – a much-needed statement road win that wasn't perfect but showed a team growing into the season and into its groove. Rodgers looked much more comfortable, hitting quick passes as well as a few deep shots. The offensive line, despite all their injuries, put in a strong effort. The defense looked more confident and disruptive for the most part, while the special teams ... well, let's just remember the final field goal, how about that?
At 2-1, the Packers continue to lead the otherwise scuffling NFC North, can once again claim Super Bowl contender status and gave Wisconsin sports fans one heck of an ending to an already great day. So why move on already? Let's take a look back at the Packers' pulse-racing victory over the Niners and some of its most memorable and important moments.
1. Unheralded heroes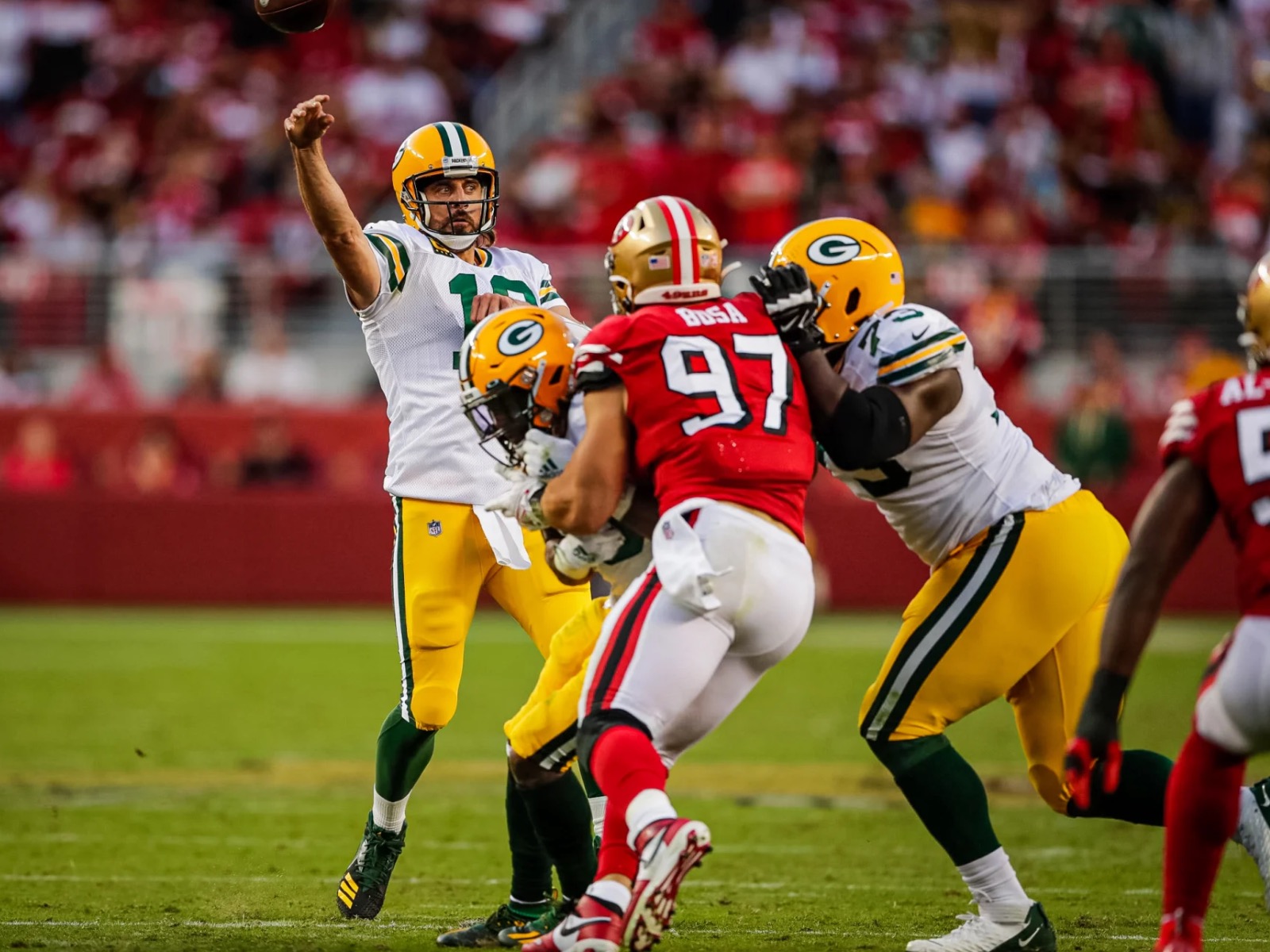 Contrary to what Carrie Underwood's song would suggest, not that many Packers fans were looking forward to Sunday night thanks to their depleted offensive line. Rodgers' defenders were already struggling to give him time through the first few games – and now, going up against their toughest defensive matchup of the young season, they would not only be without David Bakhtiari but also offensive line Swiss army knife supreme Elgton Jenkins.
But the ragtag offensive line crew showed up Sunday night and then some, giving up just one sack and keeping Nick Bosa generally out of Rodgers' way. Rodgers, Adams and Crosby may get the spotlight plays, but none of those would've been possible without the offensive line stepping up like they did.
2. His turn
LET'S GO!@tae15adams with the TD!#GBvsSF | #GoPackGo

📺 NBC pic.twitter.com/XtlNmZISsV — Green Bay Packers (@packers) September 27, 2021
If last game was Aaron Jones' week to shine and week one was, well, nobody's, Sunday night's bout was Davante Adams' time in the spotlight – and boy, did he look every bit the part of somebody who should be the highest paid receiver in the league. Adams ended the day with a dozen catches for a game-high 132 yards and the above touchdown. All that, against a defense that was supposed to be good.
3. Jumpin' Jaire
JIMMY G WITH A BOMB TO JAIRE ALEXANDER 🚀
pic.twitter.com/oIe3mP1As9 — PFF (@PFF) September 27, 2021
For Packers fans, Kevin King's struggles on his side of the field can distract from just how dang good Jaire Alexander is on his side – as seen here chasing down this Jimmy Garoppolo bomb and snatching it away for a thrilling interception. Unfortunately, the Packers would get stuffed near the goalline and wouldn't turn the turnover into points, but it was nice to see the defense making plays – which on that note ...
4. The defense made plays!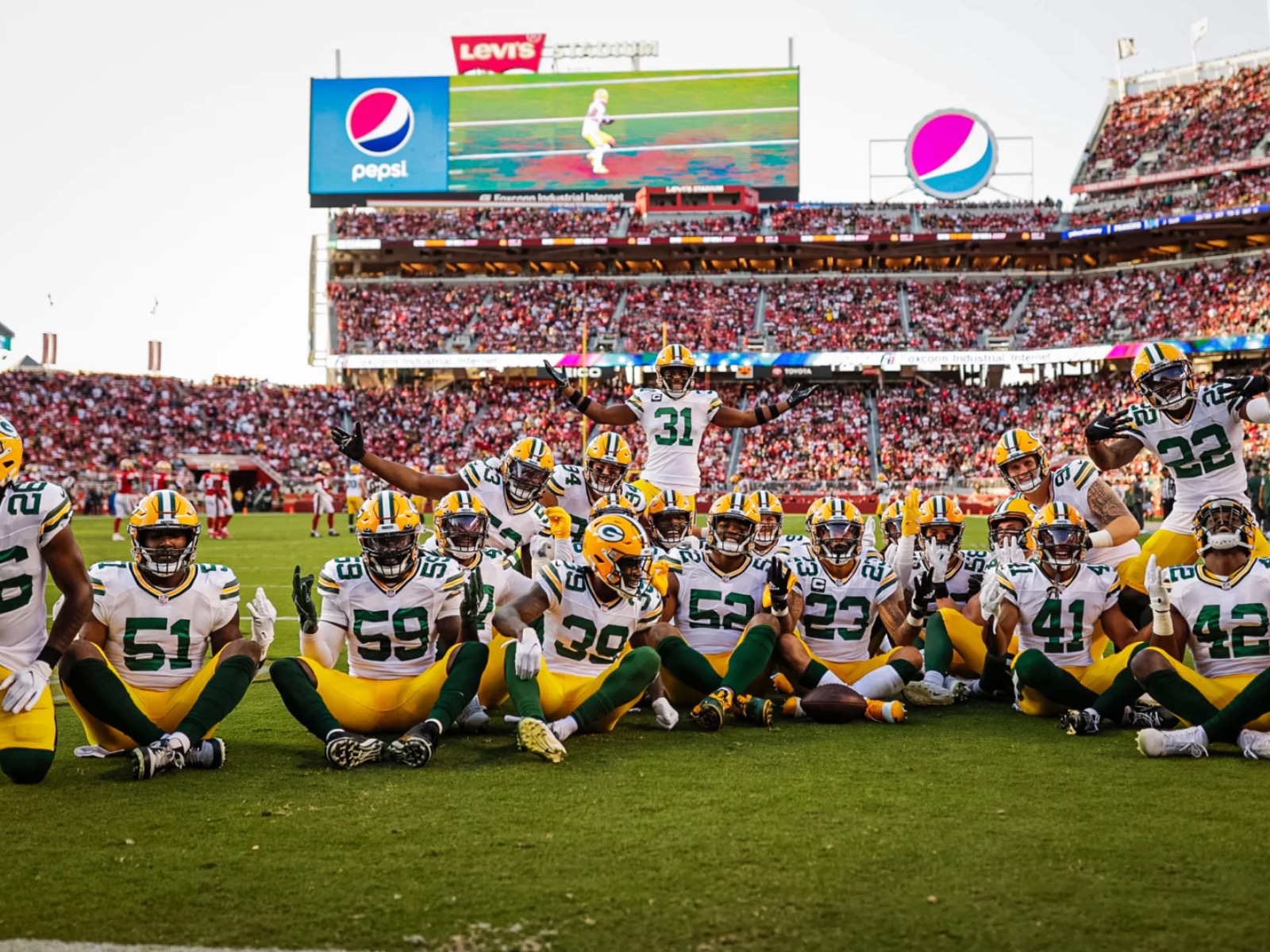 Again, it was hard to take much away from last weekend's win against the Detroit Lions because ... well, they're the Detroit Lions. But the Packers D continued improving Sunday night, racking up four sacks on the night and two turnovers. Admittedly, the Niners have their own offensive deficiencies (they have more running backs on the injured list than on the field), and the Pack did revert to their bend-AND-break ways on the final drive – but in general, the defense did a commendable job keeping the Niners in check and continuing to shake the rust off. Joe Barry, you can breathe easy (for tonight).
5. Momentum shift
Fire up the Cannon! @cannnon25 turned on the jets for a 68-yard return 💨

📺 #GBvsSF on NBC pic.twitter.com/Fbhnp73RNQ — San Francisco 49ers (@49ers) September 27, 2021
For 29 of the first 30 minutes of the game, the Packers looked tremendous. The defense was getting stops and pressure on the quarterback, the offense was smartly picking apart the San Francisco D and the team was looking at a confident 17-point shutout lead going into the half.
And then the special teams showed up.
A bugaboo for seemingly a decade now, the Packers special teams unit gave up this massive return – almost a touchdown if not for last-chance Mason Crosby pushing the returner out of bounds – with a minute left in the half. The Niners would turn the return into seven points, a 17-0 shutdown into a significantly less imposing 17-7 lead – complete with the ball after the half – and a rout into a tense night at the office for Packers fans.
Luckily, Crosby and the special teams department would make amends for this snafu later ...
6. Picturesque pass
Just ... admire it.
.@AaronRodgers12 with a dart to @MVS__11 🎯

TOUCHDOWN! 🙌 #GBvsSF | #GoPackGo

📺 NBC pic.twitter.com/djk8wxZuCi — Green Bay Packers (@packers) September 27, 2021
Putting it right over the fingertips of a defender, majestically falling into MVS' hands. One does like to see it.
7. 12 vs. 12 (and four)
Eric Stokes pass interference #GBvsSF pic.twitter.com/CaJAV4VwAG — Ted Buddy 🏀🏈 (@TedBuddy8) September 27, 2021
I generally don't like to be a "blame the refs" guy ... but boy were the refs a problem last night.
The second half especially seemed to be littered with questionable at best calls, including the above phantom pass interference call on Eric Stokes (who, on a side note, stepped in remarkably well for the injured Kevin King and likely earned himself more plays starting sooner than later). We could perhaps let that touchy call go if it was a sole slip-up – but they just kept coming at critical junctions of the game, from a phantom roughing the passer to the catch that sure didn't look like a catch to the missed grounding call at the end of the first half and, perhaps most egregious ...
8. Oh, but this is fine?
Devante Adams takes massive hit from Jimmy Ward and is not getting up. #NFL pic.twitter.com/o4RfrWbPVx — Wayne D. Nederhoff (@WayneNederhoff) September 27, 2021
Oh, so Jimmy Ward of the Niners can level our star receiver with helmet-to-helmet contact, but a slight handplay nudge from Eric Stokes gets a flag? Cool cool cool cool. Lucky for the Packers, Adams would incredibly (and perhaps dubiously and unwisely) be OK after that hit, returning to the game just a few plays later. And lucky for the NFL, the Packers still won on Sunday night, keeping the angry letters, emails and tweets to a minimum despite the ump crew's finest efforts.
9. Can't do that
Jimmy G fumble… ☠ï¸Â

(via @NFL)pic.twitter.com/ITpnA6Oy1P — SportzStew â"‹ (@sportzstewcom) September 27, 2021
I'm starting to think the "G" in Jimmy G doesn't stand for "good at his job." Garoppolo looked clunky for most of the game, most of all during this embarrassing fumble, chucking the ball backwards for an untimely fumble near crunch time. And then he almost did it again the next drive! He did finish that drive off with a score – but I imagine the shouts for Trey Lance (who ran in for a touchdown on Sunday night) to take over the helm aren't going to get quieter after this often-clumsy loss.
10. Favorite sequel of the year
Remember this?
*37 seconds pic.twitter.com/KkPGn5dqR8 — erin alyce (@herooine) September 27, 2021
It now has its "Empire Strikes Back."
"it don't matter" LOL https://t.co/gDZWKSBcQO pic.twitter.com/zXVoMuC9VK — Norm (@NormanGratz) September 27, 2021
11. No doubt
WHAT A FINISH BY THE @packers. #GoPackGo

(Via: @NFL)pic.twitter.com/z2UuhtXwd7 — Sunday Night Football on NBC (@SNFonNBC) September 27, 2021
Without missing a step or breaking a sweat, the Silver Fox Mason Crosby iced the game-winning field goal as the time expired, landing the Packers the win and adding yet another incredible highlight to his resume. So he's definitely going up on the Ring of Honor someday, right?
12. Looks pretty checked out to me
.@AaronRodgers12's reaction is everything.#GoPackGo | @Packers pic.twitter.com/AHY43658tJ — NFL (@NFL) September 27, 2021
Anyone still want Jordan Love to start instead? No? Huh, y'all seemed so confident and loud about it before.
Anyways, Rodgers and the NFC North-leading Packers will head back home for a spat against the Steelers next Sunday. Here's to keeping this run going – though maybe with a little less drama next time? For my blood pressure's sake?
As much as it is a gigantic cliché to say that one has always had a passion for film, Matt Mueller has always had a passion for film. Whether it was bringing in the latest movie reviews for his first grade show-and-tell or writing film reviews for the St. Norbert College Times as a high school student, Matt is way too obsessed with movies for his own good.
When he's not writing about the latest blockbuster or talking much too glowingly about "Piranha 3D," Matt can probably be found watching literally any sport (minus cricket) or working at - get this - a local movie theater. Or watching a movie. Yeah, he's probably watching a movie.