This postseason was supposed to be the Packers' third shot at getting over the NFC championship hump. But intead of disappointing us a step away from the Super Bowl per usual, Green Bay won't even get that far.
Thanks to a very un-MVP-like performance from the likely MVP and the two most dreaded words in Packers' fans vocabulary – "special teams" – Green Bay fell once again in the playoffs to the San Francisco 49ers, 13-10. The Packers started off strong with a surgical first drive, but as the game went along, something in the air just didn't feel right – and not just the bitter cold. Despite playing as the better team throughout the first half, the Pack only had a slim 7-0 lead at the half, squandering multiple opportunities for points and letting the Niners hang around and gather momentum. And eventually that momentum turned into points – seven of them coming on yet another special teams failure in a season full of them. In the end, the Packers led the entire game, except for when it actually matters: the final whistle.
Now, far sooner than expected, the Packers prepare for another stressful offseason with both Aaron Rodgers and Davante Adams as looming question marks while fans look forward to another year of asking when, oh when, they'll finally get to see another Super Bowl. Because despite all the talk of "Last Dances" and a promising regular season, it certainly won't be this year.
Because I apparently hate myself, let's take one final look back at this devastating divisional round defeat – the good, the bad and the special teams unit.
1. Good luck gear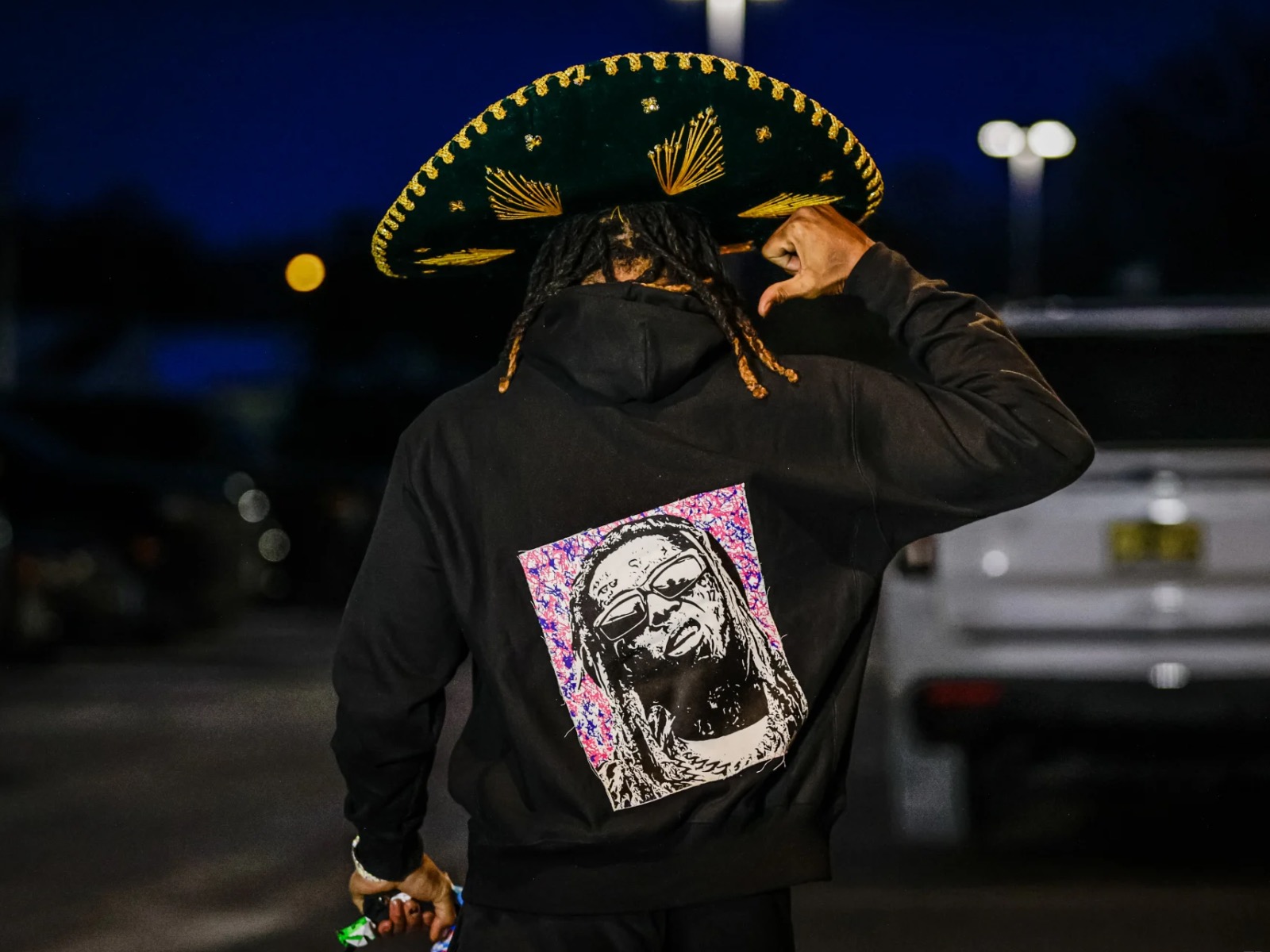 Aaron Jones didn't just bust out the lucky sombrero for Saturday night's big playoff tilt. He also wished upon a star – one of the biggest Packer-backing stars out there, rapper Lil' Wayne. Unfortunately, neither of them worked. Maybe next time we bust out a James Van Der Beek hoodie for luck.
2. Nightmare scenario: avoided
AJ Dillon is BUILT for January football at Lambeau 💪

First TD ➡️ +900

📽️: @NFL | #GoPackGo pic.twitter.com/A91BNaMufF — FanDuel Sportsbook (@FDSportsbook) January 23, 2022
The big fear going into Saturday night's game – besides frostbite – was the Packers starting off slow (a tradition during the regular season) and the Niners getting an early lead, letting them take the pressure off the injured and mediocre Jimmy Garappolo and play their successful run-focused offense. At least THAT didn't happen, as the Packers struck first on their opening drive, matriculating down the field with smart quick passes before finishing it off with some AJ Dillon power. It seemed like the perfect start; little did we know it was a lie.
3. The first crack in the dam
.@Fred_Warner forces the turnover! #FTTB #NFLPlayoffs

📺: #SFvsGB on FOX
📱: https://t.co/VWvPUv1xA7 pic.twitter.com/WcJG2INuCN — NFL (@NFL) January 23, 2022
Everything seemed so promising ... until this fumble from the typically sure-handed veteran Marcedes Lewis. Sure, the turnover didn't lead to any Niners points – seemingly no harm, no foul. But coughing up the ball on a chance to put the game out of reach early was the first sign that the Packers weren't quite right Saturday night – a vibe that would only get worse as the game went along. The first half, the Packers were the better team – yet they refused to take the game over. And then the Niners did.
4. A gift from Jimmy G
Adrian Amos with the red zone interception 🔥#GoPackGo

pic.twitter.com/ld5AM0OTUq — TWSN (@TWSN___) January 23, 2022
Bad vibes seemed to become bad reality near the end of the first half as the Niners' offense finally started to figure out the Packers defense and drove down to the red zone. But after a penalty pushed the Niners back, Jimmy Garoppolo managed to make a bad thing worse for his side, avoiding two sacks only to chuck a terrible pass that Adrian Amos turned into a pick. Garoppolo only completed 11 pases on the night, for just 131 yards and this interception – and yet, for the second time in three years, sports hot-takers could make the argument that he's a better quarterback than Aaron Rodgers because he actually wins the big games. Sigh ...
5. Hope before halftime
Aaron Jones is clearly a double agent pic.twitter.com/qWiWpdOKEr — 💔 (@killmesIime) January 23, 2022
Listen, I don't want to bad talk one of the few positive moments from yesterday's game – and if our special teams unit wasn't a bag of rocks, it would've resulted in a two-possession lead. That being said, after hauling in this (admittedly not perfect) throw from Rodgers, Aaron Jones had plenty of quality options. He could've run as far as he could before stepping out of bounds; he could've trucked it full-speed to the endzone. And somehow chose the worst one: piddling around with some juke moves before getting tackled in bounds, forcing the Packers to take their final timeout early. But surely this decision wouldn't cost Green Bay ...
6. Oh.
FIELD GOAL BLOCKED ❌

(via @NFL)pic.twitter.com/X3eTKZ4dWc — NFL on ESPN (@ESPNNFL) January 23, 2022
The Packers special teams already hadn't had a great showing on Saturday night, giving up some major returns to the Niners and giving their opponent great field position throughout the first half. But little did we know how much worse it could get, as a promising first-half finale drive ended not with a two-possession lead but a brutally blocked field goal, conclusing the half with a disappointing splap – and Niners momentum. And if you thought it couldn't get worse than this, well ... you already know that it did.
7. An A+ for the D
HUGE fourth down stop for the @packers 💪💪 pic.twitter.com/34kTfRLVFJ — FOX Sports: NFL (@NFLonFOX) January 23, 2022
After years of yelling all sorts of profanity at the Packers defense – as recently as Week 1 this very season – they finally got their flowers on Saturday night. While the rest of Green Bay imploded around them, the defense played incredibly, constantly pressuing Jimmy Garoppolo and even getting this massive fourth down stop that seemed like the Packers' golden opportunity to finally – FINALLY – put this game out of its misery. Spoiler: It was not.
8. Who could've predicted ...
Pathetic pic.twitter.com/tzRDtZhRGx — IKE Packers Podcast (@IKE_Packers) January 23, 2022
The entire season, Packers fans all had the same fear: That, at the most important moment of the year, the woeful special teams would cost the team everything. Indeed, that fear became reality as the Niners blocked a punt deep in Packers territory and reeled it in for a game-tying touchdown. And with that, if you were playing crappy special teams bingo, you probably had an entirely filled card by the end of Saturday night's embarrassment.
9. Relatable content
Packer fan who def supports Everton too pic.twitter.com/2qDXWG4Byx — Men in Blazers (@MenInBlazers) January 23, 2022
This was a lot funnier when it was Cowboys fans looking tear-soaked and depressed. Can we go back to that? That was a better day.
10. The ghost of Brett Favre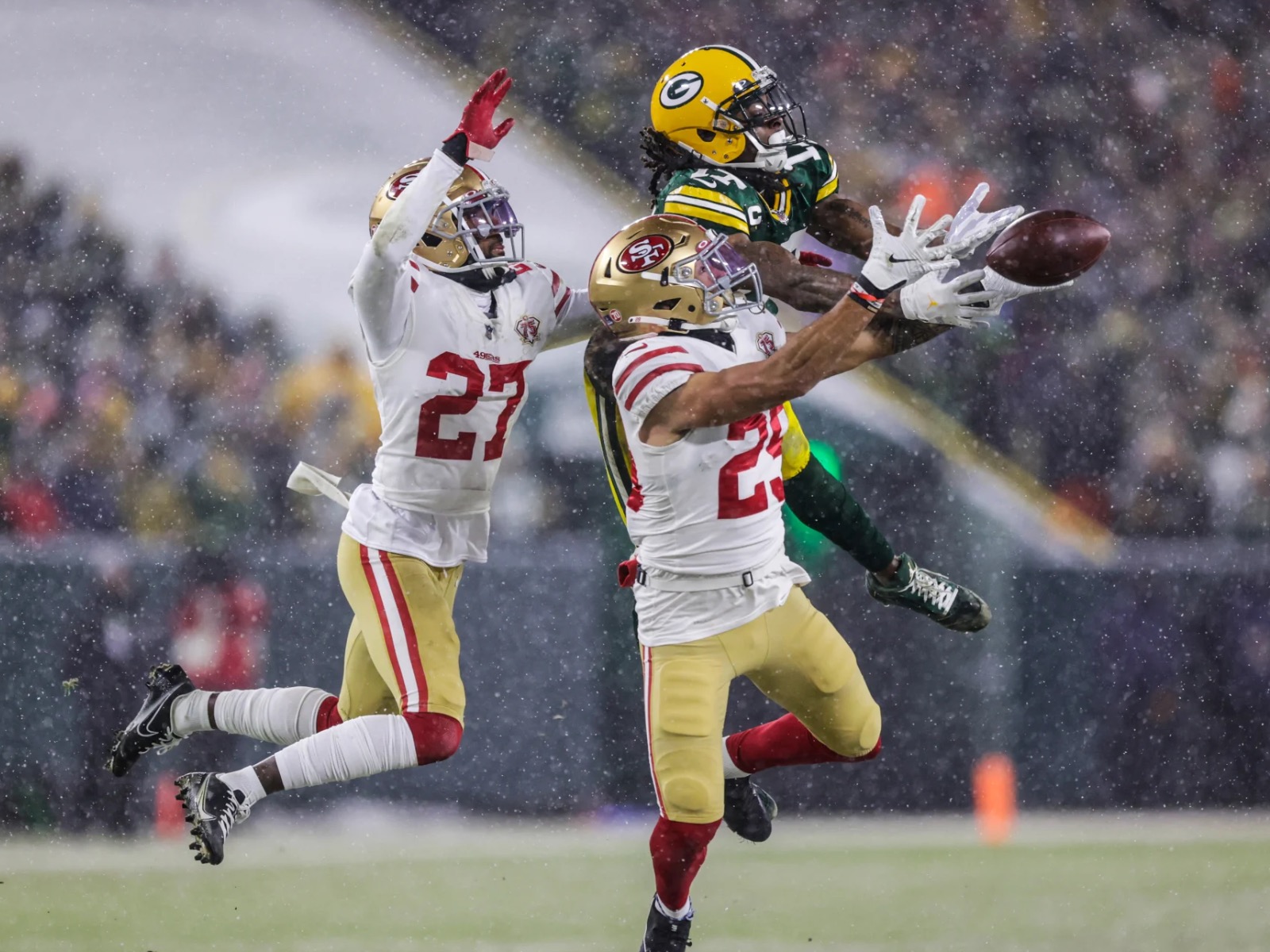 Aaron Rodgers is the luckiest man on earth – not because things went well for him, but because Saturday could've gone so much worse. Thanks to the special teams department's legendary suckitude, no one's paying as much attention to the fact that our soon-to-be four-time MVP played mostly like trash, missing several throws, only targeting seemingly two of his receivers and in general leading limp offensive attack. And at no time did he look worse than on his final drive, featuring a second-down pass that should've been intercepted and a third-down heave into double coverage that looked more like Brett Favre than Aaron Rodgers. Maybe if there were only 37 seconds on the clock, it would've gone better.
In fairness to Rodgers, he was under pressure throughout the game. In unfairness to Rodgers, this is yet another failed postseason run in a career full of them.
11. Insult to injury
The NFL's worst special teams unit turned in one of the worst special teams performances in NFL playoff history … and appears to have had only 10 men on the field for the winning field goal. pic.twitter.com/bJvPtHYXkQ — Tom Pelissero (@TomPelissero) January 23, 2022
In case the night couldn't have gone any worse for the Packers special teams department, apparently they didn't even have enough players on the field for the biggest play of the season. In conclusion: Everyone with "special teams" in their job description is getting nuked from orbit on Monday, not allowed within 25 miles of the Wisconsin border.
12. Goodbye ... ?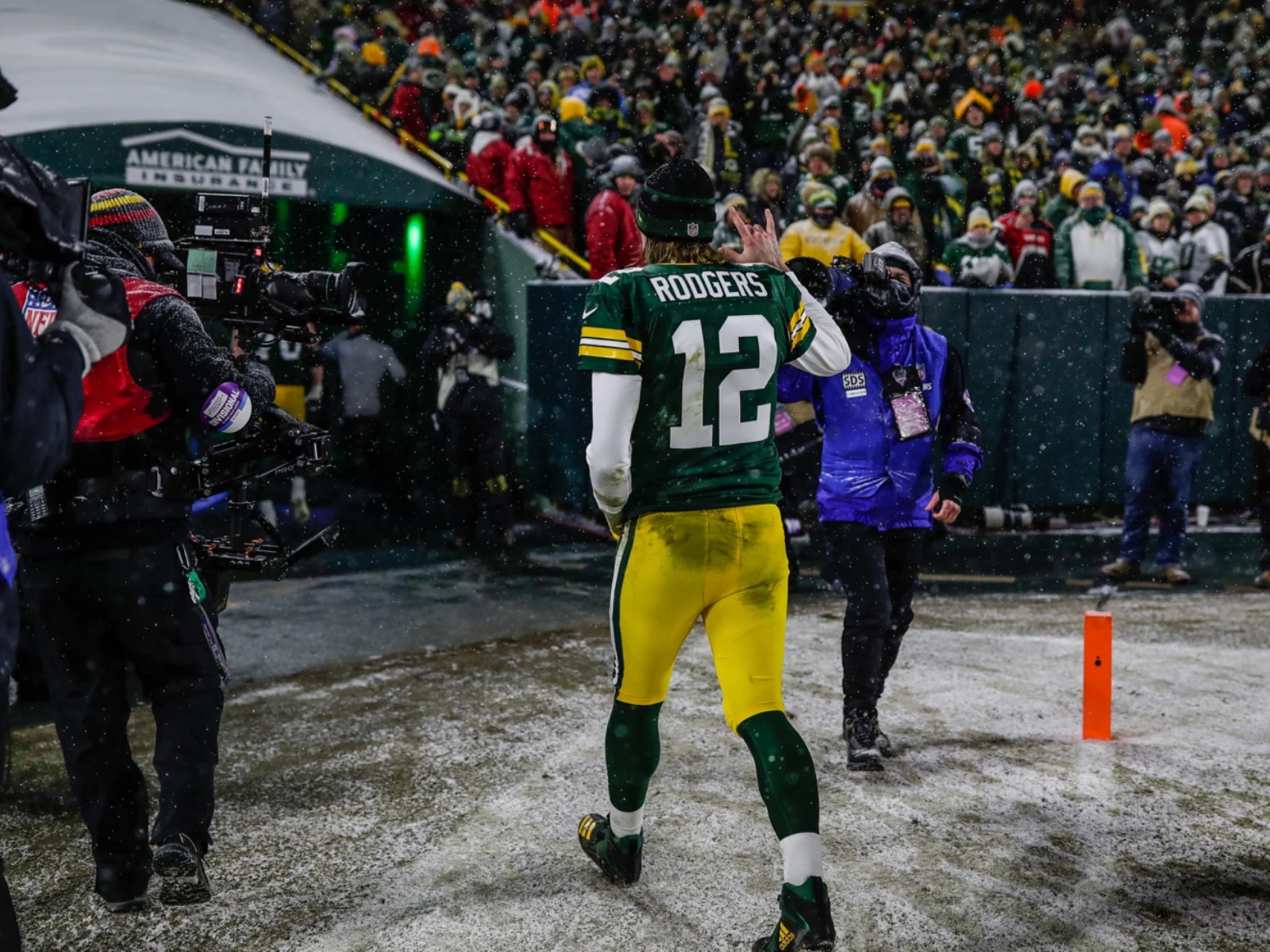 If you thought last offseason was tense and filled with drama, well, hold on tight.
Not only is Rodgers potentially venturing elsewhere, but so might Davante Adams – and if you remember all the way back, they talked about this season as if it was their last dance. After the game, Rodgers discussed how he didn't want to be a part of a rebuild – but if you're the Packers, you just missed out on the Super Bowl for the third straight year, this time falling short even earlier than before. So maybe this unit isn't the one who can get it done – but do you really want to throw Jordan Love to the fire already, instead of run it back (again) with a repeating MVP? After all, Love's sightings this season have not given fans much to ... love.
But where's better for Rodgers? Go figure: The Niners have been hilariously mentioned as a suitor, but if there's one thing we know about Aaron Rodgers, he holds grudges – and I can't imagine him wanting to join forces with the team that passed on him in the draft and defeated him multiple times in the playoffs. The Steelers have been mentioned as an option too, but does he want to replace a legendary quarterback again and have that shadow this late in his career. The Broncos are also a sexy option – except for the fact that the Broncos are not very good. But if he and Davante are going somewhere together, suddenly that team looks a lot better.
Or maybe he just stays in Green Bay and we try, one more time, to finally get back to a Super Bowl and bring back the Lombardi Trophy. One of these times it has to work ... right?
As much as it is a gigantic cliché to say that one has always had a passion for film, Matt Mueller has always had a passion for film. Whether it was bringing in the latest movie reviews for his first grade show-and-tell or writing film reviews for the St. Norbert College Times as a high school student, Matt is way too obsessed with movies for his own good.
When he's not writing about the latest blockbuster or talking much too glowingly about "Piranha 3D," Matt can probably be found watching literally any sport (minus cricket) or working at - get this - a local movie theater. Or watching a movie. Yeah, he's probably watching a movie.