Listen, things are stressful and crazy right now, and I wouldn't blame anyone for savoring what little joys they can find right now. But Thursday night's Green Bay victory over the San Francisco practice squad is nothing to get to excited about.
It certainly feels like something worth celebrating, considering it's revenge against a small-time rival as well as the team that kicked the Pack from the playoffs last year with a comically oversized boot. But thanks to injuries and the ongoing pandemic wreaking havoc on rosters, that's not the team the Packers played on Thursday night. They may have been wearing red and gold, but these were simply guys in matching shirts, not an NFL football team.
But there's this: Unlike last weekend against the Vikings, the Packers did what they were supposed to do against a decimated, overmatched foe. And while there are still kinks to work out, the 34-17 final score makes the game look far closer than it truly was. And speaking of closer looks, here are ten fun images from yesterday's pleasant win over what was left of the San Francisco 49ers.
1. Sound strategy
Vince Lombardi and Curly Lambeau: "Mask up." pic.twitter.com/wvkLro4s5J — Rob Demovsky (@RobDemovsky) November 5, 2020
Take it from these two legends: Wear a mask. Plus, now with fall and winter weather coming up, think of it like a bonus heating device for your face!
2. New day, same look
Last Sunday, the Packers lost without star running back Aaron Jones – and, most importantly, Jones' mythical sombrero. So obviously, some strategic adjustments had to be made ...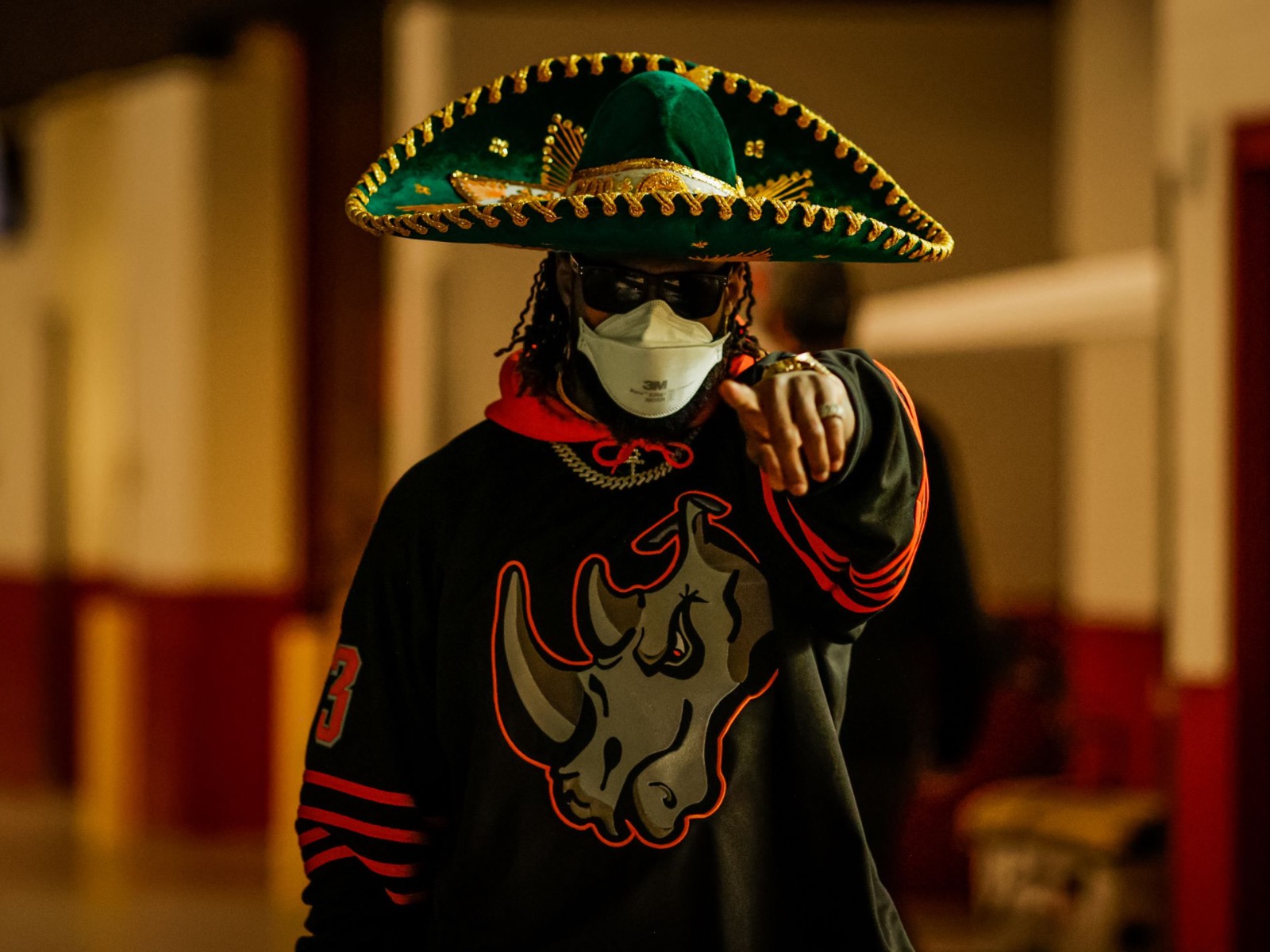 A 34-17 womping later, and science has once again shown that the sombrero is maybe the most important player on the Green Bay Packers. (Jones also had 58 rushing yards to go with 21 yards in the air in his return to action, so he counts as key too.) Also important: That jersey Jones is rocking is a real sports team, as the Texas native threw some pregame love to his local small-division hockey team, the El Paso Rhinos. Looks like I just found a new favorite Tier III junior North American 3 Hockey League South Division team!
3. Fashion statements
Aaron Jones wasn't the only one styling some eye-catching looks Thursday night. Enjoy ...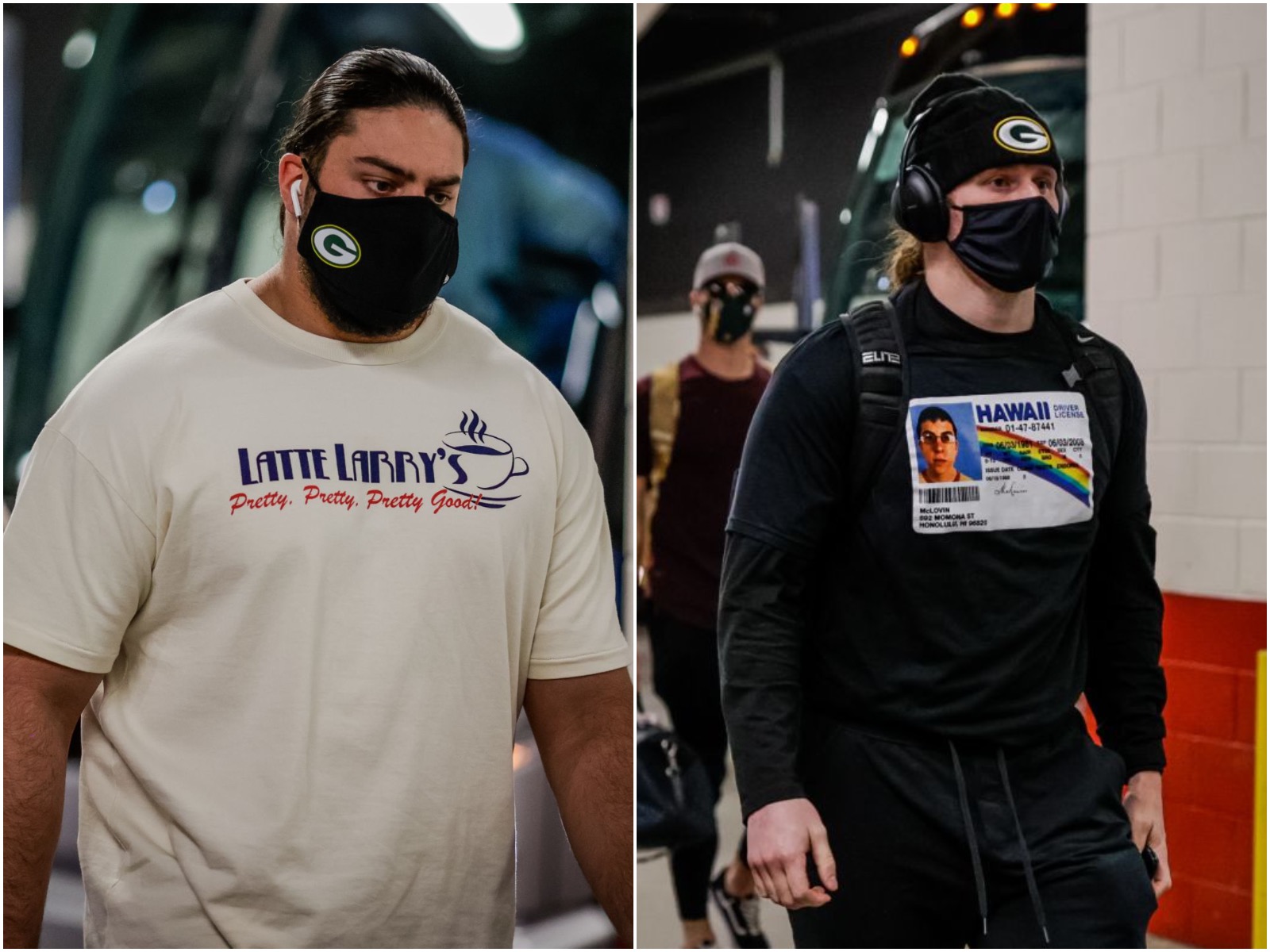 Why yes, that is a "Curb Your Enthusiasm" reference shirt on the left, a "Superbad" McLovin shirt on the right and two new items in my Amazon cart.
4. The replacements

Name a position. Any position. Yep, the 49ers didn't have their starter there Thursday night. Starting quarterback Jimmy Garoppolo? On injured reserve. Star tight end George Kittle? On the IR too. Running back Raheem Mostert, who practically single-handedly sent the Pack home in the NFC championship game last season? You guessed it: IR. But what about his back-ups Tevin Coleman and Jeff Wilson Jr.? Hurt and hurt. All three of the team's starting wide receivers? On the COVID list.
In case the offense wasn't filled with enough holes to pose as a cheesehead, the San Francisco defense was missing stars Richard Sherman, Dee Ford and Nick Bosa. I could continue, but I have a word count – and my point is made: The Packers beat a team that was happy they didn't have to forfeit. But hey, a win is a win is a win.
5. What a catch, take #237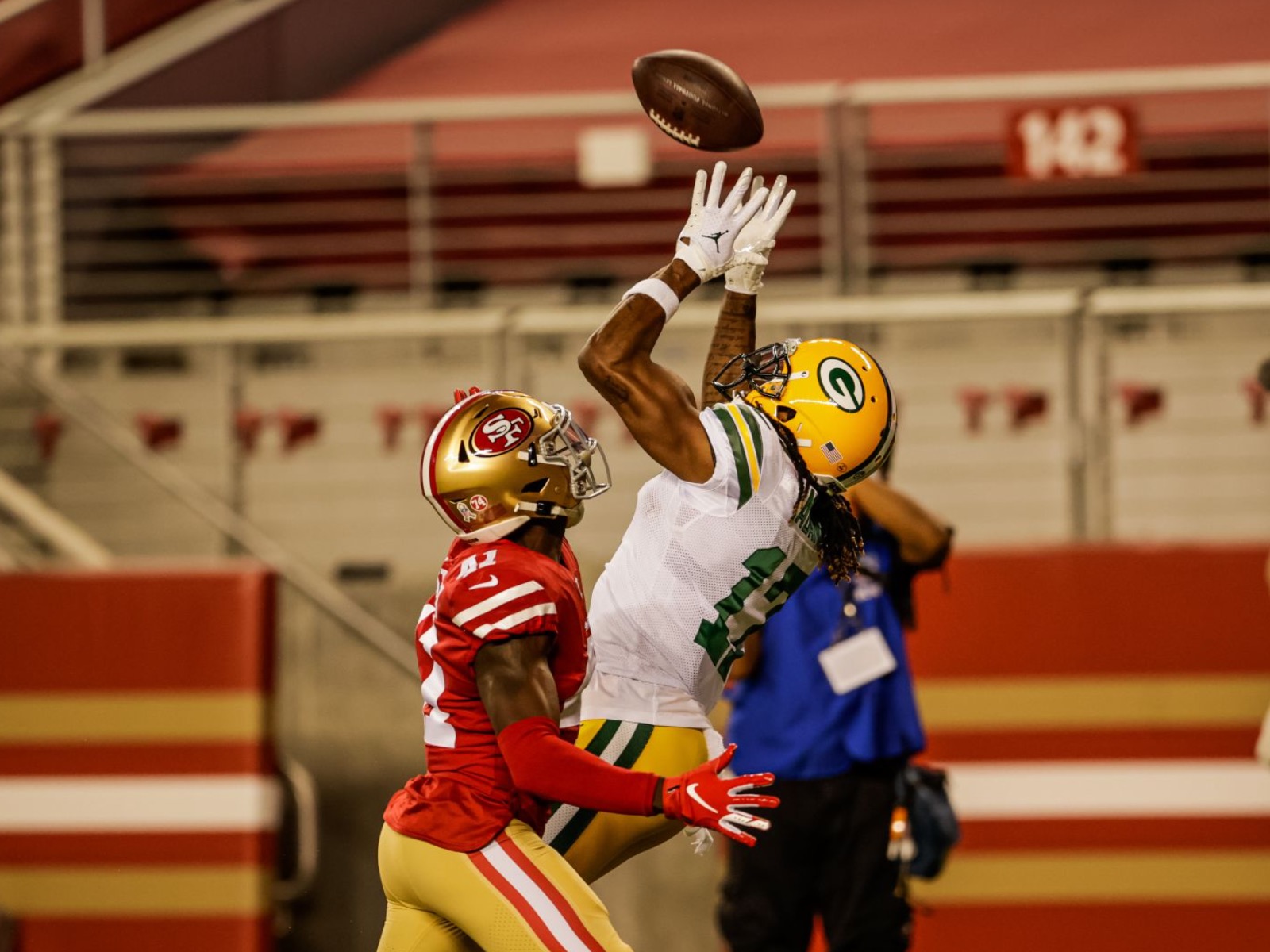 Davante Adams did more cool Davante Adams things on Thursday night, getting the scoring started with a balletic 36-yard spiralling touchdown catch in the front corner of the endzone. He ended the night with another ten catches and 173 yards – meaning that, in half of the games he's played, Adams has caught more than 150 yards.
6. MVS redemption
¡El 🌈 de touchdown de @AaronRodgers12 para Marquez Valdes-Scantling (@MVS__11)! ⁰⁰📺 @FOXSportsMX ⁰⁰#GoPackGo 21-3 #FTTB⁰#NFLMX #GBvsSF pic.twitter.com/8XsBuRGDHP — NFL México (@nflmx) November 6, 2020
When the trade deadline came and the Packers passed, all eyes shifted to polarizing wide receiver Marquez Valdes-Scantling, who's made a reputation of deflating breakthrough moments with Teflon-like drops. Thursday night was much the same, dropping yet another pass early in the night before making amends with two touchdown catches – including the above wide open 52-yard bomb that would've caused statewide cardiac arrest if he clanked it. And sure, those were the only two grabs he made on the night – but progress is progress. And if it's not, well, at least Allen Lazard is back on the practice field.
7. What a catch, take #238
We don't deserve Davante Adamspic.twitter.com/3Vr1Xu4xXB — PFF (@PFF) November 6, 2020
Hey, who needs more receivers when you've got Davante Adams, who also snagged this nifty grab in addition to his swirling touchdown and eight other catches on the night. Adams now leads the league in receiving touchdowns and ranks fifth in receiving yards ... despite missing two games with an injury and having a bye week already. Remember those days when he couldn't catch and the fanbase pulled their hair out about his drops? See, MVS; things can change!
8. An A from Aaron
Aaron Rodgers is all of us after that fourth-down catch pic.twitter.com/5QOypWO0Pa — PFF (@PFF) November 6, 2020
In addition to giving his wide-eyed approval to Davante Adams' fourth-down catch, Aaron Rodgers put in an eye-popping day of work of his own, throwing a neat and tidy day with more than 300 yards in the air, four touchdowns and one very enjoyable new meme that I plan on abusing.
9. Nice to see you again, defense!
Za'Darius Smith!

Sack. Fumble. Recovery. #GoPackGo @TheRealZSmith

📺: #GBvsSF on NFLN/FOX/PRIME VIDEO
📱: https://t.co/W5bCPYgMfo pic.twitter.com/Nmg102uJZx — NFL (@NFL) November 6, 2020
After getting rocked by the otherless hapless Vikings last weekend, the defense stepped up against the San Francisco Guys With a Pulse-s, netting a sack and two turnovers from backup Nick Mullens – the kind of momentum-turning plays this defense needs to thrive. That being said, they still gave up 184 receiving yards to a guy named Richie James, and stud cornerback Jaire Alexander left the game with a concussion, so there's still plenty of concern on that side of the ball. Not getting torn up by Nick Mullens isn't exactly a bar you should be thrilled to clear if the Super Bowl is in sight.
10. The final takeaway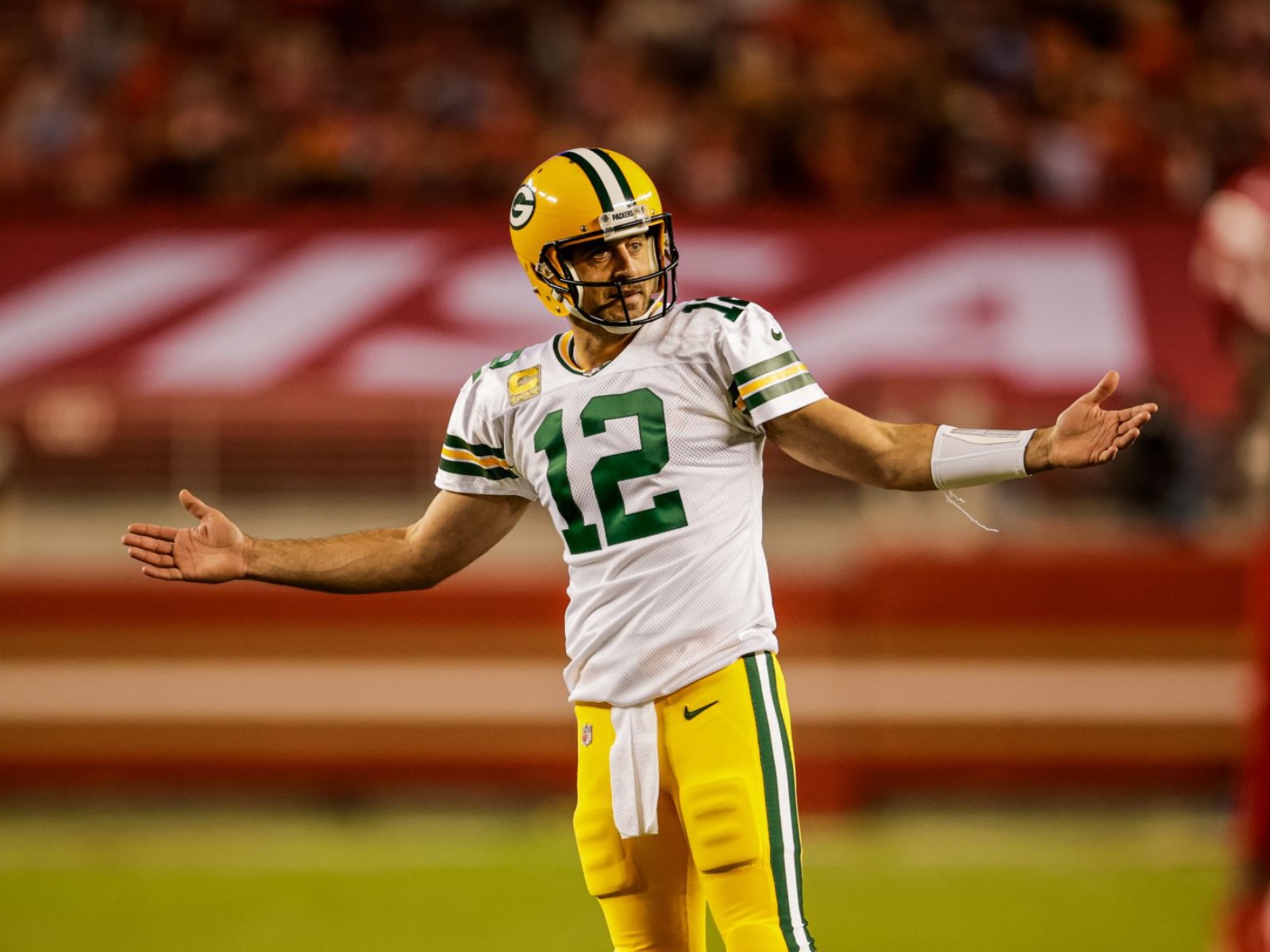 Yep, that's all that you can really take away from Thursday night's performance: a shrug. Here's to learning more about this team next week when they take on ... the Jacksonville Jaguars? Well, never mind; we're not learning anything from that mess either. Here's to simply more that winning thing.
As much as it is a gigantic cliché to say that one has always had a passion for film, Matt Mueller has always had a passion for film. Whether it was bringing in the latest movie reviews for his first grade show-and-tell or writing film reviews for the St. Norbert College Times as a high school student, Matt is way too obsessed with movies for his own good.
When he's not writing about the latest blockbuster or talking much too glowingly about "Piranha 3D," Matt can probably be found watching literally any sport (minus cricket) or working at - get this - a local movie theater. Or watching a movie. Yeah, he's probably watching a movie.