New quarterback. New era. Even new throwback uniforms. Same ol' result: The Bears still suck.
Indeed, the Packers ventured down to Chicago for their 203rd meeting and held not only their lead in their rivalry (102-95-6) but also their current lead in the NFC North with a hard-earned 24-14 victory on Sunday afternoon. It was a grinder of a game, but in the end, thanks to some key stops from a decimated but dedicated defense and a few big plays from their big names, Green Bay continued their ownership over their NFC rival – and they let everybody know it by the day's end.
Because beating the Bears is too satisfying to enjoy for merely one day, let's take another look back at Sunday's beatdown and savor some of the key moments and takeaways from the Packers' latest Chicago takedown.
1. Looks like home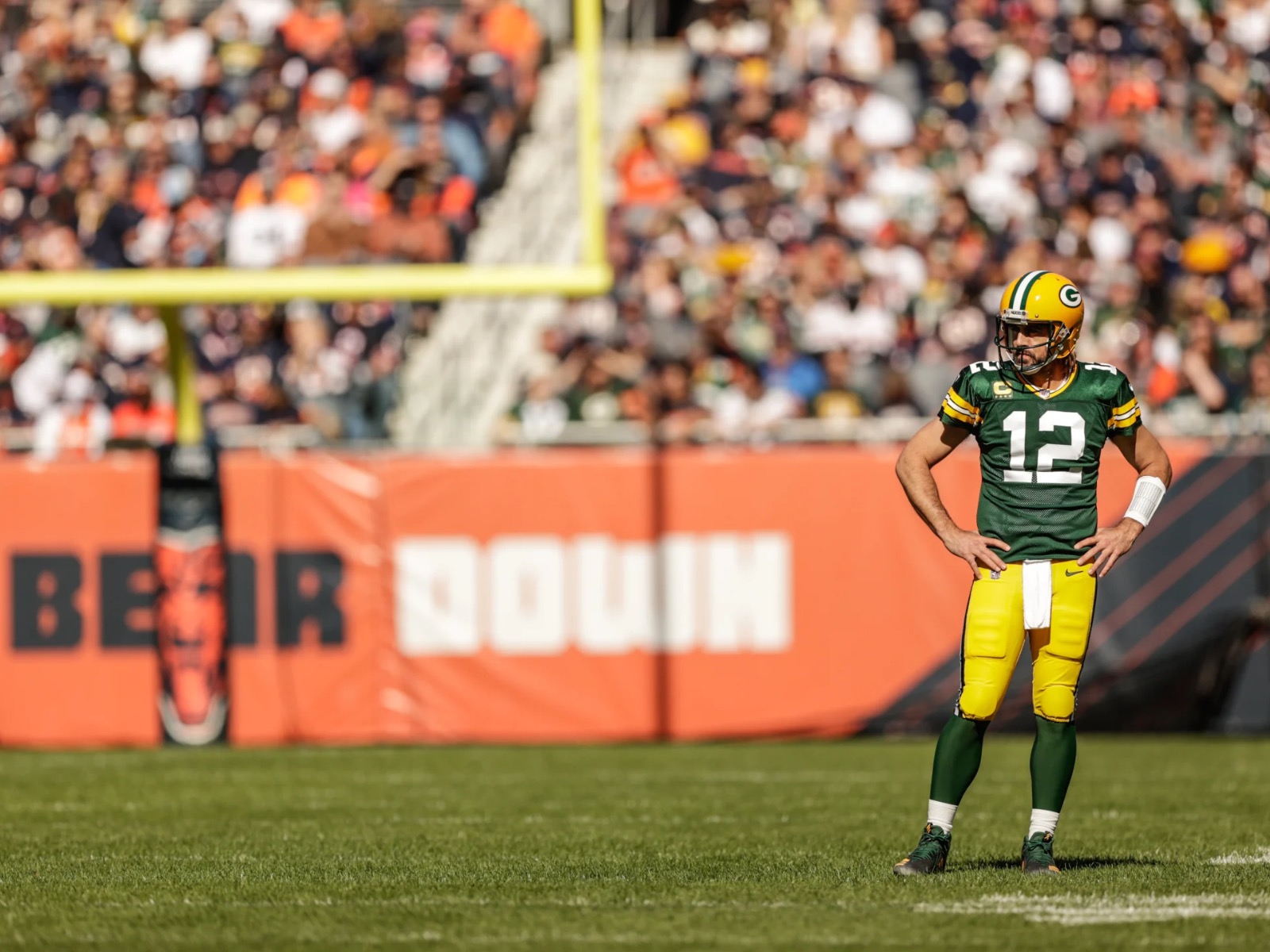 Disoriented watching Sunday's game? No, it's not just the effect the Bears have on the human brain – it was probably the fact that the Packers were strangely wearing their home green uniforms on the road and in ultimate enemy territory at that. The reason? The Bears decided to wear some white throwback alternate jerseys for the game, forcing the Packers into their usual home uniforms. It ended up being a fitting fashion choice as the Packers left the Bears faithful feeling green by the final whistle.
2. Jaylon gets juked
New acquisition Jaylon Smith made his green-and-gold debut on Sunday ... and, well, we'll just politely leave the analysis at that.
Jaylon Smith is active today for the Packers. pic.twitter.com/z4FTaOSIY0 — Kevin Turner (@ktfuntweets) October 17, 2021
Hey, at least he's not hurt – unlike seemingly everyone else on our defense right now.
3. Free-flinging Fields
Justin Fields thought he had a free-play here, wasn't called, ended up throwing a deep ball to no one but got picked. pic.twitter.com/Gu9j664SW8 — Dov Kleiman (@NFL_DovKleiman) October 17, 2021
Bears rookie quarterback Justin Fields assumed he had a free play here. Just one problem: He actually didn't, so his blind chuck into the endzone instead turned into a free turnover for the Packers – a much-needed boost of energy after a sluggish and tough slugfest of a first quarter. Fields is improving game by game in Chicago, and at some point, he'll be a solid and consistent NFL quarterback. But judging by Sunday's scuffles – he was easily the second most impressive rookie on the field for the Bears, behind running back Khalil Herbert – he's got some work to do.
4. Thunder and lightning strike again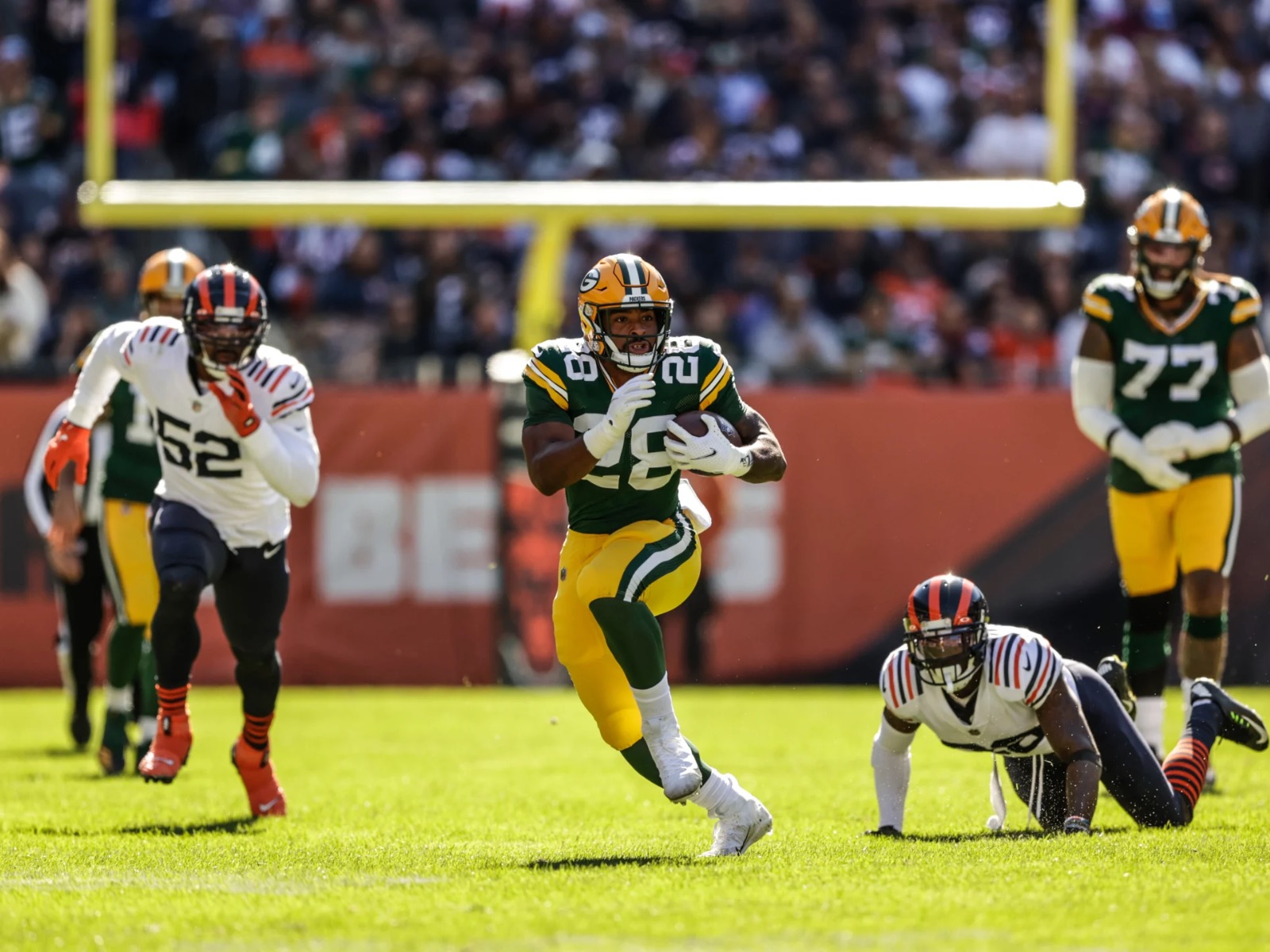 One of the most exciting developments on the offensive side of the ball is the growing two-headed dragon running game growing in Green Bay. Against a stout Bears defense, Aaron Jones and AJ Dillon ran for a combined 135 yards (including Dillon's career-long 36-yard scamper) while almost splitting carries, plus Jones added four catches for 34 yards and a score through the air. The Rodgers era hasn't been known for its notable running backs – but right now, it seems more and more like we might now have two perfectly complimentary options in the backfield, one nimble and versatile, the other rocking and rumbling opponents into submission, both impressively effective.
5. Bending but not breaking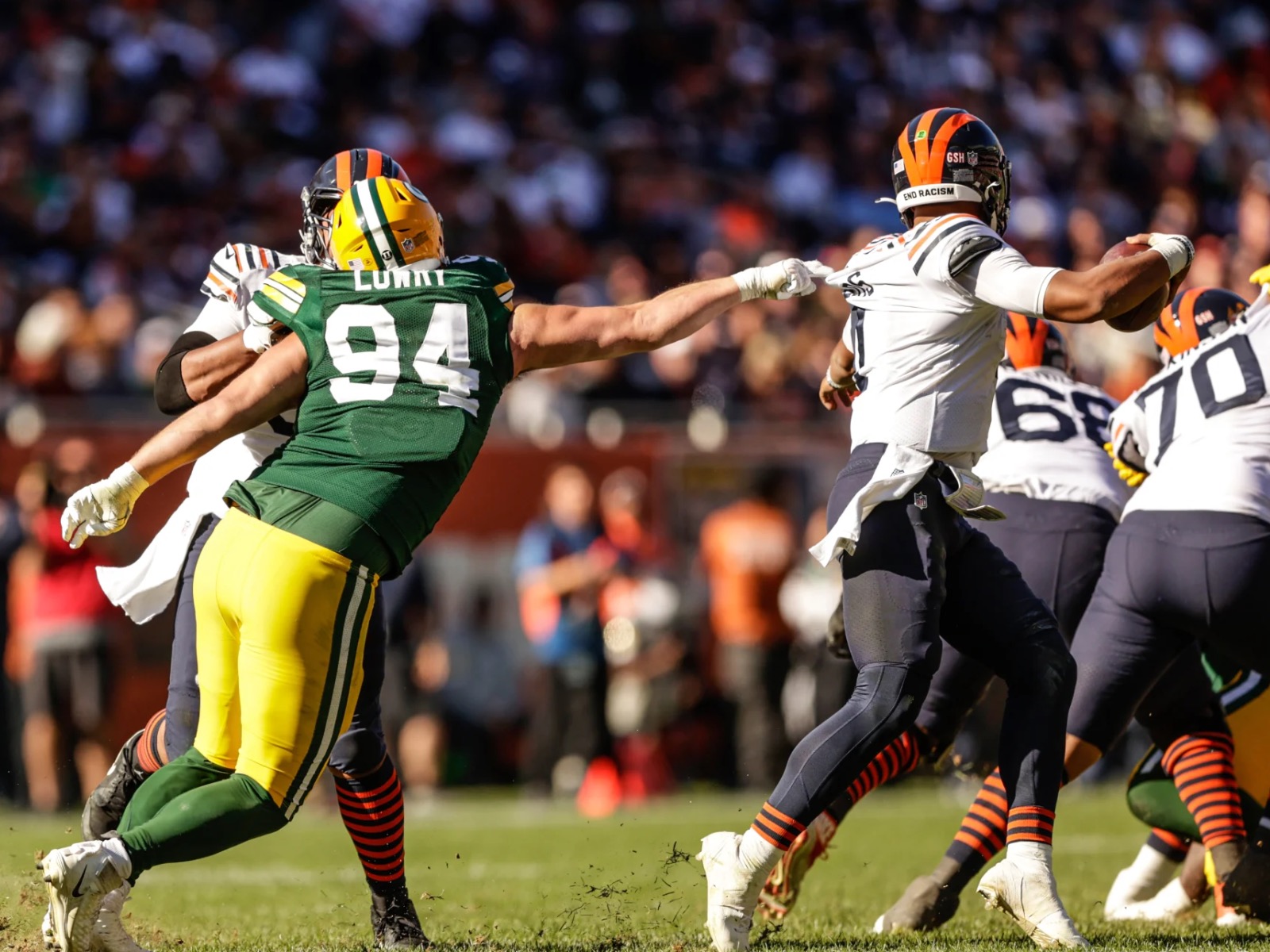 On Sunday, the Pack clashed against Chicago already without Jaire Alexander, Will Redmond, Za'Darius Smith and Kevin King – and that was all before they'd lose Darnell Savage and Preston Smith during the game itself. That's a lot of key playmakers standing on the sidelines – and considering the Green Bay defense is already the biggest question mark heading into each game, fans were understandably nervous.
And yet the ragtag unit kept the Bears totally in check, hassling rookie quarterback Justin Fields to the tune of four sacks and holding Chicago to just 14 points on the day. Admittedly, the Bears offense is more baby cub-like when it comes to scoring points this season, but the Packers defense, despite missing so many key pieces, stood strong nevertheless. If they can play this well with many of their big names busted, imagine what it might look like if we can get some of these guys back.
6. 10.0 on the landing
.@tae15adams with the BIG gain of 41 yards!#GBvsCHI | #GoPackGo

📺 FOX pic.twitter.com/RiGUMhEpGu — Green Bay Packers (@packers) October 17, 2021
The touchdown unfortunately didn't stand as Davante Adams just stepped out while trying to take this pass up the field. But the big pass play to the otherwise held-in-check star receiver ("just" four catches for 89 yards, a game high) did set up the key final Packers touchdown – and his dramatic backflip into the endzone received excellent scores from all of the judges.
7. Ownage
For a guy whose effort and care was called into question during week one, Aaron Rodgers sure silenced any remaining thoughts about that matter with his Sunday performance – and this resounding fourth quarter celebration, busting out the Discount Double Check for the first time in seemingly ages before reminding Chicago fans that while the Bears may belong technically to the McCaskeys, it's Rodgers who truly owns them.
"All my fucking life. I own you. I still own you. I still own you." pic.twitter.com/KvudpcqvoR — Matt Schneidman (@mattschneidman) October 17, 2021
I think we have a good idea what Packers fans will be wearing and chanting and writing on their signs when these two teams meet back up at Lambeau in December ...
8. Superman saves the day
Kenny Clark? A monster pic.twitter.com/lxRvVlPFMi — Alex  | Packers Mx 🏈 (@Alexdlacueva) October 17, 2021
Kenny Clark did his best Clark Kent impression on Sunday afternoon, turning into Superman on the Bears' final drive and nabbing two sacks in three plays, helping knock Chicago back into a brutal fourth and long under three minutes to go. Even more impressive, Clark pulled off the duo of sacks after being injured earlier in the game, coming back to help ice the victory. Talk about relief – not only applying the dagger to the Bears but not having to add another name from this mangled defensive unit to the injured list. But hey, they keep winning – and now they get to enjoy the healing power of home cooking as they head back to Lambeau to take on Washington next week.
As much as it is a gigantic cliché to say that one has always had a passion for film, Matt Mueller has always had a passion for film. Whether it was bringing in the latest movie reviews for his first grade show-and-tell or writing film reviews for the St. Norbert College Times as a high school student, Matt is way too obsessed with movies for his own good.
When he's not writing about the latest blockbuster or talking much too glowingly about "Piranha 3D," Matt can probably be found watching literally any sport (minus cricket) or working at - get this - a local movie theater. Or watching a movie. Yeah, he's probably watching a movie.