It's been a season of unpleasant instability and change for the Green Bay Packers. Time and injury appears to have finally caught up with our four-time MVP quarterback. The foundational defense, bringing back most of last year's strong crew, has been mostly depressing. Confidence in Matt LaFleur and the front office is shaken. But even in these trying times, there's at least one comforting constant that we can rely on.
The Bears still suck.
It wasn't pretty, but we'll take it as the Packers kept rivalry bragging rights for another year with a 28-19 comeback victory over the Bears in Chicago. Behind a late flurry of Christian Watson touchdowns (because apparently Christian Watson only scores touchdowns) and Justin Fields miscues, Green Bay claimed the W. No, it's not the Super Bowl visit we dreamed of at the start of the season – but the tears of Bears fans CONVINCED Fields and company would overtake the Packers this season will do just fine as a consolation prize.
It's been a year low on highlights – so let's savor this one a little longer by recapping some of the most important moments from Sunday's smackdown of the baby Bears.
1. Wide open Fields
.@justnfields isn't human 😱

📺: #GBvsCHI on FOX pic.twitter.com/G75fal5kgW — Chicago Bears (@ChicagoBears) December 4, 2022
Jalen Hurts and the Philadelphia Eagles last week made a mockery out of the Packers defense, which looked alarmingly surprised that a run-happy quarterback in a run-first offense would run the ball. But certainly Joe Barry and company wouldn't make that mistake again, just one week later, with Justin Fields – another fleet-footed quarterback who actually ranks seventh in the NFL in rushing, despite not being a running back.
Oh, they would.
Fields didn't quite have the rushing day that Hurts had on Sunday night – because few players in NFL history have – but he still notched a team-high 71 yards, most of which coming on this early touchdown scramble from half a field away without a single Packers player leaving a fingerprint on him. Green Bay eventually put a tighter lid on Fields – but with embarrassingly busted plays like this, one imagines the calls for Joe Barry's job aren't getting any quieter.
2. Douglas, Rudy and defense
Rasul Douglas forces the fumble on Chase Claypool and Rudy Ford recovers it for the Packers! pic.twitter.com/hMDAA0Po20 — Main Team (@MainTeamSports) December 4, 2022
It wasn't all doom and gloom for the Packers defense on Sunday. Sure, they gave up considerable yardage – 409 yards, to Green Bay's 357 – but they also forced the kind of game-changing turnovers that they've been lacking for much of the year. Take, for instance, this fumble forced by Rasul Douglas and recovered by super sparkplug Rudy Ford (the team's no-doubter defensive MVP with Rashan Gary sidelined). Sure, Rodgers and company did nothing with the turnover – but it was a key stop that halted a promising Bears drive at a potential early turning point.
3. Heaves that make you want to heave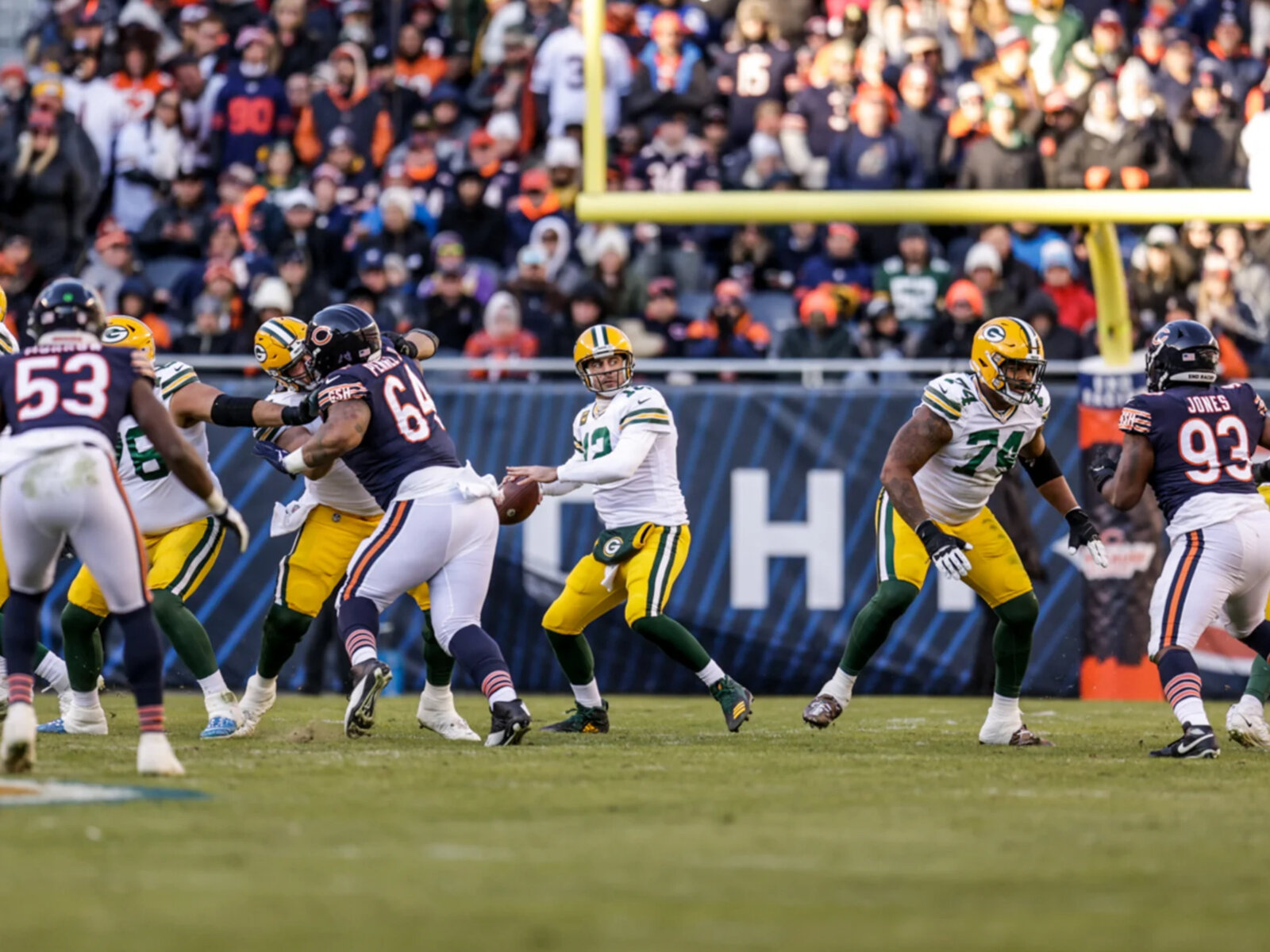 I don't know exactly what down and distance this photo was taken – but considering Aaron Rodgers looks like he's winding up for a hefty chuck way down field, I feel confident that it was probably third and short. Yep, apparently there's nothing Matt LaFleur and Aaron Rodgers hate more than comfortably converting short-yard third downs and maintaining drives, because the duo couldn't stop launching the ball 30 yards downfield anytime they just needed a modest gain. And whether it was due to the Windy City, Rodgers' bum thumb or his general decline, the heaves were hideous, rarely landing in the field of play much less complete. The defense deserves a lot of anger this season, but Rodgers and company sure don't make things easier for their other half by ending drives on these horrid Hail Marys.
4. Alexander the not-so-great
"All Justin Fields can do is run, he can't throw at all"

Hold my beer: pic.twitter.com/lAV9b16wqU — Bears Nation (3-10) (@BearsNationCHI) December 4, 2022
Jaire Alexander became the highest paid cornerback in the league at the start of the season – and at least this season, it sure doesn't seem like Green Bay got what they paid for. Sure, all cornerbacks are going to get burned at some point ... but getting roasted by Equanimeous St. Brown? Not his brother Amon-Ra who's killing it with the rising Detroit Lions ... but former perennially bench-bound receiver Equanimeous St. Brown? You don't expect that – but then again the Packers defense has been nothing but unexpected this season, and not in the fun way.
5. Elementary, my dear Watson
Christian Watson's 7th TD in his last 4 games! @ChristianW2017

📺: #GBvsCHI on FOX
📱: Stream on NFL+ https://t.co/P31SxnTZpJ pic.twitter.com/ttHy3zp6fr — NFL (@NFL) December 4, 2022
OK, the natural order of things says that at some point Christian Watson will regress to the mean, that he won't literally score a touchdown every single game and on almost practically every catch. "At some point" was not Sunday, however, as he snagged yet another score – and an important one at that, narrowing the Bears' lead to just six right before the half. Chicago would expand that to a two-possession lead eventually in the third, but the Pack was able to stay in striking distance – or I guess we'll have to call it "Watson-ing distance."
6. Dillon delivers
AJ Dillon when the weather gets cold >pic.twitter.com/Hf0wlN2TVR — Mojo Markets (@mojo) December 4, 2022
Aaron Jones hurt his shin during yesterday's game – as if the Packers needed an excuse to underutilize one of their most consistently productive players. But thankfully, Green Bay stuck at least a little with the running attack – and were rewarded with a Godzilla-like performance from AJ "Quadzilla" Dillon, who ran up almost 100 yards on 18 carries, including this critical touchdown early in the fourth to bring the Pack within a field goal. Hopefully, all of these ugly growing pains from this season will result in a fully formed offensive gameplan next year that puts the run first.
7. Alexander the great returns
Packers Win!! Knock off Chicago 28-19

• Aaron Rodgers 4th Quarter Comeback
• Christian Watson 2 touchdowns
• Jaire Alexander Key Interception

Bears improve their draft position #GoPackGo pic.twitter.com/hXMAfoaiCs — IKE Packers Podcast (@IKE_Packers) December 4, 2022
It was redemption for Jaire Alexander on Sunday, as after getting roasted by Equanimeous St. Brown AND N'Keal Harry – not exactly a duo of Justin Jeffersons here – the cornerback made a massively clutch interception while the Pack was clinging to a late one-point lead. Now that's the kind of smart, ball-hawking defense we thought we were getting 13 games ago! Where was that against ... just about literally anybody!?
8. He can do that too
You're not gonna catch @ChristianW2017!

4ï¸Ââƒ£6ï¸Ââƒ£-yard TOUCHDOWN 🙌#GBvsCHI | #ProBowlVote | #GoPackGo

📺 FOX pic.twitter.com/AdF348mI6W — Green Bay Packers (@packers) December 4, 2022
Fun fact: Eight of the Packers' 13 touchdowns over the past four games are courtesy of Christian Watson. Put differently, more than half of Green Bay's touchdowns in the past four games are the result of one guy. At this point, we should just start calling touchdowns "Watsons." "Ope, look at that, we got another Watson – just 47 yards this time, though, a little underwhelming."
9. And there is your dagger
#Bears Justin Fields throws another interception, and the #Packers win. pic.twitter.com/KH61wrOctw — NFL Unlimited (@NFLUnlimited) December 4, 2022
Make no mistake: Justin Fields is not going to be fun for the Packers to play for the next decade or so – especially considering this team's historic hatred toward tackling running quarterbacks. But that's the future. In the present, Fields is growing into a very respectable starting NFL QB ... who also makes less-respectable snafus like this game-ending interception that landed in the arms of special teams hero Keisean Nixon. The defense getting clutch turnovers down the stretch? Who do they think they are: last year's defense!?
10. Sombrero strength
AJ Dillon says he already had bald strength. Looking forward to adding dad strength to his repertoire now, too. pic.twitter.com/ea2aCqNhfa — Matt Schneidman (@mattschneidman) December 4, 2022
After Dillon's dominating performance manning the Packers rushing attack and sparking the team's comeback, the running back earned the greatest compliment one can receive: getting knighted with Aaron Jones' traditional sombrero. Don't let it go to your head now, though, A.J. (though where else is a sombrero supposed to go).
11. Bye before the bye
Rodgers with a salute to Bears fans 👀😅 @Packers pic.twitter.com/xrRgz1t8uZ — FOX Sports: NFL (@NFLonFOX) December 4, 2022
No sign of buyer's remorse for Aaron Rodgers on Sunday. Nope, he still happily owns the Bears – and, thanks to the victory, he also helped the Pack own the NFL record for most wins by a franchise, a title held by the Bears before Sunday's slap in the face. So it's official for now: The Packers are the biggest winners in NFL history. Look at that: Even when we have bad seasons, we still come out on top.
So what's next after this wave goodbye? Well, a bye week, for starters – a much-needed break for the Pack as well as the rare week this season where Green Bay fans can feel wholly confident their team won't lose. Though somehow, even without taking the field, I expect the defense will still somehow give up triple-digit rushing numbers to somebody.
As much as it is a gigantic cliché to say that one has always had a passion for film, Matt Mueller has always had a passion for film. Whether it was bringing in the latest movie reviews for his first grade show-and-tell or writing film reviews for the St. Norbert College Times as a high school student, Matt is way too obsessed with movies for his own good.
When he's not writing about the latest blockbuster or talking much too glowingly about "Piranha 3D," Matt can probably be found watching literally any sport (minus cricket) or working at - get this - a local movie theater. Or watching a movie. Yeah, he's probably watching a movie.