At some point, Aaron Rodgers will have to eat those iconic four words he yelled into the Soldier Field crowd back in October. Thankfully, "some point" won't be any time in 2021 as the Bears turned a halftime lead and a traitorous performance from the Packers special teams unit into a comfortable 45-30 Green Bay victory.
It sure didn't seem like it was going to be a comfortable night for the first half, with the Packers offense looking stagnant, the defense hemorrhaging big plays and the special teams ... I refuse to acknowledge them. But somehow, despite their struggles, thanks to the heroics of Rasul Douglas and Aaron Rodgers, Green Bay was merely down six at the break. Ah, the beauty of playing the Chicago Bears. That gap would disappear quickly in the second half thanks to 24 Packer points in a row, turning a close rivalry game into a laugher and an early night (despite the best efforts of The Unit That Shall Not Be Named).
It was a pretty wonderful way to return back to the field from the bye week – and because the Bears' pain is so delicious, let's relive some of the key moments from yet another document in Aaron Rodgers' Bears ownership portfolio.
1. Belt, then buckled
The turning point of tonight's game, brought to you by @PrepH. pic.twitter.com/qfRZZDq9Me — Drew Olson (@DrewOlsonMKE) December 13, 2021
They say the league learns fast and catches on quickly – but that must not be the case for the belt. You'd think by now opposing defenses would know that busting out a mocking Discount Double Check is an excellent way to have a bad Sunday – but apparently nobody told Robert Quinn, who celebrated a first half sack by dooming his football team to a loss. And indeed, after this play, Rodgers went on to throw four touchdowns and defeat the Bears comfortably. For the last time, NFL: Belt if you dare.
2. The rule of Rasul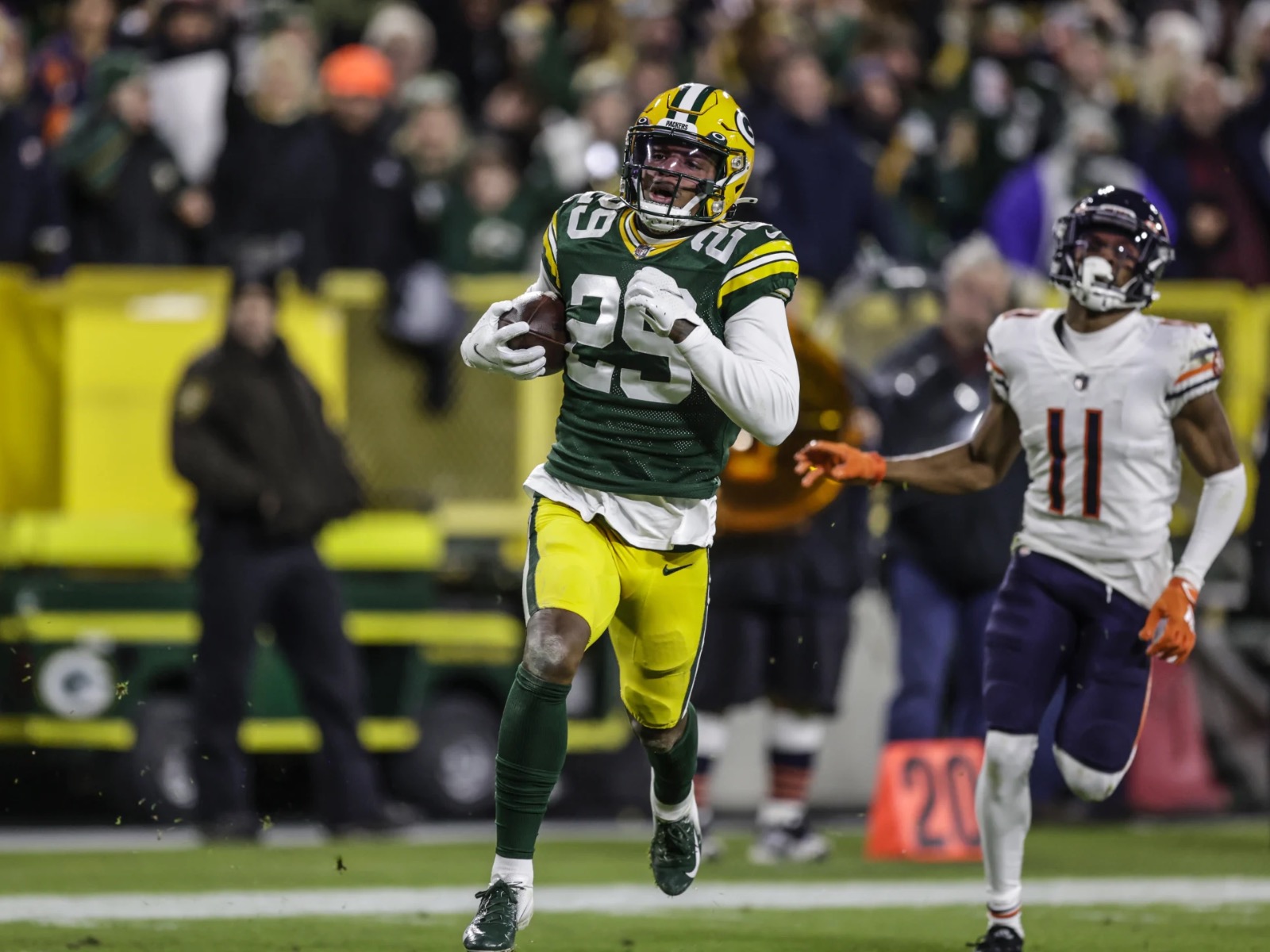 Between preseason squabbles, disgruntled stars, a plethora of injuries, the COVID outbreak heard round the world and feet on the live feed, this Packers season's been full of unfortunate subplots. But here's one undoubtedly wonderful one: Rasul Douglas. A guy barely in the NFL and in another time zone from Green Bay suddenly turns into a star for the Packers, shutting down opponents like the all-pro he's replacing and regularly turning defense into offense – like Sunday night, when he ran a bad Justin Fields pass back for a touchdown just when the Pack needed a jolt in the first half. From practice squad to defensive MVP, Rasul Douglas has certainly written himself into Packers lore.
3. I refuse to talk about special teams
HE GONE!!! 💨

97 yards to the house!@_TheDreamIsHere | #ProBowlVote pic.twitter.com/wO9dwp6Ibh — Chicago Bears (@ChicagoBears) December 13, 2021
At some point, if the Packers want to win the Super Bowl, something will have to be done about The Unit That Shall Not Be Named. The special teams department had an awful night – even by their typically miserable standards. In addition to coughing up the above 97-yard punt return – the worst of several significant returns they allowed the Bears on Sunday – there was the embarrassing muffed punt that thankfully was revoked due to a Chicago penalty, a botched onside kick recovery that kept things a semblance of close near the end and a Bears kickoff that the Packers returner should've let go out of play but instead tried to field, resulting in starting field position inside the 20 rather than at the 40. I'd say at least Mason Crosby made all of his field goals ... but he also booted a kickoff out of bounds. The next good play from this unit will be its first of the season.
4. Davan-takeover
.@AaronRodgers12 to @tae15adams for the DEEP TD! 🙌 #ProBowlVote | #CHIvsGB | #GoPackGo

📺 NBC pic.twitter.com/OjQZn1hHvG — Green Bay Packers (@packers) December 13, 2021
After some struggles (re: missed passed interference calls) in the first quarter, Davante Adams joined Aaron Rodgers in co-ownership of the Bears defense, snagging this gorgeous touchdown late in the first half and ending the game with a gaudy ten catches for 121 yards and two scores.
5. The discount double take
Aaron Rodgers sends this guy to his family events pic.twitter.com/3hozW2OyHW — Pardon My Take (@PardonMyTake) December 13, 2021
You know how Chris Paul has his twin Cliff Paul in those State Farm commercials? Meet Alex Rodgers, who would love to talk to you more about State Farm's surprisingly great rates.
6. A second half slaughter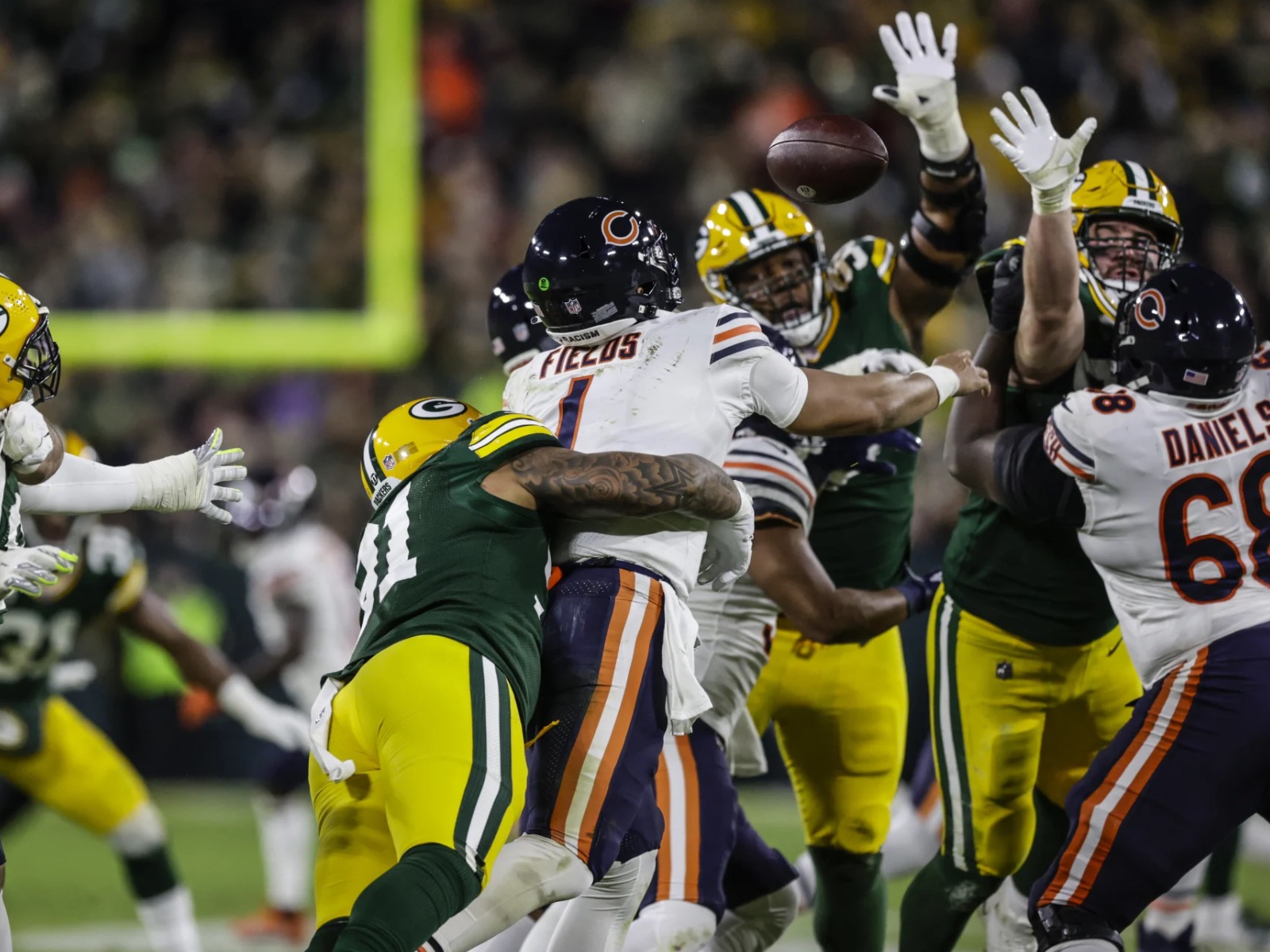 It's actually baffling that a game that, at best, looked like another unnecessarily close Packers bout turned into a happy early night for most Packers fans – all hinged on halftime. The Packers instantly came out with a powerful drive for an Aaron Jones touchdown, followed by a strip sack fumble on the immediate next Bears drive, topped by yet another Aaron Jones touchdown, turning a six-point deficit into an eight-point lead they'd only increase. Whatever Matt LaFleur said in the locker room at the break must've taken. Or maybe the Bears simply looked at the scoreboard, realized they're the Bears (and that Matt Nagy's their head coach), and returned to their usual tragic form. Probably a bit of both.
7. Over the top
Aaron Jones AGAIN! #GoPackGo#CHIvsGB on NBC

(Via: @NFL) pic.twitter.com/2qyzg1jjTV — Sunday Night Football on NBC (@SNFonNBC) December 13, 2021
Football is a violent, vicious, brutal game – but sometimes there is beauty in this sport. Case in point: this second half touchdown play, from the brilliant play design to the gorgeous execution. It's the very and complete opposite of watching The Unit That Shall Not Be Named.
8. MVP ... again?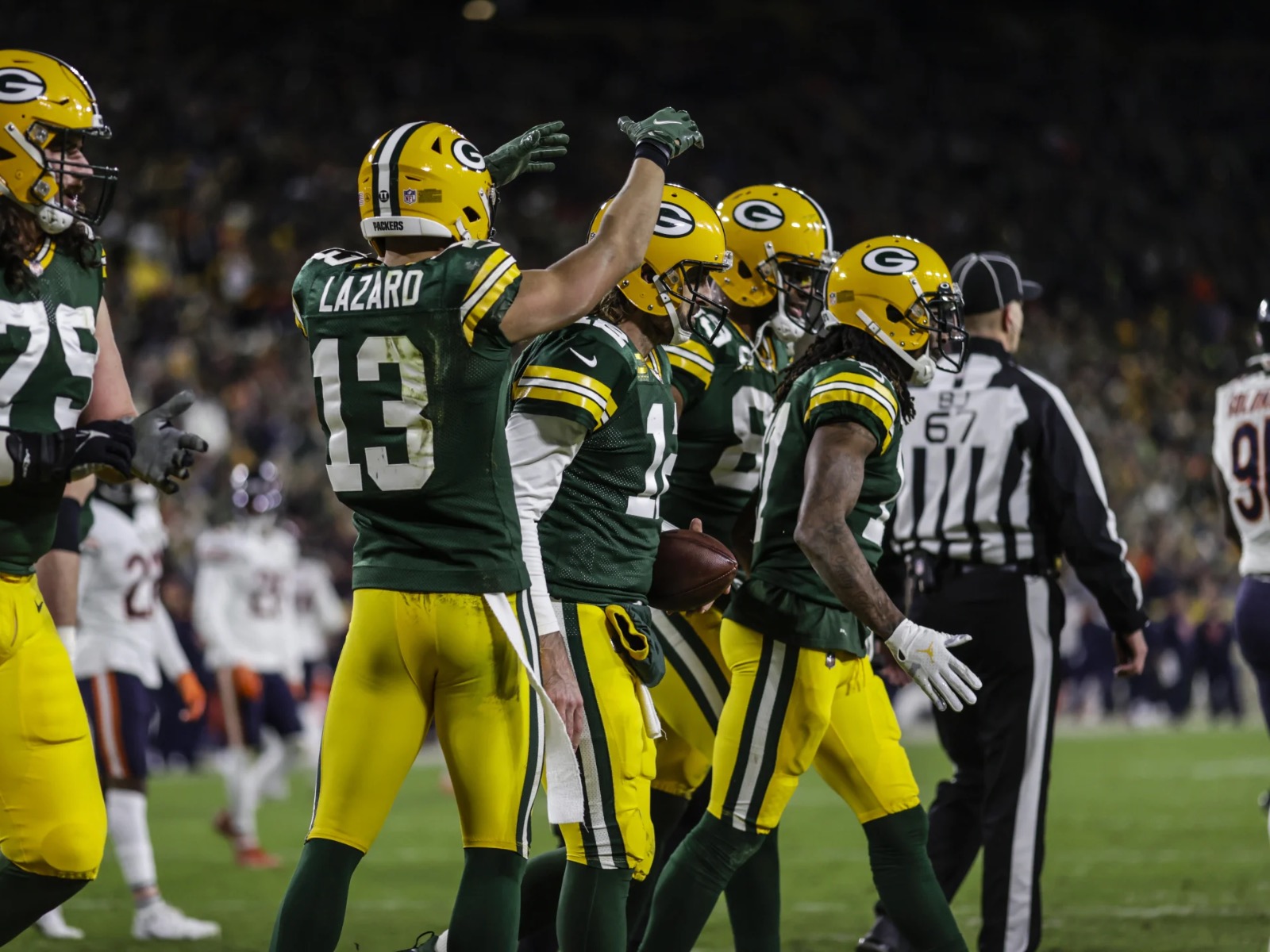 Rodgers threw for four touchdowns Sunday night – and might now bizarrely be the frontrunner to win his fourth MVP award. He's fifth in the league with 27 touchdowns to only four picks, and once again he's led his team to one of the NFL's best records while most other hot candidates – Josh Allen, Derrick Henry, Matt Stafford – have either stumbled badly, missed significant time with injury or both. Plus, as much as the NFL would rather not reward a player who made a mess of their COVID protocols – and of his image – his week away sure did emphasize how important he is to Green Bay. You might even say he's very valuable – maybe even the most valuable.
In the end, the MVP race will likely come down to who wins the NFC: Rodgers and the Packers, Tom Brady and the Bucs or Kyler Murray and the Cardinals.
9. Changing of the guard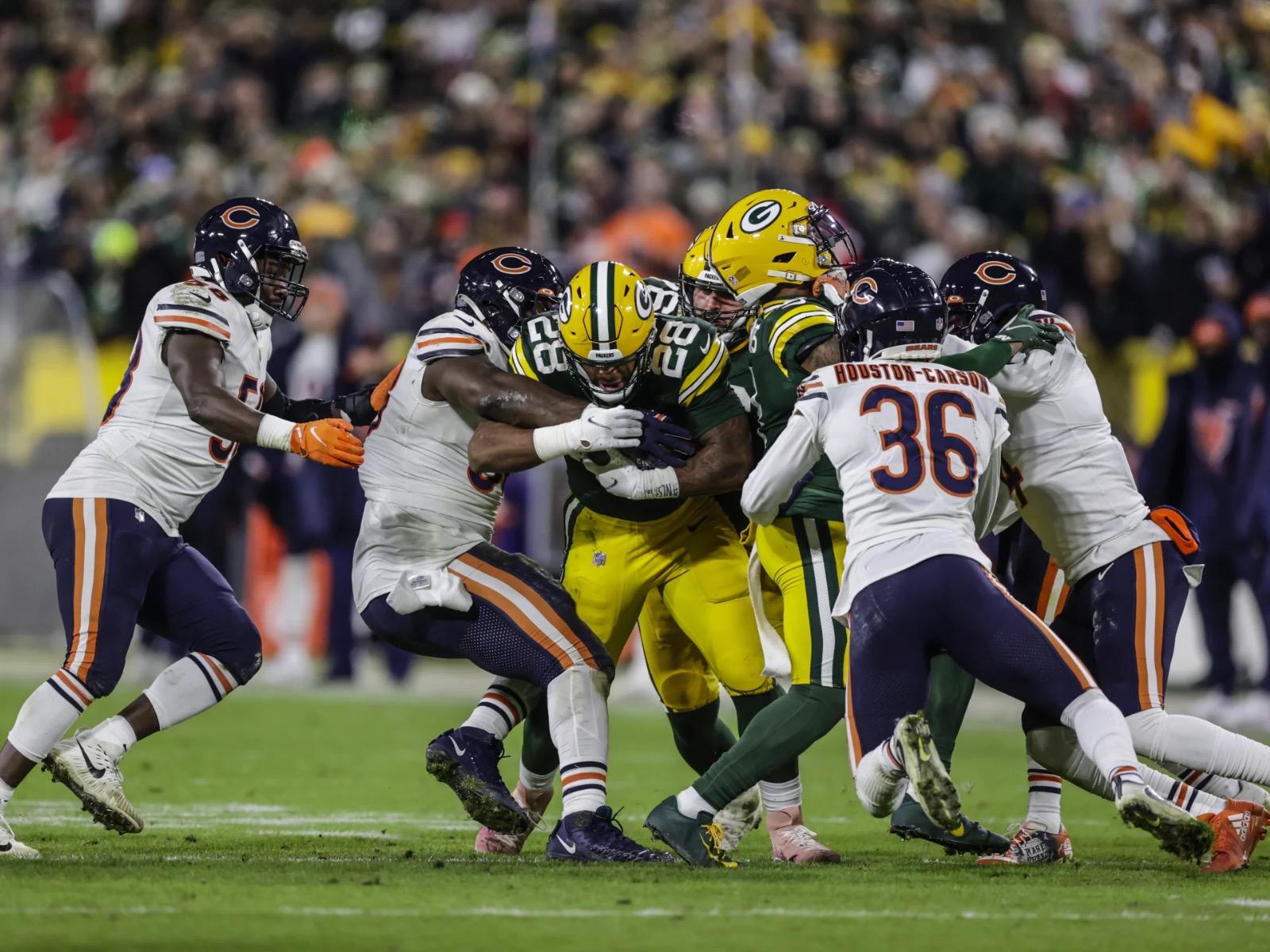 Not that Aaron Jones will complain too much considering he still scored two touchdowns on the night, but it seems clear that there's a new leader in the Packers backfield. AJ Dillon may have had a solid if unspectacular night – 71 hard-earned yards on the ground – but the most telling stat is the work balance. Dillon received 15 carries on Sunday night – triple the amount Jones got, not including Jones' three catches. Maybe it was just the matchup. Maybe Jones is still nursing the injury from before. Maybe head coach Matt LaFleur is just trying to reserve Jones for the true postseason push. But if those numbers are to be believed, it sure feels like the Quadfather offers the Packers something Matt LaFleur can't refuse.
10. A winning look
W. #GoPackGo pic.twitter.com/M91y5v32GD — Kurt Benkert (@KurtBenkert) December 13, 2021
Hovering around the league for the last four seasons, backup quarterback Kurt Benkert finally got his moment to step onto a professional football field and take a snap in a real game – TWO snaps, at that. The result? The happiest lost yard in football – the victory formation kneel – and a jersey stain Benkert's never gonna want washed out.
11. A final statement
Allen Lazard's shirt indeed says, "I still own you." pic.twitter.com/0PVYoT1mIS — Rob Demovsky (@RobDemovsky) December 13, 2021
They didn't come back from their off week healthier as hoped– Rodgers' toe is reportedly worse while another offensive lineman went down and Bakhtiari remains a question mark – but the Packers didn't leave any swagger back in the bye week, judging by Allen Lazard's fashionable postgame outfit. Now the Pack is headed to Baltimore to face a likely Lamar Jackson-less Ravens squad (yet another all-star quarterback duel squelched this season) with a chance to own far more than just the Bears: the NFC North title and maybe even the NFC's top seed.
As much as it is a gigantic cliché to say that one has always had a passion for film, Matt Mueller has always had a passion for film. Whether it was bringing in the latest movie reviews for his first grade show-and-tell or writing film reviews for the St. Norbert College Times as a high school student, Matt is way too obsessed with movies for his own good.
When he's not writing about the latest blockbuster or talking much too glowingly about "Piranha 3D," Matt can probably be found watching literally any sport (minus cricket) or working at - get this - a local movie theater. Or watching a movie. Yeah, he's probably watching a movie.