Now that's more like it!
After last week's season opener looked like fans' nightmares about this Packers season, Sunday night's 27-10 win over the Bears played more like a dream. Despite a few hiccups, the defense played like the dominating force we'd been sold in the offseason while the offense finally clicked together, with a gashing two-headed running attack setting up Aaron Rodgers in the pass game. Even the special teams looked solid (minus a harmless Amari Rodgers muffed punt that we're going to politely ignore).
Now, can you take away THAT much from beating a bad Chicago Bears team lacking talent across the board? Much like the Badgers clobbering New Mexico State this past weekend, no, probably not. There's no Justin Jefferson-like star playmaker the Packers successfully reigned in; Justin Fields is still a work-in-progress, not even at Kirk Cousins' level; and the defense has solid pieces but is in general very beatable. This is a team that a Super Bowl contender should beat – but that's exactly what the Packers did, and unlike in past years, they did so pretty comfortably as opposed to last year's slow start against the Lions in week two.
So let's appreciate Da Bears getting da-molished a little longer and take a look back at some of the most memorable moments and images from Sunday night's slap-down of Chicago.
1. The greatest sombrero of all
.@Showtyme_33 & Lil Showtyme 😊#CHIvsGB | #GoPackGo pic.twitter.com/w7NIGrlW59 — Green Bay Packers (@packers) September 18, 2022
Aaron Jones was the night's MVP before he even touched the field on Sunday, showing up with his classic sombrero – but joined by "Lil Showtyme" and his little sombrero. When you show up looking that precious, there's no way you're letting your team go 0-2 to start the season.
2. MVA: Most Valuable Aaron
Aaron Rodgers to Aaron Jones for the first Lambeau Leap of the year☝🏽pic.twitter.com/SjqN8OYGvx — IKE Packers Podcast (@IKE_Packers) September 19, 2022
Aaron Rodgers may be the four-time MVP and face of the franchise, but arguably the most important Aaron in green and gold this season plays running back. With Davante Adams gone and a receivers room with much to prove, the Packers running game will be essential to the team's success – with Aaron Jones likely leading that charge. And he most certainly did on Sunday night, slicing and dicing his way through the Bears defense to a tally of 170 total yards and two touchdowns – including this touch pass that earned the Pack their first Lambeau Leap of the season. The thunder to his lightning, A.J. Dillon, was no slouch either, racking up 61 yards on the ground and helping set the dominating tone of the night. It was clear Sunday night: Unlike past seasons where as goes Rodgers' aerial assault goes Green Bay, the running game will be the tip of the Packers' spear this year – and essential to any Super Bowl hopes.
3. Welcome back
Allen Lazard told us he came up with this celebration, to pour everyone some tea… 🤣

Sammy Watkins said it was an ode to Aaron Rodgers pic.twitter.com/Zj64wz0SUW — Lily Zhao (@LilySZhao) September 19, 2022
Allen Lazard may not be the most feared number one receiver in the NFL, but he's our number one receiver – and thankfully he was back Sunday night after missing week one with an ankle injury. His stats won't blow anyone out of the water – two catches for 13 yards – but the offense moved a lot more smoothly with him in the game, Rodgers looked more comfortable with his full complement of pass catchers (who got a lot more open this week) and he did catch this quick touchdown to put the game pretty much out of reach before the half. But the "tea ceremony" celebration might be the real highlight of this touchdown. Feeling pretty confident that's the first ayahuasca reference ever acted out on Lambeau Field soil.
4. Washed out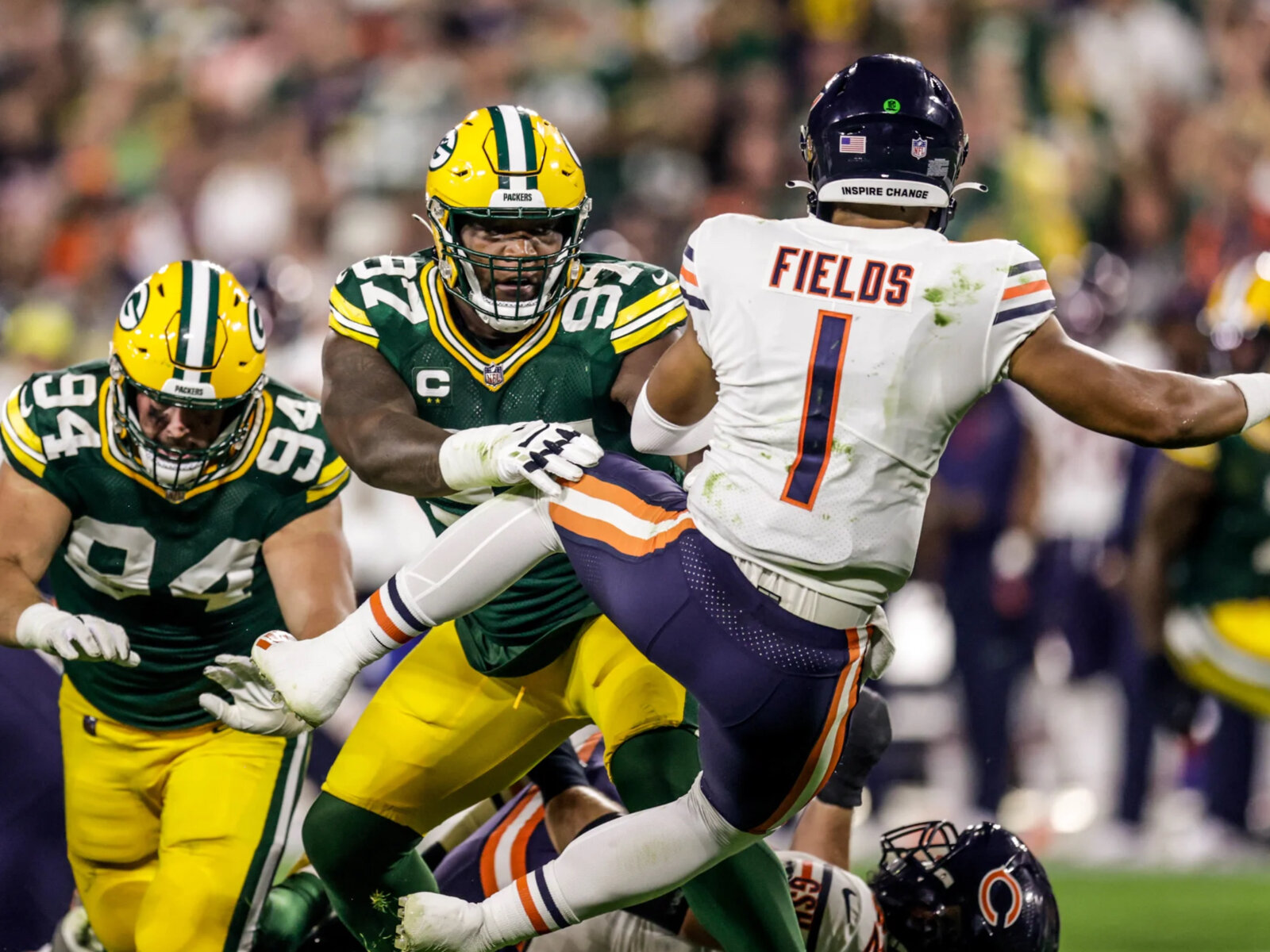 Sure, Justin Fields handled the stormy weather fine enough for the Bears to win their opener last weekend – but on Sunday night, he was hit by a real monsoon courtesy of the Packers defense. The Bears quarterback got utterly washed by the rejuvenated Green Bay D, throwing for just 70 yards and a late pick in between three sacks and in general struggling to get his offense moving anywhere but into the dirt. Turns out when you don't have a grotesque mud bath of a field equalizing the competition, the Bears look like the significantly worse team!
5. Fun but by no means flawless
The Aaron Rodgers - Christian Watson era is not off to the smoothest of starts pic.twitter.com/0qKxZOyjv4 — Eric Hubbs (@BarstoolHubbs) September 19, 2022
Sunday night was generally a good time for Packers fans – but it wasn't perfection. The first quarter, for instance, continued this season's trend of being a replay of 2021, duplicating Green Bay's slow, sluggish start against the Detroit Lions and falling behind the Bears, 7-3, in at the end of the first. That, thankfully, would change quickly – but there was clearly still some rust coming off the Pack, with a fumbled snap that ended a promising and likely game-ending drive at the start of the third and the above miscommunication, snapping the ball off rookie Christian Watson and causing a massive loss of yards that kept the Bears in the game.
Obviously it was a great improvement over last week's performance ... but also we were playing the Bears. These kinds of mistakes likely won't be so easy to overlook against the Buccaneers next week – or, hopefully, come playoff time.
6. A flop of a fourth quarter
David Montgomery is good. That's the tweet. pic.twitter.com/ddinxxQA48 — DraftKings (@DraftKings) September 19, 2022
And then there's the defense. While it was definitely a more reassuring performance, one closer to the high-quality squad we were sold in the preseason, hints of last week's trouble were still on the field. The Bears' first drive looked frustratingly easy for Fields, and while that would change quickly for the Chicago quarterback, things reverted back to problematic for the Pack in the fourth quarter. There, perhaps content with their solid lead, the defense got gouged, letting David Montgomery run free for seemingly most of his 122 yards. An allegedly top-five defense needs to play all four quarters.
Thankfully, a drive that could've made things uncomfortably interesting on Sunday night came to an uneventful end ... well, that's not ENTIRELY accurate.
7. Red zone Rorschach test
Should this have been a TD? pic.twitter.com/29MjwZDdMf — PFF (@PFF) September 19, 2022
It wouldn't be a Bears loss without something for Chicago fans to whine about – and indeed, they got material when the Packers' transformation into literal Swiss cheese ended, turning back into a wall just in time to stop Justin Fields from converting a fourth down from inside the one-yard line. Or at least that's how it looked in action as, with replay, Fields got a lot closer to breaking the plane than expected.
Bears fans will say it's obvious that he broke the plane; his wrist clearly crosses the line and his wrist is holding the ball, right?! Well, if the rule stated that a player's wrist needs to break the plane, it'd be a touchdown – but the actual ball needs to clearly break the line, and since we can't particularly see the football in the shot and where it stands in Fields' arm, the refs can't overturn the call made on the field, which was turnover on downs. So what could've been a potentially game-altering touchdown – although not even a game-tying score – stayed a missed opportunity.
But hey, good on Bears fans for finding something to be mad about rather than their defense having no answer for the Packers' running game. Or giving up a long scoring drive on the next possession despite Green Bay starting from the one-inch mark. Or Justin Fields not having anyone to throw to and not even being able to hit 75 passing yards in a modern NFL game. Or your new coach's weird decision to run Fields out of the shotgun on the fourth down, turning a one yard into five yards. No, you're totally right: It was definitely the touchdown that wasn't clearly a touchdown that lost the game.
8. Dagger? There it is
Rodgers to Sammy for 55 yards!

📺: #CHIvsGB on NBC
📱: Stream on NFL+ https://t.co/OZNdRHH6Rv pic.twitter.com/pVqwCYniUX — NFL (@NFL) September 19, 2022
Jaire Alexander's late interception may have officially iced the game, but this deep bomb from Rodgers to Sammy Watkins was the true dagger of the night, getting the Packers out of the depths of their own territory in the middle of the fourth and putting them in position for one more score. Lazard's return got all the headlines, but it was Watkins who seemed to step up for the receiving corps Sunday night, snagging three key catches for 93 yards. Maybe, as it turns out, we don't need the greatest receivers room of all time when we have the four-time MVP. Or when you're playing the Bears.
9. Alternate Universe Rodgers is pleased
Doppelganger Aaron Rodgers is happy. #packers fans are happy.

Maybe @melissastark is unhappy right now, but, in all, I think most of us are OK with things right now.

Nice, TCOB win for the Pack. It won't be so easy next week. #CHIvsGB #SNF pic.twitter.com/dwu80ejvIg — Dan Pfeifer (@MUPfeif) September 19, 2022
Remember the doppleganger Aaron Rodgers from last season? Well, NBC certainly did as they found Frank watching the game in his native Germany. Apparently they didn't find him any friends to watch the game with, though, as the footage of the fan watching in drably-photographed solitude made me more depressed than a Bears fan watching Justin Fields attempt to do anything. Let's get Frank some friends, everyone – especially for Green Bay's European vacation in a few weeks!
10. Owned – part 22
😅 @BRGridiron pic.twitter.com/OmdO4EkCT9 — Bleacher Report (@BleacherReport) September 19, 2022
Another year, another excellent stockholders meeting for the true owner of the Chicago Bears. After scuffling last week, Rodgers looked confident and in-rhythm, throwing for 234 yards, two touchdowns and only six incompletions on the night.
Beating the Bears is always important – but this Sunday night victory was exceptionally so. Starting this season 0-2 with two losses against divisional rivals would've been a harsh reality check that no ayahuasca could pick us up from. And with the schedule lining up the Bucs and the still-Belichick-led Patriots next, this opening run won't get any easier – but at least we got our first notch in the win column, saw the Packers play up to their potential on both sides of the ball and, maybe most important of all, confirmed yet again that the Bears still suck.
As much as it is a gigantic cliché to say that one has always had a passion for film, Matt Mueller has always had a passion for film. Whether it was bringing in the latest movie reviews for his first grade show-and-tell or writing film reviews for the St. Norbert College Times as a high school student, Matt is way too obsessed with movies for his own good.
When he's not writing about the latest blockbuster or talking much too glowingly about "Piranha 3D," Matt can probably be found watching literally any sport (minus cricket) or working at - get this - a local movie theater. Or watching a movie. Yeah, he's probably watching a movie.