It's a new Packers season in a new era with a new guy taking the reins, but the result is gloriously the same: The Bears still suck.
I mean, boy, did they suck yesterday, as the Packers started their new generation with a good ol' fashioned smackdown of their long-time rivals, beating the Bears 38-20 on the first Sunday of the NFL season. And even putting aside watching Chicago fans – so smug this offseason now with Aaron Rodgers wearing a new shade of green – cry and boo their team less than three quarters into the season, it was a dream beginning for Green Bay fans. Jordan Love looked confident and composed in his first week as the man at the helm, the offense looked capable (at least when they bothered to give Aaron Jones the football) and the defense kept the Bears in check almost all game long. Even the special teams looked good – and the Packers special teams NEVER looks good!
Of course, it's just one game in a long season – but in a season that's mostly surrounded with question marks, at least the Packers started things out with a real exclamation point. And even if they go 1-16 the rest of the way, at least we'll know we made Chicago Bears fans question everything they love and hold dear.
Besides making Bears supporters wonder if they should become XFL fans, here are 14 takeaways from Sunday's big first W in the season of Love.
1. Return of the hat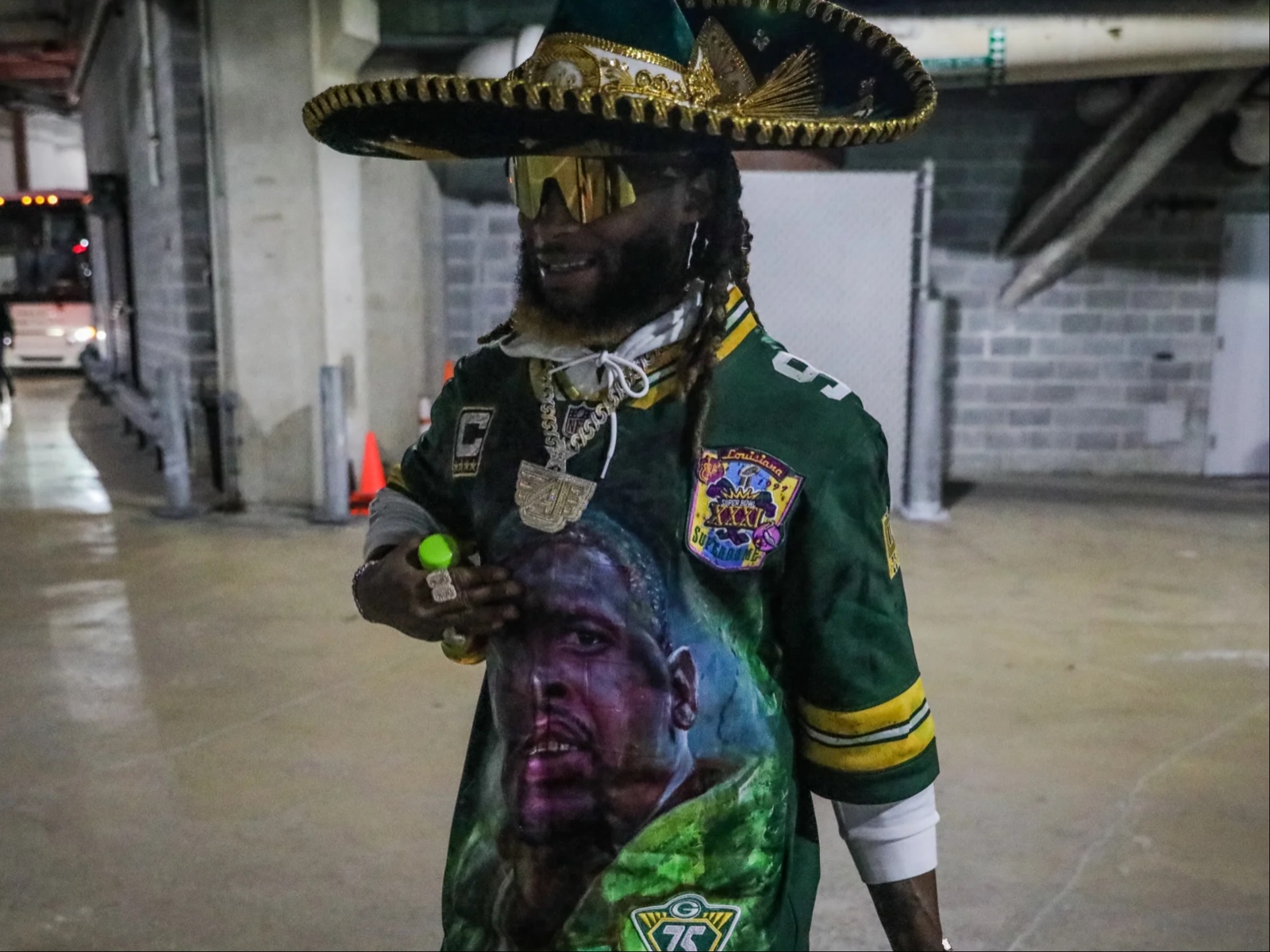 Aaron Rodgers is gone, but the best Aaron is still in Green Bay – and still rockin' his sombrero. Plus the Reggie White commemorative jersey? This should've been the first moment Chicago knew things weren't going to go their way on Sunday.
2. New man, new era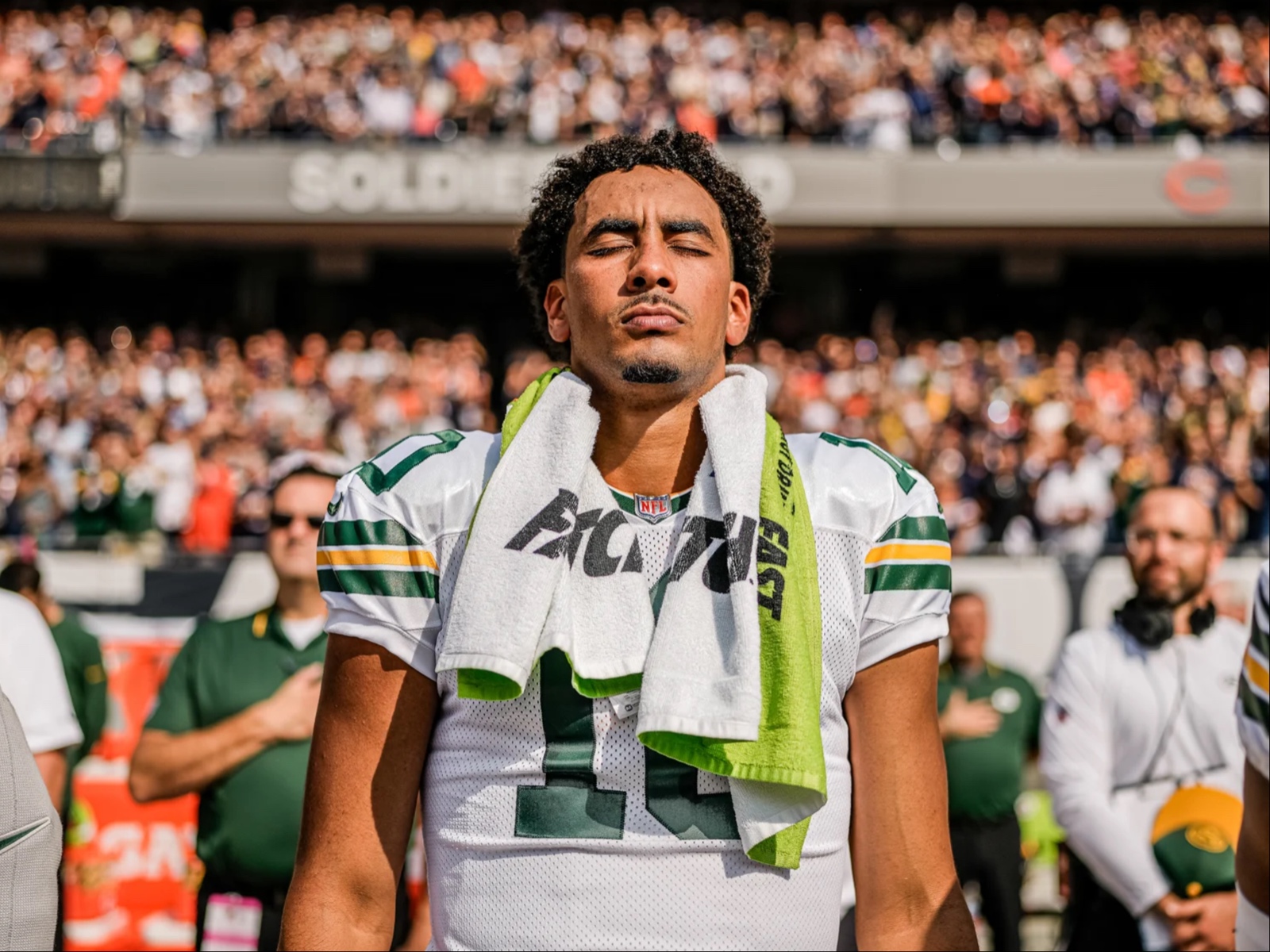 You're gonna have to give him a moment. Jordan Love has to think about his entire life before he plays. (Which, hey, judging by Sunday's results, seems like a sound strategy.)
3. Feelin' the love
Jordan Love's mom was HYPED for the first down 😆

📺: FOX pic.twitter.com/e3leOQgaKD — FOX Sports: NFL (@NFLonFOX) September 10, 2023
It took Jordan Love's mom several long years to see her son become a true starting quarterback in the NFL – but not long into Sunday's game to have something to celebrate. Faced with a third and long on their first drive, Love stepped up and found Romeo Doubs for a 13-yard gain and the first first down of the 2023-24 season. Mrs. Love was, as you can see, pumped – and she probably stayed that way for the rest of the game.
4. Green-and-golden start
It wasn't a flashy dive, but it was an essential one, as the Packers took their opening drive on the road into the endzone thanks to this touchdown pass from Love to Romeo Doubs, who wrapped up the day with four catches for a mere 26 yards but two scores. A pretty impressive first go – especially with one of their critical receiving weapons, Christian Watson, on the sideline with an injury.
5. Defense having a Fields day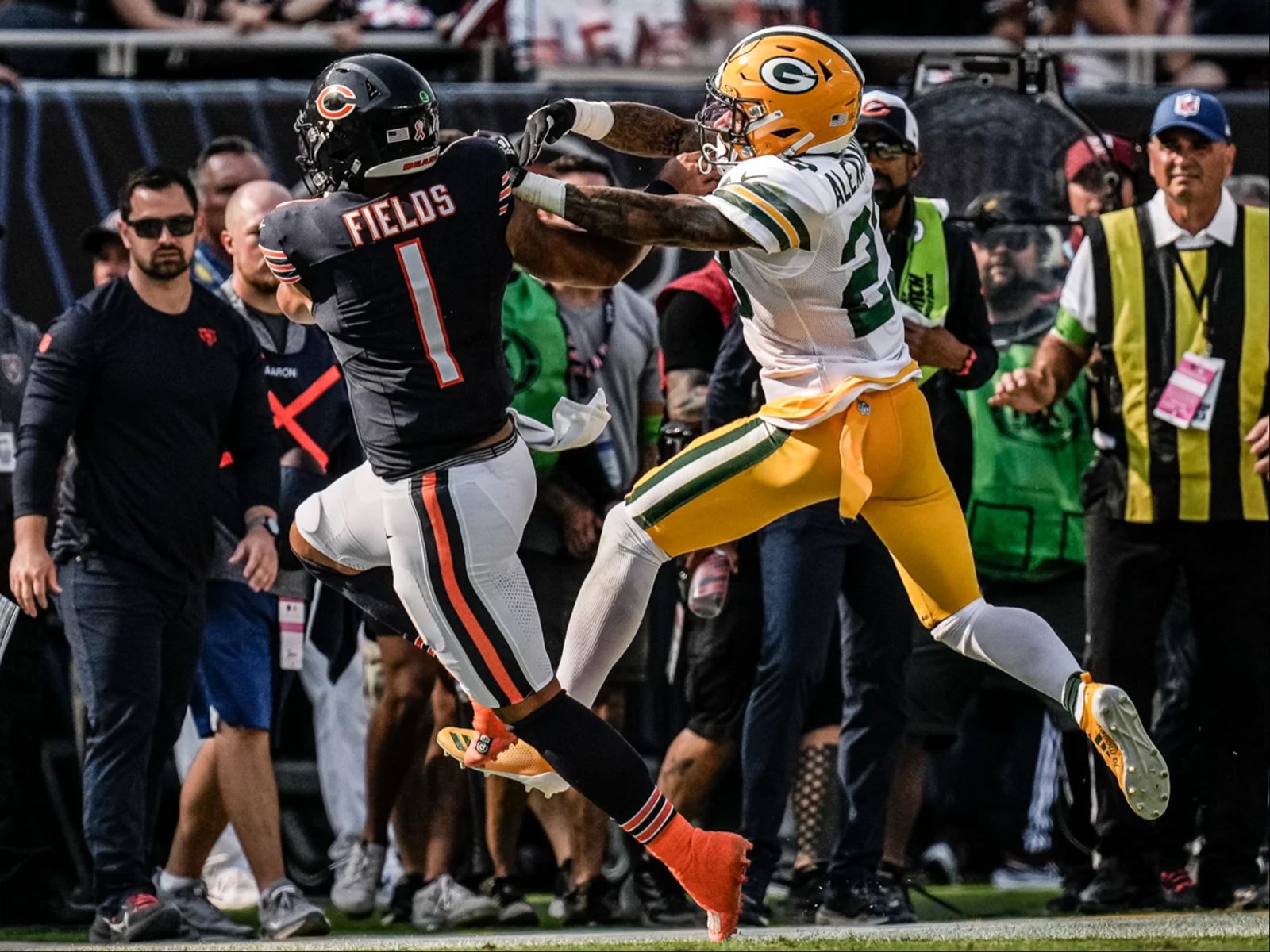 Of the two quarterbacks that took the field Sunday, Justin Fields sure looked like the one making his week one starting debut on the road, feeling the pressure of taking over from a future Hall of Famer. The third year quarterback looked more like a rookie at Soldier Field, unable to navigate the Bears offense beyond three-yard dink-and-dunk passes, chucking a game-sealing interception and tossing in a fourth-quarter fumble just for good measure. But hey, don't worry Bears fans: At least you didn't trade away an extremely valuable number one pick in the most recent NFL Draft (and then even more picks) to commit to Fields as the future of your franchise! Oh ...
6. First-rounder's first sack
Packers first round pick Lukas Van Ness comes up with his first career sack at a HUGE moment✅ pic.twitter.com/tqNWeyGJ6d — IKE Packers Podcast (@IKE_Packers) September 10, 2023
Jordan Love's starter debut stole all the spotlight, but another Packers player made an impactful debut as well on the other side of the ball. First-round pick Lukas Van Ness got his career off on the right foot on Sunday, scoring his first NFL sack just as it seemed the Bears might take the lead with a drive deep into Green Bay territory. More like Lukas Van YES, amirite! (I'm sorry; that's a Justin Fields-level pun.)
7. No doubts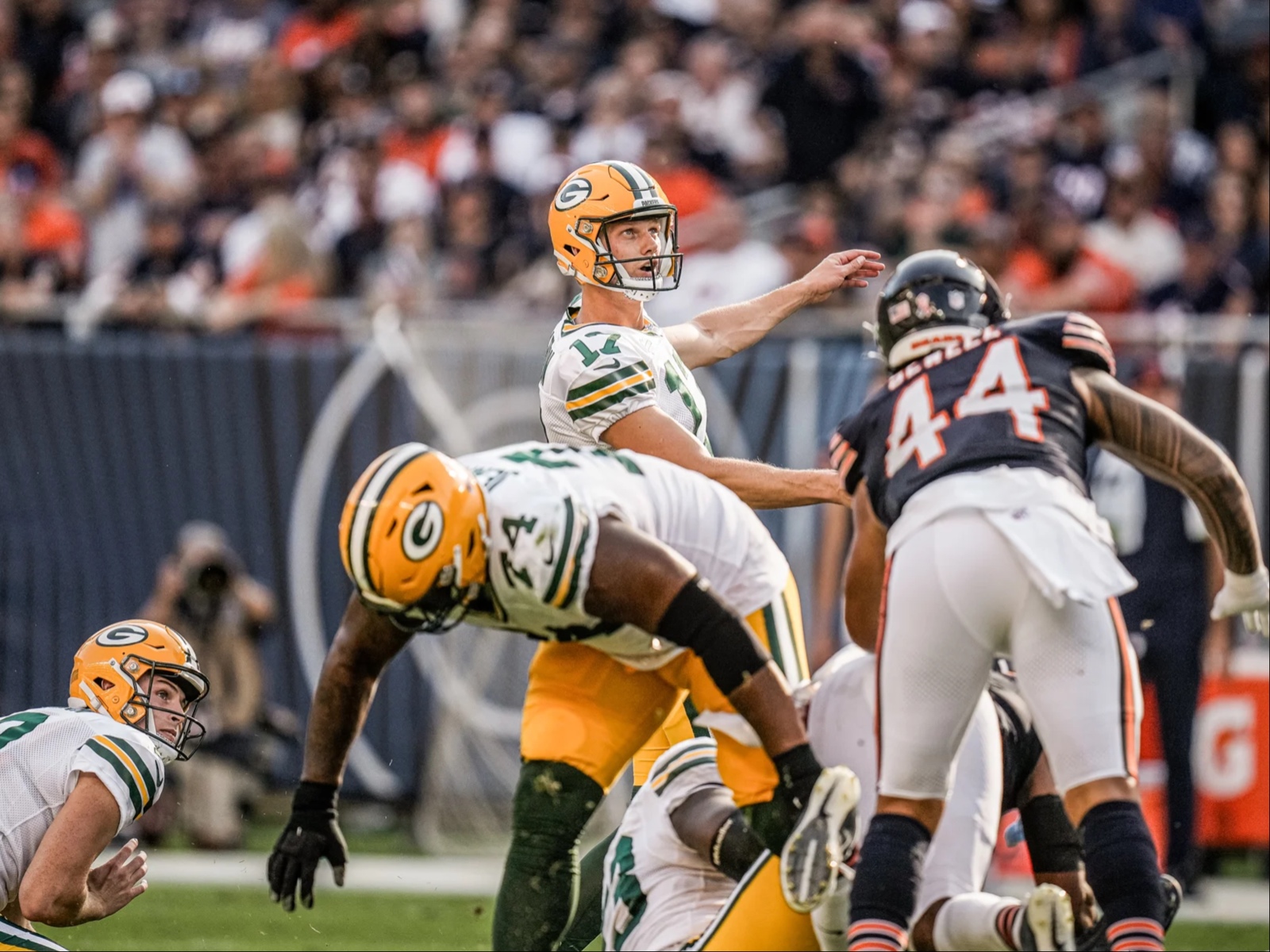 Love wasn't the only guy in green and gold on Sunday with some doubters to disprove. Rookie kicker Anders Carlson had Green Bay fans grumbling during training camp with some missed kicks, but those grumbles were rendered almost as silent as Bears fans as Carlson made all six of his kicks on Sunday – five extra points plus a critical 52-yard field goal at the end of the half. Sure seems like Mason Crosby can comfortably relax at home this year.
8. The W stands for "work to be done"
Justin Fields to Darnell Mooney. Khalil Herbert adds more on the two point conversion. #DaBears #FPC #NFL #NFLTwitter

pic.twitter.com/gUL3zx39ZF — Full Press NFL (@FullPressNFL) September 10, 2023
Sunday was awesome – but it certainly wasn't perfect, especially if you're Matt LaFleur. After their first drive, the offense became stagnant, they ended the half by wasting almost the entire game clock for no reason, and in the third quarter, they almost allowed the Bears back into the game with a collection of cheap penalties and shoddy defense. There's a lot to be excited about with this Packers performance, but plenty to fix for the other 16 games to come – like, say, for instance, making sure your best player gets the ball in his hands. Which on that topic ...
9. The only Aaron that matters
51-yard pickup for @Showtyme_33!#GBvsCHI | #GoPackGo

📺: FOX pic.twitter.com/aQSMxx4eDU — Green Bay Packers (@packers) September 10, 2023
Aaron Jones was a critical part of the Packers opening drive, putting up more than half the yards across six touches. With Watson out, Jones was the team's most electric offensive weapon, and he was clearly gouging the Bears defense. So what did Matt LaFleur do? Barely gave him the ball for the next quarter of the game, one in which the Packers offense scuffled and barely clung to their lead. LaFleur eventually got Jones back into the game to start the second half – and lo and behold, Green Bay almost immediately scored another touchdown set up by this massive Jones catch and run. This team's been used to running through Aaron Rodgers the past decade – but it's time to run the offense through a different Aaron now and treat him like the game-breaking star he is.
10. Hurts so good
Aaron Jones is still electric. pic.twitter.com/EUNa1nvxKs — Wyatt 🥃 (@WyattB_FF) September 11, 2023
Aaron Jones is such a game-breaker, he almost broke himself in the process. On the second drive of the second half, Jones took another short pass for a big gain – all the way to the endzone, this time. As exciting as the Packers pulling away from the Bears was, though, fans couldn't entirely celebrate as Jones ended the play limping. Thankfully they wouldn't need him for the rest of the game – but we'll definitely need him next week and all the weeks after, so get well, Aaron Jones' hamstring!
11. Rest and relaxation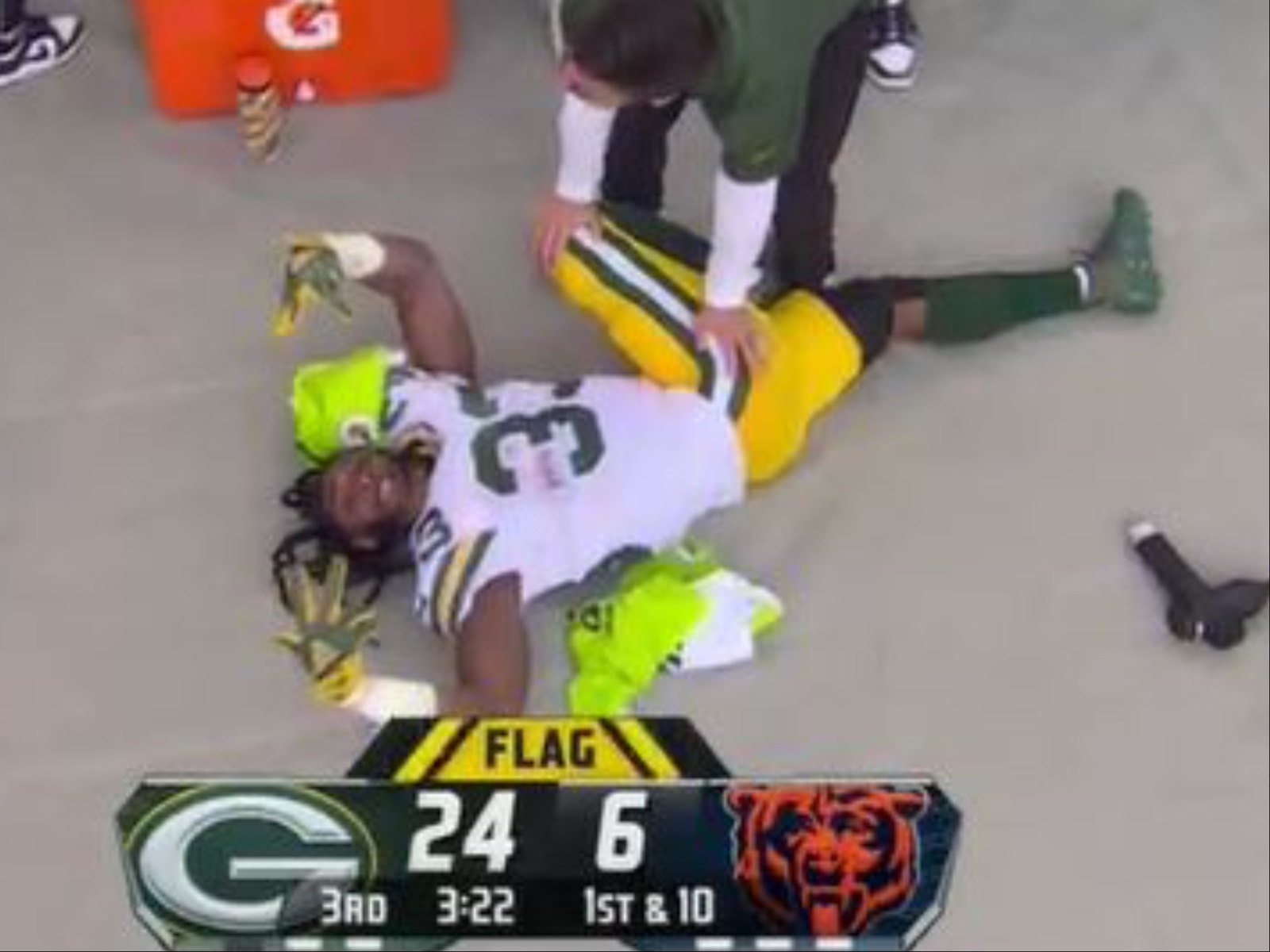 Obviously it's not great to see your star running back and crux of the offense gimping and grabbing at his hamstring right after a touchdown – but at least Aaron Jones gave all Packers fans a sigh of relief when he showed the skycam how seriously he was taking his injury on the sideline.
12. From bad to beautiful
Jordan Love is nothing if not calm.

The awareness to recover the fumble, set his feet, and make a throw to an open receiver is impressive. pic.twitter.com/mZ5y8m8BfE — Jacob (@NotionsOfJacob) September 11, 2023
Jordan Love already had a strong day by this point in Sunday's game – but this was the moment where it became clear that he was a real NFL-level quarterback. Faced with a fumbled snap, Love could've easily panicked and hit the dirt or chucked the ball out of bounds – or, worse, chucked it into a Bears player's hands. Instead, he composed himself, found his wide open receiver and got the ball to him, setting up pretty much the dagger touchdown on the day. With 245 yards passing and three touchdowns, Love put up good numbers against the Bears – but this play really cemented him as a pro ready to play and take the lead this season.
13. OK Quay!
QUAY PICK SIX 🔥 @QuayWalker_ #GoDawgs | #DawgsInTheNFL
📱: Stream on #NFLPlus https://t.co/y71ItKTGUM
pic.twitter.com/Vf7E0tlq4S — Georgia Football (@GeorgiaFootball) September 10, 2023
Former first-round pick Quay Walker may have ended last season on a low note, but he began his sophomore season with the Pack on a high, snagging this game-clinching interception and chugging it all the way into the endzone – body-checking the Chicago Bears running back into oblivion in the process.
14. 1-0
"Pack is back." pic.twitter.com/Z3UTR1B3J5 — Hunter Baumgardt (@hunterbonair) September 11, 2023
There's a lot of football left to play – just ask how last season's solid start turned out – but the Packers are currently undefeated and currently giving fans no reason to tune out of this season early. And the best part? No, not the tears of Bears fans wondering if Justin Fields is just another Caleb Hanie-level talent in disguise. The best part is that the Pack's early schedule is quite friendly, lining up the intriguing but young and untested Atlanta Falcons next week on the road. Here's to feeling the love once again next Sunday.
As much as it is a gigantic cliché to say that one has always had a passion for film, Matt Mueller has always had a passion for film. Whether it was bringing in the latest movie reviews for his first grade show-and-tell or writing film reviews for the St. Norbert College Times as a high school student, Matt is way too obsessed with movies for his own good.
When he's not writing about the latest blockbuster or talking much too glowingly about "Piranha 3D," Matt can probably be found watching literally any sport (minus cricket) or working at - get this - a local movie theater. Or watching a movie. Yeah, he's probably watching a movie.