My apologies, everyone. The Packers must've heard me talking about how last week's win over the Steelers was boring and said, "OH REALLY!? Would you prefer the most traumatizingly absurd and unnecessarily intense game in recent memory then?" And I must say: After five missed clutch field goals, whiplash-inducing momentum swings, a horrifying lack of Jaire Alexander and at least 20 pounds added to my waistline due to stress-eating, it turns out I would not prefer that at all.
At least the drama ended with a hard-earned 25-22 Packers victory and a sturdy NFC North lead headed into Chicago next weekend.
Not that anyone will forget this game anytime soon (thought Mason Crosby and the Bengals kicker will certainly try), but let's quick remember some of the most memorable moments, takeaways and images from a most memorable afternoon in Cincinnati.
1. Strong D in Cincy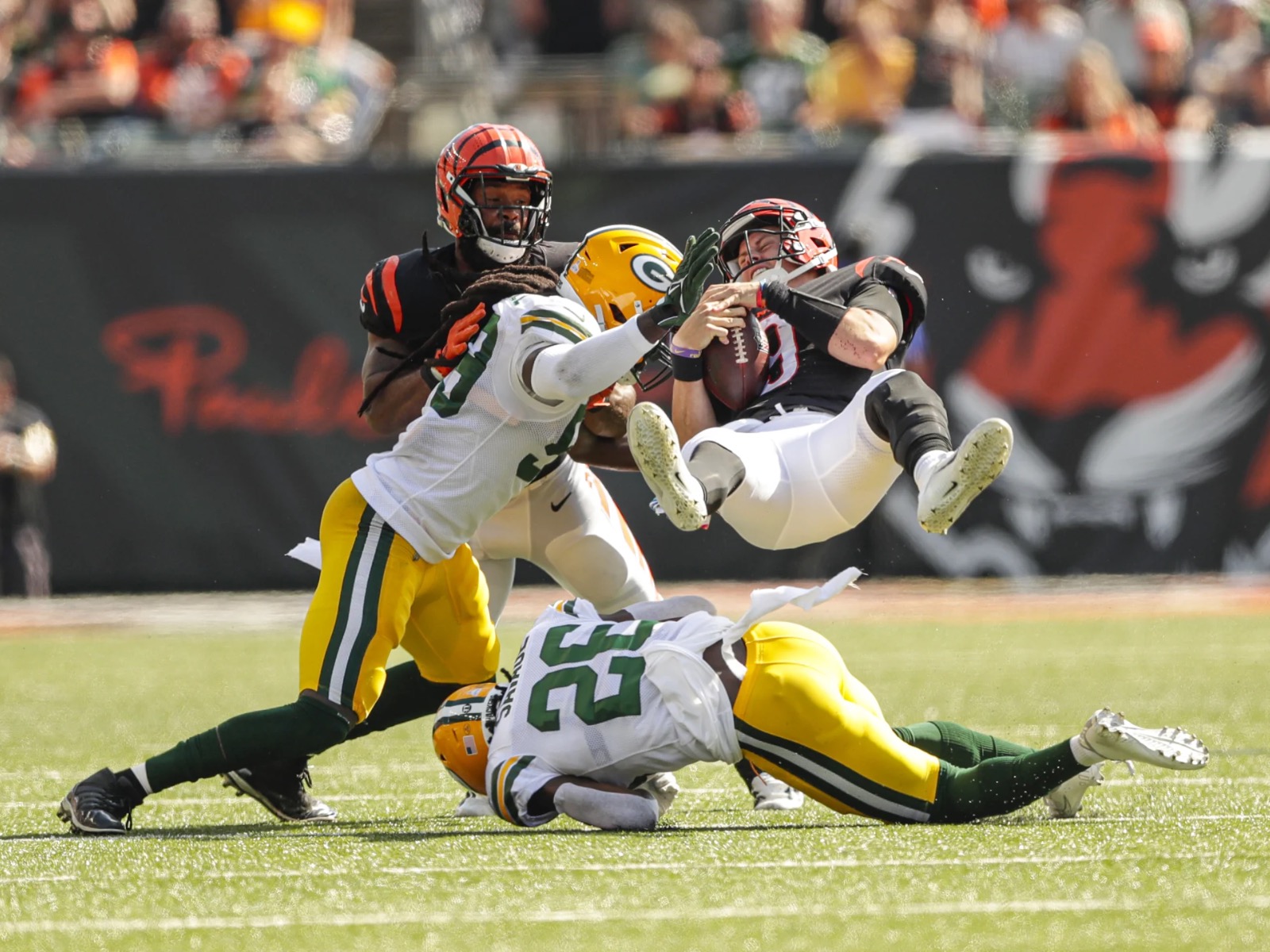 Heading into Sunday's game, Packers fans were sweating over the state of our defense. In case we hadn't moved on from the lingering terror of Week 1 against the Saints, the Pack headed into Cincy without star shutdown cornerback Jaire Alexander, perhaps lost for the entire season due to an AC joint injury – which meant a lot more Kevin King and Eric Stokes than preferred.
And yet, even with those injuries (I didn't even mention Za'Darius Smith, who has yet to play a down this season), the Packers defense was by no means the problem on Sunday, flying around the field, pulling off its signature bend-don't-break routine, nabbing two interceptions and knocking around up-and-coming Cincy quarterback Joe Burrow for three sacks on the afternoon. In the end, what appeared to be a punishing day with all the injuries instead turned out to be a promising one for the Packers D. Here's to keeping it up beyond the Bengals.
2. Heart-stopping handoff
That's one way to hand it off. @AaronRodgers12 @showtyme_33

📺: #GBvsCIN on FOX
📱: NFL app pic.twitter.com/OYeTiYfsa2 — NFL (@NFL) October 10, 2021
In honor of Bob Uecker and the Brewers' current postseason run, I'd say that snap was juuuuuuuuuust a bit outside.
3. MVP(retty good)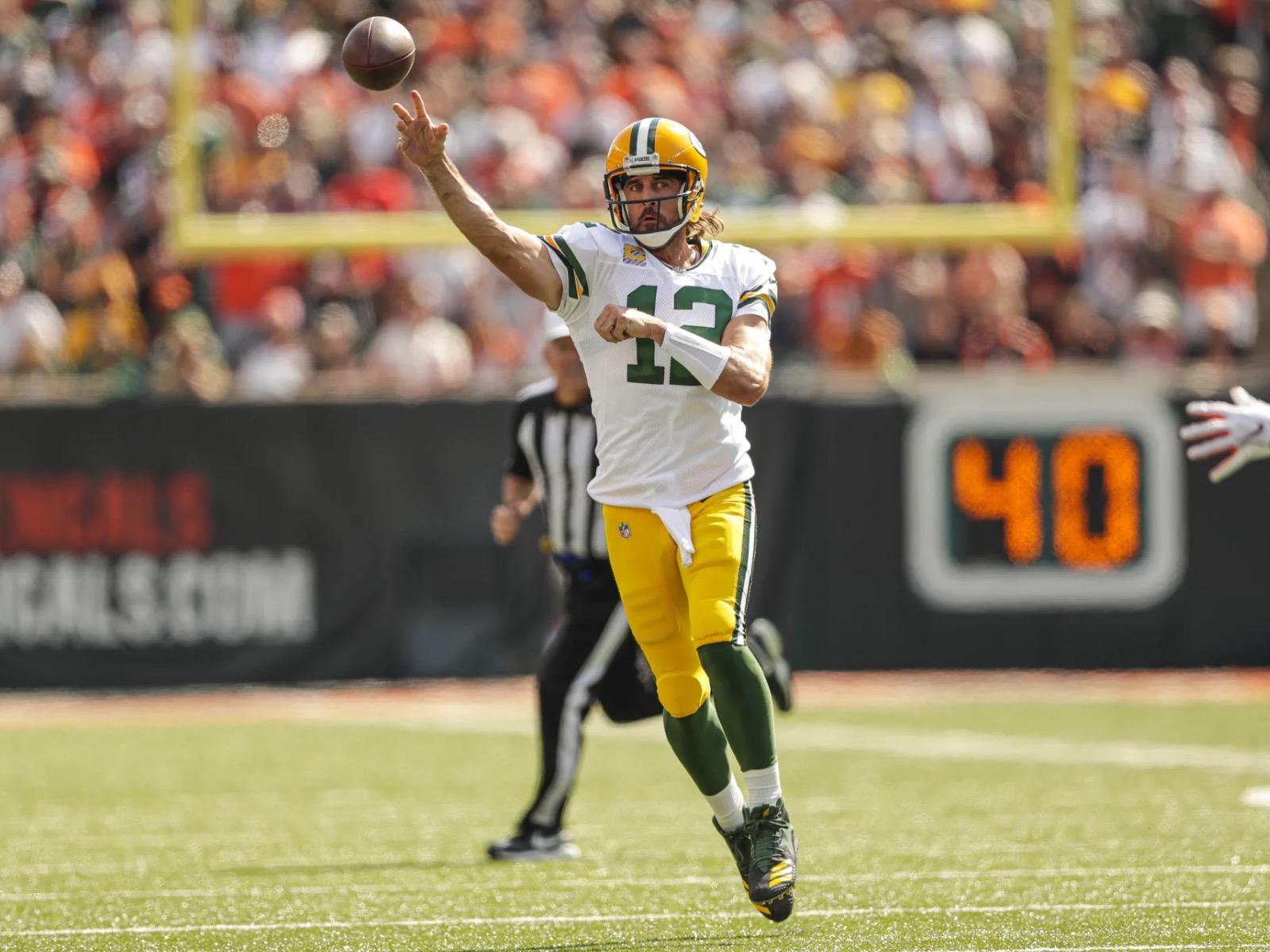 He's still not even in MVP form, but Aaron Rodgers is still pretty darn good at his job, throwing for 344 yards and three touchdowns on Sunday. Just gonna take this moment to remind everyone once again that, after week one, there were Green Bay fans saying he should be benched for Jordan Love – Green Bay fans who seem oddly quiet right now.
4. Quite the connection
Aaron Rodgers moves to 5th all-time in passing TDs 👏pic.twitter.com/T9jEpDBCjC — NFL on ESPN (@ESPNNFL) October 10, 2021
First of all, just let me say that I have no idea what constitutes a catch anymore considering Adams lost the ball pretty quickly out of bounds. But hey, I won't complain; I'll take six confusing points over a very certain zero.
But most important, the Rodgers-to-Adams connection was a wonder to behold on Sunday afternoon, as the former moved to fifth in NFL history for passing touchdowns while the latter set an incredible career high for receiving yards with 206 on eleven catches. And those gaudy numbers somehow undersell how essential Davante Adams was to the Packers on Sunday, seemingly always snagging the ball when the team needed a big play or first down. Considering Adams currently leads the league in yards and catches, his impact clearly essential to a top team in the NFC, the MVP trophy may leave Rodgers but stay in Green Bay come season's end.
5. A savage miss
Darnell Savage narrowly misses the ball. Game of inches pic.twitter.com/7aKyaTtrdS — packers clips (@packers_clips) October 10, 2021
Darnell Savage was dang close to pulling off an impressive interception here. Instead, he did his best "ole!" as Joe Burrow's pass slipped between his arms and landed in the paws of Bengals star receiver Ja'Marr Chase – who had quite the day himself with 159 yards and this touchdown.
By the way, this big momentum-shifting play happened with less than a minute to go in the half – which, of course. The Packers have to lead the league in most points sacrificed in the final two minutes of the first half. If this team ever grasps the concept of "keeping the boot on the neck," it'll be unstoppable.
6. First down or "Matrix" fight scene?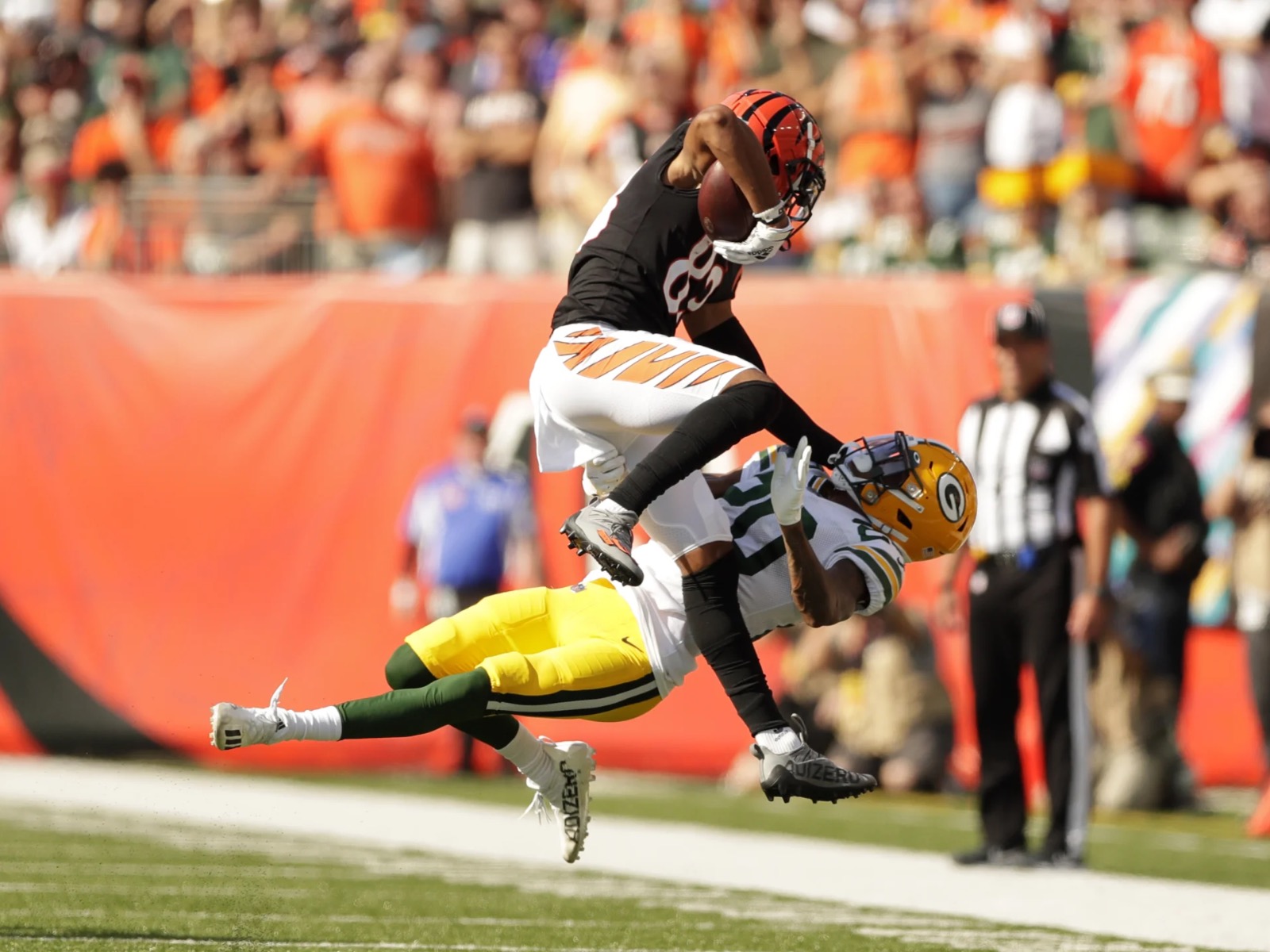 I don't know who's tackling who here, but it sure looks like it's ending poorly for both parties.
7. Thunder and lightning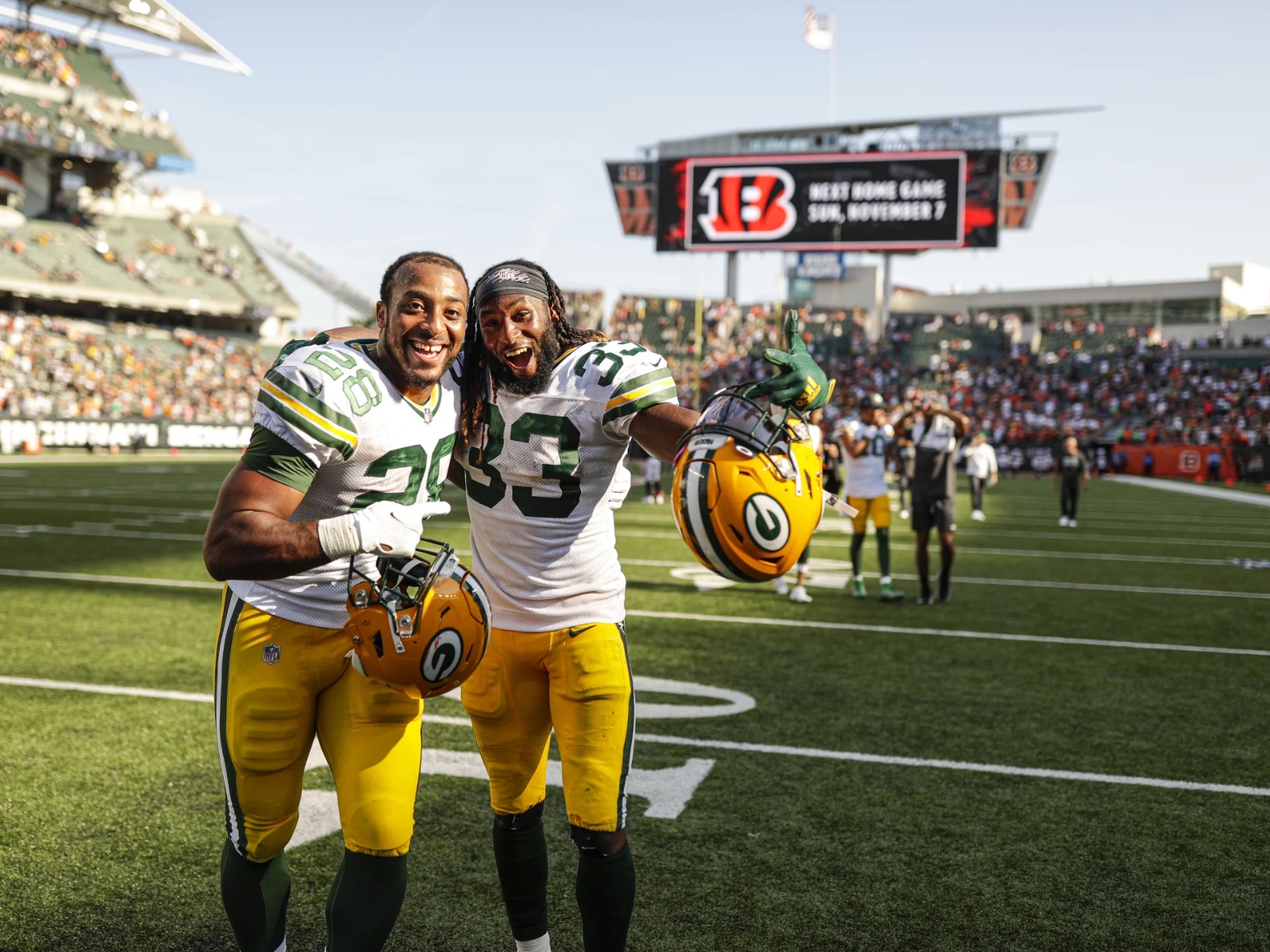 The Packers' running game wasn't the star on Sunday, but there's something exciting quietly growing in that department with the duo of Aaron Jones and A.J. Dillon becoming quite the tandem. The lightning-quick Jones scampered for 103 yards on the day, while Dillon and his thunderous quads pummeled the Bengals for 30 yards on the ground plus an additional 49 through the air and a touchdown. If these two can keep up this multi-faceted ground effort, it'd make quite the compliment to the already-famous Packers aerial assault ... of course, if head coach Matt LaFleur doesn't forget about them as he has a habit of doing.
8. Bonus football
WE'RE GOING TO OT IN CINCY.

📺: #GBvsCIN on FOX
📱: NFL app pic.twitter.com/1yeHFK44UP — NFL (@NFL) October 10, 2021
There I was on Sunday, all ready with a "who needs 37 seconds for a game-winning drive when 21 seconds will do just fine?" postgame celebratory quip when the once-automatic Mason Crosby botched the clinching field goal – his second missed kick in the final two minutes of the fourth quarter with score knotted at 22. But don't worry, I'm sure he'll get the next one after this ...
9. Rapid redemption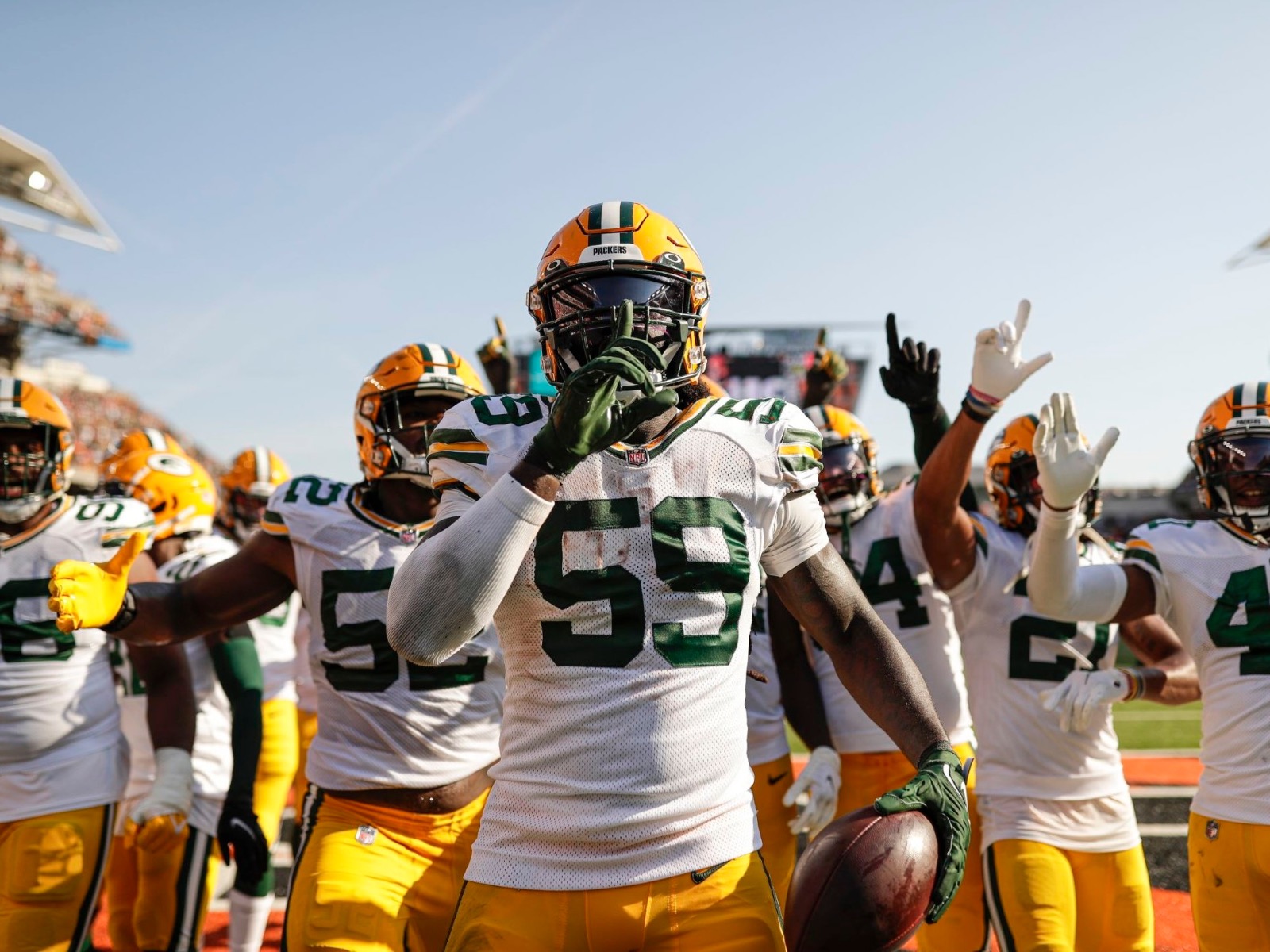 Crosby wouldn't have to wait long for redemption, as on the first play of overtime, Joe Burrow tossed a bad pick right to defensive standout De'Vondre Campbell and gave the ball to the Packers in Cincinnati's red zone. And with the typically clutch Crosby coming out shortly after to kick the winning 40-yard field goal, there was your dagg ...
10. Errrrr, never mind
Entering today, Mason Crosby was 24/24 on FG attempts the last 2 seasons… he's missed 3 FGs and 1 XP today pic.twitter.com/O6hlfe7kQY — Barstool Sportsbook (@BSSportsbook) October 10, 2021
I blame yesterday's kicking chaos on FOX booth commentator and analyst Jonathan Vilma, who spent much of the game trying his damnedest to jinx Crosby and his consecutive field goal streak. It didn't work earlier in the game – Crosby made his first three kicks of the game, minus a dinged extra point – but boy was it effective in the final quarter, apparently cursing not just Crosby and the Bengals' field goal kicker as the two traded whiffs.
11. Maybe he thought you get a point for hitting the flag?
Evan McPherson thought he made this kick and won the game, so he started celebrating. He did not make this kick to win the game. pic.twitter.com/59dIhDlcPp — Tyler Greever (@Tyler_Greever) October 10, 2021
What's worse than missing a game-winning field goal? How about missing TWO game-winning field goals! And what's worse than missing two game-winning field goals?! Celebrating like a goof after the second kick before awkwardly realizing that you actually biffed it. LOOK WHAT YOU DID, VILMA!
12. Does anyone want to win this game?
TODAY WE SPELL REDEMPTION.... M-A-S-O-N. #GoPackGo #GBvsCIN pic.twitter.com/5iuT9KWn2K — NFL (@NFL) October 10, 2021
After five missed field goals in a row between both teams, almost an entire overtime period of failure and a surely immense number of heart attacks for both fan bases, somebody finally decided to put this preposterous football game out of its misery as Mason Crosby finally put a kick between the uprights. I guess whether it's an adventurous fan on the field or unprecedented ineptitude, always expected the unexpected when the Packers play in Cincinnati.
13. A long-awaited win
W.#GoPackGo pic.twitter.com/HTDCFrZo0x — Green Bay Packers (@packers) October 10, 2021
It didn't come easy, but in the end, the Packers continued their winning ways and maintained their place near the top of the NFC standings. You don't get into the postseason based on aesthetics, only wins – and right now, Green Bay's racking those up, no matter how ugly. And speaking of ugly, the Chicago Bears and their junky offense are up next on the schedule. For my heart's sake, here's to that game hopefully not coming down to more field goals ...
As much as it is a gigantic cliché to say that one has always had a passion for film, Matt Mueller has always had a passion for film. Whether it was bringing in the latest movie reviews for his first grade show-and-tell or writing film reviews for the St. Norbert College Times as a high school student, Matt is way too obsessed with movies for his own good.
When he's not writing about the latest blockbuster or talking much too glowingly about "Piranha 3D," Matt can probably be found watching literally any sport (minus cricket) or working at - get this - a local movie theater. Or watching a movie. Yeah, he's probably watching a movie.