Well, that could've gone a lot worse ... I guess.
Maybe playing the Bills, perhaps the best team in the league right now, put the bar for the Packers' performance somewhere near the Earth's mantle. Or maybe the misery of the past three games – not just losses but soulless slogs – make mere baseline competence look like the '72 Miami Dolphins. But Sunday night's 27-17 ... didn't feel that bad! In fact, between the defense getting turnovers and the running game you could almost say it was a positive step in the right direction!
That all being, it was a positive step in the right direction ... that also the Packers were rarely ever really competitive in. Green Bay was down the entire game – as much as 17 points for most of it – and Buffalo never seemed particularly concerned about Rodgers and company kicking into high gear, to the point that the Bills helped keep the game closer than it actually was with some sloppy play in the second half. (Hey, that used to be our shtick!) In the end, the game feels like the best-case scenario – in part just because it wasn't the worst-case scenario.
And yet again, we arrive at a key precipice of the season with the now 3-5 Packers taking on the Detroit Lions in Motor City next week. If the Packers win, combined with Sunday night's respectable showing, the 2022-23 Super Bowl run may not be lost after all. But if the Packers lose ... look for shelter, because the sky will officially be falling in Wisconsin.
We'll cross that bridge when we get there, though. For now, let's take a look back at some of the positives (look at all that Aaron Jones play!) and negatives (remember when our defense was supposed to be top-five in the league?) from Sunday night's merciful mediocrity in Buffalo.
1. A feisty start
Stefon Diggs and Jaire Alexander chirping pregame 👀🍿

(via @lmhelmbrecht)pic.twitter.com/8kWTeYp8og — Bleacher Report (@BleacherReport) October 31, 2022
Things got off to a bombastic start in Buffalo – and I'm not just talking about all the folding tables surely getting body-slammed by Bills Mafia in the parking lot. Buffalo's star receiver – and former Vikings foe – Stefon Diggs and Jaire Alexander began the fight before the game kicked off, jawwing before they even took the field. So who won the matchup? Diggs got over 100 yards and a touchdown, while Alexander snagged an interception and held his main assignment on the night, Gabe Davis, to just two catches for 35 yards, we'll call it a tie. Hey, better than yet another Packers loss!
2. The number one Aaron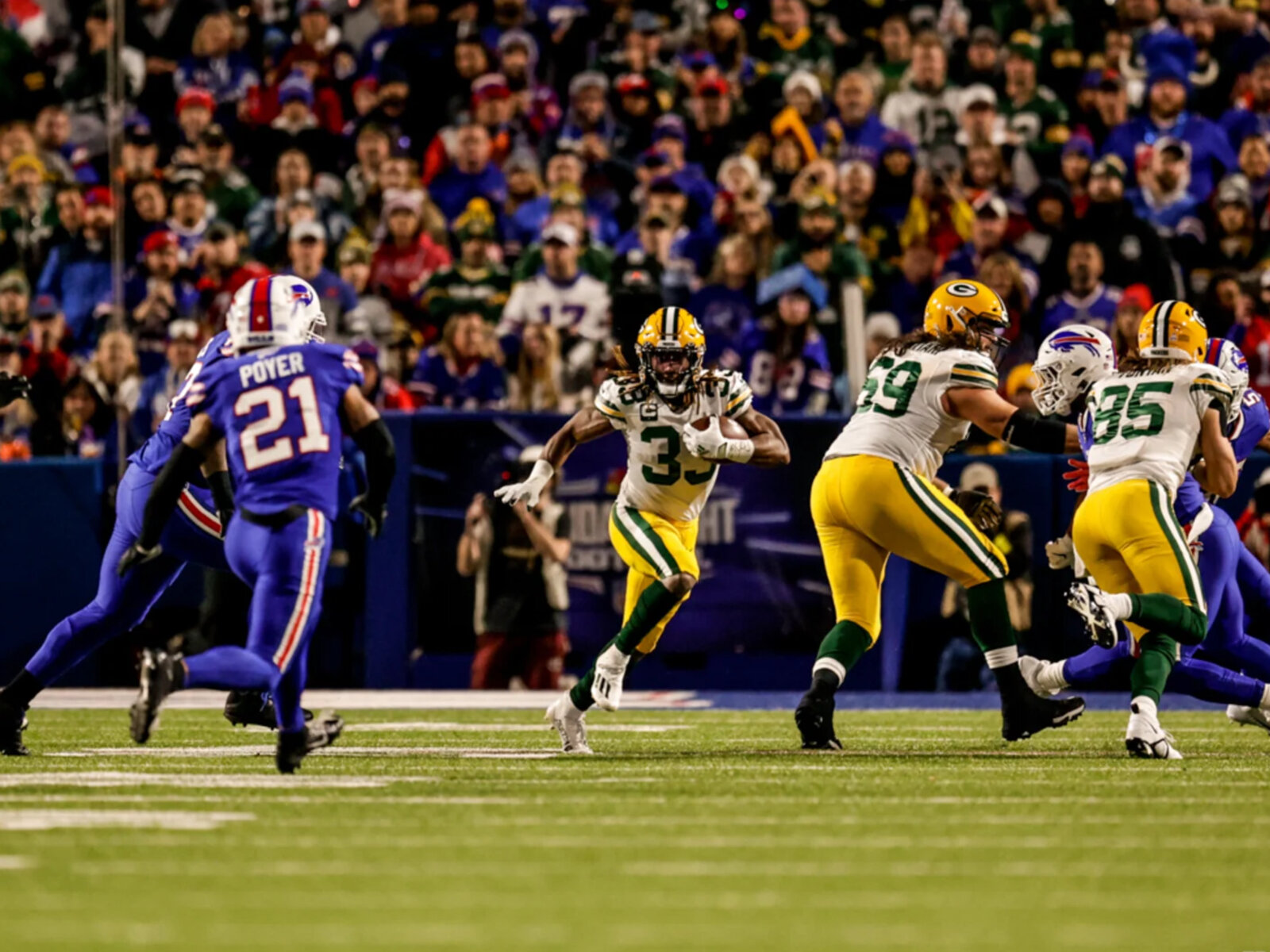 Packers fans have been begging for Aaron Jones to become the centerpiece of the Green Bay offense – and on Sunday night, we saw what that looks like as the running back got a season-high 20 carries plus four catches. Best of all, he turned those carries into 143 yards against a normally stifling Buffalo defense. A shame that the game flow meant that the Bills were just fine seeing the Packers running the ball while draining the clock, down several possessions in the second half – but this season, any sign of a productive offense is one worth celebrating.
3. A DQ for Quay
Quay Walker was ejected for this interaction with the Bills sideline…thoughts? 🤔 pic.twitter.com/PLsH6vqqg1 — OddsChecker (@OddsCheckerUS) October 31, 2022
The Packers first-round draft pick's had a solid freshman season, sure, looking a little lost and loose in places but also making plays and getting around the ball. Sunday night, however, will not go on the highlight reel as the linebacker's game ended early thanks to this ill-advised shove of a Buffalo practice squad guy on the sideline, well after a play. It's on the lighter side of ejections – but you can't do that to a non-player, making this a lesson in his young career learned the hard way.
4. MVP-like
The Allen to Diggs connection for SIX! #BillsMafia #GBvsBUF on NBC and @peacock. pic.twitter.com/ZlfxNnWWng — Sunday Night Football on NBC (@SNFonNBC) October 31, 2022
With two interceptions and only 218 yards on 13/25 passing, it certainly wasn't a perfect game for Josh Allen, but he played with the confidence of a young Aaron Rodgers, scrambling for big gains and finding open receivers on plays like this touchdown to Stefon Diggs – seen here roasting Rasul Douglas, who thus far in pass coveragefeels like his reputation this season may be dining out on last season's check.
5. No doubt in Doubs
Welcome to Sunday Night Football, Romeo Doubs! #GoPackGo #GBvsBUF on NBC and @peacock.

(Via: @NFL)pic.twitter.com/F3WCyubGLc — Sunday Night Football on NBC (@SNFonNBC) October 31, 2022
After getting blanked last week in Washington, Romeo Doubs flashed that impressive potential again in Buffalo, nabbing four catches for 62 yards and this beautiful pirouetting touchdown grab. He's still a raw talent, as last week's goose egg and Rodgers' not-so-veiled criticisms show, but he looks like the real deal in the making. Maybe Doubs isn't a number-one receiver right now – a shame there's not many around him, especially with all the injuries, to help – but he just might be sooner than later for this team.
6. A D+ for the defense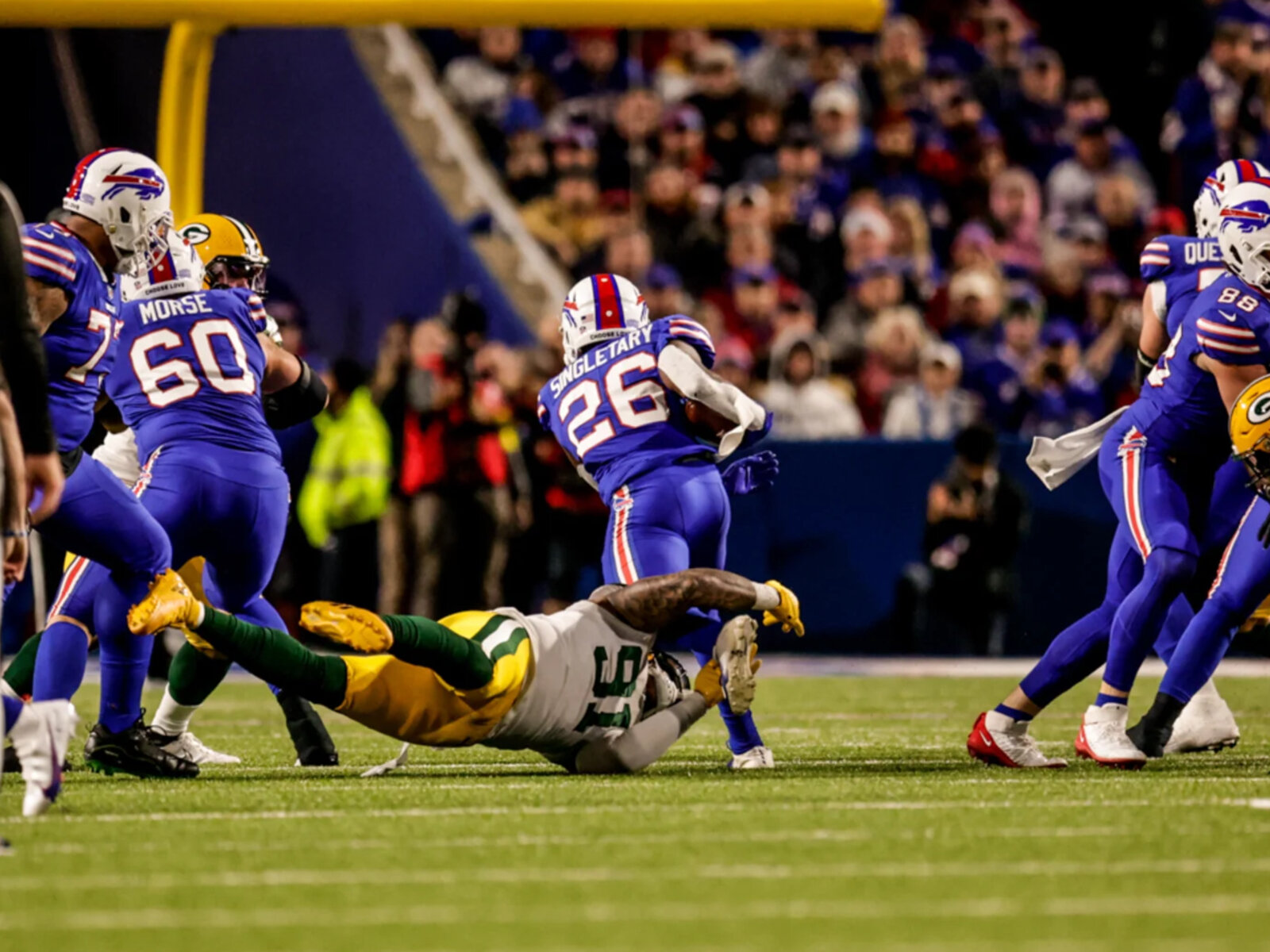 On one hand, the Packers defense didn't allow the Bills to turn the game into a blowout and even snagged a few rare turnovers in the process. On the other hand ... the game was mostly a blowout, with the Bills up three possessions most of the second half. And before the interceptions, the Green Bay defense gave up points on five straight Buffalo possessions, unable once again to get a stop when the team needed one. I've been generally kind to the defensive unit this season, allowing that they may be tired in the second half thanks to all the three-and-outs on the offensive side of the ball – but for a squad that was supposed to be one of the league's best, they've been a critical disappointment that's now going to have their work cut out for them against a Lions team that isn't good but can certainly score.
7. PI? Please ...
This is NOT Offensive Pass Interference pic.twitter.com/cW4q6Tv9L8 — Robert Griffin III (@RGIII) October 31, 2022
It wouldn't be a Packers game without some bickering about the referees – and indeed, this revoked touchdown got the Green Bay faithful fuming. I'm not much for blaming the refs – especially since the Packers did plenty to lose this game all on their own AND this touchdown would've come with the team still down two possessions in the second half against a team they hadn't stopped since the first drive of the night – but this was a bad call. Maybe it wouldn't have changed the game, but at least it would give us one less thing to complain about.
8. Trading turnovers
Jaire Alexander PICKS OFF Josh Allen in the end zone 🚨

That's 3 straight possessions that end with interceptions.pic.twitter.com/0etc1cnoEo — ClutchPoints (@ClutchPointsApp) October 31, 2022
Things got messy in the second half, with three straight drives between the Bills and Packers ending in an interception – two from Josh Allen, one from Aaron Rodgers. Was this the Packers defense improving or the Bills just not really focusing anymore up 27-10 at home against a under-.500 foe? For our self-esteem's sake, let's call it the former.
9. Toure de force
Congratulations, Samori Toure on your first NFL Touchdown🥂 @samori_toure pic.twitter.com/X9HrIIfsT8 — IKE Packers Podcast (@IKE_Packers) October 31, 2022
Who knows how much more playing time Samori Toure will get this season. Sure, Green Bay has a pretty gaping hole at receiver – even before all the injuries to Lazard, Cobb and Watson – but the trade deadline is also coming up with a fix out there probably better than a practice squad guy. But the rookie will always have this catch on Sunday night, just his second career catch and his first career touchdown, one that gave the Packers (misguided) hope that they could maybe pull off a miracle. We'll certainly need more moments like this to get the win against Detroit next week – and maybe Toure will provide a few of them. Or maybe someone else will, perhaps not even currently on this roster. (*winks at Packers front office, probably in futility*)
As much as it is a gigantic cliché to say that one has always had a passion for film, Matt Mueller has always had a passion for film. Whether it was bringing in the latest movie reviews for his first grade show-and-tell or writing film reviews for the St. Norbert College Times as a high school student, Matt is way too obsessed with movies for his own good.
When he's not writing about the latest blockbuster or talking much too glowingly about "Piranha 3D," Matt can probably be found watching literally any sport (minus cricket) or working at - get this - a local movie theater. Or watching a movie. Yeah, he's probably watching a movie.