Sunday marked the first Packers game in 12 days – and unfortunately that was all too soon for Green Bay fans. The green and gold left the Mile High on an all-new season low, botching yet another winnable game against a mediocre-at-best foe – this time 19-17 against the Denver Broncos.
Here's one silver lining to Green Bay's latest cruel reality check that this team is VERY much rebuilding: No matter who you say is at fault for the loss, your analysis is correct! Is it Matt LaFleur's fault for once again not getting the team ready to play the first two quarters of a football game, even with an extra week to prepare? Sure! Is it Joe Barry's fault for letting the Broncos equestrian-style prance down the field on the game-winning drive, no resistance necessary? Yep! Is it Jordan Love's fault for chucking up some more dubious throws and looking stagnant in his football evolution? No arguments here! Is it Anders Carlson's fault for picking the bad time to miss his first kick? Why not! With the 2023-24 Green Bay Packers, there's so much bad to choose from! It's like a treat-or-treat bucket filled with black licorice, toothbrushes and bible cards!
The thing is, if we're being honest, even this latest disappointment shouldn't come as a complete surprise. After a fun preseason and a delightful opening win, Wisconsin fans did what we do best: got drunk, not on beer and Old Fashioneds but on early success and optimism. We started eyeing up the flimsy fellow NFC Wild Card contenders and even the top of the NFC North standings – and, in the process, forgot that this was going to be an uneven learning year with a very young team and a first-time starter, that 8-9 was probably going to be the high-water mark at the end if things went our way. (Spoiler: Things are not currently going our way.) We're certainly remembering that all now that the hangover is hitting hard and reality is flooding back.
That's all the rational fan take. As for the irrational fan take: Ooooof. Even if you stayed level-headed through the Pack's early successes, you'd be forgiven if you decided to bail on Sunday's game and watch the new "Saw" in the hopes of witnessing something less torturous (and with a lower body count considering the amount of Green Bay injuries by the final whistle).
For those who did bail – or for those who are just gluttons for punishment – here are some of the key takeaways and plays from yesterday's hoof to the head courtesy of the Broncos.
1. Not much to Love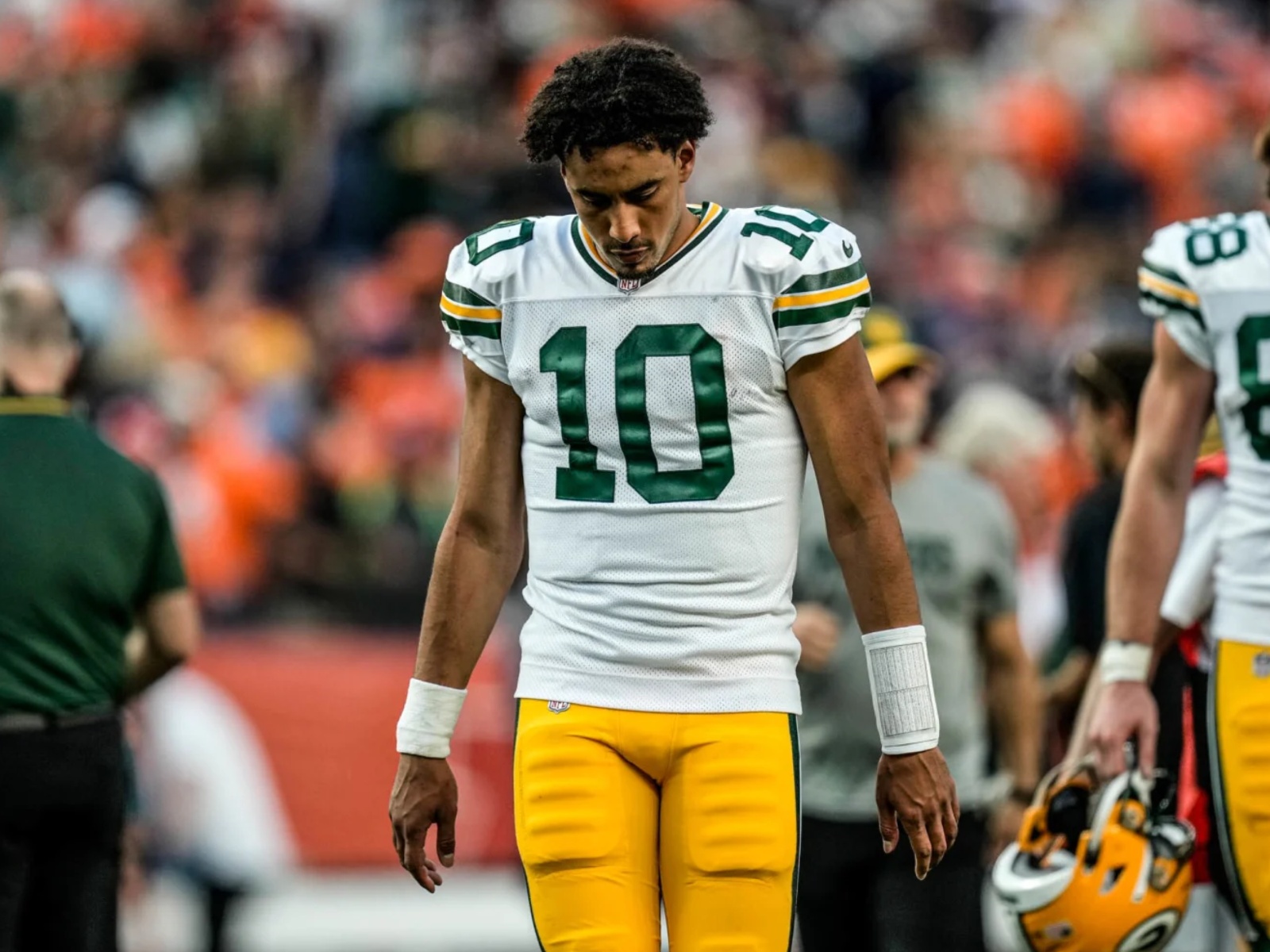 It's been a rough stretch for Jordan Love and the Packers offense – but surely a bye week and a matchup against the hapless Broncos defense would be the cure for what ails them. What we thought was medicine, however, just made things worse. Green Bay came out and did what they always do this season: absolutely nothing. Facing a team that gave up 70 points in a single game, Love and LaFleur's offense managed a measly 17 total points – including yet another glaring goose egg in the first half. Clearly that extra week of preparation was well used.
Over their last four games, the Packers have managed a whole six points total in their respective first two quarters, combined. Heck, even in Green Bay's glorious triumph of the season – the opening win over the Bears – only ten of their 38 points came during the first two frames. One doesn't have to watch the All-22 footage to know it's pretty hard to win football games when you constantly spot your opponents leads and don't show up until the third quarter.
2. No time for Showtime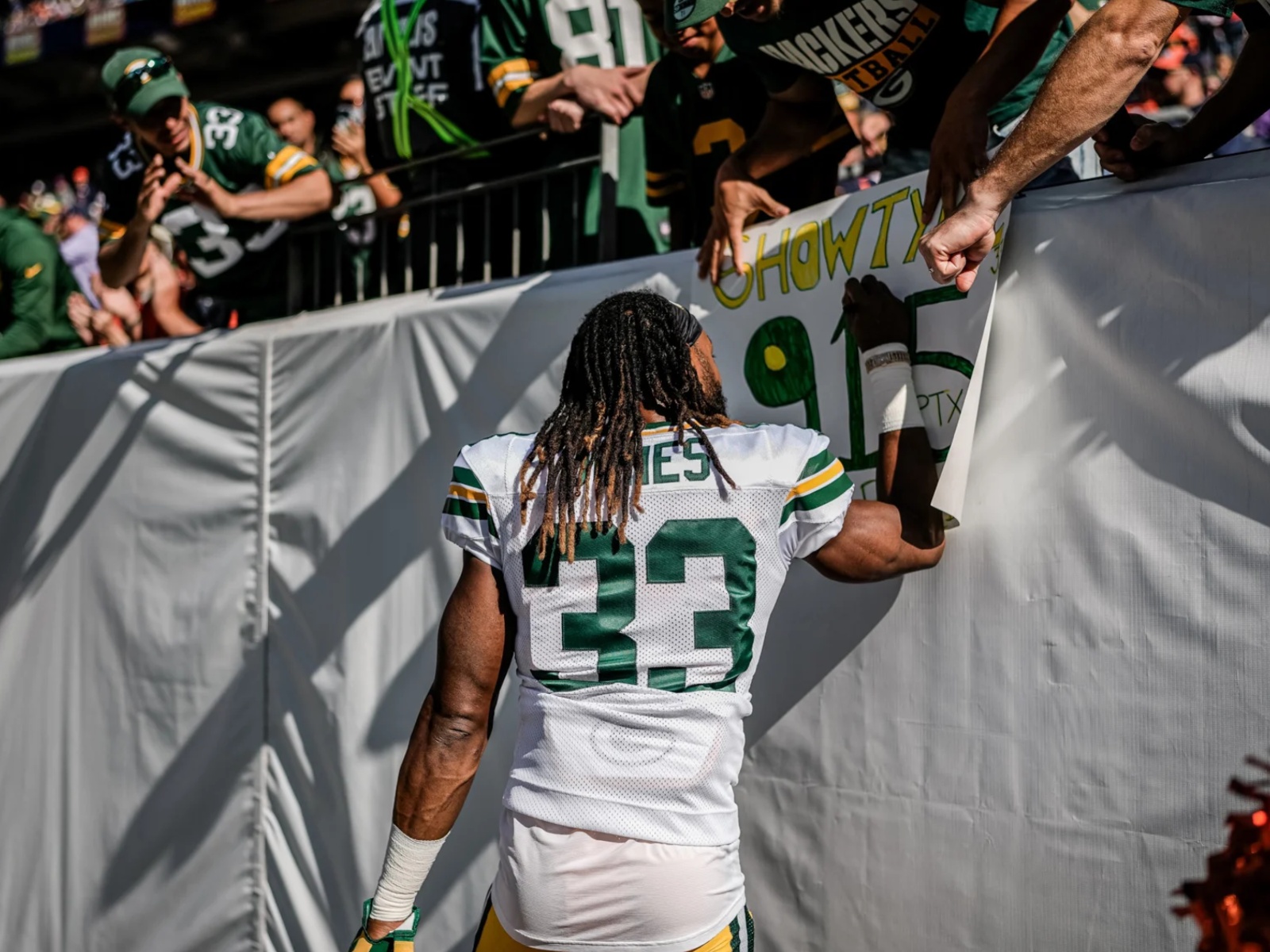 The bright side of almost two weeks off? The hope of getting Aaron Jones – and therefore a more equipped offense – back to full health and back on the field! But while though Jones was back in action, so was this franchise's apparent hatred of utilizing him. Facing the NFL's worst defense, Green Bay's most dynamic weapon was granted just eight rushes and three catches on the day. Perhaps Jones is somehow still injured (which would make sense considering running back James Robinson's mid-week signing) though why risk hurting him more by playing him if you're concerned? And if he's not injured ... why aren't we using our best offensive tool? Especially considering he's one of our more experienced players on an otherwise extremely young offense!
There are lots of fair and understandable reasons why the Packers would struggle on offense this season. LaFleur not using his best player when healthy would not qualify as one of them.
3. Living up to the nickname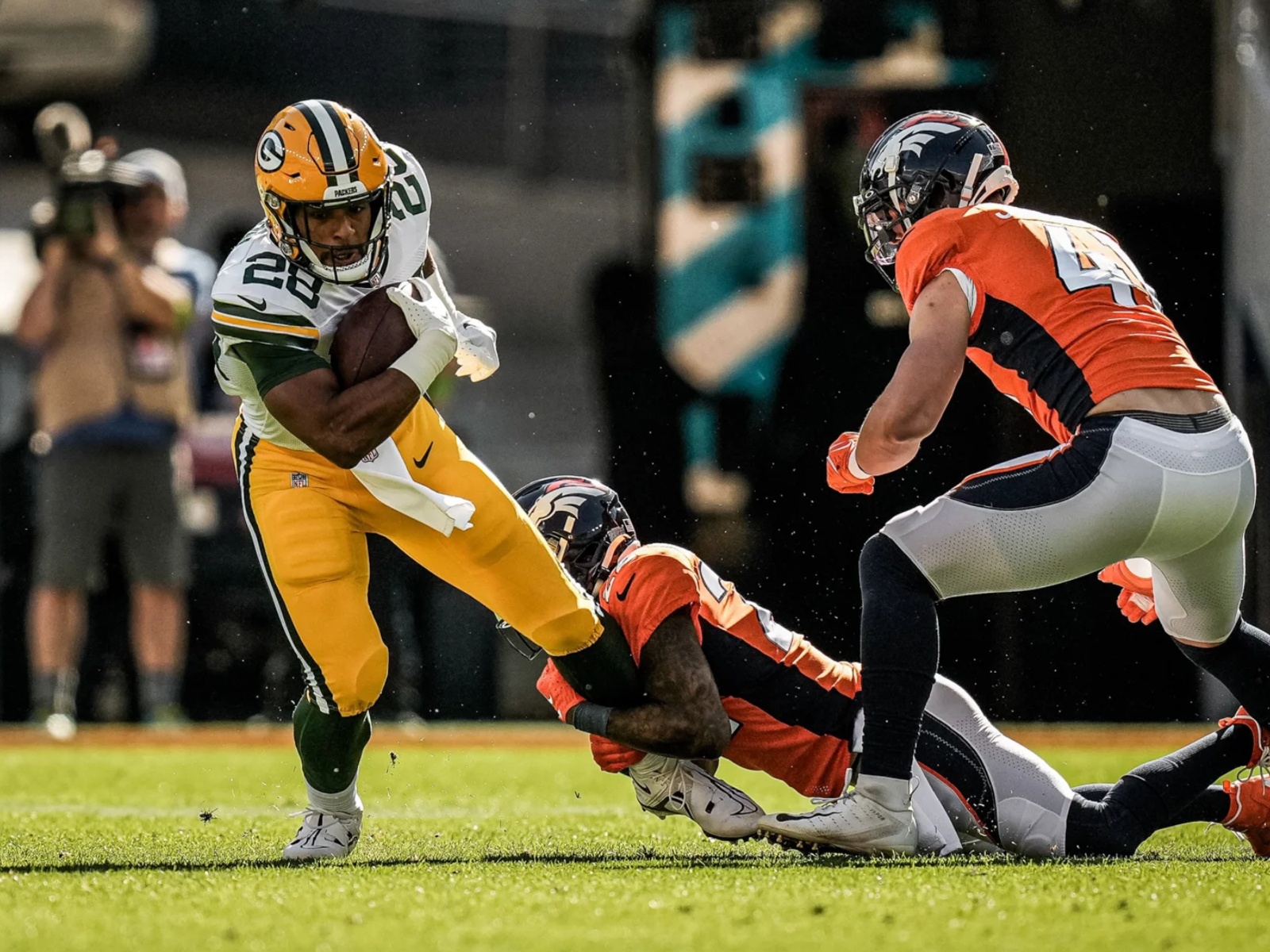 After a rough stretch filling in for Jones earlier this season, Quadzilla's actually played a little bit more like his monster moniker these past two games, contributing 65 tough yards on the ground and a (somehow) team-leading 34 more in the air on Sunday. He's one of the few pieces on this offense that looks like he's improving week after week, as opposed to looking stuck in a rut – shame that alone doesn't translate into points.
4. Ain't that a kick in the head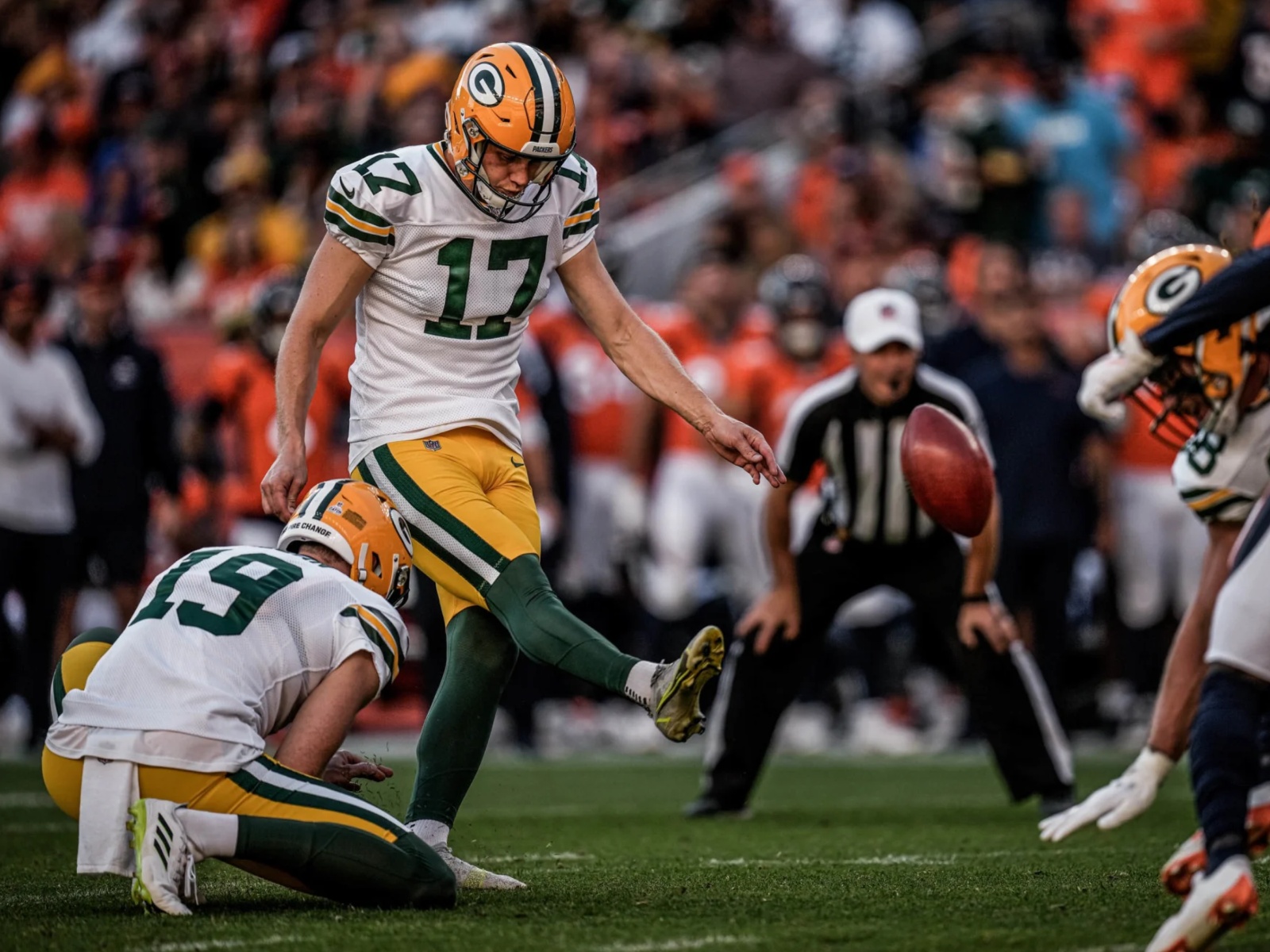 Anders Carlson's 2023-24 narrative has been the odd inverse of the rest of the young Packers: tons of hand-wringing in the preseason only to impress and overperform in the actual games. The rookie had been flawless on his kicks going into Sunday's game – but unfortunately, he chose a poor time to have his first miss, shanking a tame 43-yard first-half field goal that kept the Packers scoreless (again) going into the half. The missed kick would also end up being the difference between a comeback W and a loss – because hey, it wouldn't be a Green Bay loss in the 21st century without a special teams complaint!
5. Bronco Country, let's run into the ground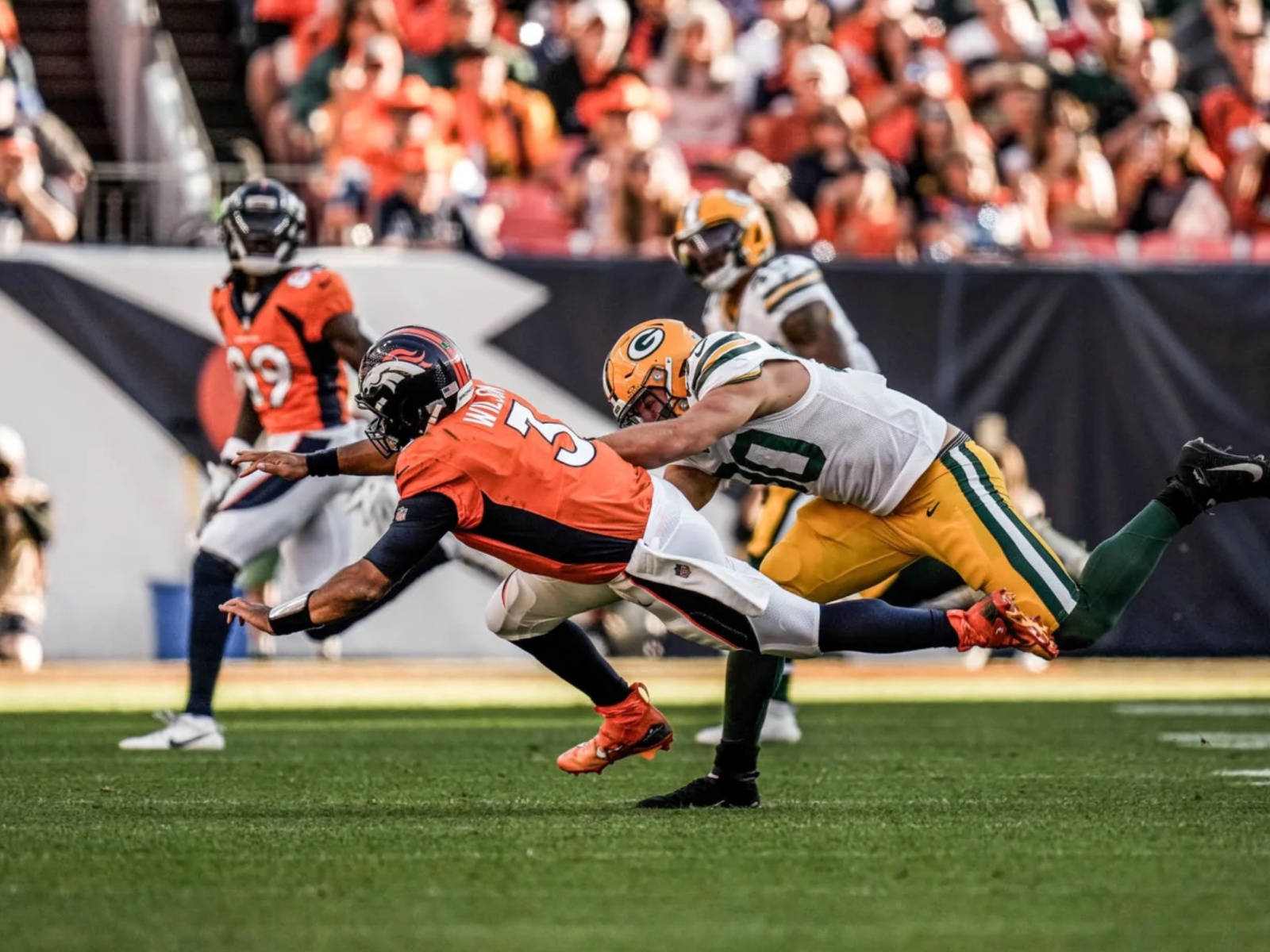 This has not been a very fun recap thus far, so to raise everyone's spirits a little bit, here's a photo of NFL's Corniest Man lifetime achievement award winner Russell Wilson getting chucked into the turf.
6. Tie goes to the good guys
I've seen this play a few times and it's just dreadful. Jordan Love made this so much harder than it had to be. The processing just isn't there. #Packers pic.twitter.com/kmfP1H8FLi — Cory Jennerjohn (@CoryJennerjohn) October 23, 2023
Even the Packers' highlights on Sunday weren't much to get high about. This late third-quarter touchdown started Green Bay's attempted comeback – but it's more notable for being a bizarre play that asks the question: What if the Fail Mary went in the Packers' favor? Considering the team's offense this year, though, we are not in a place to question any Packers points.
7. Doink and a prayer
Arm Angle 🤤 pic.twitter.com/rLrCHfVICZ — Kurt Benkert (@KurtBenkert) October 22, 2023
Say this for these putzy Packers: They don't say quit. For the third time over the past four games, Green Bay came back from a flop of a first half to make things at least close, even putting themselves in a position to potentially win. Again, it wasn't one for the Love Hall of Fame reel, boinking off a fellow receiver before falling into the arms of Jayden Reed – but it counted as points nevertheless, putting the Packers miraculously in front, 17-16, in the fourth.
The miracle had a short lifespan, though, as the Broncos charged down the field without much resistance in particular for what would become the winning field goal. But hey, an A for effort in this play's case!
8. Putting the comeback on hold
I like Elgton Jenkins. He's a good football player. But it's time we start recognizing that he's not playing anywhere near the level many believe he is. GB needs him to be the rock on the OL & their most consistent player. Plays like this & the devastating holding penalty at the… pic.twitter.com/R0VOtkXkep — Andy Herman (@AndyHermanNFL) October 23, 2023
As the above tweet points out, the offensive line had yet another rough day against a bad defense – no more so than when the Packers' final promising drive was halted by a critical holding penalty on Elgton Jenkins, normally one of the more seemingly stalwart linemen on the team. As a result of the brutal penalty, instead of threatening game-winning field goal territory, the Packers' drive was suddenly thrown into reverse – and then thrown off a cliff a few plays later.
9. An unanswered prayer
The GM of the Green Bay Packers forced the franchise GOAT out for THIS pic.twitter.com/dnnyeETGZB — . (@tweetless21) October 22, 2023
Desperate times don't always call for desperate measures, Jordan.
Pushed into a third and long down one, Love threw up a deep heave to a double-covered receiver – never mind the wide-open Dillon in front of him for a dropoff pass for at least a moderate gain into potential field goal territory, and never mind that it was neither fourth down nor zeros on the clock requiring such a hopeless prayer of a chuck. That marks two straight games ending on ill-advised interceptions from Love – not exactly a display of exponential growth and maturity from how the season began for the new starter. He hasn't been the singular problem for the Packers during these early struggles – but Love hasn't been the singular solution the way his predecessors often were, either.
The good news is this the last time the Packers will disappoint fans this poorly this season. The bad news is that's because they won't likely be favored to win in quite some time – even next weekend against the equally 2-4 Minnesota Vikings. Because this was all the EASY part of the schedule, which probably means more hard lessons – and sobering Sundays – are yet to come.
As much as it is a gigantic cliché to say that one has always had a passion for film, Matt Mueller has always had a passion for film. Whether it was bringing in the latest movie reviews for his first grade show-and-tell or writing film reviews for the St. Norbert College Times as a high school student, Matt is way too obsessed with movies for his own good.
When he's not writing about the latest blockbuster or talking much too glowingly about "Piranha 3D," Matt can probably be found watching literally any sport (minus cricket) or working at - get this - a local movie theater. Or watching a movie. Yeah, he's probably watching a movie.