No matter whether Santa got you the coolest toy on the shelves or coal on Saturday morning, the Packers made sure everyone (except for Browns fans) still had a merry Christmas with a 24-22 win over Cleveland, earning their fourth W in a row and inching ever closer toward locking up the NFC's top seed.
Of course, in classic Green Bay fashion, they couldn't make things warm and cozy for fans. Instead, as has become tradition, the Packers made things even more tense than watching grandpa climb a ladder and attempt to hang the Christmas lights on the house, needing a final interception (from who else but defensive MVP Rasul Douglas) to seal up the tight victory. Once again, it wasn't exactly a confidence-inducing win – but it was a win. Best of all, in the process, the special teams department wasn't horrifying! A TRUE CHRISTMAS MIRACLE!
And you know what: Maybe it WAS confidence-inducing after all! At this point, if the Packers end up in a tight playoff game, I know who's been there before this season and pulled it off – over and over and over again.
But I'm getting ahead of myself. For now, let's pour ourselves a final glass of holiday eggnog, cuddle up by the tree and remember all the wonderful Packers moments and images this Christmas spectacular had to offer – 12 of them, to be exact, in honor of the days of Christmas as well as a certain exceptional quarterback now at the top of Green Bay's record book.
1. Festive fashion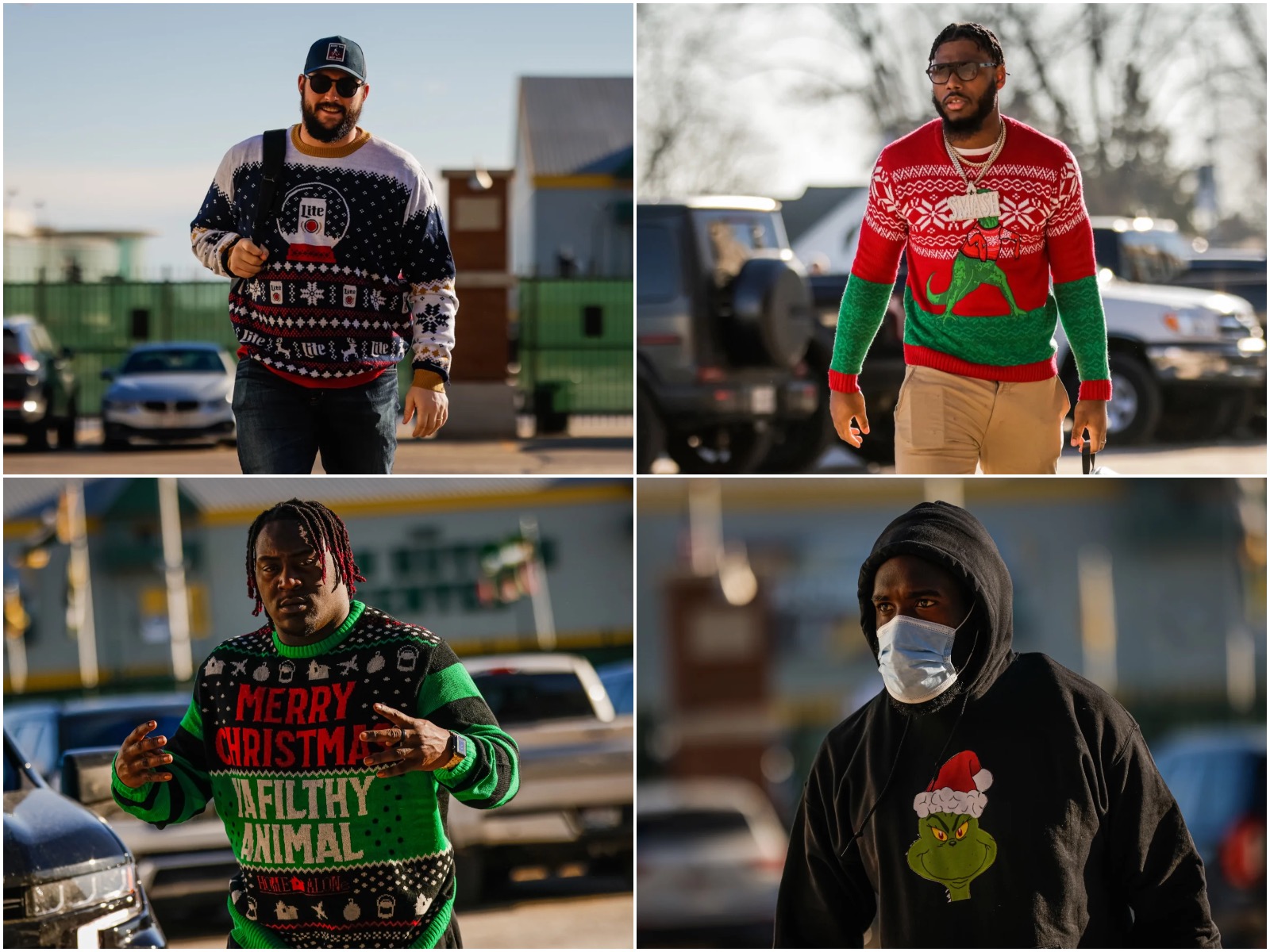 They may have had to work on Christmas, but many of the Packers players arrived still feeling the festive spirit, decked in their holiday finest. You may call them ugly Christmas sweaters (I mean, is that ... a dinosaur on the one in the top right corner?) but as always, winning makes everything look good.
2. You're a mean one, Mr. Lewis
Marcedes Lewis sees your Grinch Christmas sweater and raises you ...
.@MarcedesLewis89's custom Christmas cleats 🔥🔥 pic.twitter.com/4oNTYqnOEM — Scott Grodsky (@ScottGrodsky) December 25, 2021
Unfortunately, Lewis wasn't able to actually wear these incredible cleats because no one's a bigger Grinch when it comes to fun than the NFL. But maybe Lewis was happy about that because all Grinch shoes fittingly come two sizes too small.
3. Defense got run over by a reindeer ... and Nick Chubb
.@NickChubb21 simply can not and will not be stopped. #Browns

📺: #CLEvsGB on NFLN/FOX/PRIME VIDEO
📱: https://t.co/OLd1rKEfqM pic.twitter.com/0XTT5NHIiO — NFL (@NFL) December 25, 2021
Green Bay grabbed yet another win, with the defense for sure partly to thank for it – but that certainly doesn't mean they still don't have work to do before the playoffs. In Saturday's case, their run defense got embarrassingly exposed, letting Nick Chubb run wild for 126 yards and a touchdown plus 58 yards through the air. And when Chubb wasn't plowing over the defense like a one-horse open sleigh, D'Ernest Johnson found success too with 58 yards on just four rushes. They got away with it this game – but you likely won't be playing clunky teams like the Browns in the postseason.
4. Rodgers in the record book
.@AaronRodgers12 sets the #Packers all-time passing TD record!#CLEvsGB | #GoPackGo

📺 FOX, NFLN + PRIME pic.twitter.com/76qDrsouON — Green Bay Packers (@packers) December 25, 2021
It's been a, uh, polarizing year for Aaron Rodgers, but on Saturday, it was all smiles and good vibes at Lambeau – and not just because it was Christmas. With this pass and impressive run-after-the-catch from Allen Lazard, the defending MVP (and current repeat contender) now stands alone at the top of the Green Bay passing touchdown record book, moving ahead of Brett Favre with his 443rd score as a Packer. Rodgers would then add two more, just to make his place at the top SUPER official and further the argument that he's the best Green Bay quarterback of all time.
5. I think he likes it here after all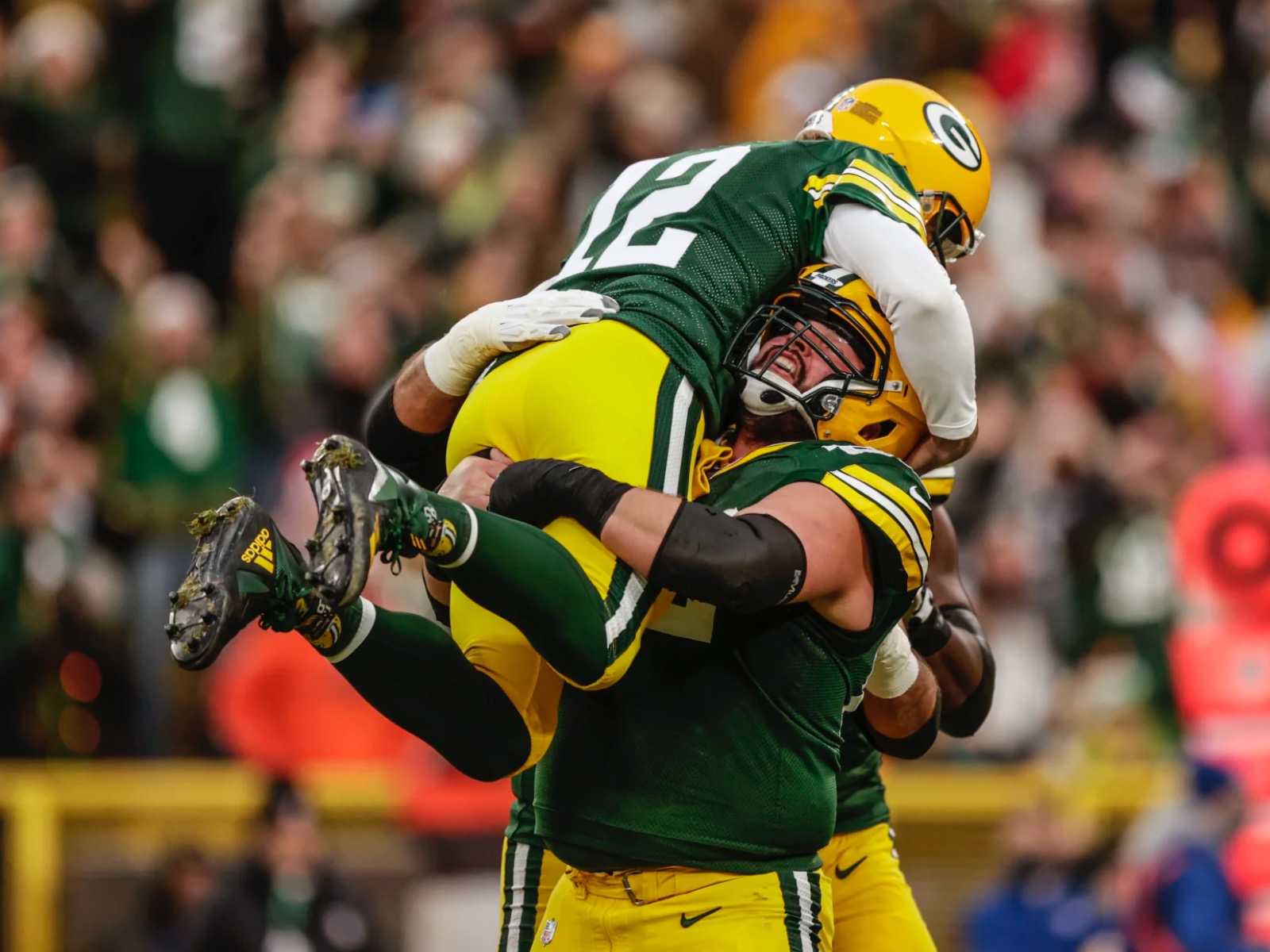 And to think he wanted to leave – and that some Packers fans wanted him to. 2021: weird, unpredictable year!
6. From one icon to another
CHILLS

Brett Favre has but one request for Aaron Rodgers 🧀pic.twitter.com/BJz0ixwhb5 — ClutchPoints (@ClutchPointsApp) December 25, 2021
Never take for granted that the Packers got to go from one Hall of Fame quarterback to another Hall of Fame quarterback with practically no intermission in between. Not every team has it this lucky – take, for instance, the Cleveland Browns.
7. Baker burned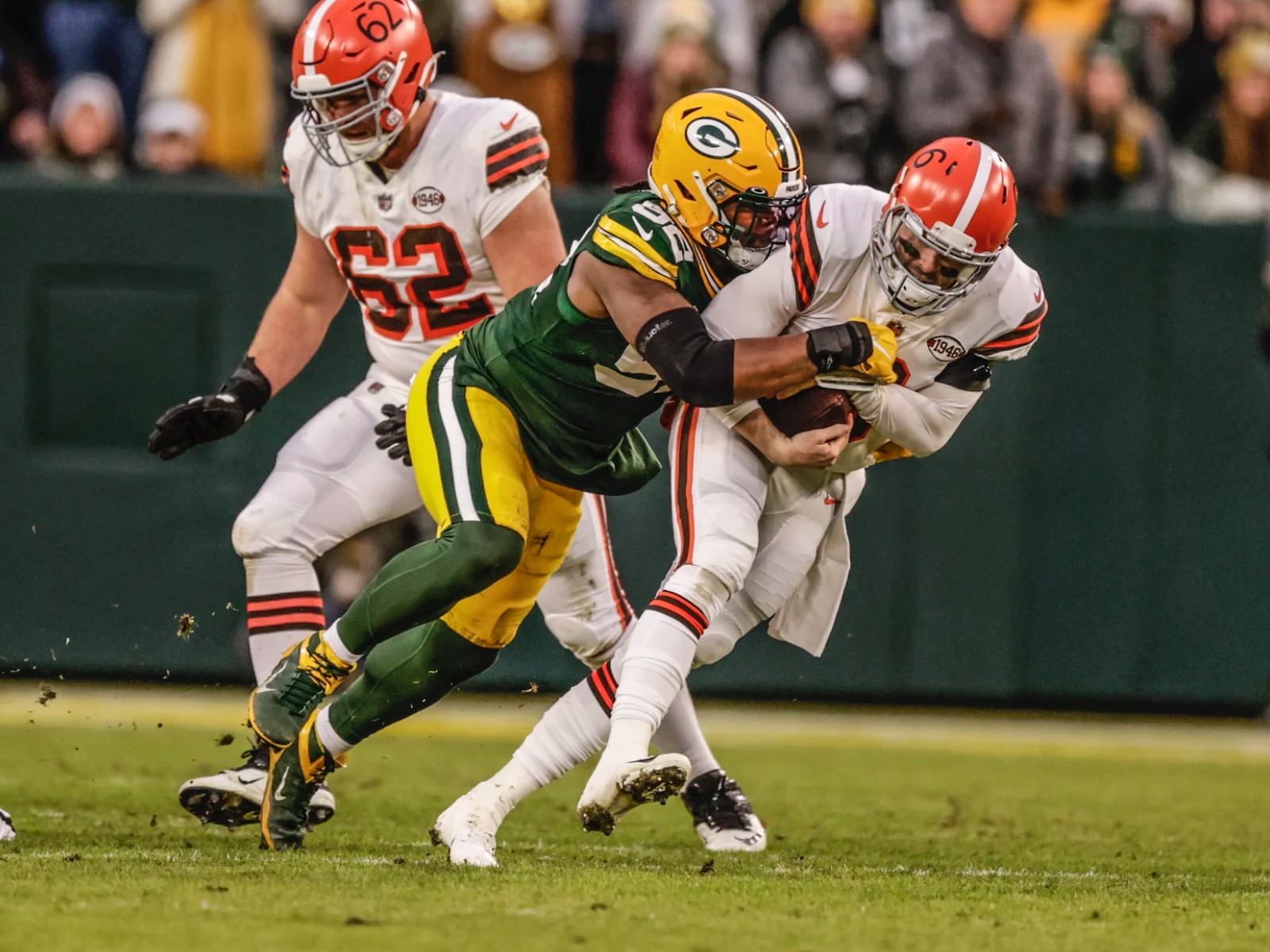 While one quarterback had a Christmas to remember, his opponent on the other sideline had one to certainly forget. Browns quarterback Baker Mayfield had a blue Christmas on Saturday, getting sacked five times while throwing almost as many interceptions (four). A rough day at the office indeed – but at least his Progressive TV commercials are funny. He's got that going for him!
8. Rasul to the rescue
Is Rasul Douglas the Packers defensive MVP?! He's got 4 interceptions now on the season (2 went to the house) pic.twitter.com/01UBrQ9aNg — IKE Packers Podcast (@IKE_Packers) December 25, 2021
It's pretty wild that the Packers have an incredible MVP quarterback as well as one of the five best wide receivers in the game – and yet it's a practice squad guy on defense who wasn't even in the Green Bay system at the start of the season who might be the team's true most valuable player. Taking over when things looked dire after Jaire Alexander's injury, Rasul Douglas has kept the Green Bay defense together – and literally kept some games in the win column for the Packers single-handedly, snagging key interceptions like the two on Saturday. If Alexander can still return this season, and the Packers can have him and Douglas AND Stokes in coverage, we might just have the most clutch defense in the league just in time for the most important time of the year.
9. A tandem for the ages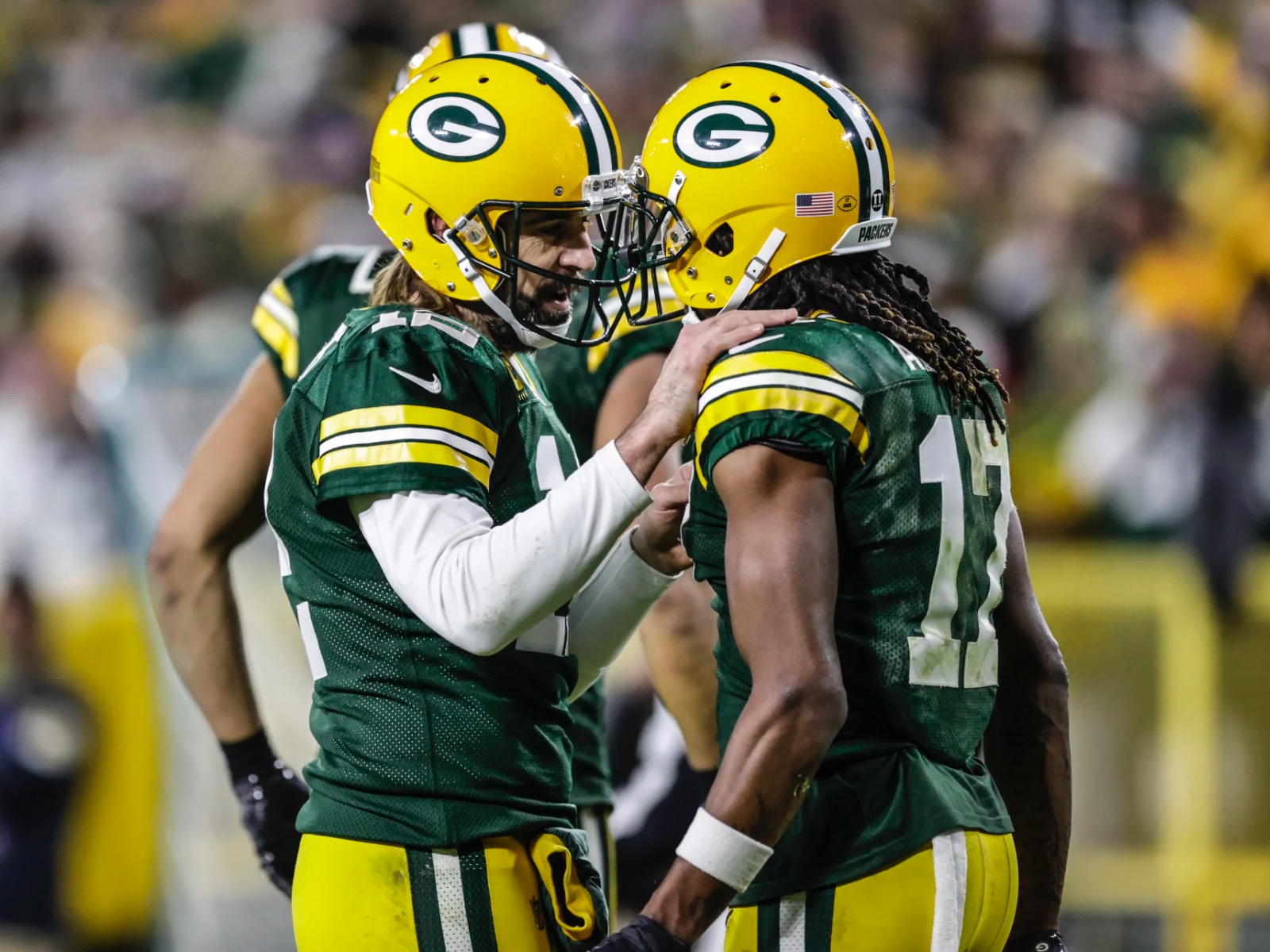 Aaron Rodgers deservedly got all of the attention Saturday afternoon (and this entire season, for that matter), but let's not forget the man on the receiving end of so, so, so many of his passes and touchdowns: Davante Adams, who once again had an incredible game, hauling in not one but two touchdowns along with 114 yards. He's been Rodgers' star threat and emergency escape valve for years now, and the quarterback wouldn't be anywhere near his passing records – much less any Super Bowls – without him. Let's hope they know that too and stick together after this season – preferrably in green and gold, of course.
10. A Christmas miracle
Replay of Mayfield interception as the refs missed a big hold#Browns 22 #Packers 24 Q4 pic.twitter.com/CPL6JAz58Y — Sports 24/7 (@Sports24x7_) December 26, 2021
One of these days, the Packers defense won't get saved by a last-second defensive stand – but Christmas thankfully wasn't that day. Things looked tense with merely a two-point lead in the final minutes and the Browns driving ... but then Mayfield threw his fourth and most fatal interception of the day. Was there perhaps some illegal contact on the play from Rasul Douglas? Maaaybe. Will the Packers get bitten on the butt during one of these games where they don't don't keep the boot on the neck? Probably. Do I not care because we won and it was Christmas? ABSO-FA-LA-LA-LA-LUTELY!
11. Santa and Aaron: two GOATs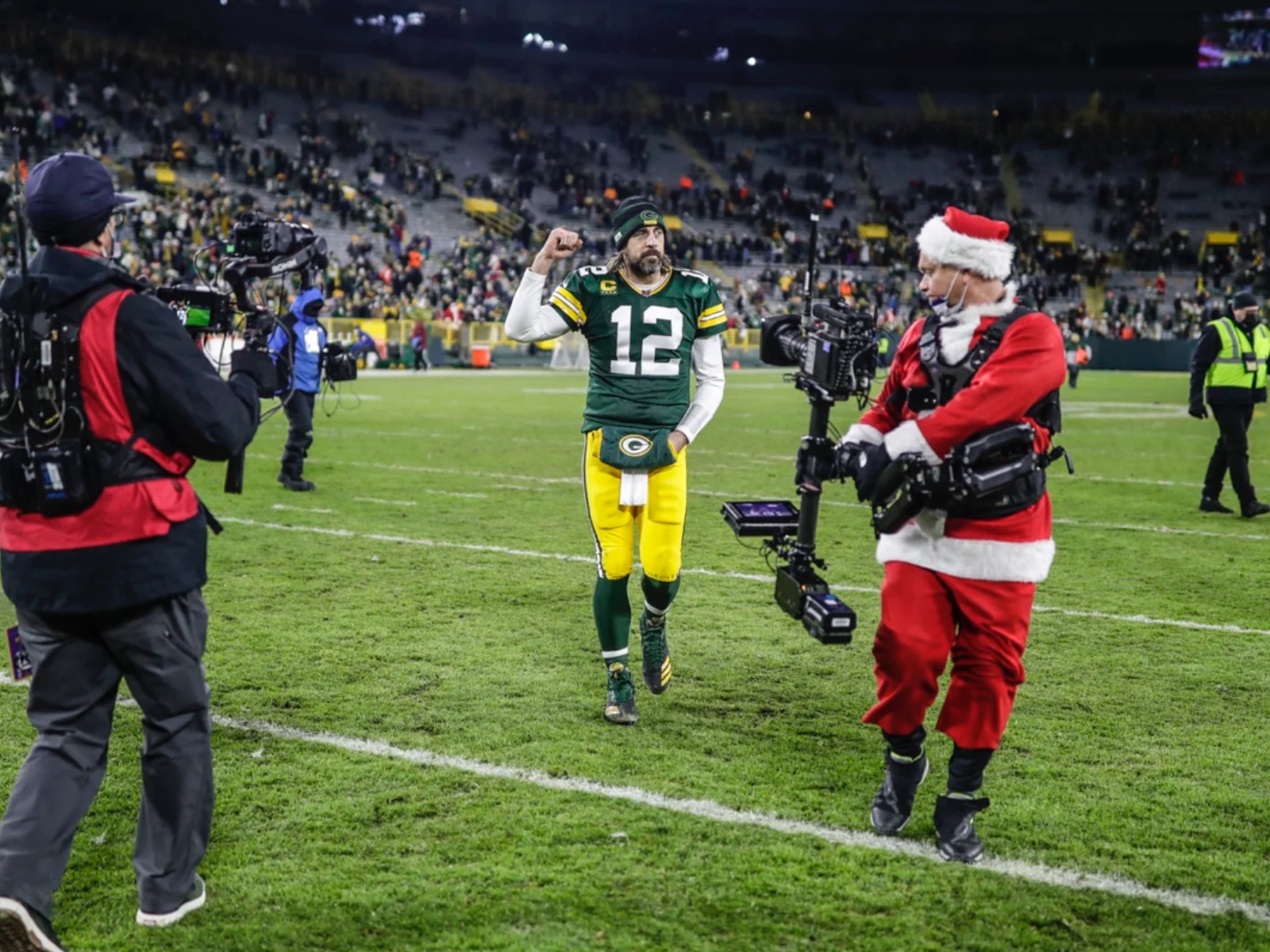 Sure, Aaron Rodgers is the focal point of this postgame photo – but we must talk about Santa Claus: freelance sports videographer. The guy delivered gifts all across the world the night before and still showed up to work on the sidelines Saturday afternoon. That's so admirable, I'll finally forgive him for never getting me an N64 all those years ago.
12. Dance of the victorious Rashan Garys
#Packers Christmas victory mood brought to you by @RashanAGary pic.twitter.com/c2sgGWRTDW — Rachel Hopmayer (@rachelhopmayer) December 26, 2021
Enjoy this clip of Rashan Gary doing a little victory dance and let its joy fuel you through the final week of 2021. We'll see you in 2022, Green Bay Packers – hopefully all the way through February 13.
As much as it is a gigantic cliché to say that one has always had a passion for film, Matt Mueller has always had a passion for film. Whether it was bringing in the latest movie reviews for his first grade show-and-tell or writing film reviews for the St. Norbert College Times as a high school student, Matt is way too obsessed with movies for his own good.
When he's not writing about the latest blockbuster or talking much too glowingly about "Piranha 3D," Matt can probably be found watching literally any sport (minus cricket) or working at - get this - a local movie theater. Or watching a movie. Yeah, he's probably watching a movie.