All good things must come to an end – a fiery, ashen, salted-earth end, in the case of the Packers' undefeated season and hot start, as Tom Brady and the Tampa Bay Buccaneers sunk the Packers, 38-10, down in Florida. For those who didn't watch the game (an excellent choice), it looked something like this:
Jokes aside, the Packers were doomed to lose at some point this season, and Sunday's game at Tampa would be an easy L to predict, in retrospect. The Bucs are a solid team, with a top-level defense and lots of weapons for one of the league's most accomplished quarterbacks to throw at, and the Packers apparently forget to set their alarms and wake up after bye weeks. After all, the last time the Pack won after a bye week was 2016 against the New York Giants.
Plus, every solid Packers season has one head-scratching loss against some random team that you forgot exists. Remember the Chargers game last year? I try not to! Or the loss to the Kyle Orton-led Chiefs in the 15-1 season?
Anyways, let's take one final look back at the Packers' first punch in the mouth of the 2020-21 campaign, then choose to never speak of it again.
1. Feeling himself
We love Jamaal Williams. He's a really solid backfield accompaniment to Aaron Jones, and the team is more fun with him dancing around the stadium to loose up before games, as pictured below ...
.@jswaggdaddy feelin' GOOD in Florida! 🔥🕺#GBvsTB | #GoPackGo pic.twitter.com/SqXAafbZ7A — Green Bay Packers (@packers) October 18, 2020
But maybe he was feeling a little too loose this week, making jabs like these at Tom Brady before Sunday's game:
Jamaal Williams threw some shade at Tom Brady ahead of their game this Sunday. 👀https://t.co/yt7b6q3qrn pic.twitter.com/fIqEH3O4kx — theScore (@theScore) October 17, 2020
That joke was a lot funnier before Green Bay lost by four touchdowns. I don't know, I maybe wouldn't give one of the sport's best quarterbacks any bonus reason to want to punt our butts into the atmosphere.
2. At least the weather was nice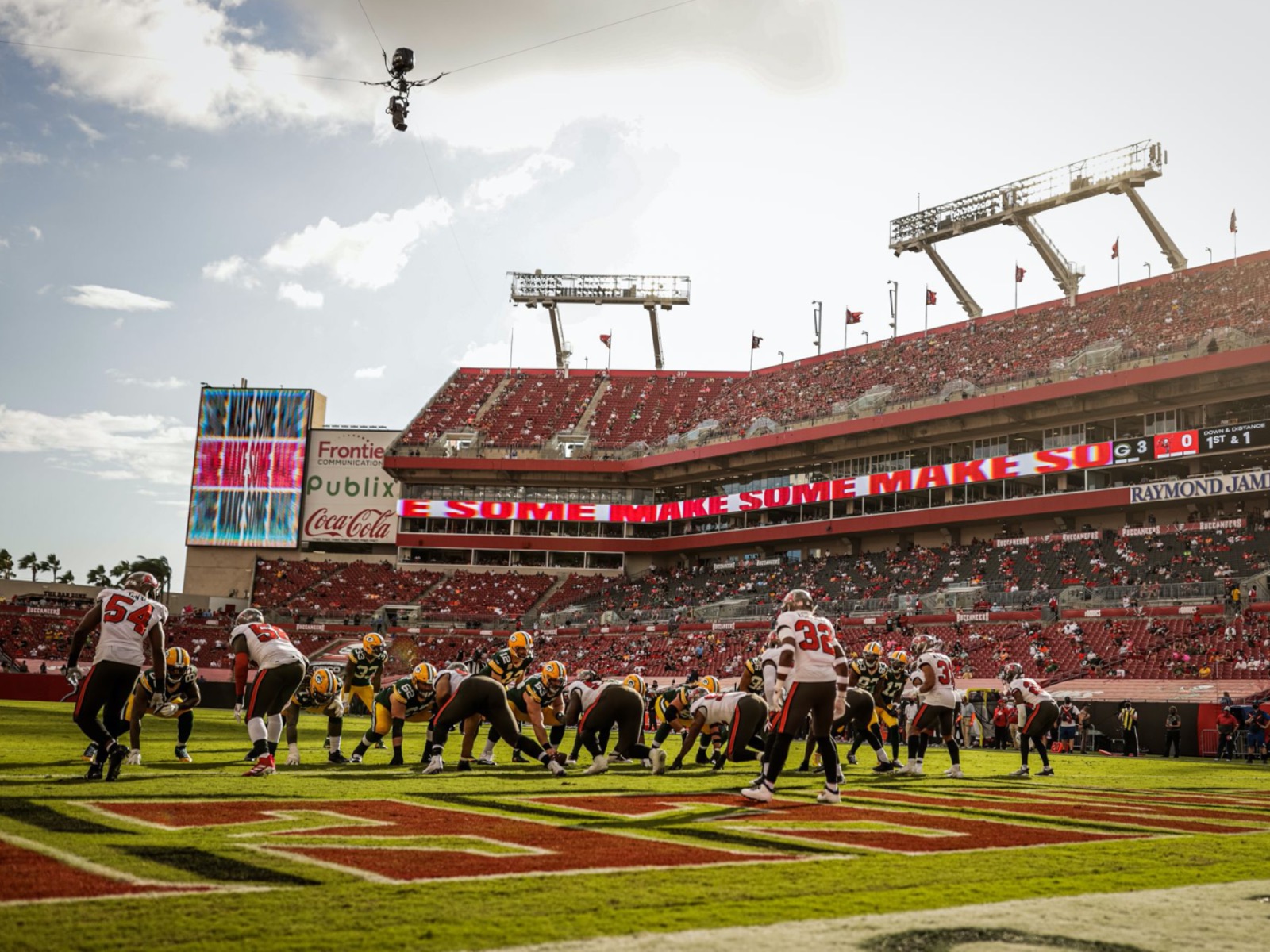 Things weren't always awful on Sunday. For one, look how great this photo looks! The weather looks so pleasant! And it looks like the Packers are about to score! But most importantly, Green Bay looked great to begin the game. In fact, after the first quarter, it looked like it might be a laugher in the other direction as the Pack took a 10-0 lead, driving pretty easily through Tampa's defense and holding the Bucs to nothing on the other side of the ball. We were so young, so naive ...
3. Adams back on the attack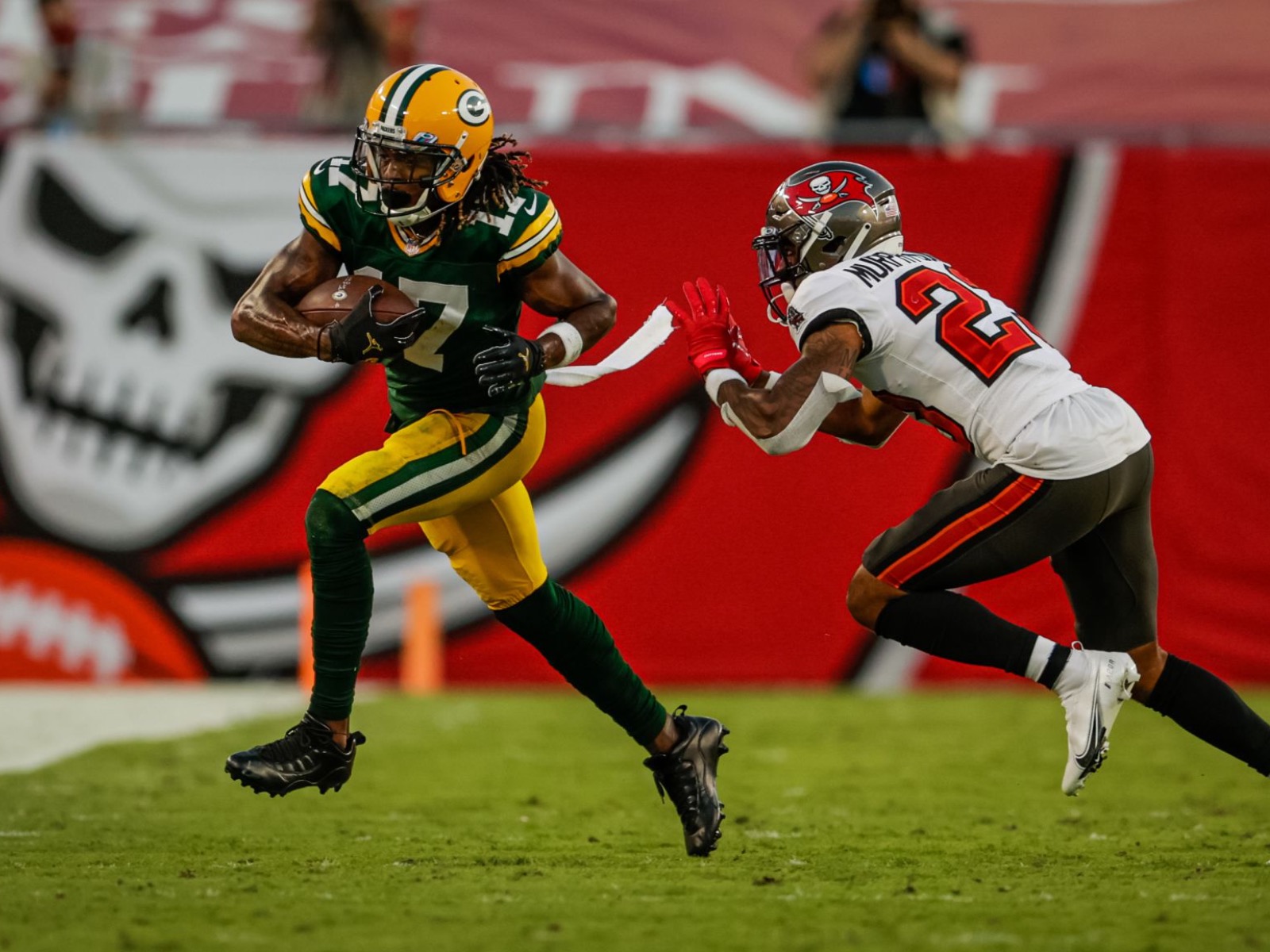 After having to rest the last two games thanks to a gimpy hamstring, Davante Adams returned to the field on Sunday. Unfortunately, his presence wasn't felt too much as the Pack's star receiver netted only 61 yards on six catches and dropped one pass into a Buccaneer defender's arms for Rodgers' second pick of the day, turning the tide of the game. But hey, it's nice having a receiver I've heard of before on the field for Aaron to throw to!
4. Happier times
Hingle McCringleberry plays for the #Packers now pic.twitter.com/BqGAuARueM — NFL Update (@MySportsUpdate) October 18, 2020
Things seemed so much better in the first quarter – so much so that Aaron Rodgers was busting out the Hingle McCringleberry celebration from "Key & Peele" after a scrambling touchdown.
The bad news: It wasn't a touchdown after all, as the refs ruled Rodgers down at the 7/16th yard line. (They'd punch it in on the next play at least.) The worse news: The game kept going.
5. A rare sighting
AARON RODGERS GETS PICK-SIXED! 🚨

(via @NFL)pic.twitter.com/CqyTKnygOh — SportsCenter (@SportsCenter) October 18, 2020
That's not just a rare Rodgers interception – his first of the season. That's the extremely rare Rodgers pick six – one not seen since 2017 against the Cincinnati Bengals. Back then, Mike McCarthy was still the Packers coach, and Andy Dalton was the Bengals quarterback. Three years later, they're both on the Dallas Cowboys. Funny, the passage of time! Anyways, that's much more fun to talk about than how this pick threw away any momentum the Packers had, and Green Bay would give up 31 unanswered points after this play.
6. My bad
pic.twitter.com/DOnz29Upm2 — Lily Zhao (@LilySZhao) October 18, 2020
I think all of Packer Nation deserves a hug after that performance yesterday.
7. Untouched Tom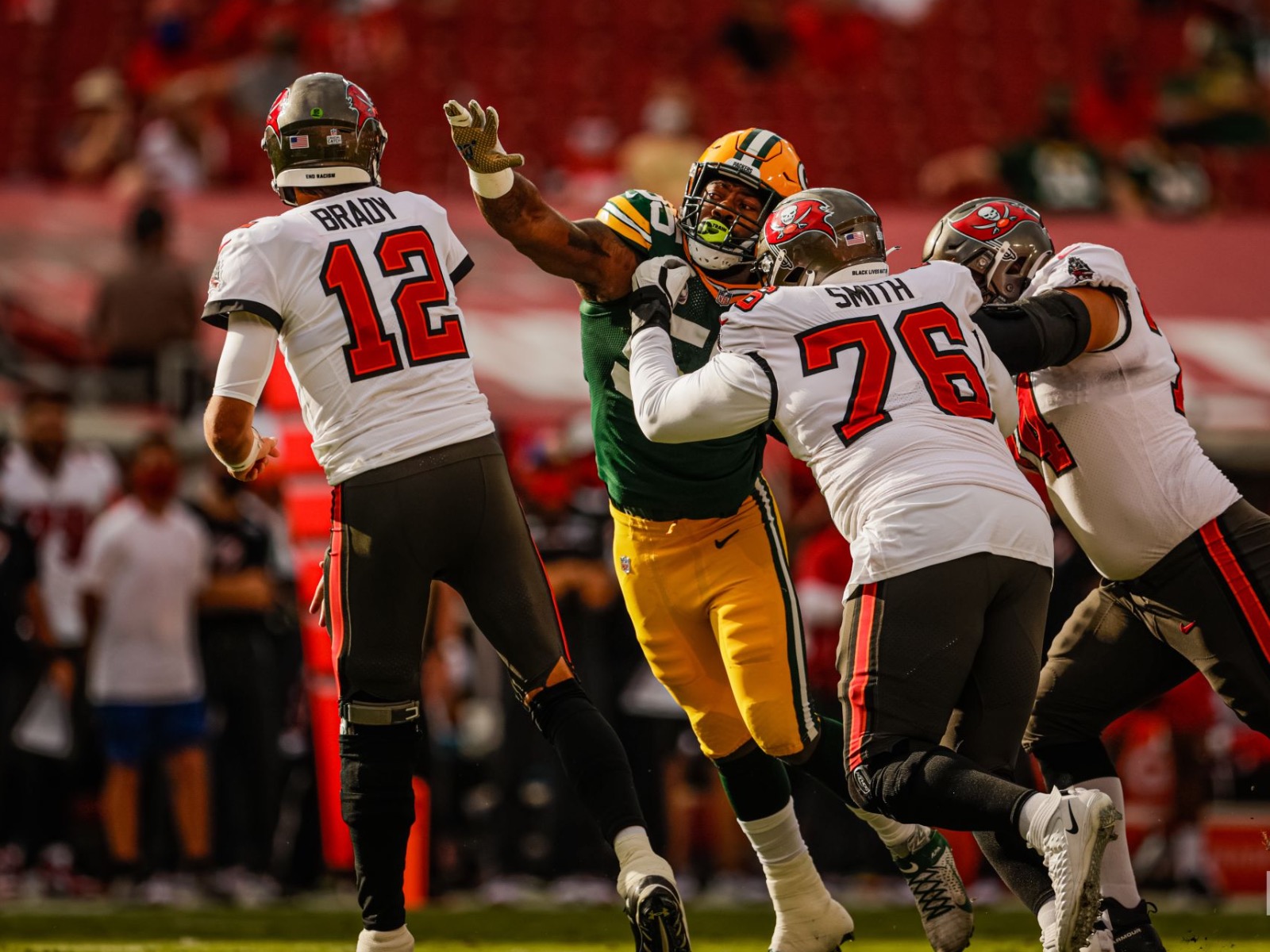 It's not a secret how to beat Tom Brady: You get pressure on him, hit him and make him uncomfortable in the pocket. Unfortunately, it was a secret to the Packers on Sunday as Brady's jersey looked irritatingly spotless by the final whistle, sacked not once throughout the day and generally unharried in the pocket. The blame for Sunday's blowout doesn't fall entirely on the Packers defense – it doesn't help when your offense hands your opponent essentially 14 free points – but they didn't do themselves any favors either.
8. Throwback Sunday
Remember how much fun you used to have watching Gronk and Brady team up and score touchdowns? Wait, that wasn't fun at all? Everyone hated it? Because the Patriots were the worst? Well, maybe it'll be more enjoyable in a different uniform and city.
TOM BRADY CONNECTS WITH GRONK FOR THE TOUCHDOWN!!!!!!
LETS GOOOOOOOO #GoBucs
pic.twitter.com/5Zj54H9soS — Tompa Brady (@Tommy6Rings) October 18, 2020
Nope, still sucks.
9. Clash of the titans' back-up quarterbacks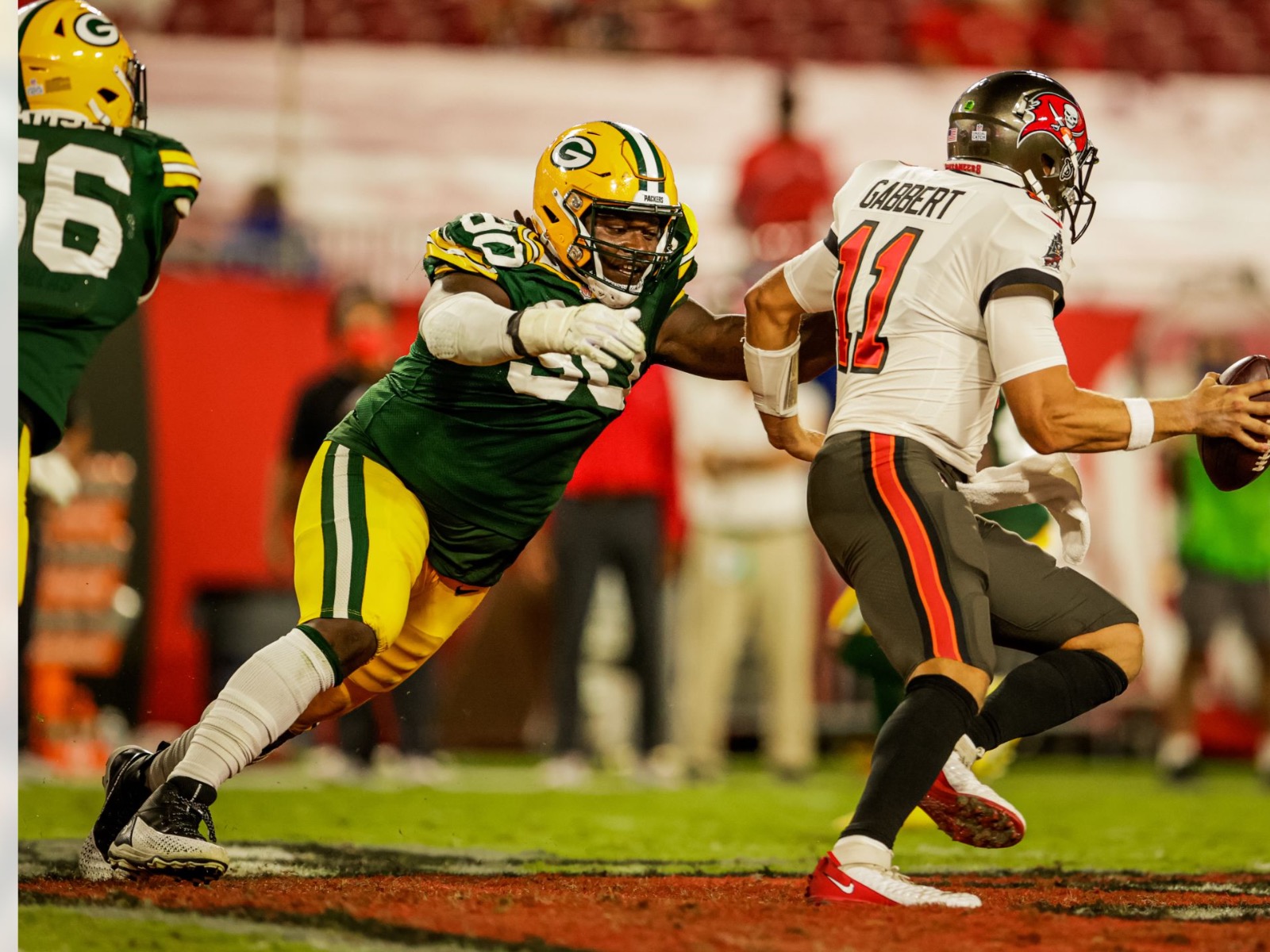 The much-ballyhooed Rodgers-Brady battle ended exactly as everyone predicted: with back-ups Tim Boyle and Blaine Gabbert on the field. And any time Blaine Gabbert is playing football on your television screen, something wrong happened.
10. It could always be worse.
A polite reminder for Packers fans freaking out on Twitter: Green Bay is currently 4-1, with still one of the best records in the league. Meanwhile, let's check in on the New York Jets ...
Required New York Jets fan gear in 2020. pic.twitter.com/eoPFNI4Qhi — Ben Maller (@benmaller) October 18, 2020
The Jets are currently winless, with players jumping ship by the week. So yeah, I'll take one loss to Tampa Bay over whatever that horror show is over on the East Coast.
As much as it is a gigantic cliché to say that one has always had a passion for film, Matt Mueller has always had a passion for film. Whether it was bringing in the latest movie reviews for his first grade show-and-tell or writing film reviews for the St. Norbert College Times as a high school student, Matt is way too obsessed with movies for his own good.
When he's not writing about the latest blockbuster or talking much too glowingly about "Piranha 3D," Matt can probably be found watching literally any sport (minus cricket) or working at - get this - a local movie theater. Or watching a movie. Yeah, he's probably watching a movie.