Well, at least the Packers found a new and exciting way to break our hearts in the NFC Championship.
It seemed, after the half, that Green Bay was giving us an unnecessary sequel to last year's performance: a clobbering a game away from the Super Bowl, delivered by an opponent who clobbered us similarly earlier in the season. But no, in a nifty remix, the Packers, instead of getting pummeled and letting us drink our sorrows away well before the final whistle, came back from down 28-10 and made it a game before losing in soul-punchingly close fashion, 31-26. I don't know which way I prefer to lose – but now that I've had the full sampler platter of NFC Championship losses, I'm ready to know what a win feels like again, please!
Before we needlessly debate Aaron Rodgers' postgame words for the next five months, let's one final look back at yet another NFC Championship gutpunch. Ha, "final" – as if any of us are going to forget all of the missed opportunities anytime soon.
1. One more time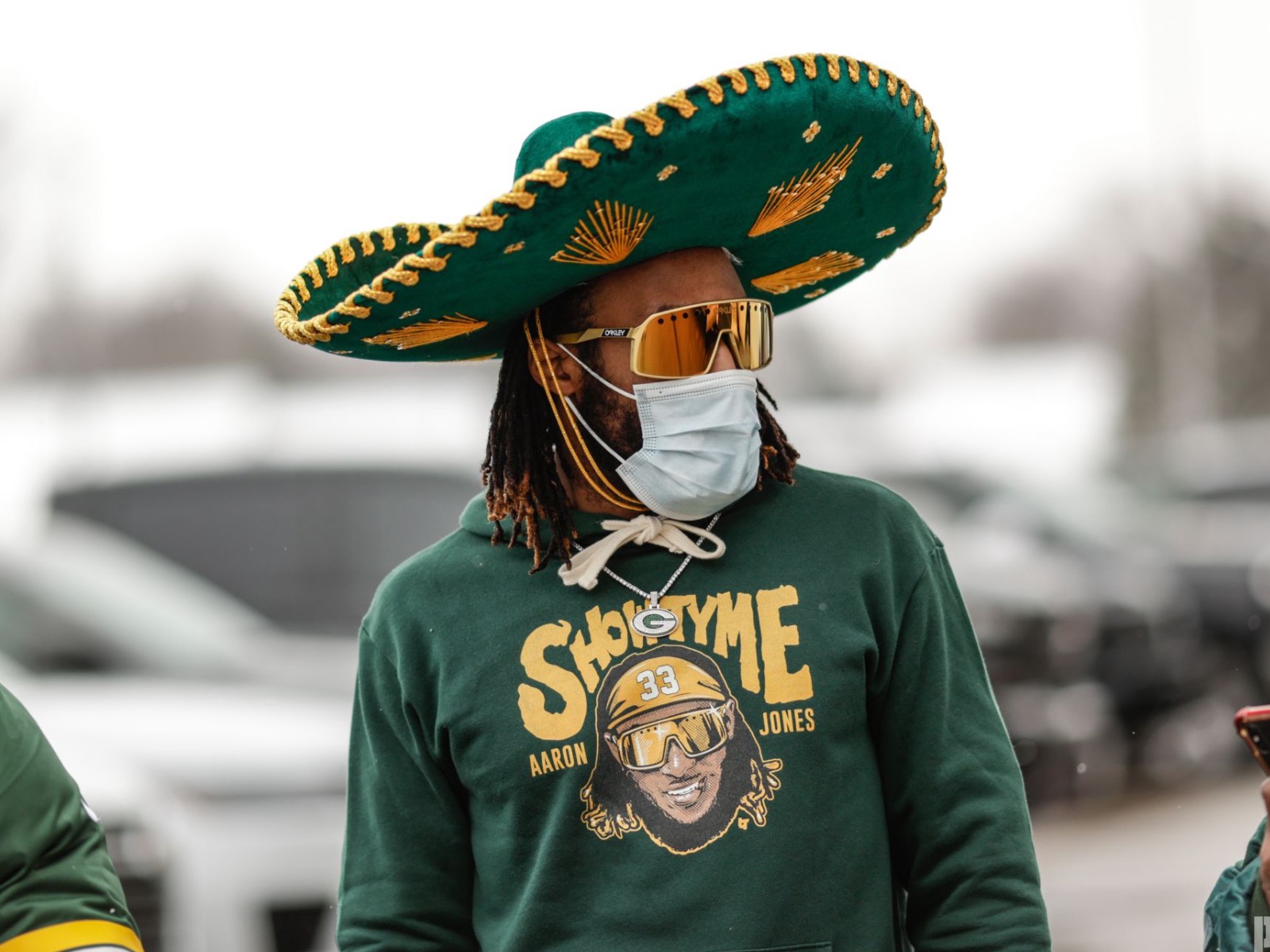 With his contract up at the end of this season, and running backs' value at a minimum, it brings me no pleasure to report that this will probably be our last Aaron Jones sombrero – at least in green and gold. (*plays Enya's "Only Time," pours my beer out*) The pregame fashions will never be the same.
2. Definitely not King for a day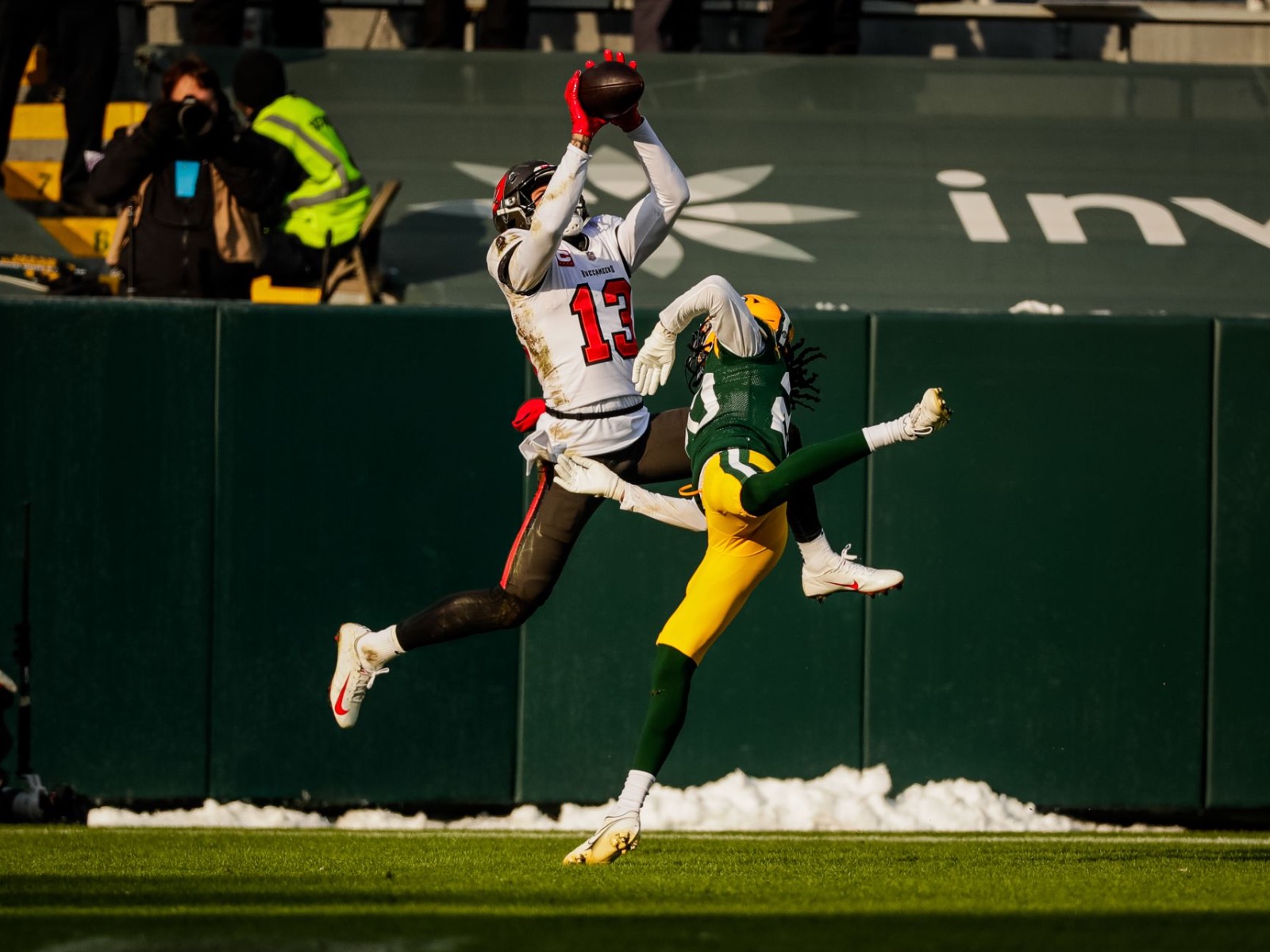 In case the photo above isn't quite clear, Kevin King – pictured falling tragically to the turf in failure – had a bad game. It's clear the Bucs were targeting him on offense, and it worked as King got beat on the game's opening touchdown before getting beat yet again at the end of the first half on a play I refuse to speak of. Basically, if the Bucs were making me sad, Kevin King was probably somewhere around the play, not stopping it.
pic.twitter.com/iQh1omt0i8 — Moneybagg Yo(hannes) 🇪🇷 (@AronYohannes) January 24, 2021
3. How about a happy story
5ï¸Ââƒ£0ï¸Ââƒ£ yards to @MVS__11!

TOUCHDOWN! 🙌#TBvsGB | #GoPackGo

📺 FOX
Watch live 📱 https://t.co/hXyIKW8GE0 pic.twitter.com/SP71SKnc5y — Green Bay Packers (@packers) January 24, 2021
Here's the Marquez Valdes-Scantling we've been hoping to see. The man spent most of the season getting heckled by Packers' fans for inconsistency – deservedly so in some cases – but ended the season on an absolute high, leading the team with 115 yards and the Pack's first points of the day on this pretty touchdown snag. Davante Adams struggled with drops his first few seasons before becoming the go-to great that he is; perhaps we just witnessed MVS make his Adams-like move to the next level too, living up to the tantalizing promise all-too-often obscured by his torturous drops. No matter the case, for a guy often blamed for the Packers' problems this season, he was one of the few who got off scot-free on Sunday.
4. I just ...
BRADY TO SCOTTY MILLER TD TO END THE HALF 🤯

(via @NFL)pic.twitter.com/V8btMA00Ny — Bleacher Report (@BleacherReport) January 24, 2021
All. You had to do. Was not give up a touchdown. Amazingly, the Packers did recover from this brutal first-half closing – but I highly doubt Mike Pettine's tenure as Green Bay's defensive coordinator will, playing a wholly head-scratching scheme that, at the time, seemed to end the game early.
5. Thunder thighs
Never skip a leg day.
pic.twitter.com/S4wv8sqEWI — Scott Grodsky (@ScottGrodsky) January 24, 2021
With Aaron Jones almost certainly headed elsewhere this offseason (*pours one out again*), meet your new featured running back and his unstoppable tree trunk-esque legs. I expect Green Bay to pair A.J. Dillon up with a quick back to create that classic "Lighting and Thunder" backfield combination – and I expect to watch this guy turn more one-yard stops into thrilling seven-yard gains in the future.
6. A beautiful image
Tom Brady is not happy pic.twitter.com/aVRPiE7HxZ — SB Nation (@SBNation) January 24, 2021
At least we briefly got to see this. Tom Brady being sad is like seeing an adorable puppy. It just warms the heart and refreshes the soul.
7. Big Bob's big year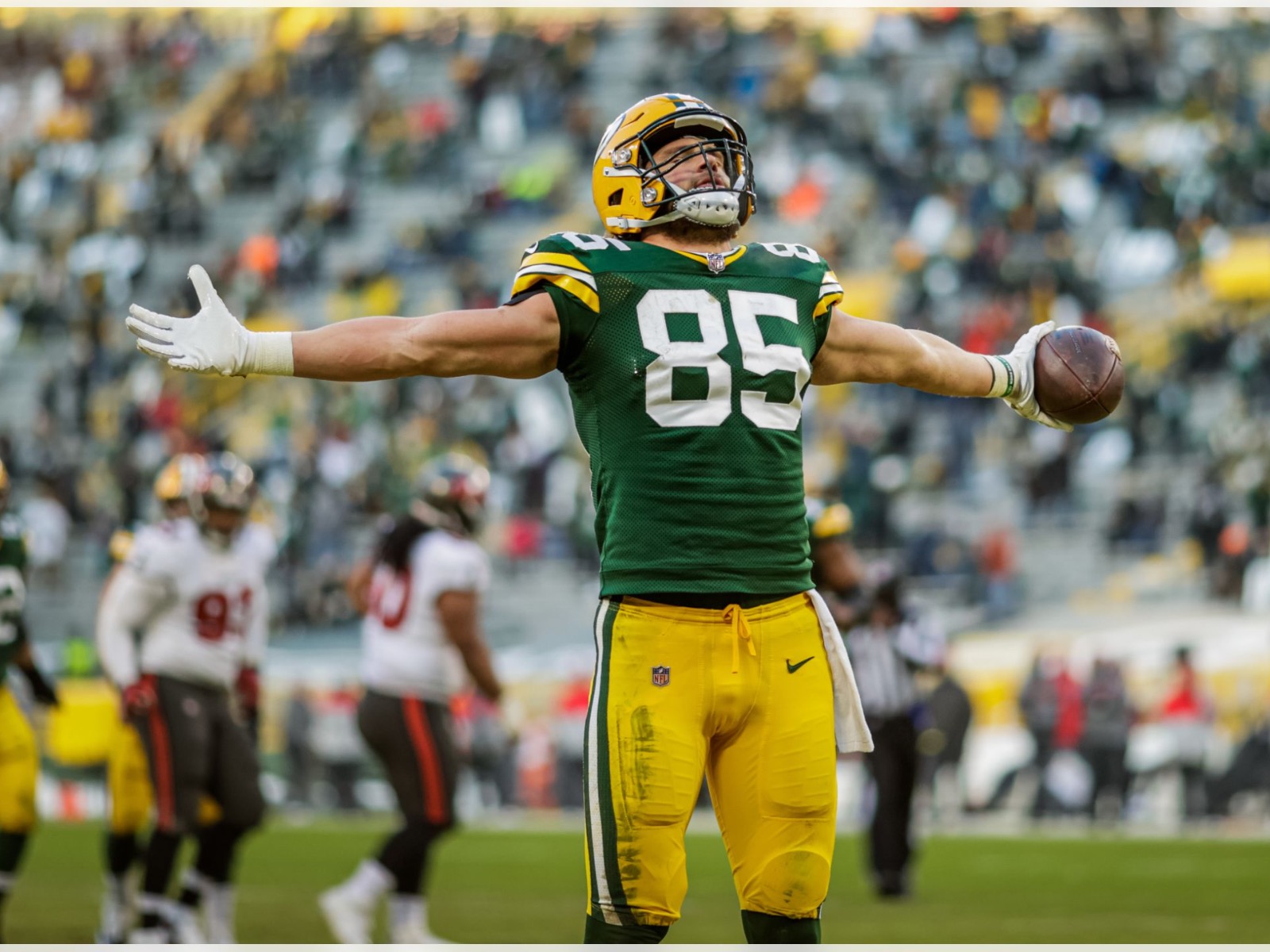 Remember when there was concern about the Packers not having enough passing options. Not so much anymore! Davante Adams is arguably the best recceiver in the game, MVS showed up and maybe cured his drops, Lazard is a solid piece of the puzzle and Robert Tonyan turned into everyone's unexpected favorite Packer thanks to his sure hands, endzone abilities and even writing skills. All we need is Aaron Rodgers back – and surely there's no reason to be worried about that, right? RIGHT?!
8. Don't give me hope
.@tae15adams with the TD grab! 🙌 #TBvsGB | #GoPackGo

📺 FOX
Watch live 📱 https://t.co/hXyIKWqi2A pic.twitter.com/mzE9HBk2ZR — Green Bay Packers (@packers) January 24, 2021
Even if the team might've routinely lacked the killer instinct, boot-on-the-neck attitude needed this season, you can't say the Packers mailed it in. Down 28-10, the Packers came back and brought the deficit to 28-23 with this touchdown snag from Davante Adams. Maybe ... just maybe ...
9. Missed opportunities yet again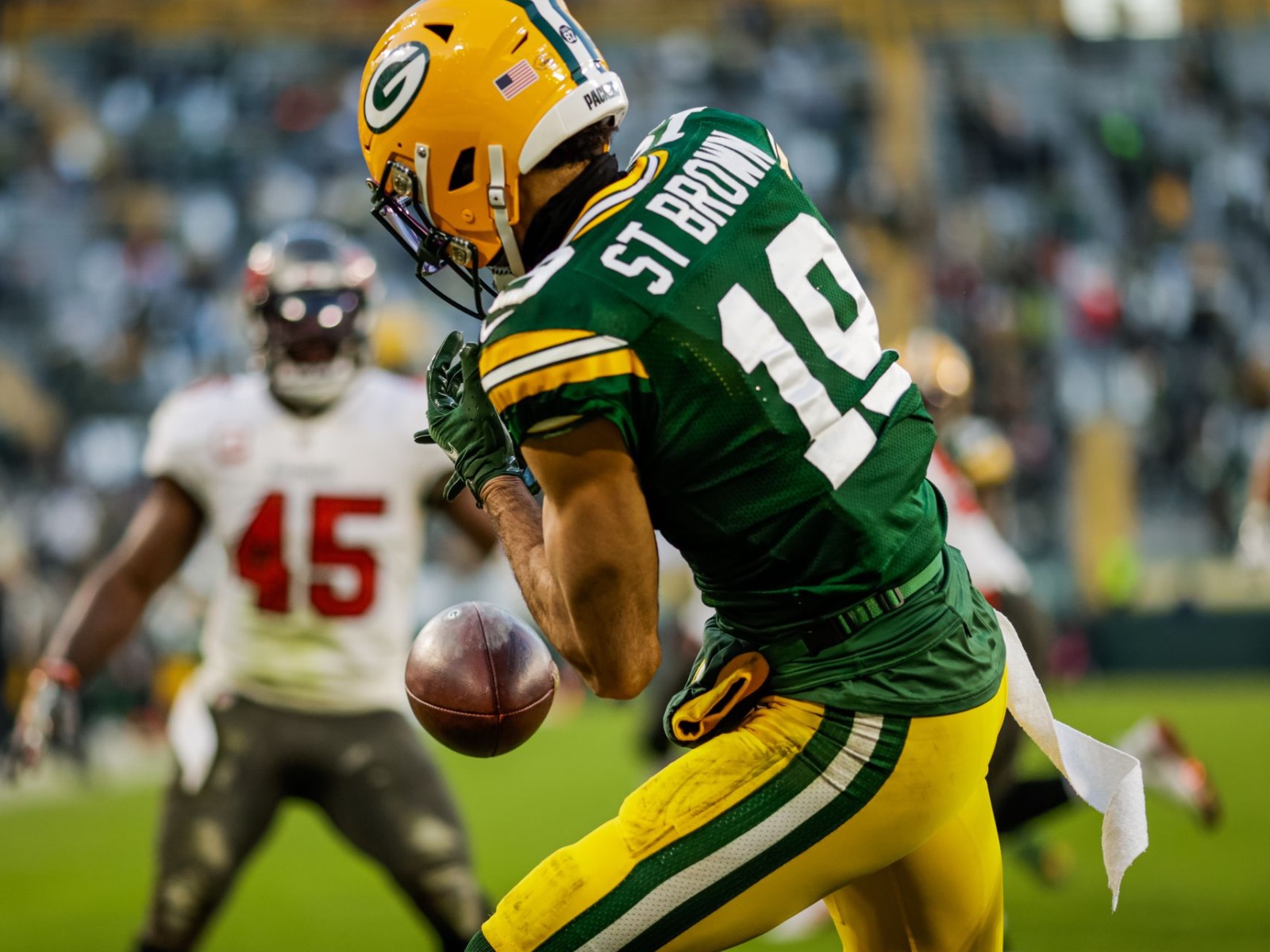 Oh look, another play that I definitely won't have nightmares about! St. Brown's drop wasn't a game-changer like the fourth down field goal or the Tampa touchdown at the end of the first half, but pardon my mind for remembering all the points, miscues, third-down conversions and more that led to Sunday's loss. They're all just dancing in my head, mocking me. It's the best.
10. Turnover Tom
Brady with a bad pick and the Packers now trail by 5 with the ball
pic.twitter.com/9vjmGZemGq — Barstool Sportsbook (@BSSportsbook) January 24, 2021
Few things I love more than listening to the narratives that Brady willed Tampa to the Super Bowl and that he's the greatest of all time ... when he tried his damnedest to hand the Packers the game in the second half. Talking heads are going to be tripping over themselves to annoint him king of the NFL again while ignoring the three second-half interceptions – and, most of all, ignoring the Tampa D-line that actually won the Bucs this game, keeping Rodgers under pressure and uneasy all afternoon. It's Peyton Manning's final season with Denver all over again ...
11. Credit where credit's due
"GET A STOP."

Aaron Rodgers looking for his defense to step up as we enter the 4th Qtr.

📺 #TBvsGB on FOX pic.twitter.com/Hx0WghQDCb — FOX Sports: NFL (@NFLonFOX) January 24, 2021
The defense has routinely been the whipping boy of the Packers during the Aaron Rodgers era, but while I've seen enough third-down conversations to last a lifetime, and the end of the first half ... happened, you can't blame Sunday's loss entirely on the D this time as Jaire Alexander and company gave Green Bay three interceptions in the second half to work with. Unfortunately, the offense wasn't able to turn them into points or even merely momentum.
12. The ghost of McCarthy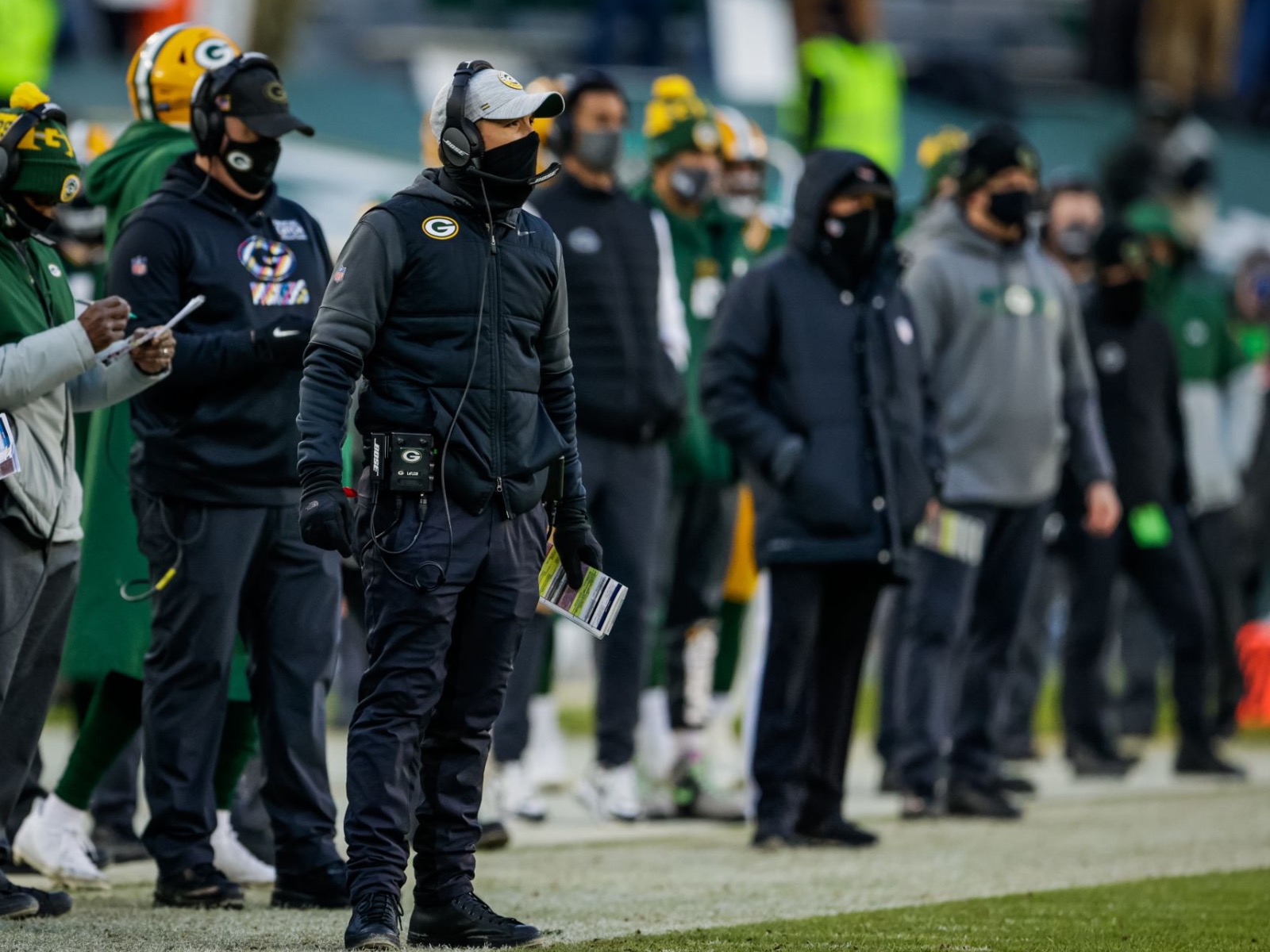 For a brief moment, the spirit of Mike McCarthy must've possessed LaFleur as, with the game on the line, down eight with just over two minutes left, the coach conservatively kicked a field goal instead of seeing if Aaron Rodgers could tie up the game. LaFleur essentially took the ball out of his MVP's hands and gave it to Tom Brady, who, as he does, proceeded never gave it back.
LaFleur is a very good head coach – he's 26-6 in two seasons, with both ending a game away from the Super Bowl; he's doing something right – and he's an obvious upgrade from where the Packers were with McCarthy at the end of his tenure. But until he makes a Super Bowl, this decision is going to define him – fair or unfair – for a while.
13. Oh, so now you know how whistles work
Obvious pass interference on the #packers pic.twitter.com/3ZC018hsTv — Bill Sharp (@BillSharph) January 24, 2021
For three quarters and about 14 minutes, the referees were letting the Bucs and Pack play, explicitly not calling close penalties and letting guys grab and play tough all game long. That is, until the most important play of the game, a late third down call that turned a Bucs incomplete pass into a clinching first down. Good timing!
Multiple things can be true on this play. One, that's definitely pass interference. A tugged jersey like that is one of those obvious markers refs look for, and Kevin King is pulling Johnson's jersey like Laffy Taffy. Two, they weren't calling pass interference – almost pointedly – all game long. I get that this was a pretty glaring one, but it's hard to go from consistently letting them play to apparently deciding the game. And three, the ref clearly called the flop rather than the foul. If the flag came out right away, the penalty would at least feel more ... earned? Genuine? But since it came out so late, and clearly came out after a Meryl Streep-ian acting job, it feels so much more disappointing.
And that's the whole story on the ending: disappointing. Losing is one thing, but knowing the season ended with Rodgers getting the ball taken out of his hands on fourth down and with a penalty instead of the Bucs earning a first down, this final game feels so profoundly unsatisfying. After last year's loss, we at least had solid proof the better team won. This time, it's hard to say if the best team on the field won or if the better team just found a way to lose.
14. Excuse me, what now?
"There's a lot of unknowns going into this offseason now."

Aaron Rodgers postgame: pic.twitter.com/VBGvBsYSCg — ESPN (@espn) January 25, 2021
In case you didn't need to drink after the Packers' loss on Sunday, Aaron Rodgers sounded particularly morose after the game, hinting at "unknowns" going into the offseason. And that sound you heard was every sports hot-taker panting in excitement about knowing what their big segment's going to be on Monday.
Now, let's make this clear: I think Aaron Rodgers plays in the green and gold next season. Without almost any doubt. Logistically, he's about to be named the MVP of the league, and you don't trade the MVP. He can clearly still play, he's still under contract, and honestly what other teams would be a better spot for him? What other teams show more promise and potential?
Most of all, this feels a lot like when Daniel Craig is interviewed after filming a Bond movie and he talks about how he never wants to play the role ever again. Of course he doesn't; it's an emotionally and physically exhausting role that he just finished – he certainly doesn't want to think about doing it AGAIN anytime soon. Rodgers just lost a brutally heartbreaking game, one that they lost more than the Bucs won in many cases. He's just getting over that; he's not thinking about next year and another long hike to potential disappointment. He's thinking about how they really had a chance this year, and now that bubble is now popped.
But I think he'll be back. And I think we'll be back right here too – with hopefully a different result on the scoreboard.
As much as it is a gigantic cliché to say that one has always had a passion for film, Matt Mueller has always had a passion for film. Whether it was bringing in the latest movie reviews for his first grade show-and-tell or writing film reviews for the St. Norbert College Times as a high school student, Matt is way too obsessed with movies for his own good.
When he's not writing about the latest blockbuster or talking much too glowingly about "Piranha 3D," Matt can probably be found watching literally any sport (minus cricket) or working at - get this - a local movie theater. Or watching a movie. Yeah, he's probably watching a movie.