What the heck am I supposed to take away from that wild and crazy game last night? It was a game the Packers simultaneously should've won by double digits and should've lost – and that's before we even mention the number of injuries and COVID concerns afflicting the team, filling up the roster with guys even the biggest Packer backer would have to look up, and muddying any larger viewpoints on the performance.
I guess if I had to come up with a takeaway, though, from last night's thrilling 24-21 victory over the Arizona Cardinals? The only team capable of beating the Packers is the Packers.
When Green Bay followed their gameplan – pounding the ball and keeping Kyler Murray off the field – and played smart, they looked like the best team in the league last night. Their offense was balanced and smartly deployed while their defense got timely stops and key plays when needed in between executing a smart, disruptive strategy that made the MVP frontrunner look pedestrian.
And then they'd occasionally forget all of that and get too clever – typically right in front of the endzone – putting themselves in position to lose.
But why am I frustrated and wasting time complaining about a team that's now 7-1 on the season? That just beat the lone remaining undefeated team on the road, with a bunch of guys who were potentially in the Arena League last we checked? Maybe it's because we've seen this movie twice before now – a Packers team that's clearly flawed but keeps winning until the NFC Championship brings everything into painfully sharp clarity. Maybe it's because there's a feeling this may be this Packers outfit's last season, so things are more tense. Maybe it's the annoyance of getting a B+ when you're so close and capable of an A. Or maybe I'm just tired of having Packers-induced heart palpitations because there's no way they're good for my overall health and longevity. But I was really hoping to have fewer questions about this team after Thursday night!
Here's one thing that can't be questioned, though: The Packers have one of the best records in the league, put themselves in brilliant postseason position with a commanding NFC North lead as well as a seeding tiebreaker, and showed – no matter how messy – that they can beat anyone (as long as they don't beat themselves). You know what's another word for "almost losing"? Winning – and that's all that matters, ugly redzone visits be damned.
Anyways, let's take a look back at the highs from Thursday night's grounding of the Arizona Cardinals.
1. Ground and pound
Aaron Jones does not skip leg day. pic.twitter.com/DdFjBA7eYg — Scott Grodsky (@ScottGrodsky) October 29, 2021
There's no reason why this play should've ended in a touchdown. But even though Jones was met well before the endzone, the running back did his best AJ Dillon impression and powered his way with sheer might through the defense, scoring into the Packers' first touchdown of the night. Surely after a powerful play like that, the Packers would commit to the run in similar situations throughout the night, right? RIGHT!?
2. Dominating Dillon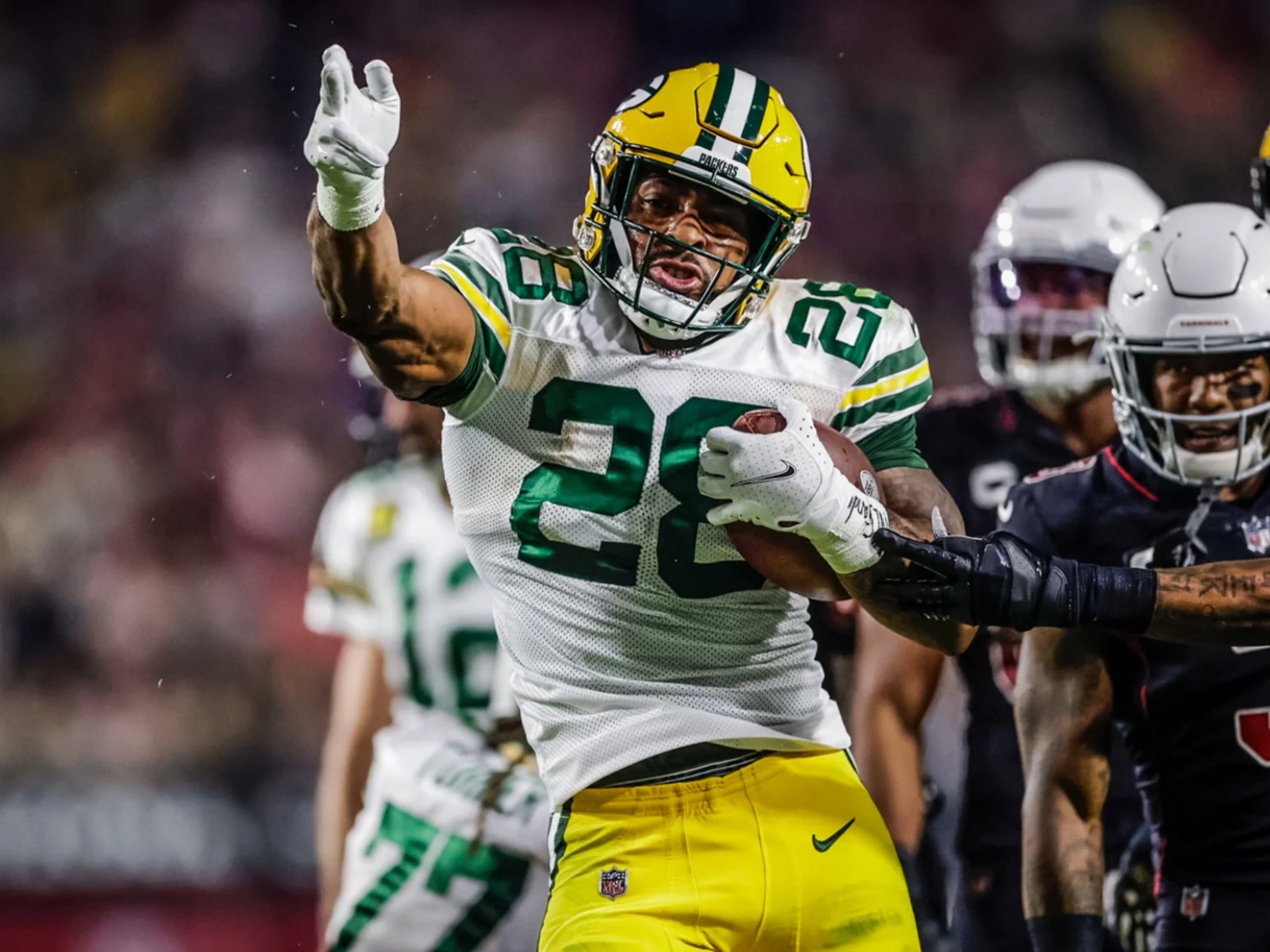 I've said this just about every week this month – and I'll keep saying it: The Thunder and Lightning combination brewing in the Packers backfield is a beautiful sight to behold. Last night, Dillon actually outcarried and outgained Jones on the ground, gettting one more carry and gaining 78 yards to Jones' 59. (Jones, however, was critical through the air, as expected with Davante Adams out, serving as the team's leading receiver.) He bullied and banged the Cardinals defense around and always seemed to be falling forward to gain an extra yard or two.
We've been conditioned over the years to need Aaron Rodgers to be superhuman all the time in order to win. With this growingly great combo handling more of the load, that's no longer the case.
3. Fumbling fingers
Rondale Moore what are you doing?? #gbvsaz pic.twitter.com/bGIgL4p81b — Ted Buddy 🏀🏈 (@TedBuddy8) October 29, 2021
Here was the moment where it felt like Thursday might just be the Packers' night: a botched return that Green Bay recovered at the three-yard line, with a chance to claim a touchdown lead.
Annnnnd right after this was a moment where it felt like Thursday might not actually be the Packers' night, as Green Bay ran three straight wobbly pass plays instead of pounding the ball three yards as was effective all night long. In the words of Charles Barkley, this can be the dumbest good team in the league – but hey, that formula worked for the Bucks!
4. Grounded
Nobody :

Kyler Murray : "Deandre Hopkins down there somewhere" pic.twitter.com/7e2hCu5RST — Shannon Sharpe Burner Account (@shannonsharpeee) October 29, 2021
So this play wasn't great, watching Eric Stokes get turned around by an injured (but still great) Deandre Hopkins – but overall on the night, the Packers defense once again impressed. It's easy to say the defense's recent stifling performances were merely the benefit of playing the Bears and Washington, and that they still give up a lot of yards and opportunities in the process – but last night, the Packers held one of the best, most firepowered offenses to just 21 points, making them only the second team to hold Arizona under 30 points all season long. Sure, you can credit an injured Hopkins and Murray for some of that – but the Packers defense had a great gameplan, the Green Bay offense complimented it perfectly with its long drives keeping Kyler off the field and when the time came for a big play, the Packers found it. We might just have to admit it: The Packers defense is solid.
5. The look of victory
This shot by FOX of Aaron Rodgers. #Packers pic.twitter.com/YZvqONyh98 — Kyle Malzhan (@KyleMalzhan) October 29, 2021
That feeling when you realize November is somehow just three days away.
6. Throwing it old school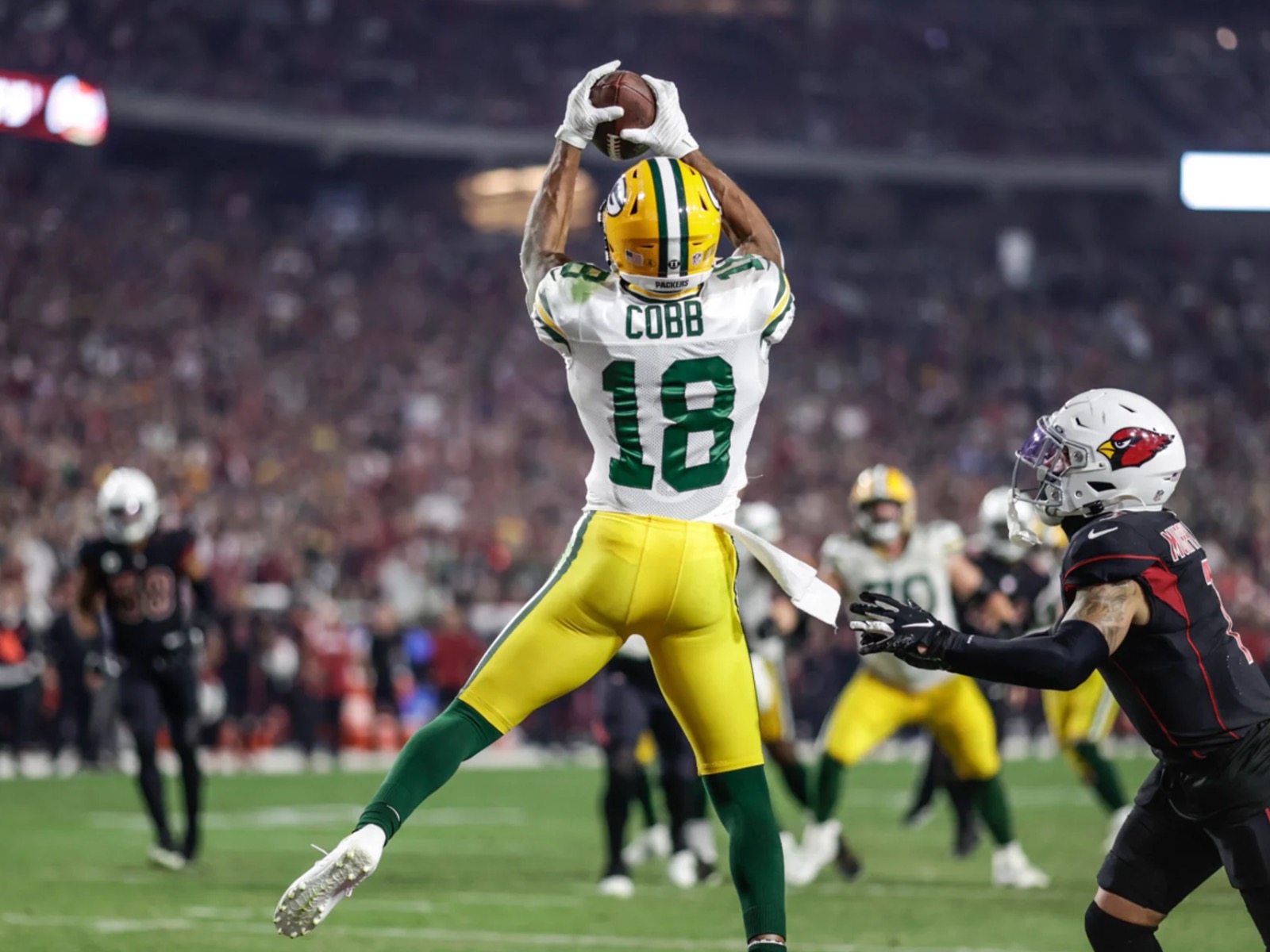 With most of the receiving corps either hurt or quarantined, the Packers had to rely on a lot of unknown faces in the passing game – as well as one very familiar face. Randall Cobb showed why Rodgers wanted him back, serving as the quarterback's safety valve in critical endzone moments. (It sure seemed like all five of his targets came in the redzone.) He only ended the night with three catches for 15 yards – but two of those catches were touchdowns, so we call that a productive night.
7. Me, when I'm drowning in work and just got another new assignment thrown at me
Aaron Rodgers is HILARIOUS…. pic.twitter.com/yhs7Sq4E5g — Emmanuel Acho (@EmmanuelAcho) October 29, 2021
Rodgers was statistically efficient on the field, with just 184 yards but two touchdowns. Off the field, though, the man delivered an iconic MVP performance on the internet with not one but two meme-worthy moments: the disheveled helmet play and this mid-tackle grumble. Memes are worth points, right?
8. The dagger that wasn't
"We felt he was probably short, but we did not think there was enough video evidence to overturn, so I was surprised." - @MikePereira on Aaron Jones' TD being overturned pic.twitter.com/Q7L5iOQduX — FOX Sports: NFL (@NFLonFOX) October 29, 2021
The Packers seemingly had the game by the throat late in the fourth, scoring another Aaron Jones touchdown to take a ten-point lead with under five minutes left to go. But somehow, the refs saw something no one else did and decided there was conclusive evidence that Jones was short of the endzone. Well surely the Packers could gain one yard, though ...
9. They could not
GOAL LINE STAND.

What a stop by the @AZCardinals defense! #RedSea

📺: #GBvsAZ on NFLN/FOX/PRIME VIDEO
📱: https://t.co/LjvhBMbwf9 pic.twitter.com/cuODwvMmI6 — NFL (@NFL) October 29, 2021
Once again, the redzone turned into the Bermuda triangle for the Packers' brain cells. After halting Jones once again, the team suffered a delay of game penalty (since they'd wasted all of their timeouts earlier trying to avoid far less meaningful delay of game penalties) that pushed them back, then returned to the one-yard line only to once again bail on their effective rushing attack to run a miserable-looking pass play that got tipped dead before the endzone. If only we had a strong, beefy running back with infamously thick legs who was racking up yards at a wild clip and was punishing the Arizona defense all night long to use in such a situation. Ah, but there I go again on one of my dreamy tangents ...
10. A well-timed whoops
Aj green had money on the packers lmaooo pic.twitter.com/bKokjOTXsh — jw (@iam_johnw2) October 29, 2021
Never trust a man with the last name "Green" against the green and gold.
Indeed, when all seemed lost and desperate for the Packers at the end, the team got a gift in the form of AJ Green just ... forgetting to keep running his route, handing Rasul Douglas a fairly easy pick to turn what was at least going to be an overtime game into a Green Bay victory with mere seconds left.
Again, the Packers should've both won handily and lost heartbreakingly – but a win is a win, especially with Green Bay's upcoming schedule not laying off the gas. The diminished but still dangerous Chiefs are up next, followed by the Seahawks (potentially with Russell Wilson back), Vikings on the road and the fellow championship-contending Rams. In fact, the Packers' next truly easy game isn't until the Detroit Lions ... on the last week of the season. It's a whole season of "survive and advance" – and thus far, the Packers keep doing both.
As much as it is a gigantic cliché to say that one has always had a passion for film, Matt Mueller has always had a passion for film. Whether it was bringing in the latest movie reviews for his first grade show-and-tell or writing film reviews for the St. Norbert College Times as a high school student, Matt is way too obsessed with movies for his own good.
When he's not writing about the latest blockbuster or talking much too glowingly about "Piranha 3D," Matt can probably be found watching literally any sport (minus cricket) or working at - get this - a local movie theater. Or watching a movie. Yeah, he's probably watching a movie.