This Packers season has needed a jolt – and it got one on Sunday afternoon as Green Bay snuck away with a surprising 23-20 win over the shockingly scuffling Los Angeles Chargers at Lambeau Field.
No one would hang this victory in the Louvre, with yet another missed extra point, once again a clunky opening frame with no scoring and the Chargers receivers' grip the only thing looser than the Pack's pass defense. But hey: At 3-6 coming into Sunday, I'm not really in a place to look gift wins in the mouth – especially one over a team with a lot of talent and lofty postseason aspirations. It's a win that also featured some stellar Packers performances – particularly on offense, with the young receivers and star quarterback seemingly growing up before our eyes. Sustained drives? Nice, sharp pass plays? Touchdowns rather than field goals? One loves to see it. This is the kind of game fans expected to see this year: with plenty of frustrations and issues but also plenty of exciting potential and popping talent.
With all that, Sunday doesn't feel entirely like just a standard win. It feels like a win that might just be building somewhere ... but, uh, maybe somewhere in a few weeks since the Pack's about to take on arguably two of their most difficult games of the season. Let's not think about those yet, though, and instead let's luxuriate in a fresh win – and eleven of the biggest takeaways from it.
1. Rough start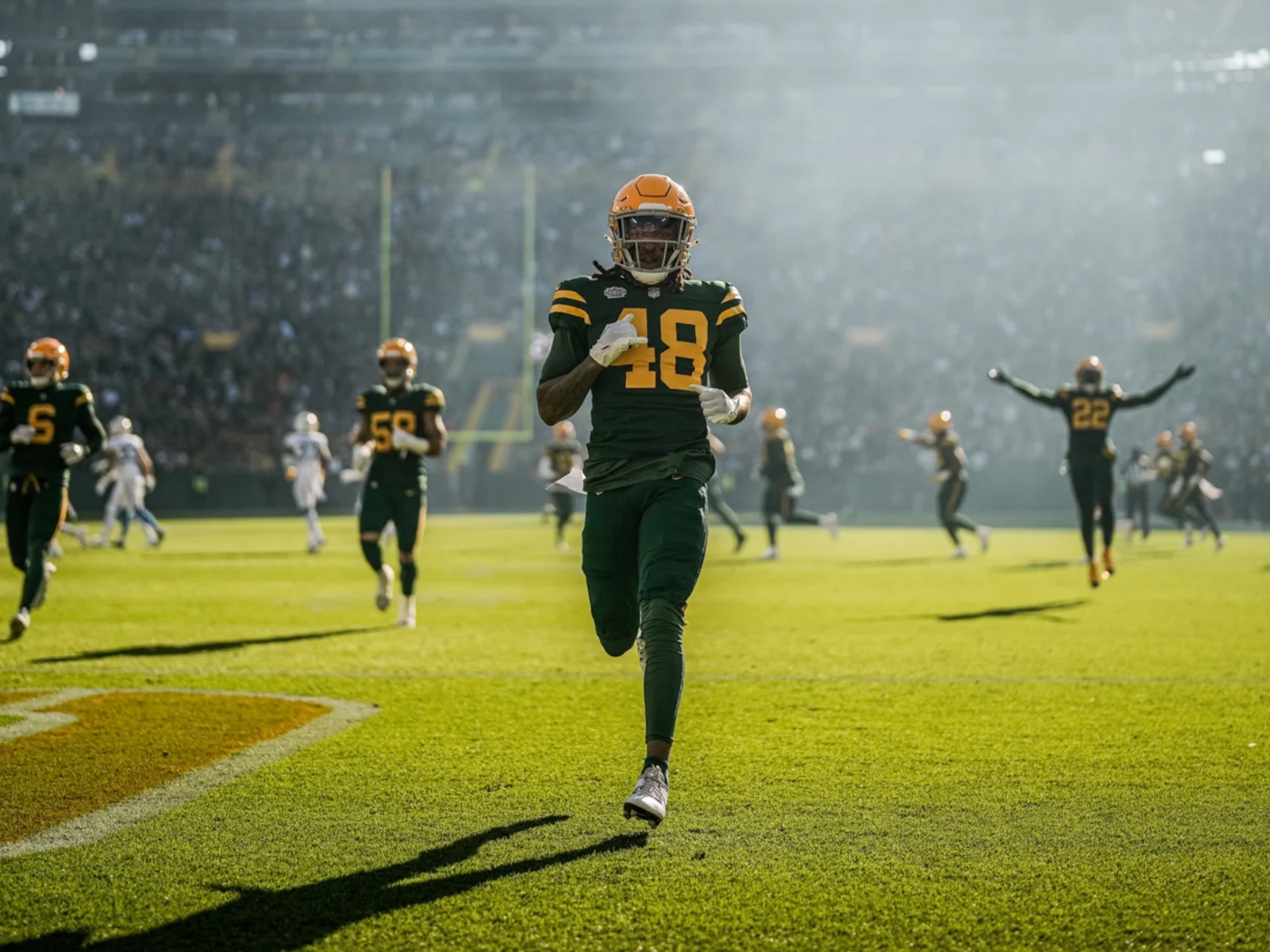 We've been used to rough starts this season at Packers games – but not like Sunday's game. Because what was rough ... wasn't the Packers. (Though, sure, again Green Bay didn't score in the first quarter, having a bad fourth down conversion failure and a three-and-out to start.)
No, it was the Fox broadcast that was brutal, starting with a double penalty on Dallin Leavitt (#6 to the far left above) on the opening kickoff that the broadcast basically talked through with no replays or explanations. Then, later on, the broadcast seemingly only had a shot from the Goodyear blimp of Chargers star Joey Bosa's game-ending injury. Packers fans have clearly been blessed over the past decades – no, not just with star quarterbacks but with getting networks' A-grade crews for the most part. Guess that's not the case as much with a mediocre football team on the rebuild. Joe and Troy, where art thou now?
2. I believe the children are our future
We have a @JaydenReed5 Lambeau Leap!

TOUCHDOWN! 🙌#LACvsGB | #GoPackGo

📺: FOX pic.twitter.com/LIv6lpa9mC — Green Bay Packers (@packers) November 19, 2023
As fans knew going into the season – and were painfully reminded over the past several Sundays – the Packers are very young. But that youth seemed to grow up against the Chargers – including rookie Jayden Reed, who scored Green Bay's first touchdown of the game on this impressive end-around rush and racked up a team-high 92 yards total on the ground as well as through the air. We've been asking for someone to help Jordan Love out and make a play for him this season; this Sunday, Reed certainly delivered.
3. Oh no-wens
that's six.

📺 @NFLonFOX pic.twitter.com/etvAnCTFqe — Los Angeles Chargers (@chargers) November 19, 2023
Considering the Packers didn't have the injured Jaire Alexander yesterday and Rasul Douglas is now in Buffalo, the very green green-and-gold secondary did a decent enough job against the high-flying Chargers offense. Except for this touchdown, featuring a not-particularly-decent effort from Jonathan Owens on the open-field tackle. If this was two-hand touch, I'd say great work – but it's not, so it wasn't.
4. Pyrrhic victory
Aaron Jones was carted off the field with a knee injury… 💔 pic.twitter.com/wIX7uVSQcR — JPAFootball (@jasrifootball) November 19, 2023
As is frustratingly usual, Aaron Jones was given the silent treatment for most of the first quarter. But then, in a cruel twist of fate, when the running back was finally given some on-field action, he came down with a scary-looking knee injury and had to be carted back to the locker room in what appeared to be tears. Thankfully, he was in good spirits after the game, as the early reports are that the injury isn't as season-ending as originally feared. And A.J. Dillon did a respectable job showing he could handle the load without the lightning to his thunder. (The team also picked up James Robinson on Monday for depth.) I'd say the offense will miss Aaron Jones's spark – but honestly Coach LaFleur barely bothered to use that spark before the injury anyways.
5. Elementary, dear Watson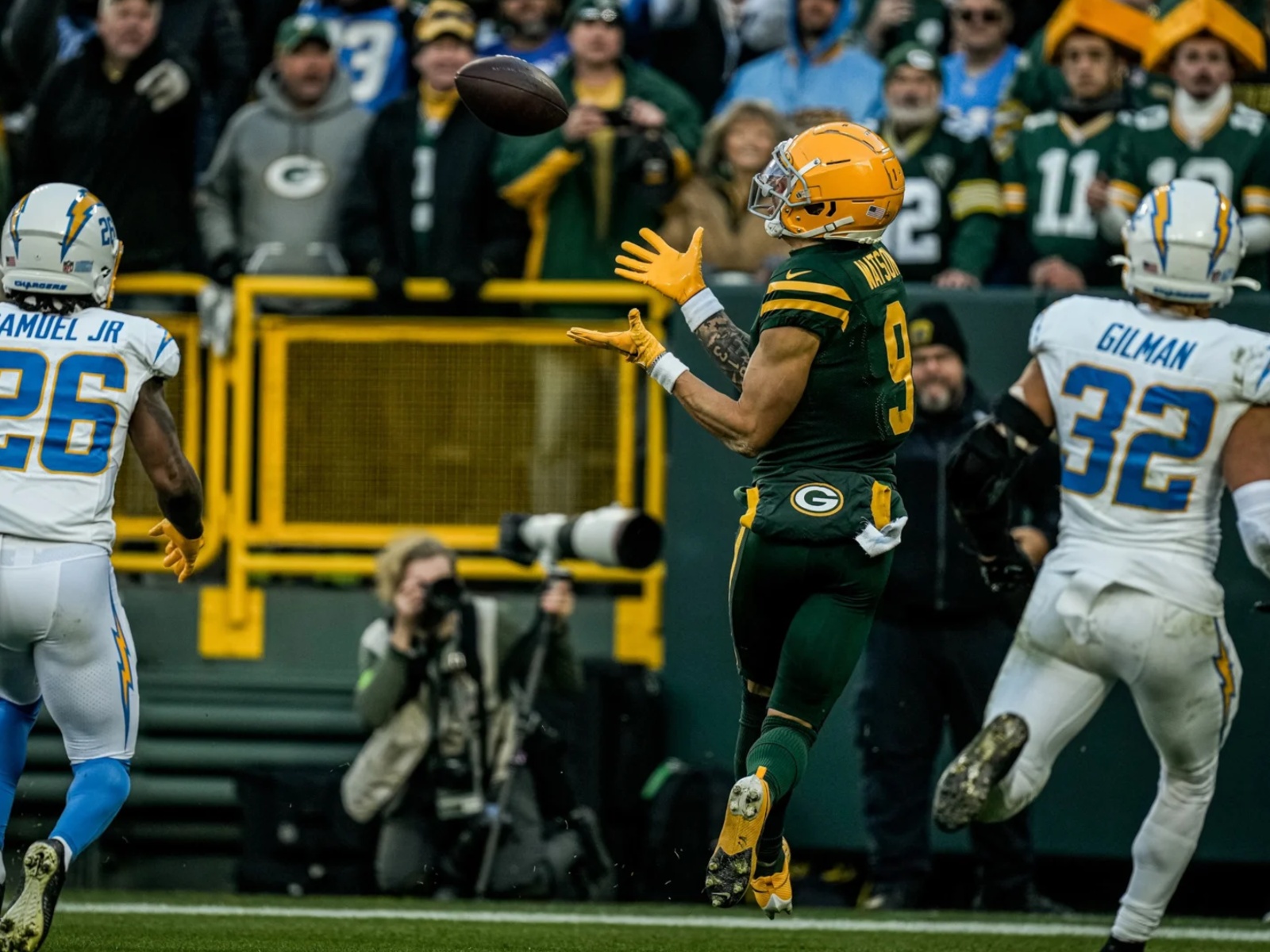 Christian Watson's had a tough go of it this season – and it's not like Sunday's performance was a glamorous showing in the box score, with just two catches and 21 yards (plus a run for a yard). But one of those two catches was a critical touchdown, and a pretty one at that on a nicely run route sneaking behind the defense and through a hole in coverage. I'd still love to see Watson make some contested catches and utilize his size and skills more out on the field – but this touchdown was a reassuring sign that hopefully the sophomore-year receiver is feeling good and getting right.
6. Helping (lack of) hands
Four drops for Chargers receivers today. (Could be five depending on how you read an earlier Quentin Johnston shot).

Each one in a crippling down/distance/area of the field. pic.twitter.com/fj6znGLk0y — Benjamin Solak (@BenjaminSolak) November 20, 2023
The Packers played a pretty good game on Sunday – but boy, did the Chargers give them a lot of help, mainly on the receiving corps. The Los Angeles pass catchers dropped a lot of big plays on Sunday – including one guaranteed touchdown that instead spiked off Keenan Allen's chest and one late drop with 30 seconds left that would've at the very least set up the Chargers for a game-tying chip-shot field goal. Hey, if we can't be particularly good this season, I'll take lucky!
7. Kraft-y moves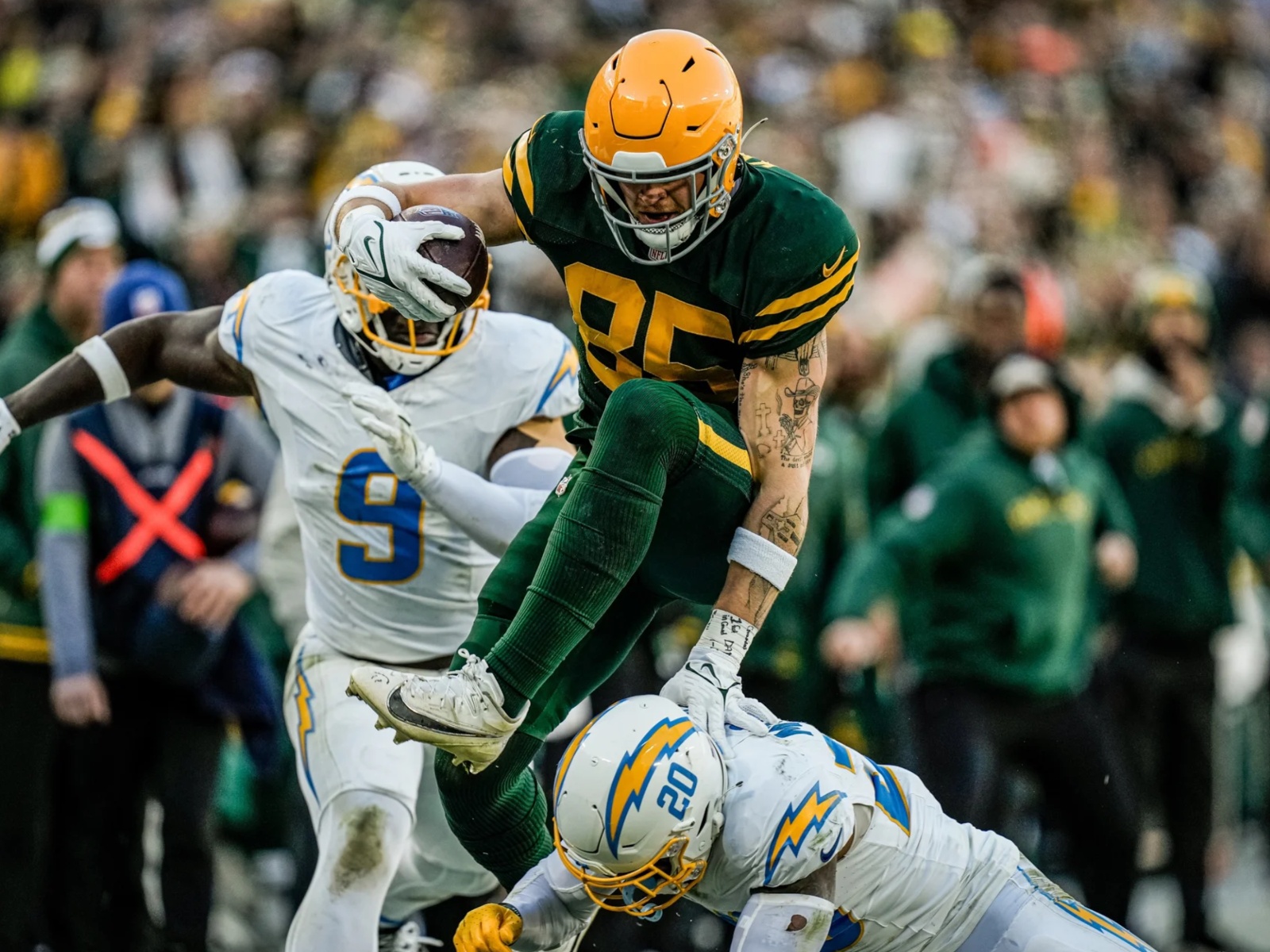 In yet another case of the Packers' youthful pass-catchers looking more gold than green on Sunday, rookie tight end Tucker Kraft helped the Pack score a major touchdown – and almost got it himself – with this tightrope-walking, defender-bounding catch in the third quarter. Kraft ended up stepping out several yards before the end zone, but the big 27-yard play and the resulting energy boost would quickly lead to six points just a few downs later. Kraft's spent most of the season thus far quietly being "the other rookie tight end," but both he and Musgrave looked the part of future pros on Sunday.
8. Slipping through their fingers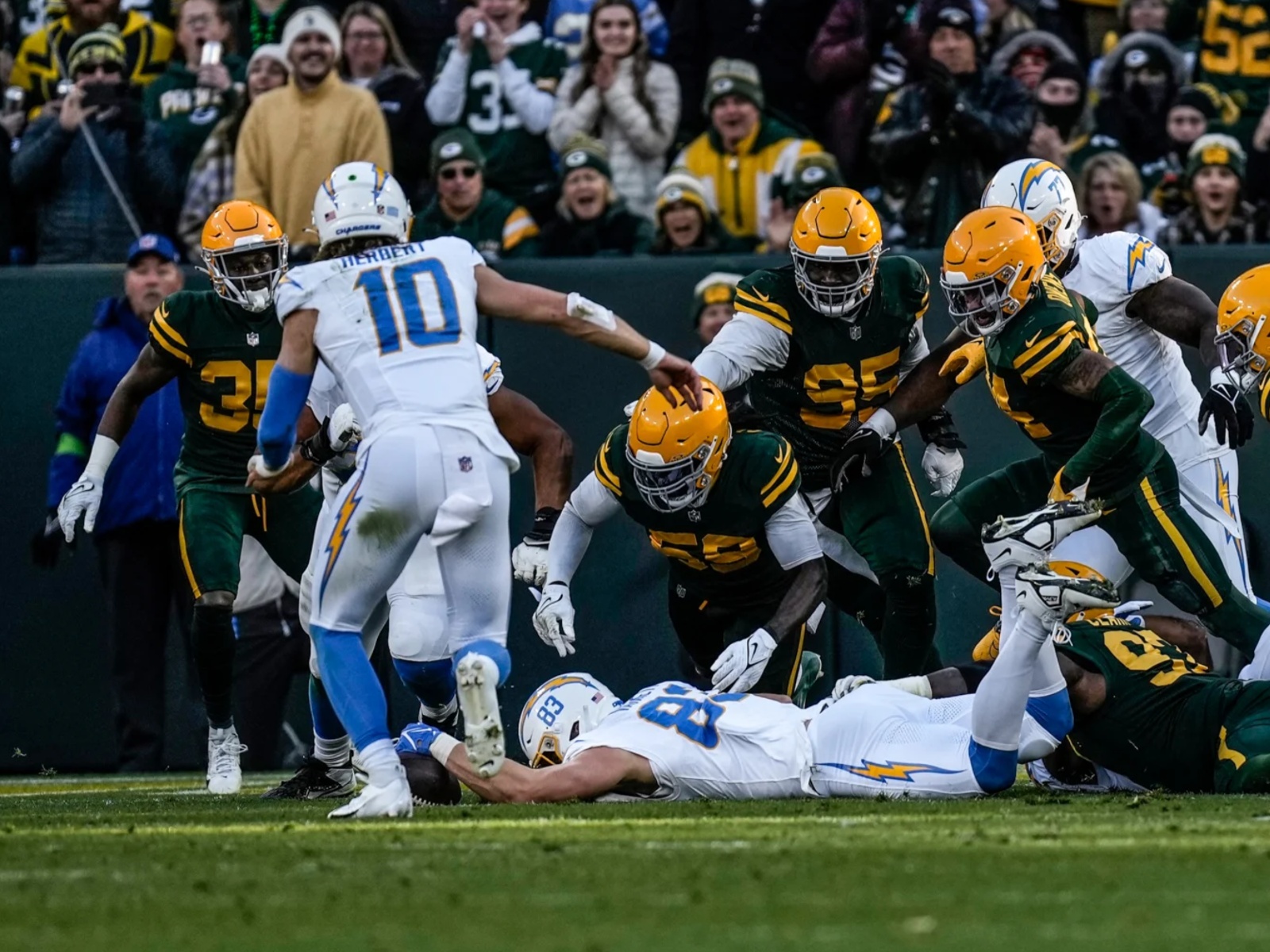 It wasn't just the Chargers receivers who were apparently well-lacquered before the game on Sunday. L.A. star running back Austin Ekeler had issues with grip as well, whether it was staying upright on pass plays or merely keeping the ball in his hands – most notably on this drive at the start of the final quarter, coughing up the ball to the Pack on the doorstep of a lead-taking touchdown. I like to think of all these gaffes as karma for leaving San Diego.
9. Yeah, I'm thinking he's back
.@WicksDontayvion bounces off contact & keeps going!#LACvsGB | #GoPackGo

📺: FOX pic.twitter.com/pS1PT6lBsS — Green Bay Packers (@packers) November 19, 2023
Oh, did I mention the young receivers finally showing up for the Packers? Newcomer Dontayvion Wicks joined in the thrilling youth movement on Sunday, leading the team in receiving yards with 91 – including this critical catch that he broke for a first down and then some after bouncing off of some tackles and speeding past the defense late in the fourth. It wasn't a touchdown – but it led to the game-winning score just two plays later. This Green Bay season is more about the future than the present – and if that's the case, when it comes to the young receiving corps, that future looks like it could be bright if all these guys keep learning and clicker like this.
10. Love-ly performance
Can't get over this perfect throw and catch. It's a thing of beauty. #GoPackGo pic.twitter.com/4PA7qi5LgD — Packers Diehards (@PackersDiehards) November 20, 2023
The Jordan Love hater parade hit a speedbump yesterday, as Love had arguably one of his best games of the season – and therefore of his young career. Love threw for more than 300 yards on the day – somehow the first time that's happened with a Green Bay quarterback since 2021 – and two touchdowns. Best of all, he looked in control, finding his open receivers, making good passes and looking composed leading the Packers on multiple sustained drives throughout the game. It only took half the season, but the Green Bay offense is starting to finally upgrade from a slogging stumbling bore to a professional points-scoring outfit.
11. A healthy perspective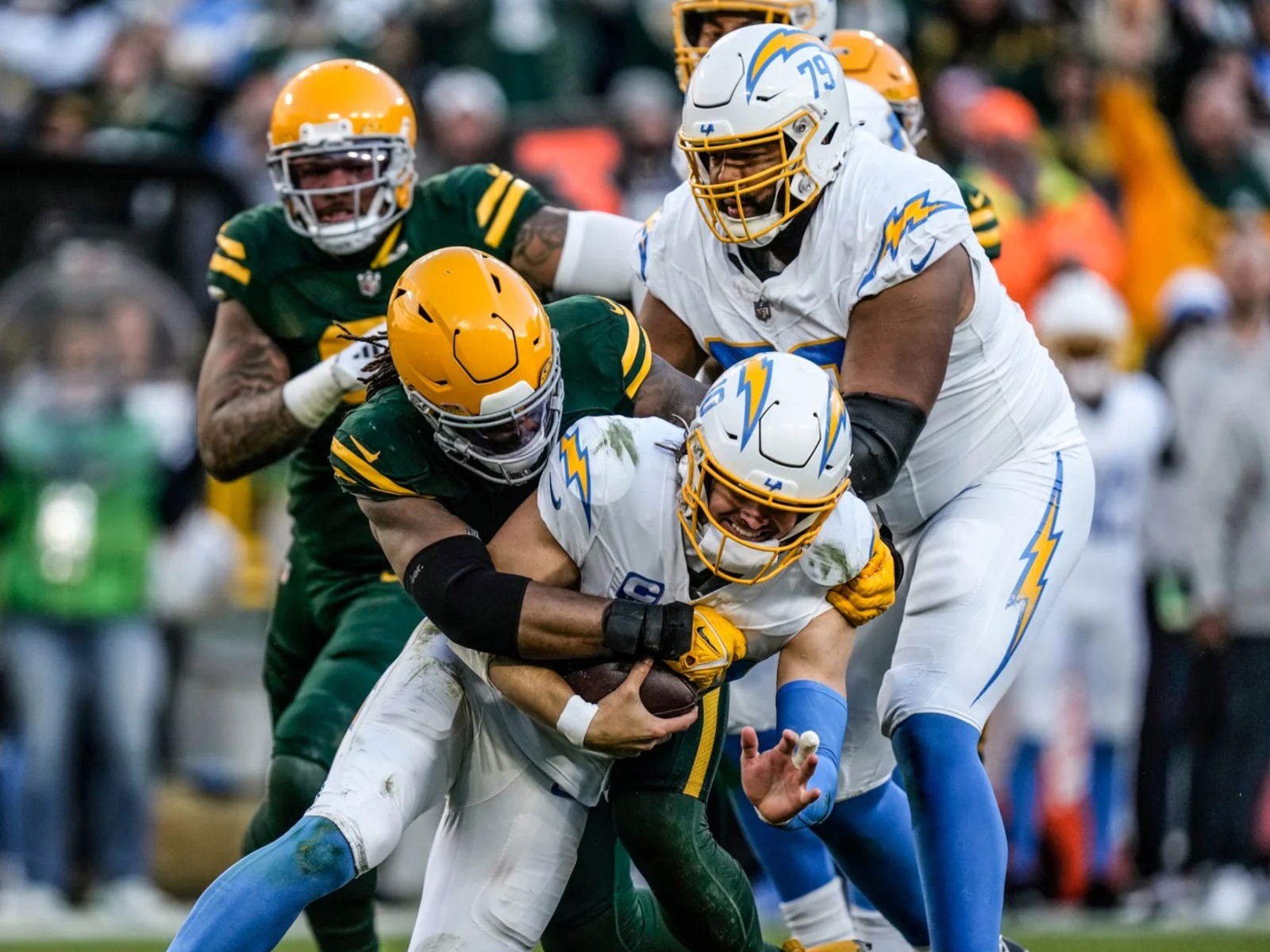 If you think it's tough being a Packers fan this year, imagine cheering on the Chargers. At least Green Bay went into this season with muted-at-best expectations, knowing it might be a tough year of losses and lessons learned the hard way. The Chargers, meanwhile, came into 2023-24 thinking they were a playoff team – and maybe more. And now, here we are in more than midway through the season, and the two disparate teams have the exact same record, with L.A.'s playoff aspirations dwindling and their coach currently on a seat that couldn't be hotter if it was on sale at an IKEA in the Earth's molten core.
So remember this during Green Bay's next few tests against the Super Bowl-contending Lions and Chiefs: It could always be worse.
As much as it is a gigantic cliché to say that one has always had a passion for film, Matt Mueller has always had a passion for film. Whether it was bringing in the latest movie reviews for his first grade show-and-tell or writing film reviews for the St. Norbert College Times as a high school student, Matt is way too obsessed with movies for his own good.
When he's not writing about the latest blockbuster or talking much too glowingly about "Piranha 3D," Matt can probably be found watching literally any sport (minus cricket) or working at - get this - a local movie theater. Or watching a movie. Yeah, he's probably watching a movie.