With Patrick Mahomes' knee cap injury, the Packers much-anticipated matchup against the Kansas City Chiefs on Sunday Night Football lost a little bit of its luster – but it was still one heck of a game, a back-and-forth battle that ended with the Packers taking the W, 31-24, at Arrowhead Stadium.
The Packers now stand at 7-1 – one of the best records in the league, earned by playing and beating some quality competition unlike some other teams with gaudy records at the moment – and continue their impressive run under new coach Matt LaFleur, whose offense is really starting to click while the defense continues to hold its opponents at bay and make big plays when needed. After a rough Wisconsin sports weekend, leave it to the Packers to salvage the whole thing.
Because it was an awesome game – and because it's Monday, and we could all use a lift – let's look back at 12 of the best, most memorable images from Sunday night's big win over Kansas City.
1. You know how I knew Aaron Jones was going to have a big game?
I love Aaron Jones. 👏🔥

pic.twitter.com/CtMN0rFhmq — GBP Daily (@GBPdaily) October 26, 2019
Because the sombrero was back, baby. Jones' unique headwear made its debut at his big breakout performance against the Dallas Cowboys earlier this season, where he racked up four touchdowns (and a fine for being too cool and waving at a defender while beating him to the end zone). So, of course, the sombrero made its return – and that's when the Chiefs should've realized this wasn't going to be their night.
2. Under the spotlight
(PHOTO: Twitter/Green Bay Packers)
The Sunday night spat lost a little bit of oomph after Patrick Mahomes' knee cap injury removed one of the league's biggest stars from the lineup. But the broadcast still had Aaron Rodgers – and in fairness, Kansas City's second-stringer Matt Moore played impressively, putting up 267 yards, throwing two touchdowns and generally playing like a legitimate NFL quarterback, not a lost and confused backup.
3. I feel like one of these individuals is not supposed to be here ...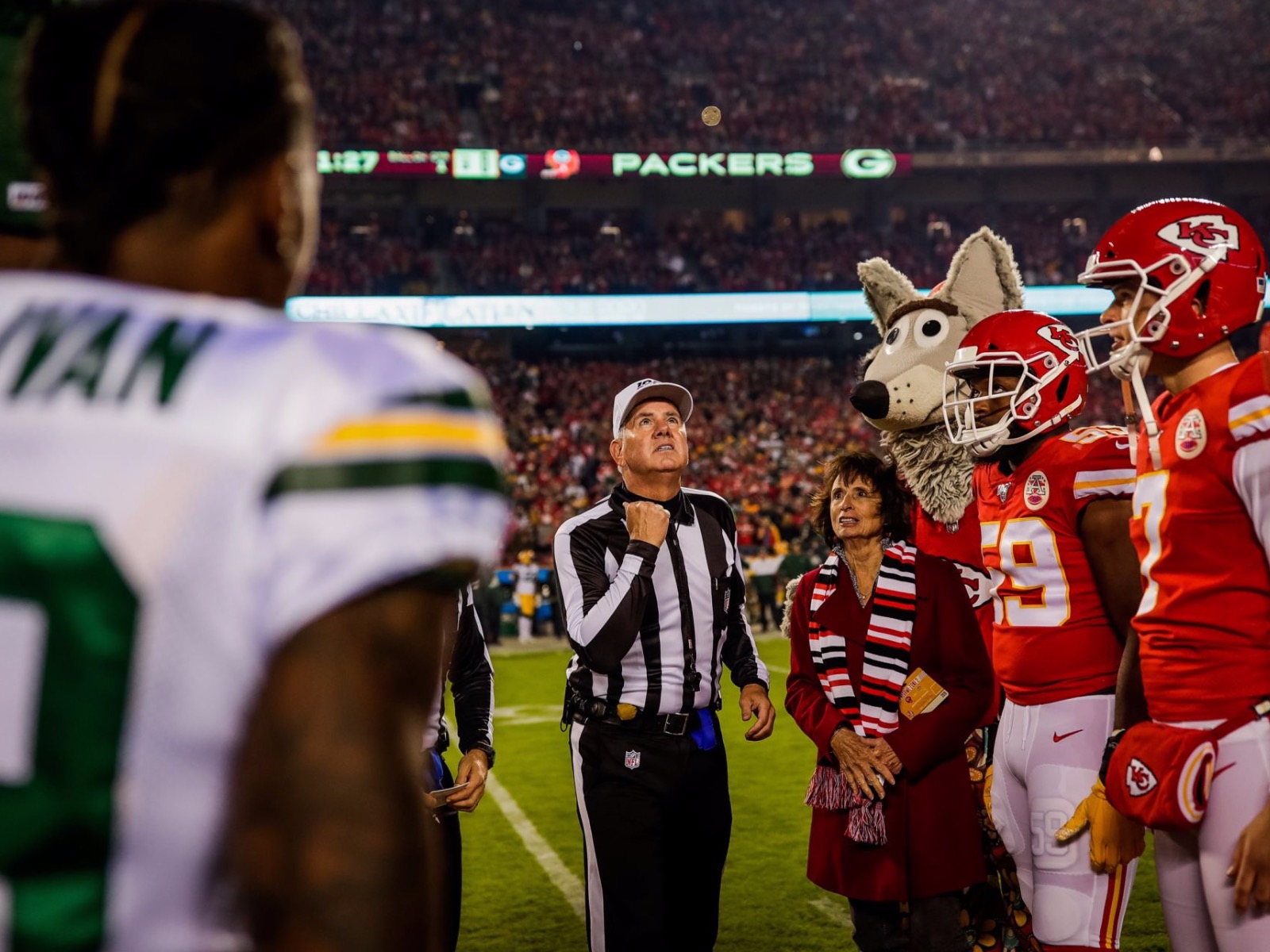 (PHOTO: Packers.com/Evan Siegle)
I'm sorry; I find this photo so funny. A bunch of players, officials and team representatives starring intently at the coin toss ... and also a googly-eyed marsupial. OK, actually, he's a wolf named – wait for it – K.C. Wolf. Breathtaking creativity. I also highly recommend reading the mascot's Wikipedia page, where you can find this newly posted factoid: "On October 27, 2019, it was determined that K.C. Wolf's hips dont lie."
4. THE SOMBRERO NEVER LIES
Aaron "Showtime" Jones gives the Packers the lead! What a game 🙌pic.twitter.com/9UqiJbNheE — NFL on ClutchPoints (@ClutchPointsNFL) October 28, 2019
I KNEW HE WOULD GO OFF! NEVER DOUBT THE POWER OF THE SOMBRERO! Indeed, Aaron Jones had another monster game for the Pack – this time mostly through the air as he caught 159 yards and two touchdowns, including this 67-yard screen pass to give the Packers the lead for good on Sunday night. He better never take that sombrero off again.
5. Worming into the endzone
#Packers RB Aaron Jones and WR Geronimo Allison doing the worm LOL.

🐛🐛🐛 pic.twitter.com/YXWgT8aqKf — Steve Frederick (@_SteveFrederick) October 28, 2019
Unfortunately the touchdown didn't count, but this worm definitely registered. Strong worm game for Jones! Now I'm imagining him doing this while wearing the sombrero, and it's my favorite image – well, second favorite after K.C. Wolf at the coin toss.
6. But I thought Patrick Mahomes could only make throws like that
😳 just WOW#Packers win a wild one on #SNF#GBvsKC

(Via @thecheckdown)

pic.twitter.com/i0nupoEtc3 — PFF (@PFF) October 28, 2019
What a play by Aaron Rodgers, this fourth quarter scramble and fling into the back of the endzone to Jamaal Williams to give the Packers a 24-17 lead. It's even more impressive because, according to every sports analyst on television and radio, the only NFL quarterback who can make incredibly athletic passes and ad-libbed plays like this is Patrick Mahomes. Crazy – who knew that Aaron Rodgers was also good!?
7. Boogie down
BIG MOOD from Jamaal Williams #Packers #GoPackGo pic.twitter.com/Wqi3WJBgna — Tony Clements (@TonyClementsTC) October 28, 2019
Indeed, Aaron Jones wasn't the only running back with a big night against the Kansas City Chiefs. Jamaal Williams also racked up two touchdowns – one on the ground and one miracle through the air – fittingly celebrated with this move right here and then helped the Pack, alongside Aaron Jones, milk the clock on a final drive to ice away the game without giving the ball back to the Chiefs.
8. Best friends
(PHOTO: Evan Siegle/Packers.com)
But I thought they were incompatible because they hated each other and couldn't work together! Between this and the fact that Patrick Mahomes isn't the only quarterback who can make impressive passes, quite a night of revelations on Sunday!
9. A Kansas City hoedown
The Green Bay Packers' celebration game is A+ tonight #GBvsKC pic.twitter.com/JHNIChMIeR — Kevin Boilard (@247KevinBoilard) October 28, 2019
Let's check in on the defense! It's been too long since we've had a Za'Darius Smith sack celebration – but now we've got a new one to add to the list. Meet the hoedown, for when you throwdown the quarterback. Anyways, it should be an NFL mandate that Za'Darius Smith gets a sack a game so we get a new joyous celebration every week. I felt cheated last game.
10. Return of the D Train
Another crazy celebration from the Packers, idk what this even is... #GBvsKC pic.twitter.com/zWpFPNHBs6 — Kevin Boilard (@247KevinBoilard) October 28, 2019
It's not just Za'Darius Smith who's having the time of his life this season with the Packers. The whole defense is gleeful to watch (when was the last time you said THAT about the Green Bay's defense?), from the key takeaways to the individual celebrations to the postgame dance parties and, making its second appearance of the season, the "D Train" after Tyler Lancaster's fumble recovery in the second quarter. The photo op celebrations were fun – but this is clearly the cream of the defensive celebration crop. All aboard!
11. Glad dad
That's one proud @Packers dad. #SNF pic.twitter.com/srhomy73K2 — SNF on NBC (@SNFonNBC) October 28, 2019
And deservedly so. Aaron Jones' father got to watch his son dominate a Super Bowl contender in that team's supposedly unfriendly confines; wave that jersey and flash that number with pride, Mr. Jones.
12. The hardest place to play in the league
It's #GoPackGo wherever we go! 🗣 pic.twitter.com/fxzijOGNsH — Green Bay Packers (@packers) October 28, 2019
Sure sounds like Lambeau Field to me! And sure sounds like the Packers still at the top of the NFC North – and arguably the top of the NFC as a whole – with a trip to Los Angeles to face the Chargers on tap for next week. Let's quick check and see how their Sunday went against the Bears!
No Good! Chargers escape 17-16 after Bears miss potential game-winning FG.

pic.twitter.com/wzpekeXO8D — NFL Guy95 (@NFLFBGAMETIME) October 27, 2019
As much as it is a gigantic cliché to say that one has always had a passion for film, Matt Mueller has always had a passion for film. Whether it was bringing in the latest movie reviews for his first grade show-and-tell or writing film reviews for the St. Norbert College Times as a high school student, Matt is way too obsessed with movies for his own good.
When he's not writing about the latest blockbuster or talking much too glowingly about "Piranha 3D," Matt can probably be found watching literally any sport (minus cricket) or working at - get this - a local movie theater. Or watching a movie. Yeah, he's probably watching a movie.