Well, that could've gone far worse!
I went into Sunday expecting the absolute worst – the Saints season opener, but on acid. I predicted that, by halftime, I would be watching the latest episode of "The Great British Baking Show" as a desperate escape from the misery and humilation. But instead, despite the fact that the Packers lost, 13-7, I feel pretty confident about this team – maybe even more so than after the Arizona win! (I certainly feel more confident than a Chiefs fan should feel today.)
Sure, it was an ugly game that was the dark timeline version of the entertaining quarterback duel we were promised. And sure, Jordan Love clearly has some work to do before he's a playoff-caliber quarterback in the NFL. And my god, what the heck is wrong with our special teams, and why do my eyes bleed when they take the field?! But despite everything against the Packers and all the turmoil leading into Sunday, the team was competitive throughout the game, with even a chance to win near the end before Mahomes made the defense pay the Patrick Price on a key third down. I know there's no spot in the standings for moral victories – but considering how well the defense played and how resilient Green Bay looked, I wouldn't exactly call Sunday's game a complete loss. Or at least it wasn't as depressing as we thought it would be.
Let's take one final look back at the good, the bad and the Packers special teams from Sunday's big game – and then let's never speak of this past week ever again.
1. Live. Laugh. Love.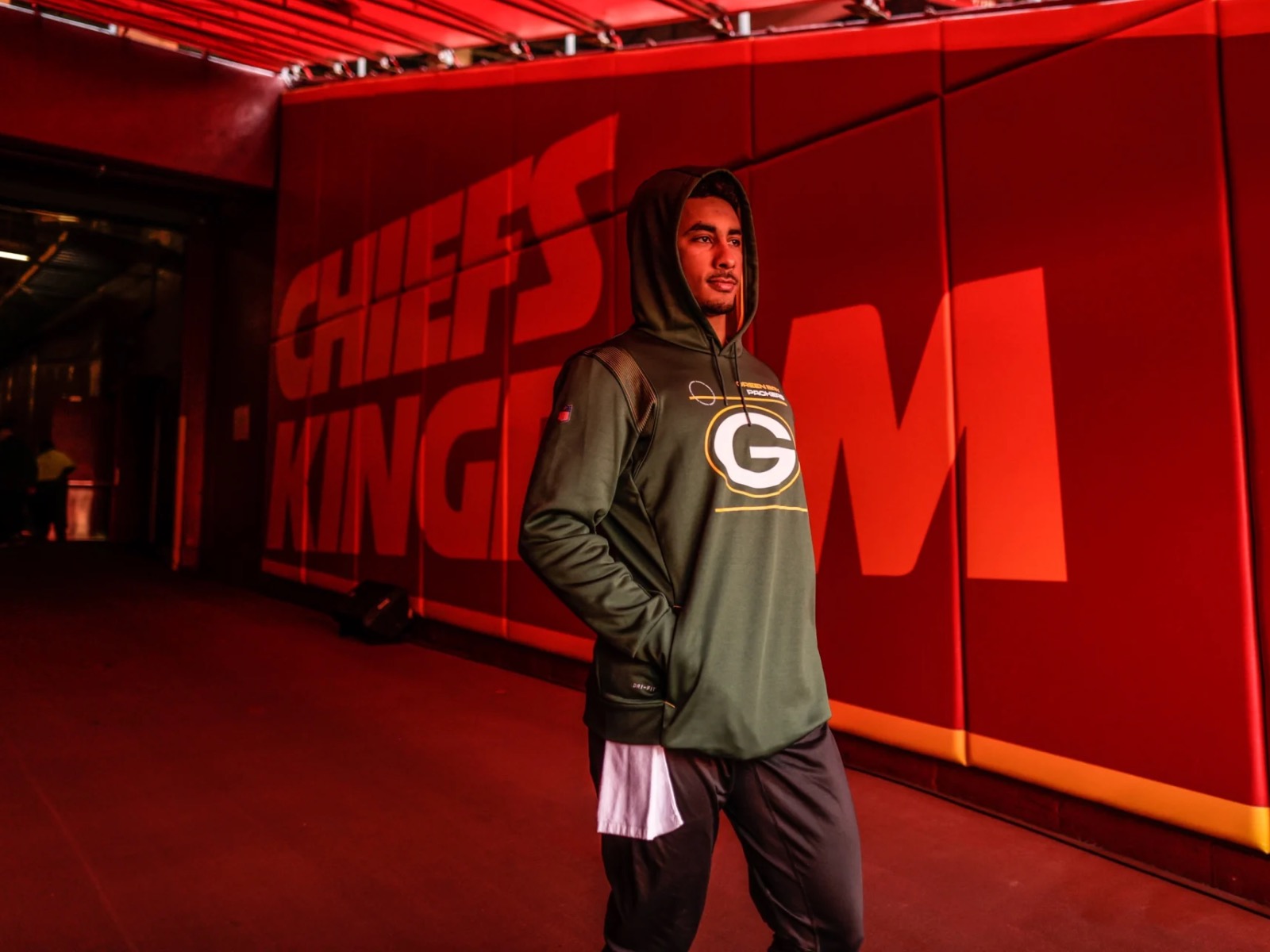 With Aaron Rodgers out on Sunday due to reasons of Please Dear God Can We Not Talk About It I'm So Very Tired, it was finally Jordan Love's time. After spending the past season and a half silently at the center of Green Bay drama and debate, Love would finally get to play some NFL snaps as a starting quarterback and show what he can do.
And he was ... fine.
Jordan Love was not the problem late Sunday afternoon (*coughs* SPECIAL TEAMS! *coughs*) but he wasn't the solution either, missing receivers throughout the day, looking a little panicked in the pocket and struggling to get on the same page with Coach LaFleur. So basically, he looked like a rookie making his first NFL start. Add in the fact that he only knew he would start a few days ago and that Arrowhead Stadium is notoriously one of the hardest places to play in the entire league, his line – 190 yards with a score and a pick – isn't too bad at all, and there were even a few drives where he seemed to lock into a rhythm and move the team like a functioning NFL quarterback.
In the end, Love couldn't get the win, but he also wasn't the reason why the Packers lost.
2. Best seats in the house
Jordan Love's mom and girlfriend were in the house for his first NFL start, and the Kansas City Chiefs certainly rolled out the red carpet for them.
#Packers QB Jordan Love said this week that his mom has been to all his games since he was redshirting in college.

The #Chiefs put her in the absolute **last row** of Arrowhead for his first career start.

Shoutout to FOX for even finding her. pic.twitter.com/C8wuRC1LUw — Ari Meirov (@MySportsUpdate) November 7, 2021
I'd hate to know where the seats for non-VIPs are. (*cut to outer space*)
3. Would love some help back here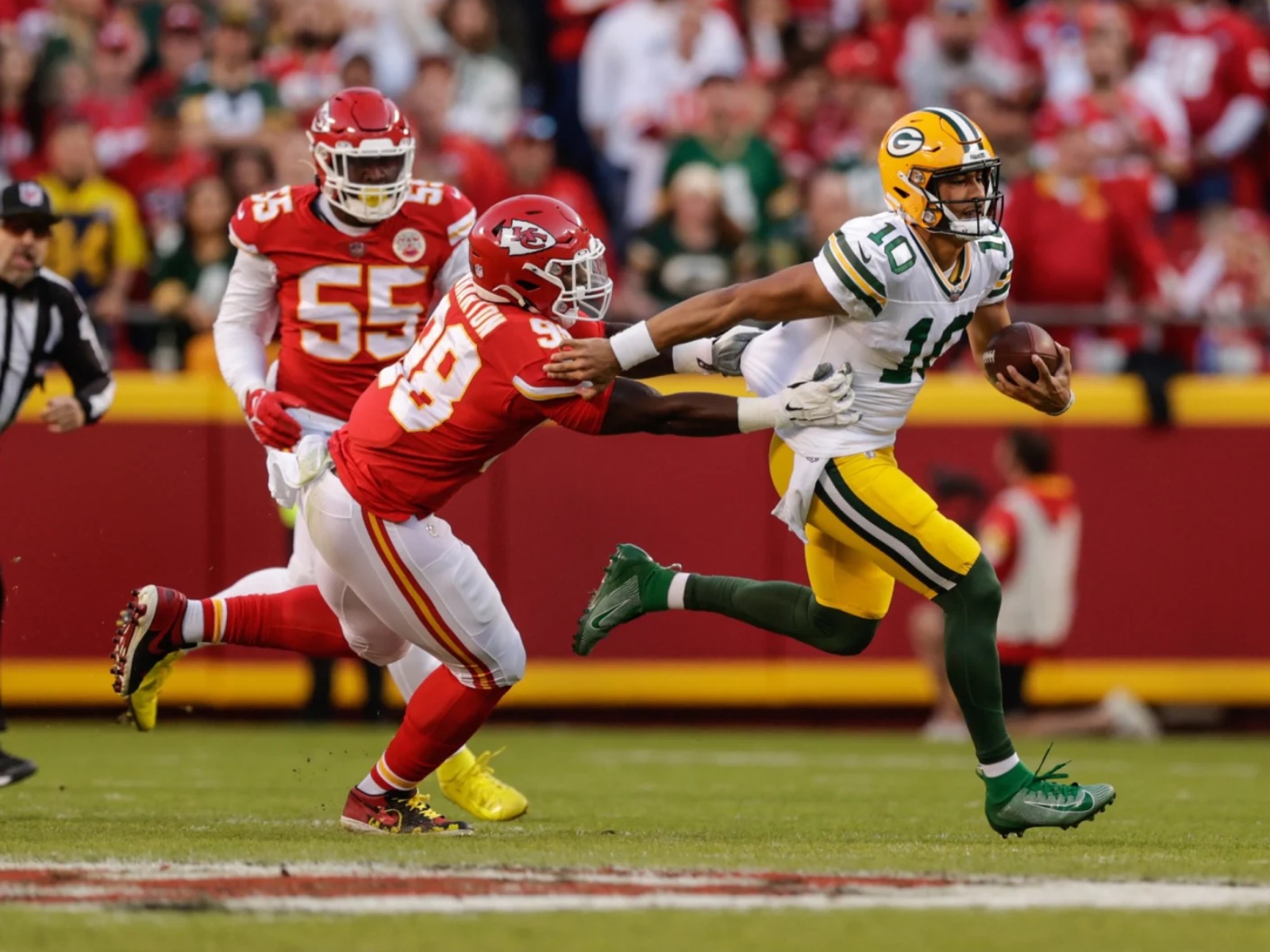 Jordan Love looked a litttle uncomfortable yesterday – but then again, you would too if every single play featured four Chiefs players barrelling down your neck. The offensive line didn't give their fresh-faced quarterback much help on his first start, constantly having to evade and quickly fling the ball somewhere to avoid the Kansas City rush attack. The Chiefs only recorded one sack on the day, but Love was regularly on the move from defenders closing in. Again, Love wasn't the solution for the Packers on Sunday, but he wasn't the most pressing problem needing a drastic fix either.
4. Lucky catch
To win against the defending AFC champions on the road without your star quarterback, you need some luck. For instance, this miraculous catch that somehow wasn't a pick:
Not only this wasn't a pick-6 by @Mathieu_Era somehow, it was caught?pic.twitter.com/wV9vkgKZ0n — Dov Kleiman (@NFL_DovKleiman) November 7, 2021
Unfortunately, they couldn't turn this luck into points – but at least it wasn't a pick six.
5. Confirmed: good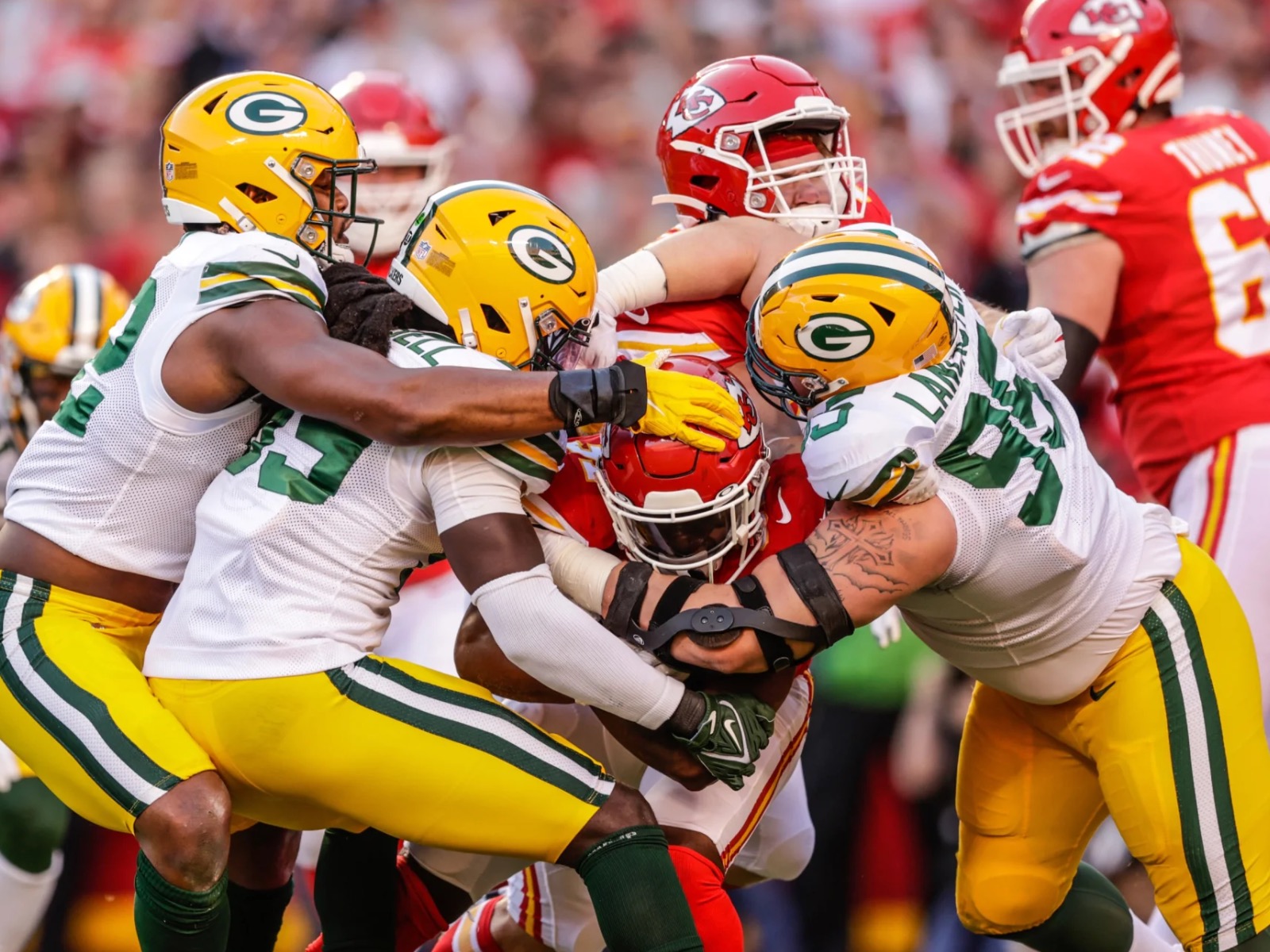 For the past month, the Packers defense has been astonishingly stout – especially considering they're without several of their major playmakers. But it was easy to disregard their efforts because they were dominating over the likes of the Bears and Washington – not exactly imposing offenses – and often getting bailed out by good luck, such as the final interception against the Cardinals.
After Sunday's efforts, there's no more hedging: The Packers defense is good.
Sure, the Chiefs aren't the intimidating powerhouse they once were on offense, but the Packers still rendered a high-powered Kansas City attack limp and tragic on the road and without much offense for support. They swarmed to tackles, made plays when necessary, got Patrick Mahomes uncomfortable throughout the afternoon and salvaged things when the other departments hung them out to dry, like holding the Chiefs to just a field goal after the botched punt. Again, I was expecting the worst this weekend – and instead I've maybe never felt more confident that this Packers squad, especially on defense, is actually good.
6. The least special teams
BLOCKED KICK 🚨 BLOCKED KICK 🚨

📺: #GBvsKC on FOX pic.twitter.com/1tTGIhyIRr — Kansas City Chiefs (@Chiefs) November 7, 2021
In order to pull off Sunday's victory without Rodgers, the Packers were going to need to play a smart, clean game of football – no dumb mistakes. The defense got that note, and for the most part, the offense did too. Unfortunately, the special teams department was off playing in a sandbox during that strategy meeting.
On a day when the team needed a flawless performance to stay close, the special teams put all of its flaws on display: a missed field goal due to a bad hold and snap, followed by a blocked field goal. And sure, why not add in a botched punt return too that handled the ball back to the Chiefs in the red zone right after a big Packers defensive stop. We were a Kansas City kick return for touchdown and a blocked punt away from Bad Special Teams Bingo there!
After the game, plenty of fans were calling for the Packers to find a better quarterback than Jordan Love. Well before that, though, Green Bay should be hunting for a better special teams coordinator – because that was a far bigger problem than Love's predictable newbie scuffles.
7. Poor Kevin King
Here's the play, Mahomes threw it right to Kevin King who dropped it.#Chiefs finished the drive by making a 55-yard FG so that drop cost the #Packers pic.twitter.com/A2VyfWWkyE — Dov Kleiman (@NFL_DovKleiman) November 7, 2021
Kevin King just can't win. Even when he has a pretty solid day, helping hold the Chiefs high-powered offense to less than 170 yards passing, there's still plays like this dropped interception that should've at least held the Chiefs to a ten-point lead headed into the intermission but instead allowed Kansas City to score three more points. But hey: At least he didn't get burned on a big deep route at the end of the half like usual!
8. Run ... game? I don't understand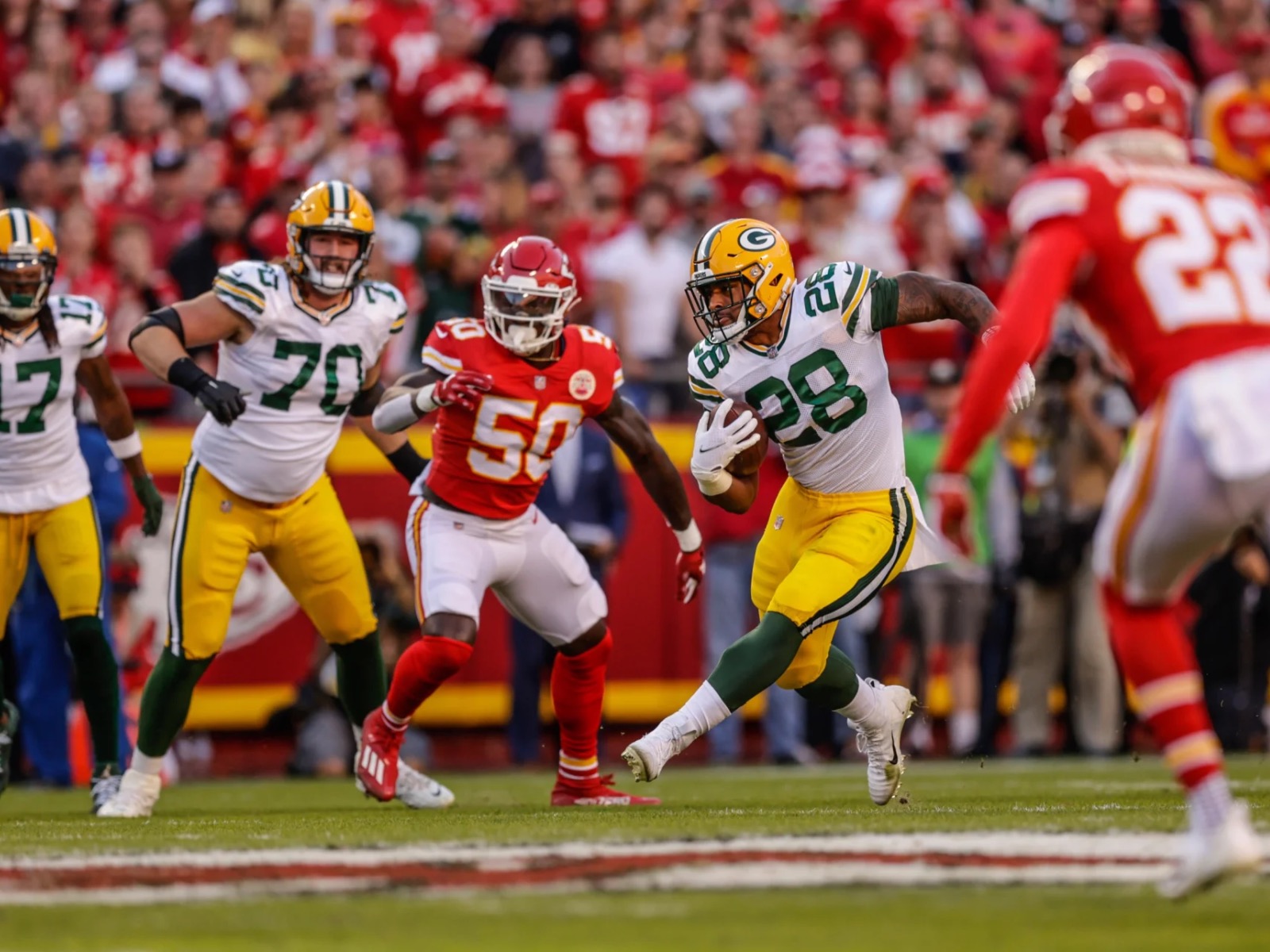 You might think that, with their star quarterback out, the Packers might've busted out a bit more of the running game to take the pressure off their rookie quarterback. After all, the strategy worked last week against the Arizona Cardinals – and surely you'd like to keep Patrick Mahomes off the field just like you kept Kyler Murray off the field that Thursday night. And now we have TWO strong running backs in Aaron Jones and AJ Dillon as opposed to just the one.
Yeah, you might THINK all that – but you definitely didn't see it Sunday as, once again, Matt LaFleur seemed anxious to abandon the running game as Jones only had 12 carries and Dillon only racked up eight, despite decently gashing the Chiefs defense for almost 100 yards combined. Once upon a time, I heard that LaFleur wanted to move to a more run-happy power offense when Rodgers was gone. Well, Rodgers was gone Sunday – so much for that.
9. Mahomes ma-hassled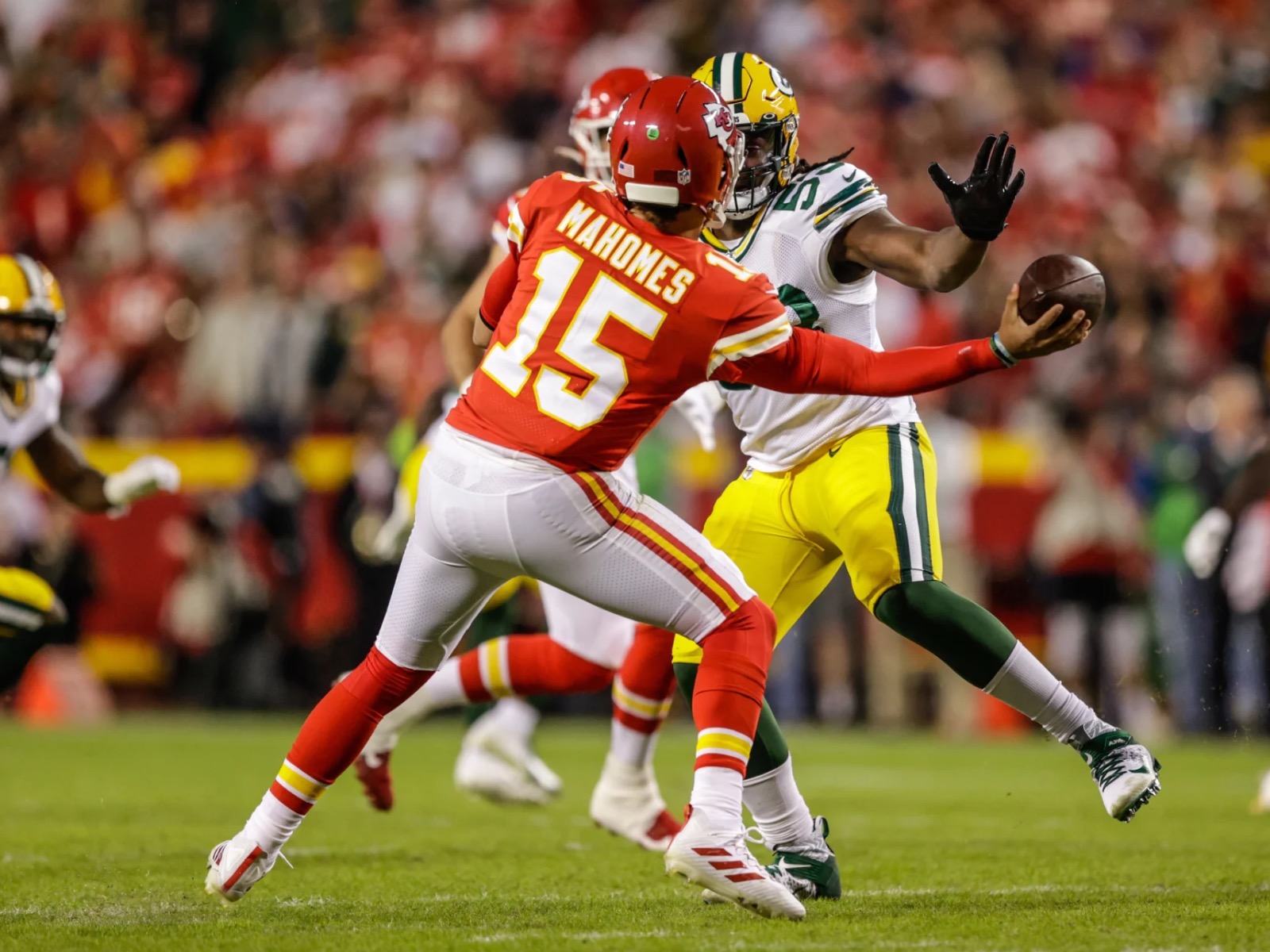 First of all, I don't think arms are supposed to do that. But second, and most important, the Packers made Mahomes look shockingly mediocre on Sunday, hassling the star quarterback all game long (somehow there was only one sack), making him miss throws on the regular and holding him to a remarkable 166 yards. It was harder than expected to tell the difference between the MVP on the field and the quarterback making his first career start in hostile territory.
10. The strength of the team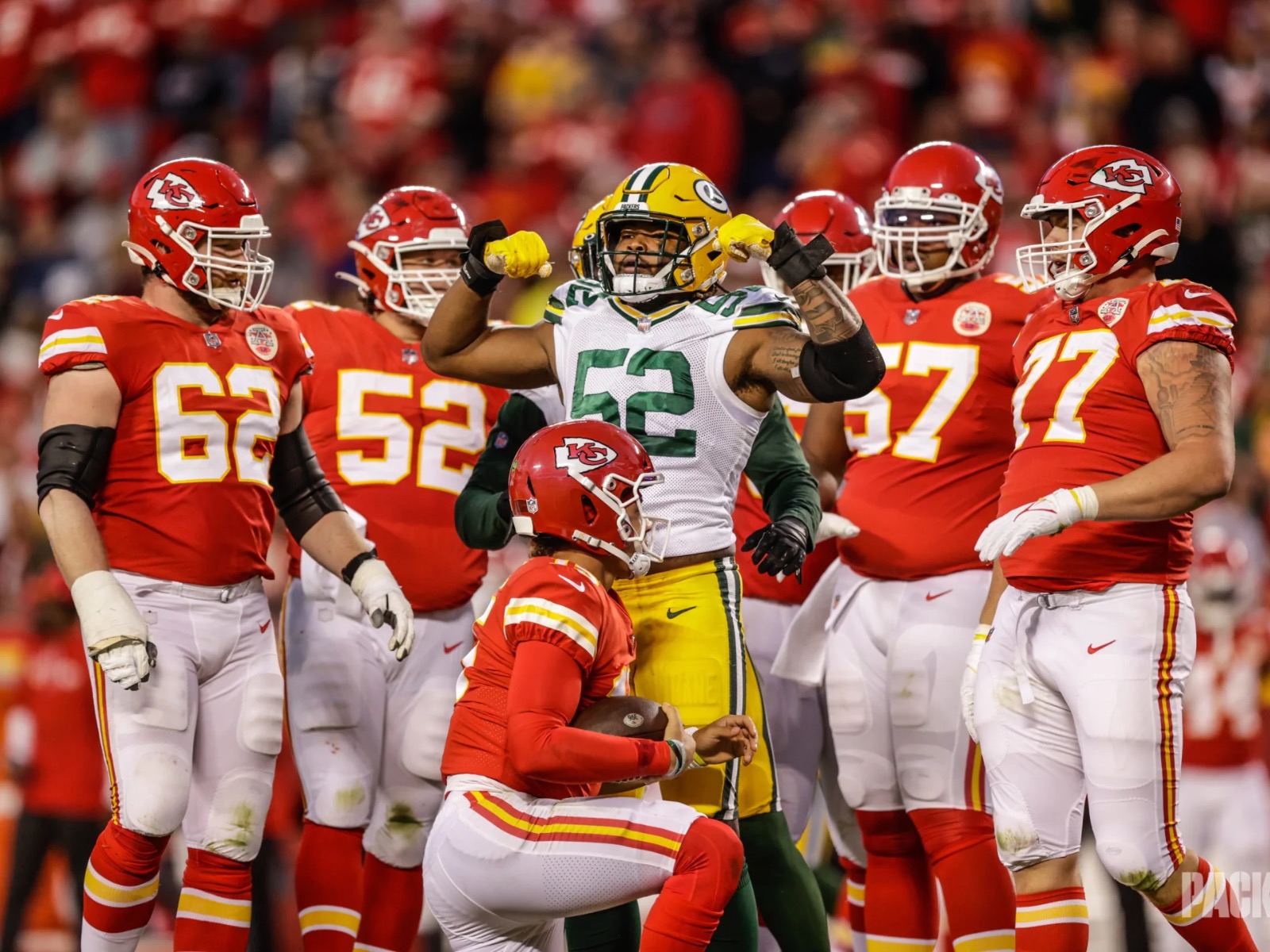 Man, we're a long ways away from giving up 38 points to the New Orleans Saints in week one. I'm really starting to believe that it was just the suckitude of the Jacksonville Jaguars in the air infecting the team that day.
11. You love to see it
Jordan Love's first NFL touchdown pass comes on 4th and 5 when the #Packers needed him most! pic.twitter.com/KTCY6IQAP2 — packers clips (@packers_clips) November 8, 2021
It wasn't an outstanding day for Jordan Love, but he did score his first NFL touchdown with this nice drive and dump-off pass to Allen Lazard – a play that not only made personal history for the second-year rookie but also kept the Packers' hopes alive, pulling the team within six points late in the fourth quarter. Man, I sure wish we had made a few field goals prior to this moment. Dang Jordan Love and his poor special teams play ...
12. A Love fest
They just showed Jordan Loves Mom and GF after his TD throw through the lens of the Hubble Telescope 🔭 pic.twitter.com/tExHkmkR1b — 𝗟𝗮𝘄𝗿𝗲𝗻𝗰𝗲 𝗧𝘆𝗻𝗲𝘀 (@lt4kicks) November 8, 2021
They may have had terrible seats, and probably couldn't even see the touchdown thanks to sitting in a completely different area code than the field, but I think Jordan Love's mom and girlfriend still had a great day at Arrowhead Stadium seeing their loved one finally make his mark in the NFL. Here's to them having more to celebrate in the years to come.
13. Mahomes gonna Mahomes
Great play by Patrick Mahomes to deliver this one to Hill and get the first. This will end the game as well.pic.twitter.com/q6XEJWpt6t — Dov Kleiman (@NFL_DovKleiman) November 8, 2021
Even with a good defense's best efforts, you're not going to stop Patrick Mahomes from doing Patrick Mahomes things for an entire game – and unfortunately, he picked just the right time to figure things out, delivering an impressive rollout strike to Tyreek Hill to convert a late third down and ostensibly end the game.
But if I were the Chiefs, I wouldn't necessary be busting out the confetti in the locker room for this win. Barely surviving a Packers team without Aaron Rodgers at home isn't a particularly encouraging sign for a scuffling team. But as Green Bay fans know all too well, a win is a win – and the Packers will hope to go back to those ways (with potentially their starting quarterback) next Sunday against the Seahawks. Less drama during the week would be cool too.
As much as it is a gigantic cliché to say that one has always had a passion for film, Matt Mueller has always had a passion for film. Whether it was bringing in the latest movie reviews for his first grade show-and-tell or writing film reviews for the St. Norbert College Times as a high school student, Matt is way too obsessed with movies for his own good.
When he's not writing about the latest blockbuster or talking much too glowingly about "Piranha 3D," Matt can probably be found watching literally any sport (minus cricket) or working at - get this - a local movie theater. Or watching a movie. Yeah, he's probably watching a movie.