It sure feels like we should be more encouraged by a 7-3 team that's already beaten their main rival in the standings this season and went to the NFC championship last year. Alas, every time you start to feel confident about the Packers this year, they find a way to prove you wrong – take, for instance, Sunday's game against the rough-and-tumble Indianapolis Colts, a loss pulled from the jaws of victory as the Pack blew a two-touchdown halftime lead and fumbled away a chance to win the game in overtime.
Combined with last week's unimpressive showing against the Jaguars, it's hard not to think this year's an unimaginative sequel to last season: a solid team that's just begging to get exposed by a better opponent in the playoffs. But here's to being proven wrong – hopefully starting as soon as next week when the Packers play a key Sunday night game against the playoff-hunting Chicago Bears.
Before then, let's take one final look back at the Pack's disappointing dive against the Indianapolis Colts.
1. Sombrer-oh no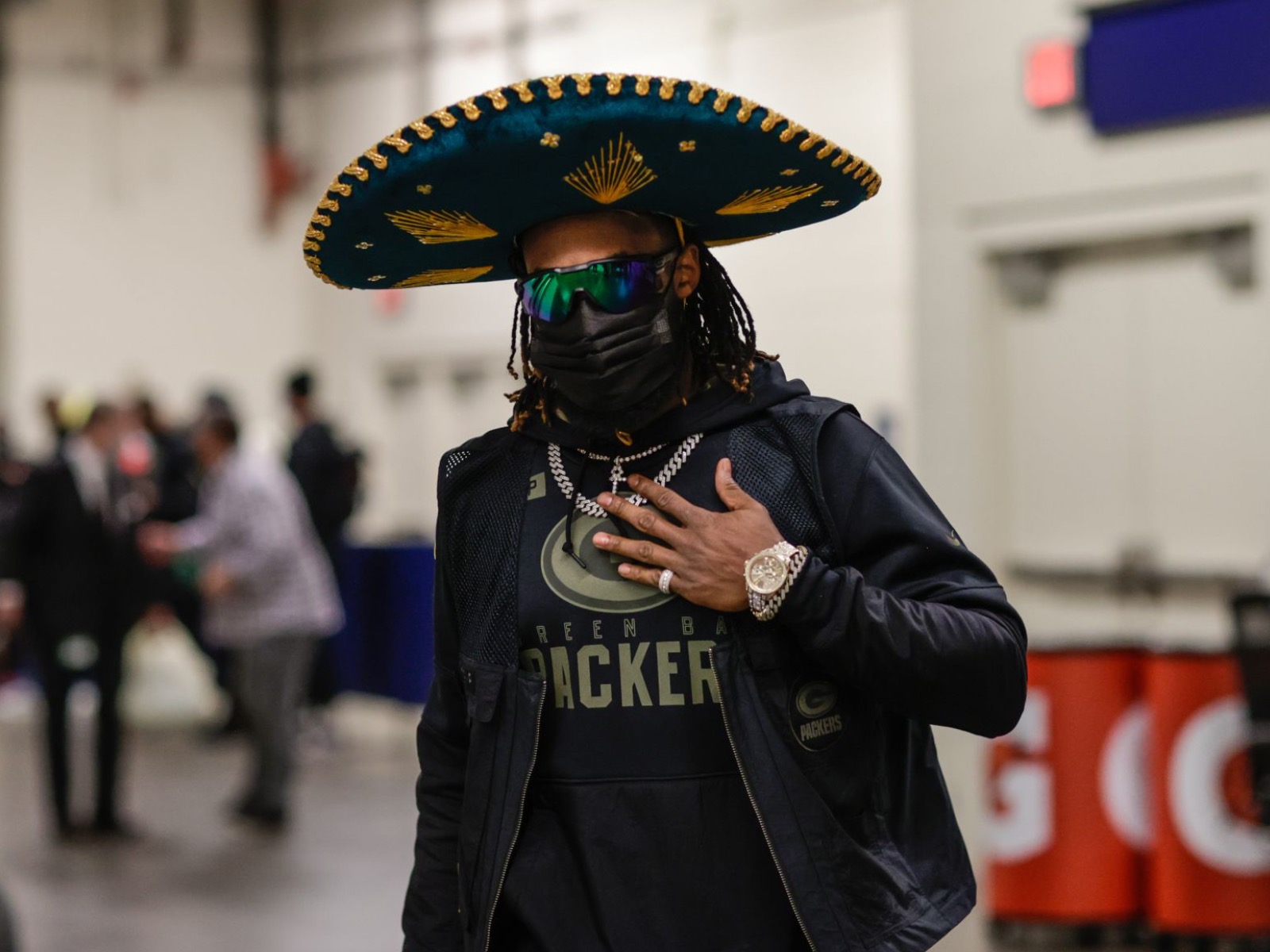 Aaron Jones' victory sombrero! How could you betray us like this?! WE TRUSTED YOU! I treat you like an idol – and then you stab me in the back.
2. Return of the Lazard
🦎⚽️ @AllenLazard #GBvsIND | #GoPackGo pic.twitter.com/HvU5cUsZRB — Green Bay Packers (@packers) November 22, 2020
After several weeks on the injured reserve for a core injury, Packers up-and-coming wide receiver Allen Lazard made his return on Sunday, slowly returning to the fold with a low-key game: two receptions for 18 yards. Good to have him back on the sideline – thouhg it does appear that, while he was gone, he forgot which version of football he plays.
3. Big Bob, big excitement
A clip from happier times ...
Robert Tonyan was HYPED with HC Matt LaFleur after the Packers opening TD 😤🧀 pic.twitter.com/K0jtX8kXPm — FOX Sports: NFL (@NFLonFOX) November 22, 2020
Yes, things seemed much more promising in the first half, with the offense grinding down the field nicely and taking a 28-14 lead into halftime. Sadly, like everything in 2020, that joy was a lie.
4. Group celebration
Now this is more like it!
Is that the largest coordinated celebration of all-time 😂 @packers

📺 #GBvsIND on FOX pic.twitter.com/fDIrxppvIq — The Checkdown (@thecheckdown) November 22, 2020
For weeks, the Packers D's celebrations have been kind of flat, mainly cconsisting of the team running over to the field camera in the corner and making the same bunch of tough-guy poses. But this week, the Green Bay defense went all out, gathering together for a massive ... "Karate Kid" tribute? I think? I don't know, but it was fun. Now if only they could've gone all out in the second half of the game as well.
5. Best "Karate Kid" sequel ever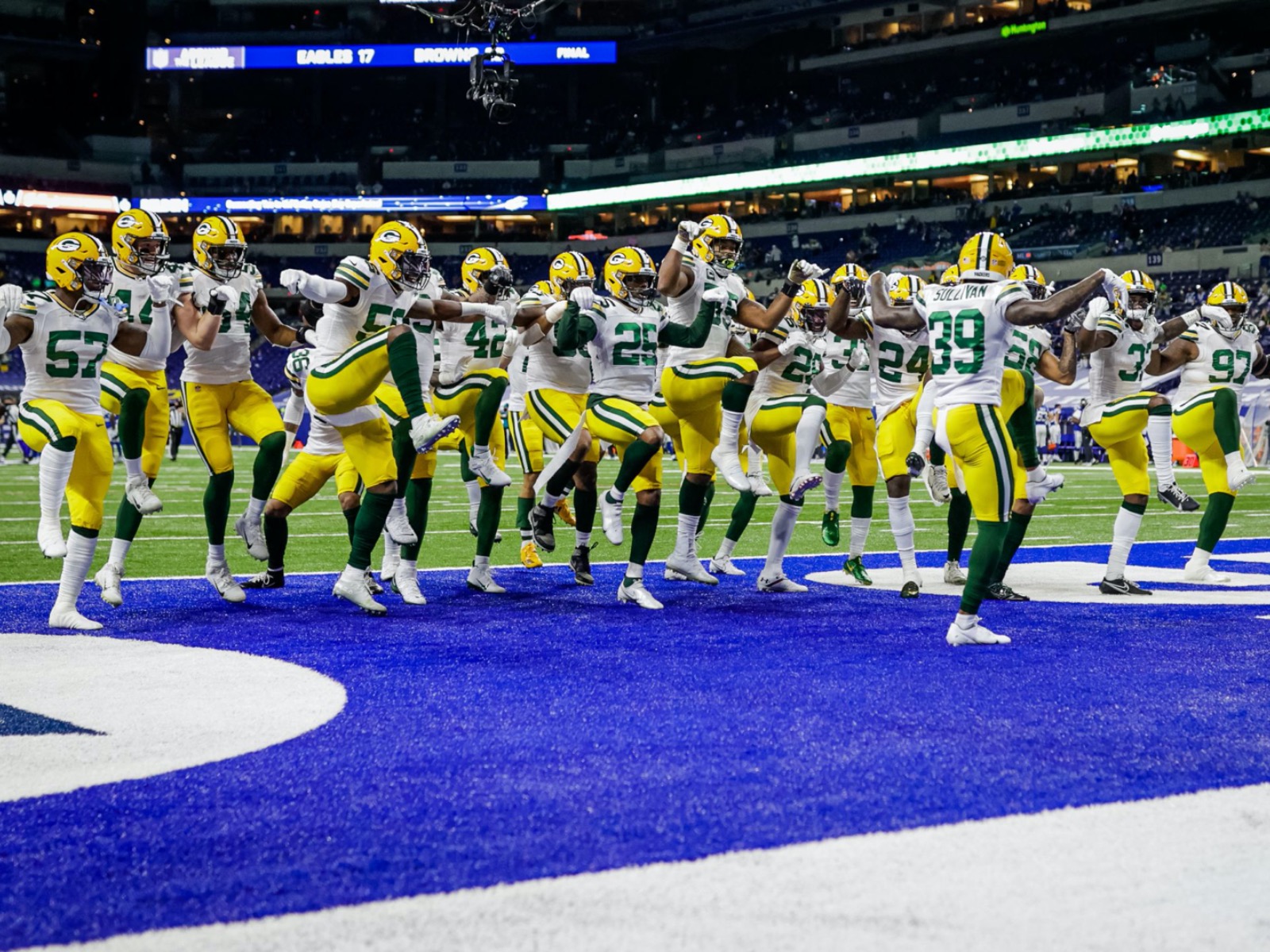 Gosh, if only they were this organized and coordinated in the secondary on a regular basis!
6. Sloppy second half
Well, at least one Green Bay Packer has to be a little happy about the big anti-climactic fumble on Sunday.
𝐒𝐩𝐞𝐜𝐢𝐚𝐥 Teams.

📺 FOX pic.twitter.com/TqJfaLhsOE — Indianapolis Colts (@Colts) November 23, 2020
Yes, there are a lot of Packers players and coaches who should be pleased MVS's overtime fumble took away the attention for their screw-ups during Sunday's sloppy effort – from Darrius Shepherd's kick return fumble above to the defense blowing several coverages yet again to Aaron Rodgers not only throwing another interception (uncharacteristically his second in as many weeks) but losing a fumble of his own to the offense staying in the locker room for the second half. It was a game the Packers could've won, but they fully earned the loss as well.
7. A-A-Ron gets a B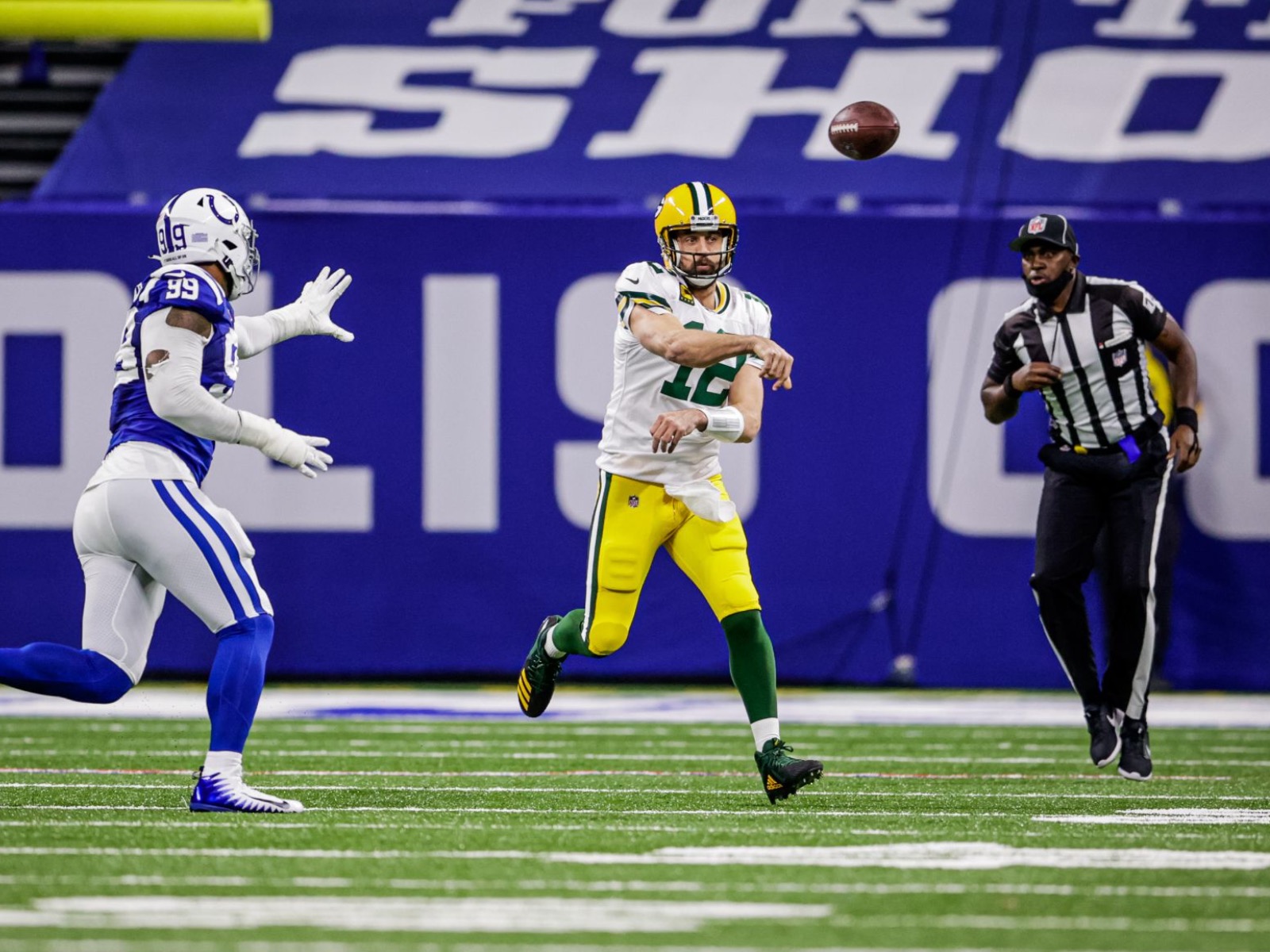 Aaron Rodgers continued his solid season with 311 yard and three touchdowns – though there was some not-exactly-vintage Rodgers carelessness with the football, coughing up one fumble and throwing yet another interception. The pick marks Rodgers' fourth on the season – already tying his total from all of last year. For those hoping to see a complete game from Rodgers and the Pack after last week's stumbling victory over the Jags, this wasn't it.
8. Hope fumbles its way to Green Bay
Fumble or no fumble? pic.twitter.com/bzUTQHnaC3 — Sunday Night Football (@SNFonNBC) November 23, 2020
The refs gave both teams plenty to talk about during Sunday's game – and on no play more so than this fumble near the end of reuglation. Down a field goal, the Packers seemed to pull off the improbable and forced a fumble out of Colts quarterback Philip Rivers, returned to the endzone for a game-saving touchdown. Unfortunately, upon further review, the refs decided Rivers had control as the ball was coming forward, making it an incomplete forward pass instead of a fumble. And unfortunately, it would not be the final fumble we'd see on Sunday.
9. MV-YES!
Not fair, Aaron Rodgers. #GoPackGo

📺: #GBvsIND on FOX
📱: NFL app // Yahoo Sports app: https://t.co/tUoK0wsA9N pic.twitter.com/3jPGkvHLkI — NFL (@NFL) November 23, 2020
This beautiful bomb of a pass to Marquez Valdes-Scantling, plus the clutch catch made in a tight crowd, got the Packers out of the shadow of their own endzone and put them in position to at least tie the game and send things into overtime. Surely this is what people will remember about MVS from this game!
10. MV-NOOOOOOOO!
Marquez Valdes-Scantling with a costly fumble 😬

Colts take over in OT

(via @NFL)pic.twitter.com/N5ALtDHju6 — B/R Gridiron (@brgridiron) November 23, 2020
Unfortunately, Marquez Valdes-Scantling giveth and Marquez Valdes-Scantling taketh away. On the second play of overtime, an unassuming screen pass turned into a nightmare for Packers fans as a Colts defender knocked the ball out of MVS's hands and into Indianapolis' possession, one that would end with the game-winning field goal. It was yet another chapter in the rollercoaster that's been MVS's career: moments of promising greatness followed closely by moments of painful disappointment. (Though a polite reminder: If you're sending death threats to the receiver over a fumble – in a regular season game, much less any game – you're a pathetic garbage person.)
One more polite reminder: The whole team lost this game, not just this one player and this one play. The Packers as a collective blew their 14-point halftime, the Packers as a collective couldn't get necessary stops, the Packers as a collective were sloppy with the football and the Packers as a collective looked like they called it a day after 30 minutes of football rather than 60 minutes.
The good news: It's hard to the Packers falling asleep again with the rival Bears in primetime next on the schedule.
As much as it is a gigantic cliché to say that one has always had a passion for film, Matt Mueller has always had a passion for film. Whether it was bringing in the latest movie reviews for his first grade show-and-tell or writing film reviews for the St. Norbert College Times as a high school student, Matt is way too obsessed with movies for his own good.
When he's not writing about the latest blockbuster or talking much too glowingly about "Piranha 3D," Matt can probably be found watching literally any sport (minus cricket) or working at - get this - a local movie theater. Or watching a movie. Yeah, he's probably watching a movie.