Mason Crosby was unquestionably the hero of the Packers' thrilling 34-31 Divisional Round playoff victory over the top-seeded Cowboys on Sunday, hitting the game-winning field goal as time expired in Dallas and sending Green Bay on to Atlanta, where it will face the Falcons in the NFC Championship Game.
Crosby was perfect, converting all four of his extra-point attempts and both field goals, from 56 and then 51 yards. He became the first kicker in the last 15 years to make two 50-yard field goals in the final seven minutes – much less the final two minutes – of any game, including the playoffs. With the pair he hit against the Cowboys, Crosby extended his own NFL record for consecutive postseason field goal attempts made to 23.
Crosby, the so-called silver fox with ice water in his veins, undaunted by kicking in cold conditions or clutch situations, who was named by this website the Packers' 2015 team MVP, came through with arguably his best performance in the biggest moment.
Mobbed by jubilant teammates on the field, Crosby was all smiles afterward, saying, "It's kind of a blur right now. It's unreal."
It was a blur for deliriously happy Green Bay fans, as well, so we collected 19 of the best photos from Packers.com – the team's Gameday Galleries are always excellent – to remind us all of how awesome Crosby was Sunday, from pregame start to exhilarating finish.
1. The hero's jersey hangs in the Packers' visiting locker room before the game
2. Crosby laces up the cleats on his all-important plant foot
3. No. 2 puts on the pads
4. The successful field-goal unit looks on during pregame warmups #squad
5. The Texas native watches and listens to the national anthem performance at AT&T Stadium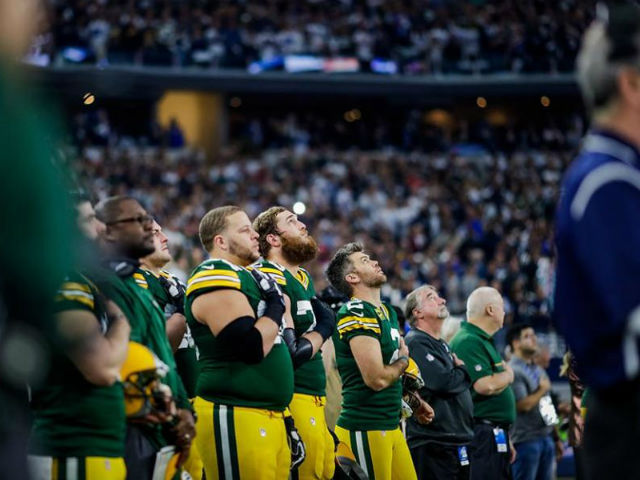 6. Named one of the Packers' playoff captains, Crosby participates in the coin toss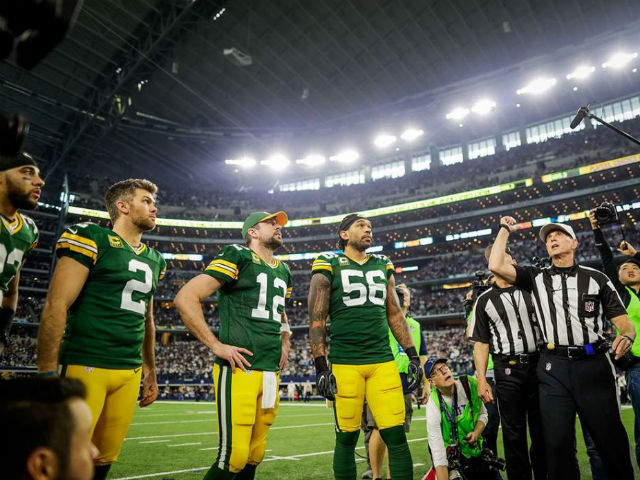 7. During the first half, no one – not even the kicker himself – could have predicted the huge role Crosby would play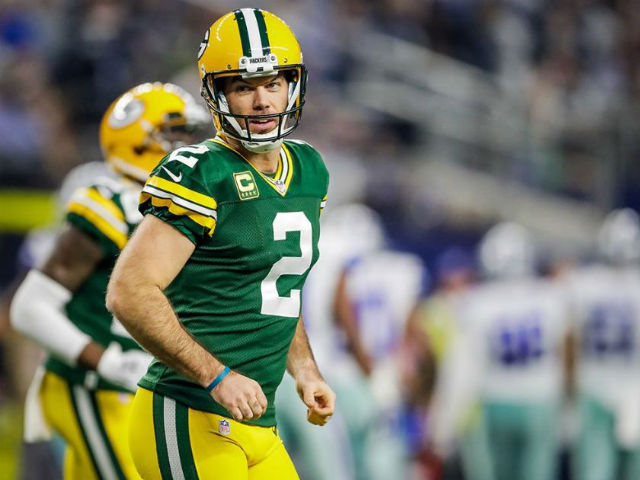 8. Crosby attempts his first late-fourth-quarter field goal, from 56 yards out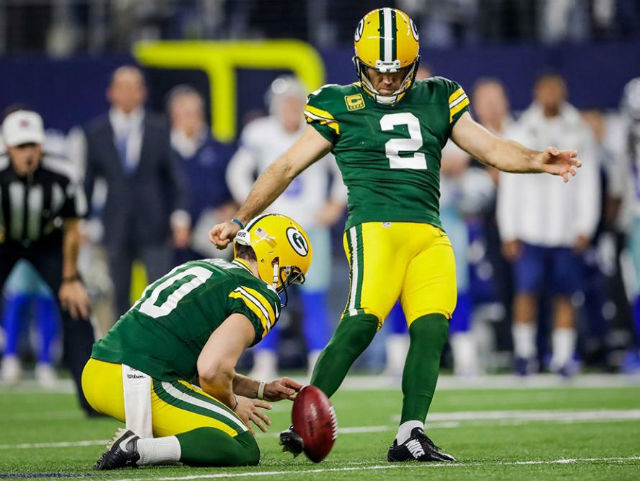 9. The 56-yarder gives the Packers a 31-28 lead with 1:33 remaining
10. Crosby celebrates the made field goal with punter and holder Jacob Schum
11. With three seconds left and the game tied at 31, Crosby attempts a 51-yarder
12. Crosby's follow-through looks pure on the potential game-winning field goal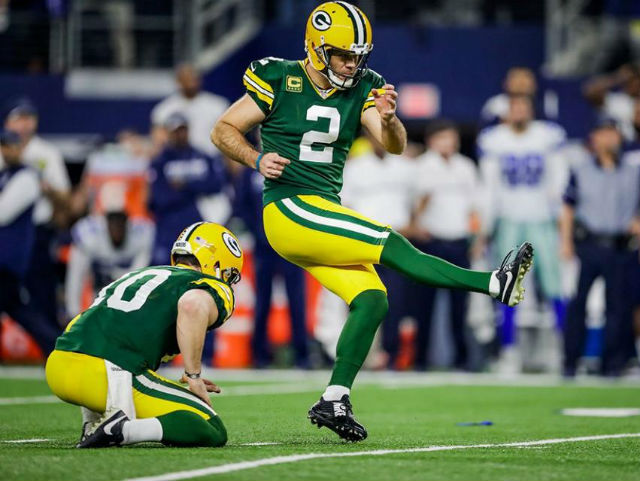 13. Crosby is immediately swarmed by teammates
14. The clutch kicker celebrates with long-snapper Brett Goode (61)
15. The man of the hour
16. This is one amped kicker
17. He just can't even
18. Injured wide receiver Jordy Nelson gives an appreciative hug
19. Yeah, Mason Crosby had a pretty good day
Born in Milwaukee but a product of Shorewood High School (go 'Hounds!) and Northwestern University (go 'Cats!), Jimmy never knew the schoolboy bliss of cheering for a winning football, basketball or baseball team. So he ditched being a fan in order to cover sports professionally - occasionally objectively, always passionately. He's lived in Chicago, New York and Dallas, but now resides again in his beloved Brew City and is an ardent attacker of the notorious Milwaukee Inferiority Complex.
After interning at print publications like Birds and Blooms (official motto: "America's #1 backyard birding and gardening magazine!"), Sports Illustrated (unofficial motto: "Subscribe and save up to 90% off the cover price!") and The Dallas Morning News (a newspaper!), Jimmy worked for web outlets like CBSSports.com, where he was a Packers beat reporter, and FOX Sports Wisconsin, where he managed digital content. He's a proponent and frequent user of em dashes, parenthetical asides, descriptive appositives and, really, anything that makes his sentences longer and more needlessly complex.
Jimmy appreciates references to late '90s Brewers and Bucks players and is the curator of the unofficial John Jaha Hall of Fame. He also enjoys running, biking and soccer, but isn't too annoying about them. He writes about sports - both mainstream and unconventional - and non-sports, including history, music, food, art and even golf (just kidding!), and welcomes reader suggestions for off-the-beaten-path story ideas.