Finally.
It only took more than a month, most of an overtime and the special occasion of their old head coach coming back in their rival's clothes, but the Packers won a football game, upsetting the Dallas Cowboys, 31-28, on Sunday. And maybe most promising of all, for the first time arguably all season long, Green Bay played a good game. Sure, there were hiccups (mostly named Amari Rodgers) but the Packers led with the rushing attack to set up play-action excitement, Rodgers hit his targets and the defense played fairly consistent against a tough and talented foe. Basically, the team we were promised at the start of the season showed up.
Finally.
With a Thursday night game next on the schedule, we don't have much time to celebrate – but still, let's savor some of the key moments from Sunday's big, potentially season-salvaging victory. Because as we know all too well this year, you never know how long it'll be until you see another one.
1. Return of the Mac
Mike McCarthy has arrived at Lambeau Field. pic.twitter.com/dkiAsghLh8 — Ed Werder (@WerderEdESPN) November 13, 2022
I suppose when you've coached a team to a Super Bowl win and have a street named after you, you get to pull off a flex like showing up to Lambeau Field dressed like the most iconic coach in NFL history. However, it looks a little silly if, say, you were to lose the day's game. The outfit's got a little less swagger with an L for an accessory.
2. Rudy! Rudy! Rudy!
Rudy Ford picks off Dak Prescott🔥 pic.twitter.com/y7BkvFiXBv — Auburn DieHards (@DiehardsAuburn) November 13, 2022
Is that a Notre Dame game I hear? Nope, that's just back-up safety Rudy Ford doing his best impression of vintage Rasul Douglas circa 2021 and snagging a pair of clutch interceptions – particularly this one with the Cowboys down in the redzone. With Eric Stokes out, Green Bay moved Darnell Savage to cover the slot while Ford played safety – and boy did the move work out. Ford was mostly picked up this past offseason as a special teams guy, but after Sunday's enthusiastic effort, he just may have to become a defensive regular. (It's not like anyone's crying out for more Savage in that spot.)
3. Christian convert
AARON RODGERS GOES DEEP TO ROOKIE CHRISTIAN WATSON 🎯

(via @NFL)pic.twitter.com/GAMRDADiuz — Bleacher Report (@BleacherReport) November 13, 2022
It looked like it was going to be another one of those games for Green Bay – and especially for rookie Christian Watson. His season's been defined by injuries and big drops, and the latter unfortunately showed up early as he botched two catches in a row to kill the Packers' first drive. But then Watson showed why the team traded up and practically used a first-round pick on him, blazing down the sideline for a beautiful 58-yard touchdown catch to put the Pack on the board. Sure, his problems showed up Sunday – he slowed up on another bomb that would've been a touchdown – but so did his exciting potential.
4. Aaron Jones: what a concept
Aaron Jones with a tribute to Marshawn Lynch 💀
pic.twitter.com/N3TR894xyj — PFF (@PFF) November 13, 2022
The science for the Packers this year isn't that complicated: When Aaron Jones gets the ball, good things happen. And lo and behold, the Packers gave their stud running back a season-high 24 carries on Sunday and broke their losing streak with the help of his 138 yards plus the above touchdown scamper. With Jones gouging the Cowboys defense for almost six years a carry (plus A.J. Dillon contributing 65 yards on 13 carries) the passing game then opened up for Aaron Rodgers, leading to the return of big play catches and the return of a winning Packers football team. Maybe we stick with this formula rather than bail on it per usual again on Thursday? Knowing this year's team, probably not.
5. Game over for Amari Rodgers
Land O' Lakes should sponsor Amari Rodgers because whoo boy those fingers are BUTTER pic.twitter.com/EngVtTT3f6 — uSTADIUM (@uSTADIUM) November 13, 2022
While Sunday was a good day for Aaron Rodgers, it was a terrible day for the team's other Rodgers. Right off a great defensive stop, Amari Rodgers fumbled yet another punt, handing the ball right back to Dallas' dangerous offense – who turned the turnover into points – and handing the momentum back too. If the Packers lost this game, this sequence would be pinpointed as the turning point.
Thankfully the Packers won – but it still almost surely marks a disappointing turning point in Amari Rodgers' career, which may be done in Green Bay. You can't say that the Packers didn't give him a chance. The team's trotted him out there to catch punts year after year, mistake after mistake – and he's rewarded them this season with more fumbles than receptions. And it's not like he's Devin Hester back there on the rare occasions when he doesn't cough up the ball. At best, he'll get you five or so return yards; at worst, he'll lose you a football game.
Sunday may have gotten Green Bay's season back on track – but Rodgers is still a trainwreck, one that's now probably stuck on the sideline from here on out.
6. An A for CeeDee
Call him "CeeDee LAMBeau" because he's taking over in Green Bay!

📺: @NFLonFOX | #DALvsGB | @_CeeDeeThree pic.twitter.com/fRzMBWgyBe — Dallas Cowboys (@dallascowboys) November 13, 2022
The Packers defense looked much better on Sunday, getting key stops and snagging turnovers throughout the game ... but there's still work to be done. After all, the team gave up more than 100 yards on the ground to Tony Pollard – and I can't even discuss Savage's attempt at stripping the ball away from a Cowboys rusher on a fourth down when SIMPLY TACKLING HIM WOULD DO THE TRICK! And then there's the passing game, where CeeDee Lamb chopped up the Packers secondary for a season-high tally of 150 yards and two touchdowns – neither particularly difficult, as you can see in the above play. Sunday was indeed an improvement – but you won't be able to get away with giving up a star performance like that every week.
7. Love is in the air
Aaron Rodgers shows frustration towards Matt LaFleur after the third-down play call.

📺: FOX pic.twitter.com/hCg0fe9wF2 — FOX Sports: NFL (@NFLonFOX) November 14, 2022
All of Wisconsin turned into amateur lip-readers late Sunday afternoon as Aaron Rodgers delivered one of his now-regular sassy snarls – this one directed quite clearly at head coach Matt LaFleur after Green Bay's pretty miserable attempt at a two-minute drill. Thankfully, it was all smiles after this latest round of grumbling.
8. The holy trinity
Christian Watson, count 'em.

Not 1. Not 2. THREE.pic.twitter.com/dPCaADSldX — Ari Meirov (@MySportsUpdate) November 14, 2022
A lot of Packers apologists argued that the offense might not have looked so stagnant if Watson hadn't run into such brutal luck with injuries this season. I have a hard time believing that – but I'm closer to believing it after Sunday's impressive three-touchdown performance, showcasing the rookie's impressive speed that can take the roof off the secondary and make the defense respect the deep pass. For much of the season, fans have eagerly talked about Romeo Doubs being the future of the Packers passing game – but maybe he's far from the only one.
9. Big D meets bigger defense
The @packers defense comes up with a 4th down stop! #GoPackGo

📺: #DALvsGB on FOX
📱: Stream on NFL+ https://t.co/rSmBWilFeT pic.twitter.com/Gb9ksY7UHN — NFL (@NFL) November 14, 2022
In overtime, the Packers put the Cowboys in an awkward situation: a fourth and four just a little over midfield. Four yards is maybe a little too long to feel comfortable going for it – but also a 52-yard field goal doesn't win the game and could put the Packers in great field position if missed. So you punt and pin the Pack back, right? Nope, McCarthy picked going for it – and as has often been the case across his career in Green Bay and Dallas, he picked wrong, resulting an incomplete pass and a huge Packers stop. Again, the defense wasn't perfect on Sunday – but they got stops when the team needed them, something that's often been missing this season.
10. Making an impact
RIP Mike McCarthy's headset pic.twitter.com/mtPIErYgz8 — Gifdsports (@gifdsports) November 14, 2022
Mike McCarthy returned to Lambeau Field just how he left it: making divisive playcalls and spiking stuff into the turf in anger. Weird, it's so much more entertaining to watch when he's on someone else's sideline!
11. Mythbuster
Aaron Rodgers lays down the block! look at him after the play 😂😂 pic.twitter.com/V2IKRgyD3F — Ted Buddwell 🏀🏈 (@TedBuddy8) November 14, 2022
A lot of myths about Aaron Rodgers took an even bigger beating on Sunday than the Cowboys run defense.
The guy refuses to run a rush-first offense? Welp, he only threw the ball 20 times. His thumb is giving him issues? Looked pretty good yesterday, considering he was 14-for-20 (and could've been even better without some drops) with three touchdowns, all pretty perfectly placed. He's unforgiving in his treatment of rookies who make mistakes? After Watson's terrible start, Rodgers chucked a team-high eight targets his way – even with most of his receiving corps in tact. And A-A-Ron's given up on the season? Tell that to this big block he made on a key run.
Fans had a lot of questions for Rodgers after last week's game – one of his worst. The quarterback thankfully came back with some answers on Sunday.
12. Finally, a dagger for someone else
Somethin' about Mason Crosby against the Cowboys...pic.twitter.com/Ylk3sJZxhw — Eli Berkovits (@BookOfEli_NFL) November 14, 2022
It's been too long listening to annoyed yawns and boos from the Lambeau Field crowd. I like this soundtrack of cheers much more – let's hit replay on this Thursday night.
13. Head over heels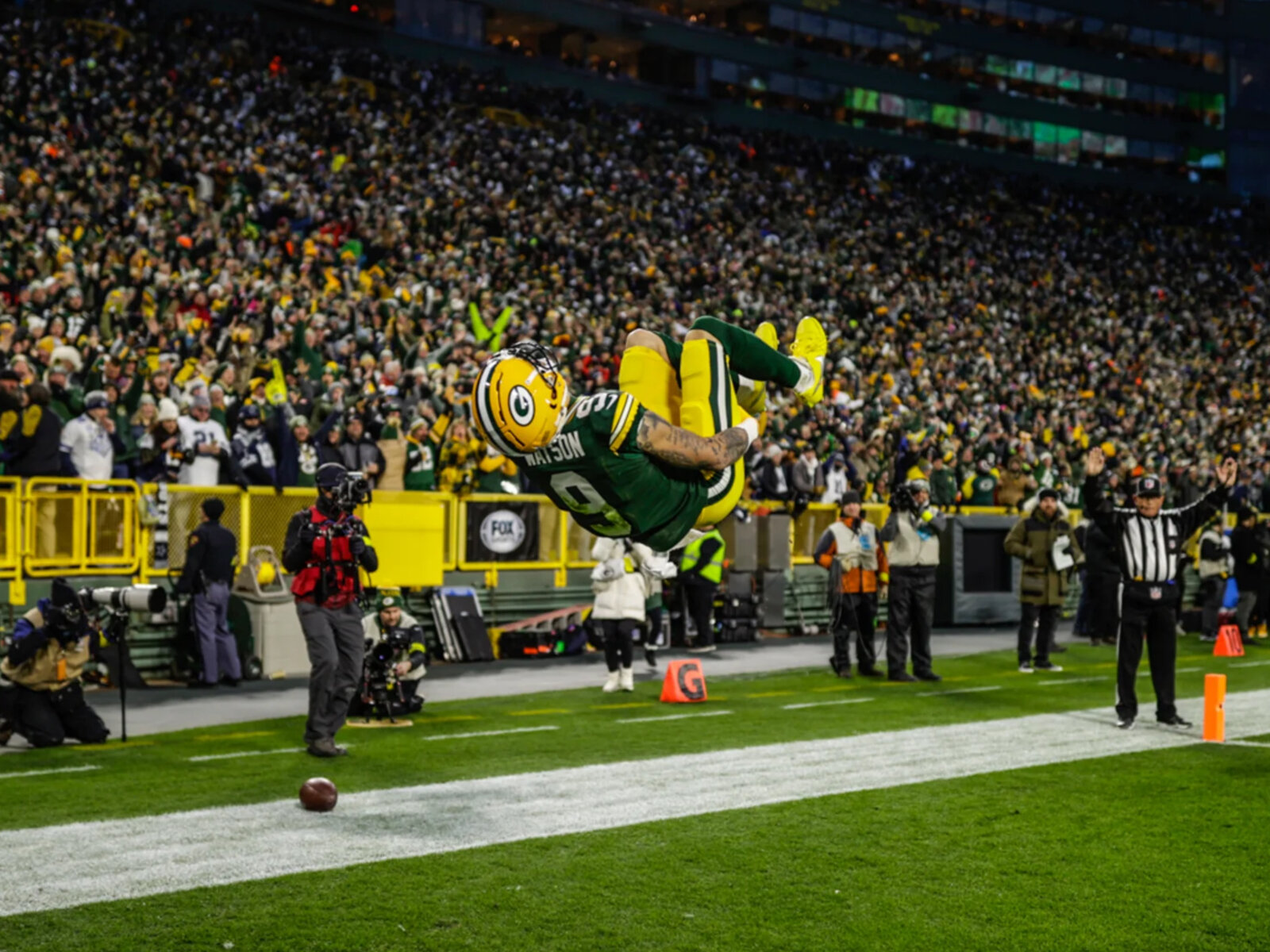 What's this strange feeling in my heart? It's, like ... the opposite of sadness and pessimism? Hope, you say?
Indeed, most of us wrote off this Packers season after last weekend's terrible loss to the Lions, but somehow it's not actually over. Thanks to the overall disappointing state of the NFC, the Packers are still just two games out of the final Wild Card slot – and after going more than a month without a win, Green Bay could possible get two victories in a single week with Thursday night's game against the Tennessee Titans, a formidable foe but one that's far from impossible to beat. And much like how the Lions loss made it feel like the Packers couldn't beat anybody, humbling the Cowboys now makes it seem like the Packers can beat anybody.
Maybe, just maybe, we're not dead yet. We'll find out on Thursday.
As much as it is a gigantic cliché to say that one has always had a passion for film, Matt Mueller has always had a passion for film. Whether it was bringing in the latest movie reviews for his first grade show-and-tell or writing film reviews for the St. Norbert College Times as a high school student, Matt is way too obsessed with movies for his own good.
When he's not writing about the latest blockbuster or talking much too glowingly about "Piranha 3D," Matt can probably be found watching literally any sport (minus cricket) or working at - get this - a local movie theater. Or watching a movie. Yeah, he's probably watching a movie.